More than a decade after seizing the mantle as one of the poshest ways to fly to Europe and refusing to let go, the next generation of Lufthansa First Class seats are finally on the way.
Last October, Lufthansa unveiled "Allegris," its new long-haul product that includes new seats from economy to all the way up to first class. Now, the German airline is sharing more details about what its long-awaited new first and business class cabins will look like.
Lufthansa is introducing suites in first class for the first time, with nearly floor-to-ceiling walls and privacy doors, personal wardrobes at every seat, and other features. The airline is also going one step further with a premium first class offering it's calling the "Suite Plus," a private room for two with wide seats that can be converted into a double bed. If the renderings are anything to go by, the new first class cabin is getting a much-needed glow-up – and the rest of the plane isn't being left out either.
Here's everything we know about what flying long-haul on Lufthansa will be like in the near future.
Lufthansa First Class Suites
While Lufthansa has in many ways set the bar for luxury in transatlantic travel, Lufthansa First Class is showing its age. All the caviar and roses in the world can't mask the lack of privacy, outdated in-flight entertainment, or ancient Wi-Fi onboard.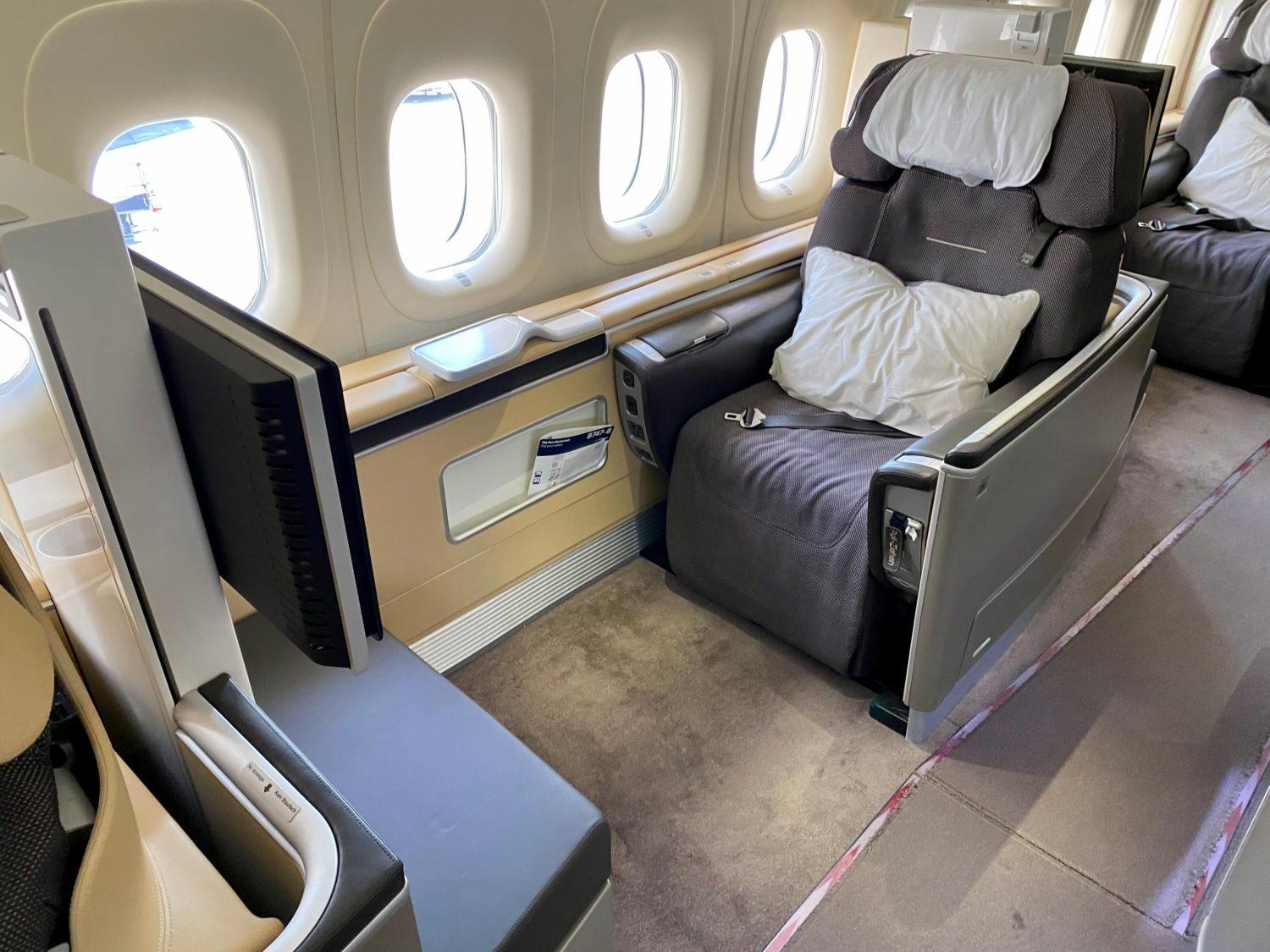 The brand-new Lufthansa First Class Suite appears to be a big improvement.
Of course, renderings aren't real life … but it's hard not to be impressed. Here's what Lufthansa has said about its new first class suites:
Each suite will have privacy doors and "nearly ceiling-high walls" – a massive improvement over the current First Class seats, which don't have much privacy, period
Every seat will be nearly 40 inches (almost 1 meter, the airline says) wide, which is huge. At bedtime, you'll have a nearly 80-inch-long bed.
Every seat is equipped with a heating and cooling system travelers can control on their own
Each suite has its own personal wardrobe, along with other storage
In addition to a much-needed high-definition screen for movies and TV, Lufthansa will offer the option to pair Bluetooth headphones
First class flyers can dine face to face, including enjoying Lufthansa's signature caviar service
Come bedtime, travelers will be able to change into their pajamas in their own suites
"We want to set new, unprecedented standards for our guests," Lufthansa CEO Carsten Spohr said in a statement in October 2022. "The largest investment in premium products in our company's history underpins our claim to continue to be the leading Western premium airline in the future."
Lufthansa previously said it would reveal "a further innovation in First Class" in early 2023. We now know the airline was talking about the "Suite Plus," a private room for two passengers in the first class cabin.
The Suite Plus looks more in line with other first class suites like the Etihad Apartments, with ceiling-high walls, an entirely closable door, a large table, and two wide seats that can be combined into a comfortable double bed if needed.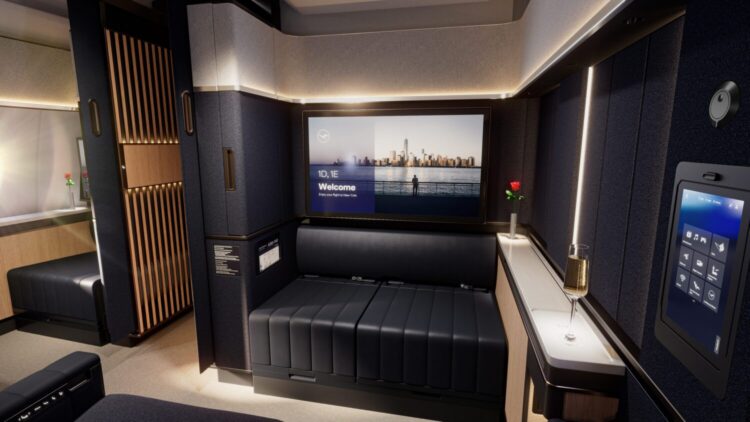 The airline plans to offer just one row of first class seats with three individual pods (up to four seats with the Suite Plus offering) in a 1-1-1 layout on its newest Airbus A350 planes.
Lufthansa First Class is one of the world's most sought-after redemptions for travelers and practically a must for aviation geeks. On one hand, it doesn't have to break the bank: Time it right, and you can book a one-way to Europe with just 87,000 Avianca LifeMiles or as low as 90,000 miles from Air Canada Aeroplan.
But it's the timing that's an issue. Lufthansa makes it incredibly difficult to snag these seats, releasing award availability to partner airlines just two weeks before departure – and often, just a few days beforehand. With fewer first class seats onboard, finding a seat bookable with points and miles will likely prove even more difficult.
New Lufthansa Business Class With 7 Seat Options
Lufthansa is finally ditching its woefully outdated Lufthansa business class cabins – with a 2-2-2 arrangement – in favor of a setup that gives every passenger direct aisle access in a 1-2-1 arrangement.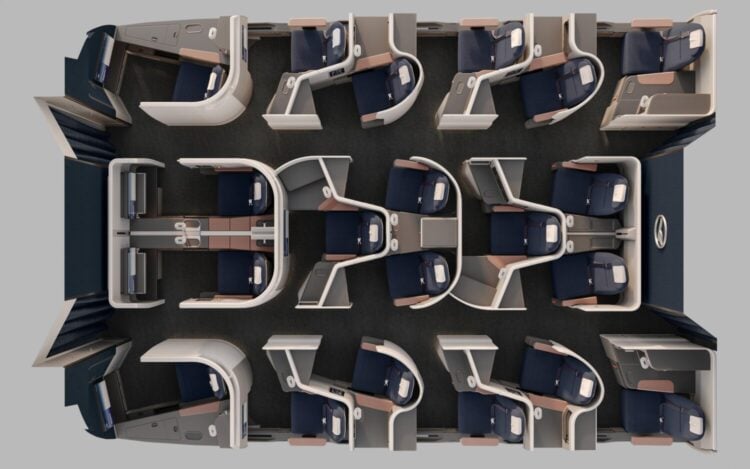 The German airline is marketing seven different business class seat options for travelers to choose from – whether you want an extra-long bed, a seat with a baby bassinet, or a double seat that can be converted into a reclining surface for two.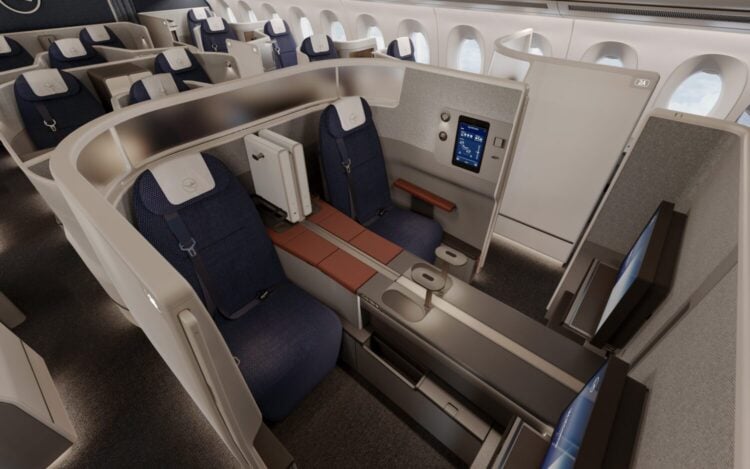 Here's what else Lufthansa says about its new business class cabin:
Suites in the first row, each with a personal wardrobe, minibar, and sliding doors
Every seat will have access to the aisle
Every seat can be converted into a bed at least 2 meters long, and up to 2.2 meters if you select the seat option with an extra-long bed
In addition to a much-needed high-definition screen for movies and TV, Lufthansa will offer wireless charging and the option to pair Bluetooth headphones
Every seat is equipped with a heating and cooling system, allowing you to control your own temperature
The carrier is also introducing a new and excellent-looking Premium Economy seat. And in economy, Lufthansa will offer more legroom at seats toward the front of the plane while introducing a "Sleeper's Row 2.0," a revamped version of lie-flat economy sleeping surface similar to Air New Zealand's SkyCouch.

As for where you'll find these new seats, Lufthansa said new deliveries of the Boeing 787-9, Airbus A350, and Boeing 777-9 aircraft will be equipped with the new long-haul product. The airline is also vowing to retrofit its iconic Boeing 747-8s with these new seats.
The timing of when you'll see these new seats remains somewhat of a mystery, however. All we know for sure is that Lufthansa said the new first class cabin will be introduced on the Airbus A350s sometime in 2024.
Bottom Line
Flying Lufthansa first class is something special. It's about to get even better.
Over the next few years, we should see this excellent new seat become a fixture on many of Lufthansa's long-haul flights. It's a seemingly stunning seat and appears to be a massive upgrade over what's already firmly engrained as a bucket list experience for many flyers.