More than a decade after seizing the mantle as one of the poshest ways to fly to Europe and refusing to let go, the next generation of Lufthansa First Class seats are finally on the way.
The German airline on Friday unveiled a brand new first class cabin with nearly floor-to-ceiling walls and privacy doors, personal wardrobes at every seat, and other features – all in Lufthansa's stylish deep blue with splashes of white, soft metal and woodgrain.
Talk about an improvement. Check out this glow-up.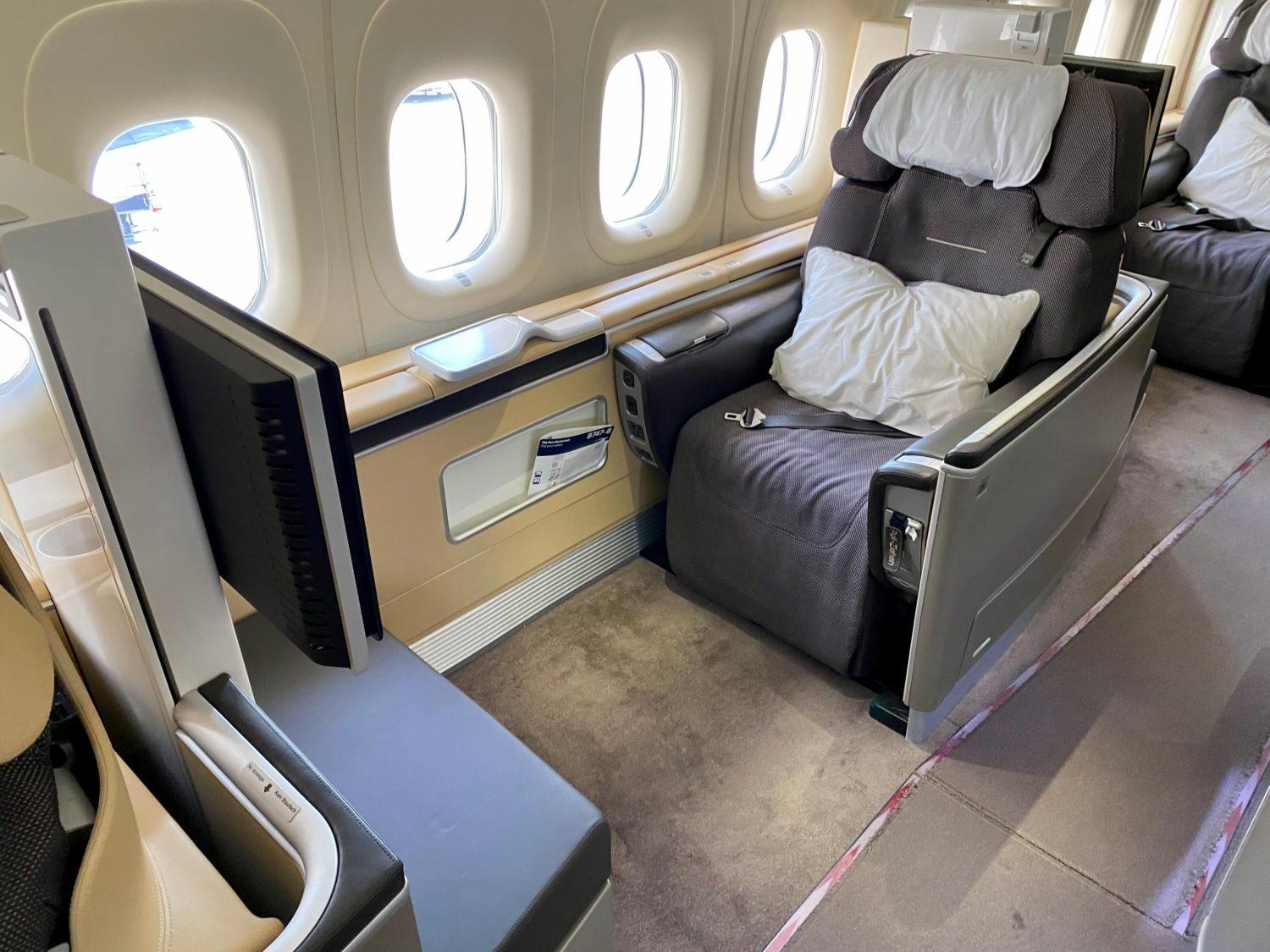 Of course, renderings aren't real life … but it's hard not to be impressed. Here's what Lufthansa says about its new first class suites:
Each suite will have privacy doors and "nearly ceiling-high walls" – a massive improvement over the current First Class seats, which don't have much privacy, period
Every seat will be nearly 40 inches (almost 1 meter, the airline says) wide, which is huge. At bedtime, you'll have a nearly 80-inch-long bed.
Each suite has its own personal wardrobe, along with other storage
In addition to a much-needed high-definition screen for movies and TV, Lufthansa will offer the option to pair Bluetooth headphones
First class flyers can dine face to face, including enjoying Lufthansa's signature caviar service
Come bedtime, travelers will be able to change into their pajamas in their own suites
But exactly when or where you'll find these new seats remains a mystery, for now. The airline is suggesting it will first take flight sometime in 2023, eventually making its way onto new deliveries of Boeing 777-9s, Boeing 787-9s, and Airbus A350-900s. The airline is vowing it'll even retrofit its iconic Boeing 747-8s with these new seats.
It's also unclear how big the new Lufthansa first class cabin will be. Will it sport two rows at the front of the plane or just one? Will they squeeze four seats in each row, or do the extra-wide seats mean there's room for just three?
In time, Lufthansa says you'll find new seats "in all classes on long-haul routes." But whether that takes a year or two or another decade is anyone's guess. The airline said it'll provide more details – and "a further innovation in First Class" – early next year.
It's part of a broader cabin refresh that it's calling "Allegris," with Lufthansa introducing new seats from economy all the way up to first class. That includes a long-awaited new business class cabin, which has been nearly five years in the making.

"We want to set new, unprecedented standards for our guests," Lufthansa CEO Carsten Spohr said in a statement. "The largest investment in premium products in our company's history underpins our claim to continue to be the leading Western premium airline in the future."
That means the German airline will eventually ditch its woefully outdated Lufthansa business class cabins – with a 2-2-2 arrangement – in favor of a setup that gives every passenger direct aisle access. The carrier is also introducing a new and excellent-looking Premium Economy seat. And in economy, Lufthansa will offer more legroom at seats toward the front of the plane while introducing a "Sleeper's Row 2.0," a revamped version of lie-flat economy sleeping surface similar to Air New Zealand's SkyCouch.
But getting a glimpse at a brand new first class was a delightful surprise. While Lufthansa has in many ways set the bar for luxury in transatlantic travel, Lufthansa First Class is showing its age. All the caviar and roses in the world can't mask the lack of privacy, outdated in-flight entertainment, or ancient Wi-Fi onboard.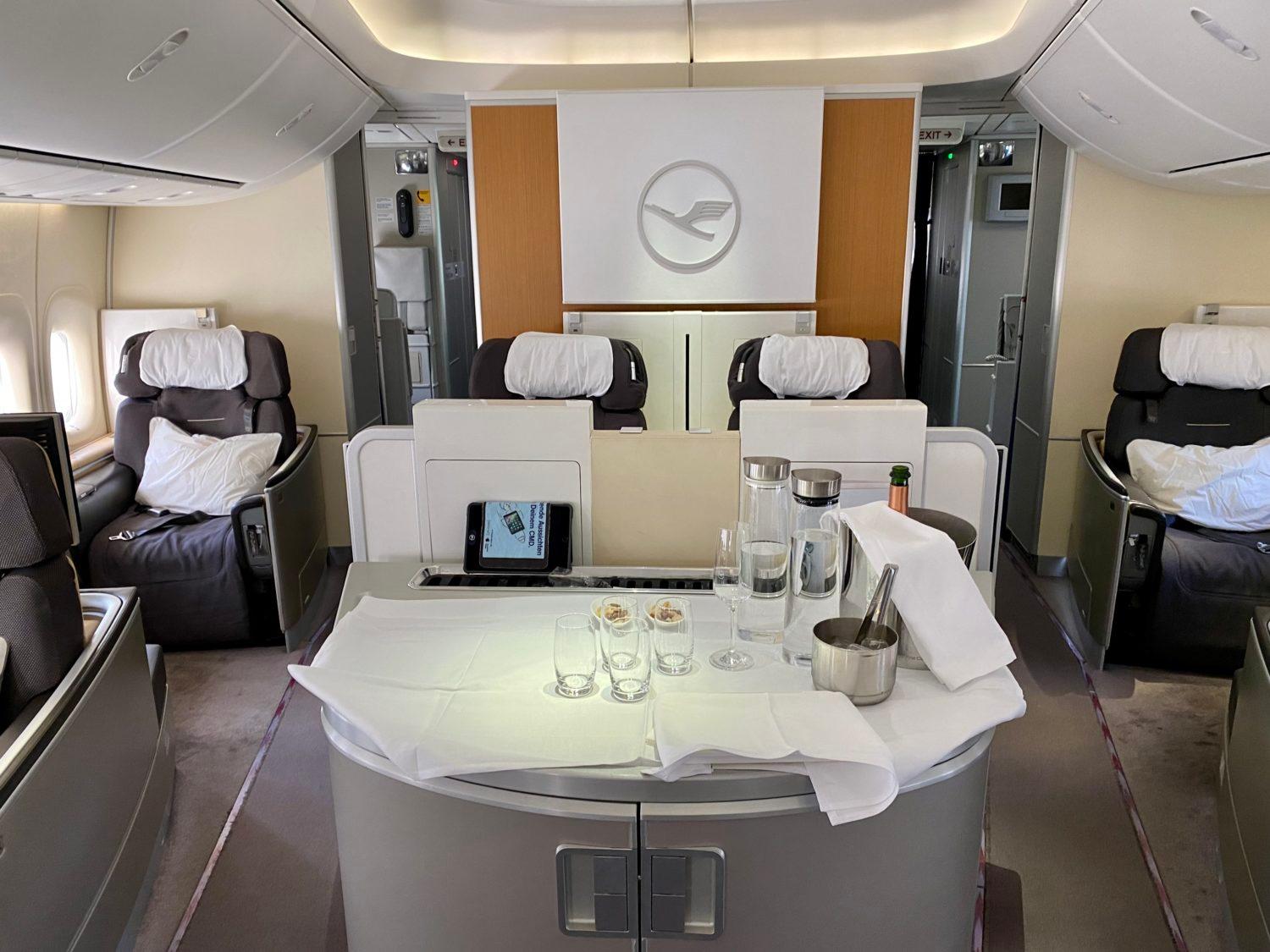 Read more: Lufthansa First Class was Unforgettable … But I'll Never Fly it Again?!
Nonetheless, it's one of the world's most sought-after redemptions for travelers and practically a must for aviation geeks. On one hand, it doesn't have to break the bank: Time it right, and you can book a one-way to Europe with just 87,000 Avianca LifeMiles or as low as 90,000 miles from Air Canada Aeroplan.
But it's the timing that's an issue. Lufthansa makes it incredibly difficult to snag these seats, releasing award availability to partner airlines just two weeks before departure – and often, just a few days beforehand.
Just how many Lufthansa planes are outfitted with this flashy new first class cabin – and how many seats are installed – will determine whether that gets easier … or even harder.
Bottom Line
Flying Lufthansa first class is something special. It's about to get even better.
Over the next few years, we should see this excellent new seat become a fixture on many of Lufthansa's long-haul flights. It's a stunning seat and seems to be a massive upgrade over what's already firmly engrained as a bucket list experience for many flyers.