Pinch me. Is this real? Is this really an airport lounge? Or is it a massive yet nearly empty museum with free meals, expensive champagne, sleeping rooms, and its own spa?
It's both. It's the Qatar Airways Al Safwa Lounge for first class passengers at Doha (DOH), easily one of the best airport lounges – if not the best, period.
The Al Safwa Lounge is enormous yet almost always empty and minimalist yet stunning. After spending eight hours here on a recent layover, I have a hard time seeing how any lounge could beat it.

Getting Access to the Al Safwa Lounge
The Al Safwa Lounge is among the most restrictive airport lounges in the world.
While other top-tier airline lounges allow card-carrying elite status holders with the airline Alliance like Oneworld in, that's not the case with the Al Safwa lounge. Typically, only passengers departing Doha on a first class ticket can get in.
Even flying Qatar's world-best Qsuite business class won't get you into Al Safwa … at least not for free.
Qatar Airways has started selling (expensive) day passes for the Al Safwa lounge. If you're flying Qatar Airways business class, you can buy a six-hour pass for Al Safwa for 600 QAR: about $165 USD. Just head to the lounge entrance and pay up – and be sure to use a credit card that earns a bonus on travel expenses like the 3x on the Chase Sapphire Reserve.
But there's another great loophole. If you book a business class flight that connects in Doha and continues onward in the Middle East – think Muscat, Oman or Amman, Jordan – your short regional flight will be ticket in Qatar Airways first class. And that ticket will get you into Al Safwa during your layover.
That means you could book a one-way business class ticket from the U.S. to the Middle East for 70,000 American Airlines miles – one of our favorite ways to use AAdvantage miles – and get into Al Safwa.
With your ticket in hand, head for the gathering area between Hamad International Airport's A and B terminals, near Qatar Airway's Al Mourjan lounge for business class passengers. Just watch for the creepy Lamp Bear, then head up the escalator.
At the top of the escalator, you'll find a check-in desk before even entering the lounge.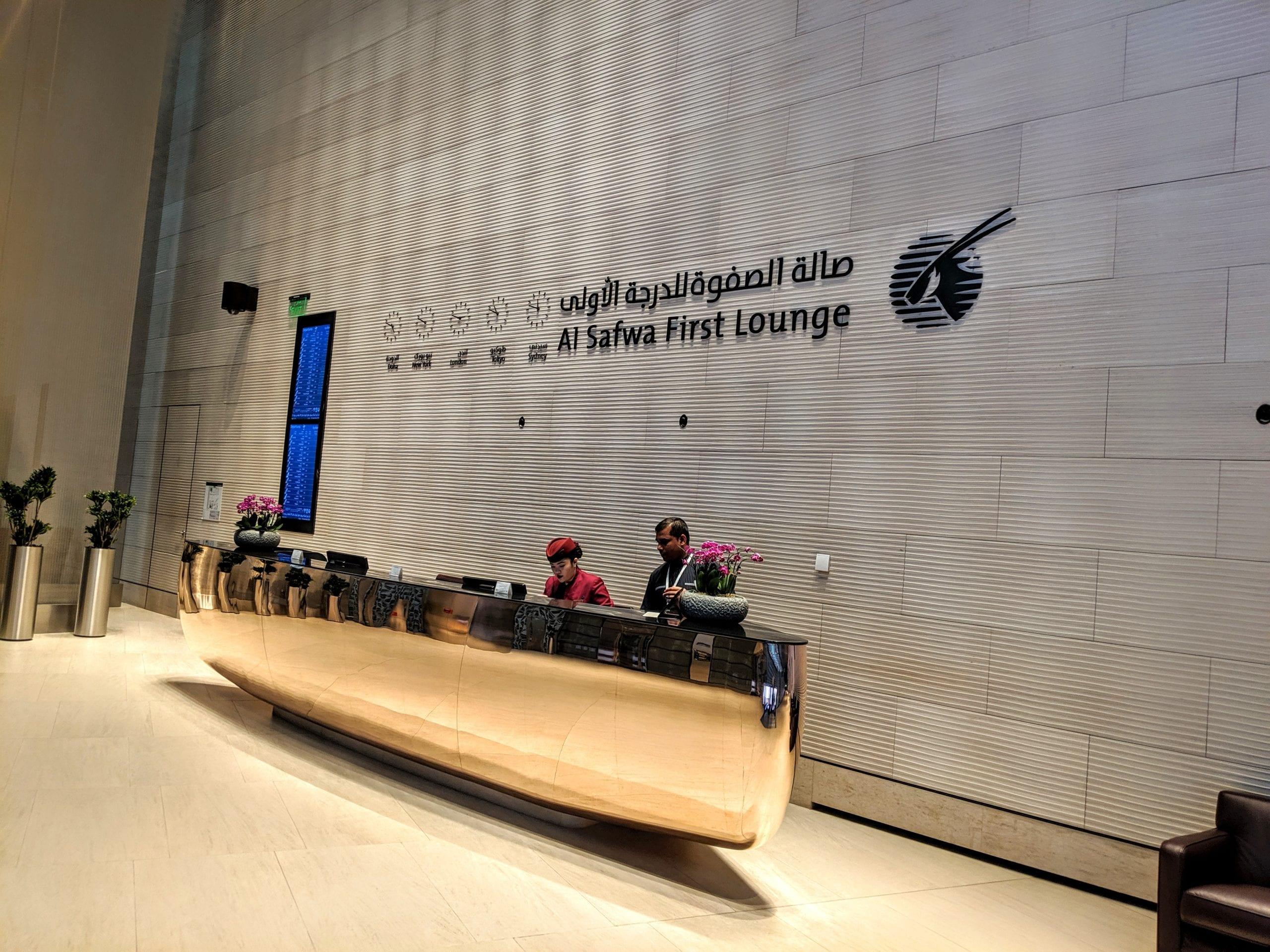 Hand over your ticket and passport, then head inside the lounge and prepared to be astounded.
The Al Safwa Lounge
Within seconds of walking through the sliding glass entry doors, the first of more than two dozen (I'm not joking) lounge attendants hustled over to greet us and show us around the lounge, starting with an attendants' desk that was equipped to help with any flight inquiries.
The attendant explained that Qatar Airways does not make boarding announcements in the lounge, gesturing to one of several screens with boarding information. Combined with the lack of fellow travelers, Al Safwa was almost eerily quiet. Even far away, you can still hear the soft trickle of Al Safwa's signature feature: A floor-to-ceiling fountain, in which water falls down a glass tube into a massive metallic dish.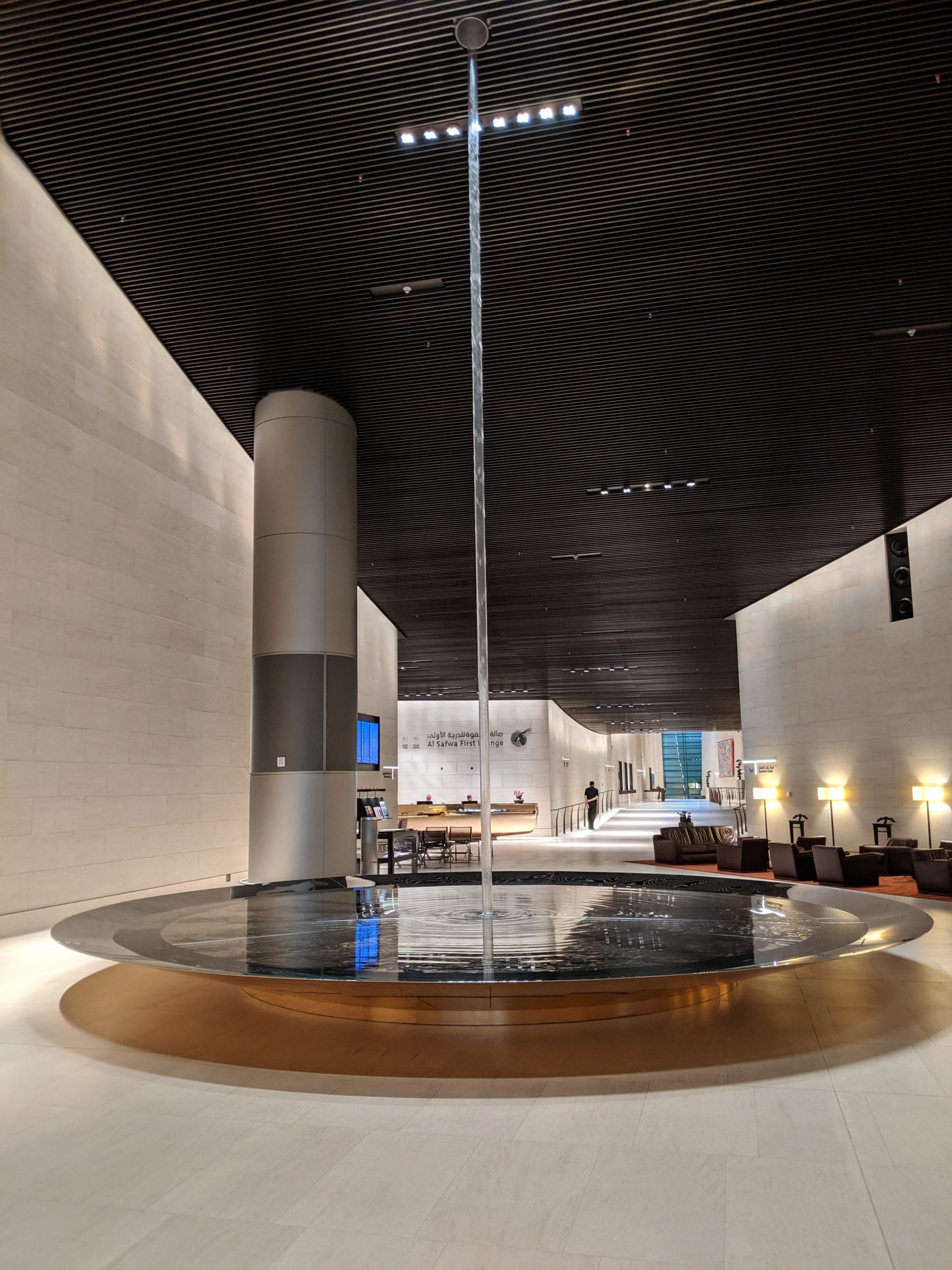 To the side of this spectacle, there's a large seating area – a perfect spot to sit and get some work done. Another lounge attendant hurried over from the bar nearby to take drink orders.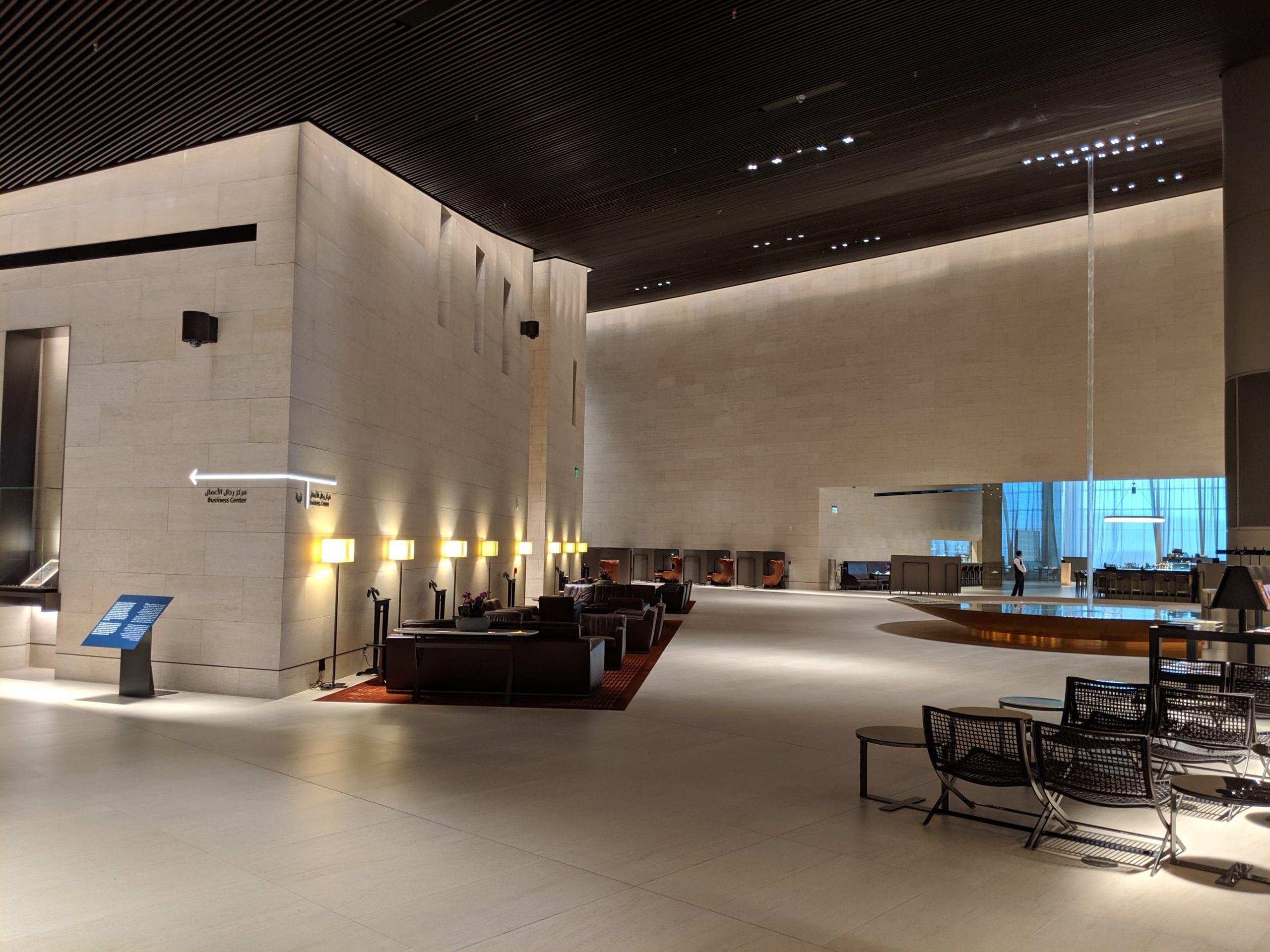 If you're looking for more privacy to work or relax, there's a series of individual pods with high armchairs, tables, and small monitors.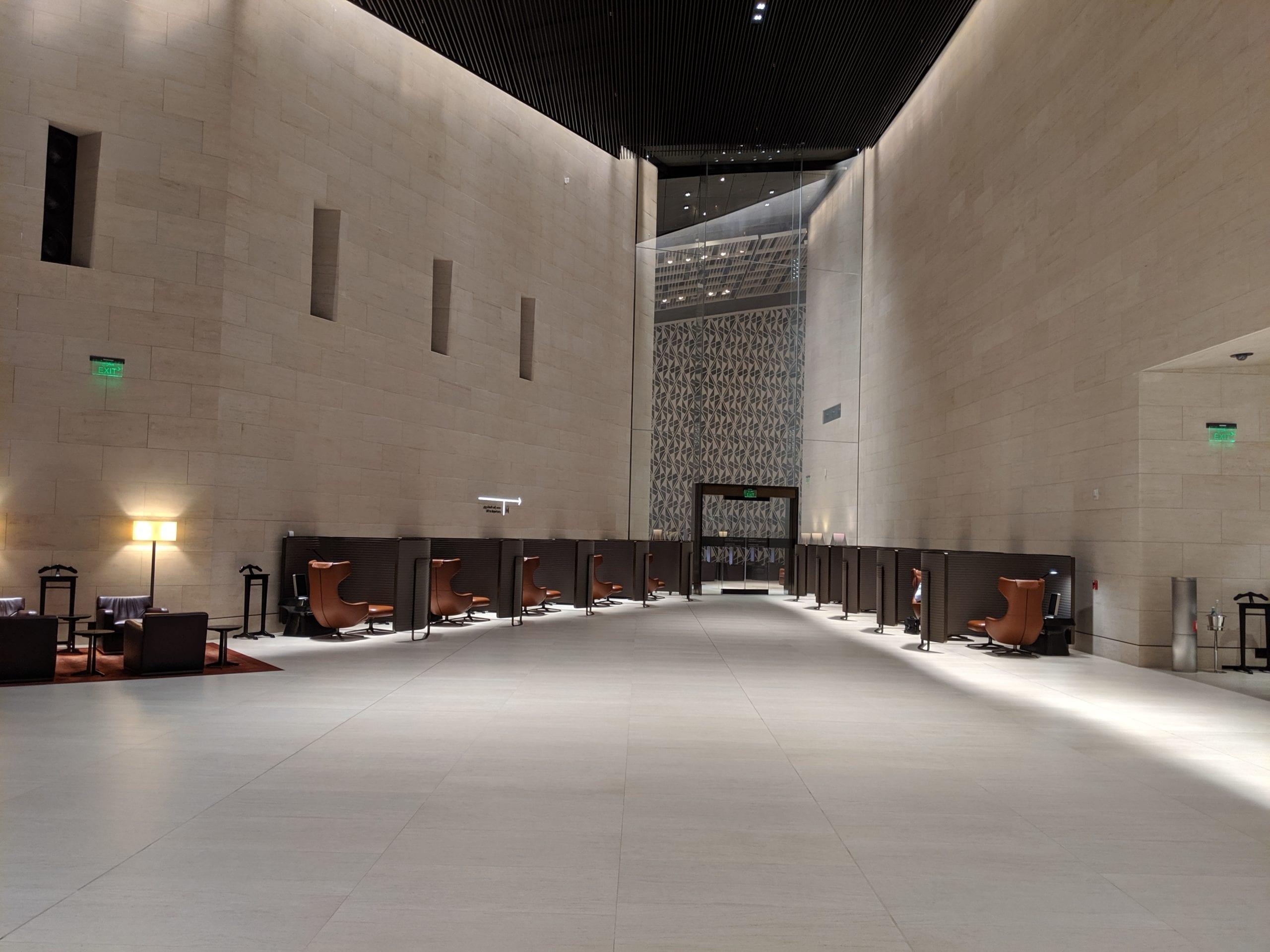 While the tables are fairly short, it's still a great spot for some extra privacy. But given how empty this lounge is, you likely won't need it. Each little pod comes with its own small coat rack, too.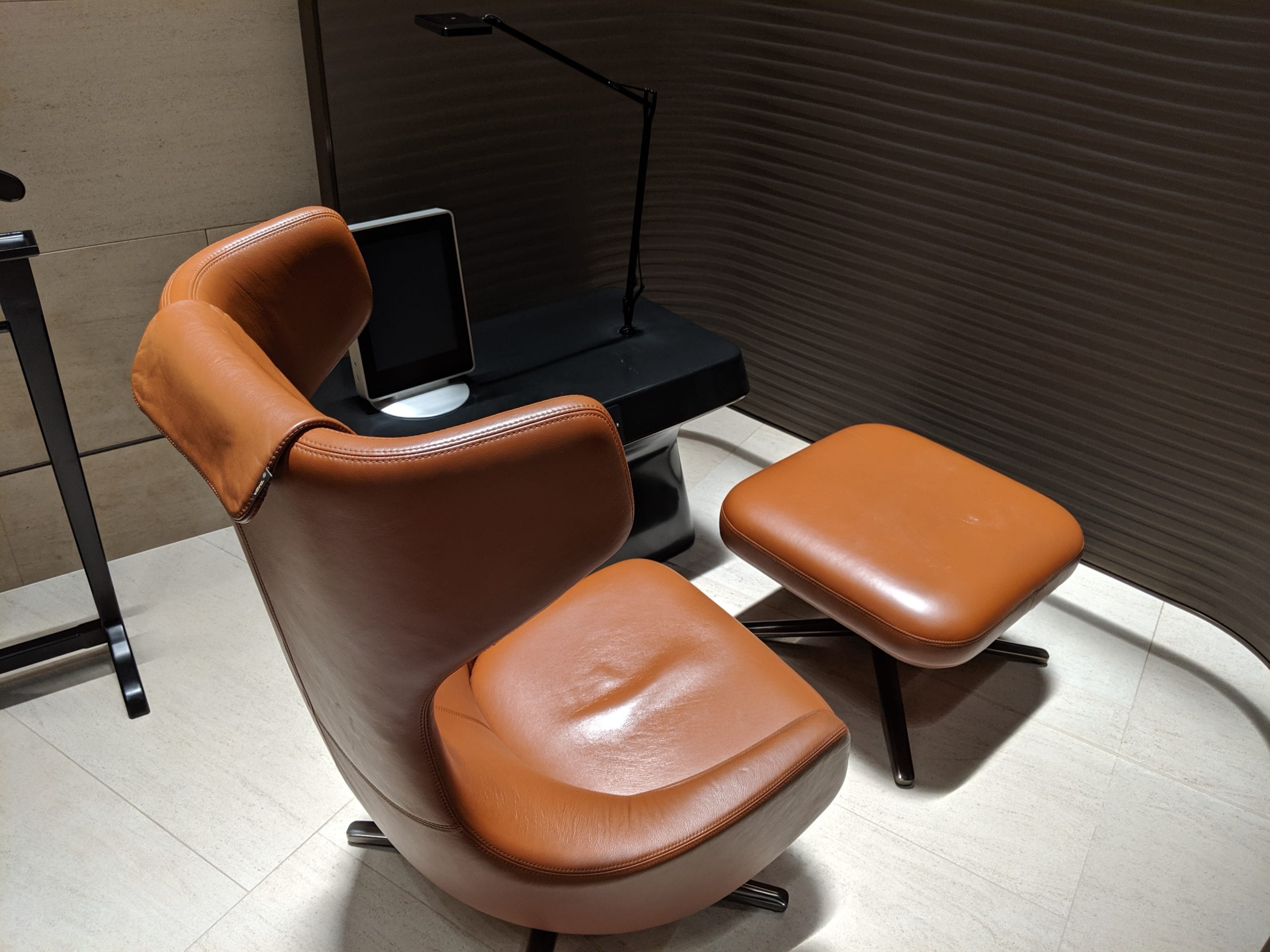 Bathrooms are located behind the water feature. There's a full wall of urinals in the men's room, plenty of sinks (with cloth hand towels, of course), and fully enclosed toilet stalls.
On the other side of the lounge, you'll find … an enormous corridor. Seriously, the Al Safwa lounge seems to stretch on forever.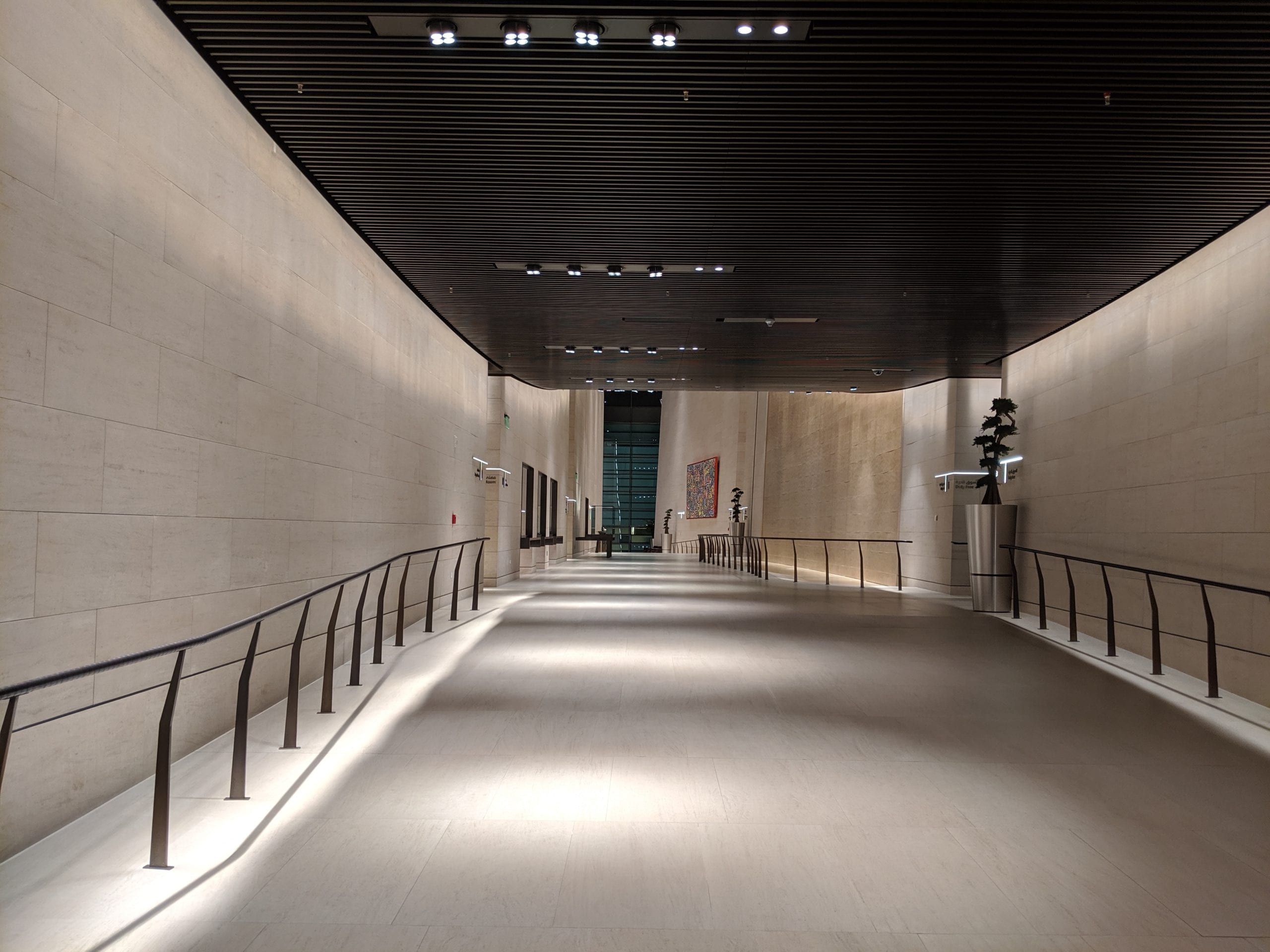 Down this hallway is where you'll find several art installations. And you thought I was kidding when I called the Al Safwa a museum.

It's down this hallway where you'll find a family room (empty, of course), as well as the lounge's spa and sleeping rooms – more on those later. The family area itself is huge, with a ton of space for kids to play as well as video games and plenty of TVs, too.

Back toward the entry doors, you'll find the lounge's own private duty-free store. Yes, the Al Safwa has its own duty-free shopping. There's also a dedicated workspace, with six desks and computers – both Macs and PCs, of course. The Al Safwa lounge is nothing if not extra.
In the center of the lounge past the attendants' desk, there's some additional seating and, further down the hall, a buffet-style dining setup, with sushi, sandwiches, and some other food available if you need a quick bite.
Finally, there's the dining room at the back of the lounge, with a – you guessed it – massive yet empty bar at its center.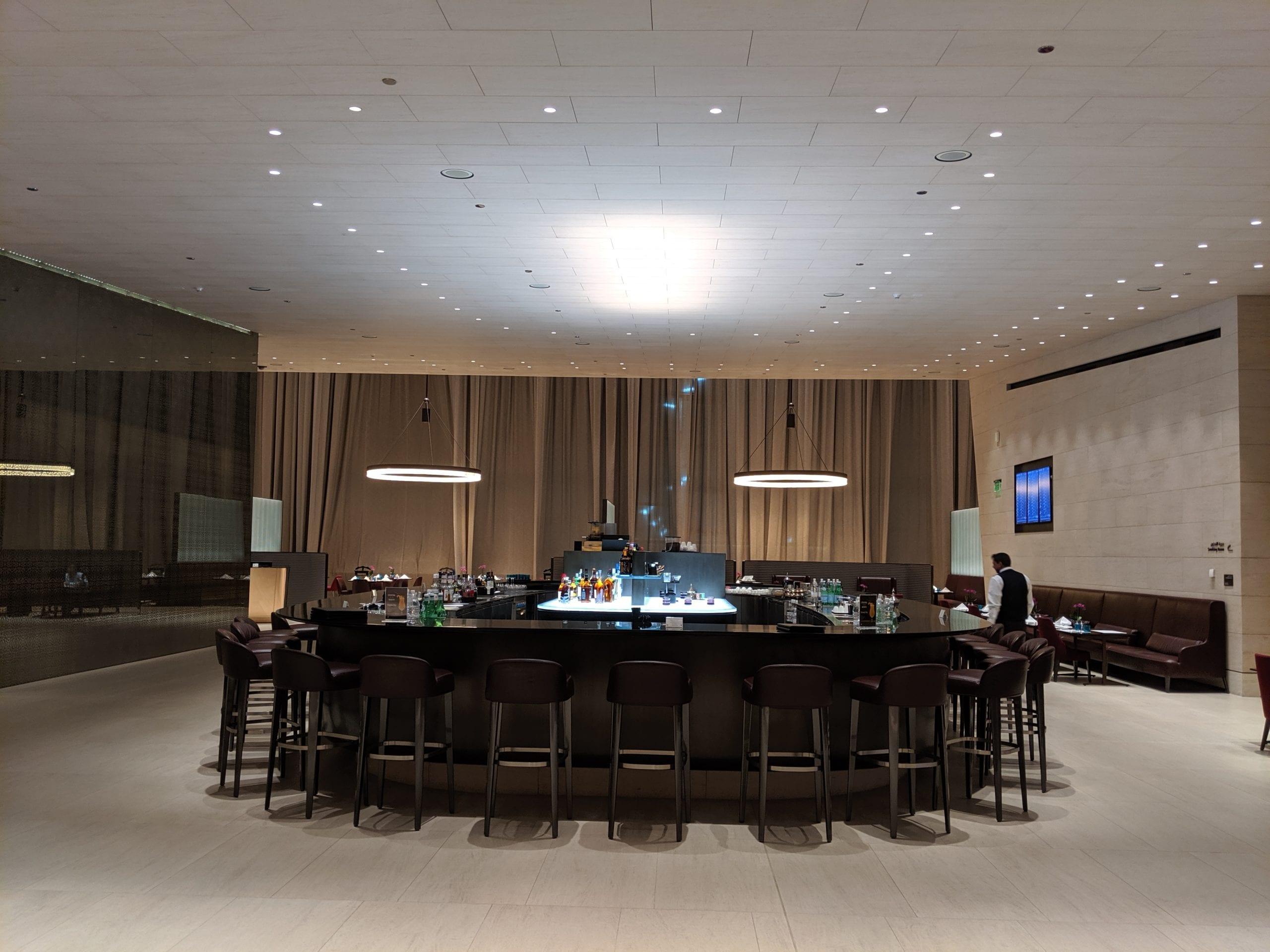 As is the case throughout the lounge, there are probably more than 200 spots to sit around this dining room, from the hightop chairs that surround the bar to the booths around it, and a long row of tables at the far end.
Given the strict access limits and the shrinking numbers of Qatar Airways flights with genuine first class seats, it's safe to assume this astounding large lounge will be pretty empty. That was the case for me: During my visit, lounge guests were outnumbered by staff … by a lot.
Food and Drink
When you're hungry, the dining room is where you want to be for an a la carte, made-to-order meal. We had several dishes during our stay, and while it wasn't mindblowing, everything was excellent.
The menu wasn't exactly expansive, but there were plenty of great options.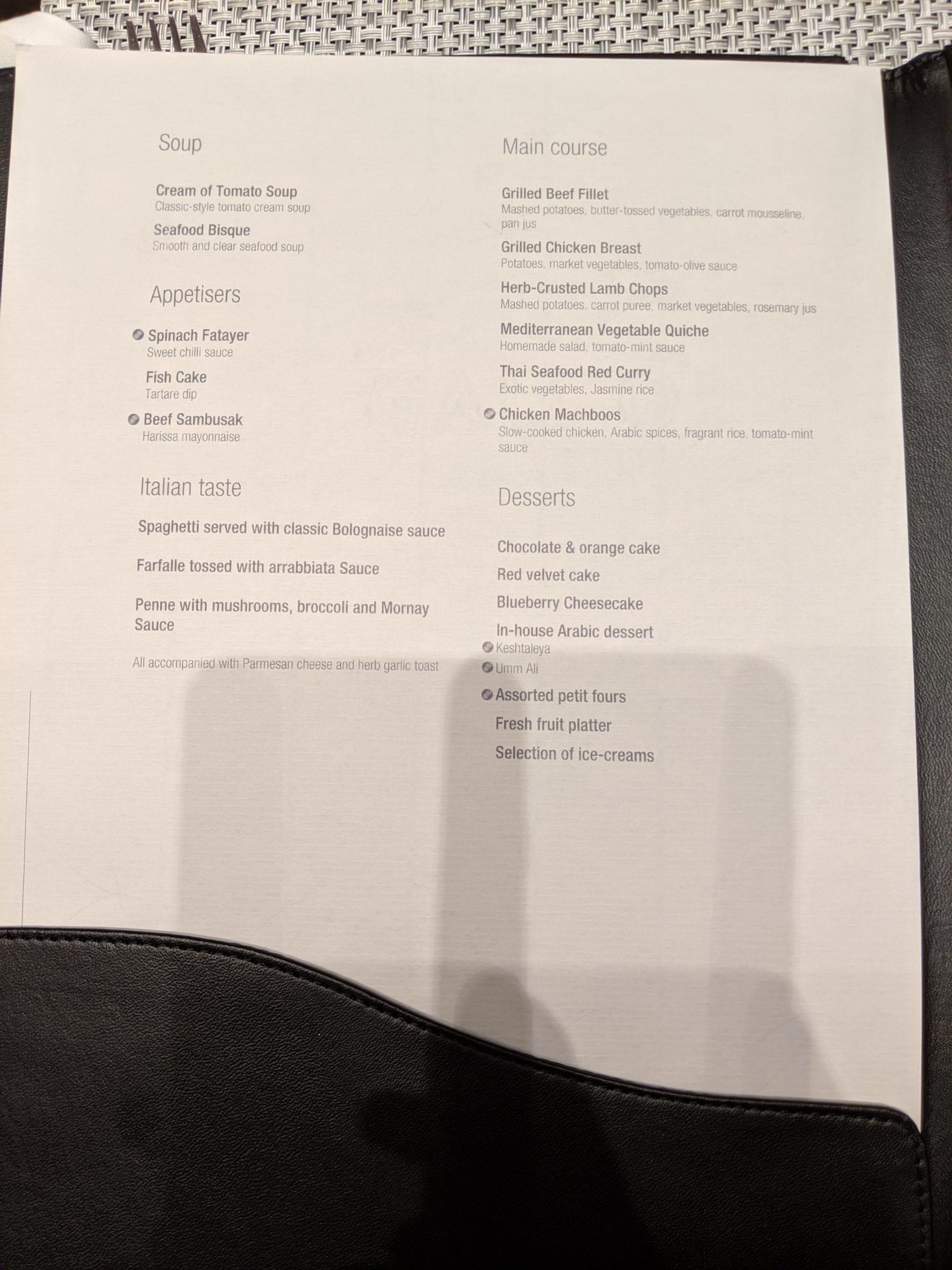 What's more, the Al Safwa lounge serves up some seriously amazing champagne. The bar was pouring Veuve Clicquot La Grande Dame 2006. Other than Krug or Dom Perginon, this is about as good as it gets for champagne in a lounge. Even better, the attendants were great at topping off our glasses.
Dinner started with a small amuse bouche – in this case, a bite of smoked pepper stuffed with cheese and cucumber – along with a bread basket, butter and some olive tapenade.

For the main course, I ordered the Thai seafood red curry. Though the portion was on the smaller side, it was just right, full of shrimp, scallops, and fish. The curry itself was flavorful, and the dish came out piping out.

Later on, I ordered the herb-crusted lamb chops, which came with mashed potatoes and a carrot puree. It was top-notch, and cooked perfectly.

Jon, our Thrifty Traveler Premium flight deal guru, ordered the beef fillet. And while it was a tad on the overcooked side – he wasn't given an option for how to cook the steak – he said it was excellent.

After a few visits to Al Safwa over the years, I think it's fair to say that the food is the lounge's weakest point overall. Don't get me wrong: It's all still plenty good – even great. But compared to how unbelievably surreal the rest of the lounge is, the dining experience just feels a bit lackluster.
After a good dinner and plenty of time left in our layover, there was more of the lounge to check out.

Sleeping Rooms in the Al Safwa Lounge
The Al Safwa lounge isn't alone in offering sleeping rooms. But calling them sleeping rooms is unfair. It's more like a miniature hotel.
In all, there are 15 sleeping suites set far off from the chaos (hah!) of the lounge itself.
These rooms are available on a first-come, first-served basis to any traveler with a layover of four hours or more – and you can get up to six hours for free, then pay to extend your stay. Given how quiet this lounge is, I can't imagine there's an issue getting a space to sleep.
We simply asked the spa attendant to open up a room for each of us and were quickly guided back the hallway to our private rooms.
Every room is equipped with a comfortable twin bed, though some rooms have two beds for couples. The bed was extremely comfortable, and the suite itself has its own climate control settings. Every suite has a flatscreen TV, desk, and closet as well.
And every sleeping room has its own ensuite bathroom, with a toilet and shower. The bathroom was stocked with Rituals amenities, the same you'll find in Qatar Airways First and business class.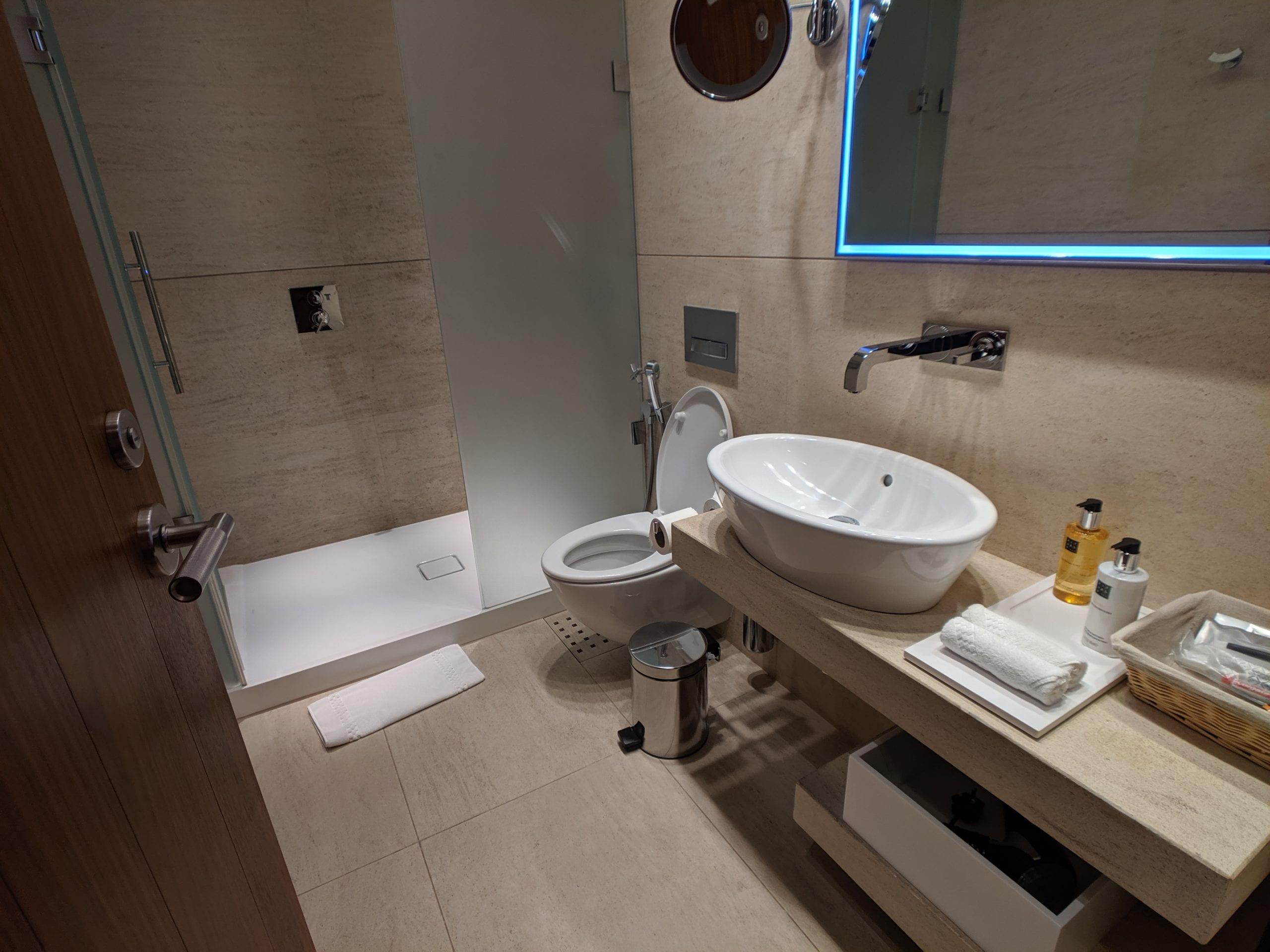 A Spa, Too
Once you're done napping off your champagne-induced coma, it's time to hit the spa. Yes, there's a spa inside Al Safwa. What doesn't this lounge have?
Well, it turns out the one thing this lounge doesn't have is free spa treatments – massages generally start at about $100 for a 30-minute session. But if you're complaining about not getting a free massage or facial after sipping on a $200-plus bottle of champagne, you have far bigger problems.
If you purchase Al Safwa access, you may get a free, 15-minute treatment.

Yet there is one free part of the spa – a jacuzzi room. Unfortunately, there's only one jacuzzi available in the Al Safwa spa, so it might be hard to sneak into depending on when you visit. But it's great, complete with its own bathroom and shower. And the jacuzzi itself is massive.

There's also a small waiting room outside of the series of treatment area to relax on some slightly uncomfortable, beanbag-esque loungers. But it's still a great place to marvel at just how insane this lounge is.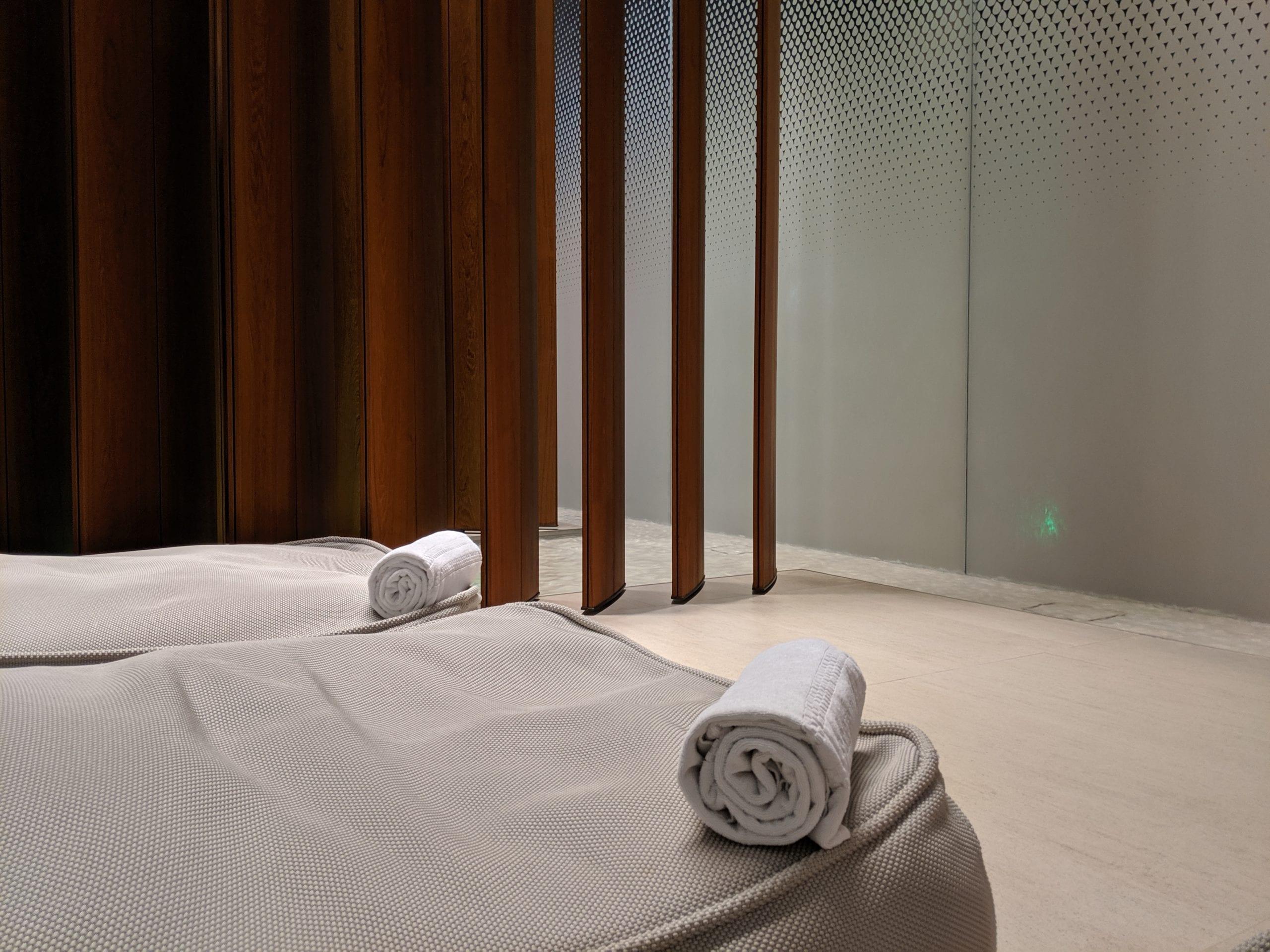 Bottom Line
The Qatar Airways Al Safwa First Class lounge is otherworldly. There's simply not another airport lounge like it, period.
If your idea of a great lounge is a place to socialize with fellow travelers and watch planes take off and land, Al Safwa doesn't exactly fit the bill. But if you want a pristine place to unwind, get a meal, and take a nap while feeling completely removed from the hustle of the airport – and all of humanity, really – there is no place like Al Safwa.