When it comes to flying First Class, there are few experiences more luxurious than the Etihad First Class Apartment. This is more than even your standard first class – and that's saying something.
Etihad Airways may get overshadowed by the likes of Emirates, Qatar Airways, and Singapore Airlines. But the seats and cabin in the Apartments provide a wow factor you just can't find elsewhere. It's an Apartment, after all – there's more space than you'll find on almost any first class product. And excellent service on this flight adds up to a truly exceptional experience.
Read our full review of the flight from Abu Dhabi (AUH) to New York City (JFK) from earlier this year.
Booking the Etihad First Class Apartment
There are a few ways to book Etihad's first class – including using Etihad's own Guest Miles. But if you have American Airlines AAdvantage miles, it is absolutely the best option. It's one of the big reasons why you should be earning American Airlines AAdvantage miles.
Etihad only flies the Airbus A380 equipped with these Apartments on a handful of routes including just one U.S. destination – New York City(JFK). Unfortunately, those award seats are in high demand so it can be difficult to find award availability. Generally, you'll have better luck if you depart from Abu Dhabi rather than starting your journey in New York.
A one-way in first class between Abu Dhabi (AUH) and New York (JFK) will cost 115,000 AAdvantage miles and $49.52 in taxes and fees. On the day I booked my flight, the cash price was over $9,000. Needless to say, I was pleased with this redemption of my American Airlines miles.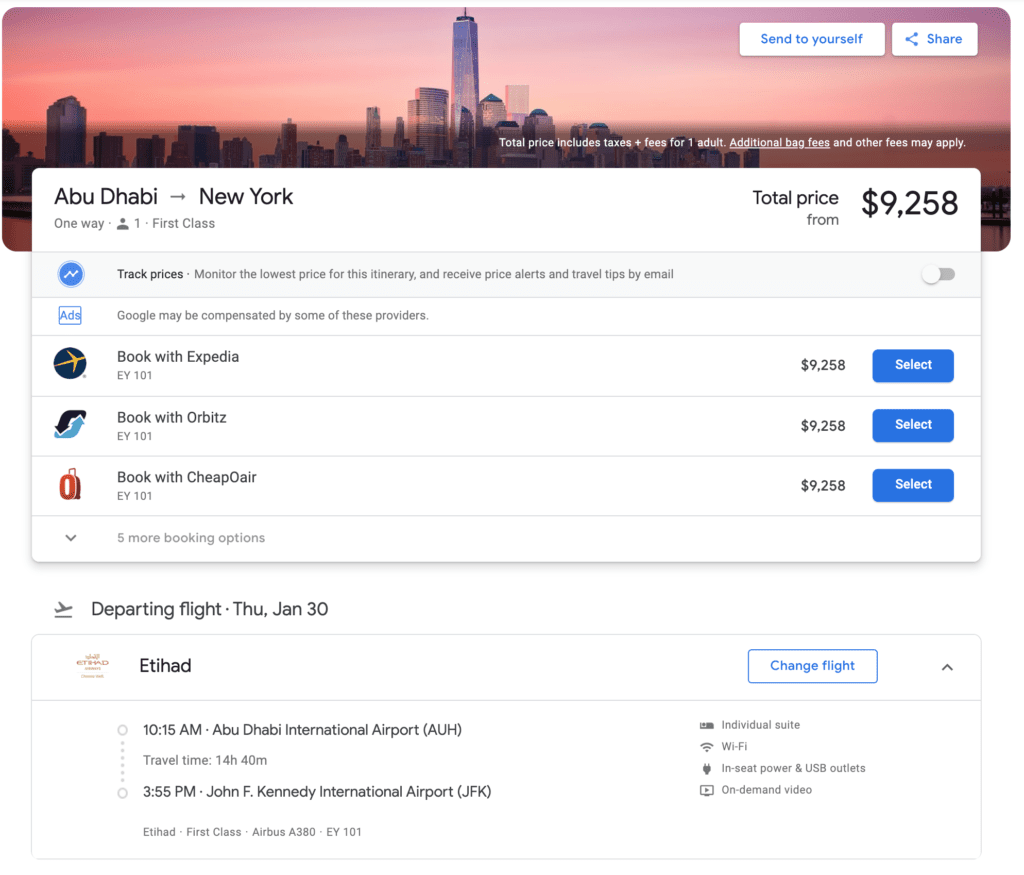 Your first stop when looking to book an Etihad award ticket should be the American Airlines website. As of May 2019, some Etihad awards are available to book online.
But if you can't find the award you are looking for on American's website, the story doesn't end there. You will need to search for award availability on the Etihad Guest Miles award booking page. This was the case for my ticket.
One thing to note is that if you do not have an Etihad Guest Miles account, it will continually prompt you and ask if you want to sign in or keep searching as a guest. While not necessary, this gets annoying quickly, so I would recommend creating a loyalty account if you don't have one.
When you are looking for award availability for the Etihad apartment, you will want to make sure the aircraft type is the Airbus A380 and that there is availability showing in the "Guest First" column (indicated with the red box below). Don't worry about the number of miles or the taxes and fees displayed. You will be paying with your American AAdvantage miles so this is irrelevant for our purposes. You just need to make sure that Guest First flight is available.
If you are not booking online, you'll need to call American to book once you find the availability on the route you are looking at. Unfortunately, AAdvantage agents in the U.S. often can't see this award space. But don't worry – you're not seeing things.
Your best bet is to call the American Airlines AAdvantage Australian customer service center at 61-2-9101-1948. You will have to add 011 before dialing the number from the U.S.
Just give the representative the dates, route and preferred cabin for which you found availability at the Etihad Guest Miles award booking page.
I called the Australia American airlines Australia number via Skype and they were able to see the award availability I was seeing without issues. I loaded money into my Skype account before the call and in total, the 14-minute phone call cost me 47 cents.
Read our guide to booking the Etihad Apartment with AA miles. 
Part of the allure of American Airlines is how easy these miles can be to earn. For starters, few credit cards offer a better, more lucrative welcome offer bonus than the AAdvantage® Aviator® Red World Elite Mastercard®. Just for opening the card, making a single purchase, and paying the $99 annual fee, you can earn 50,000 American Airlines AAdvantage miles. These are some of the easiest miles you will ever earn.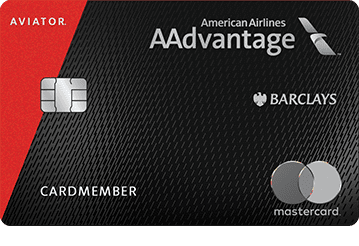 Click Here to apply for the AAdvantage Aviator Red World Elite Mastercard (this is not an affiliate link)
American Airlines is unique in the fact that they have co-branded credit card relationships with both Citi and Barclays thanks to the merger of American and U.S. Airways a few years ago.
So you can also apply for the Citi® / AAdvantage® Platinum Select® World Elite Mastercard® which is currently offering the ability to earn 50,000 miles after spending $2,500 in the first three months of card membership.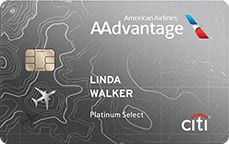 Learn more about the Citi® / AAdvantage® Platinum Select® World Elite Mastercard®
This is significant because you can earn the welcome offer bonus on each card, netting you 100,000 American Airlines miles after paying one annual fee (the Barclays AAdvantage Red Aviator Card) and spending $2,500 on the Citi AAdvantage Platinum Select Card in the first three months of card membership. A few thousand miles more and you'll have enough to book the Etihad First Class Apartment.
Etihad First Class Check-In and Lounge
I stayed in Dubai during a short trip in the United Arab Emirates. So on the morning of my flight, I took an Uber from my hotel to Abu Dhabi international airport (AUH). The ride from Dubai was a little over an hour and cost roughly $85.
Upon arriving, I was dropped off at the main entrance to Etihad's Terminal 3. From here, it was just a quick walk down to the dedicated first-class entrance. And once inside, I was directed to the first class check-in desks.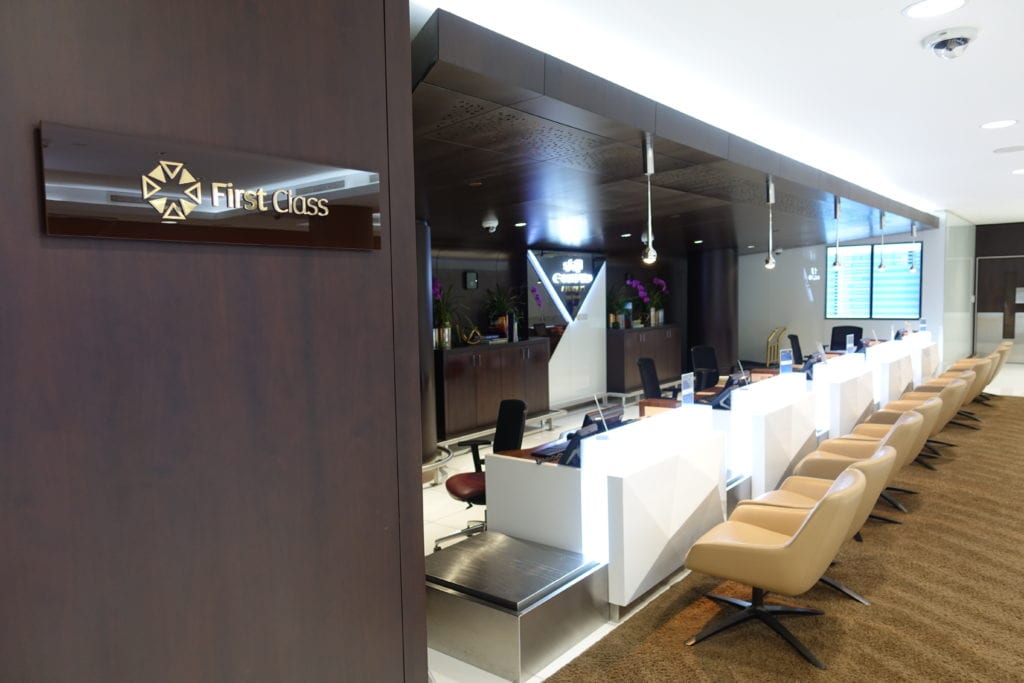 The service was fantastic as there were only a few other passengers checking in while I was there. I had my ticket and I was directed to the First Class lounge to relax before my flight.
After making it through the dedicated immigration and security area for first and business class passengers I headed for the first class lounge.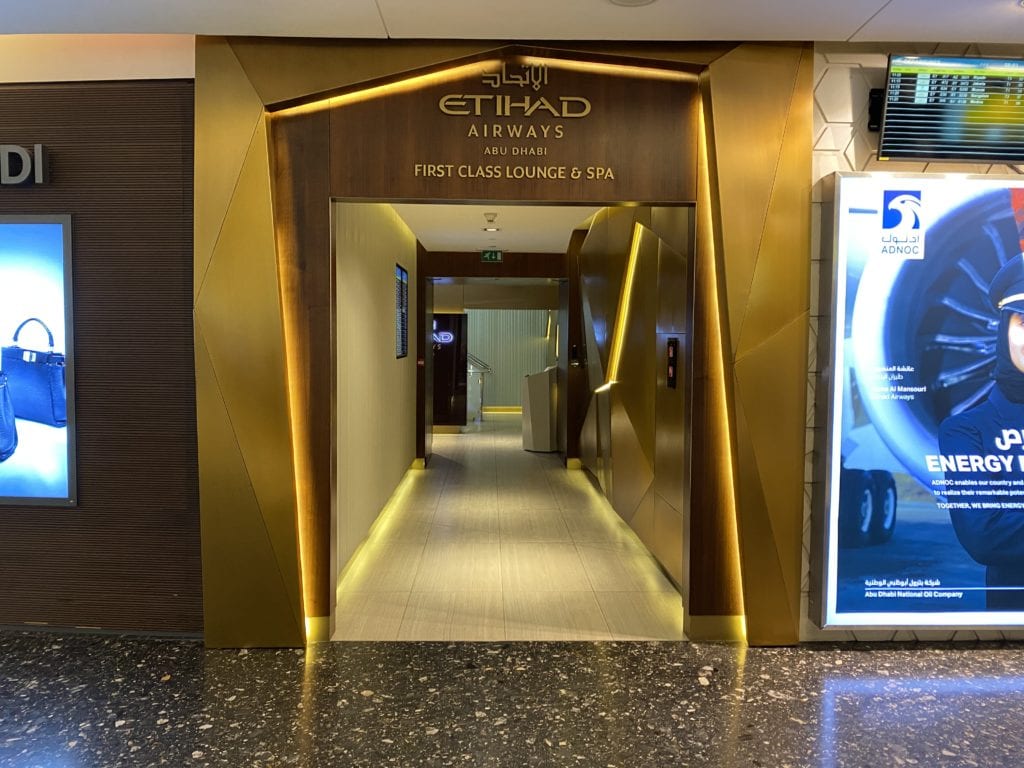 The lounge was mostly empty when I arrived just a little after 8 a.m. local time. I made my way to one of the main dining areas to sit down and have something to eat.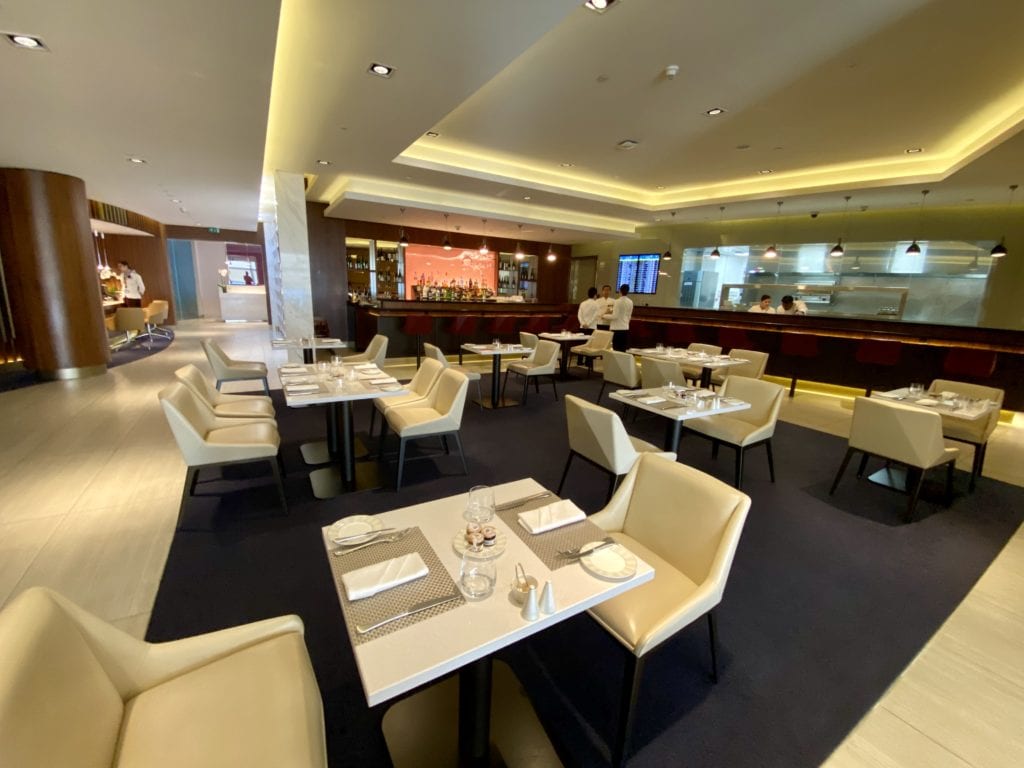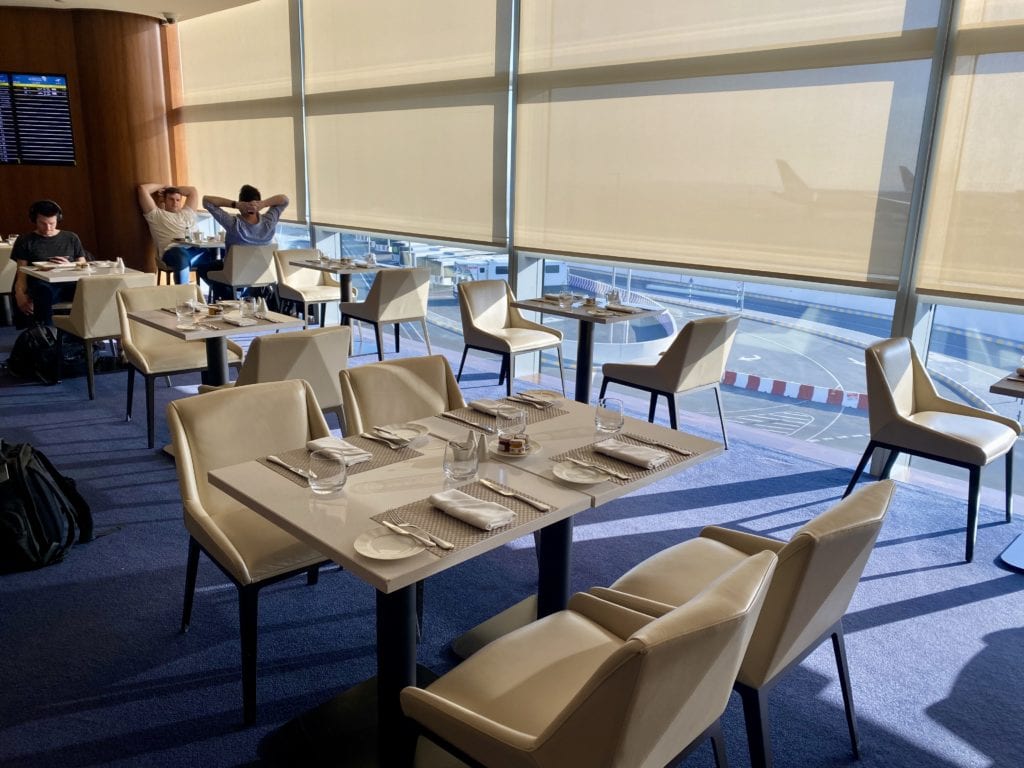 While they had an expansive food menu, I decided to have just a few small bites in order to save my appetite for the onboard experience. I had a few pieces of asparagus wrapped in smoked salmon and a bit of cantaloupe wrapped in prosciutto.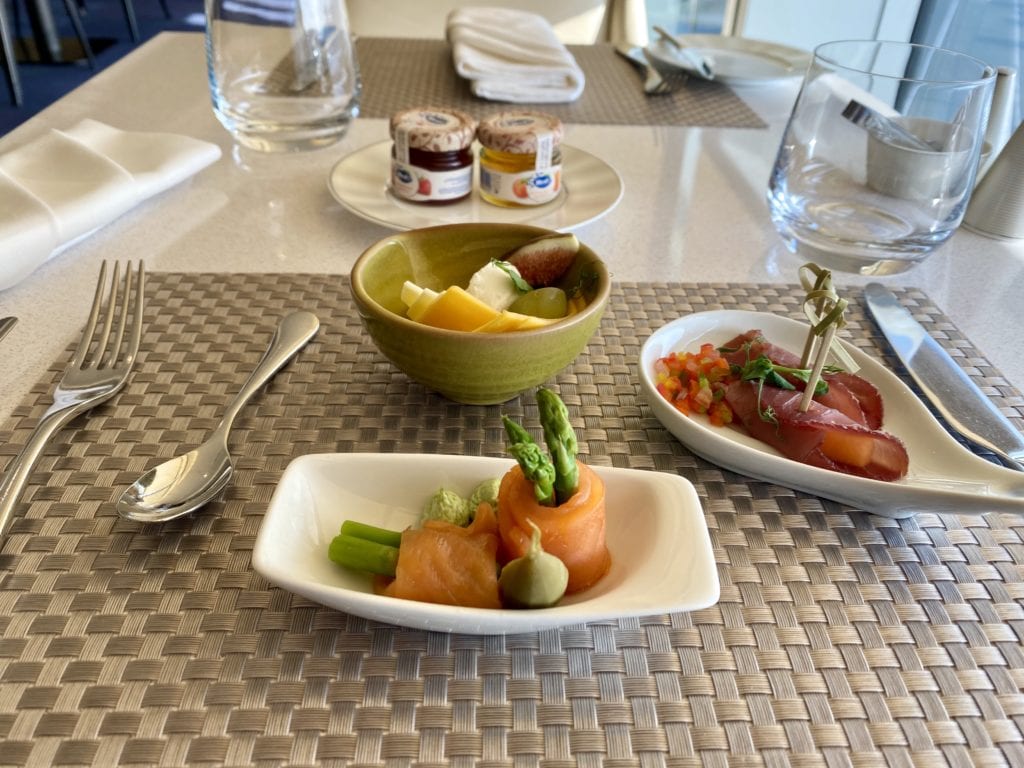 After grabbing a bite to eat, I decided to wander around the lounge and see what it had to offer. The first stop was the bar – which was completely empty at 8:30 a.m.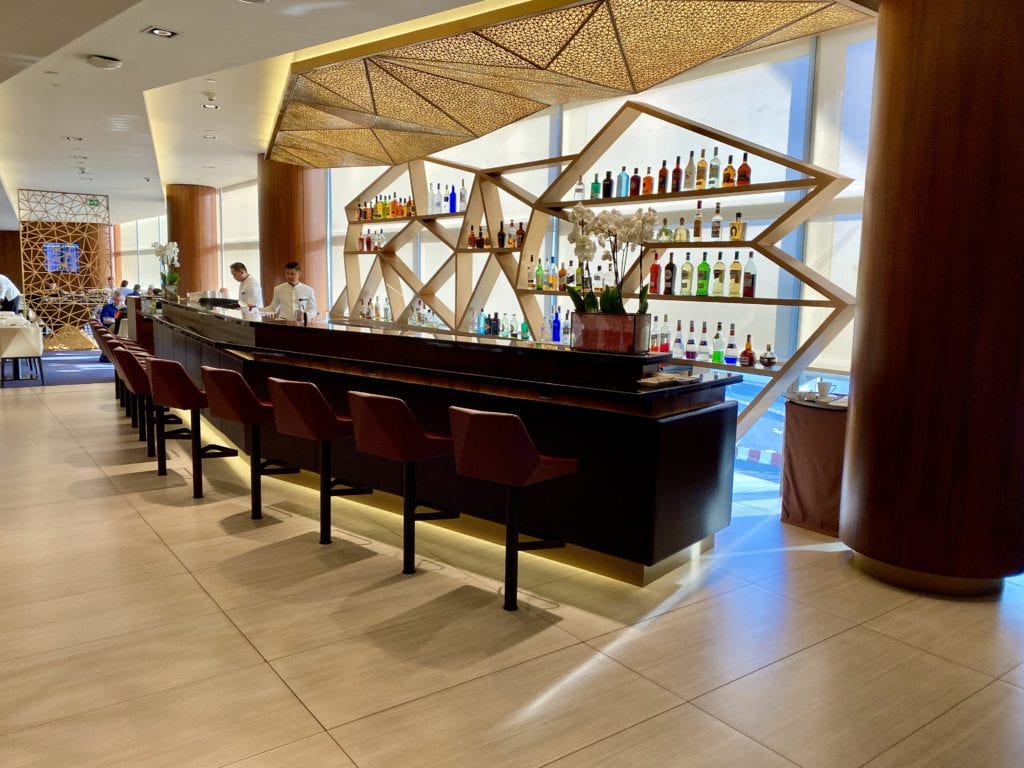 After checking out the bar, I headed for the cigar lounge. Etihad opened the first class lounge cigar room back in 2016 – you can smoke a complimentary cigar before your flight.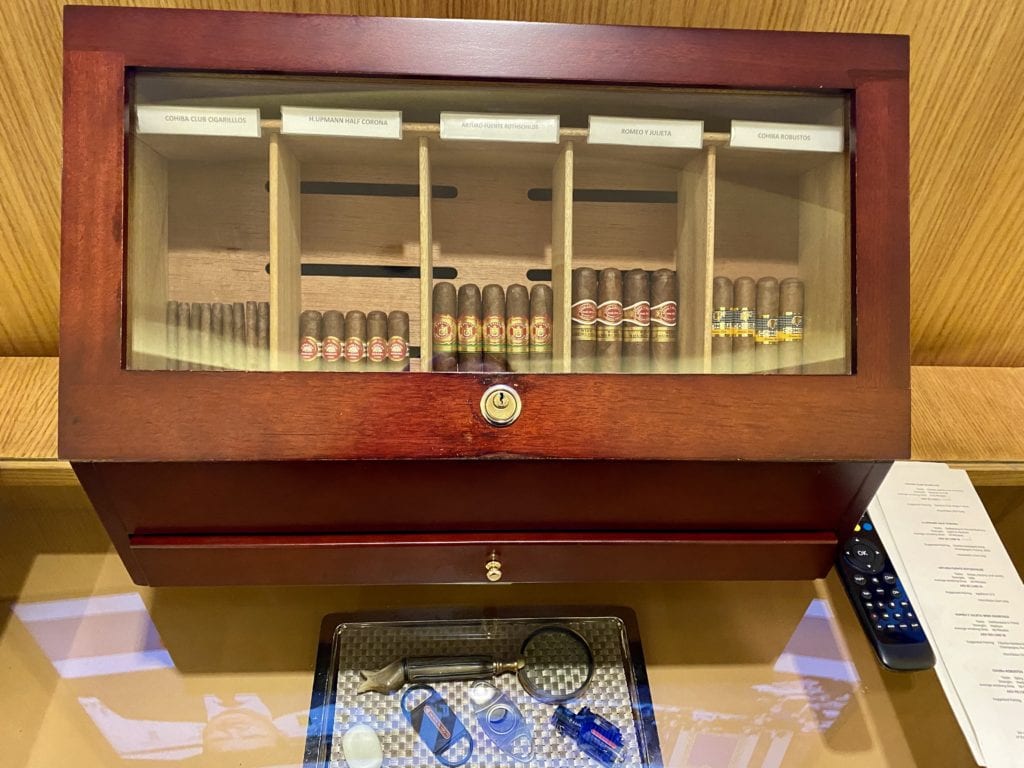 After checking out the cigar bar, I headed down the hall and found a kids' play area.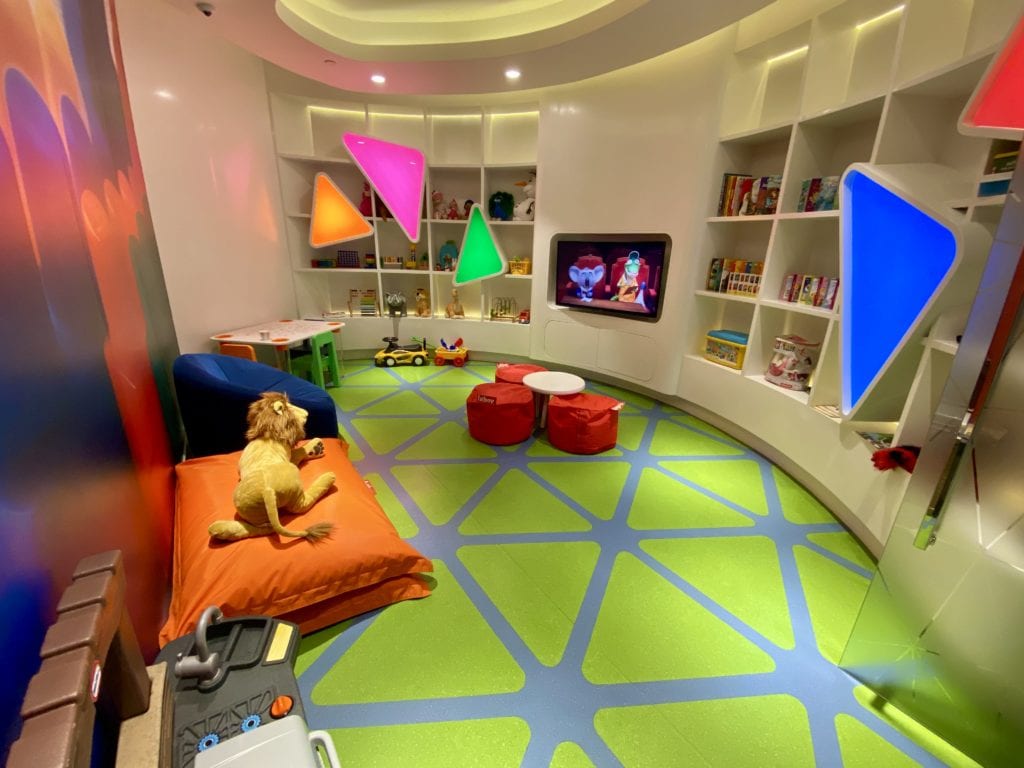 And close to the kids' play area is the Six Senses Spa which offers a full list of spa services – which, unfortunately, are not complimentary. A 15-minute massage started at around $25.
After relaxing for a bit longer, the lounge attendant who checked me in came to inform me that I should start heading to the gate. Abu Dhabi is one of a handful of international destinations with a  United States customs pre-clearance facility. That means that I could clear customs in Abu Dhabi and when our flight touched down in New York (JFK) we would deplane and be on our way.
After a long walk to our gate and using my Global Entry membership to clear Customs in a flash, I was finally at the gate and ready to board.
Etihad First Class Cabin
You'll only find the Etihad Apartment onboard their double-decker Airbus A380 aircraft. After boarding via the upper deck, I took a left turn into first class. The stunning first class cabin has a total of nine individual apartments – each with their own sliding privacy door.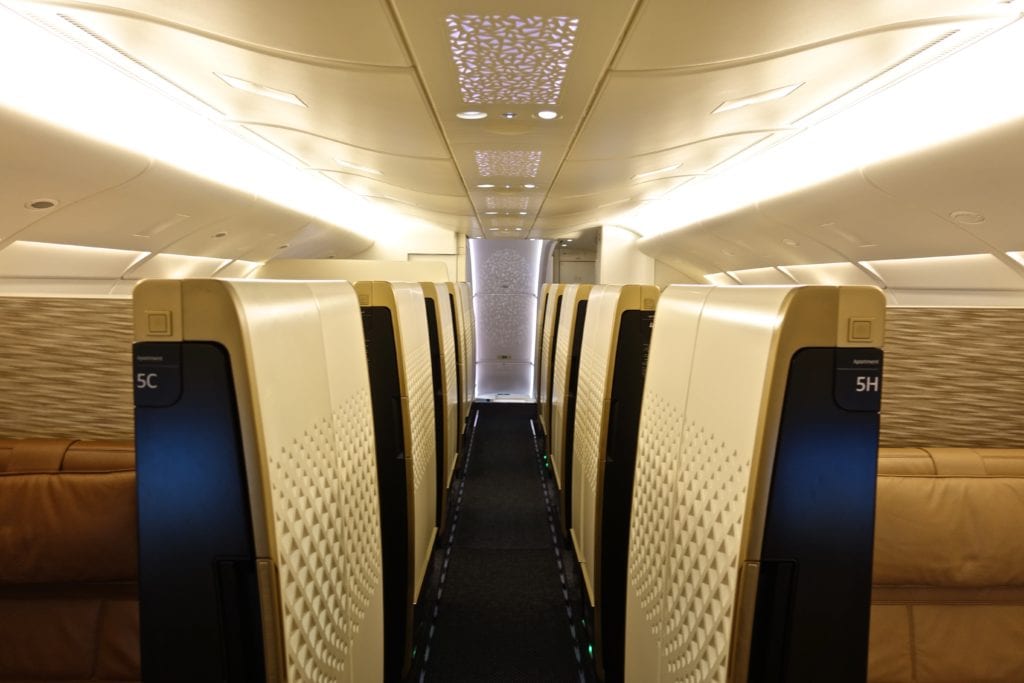 At the very front of the first class cabin is something different entirely: the Etihad Residence. It can't be booked with miles and as Etihad describes it, it is a "luxury three-room apartment in the sky." It takes the Apartment to another level, with its own ensuite shower, living area, and a private bedroom with a double bed.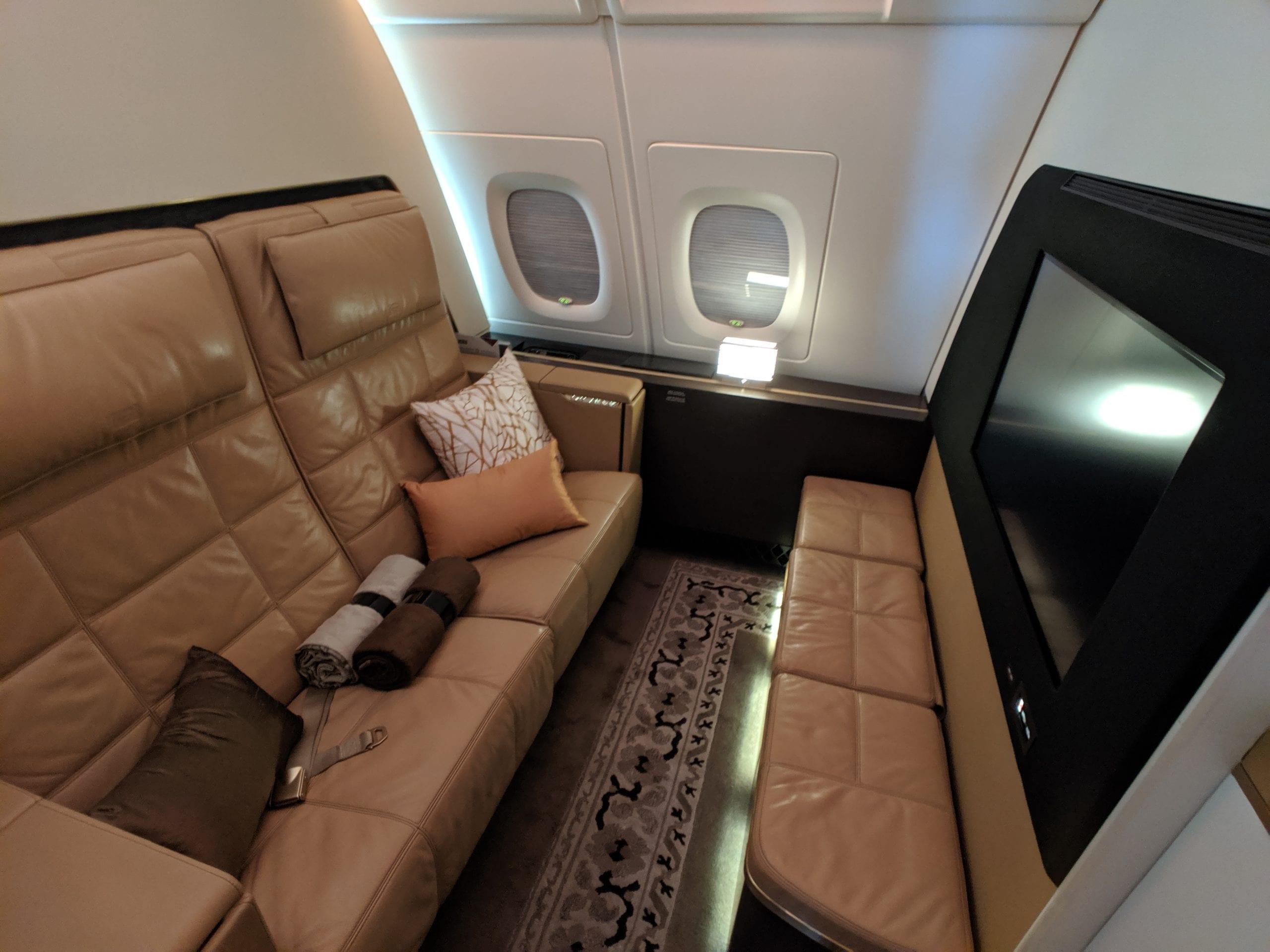 There were no guests in the Residence for my flight, and even the first class Apartments were only about half full.
Etihad First Class Apartments
From the moment I stepped foot inside the Etihad first class Apartment, I was wowed.
After boarding, I was immediately greeted by name by the head purser and ushered to my seat. I was seated in Apartment 4A, a forward-facing suite closer to the window. If you want to be facing forward and on a window, Apartments 4A and 4K are the only two that meet this criteria.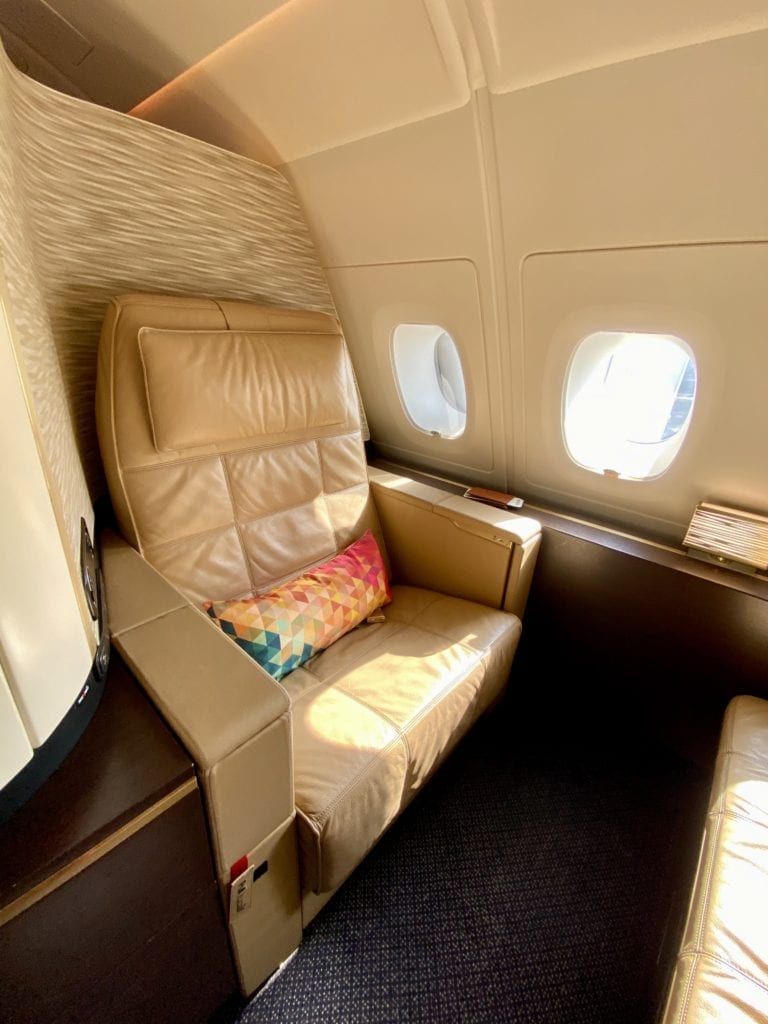 Each apartment includes a huge, 30″ wide reclining seat along with a separate 78″ bench that can be used as both a footrest and can also be converted into a bed once it is time to sleep. Other than the new Emirates first class, I am not sure there is a more spacious or comfortable seat in the sky.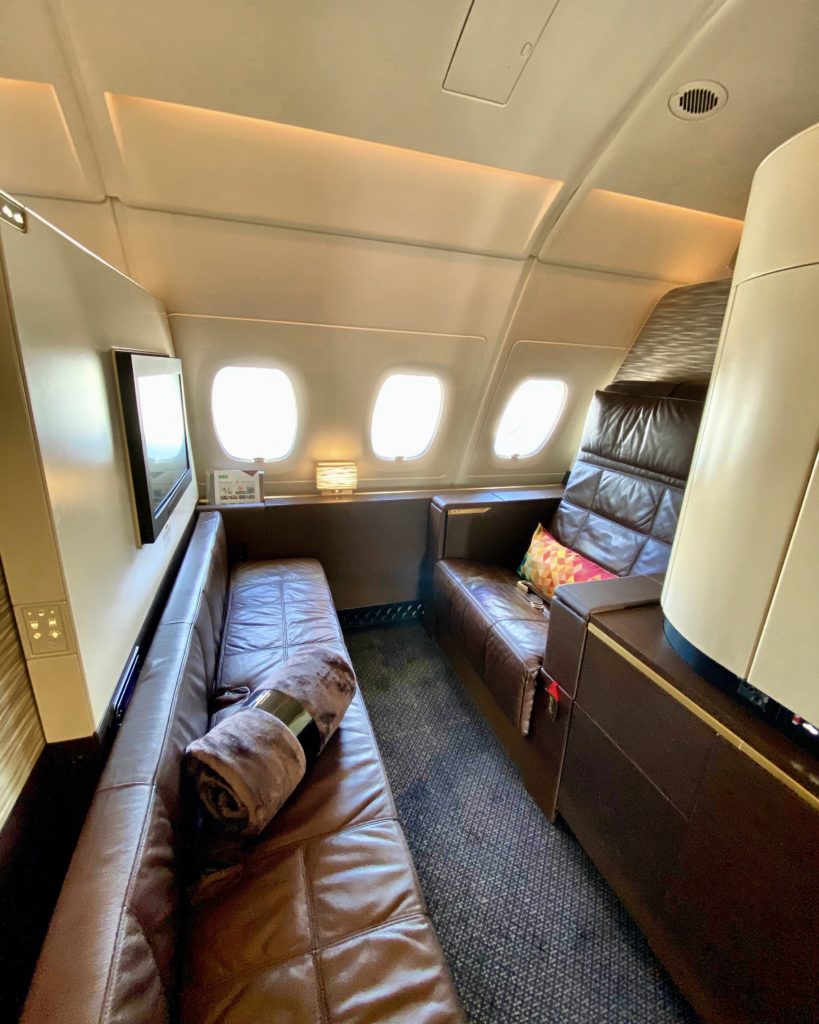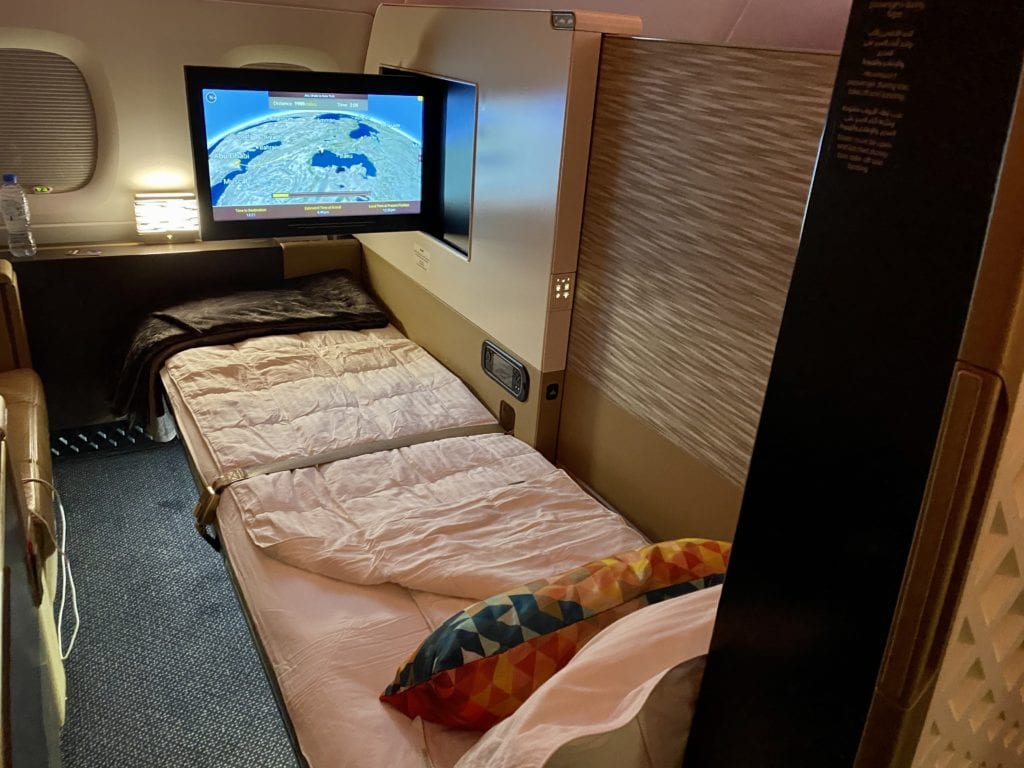 After getting settled in, the head purser came back to offer me a glass of pre-flight champagne, some Arabic dates, a hot towel and a pass for Wi-Fi. Twist my arm.
The champagne was Charles Heidsieck 2006. I am far from a Champagne snob, but I thought it was very good – it retails for around $100 a bottle.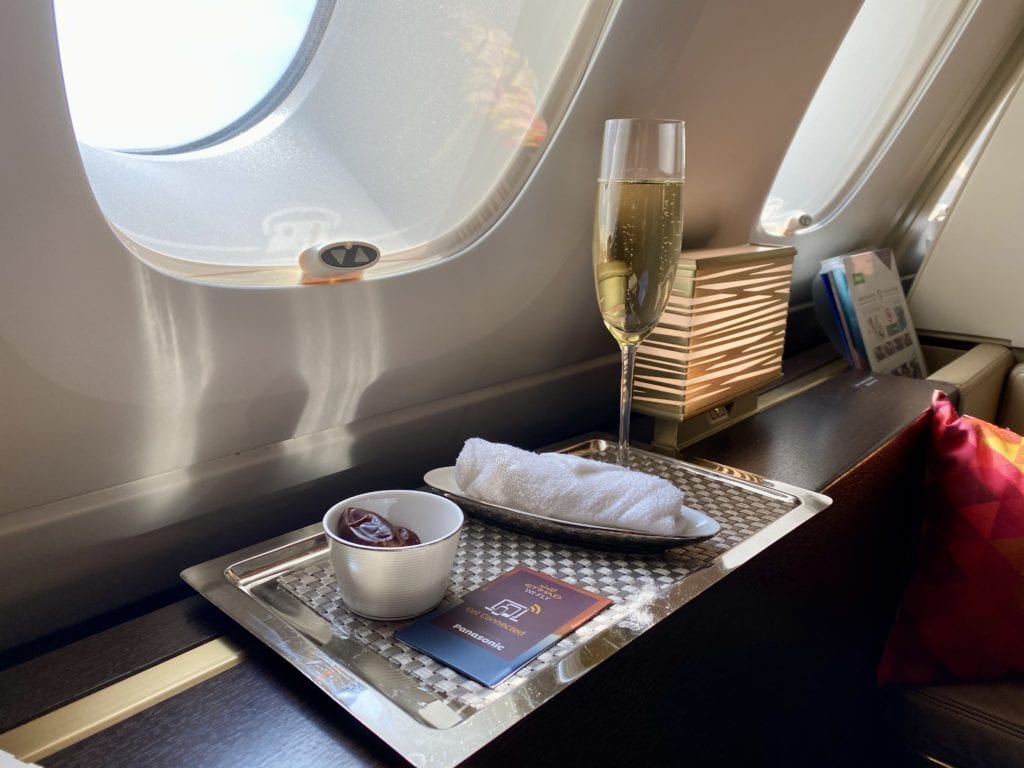 Inside the actual Apartment there is a ton of storage space – including a compartment for a piece of carry-on luggage directly underneath the bench opposite your seat.
Right next to the actual seat was a mini-bar compartment stocked with soda and water. And in the seat itself, there were numerous compartments to store all of your belongings.
Once I got settled and got my stuff situated, I decided to run to the bathroom and change into my pajamas which were very comfortable. As you can see, the Etihad first class Apartment doesn't lack any legroom.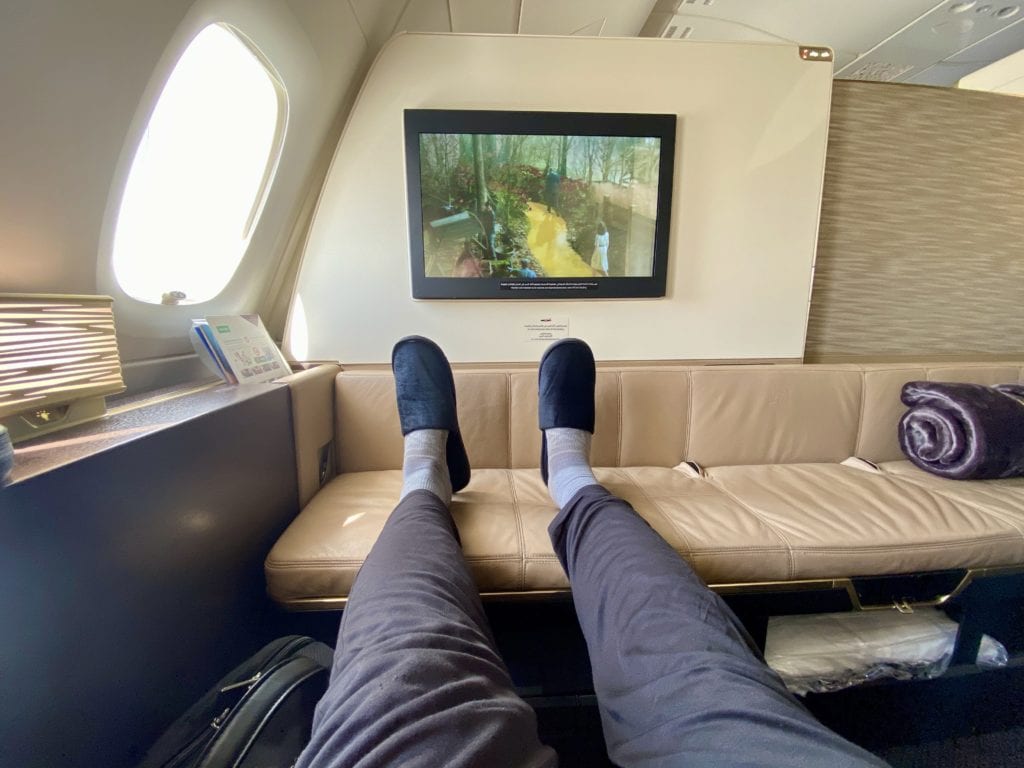 Service and Dining
Etihad's service and dining really shined.
About a half an hour before take-off, I was visited by the onboard chef named Rocco. Yes, Etihad has its own onboard chef for first class.
He walked me through the menu and the wine list, explaining that all service was dine-on-demand – meaning I could order and eat on my schedule. And since I didn't have a lot to eat in the lounge, I decided to put my order in right away. I ordered the chef's special, a delicious beef tenderloin dish.
And about an hour after we took off, Rocco was back to deliver my first course – caviar and a glass of Charles Heidsieck rosé champagne.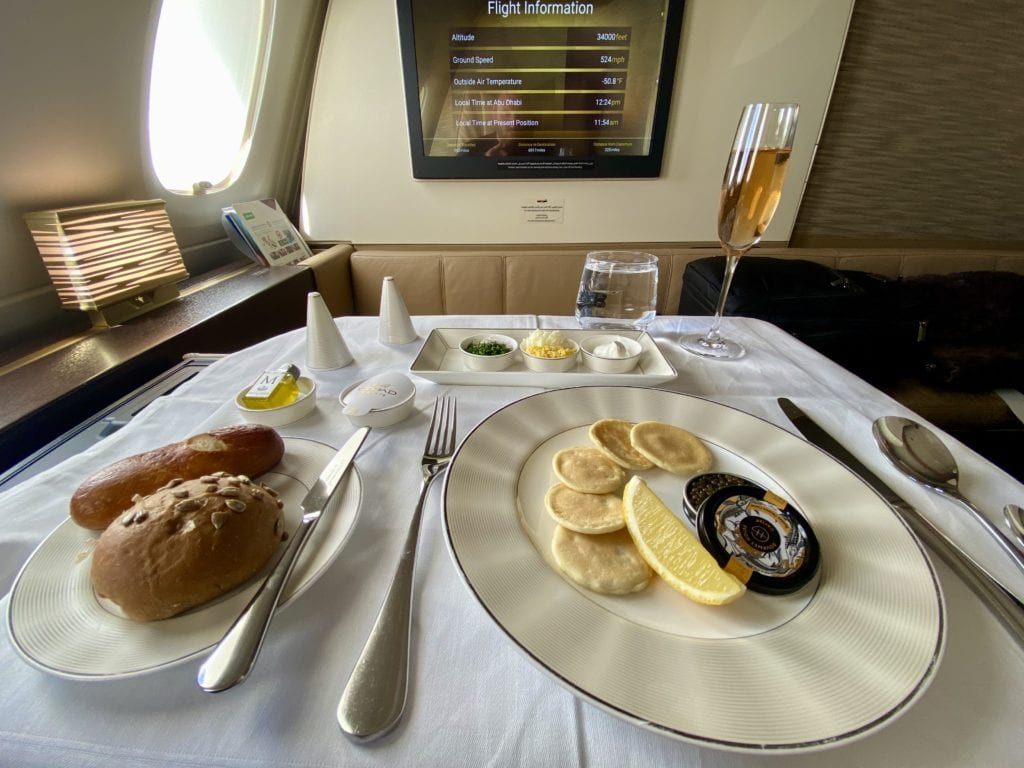 About 30 minutes later, course number two was delivered: a delicious Arabic mezze plate. It was probably my favorite thing I ate while on board.
Before my main course arrived, I had a bit of sorbet as a palate cleanser.
Finally, the main course was delivered and it did not disappoint. The onboard chef Rocco was from Italy and he suggested I pair the beef tenderloin with a red sangiovese wine from Tuscany. It was also amazing.
After my main course, I had to throw the towel in on dessert as I was just too full. However, there were four options to choose from: A warm date pudding, yogurt with white chocolate, a cheese selection with crackers and fruit, and ice cream.
After getting about seven hours of sleep and about two hours before we were due to land in New York City, I decided to place another food order from the "lounge and grill." I ordered the beef sliders with monterey jack cheese, sriracha sauce, pickles, and onion rings. They were absolutely delicious.
I found Etihad's first class dining to be incredible, among the best I've ever had on a plane. The onboard chef took it to another level with personalization and service.
Amenities: An Onboard Lounge and Shower
Just past the first class cabin is a small lounge area that can be enjoyed by both first and business class passengers with six seats total. I didn't see anybody using it during the entire flight.
The first class amenity kits were from Acqua Di Parma and consisted of body lotion, lip balm, facial mist, a toothbrush and toothpaste, and a sleep mask. It wasn't the best amenity kit I have ever received, but it was more than adequate.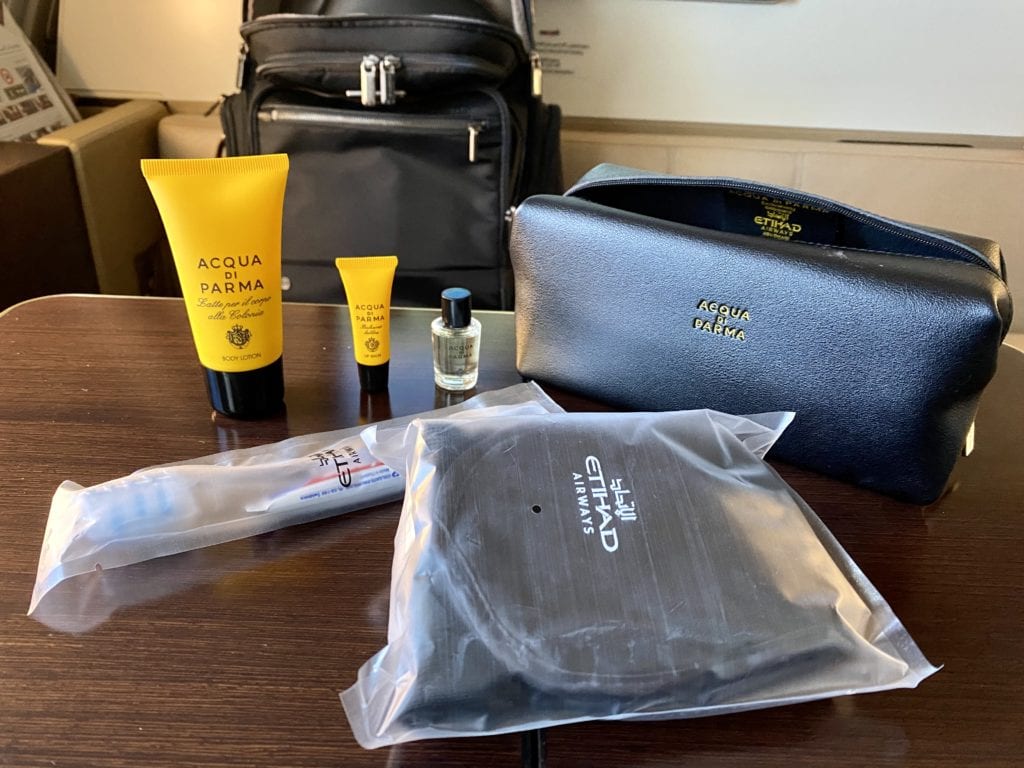 Along with Emirates, Etihad is one of just two commercial airlines with a shower onboard for first class passengers. So a few hours before we were scheduled to land, I let one of the flight attendants working the first class cabin know I wanted to take a shower.
He went to go prepare the shower and came back with bad news. The shower was not working properly and I wasn't going to be able to use it during the flight. I was bummed as I had flown Emirates first class to the UAE so I was excited to compare the experiences.
But seeing the shower compared to the Emirates shower, I don't think I missed too much.
For reference, here's Emirates shower onboard the A380 for their first class passengers. The bathroom had much more space, a bigger shower, and heated floors. Pretty hard to compete with.
Entertainment
Shortly after boarding, I was given a Wi-Fi card with 90 MB of data to use during the flight.
The service was incredibly slow and I had a hard time doing much of anything – typical for Wi-FI on some of these older Airbus A380s. By about halfway through the flight, the 90MB ran out. I asked a flight attendant if I could have another Wi-Fi card and I was told that each passenger can only have one.
It wasn't the biggest deal. But if I had paid over $9,000 for my ticket and was being denied a second Wi-Fi card, I probably would have been a little more bothered.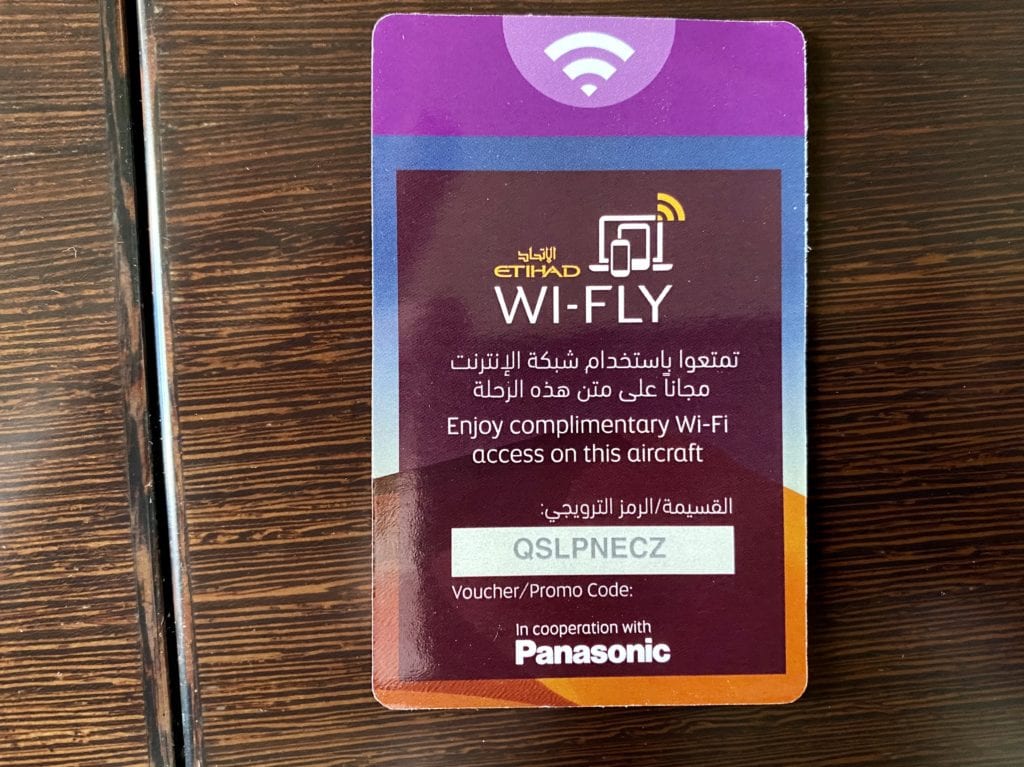 In every Etihad first class Apartment, you'll find a 24″ touchscreen display – along with a remote control at each seat.
There was certainly not a lack of entertainment onboard as there were several live TV stations and hundreds of movies and TV shows to choose from. Seeing as the Wi-Fi was mostly useless, I spent most of my time watching movies and TV.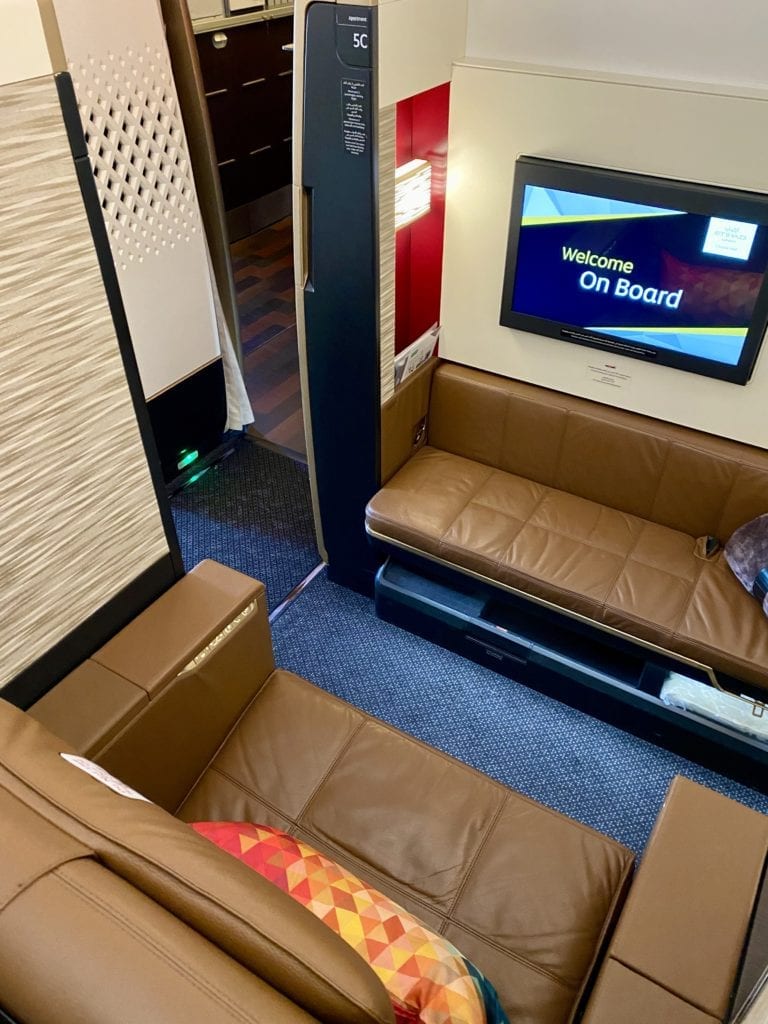 Bottom Line
The Etihad First Class was an incredible experience overall. The comfort, space, and feel of the Apartment itself is second to none. Service was exemplary, including some of the best food I've ever had on a plane.
On the downside, the Wi-Fi was slow and the shower wasn't working. But those are ultimately minor knocks against what stands among the best international First Class options out there. This is an absolutely fantastic way to use your hard-earned American Airlines miles.