Flying Lufthansa First Class is regarded as the cream of the crop for luxury travel to and from Europe. And the special treatment begins long before stepping foot on the plane.
You don't just get your own private lounge. First Class flyers with Lufthansa get their own terminal.
Welcome to the Lufthansa First Class Terminal at Frankfurt (FRA), a bucket list item for me and many others. It's a dedicated building, separate from the rest of the airport – and far more luxurious. You can even get whisked to and from your flight in a private Porsche that speeds across the tarmac.
How can it possibly live up to the frequent flyer hype? Keep reading.

Getting into the Lufthansa First Class Terminal
The best way to get into the First Class Terminal is by flying, you guessed it, first class.
You can get in whether you're flying Lufthansa First or with its sister airline, SWISS. Top-tier status holders can also get in. And while there are some nuances to the access policy, you can generally get in so long as you're departing or connecting at Frankfurt and at least one of your segments is in first class.
Getting there is another matter. The First Class Terminal is designed for passengers originating in Frankfurt, so it is separated from the rest of the airport. I landed in Frankfurt from a connecting flight in London, so I cleared immigration and took a pretty long walk to my private terminal.

After exiting baggage claim, I made a left turn and walked past the taxi waiting area before spying the Lufthansa First Class Terminal.

The main entrance to the terminal is on the upper level of the building, which is where you'd enter if you're dropped off by car. Instead, I made my way to a "secret" door on the lower level and took an elevator up to reception.

The Lufthansa First Class Terminal
This is more than just a lounge. So the First Class Terminal is unique in its design – and amenities.
Sure, you can eat, drink and relax here. But you can also check in for flights, clear security, and be transferred to your flight. In short, the Lufthansa First Class Terminal wraps some of the mundane parts of travel in luxury. And it started the minute I stepped out of the elevator.
As I walked up, several assistants were standing by and one gave me a warm welcome. She looked up my details on an iPhone and confirmed my access to the terminal. Next, I was escorted to a private (and empty) security checkpoint staffed by some very friendly guards.
After clearing security, my assistant (yes, my assistant) kept hold of my passport while giving me a tour of the space. There are numerous seating areas throughout the terminal and lots of comfy chairs to choose from!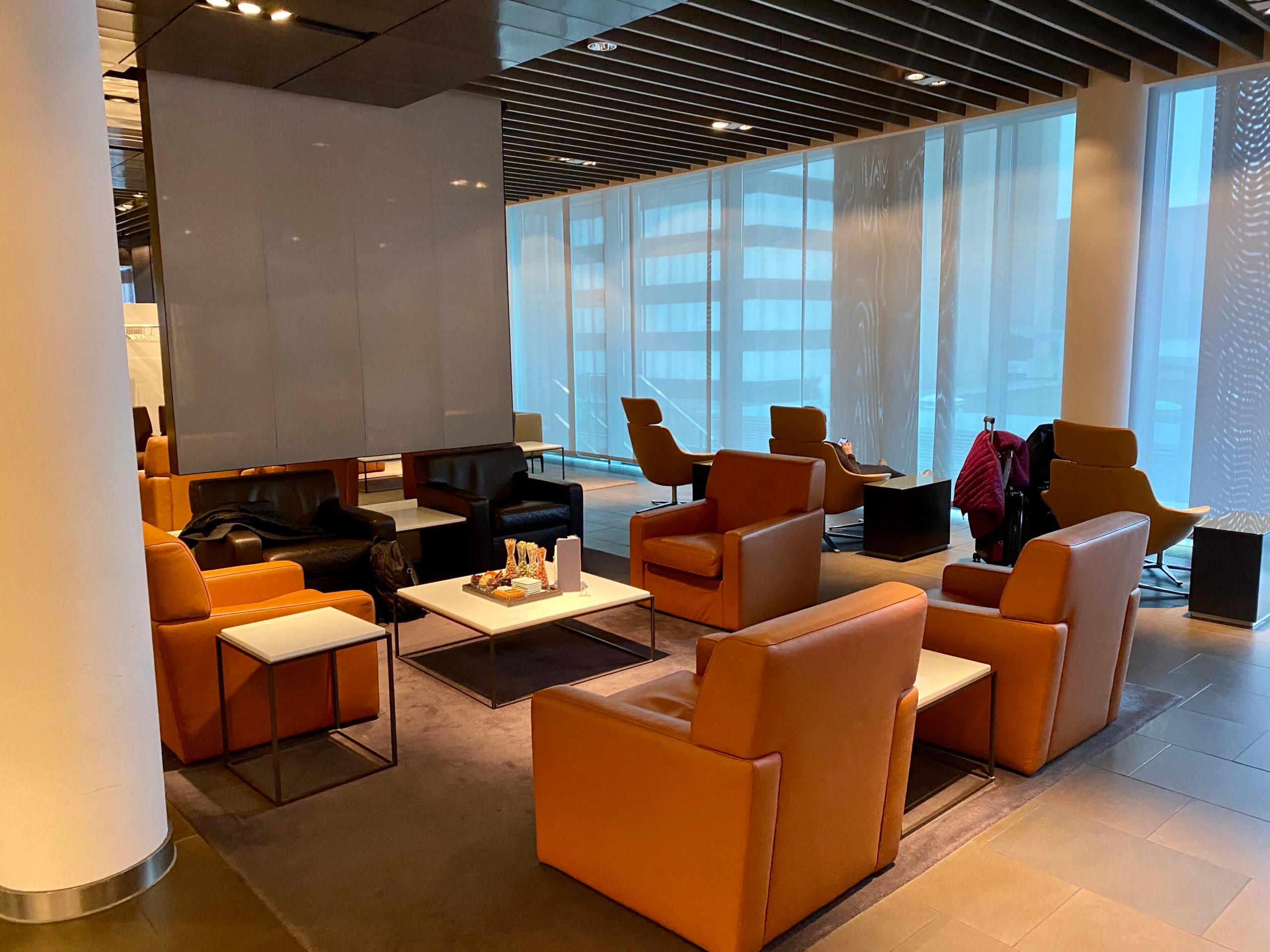 Despite its open layout, each seating area feels quite private. And I can't overstate how quiet the entire space was.

To the side of the Lufthansa First Class Terminal is a small cigar lounge. Until a few years ago, Lufthansa even provided complimentary cigars!

Need to get some work done before your flight? There are several private desk spaces available, furnished with all the expected business amenities.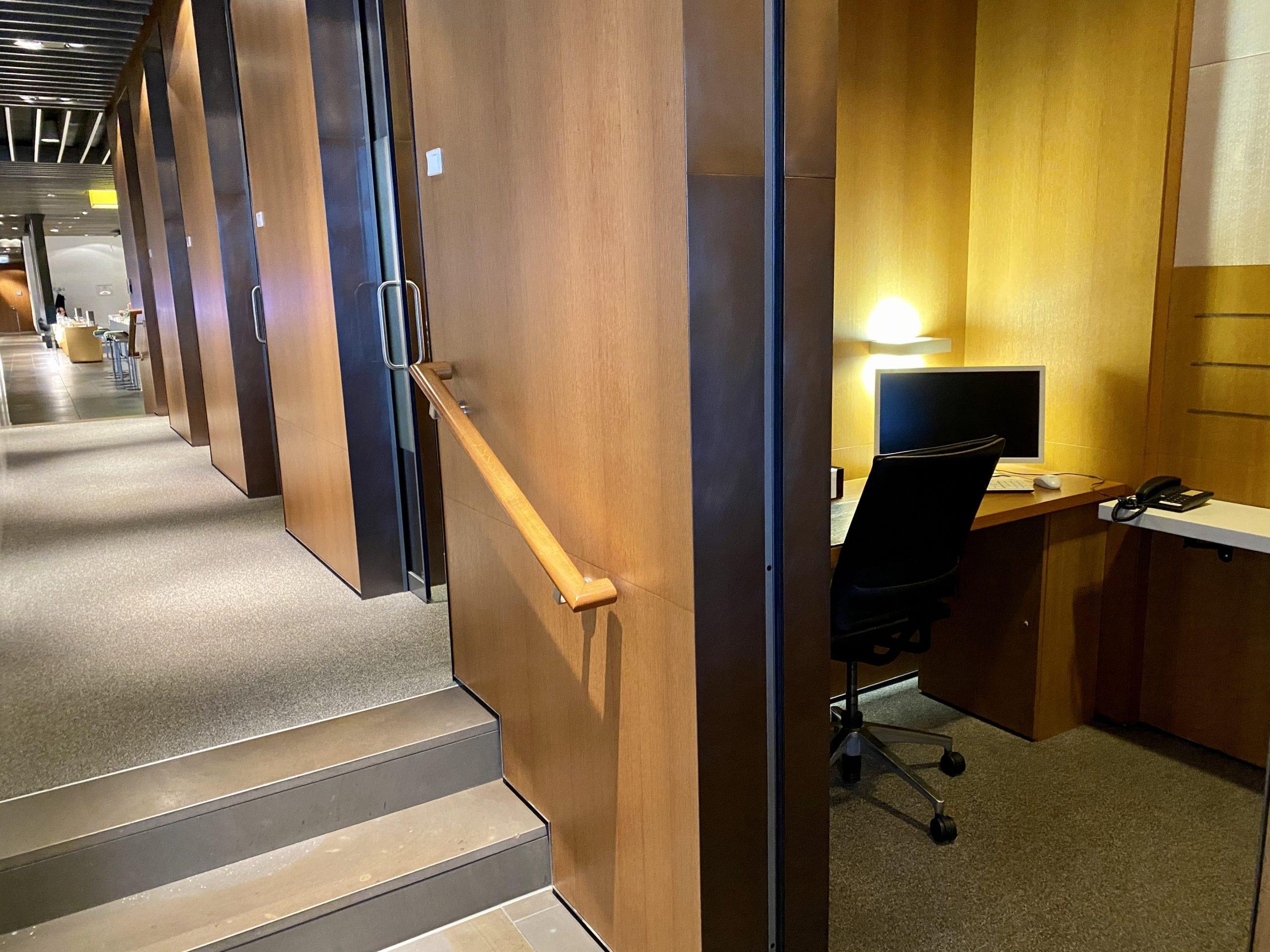 The well-stocked bar in the center of the space will impress thirsty travelers!

With our tour completed, my assistant left me to explore while she went to print my boarding pass.
Food & Drink
I arrived at the First Class Terminal in the early afternoon and decided to start with some food.
While you can order food from any of the seating areas, I decided to head to a table in the dining area, just to the left of the bar.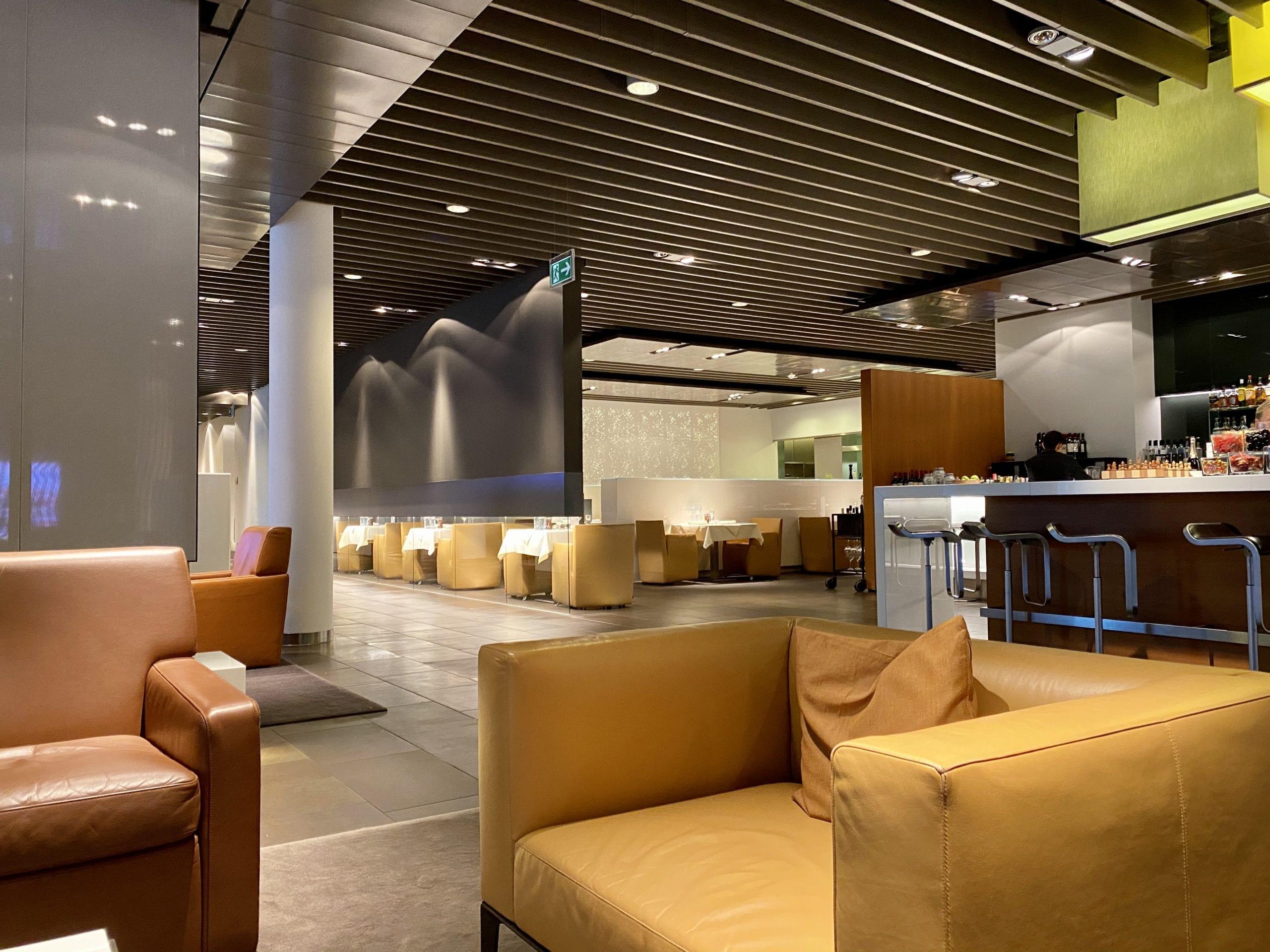 Lufthansa offers an impressive selection of food. It's a huge step above what you'll typically find at even some of the best business class lounges. (click the menu for a closer look!)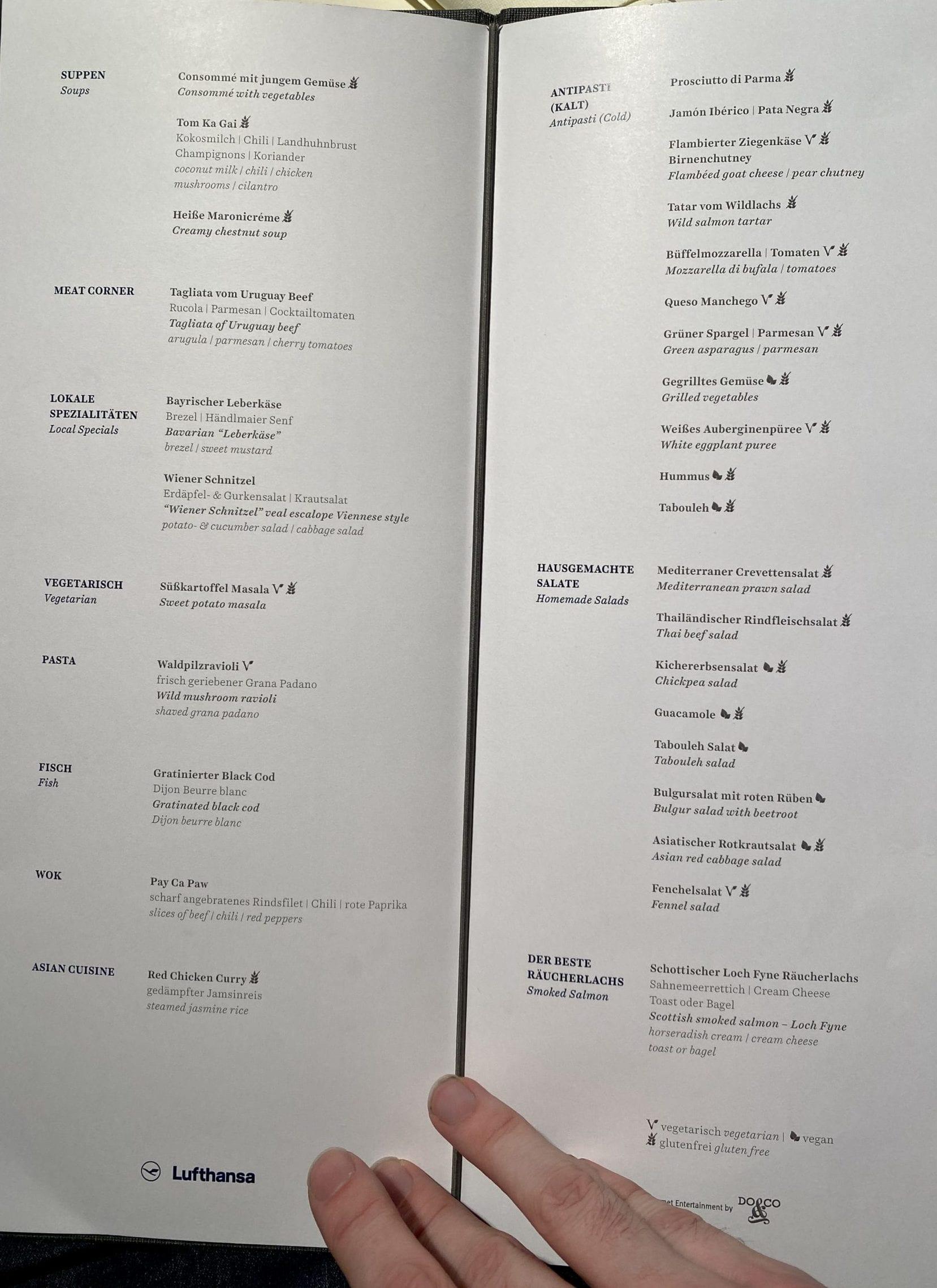 I loved the restaurant-style table setting, including the chilled water that was easily accessible.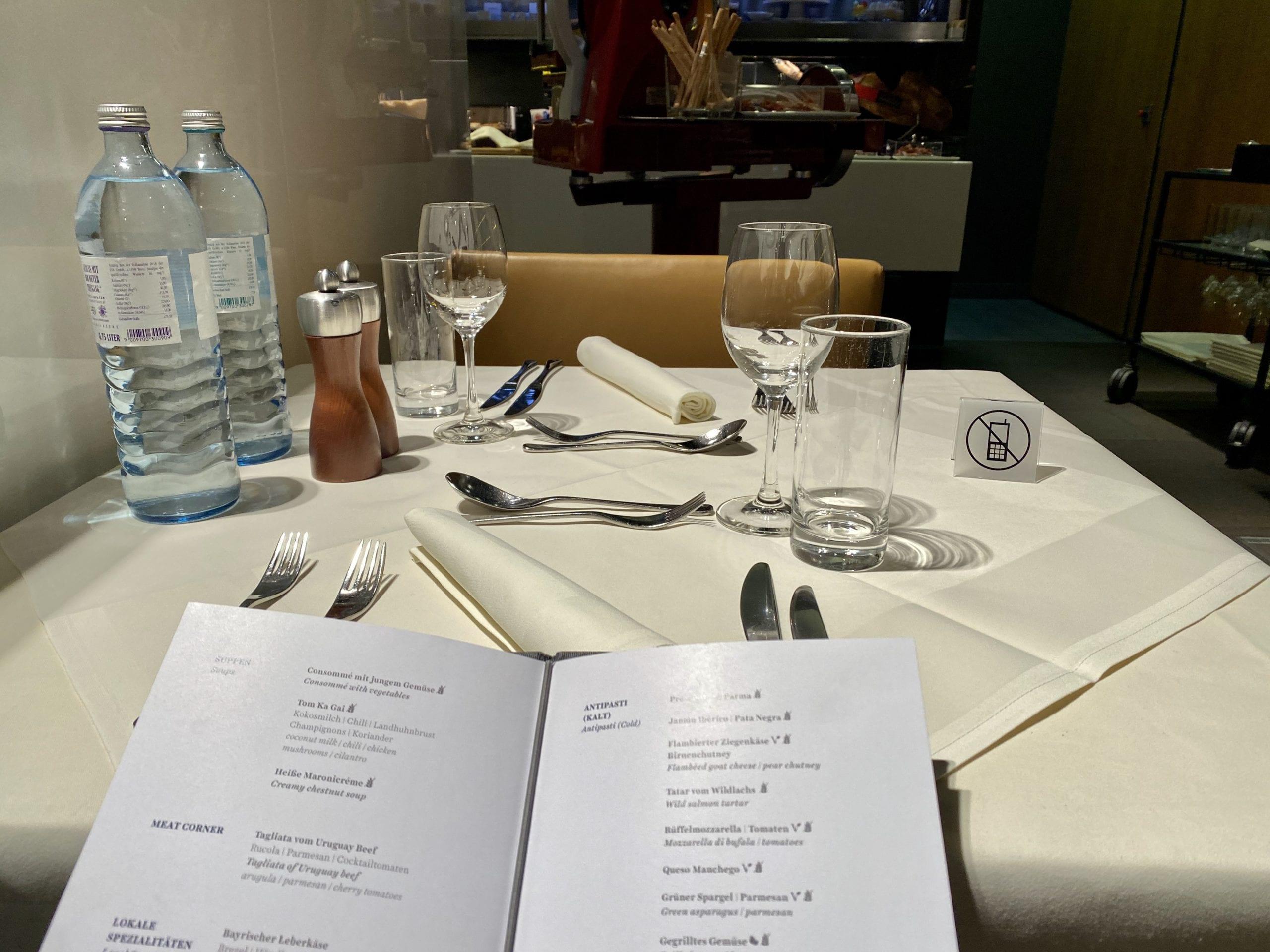 I wanted to save some room for a feast on my flight, so I settled on just one course: the Tagliata of Uruguay Beef. It was absolutely exquisite, perfectly cooked, and by the far the tastiest thing I have eaten at an airport.

There are also a good number of self-serve options in the dining area, including this salad bar.

Meat and cheese lovers will also find no shortage of options, including a massive block of parmesan and entire leg of cured ham.

Alcohol is a big highlight of the lounge. For example, check out this wall devoted entirely to different kinds of gin.

Showers
Following my meal, I ventured over to the showers to freshen up.
I had hoped to try out the full-size bathtub, a unique feature of the First Class Terminal. But the sole tub was already in use, so I settled for a very well-appointed shower suite instead.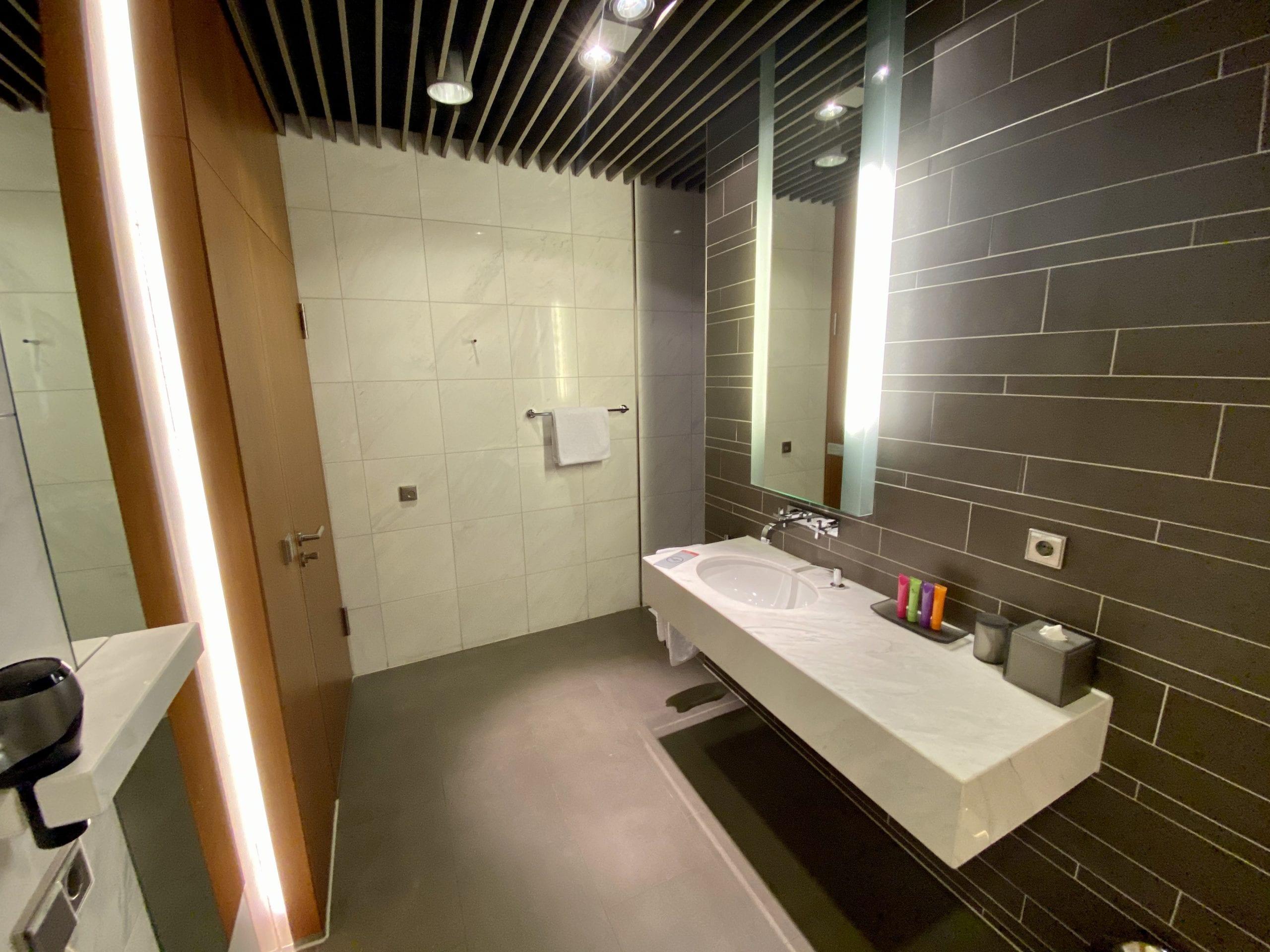 I'm a big fan of rain showers, and Lufthansa's delivers. At 6 feet 4 inches, it's nice not to worry about bumping my head.

The Lufthansa First Class Terminal is stocked with toiletries by Etro, which are very nice.

If you're feeling chilly after your shower, you can wrap up in a cozy bathrobe and slipper set while you get ready!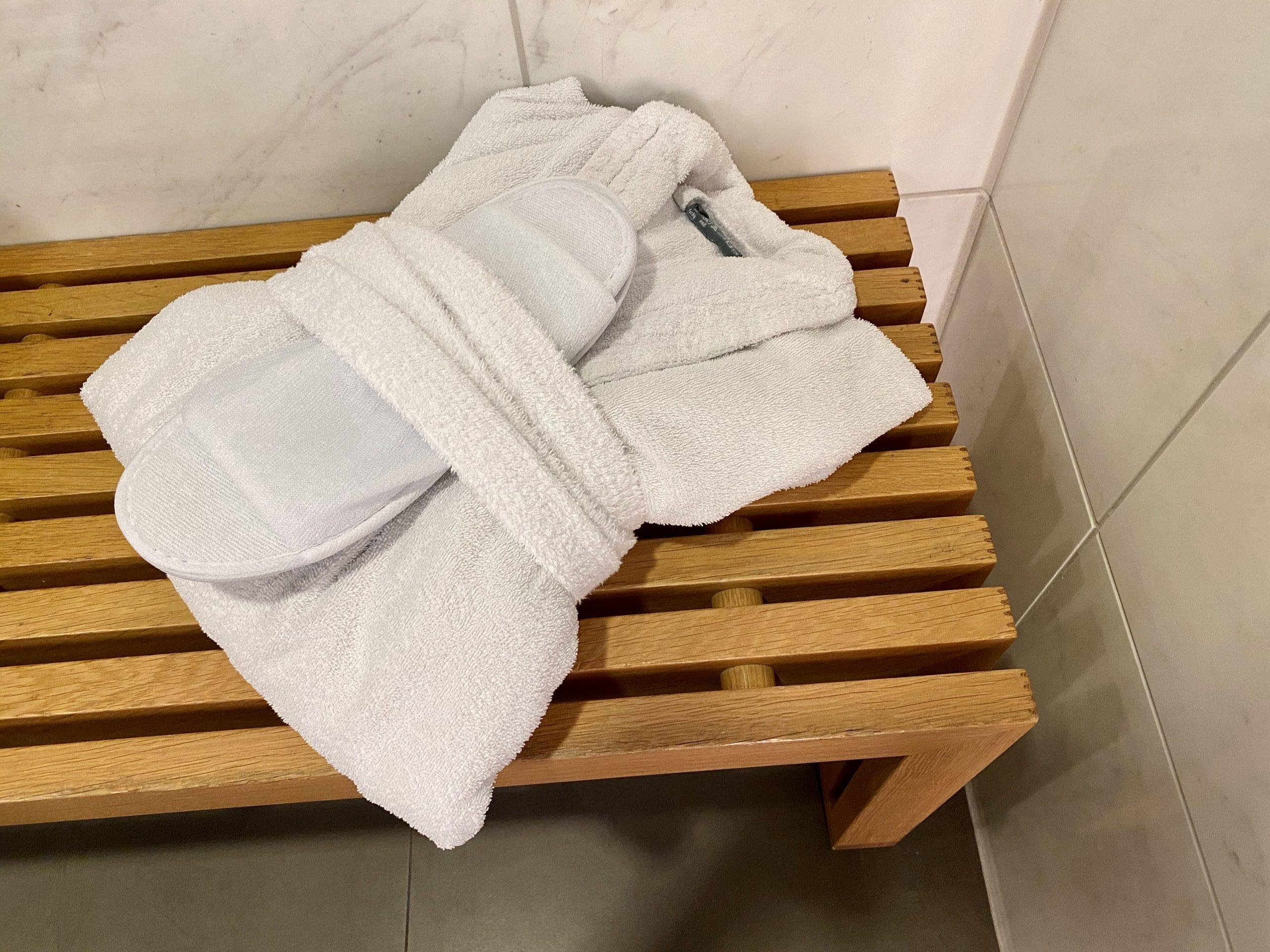 Drinks
After my shower, I found a comfortable leather chair and decided to order a drink. The massive bar menu, including two full pages of scotches and other whiskeys, made it a trickier task than you might think.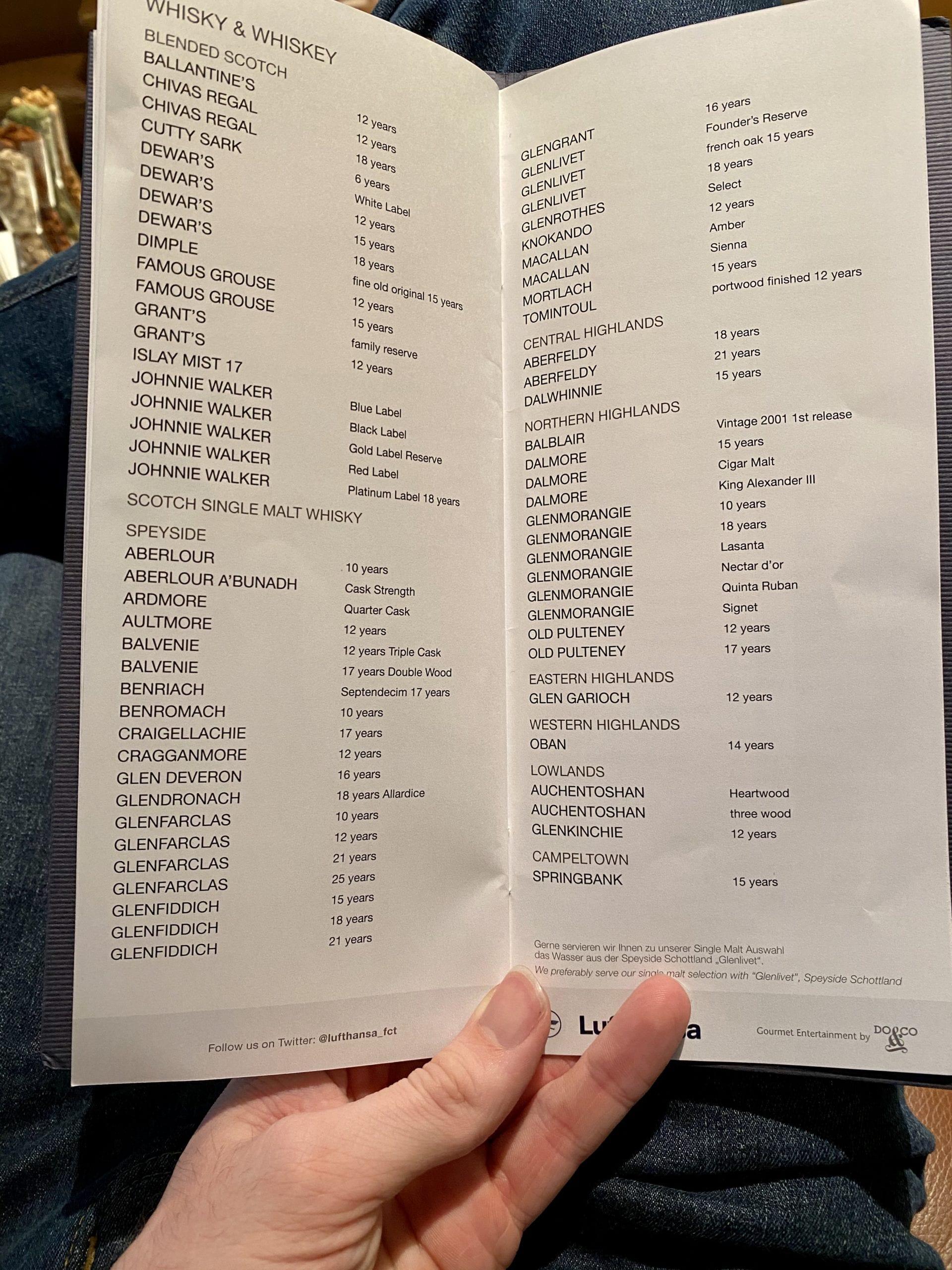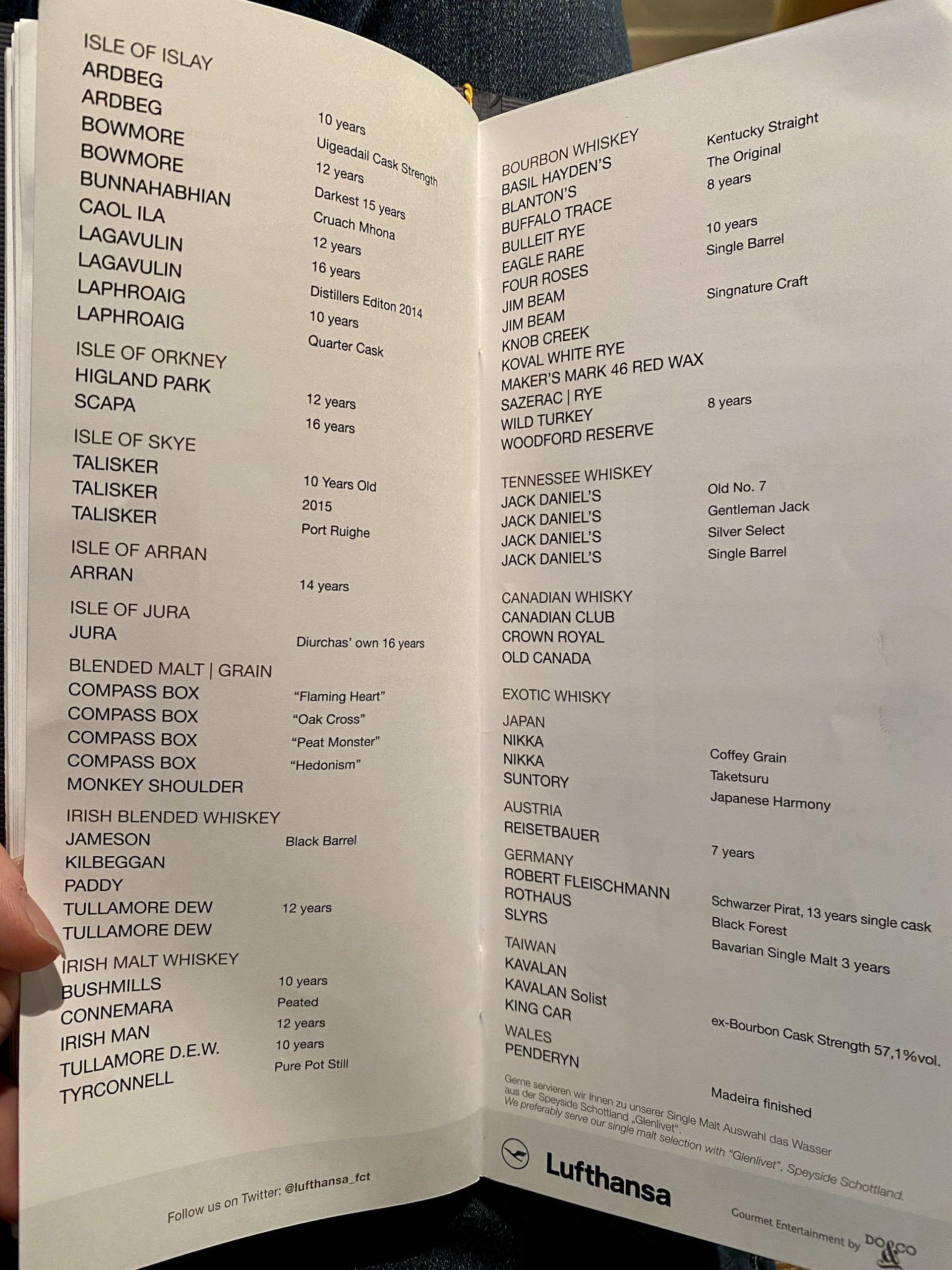 While I am a huge fan of Scotch, I decided to be a little more adventurous and ordered a Singapore Sling. I fell in love with this drink on my first visit to Singapore a few years ago, and it was fun to taste it again all the way in Germany!

There are also plenty of snacks to choose from, including nuts and dried fruits at each seating area.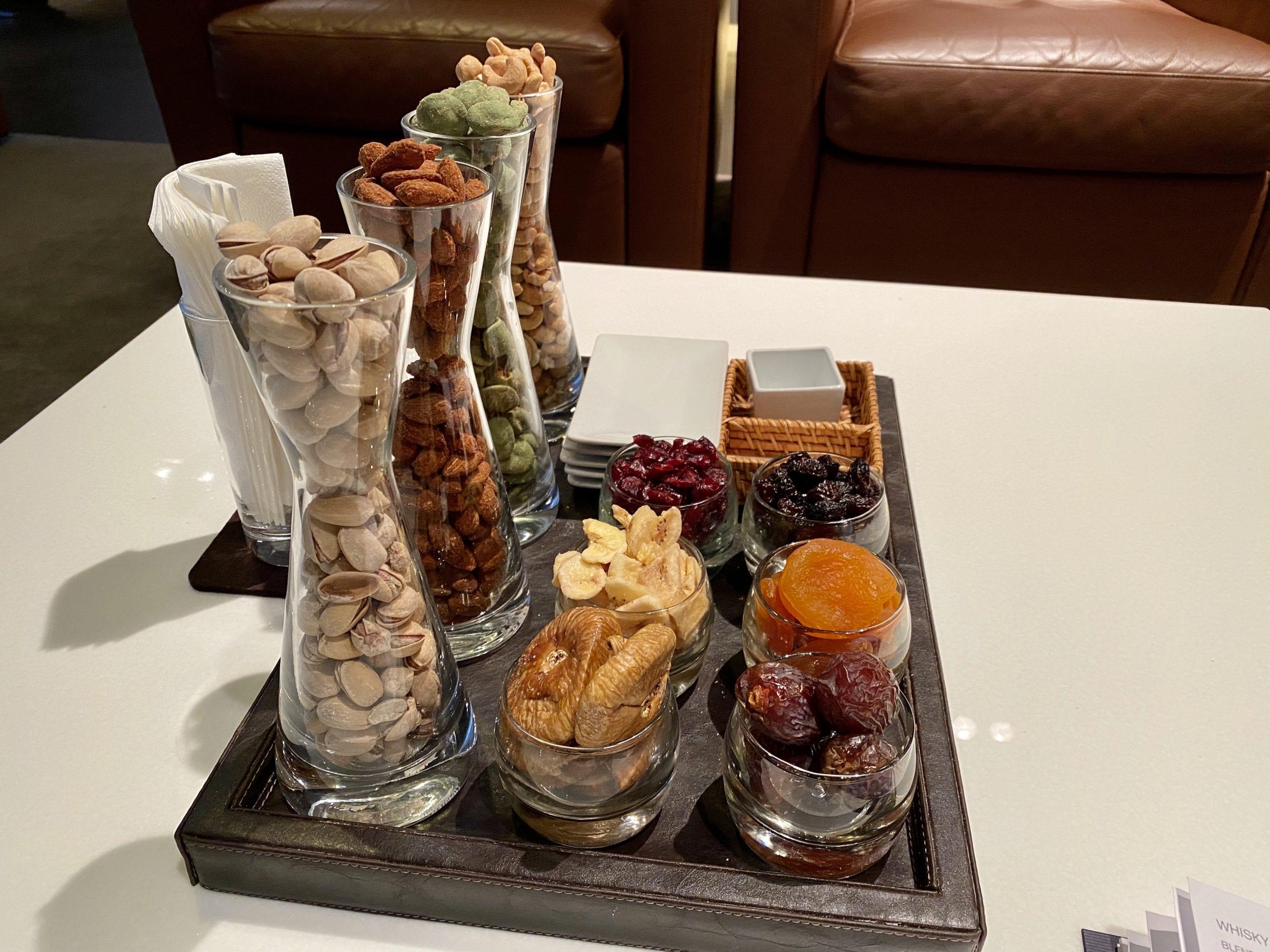 If you've got more of a sweet tooth, there's a well-stocked 'candy bar' in front of the main bar.

Service
The space itself was flawless, but I found a few gaps when it came to service at the First Class Terminal.
On the one hand, my personal assistant was excellent. She was warm, friendly, and even found me a famous Lufthansa rubber duck – a collectible memento.

And while it seems trivial to complain about service when you have your own assistant, the rest of the terminal staff were a step behind.
I sat at my table for several long minutes in the dining area before someone came by for a drink order. Another 10 minutes went by before someone returned for a food order – and only after I flagged a staff member down. And there was never a welcome, introduction, or recommendations.
It was just missing that same sense of warmth that could have made it an even more memorable experience. For such a renowned first class lounge, I was expecting a more proactive service – especially in a relatively empty facility with less than 15 other passengers.
I'll put it down as an "off day" for the Lufthansa First Class Terminal, given its reputation. And ultimately, it hardly detracted from a stellar experience.
Getting to Your Plane
You've got your own terminal and personal assistant. Do you really think Lufthansa is going to let you walk to your flight?
As my departure time approached, my personal assistant found me and escorted me down to a private immigration checkpoint. Next, I was taken out to a line of waiting cars and vans which would take us across the tarmac to our plane. These waiting Porsches sure looked pretty!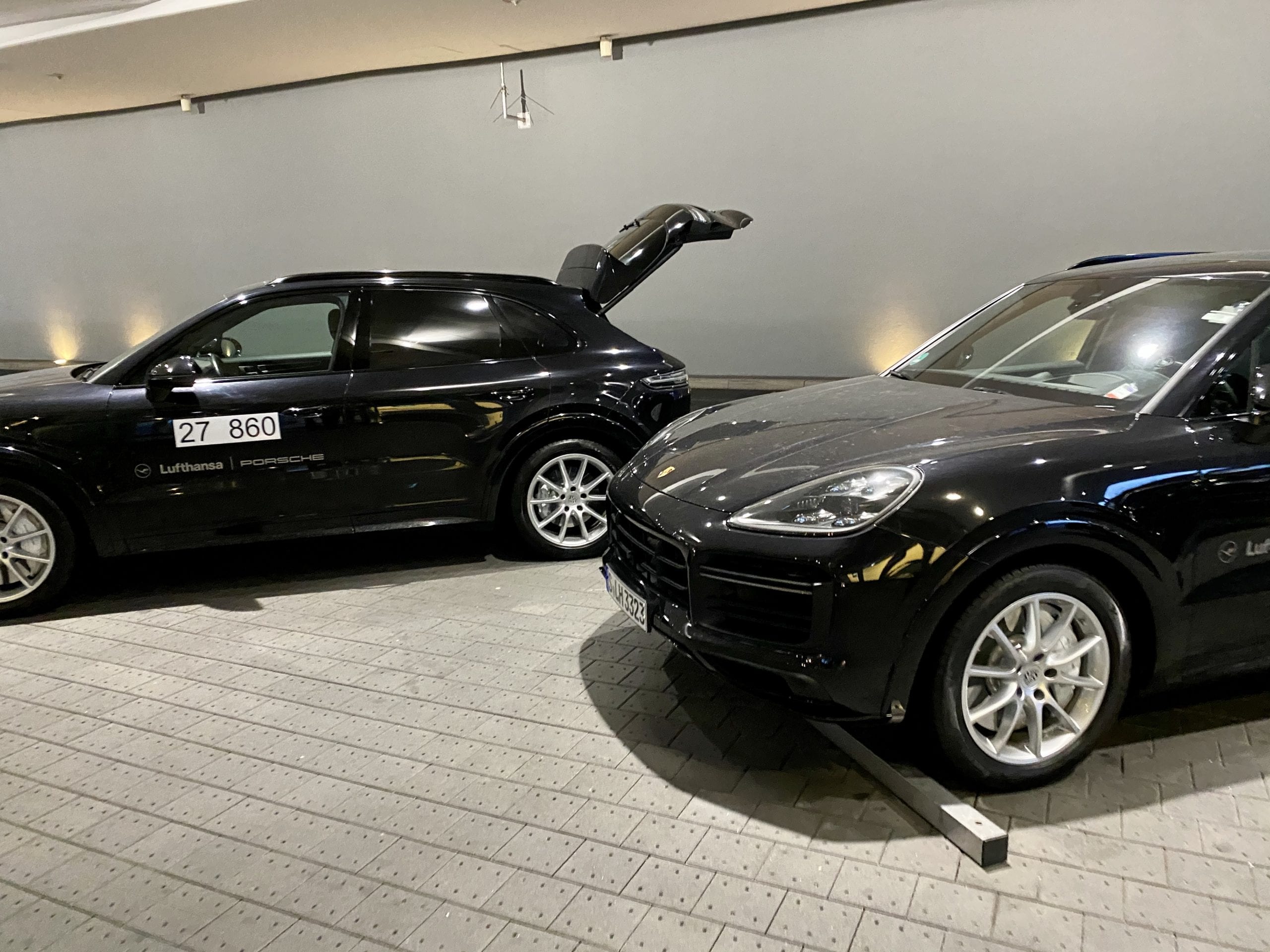 But there were a handful of passengers ready to depart, so we shared a Mercedes van. I scored a shotgun seat, giving me a front-row view of the tarmac as we drove across the airport. Bucket list moment: Check!

This is the face of a happy camper excited to board his first-ever Lufthansa First Class flight!

Bottom Line
The Lufthansa First Class Terminal represents a better airport experience that is second to none.
While service wasn't perfect, I can't fault the amazing food, great shower, and great drinks. The space is calming and relaxing, and it got me in a great mood for my flight!