I lost track of how many times I had to pinch myself while flying Lufthansa first class last month.
It's practically a must for any aviation geek and widely considered the best way to fly to Europe, and I was skeptical it could live up to the hype. But that melted away right at boarding, as I walked into the nose of the Boeing 747-8. And it kept fading over a caviar course before dinner. And once more as I settled into the coziest bed I've ever had in the sky. And even an eight-hour layover in Frankfurt (FRA) was heavenly, thanks to a nap, shower, and meal in the incomparable Lufthansa First Class Terminal lounge – capped off with a private Porsche ride on the tarmac straight to our next flight.
By the time the trip was over, I was smiling ear-to-ear. And yet I had come to a conclusion: I probably will never fly Lufthansa first class again. And not because I can't afford to.
Here's why.
Flying Lufthansa First Class
Don't get me wrong. Flying Lufthansa first class was one of the highlights of my travels. It was easily one of the best flights I've ever taken – if not the absolute best.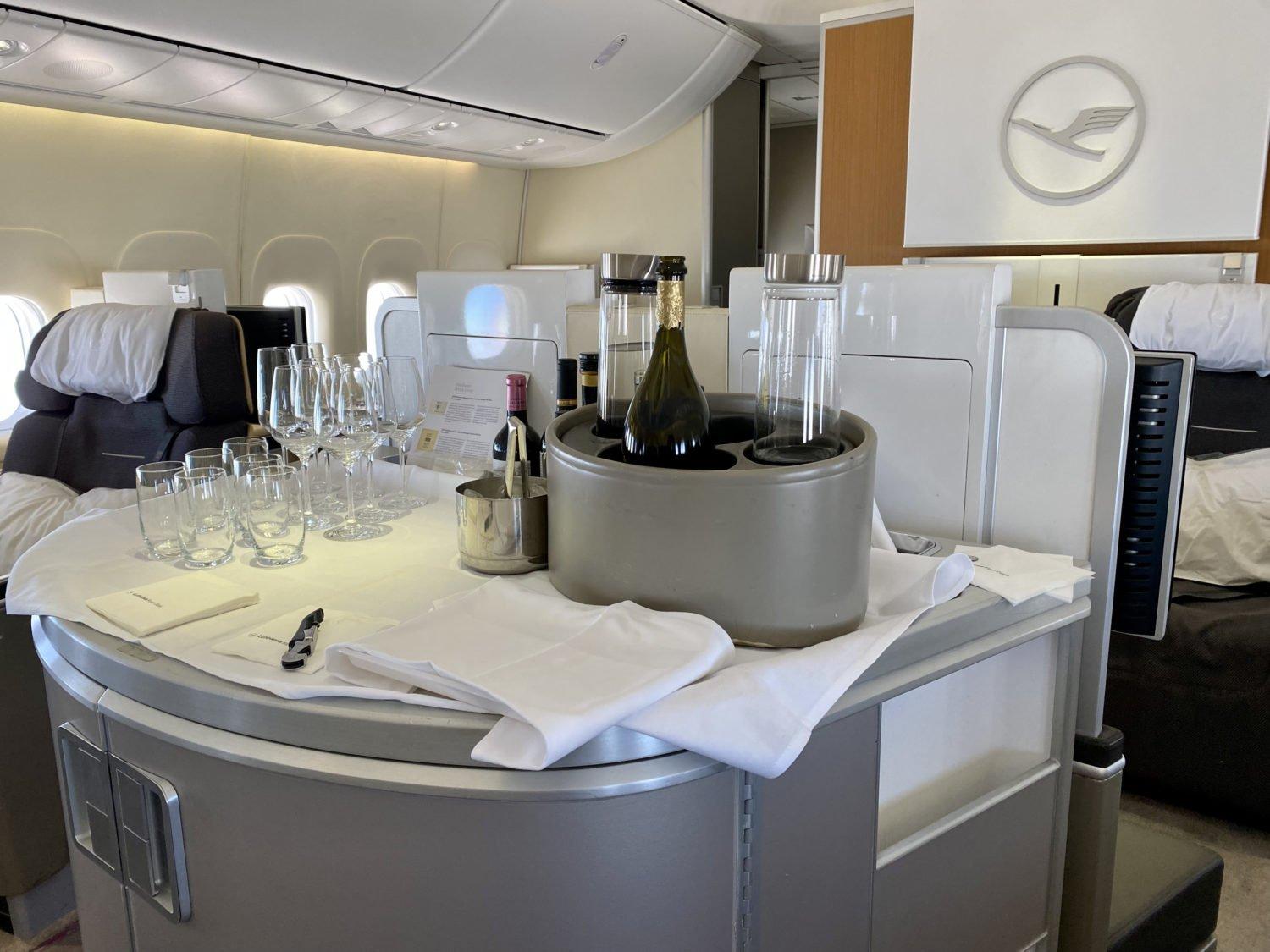 Part of the allure is the thrill of the chase: Even with all the points and miles in the world, booking Lufthansa first class can be a chore. Whether you book using miles from United, Aeroplan, LifeMiles, or another carrier, Lufthansa doesn't release award space to partner programs until at least 30 days. Oftentimes, you can really only book a seat just three to four days in advance.
That gives it an extra air of exclusivity – it's why points and miles nerds like me obsess over it. Case in point: After running one of about 1,000 searches, I stumbled upon two seats flying from Miami (MIA) to Frankfurt (FRA) and onward to Italy … right after touching down on a flight to San Francisco (SFO).
I quickly canceled the flights my wife and I already had booked, transferred another 70,000 American Express points to my Aeroplan account, and practically ran into the Delta Sky Club to connect to Wi-Fi and book two Lufthansa first class seats for me and my wife before they disappeared. Once it finally went through, I celebrated this milestone moment with a fist pump and a glass of champagne.
All this just four days before we were set to depart for Europe for two weeks. That's not normal human behavior, but that's what it takes. And it was worth every single mile, every drop of sweat, every tear – OK, I didn't cry but you get my point. In my mind, Lufthansa first class absolutely deserves to be on travelers' bucket lists.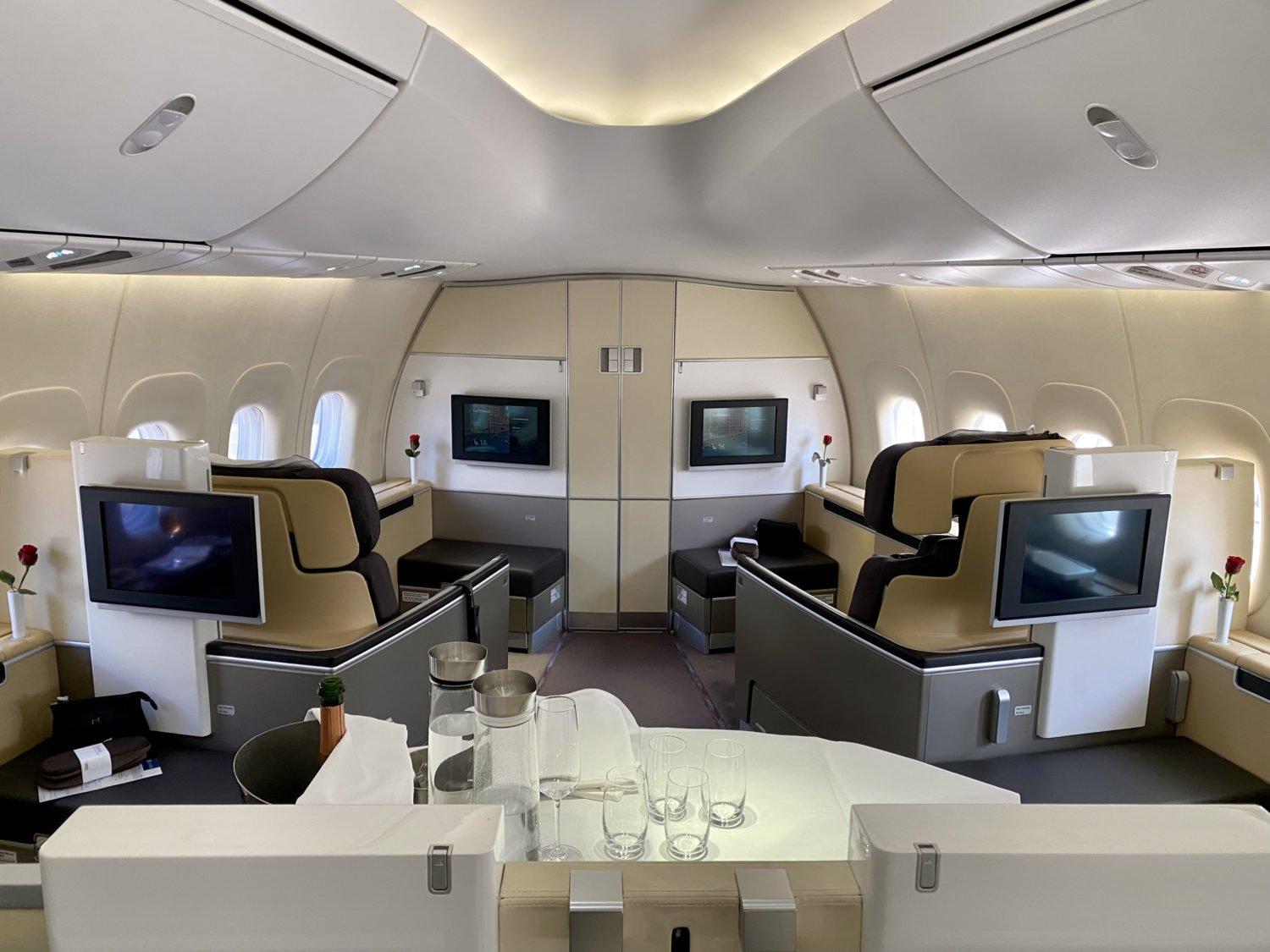 Read our full review of Lufthansa First Class on a different flight from Chicago to Frankfurt!
Flying in the nose of a Boeing 747 is just cool – and sitting right at the front of the cabin in seat 1K made it even better. You can actually feel the landing gear retract beneath you. While Lufthansa first class seats aren't the most private or advanced you'll find in the sky, they make up for it with an elegant and refined design in an open and airy cabin. Plus, there are just eight first class seats up in the pointiest end of the plane.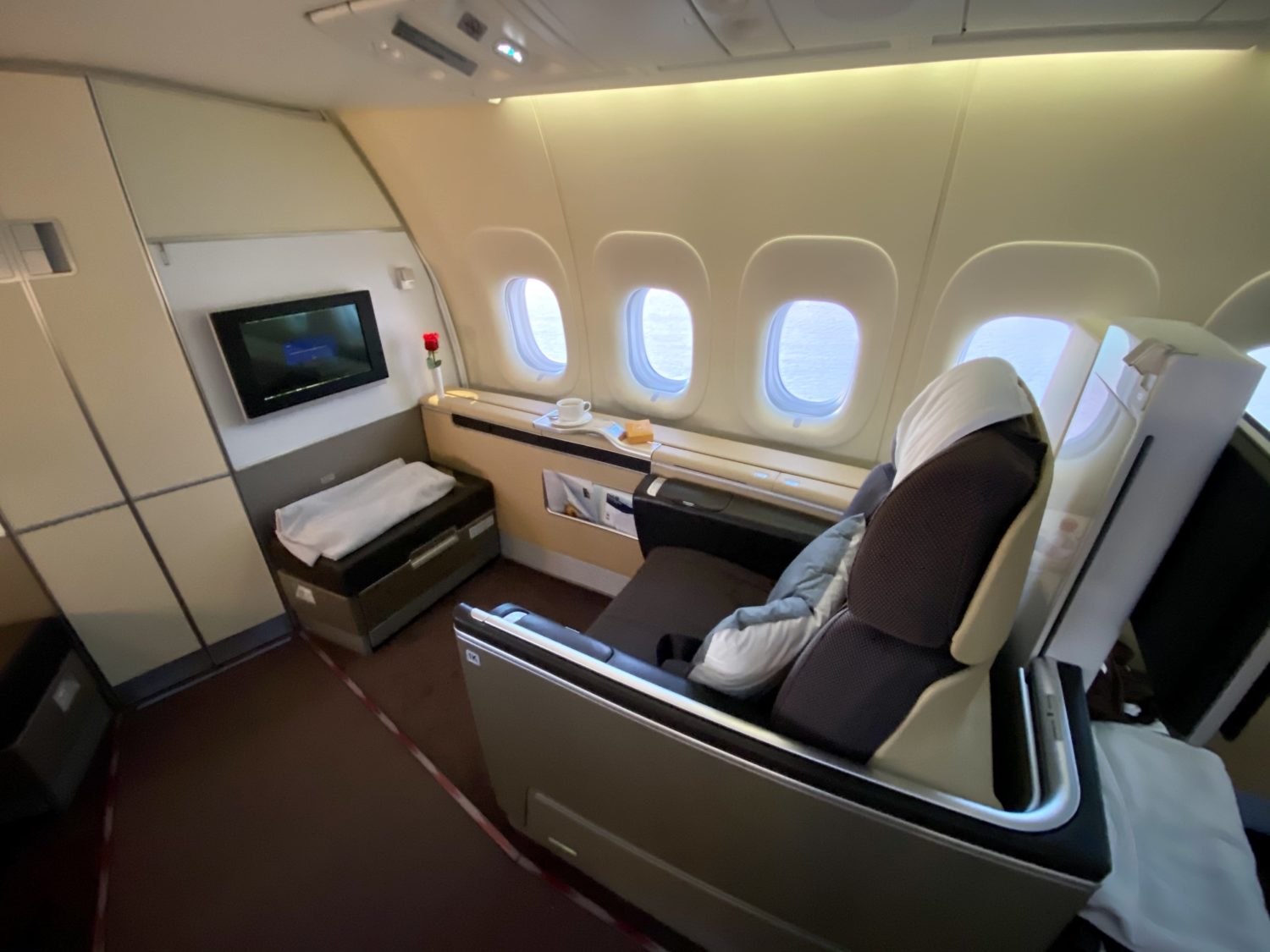 From start to finish, the service from our flight attendant Christina was perfect – and I do mean perfect. She was warm and kind yet professional, vigilant without being overbearing, and constantly offering refills of everything from top-dollar champagne to cappuccino.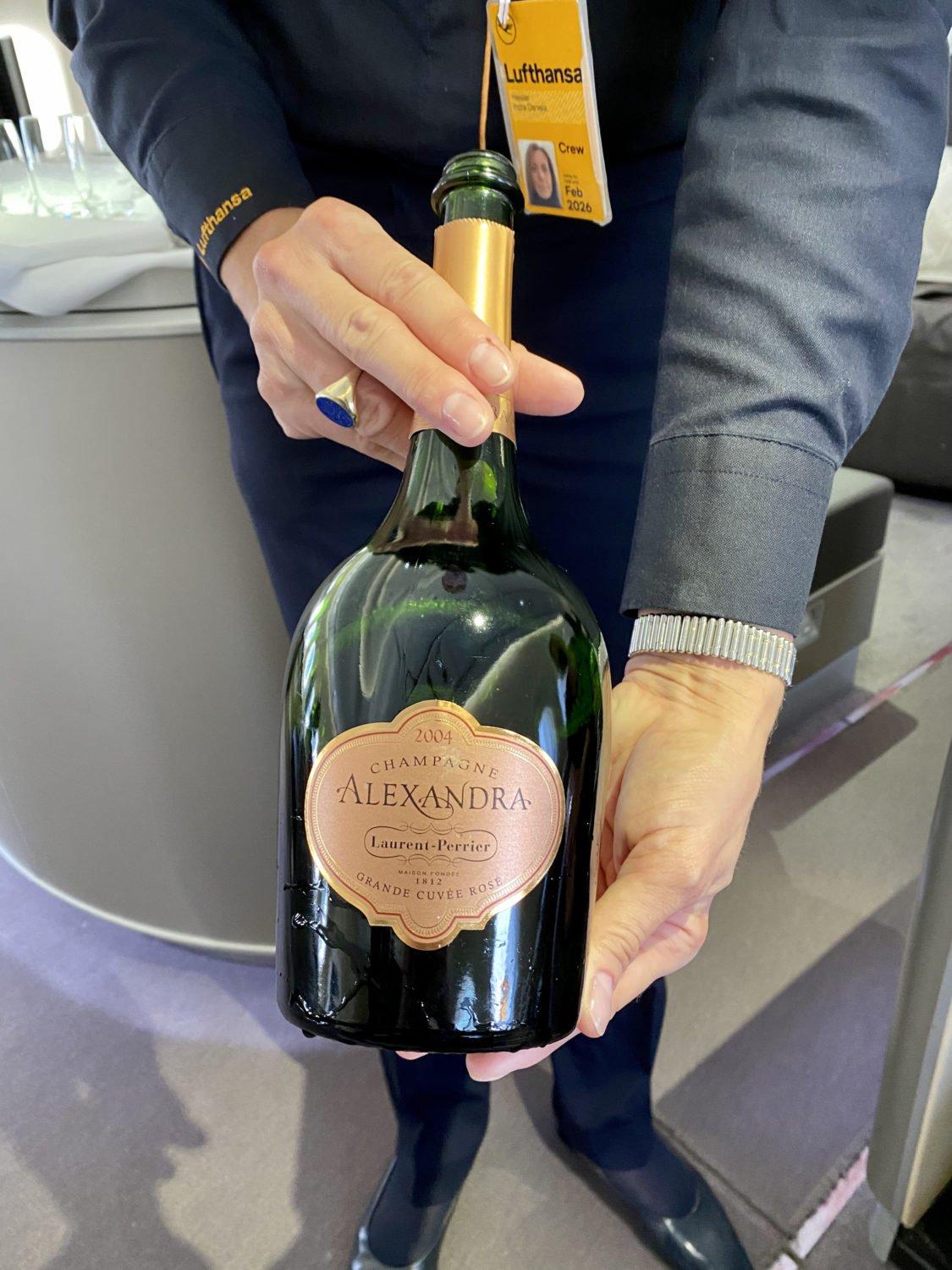 The meals were all excellent, too. There was a nearly overwhelming six-course dinner that started with an amuse bouche and then caviar, wound through a dish of citrusy shrimp ceviche, a perfectly rare filet with tasty sides. Oh, and don't forget the cheese course. And then a brownie a la mode, too. Stick a fork in me, please.

A bed on any plane is tough to beat, but this one set the bar high. It's easily the most comfortable bed I've had in the sky – and plenty private, too, with a privacy divider raised.

But the highlight for me was the Lufthansa First Class Terminal – not just a lounge, but an entire terminal, complete with its own check-in desks and security facilities that mean you can skip the rest of the hectic Frankfurt airport. It's reserved only for first class passengers and travelers with the highest levels of elite status.
The lounge itself is great, clocking in at roughly 20,000 feet. We relaxed, grabbed a quick hourlong nap in a private sleeping room, relaxed some more, showered in one of several amazing shower suites, relaxed a bit more with a glass of champagne, and settled in for a fantastic meal.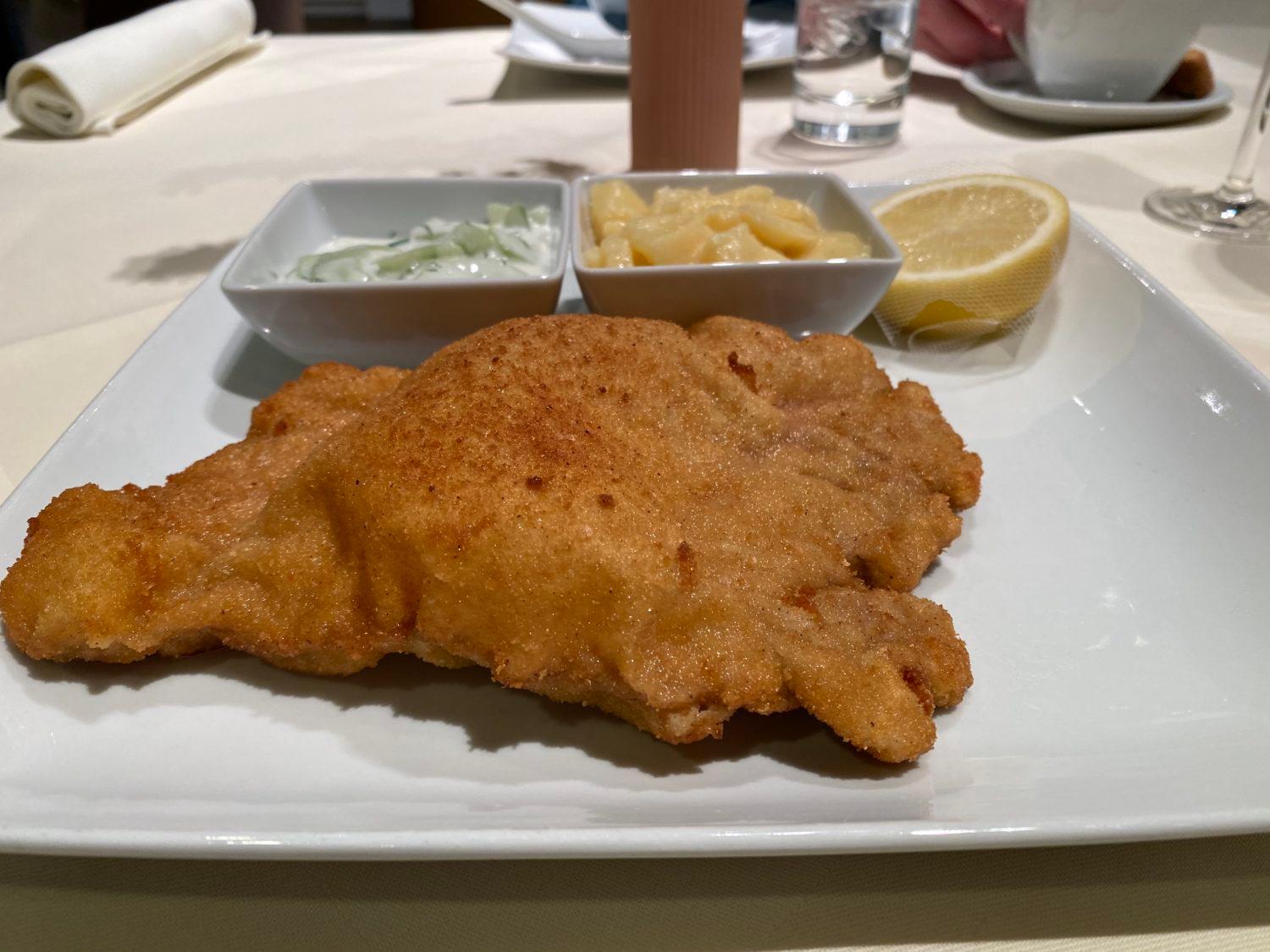 Ready to have your mind blown? When it was time (sadly) to go, we didn't walk to the gate. Our dedicated lounge attendant flagged us down, grabbed our bags to bring downstairs, and handed us off to a driver … who put our luggage in the back of a Porsche. We rode straight on the tarmac, weaving through 747s and A320s on the way straight to our plane.
These are the faces of two travelers in the backseat of a Porsche SUV who cannot believe this is real life.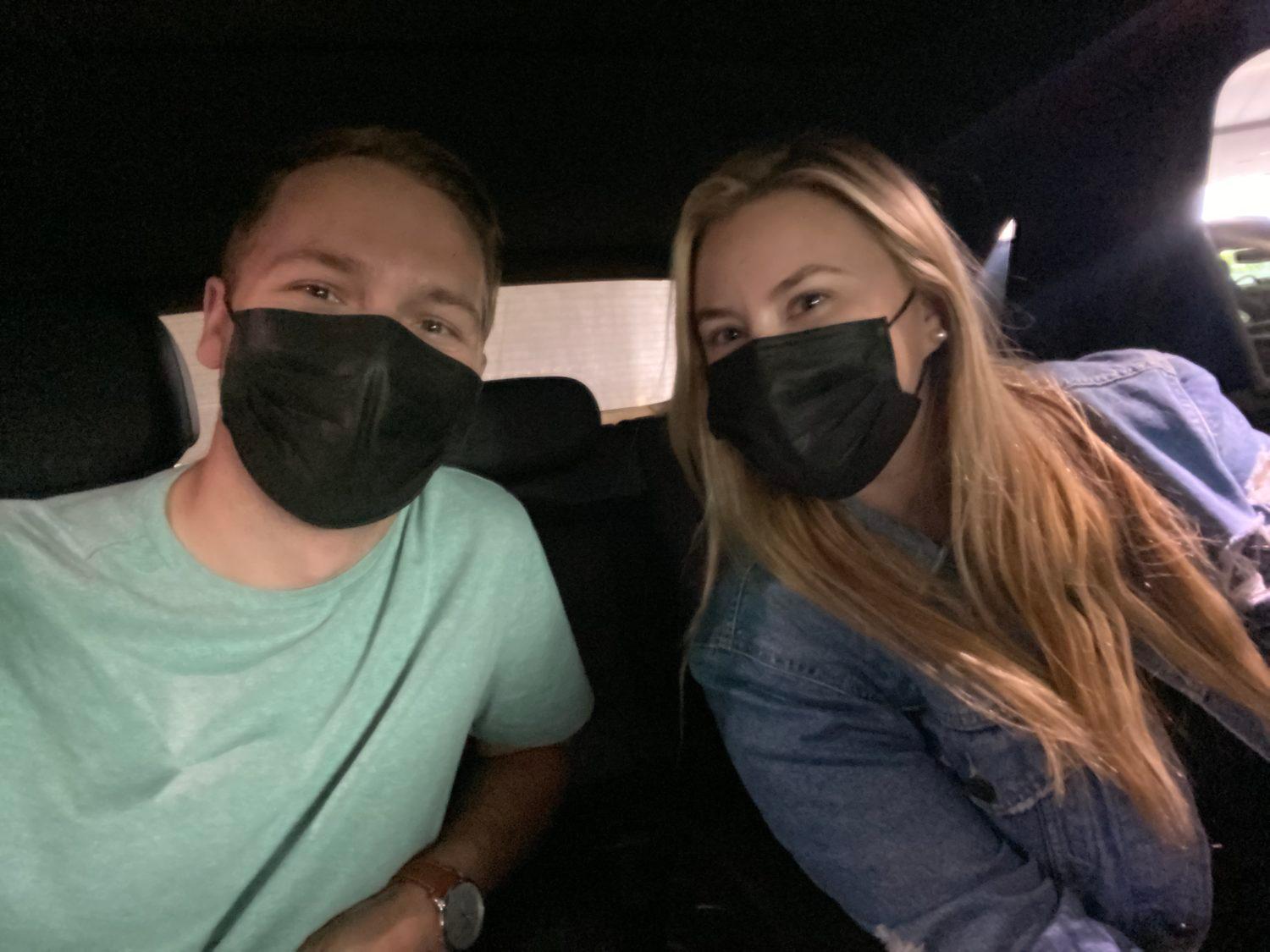 But Never Again?
If you can't tell, I can hardly shut up about how fun this flight was. So what gives? Why wouldn't I want to experience this magic again?
I'd be lying if I told you that it was because I'm environmentally conscious – with all that extra space, flying first class was responsible for about four times the carbon emissions as a normal economy seat. At Thrifty Traveler, we offset our carbon emissions for each and every flight we take: This flight alone will result in a hefty donation to the National Forest Foundation.
So no, that's not it. It's because, try as I might, I'm not made of points and miles. Even the savviest travelers that are constantly earning miles have a budget, and that includes me.
To be sure, there are some great, affordable ways to book Lufthansa first class between the U.S. and Europe. You can do it for 87,000 LifeMiles (or even less) each way. Through Aeroplan, it starts at 90,000 miles each way. United charges 110,000 MileagePlus miles for a one-way in Lufthansa first class.
But that adds up fast, no matter how flush your balances of Chase Ultimate Rewards or Amex Membership Rewards points are. Ponying up to fly first class is no small matter, choices must be made, and this is mine: I'd rather save those points and use them elsewhere next time. 
Look, there's no question first class is a large leap above business class – especially on Lufthansa, which has a fairly lackluster business class cabin right behind the first class section.

But so much of what sets first class apart from business class comes down to food, drink, and service. Everything is elevated in first class. You get the best champagne, the most meticulously prepared and plated meals, and the most dedicated and polished service.
And that's just harder to truly enjoy when you're flying across the Atlantic Ocean on an eight-hour flight, where the emphasis is on getting people fed and put straight to bed.
But on a 12-plus hour flight to Asia or the Middle East? That lie-flat bed in business class is even more important. You have more time and freedom to appreciate all the special touches of first class on a longer flight.
If you're lucky enough to have millions of points and miles to your name, congrats – you don't have to make this choice. But if I have to choose between flying First Class on Lufthansa to Germany or getting to ride in Qatar Airways Qsuites to Doha (DOH) and beyond, I'm choosing this every single time: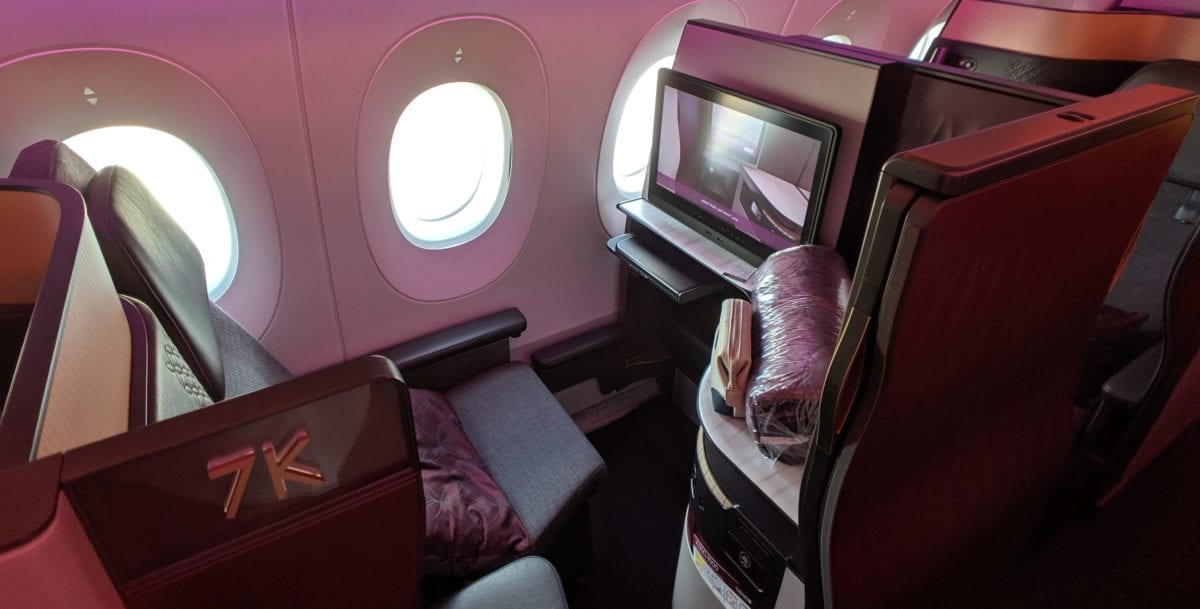 That's where my head is at. This flight was undeniably one of the coolest things I've ever done, on a plane or on the ground. I don't regret it for even a nanosecond.
But it's going to be a one-and-done for me, I think. I've got other trips to plan where I can put those extra points to use.
Bottom Line
Maybe I should never say never. But as much as I loved Lufthansa first class, I think I'll be just fine back in business class (or even economy) the next time I fly to Europe or back, thank you very much. I'll get even more joy saving the extra points I'd use to splurge for first on another great trip.
Just let me into the First Class Terminal in Frankfurt again sometime, please?