Booking a flight with your airline miles isn't as simple as paying cash: You need to find award availability to actually book those seats with miles … and that's not always a sure thing. But beyond scouring the right airline sites for the flights you want, there are a handful of tools that can help you with this difficult task.
Some of these award search tools are free, while others require a paid subscription. Some are geared toward beginners while others offer more for advanced travelers. And try as they might, none of them is quite the one-stop-shop or the "Google Flights for points" that they try to be – at least not yet.
But these tools can easily help you zero in on the flights you want to book using your miles. Here's a quick look at some of the best third-party award search tools out there right now.

Beginner Award Search Tools
If you're just starting out with points and miles and want to search availability on multiple different airlines at once, these tools geared toward beginners are a great place to start.
None of these tools can currently search for a wide range of dates – you'll have to look date by date. But if your travel dates are set in stone or you're willing to go through some trial and error, these tools can come in handy.
Point.me
Point.me is one of the original award search tools that allows you to search many different airline programs in real-time with one search. So if you want to fly from New York City (JFK) to Istanbul (IST) in business class on Sept. 20, point.me will show you the best ways to book – and the flights that are actually bookable.
Everyone gets three searches free with point.me. But Thrifty Traveler readers can get a full month of unlimited searches for $1 – just use promo code ThriftyTraveler at checkout at point.me.

Pros:
Searches over 30 airline loyalty programs at once
Similar interface to typical flight search tools
Step-by-step booking instructions
Cons:
Only allows you to search exact dates (no flexible date search)
Limited support for some programs such as Qatar, Singapore, and Turkish
This is the most user-friendly award search tool on this list. The step-by-step booking instructions make this easy to navigate. But without a flexible date search, you may still need to search elsewhere to find the cheapest dates before you plug them into point.me to compare with other options.
If you're just signing up, you'll get three free searches but those can get used up very quickly. Thrifty Traveler readers can get a month of unlimited searches for just $1 by using promo code ThriftyTraveler.
After that, standard plans start at $12 per month – or you can choose an annual plan for $129 a year. Plans include unlimited searches and allow you to sync your reward account balances to filter the search results according to the points and miles you have.

There's another way to put point.me to use, though.
If you're a Bilt Rewards member, you can search a limited number of programs on point.me for free! Just search through Bilt's website and select the "Transfer partners" tab when searching.
The site will then search for one-way award availability across all Bilt transfer partners. It will then display all your options for transferring your Bilt points to an airline partner's mileage program and booking that same flight.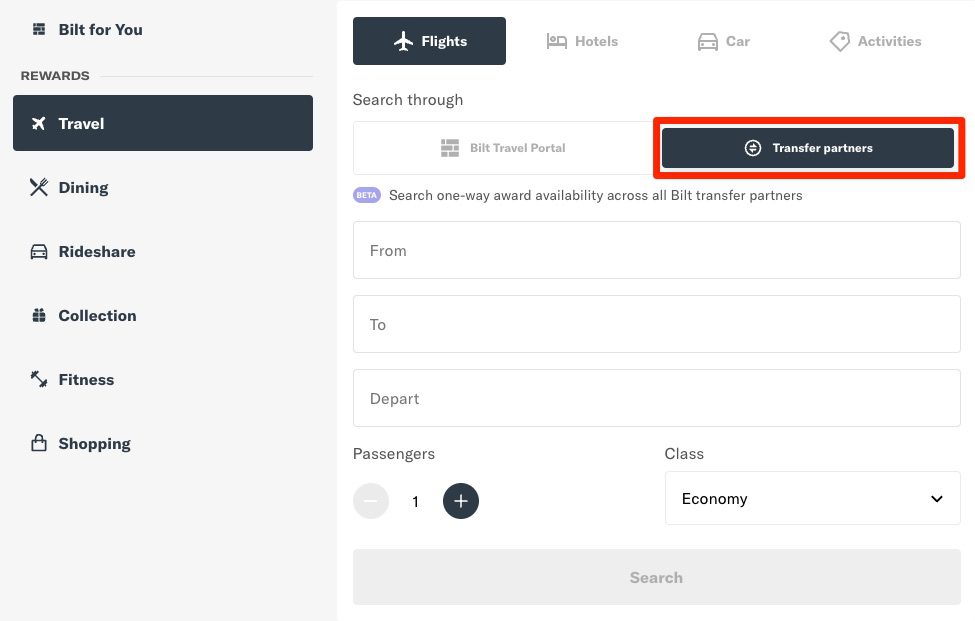 For example, this Minneapolis-St. Paul (MSP) to New York City flight search through Bilt shows that you can book a nonstop United flight to Newark (EWR) through Aeroplan or a nonstop Delta flight to New York-Laguardia (LGA) through Virgin Atlantic Flying Club.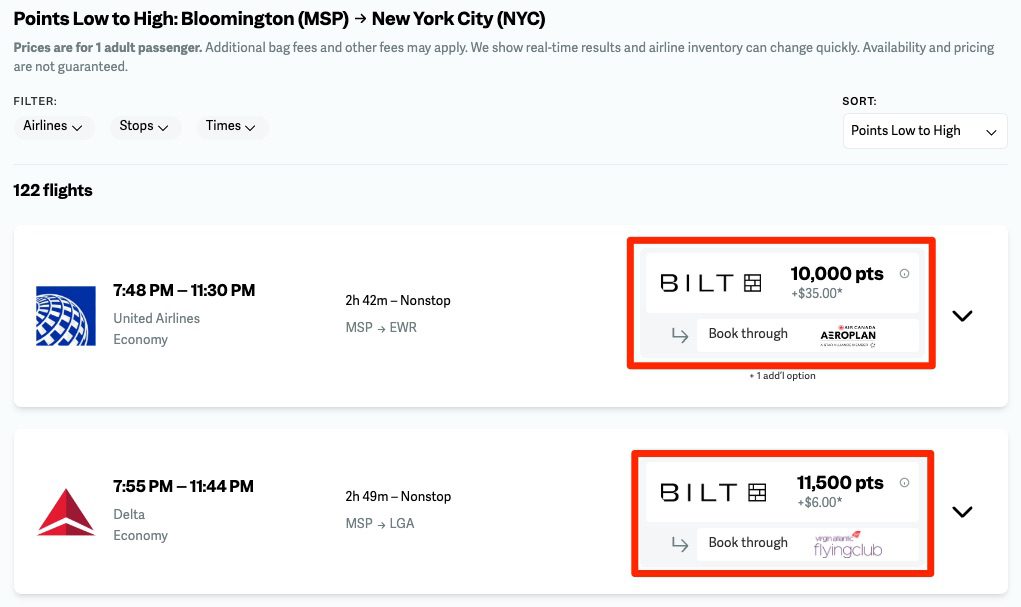 Even if you didn't want to use your Bilt points, you could use this tool to help you find availability and then transfer the points you have to book. For example, Amex, Capital One, and Chase points also transfer to both Aeroplan and Virgin. And you can transfer Citi points to Virgin, too.
Read more: The Master List of Credit Card Transfer Partners
PointsYeah
Pointsyeah.com is one of the newest award search tools out there. Best of all, it's completely free.

Pros:
Quickly searches up to 18 airline loyalty programs
Includes change/cancellation policy info (for some programs)
Factors in transfer bonuses with direct links to transfer points and book
Cons:
Multi-day search only shows a three-day range and can be slow at times
Missing some valuable programs such as British Airways and Turkish
PointsYeah packs a lot into its search and is usually lightning-fast. However, I've had to reload searches during some testing, especially when trying the multi-dates search function.
You'll need to create an account and log in to search … but as of publication, it's free to use. You can set up several filters to narrow down which flights you're looking for and what kind of points you have available. You can even compare cash fares on Kayak with one click.
There aren't any detailed booking instructions, but you'll find direct links to transfer your points and book. Once you land on those pages, you'll need to know how to navigate the airline websites in order to book.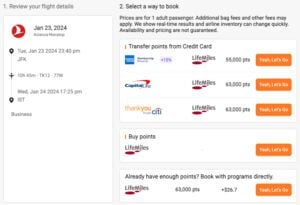 PointsYeah also allows you to set up "Points Price Alerts" but you're limited to three active alerts as this feature is currently in beta stage. This means you'll only be able to choose three specific dates at a time for your alerts. And you'll need to enter a maximum points per passenger, which means you need to be aware of what the cheapest award rates typically cost in order to really utilize this feature.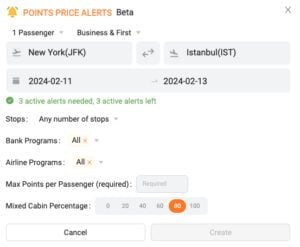 Roame
Another relatively new award search tool is roame.travel. Its free version is similar to many others and can help you find the flights you want. But Roame has also rolled out even more powerful new paid options that offer additional features – including a flexible date search.

Pros:
Searches up to 13 airline loyalty programs at once
Paid version allows flexible-date searches with a seven-day range
Cons:
Free version only allows exact date search and limited filters
Missing some valuable programs such as British Airways and Turkish
No information on how to actually book and broken links to some airline websites
As with the other tools, you'll need to create an account and log in to be able to search. The free search only allows you to search exact dates and the filtering capabilities are somewhat limited.
For example, if I wanted to filter out flights on British Airways in order to avoid its insanely high taxes and fees, I'd need to upgrade to a paid account in order to do so.

Pro accounts, which it calls "Friends of Roame" currently cost $9.99 per month or $109.99 a year – though these prices are set to increase on Sept. 15. This will give you advanced filtering options and access to its one-week flexible date search, which it calls "SkyView."
In SkyView, you can choose broad searches like "North America to Europe" or narrow it down to a specific country, state, city, or airport. The search will allow you to search a seven-day range of dates on the top 2,000 most popular routes, according to Roame.

Unfortunately, you can't filter by airline or number of stops in the SkyView search. This can make it more difficult to pinpoint nonstop flights and avoid airlines that charge high fees. You can, however, sort results by shortest flights, exclude specific programs, and set a max price filter to help narrow down your search.
You'll also want to pay close attention to the "Premium Percent" filter if you're looking for business class seats. Choose a high percentage if you want to avoid mixed-cabin itineraries that are primarily flying economy. You'll need to click "search" each time you adjust a filter to get new results.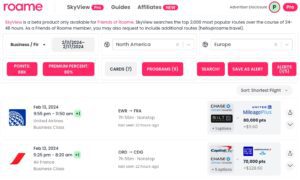 If you have a paid "Friends of Roame" account, you'll be able to set up five alerts, each for up to a seven-day span of travel dates. If something pops up, you'll get an alert without needing to go back and search for it.
The coolest thing about these alerts is that they can be as broad as flights between two different countries: like the U.S. to France. Or you can get more specific, like from the state of New York to the city of Paris or down to the airport level, like New York City (JFK) to Paris-Charles de Gaulle (CDG). The only limitation on these alerts is that you can't search from region to region, like North America to Europe.
You'll set up the alerts in the SkyView search tool and need to make sure you adjust all of the filters to your preference before you click on "Save as Alert."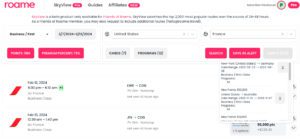 Get started with Roame.travel!
Advanced Award Search Tools
If you consider yourself a fairly advanced traveler who knows the ins and outs of redeeming miles but need some assistance, the following tools can be a great way to help.
AwardFares
AwardFares is probably the least-known search tool on this list. But it's powerful if you know how to use it.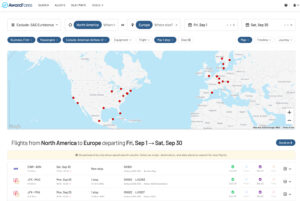 Pros:
Allows you to filter results by aircraft type, among several other filters
Choose multiple airports or regions in one search
Alerts are easy to customize to filter out certain airlines and programs
Cons:
Only covers Star Alliance and Oneworld airlines, with just six loyalty programs total currently
Broad searches only cover limited routes, which are focused on Northern Europe
Results that include Air Canada or American flights are useless due to dynamic pricing
Until recently, AwardFares was only useful for searching availability on Star Alliance airlines like United, ANA, or Lufthansa. But earlier this year, AwardFares added two Oneworld programs, American AAdvantage and Alaska MileagePlan, casting a wider net on finding award seats.
The free version is quite limited. You'll be able to use the Award Calendar to search up to 60 days ahead on 350-plus routes. But you'll be limited to searching just one mileage program at a time – and you aren't able to filter by cabin, which will make it difficult to find premium cabin awards since most of the results will likely be economy.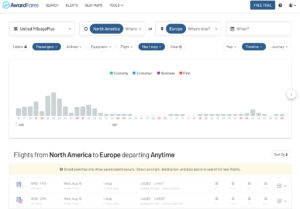 AwardFares offers two paid versions: Gold for $9.99 per month and Diamond for $19.99 per month. Both levels open up the search and filtering capabilities quite a bit. Other than price, the main difference between the two is that Diamond gives you "unlimited" availability alerts compared to only five with Gold.
The "unlimited" language for the Diamond tier is marked with an asterisk explaining that "some limits may be imposed." But you'll still be able to set up over 100 alerts at the Diamond level, which each can cover a three-day span and include many useful filters.

AwardFares has confirmed that any alerts that get set up are searched once per day. We've tested this out and the alerts are pretty slick. You'll get notified any time seat availability changes, whether it's more seats available or fewer, based on the parameters you've set.
My favorite use of AwardFares is to search for Lufthansa First Class availability. With the correct filters in place, you can really pinpoint what you are looking for.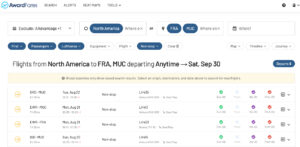 One truly unique feature of AwardFares is the ability to filter your results by aircraft type. Let's say you want to book an award ticket in Turkish Airlines business class but only on the Boeing 787 – which has far superior seats to the airline's 777. AwardFares can help you zero in on those flights.


However, the seemingly limited number of routes in the AwardFares database means this sometimes won't catch everything. After some testing, searching manually on Award Fares doesn't always seem to pull up all available options with the programs it covers. It often misses a lot of flights that you could find through other search tools or by searching directly on airline websites.
AwardFares has been working on updating their tool lately so hopefully these kinks get worked out. For now, the alerts are a solid feature and it's a great way to get a birds-eye view of Lufthansa First Class.
Award Nexus
Award Nexus is the most complicated and outdated award search tool on this list. It can end up being pretty expensive due to the way it charges, but there is a way to at least try it out for free.

Pros:
Searches live availability
Extensive details on the flights it finds
Free searches for FlyerTalk members
Search for up to eight days of availability
Cons:
Only searches up to six loyalty programs – mostly just Oneworld airlines, as SkyTeam and Star Alliance tools often don't function properly
Very slow to get search results and has a clunky design
Charges per search, which can add up really fast
You'll need to pack some patience if you want to try using Award Nexus. The site looks like it got stuck in the '90s: The interface can take a while to figure out.
And Award Nexus has gotten worse over time, as there are currently a limited number of airline programs that it can successfully search. As you can see in this screenshot, the main programs it uses for Star Alliance and SkyTeam searches seem to produce errors or run extremely slowly.
On the plus side, you can search for up to eight days of award availability on your routes.

You'll need some credits with Award Nexus in order to conduct a search. To make it even more confusing, these credits are called "points." Basically, each search requires some points in your Award Nexus account: the more dates, routes, and cabins you search, the more points it will cost.
And the cost of getting those points is steep. You can purchase a Premium Membership package starting from $59 for 500 points.
The best place to start with AwardNexus is a free "community membership" if you have an account for the FlyerTalk forums – and FlyerTalk is free to join, too. This membership gets you 200 points to start, with the ability to refill with another 100 points every 90 days.
Expert Flyer
Expert Flyer is one of the original tools to help seek out award seats and, as the name suggests, it's geared toward experts. It's now owned by RedVentures, the parent company of The Points Guy.

Pros:
Searches inventory for over 60 airlines
Ability to search a week of dates at once
Several other features other than award searches, like seat maps and open seat alerts
Cons:
Not for beginners: You'll need to search for a specific airline and know where to book
Alerts must be set up for specific flights (not just dates) and you need to know the codes
In order to use Expert Flyer to your advantage, you should be familiar with things like fare codes and fare classes: It could be a bit overwhelming if you're just starting out. Luckily, there are some tutorials and if you know what you're looking for, it can be a very powerful tool.
When searching for award availability, you'll need to choose a specific airline, route, and travel date but you can open up your search within a three-day range on either end of the date you choose, for a total of seven days of availability.
Here's an example search for ANA flights from San Francisco (SFO) to Tokyo (TYO). If it says "Yes" in the righthand column, that means there are award seats available according to your search parameters. In this case, there are no seats in ANA First Class, but there are two seats flying ANA business class. And the flight to Tokyo-Haneda (HND) has ANA's best seats which it calls "The Room."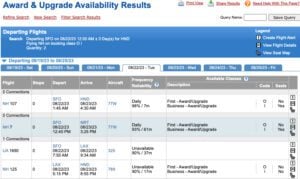 There are no instructions on how to book these seats or where you'll find the best deal. This means you'll need to know where to go to book once you find availability.
You can try out the premium service for free on a five-day trial. After that, Expert Flyer charges $4.99 per month for a basic plan which gives you limited searches. The premium plan costs $9.99 per month or $99.99 per year and gives you unlimited searches along with 200 flight availability alerts.
The alerts can be useful if you're looking to fly an airline it supports on certain travel dates. Annoyingly, your alerts need to be set up for specific flights so it could take some time to set these up if there are multiple flights per day that interest you.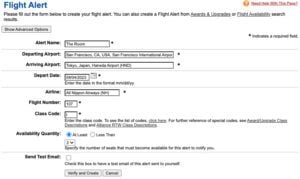 Seats.aero
One of the most exciting award search tools to come out recently is Seats.aero. It's a very nerdy tool, so you'll need to have more advanced knowledge about points and miles to really use it to your advantage.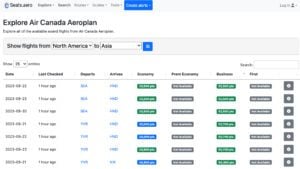 Pros:
Supports up to 12 airline loyalty programs (and counting)
Extremely fast
Special tools to find popular seats like Delta One, Lufthansa First Class, and Qatar Qsuites
Paid version has awesome filters and searches up to a year in advance
Cons:
Not all routes are tracked, mostly just popular nonstop routes
Some results could be old info since it's not live data
Alerts don't always function correctly and auto-delete
Free version only works for flights within 60 days
Seats.aero might just be the most powerful tool on this list. It has improved dramatically since it first came out a year ago and is now a go-to search tool for many points and miles enthusiasts. But it's not for everyone: You need to know what you're looking for and exactly how to book it in order to make use of Seats.aero.
The "Explore" feature allows you to see all of the flights found with a specific airline program. It's a fun way to see what's out there as you can search from region to region. And you can use the search bar either at the top of the list or at the bottom of each individual column to filter the results as you like.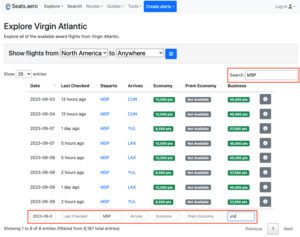 The free version is limited but it can be a good way to get a feel for how it all works. You'll only be able to see flights found within the next two months with the free version, which also doesn't have access to some of the more powerful filters.
A paid "Pro" account costs $9.99 per month or $99.99 a year. The biggest difference with a paid account is you'll gain access to up to a year of extended availability. You'll also be able to filter your searches to only show certain airlines, cabins, or flights with low fees.
The search tool allows you to search its database across all airline programs at once. Pro accounts can choose to search nearly a two-month range of dates at a time by choosing "+/- 28 days", while free accounts are limited to a two-week span. Results show in green for nonstop flights or blue for connections.

The alerts are a little tricky to figure out. You'll need to choose a specific airline program, city pair, and specific date if you're using the free version. Pro users have the option to select a date range or "Any date," among other advanced filters.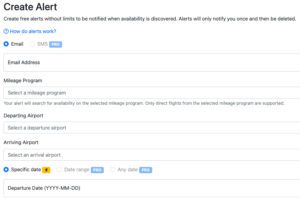 On paper, these seem like very powerful alerts but I've had a few issues with them not always pointing me to the nonstop flights I was looking for. Plus, the fact that you have to choose an airline program and they automatically delete after one is triggered means these aren't as amazing as they seem.
Long story short, Seats.aero is a great tool to aid in your search for award availability. As long as you understand its limitations and more than a bit about how points and miles work, you'll enjoy the many features this tool provides.
SeatSpy
Want to see a full year of availability at once? SeatSpy can help.

Pros:
Clearly see a full year of availability at once
Easy to use and searches quickly
Great for alerts on United routes
Cons:
Supports only a few relevant airline programs
Free version only shows economy availability
You'll need to customize some searches and alerts due to dynamic pricing.
The best part of SeatSpy is the fact that you can search for a full year of availability in just a few seconds on the routes that it supports. The catch: You're only able to search a handful of airline programs that are relevant for U.S. travelers – and only routes where those airlines fly nonstop.
While most of the airline programs you can search won't really help most U.S.-based travelers, the most useful are Air France, KLM, American, and United.
Since these airlines will show some extremely high-priced results due to dynamic pricing, you'll want to adjust the points slider down to a lower threshold. This will help you pinpoint seat availability at a more reasonable price. If you have a paid account, you can also choose to only show business or first class.

When you hover over or click a date on the calendar, you'll see the rates listed for each cabin. You can then click a link directly to the airline's website to book.

United's search within SeatSpy is unique in that it will only display its lowest-priced "saver" awards. This means if you see dates available when searching a United route, it should be bookable through a partner airline like Air Canada Aeroplan as well.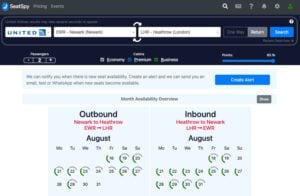 You can try a 14-day free trial of SeatSpy's paid tiers. After that, it's just $3.99 per month for Premium or $9.99 for First Class, with a small discount if you pay for a full year in advance. Premium gives you four active alerts while First Class gives you unlimited alerts.
The alerts are most useful for United routes, since they will only alert you when availability has opened up for its lowest-priced "saver" award rates. But SeatSpy recently started allowing you to add a "Max price" filter for its alerts.
This will help if you're setting up alerts for Air France, KLM, or American routes in order to filter out any extremely high rates that come with dynamic pricing. Seemingly, you can set up alerts for as wide of a date range as you'd like.

Bottom Line
Whether you're just starting out with points or miles or are an absolute pro, there are several new tools out there to simplify and expedite your search for award availability.
None of these tools are perfect. Point.me is a great place to start for beginners with specific travel dates while Seats.aero seems to be the most powerful option for more advanced travelers. But every tool on this list has its own advantages and quirks: There's no single solution.
Flexible with travel dates and destinations? Don't want to bother using a bunch of different tools to search for availability? Sign up for Thrifty Traveler Premium+ and we'll send award deals straight to your inbox.