Free checked bags, no change fees, credits when prices drop. It might sound like a dream airline from a bygone era before basic economy fares and ultra-low-cost carriers, but it's a reality when you fly Southwest Airlines.
More than 50 years since launching service, Southwest still does things differently than any major airline. Long after airlines started charging $30 or more to check a bag, you still get two free with Southwest. You won't find first class seats – or even assigned seating, period. And the Dallas-based airline flies to and from more than 120 airports, carrying more domestic passengers than most other U.S. carriers.
In this article, we'll go over what makes Southwest different. From where you can book flights to the routes Southwest flies, we'll explain some of the perks (and a few downsides) of flying Southwest, along with some of the best sweet spots within its network.
First things first, you need to know how you can actually book a Southwest flight. Spoiler alert: There's only one place to do it…
Southwest Only Sells Fares on Its Website
The most important thing to keep in mind with flying Southwest Airlines is that you won't find its actual fares anywhere except on its own website: Southwest.com.
Whether you're using our favorite search tool, Google Flights, or any other search site, you won't find Southwest fares – though you'll sometimes see the airline's routes and schedule. That makes it much harder to compare prices between Southwest and other airlines … and you'll need to get used to it, as it's unlikely to change anytime soon, if ever.
A few online travel agencies, such as Kiwi and Skiplagged, have been known to advertise fares on Southwest flights in the past, but they have never been accurate and were always higher than what you'd find directly on Southwest.com. At the time of publication, these OTAs are no longer showing fares on Southwest.
In short, always check Southwest.com to find Southwest fares.
Thrifty Tip: Use Southwest's low fare calendar to find the cheapest fares on a monthly calendar.
What We Love About Southwest
Two Free Checked Bags on All Fares
If you check bags, the savings by booking Southwest instead of another carrier could save you plenty of money.
Southwest is the only major U.S. airline that includes two free checked bags for every passenger … on every single ticket it sells. That's in addition to a free carry-on plus a personal item.
Consider this: Most U.S. carriers charge $30 each way for the first checked bag and $40 for the second. Solo travelers who pack a lot could save up to $140 roundtrip in checked bag fees alone. A family of four with one bag each could save $240 total!
If you check bags, it's always worth exploring Southwest fares. Just keep in mind that even if Southwest fares are more, you could still come out ahead thanks to the savings on baggage.
And even if you don't normally travel with checked bags, it's nice to know that you have the option to do it for free when flying with Southwest. Not only does it give you the freedom to bring what you'd like without worrying about fees, but the fact that so many fellow Southwest flyers check bags means there are fewer carry-on bags heading onboard, leaving you more space to stow a bag in the overhead bin.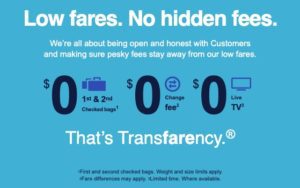 No Change or Cancellation Fees … Ever: Most Flexible Airline
Other airlines jumped on this bandwagon during the pandemic, but none are as flexible as Southwest Airlines when it comes to changing plans. Simply put, you'll never pay an extra fee to change or cancel your flight on Southwest – no matter what type of ticket you purchase or where you are flying.
Legacy carriers like American, Delta, and United have adopted a "no change fee" policy for Main Cabin tickets and above when departing from the U.S. But these airlines still have restrictions that either don't allow, or charge a fee, to make changes on basic economy fares and other fares in certain international markets.
When flying Southwest, you can change plans up until 10 minutes prior to departure – even with its cheapest Wanna Get Away fares – for no extra fees. Of course, you'll need to cover any difference in fare, but if the fare happens to be lower, you'll receive a credit for the difference to use towards your next Southwest flight. If you cancel, the full amount you paid will be credited as a voucher good for one year from the original date of purchase.
Southwest has also recently introduced a Wanna Get Away Plus fare, which gives you even more flexibility. For an extra $30 each way, you'll be able to transfer flight credits to someone else and also be able to make same-day confirmed changes or fly same-day standby without any fare difference. This means if you're unsure which flight you'd like to take on the way home, you can book a later flight at first and then try to hop on an earlier one for free if you decide on the day of travel you'd like to get home sooner.
No Basic Economy
While other airlines keep expanding basic economy and mimicking ultra-low-cost carriers with add-on fees for just about everything, Southwest has remained steadfast in avoiding basic economy altogether.
Extra fees pretty much don't exist with Southwest. The fare you see when you initially search is generally what you'll pay for your flight. There are very few upcharges in the booking or check-in process. This peace of mind is a major reason travelers love booking and flying Southwest Airlines.
Nonstop Flights to More Places
Most airlines use a hub-and-spoke model. Alaska flies tons of flights out of Seattle (SEA). American operates out of major hubs like Dallas-Fort Worth (DFW), Chicago-O'Hare (ORD), and Miami (MIA). Delta flies almost everywhere from Atlanta (ATL), Detroit (DTW), and Minneapolis-St. Paul (MSP).
But once again, Southwest does it differently. Southwest has 33 airports across its network with 15 or more nonstop flight options, including:
Atlanta (ATL) – 43
Austin (AUS) – 50
Baltimore (BWI) – 70
Burbank (BUR) – 15
Cancun (CUN) – 17
Chicago-Midway (MDW) – 77
Columbus (CMH) – 19
Dallas-Love Field (DAL) – 69
Denver (DEN) – 90
Ft. Lauderdale (FLL) – 34
Ft. Myers (RSW) – 20
Houston-Hobby (HOU) – 68
Indianapolis (IND) – 15
Kansas City (MCI) – 31
Las Vegas (LAS) – 66
Los Angeles (LAX) – 28
Long Beach (LGB) – 15
Nashville (BNA) – 57
New Orleans (MSY) – 23
Oakland (OAK) – 33
Orlando (MCO) – 48
Phoenix (PHX) – 59
Pittsburgh (PIT) – 18
Raleigh (RDU) – 15
Sacramento (SMF) – 25
Salt Lake City (SLC) – 17
San Antonio (SAT) – 21
San Diego (SAN) – 28
San Jose (SJC) – 27
Santa Ana (SNA) – 20
St. Louis (STL) – 57
Tampa (TPA) – 40
Washington, D.C. (DCA) – 17
Note: The number of nonstop flights on the schedule from each airport is current at the time of publication and is always subject to change.
Thrifty Tip: Check Southwest's route map to see where you can fly Southwest Airlines from your home airport. You can also filter for nonstop flights.
Rapid Rewards Points are Easy to Earn and Use
Southwest's Rapid Rewards frequent flyer program may not get you a business class seat on an international flight, but the points are some of the easiest to use.
The number of points required directly correlates to the price of a cash ticket. When cash tickets are low, you'll need fewer points to book the flight. It's that simple. There are no blackout dates which means you can book any flight with your points.
You may not get outsized value – in fact, you'll get a bit less out of your Southwest points after a devaluation last year. But for many travelers, the simplicity trumps everything.
Best of all, flights booked with points are completely refundable. This offers even more flexibility than Southwest's already generous policy when booking cash tickets. Canceling a cash ticket booking only gives you a credit. When booking with points, your points simply go back to your account and any taxes and fees paid can be refunded to your card.
Not only are Southwest points easy to use, but they are also easy to earn. Whether it be through a Southwest credit card or by instantly transferring Chase Ultimate Rewards earned from some of the best travel cards like the Chase Sapphire Preferred® Card or the Chase Sapphire Reserve®.
Buy One, Get One Flights with the Southwest Companion Pass
Southwest Airlines offers one of the most lucrative benefits in the world of travel: The Companion Pass.
It works like this: Once you earn it, you can designate a friend or family member to fly with you for (almost) free – no matter whether you used cash or points to book your ticket. There are no blackout dates and no questions. Just purchase your ticket and pay only the taxes and fees for your companion's ticket (starting from $5.60 per person for domestic flights). You can even use your Companion Pass when booking an award ticket using Southwest Rapid Rewards points!
There's no limit to how many times you can use the Companion Pass, so it's not hard to see that this perk could save you hundreds – if not thousands – of dollars on airfare. Once you earn the companion pass, it's good for the entire year in which you earned it AND the entire following year. Plus, you can change your designated companion three times per calendar year.
Cons of Flying Southwest Airlines
No First Class
If you want to fly first class, don't fly Southwest.
The airline's entire fleet of Boeing 737 aircraft is only equipped with economy seats. That said, Southwest offers more legroom than many other domestic U.S. carriers, with 32 inches of pitch on its 737-800s and a 31-inch pitch on its 737-700s. If you're one of the first to board the plane, you may even be able to snatch up the coveted exit row or bulkhead seats, which are even roomier.
No Seat Assignments
Some love it, some hate it: The Southwest boarding order. Southwest's boarding system is unlike any other U.S. airline … and that's because it doesn't give any advanced seat assignments.
Instead, you choose your seat as you walk on board. The sooner you check-in, starting 24 hours before your flight, the lower the boarding number you'll receive. This is, of course, if you don't pay extra for "Early Bird" check-in – one of the few extra fees Southwest levies.
At the gate, you line up in numerical order. Everyone boards starting with numbers A1-10, then A11-20, B1-B50, C1-C50, and so on. When you get on the aircraft, any seat you see open is available for you. You can't select an aisle or window seat ahead of time. If you get on the plane and see a first-row aisle seat available, it's yours!
Thrifty Tip: Simply set an alarm to check in exactly 24 hours before your departure time. This is pretty much a fail-safe for getting a window or aisle seat or seats next to each other. Families traveling with small children always board after the A group and before the B group, so you shouldn't have to worry about being separated from your child.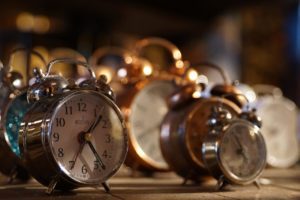 No Seatback Screens
Another downside to flying Southwest is that there are no seatback screens on any of its aircraft.
However, you can still stream free live entertainment to your own device, and Southwest also offers free inflight texting through iMessage and WhatsApp. There's also the option to purchase Internet for $8 all day, per device. This means you just have to pay for internet once if you have connecting flights.
Fewer Nonstop Transcontinental Flights
If you're looking to fly nonstop across the country, you'll probably need to fly another airline.
Unfortunately, Southwest's route network is lacking nonstop transcontinental flights. Flying from NYC to the West Coast? You can't fly nonstop on Southwest. Want to fly from California to Florida? Look elsewhere for a nonstop flight.
At the time of publication, there are only two routes from Baltimore that truly fly coast-to-coast. Some of the longer nonstop transcontinental flights on Southwest include:
Atlanta (ATL) – Las Vegas (LAS)
Atlanta (ATL) – Los Angeles (LAX)
Atlanta (ATL) – Oakland (OAK)
Atlanta (ATL) – Phoenix (PHX)
Atlanta (ATL) – San Diego (SAN)
Baltimore (BWI) – Las Vegas (LAS)
Baltimore (BWI) – Los Angeles (LAX)
Baltimore (BWI) – Phoenix (PHX)
Baltimore (BWI) – San Diego (SAN)
Las Vegas (LAS) – Buffalo (BUF)
Las Vegas (LAS) – Orlando (MCO)
Las Vegas (LAS) – Pittsburgh (PIT)
Las Vegas (LAS) – Raleigh (RDU)
Las Vegas (LAS) – Tampa (TPA)
Phoenix (PHX) – Cancun (CUN)
Phoenix (PHX) – Ft. Lauderdale (FLL)
Phoenix (PHX) – Orlando (MCO)
Phoenix (PHX) – Pittsburgh (PIT)
Phoenix (PHX) – Raleigh (RDU)
Phoenix (PHX) – Tampa (TPA)
No Red-Eye Flights = Fewer Connecting Options
It might sound good on paper, but in practice it can complicate your travel plans. Southwest doesn't currently operate any red-eye flights.
These are flights that depart at night and fly through the night. While some may not care to ever take a red-eye flight, these types of flights are helpful when trying to fly far distances and allow for more connecting options.
For instance, the fact that Southwest doesn't fly red-eye flights means that travelers from the Midwest and eastern U.S. are practically cut off from being able to book a Southwest flight from Hawaii back home. The daytime flights from Hawaii simply don't arrive at the West Coast airports in time for you to be able to connect much anywhere beyond Illinois or Texas. A few exceptions are Atlanta, Baltimore, and Orlando, since there are more nonstop flight options to these cities from the West Coast.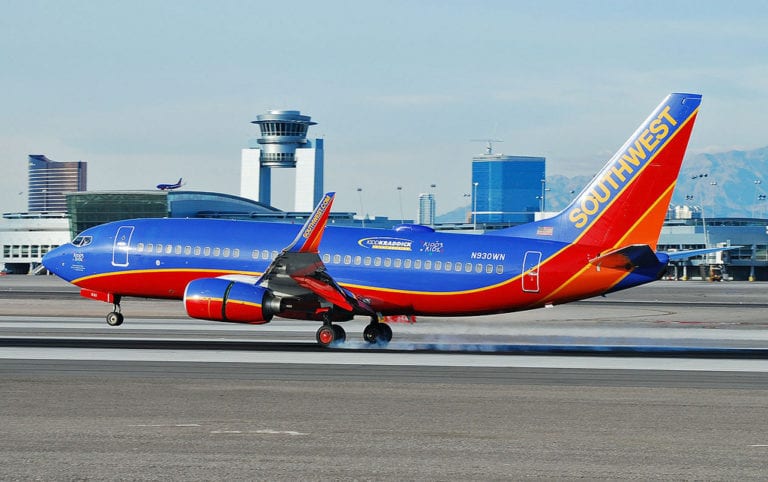 How Much Does it Cost to Fly Southwest?
Southwest positions itself as a low-cost carrier. That's not exactly true these days.
The "low-cost" moniker stems from Southwest's own operating costs, not the costs for travelers looking for tickets. As ultra-low-cost carriers like Frontier and Spirit have diluted what it means to be a low-cost airline, Southwest now acts much like a traditional legacy carrier when it comes to airfare.
In some cases, Southwest may even be slightly more expensive than airlines like American, Delta, and United – at least before you figure in bag fees. However, after figuring in total costs, you may often find Southwest to be the better deal.
Major Airlines Love to Match Southwest's Sale Fares
The fact is that Southwest sets the standard for domestic airfare – and even in some international markets, too.
While its fares may not fluctuate as much as other airlines, other airlines almost always match Southwest's weekly sales. That means a timely Southwest sale can help you score a better deal whether you're flying Southwest or another airline altogether.
You can find Southwest's current advertised sale fares by navigating to its "Special Offers" at the top of the homepage. As an example, this deal was valid for Tuesday and Wednesday travel through August.

Looking at flights from the Chicago area to Detroit (DTW), you'll see the matching of other airlines is pretty clear. Southwest is selling $81 one-way sale fares from Chicago-Midway (MDW) to Detroit, coming out to $162 roundtrip.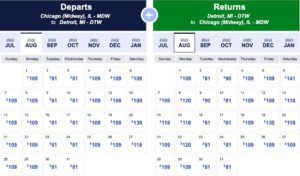 Searching Google Flights, you'll see that Delta matched this price and is selling $162 roundtrip flights for travel on Tuesdays and Wednesdays in August. Delta is selling these flights from both Chicago-O'Hare (ORD) and Chicago's Midway, too. You'll also notice that the price abruptly goes up to the standard $218 roundtrip for travel on other days of the week or starting in September.
Related reading: What are the Cheapest Days to Fly?
A few times per year, Southwest also has some pretty stellar promo code sales or distance-based sales. During these sales, you'll usually find most routes on Southwest to have the lowest fares you'll see throughout the year … and shortly after Southwest's fares drop, you'll likely see a reaction from other airlines.
In early June, Southwest had a 40% off sale for summer and fall travel across its network. After months of higher than usual airfare, these were some of the best fares we'd seen in a while.
Flights to Phoenix (PHX) dropped as low as $58 roundtrip from Las Vegas (LAS), which Thrifty Traveler Premium members were alerted to along with nonstop departures from over 20 other airports for less than $194 roundtrip.
Southwest's Booking Schedule Also Dictates Fares
Southwest even sells flights differently than other carriers.
Most airlines sell fares roughly 11 months in advance. Instead, Southwest releases its schedule in batches, going as far out as seven months or so until the next Southwest flight schedule release. So while other airlines are currently selling fares into early June 2023 as of publication, Southwest's schedule currently only goes into early January.
That timeline is worth keeping in mind if you're trying to find cheaper flights in certain markets: If you buy a flight with another airline before Southwest is selling fares, you might pay more. For instance, if you're hopping between the Hawaiian Islands, you should wait to buy your ticket until Southwest starts selling tickets for your travel dates – regardless of whether you want to fly Southwest or not.
The same is true for many other markets where Southwest flies. Even though the major airlines sell tickets 11 months in advance, they often keep their lowest-priced tickets for travel dates that follow Southwest's flight schedule. It's not an exact science but it is something to be aware of when looking for cheap flights.
Sweet Spots When Flying Southwest Airlines
Time it right and you can get a good deal on almost any Southwest flight, no matter where you're flying. But there are certain places where you'll generally find the best deals flying Southwest.
Markets Where Budget Carriers Fly
Ultra-low-cost carriers like Allegiant, Frontier, and Spirit mostly fly nonstop to leisure markets around the U.S. such as Las Vegas (LAS), New Orleans (MSY), Orlando (MCO), and Denver (DEN). Oddly enough, for the most part, legacy airlines still route passengers through hub cities to fly to some of these destinations.
This is where Southwest comes in big.
Say you're searching Google Flights for a flight from San Diego (SAN) to Las Vegas (LAS). You'll only see nonstop fares on Allegiant, Frontier, and Spirit since these are the only airlines flying the route nonstop that you can book directly. None of these airlines include any bags larger than a small personal item with their lowest fares.
Checking Southwest, you'll see that its $39 one-way fare, which includes a carry-on and two free checked bags, is far and away the better option. And on this particular route, you can upgrade to Wanna Get Away Plus for only $10 more.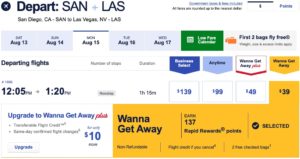 Hawaii
The Southwest effect is real in the Aloha State.
Ever since Southwest started flying to Hawaii back in 2019, fares have plummeted. And one great thing about Southwest is that when fares are low, you can also easily use your points to book a cheap flight to Hawaii.
In March, Thrifty Traveler Premium+ members received a deal to Hawaii that required just 12,000 Rapid Rewards points for nonstop, roundtrip flights from several cities along the West Coast.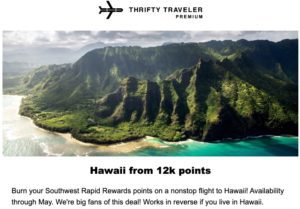 There's more where that came from as well. In April, members were alerted to a cash deal during another Southwest promo code sale with fares on both nonstop and connecting flights from cities across western and central U.S. to Hawaii, all for under $394 roundtrip.
California
Flying to, from, or within California is another great sweet spot for flying Southwest Airlines. Southwest currently flies to and from a whopping 13 California airports – including more service to California's smaller (and often more convenient) airports than you'll find on any other airline.
Want to fly to Hollywood? The best way to get there is to fly into Burbank (BUR) and Thrifty Traveler Premium members recently received a great deal for summer travel on Southwest, with fares starting from just $87 roundtrip.
Florida
With so many airlines flying to Florida, competition is fierce. But if you'd like to avoid budget airlines, you'll find more nonstop flights to cities throughout Florida flying Southwest than the other big-name carriers.
Sure, Miami (MIA) is dominated by American Airlines, but Southwest recently started service there, too. In addition, Southwest has a huge network of flights to Ft. Lauderdale (FLL), Ft. Myers (RSW), Orlando (MCO), and Tampa (TPA). In total, Southwest operates at 11 Florida airports.
And the fares aren't bad either. Take this flight from New Orleans (MSY) to Orlando (MCO) over Labor Day Weekend. You could fly Southwest nonstop for $178 roundtrip.
Or, if you want to avoid flying Frontier and Spirit, you could fly Delta with a connection in Atlanta (ATL) … for $439 roundtrip.

Which would you choose? In this instance (and many others), it could be a no-brainer to fly Southwest.
Mid-Size Cities That Aren't Hubs
Finally, some of the most obscure sweet spots within Southwest's network are if you're flying to or from cities like Kansas City (MCI), Nashville (BNA), San Antonio (SAT), or St. Louis (STL).
What do these cities have in common? They all have a plethora of flights on Southwest but are not a hub for any other airline.
Last summer, we sent a deal to Thrifty Traveler Premium+ members with flights to Nashville starting from just 5,000 Rapid Rewards points roundtrip. The list included over 40 cities, all for less than 19,000 points roundtrip. All for nonstop flights.
Southwest Flies International, Too
While Southwest is primarily a domestic airline, it does fly to a few international destinations in Mexico, Central America, and the Caribbean.
Since its international network is limited, Southwest hasn't had as much of an impact on international travel as it has domestically. Still, you'll definitely want to have a look at Southwest's fares to compare if you're traveling to one of these destinations.
Bottom Line
Southwest is a solid airline with a no-nonsense fare structure.
The only big downside is that you won't find its fares on Google Flights or anywhere else other than its own website, and that means more legwork to do some price comparison. But with two free checked bags and no change fees on every flight, it's well worth exploring to know all your options – and doing the math to see which airline will cut you a better deal after extra fees.
Long story short, always double-check directly with Southwest Airlines when searching for a cheap flight.
All Southwest plane photos courtesy of Tomas del Coro via Flickr