The world is a big place, and there's a lot to see – and just as much misinformation about the best way to do it.
We're here to set the record straight and give you some tips on how to make your next trip easier … if you do it right, cheaper, too. Here are the top 10 things travelers get wrong, and how to do it right.
Read more: Debunking Four of the Absolute Worst Travel Myths


Waiting Too Long To Book a Flight Deal
When you see a good fare, don't wait around: book it now. Ask questions later.
Flight prices are constantly changing as travelers book some airfares and airlines decide to pull or adjust others. The hotter the deal, the shorter it lasts. So that cheap flight you find through Google Flights or get in your inbox with Thrifty Traveler Premium might not be there when you return to it later.

That's especially true when it comes to booking flights with points and miles. Once award space to book those flights with miles is gone, it's typically gone for good. So when Delta slashes award rates to New Zealand as low as 37,000 SkyMiles roundtrip, you book it ASAP.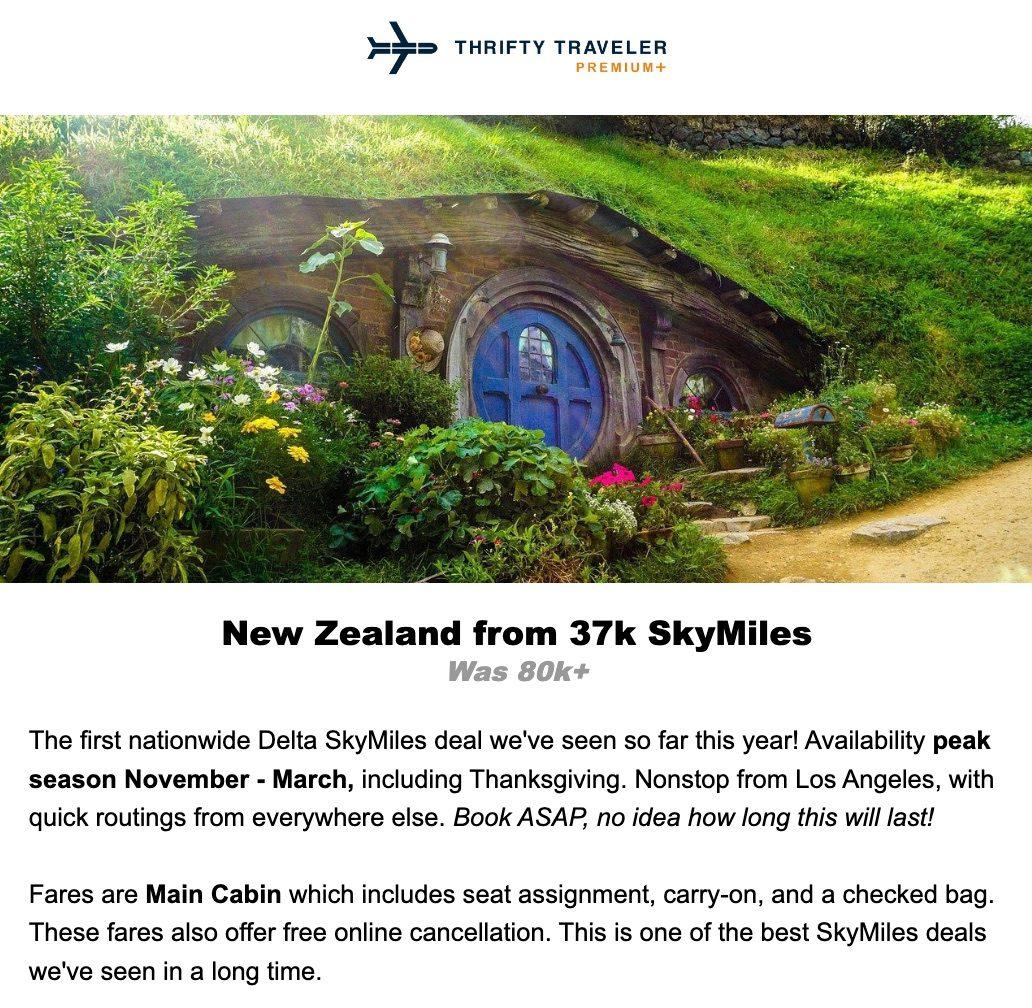 Wait too long, and that amazing deal could shoot back up to 170,000 SkyMiles or more.

You always have a 24-hour window after booking to determine whether you can make the trip work, or cancel it and get your money back. The federal government requires airlines to fully refund any fare for flights to, from, or within the U.S. within 24 hours of purchase – so long as they're booked directly with the airline. It can be even better booking with points: Many airlines like American, Delta, United, and others allow you to cancel almost any award booking and get your miles (and taxes and fees) back for free.
And you don't have to worry about the price dropping even further after you book, either: You can still capitalize on that lower fare. Most major U.S. airlines did away with change fees during the pandemic, which means you can change (or cancel and rebook) your reservation if the fare goes down – and pocket the difference. You won't get cash back, but you can at least get some extra money in the form of a voucher or travel credit to put toward another trip.
Using Expedia or Kayak to Search for Flights
Google Flights should be the first tab you open in your browser for every single flight search, full stop.
It's a powerful search engine that helps you zero in on the best fare, and then check out directly with the airline. Nearly every airline lists its fares directly on the platform, allowing you to sort through flight schedules and prices on hundreds of thousands of tickets – including taxes.
And Google Flights has some great features you won't find elsewhere to help you find the cheapest flight.
If you're not sure where you want to go, Google Flights Explore will show you the cheapest places to fly from your home airport
Use the baggage allowance filter to make sure your flight allows carry-ons or checked bags
Set up price alerts for specific dates and destinations so you can book when prices drop – or rebook an existing flight to save even more
You can always compare the cost of the flights you find through Google Flights with online travel agencies (OTAs) like Kayak and Expedia to make sure you're getting the best deal. But OTAs make their money by taking a cut of the airfare, which can mean that your fare is actually higher through these third-party sites.
Staying Loyal to One Airline or Hotel Chain
Everyone loves the idea of building airline status and getting free flight upgrades. But your loyalty is expensive.
While getting status like Silver Medallion with Delta might sound cool, it's just not worth spending the extra cash. It might make sense if you're a business traveler on the road every week. But the average traveler is way better off following the cheapest fares and hotel rooms rather than sticking with one airline or hotel chain.
The same principle applies to travel rewards: You're leaving points and miles on the table by being loyal to just one airline or hotel chain. The best strategy is to go where the points and miles are easiest to get and use.
For example, let's say you live in a Delta hub like Atlanta (ATL) or Minneapolis-St. Paul (MSP). If you only focus on earning Delta SkyMiles, you'll often find yourself needing to fork over a lot of SkyMiles even for just a basic economy seat … or hundreds of thousands of miles if you want to fly business class.


Read more: The Sad State of Delta SkyMiles in 2023
But if you focus on earning transferrable points like Chase Ultimate Rewards or American Express Membership Rewards, you give yourself the flexibility to use those points to book a cheaper flight on a different airline, or even the same flight for much fewer points. For instance, you could transfer 50,000 points to Virgin Atlantic and book the exact same Delta flight as above.

Also, Stop Swiping Your Airline Credit Card Every Time!
Being Inflexible with Your Dates
Most travelers decide on a destination, choose their dates of travel, request time off from work, and then start looking for a flight. But by locking yourself into certain dates, you're limiting your options for finding a cheaper flight.
Our advice? Book the cheap flight first, then put the other pieces into place. Flexibility can go a long way toward lowering the cost of your flight. Even departing just a day earlier or later than you initially planned or traveling during the cheaper shoulder season, you'll be surprised how much you can save.
Plus, with the option of remote work, it's easier than ever to capitalize on the cheapest days to fly and use that extra cash to put toward your actual trip.
Say you want to travel to London. If you picked your dates and booked lodging first, this is what you might see when you go to search for airfare.

Fire up Google Flights Explore to search for a one-week trip to London sometime in the next six months though, and you'll be able to narrow in on the dates with the cheapest airfare.

Or maybe you're taking a weekend trip to Arizona in March. Rather than flying out on a Friday and coming home Sunday, shift your travel dates a few days and you could save anywhere between $60 to nearly $100.

Converting Money Before You Go (Or After You Land)
Stop exchanging your money at the bank or currency exchange counters at the airport. You're losing your own money – these services make a profit on poor exchange rates and fees.
Instead, use a travel debit card and withdraw the cash you need as you go while you're traveling without paying any ATM fees. 

Our go-to has always been the Charles Schwab debit card. With the Schwab debit card, you can take out cash from any ATM anywhere in the world and you'll get refunded 100% of any withdrawal or ATM fees you pay. It's a foolproof way to avoid international ATM fees and get the best currency exchange rate possible.
It's free to sign up, and there are a lot of other perks to this card.
Unlimited fee rebates from any ATM worldwide
No minimum balance or monthly fees
No foreign transaction fees on debit card purchases or ATM withdrawals
Free Standard Checks and Visa debit card
Charles Schwab's mobile app allows you to deposit checks with your phone
Read our guide to the best fee-free ATM cards to get cash while traveling abroad! 
Paying Foreign Transaction Fees
Stop paying extra on your credit card transactions while abroad.
While a debit card is great for ATMs, we recommend using a credit card for all other purchases. It will protect you against fraud, plus you can keep earning points and miles for your purchases on your travels. But many U.S. credit card companies pass on fees for transactions made out of the country, adding as much as 4% to any purchase you make abroad.
That's why it's important to always travel with a credit card with no foreign transaction fees. And these days, all the best travel rewards credit cards waive foreign transaction fees. If your go-to travel card is an American Express, bring a back-up in your wallet in case some overseas vendors don't accept Amex.
Checking Bags
Leave the big checked luggage in the closet and pack lighter in just a carry-on bag. It's one of the easiest ways to save both time and money. And we promise: You can do it.
Opting not to check a bag means you'll get through the airport faster – no wasting time standing in line to drop it off, waiting for it at baggage claim, or worrying about it getting lost. Plus, while most airlines charge $30 or more each way to check luggage, a carry-on bag is almost always free.

No matter where you're traveling or how long you'll be there, we always encourage readers to try packing in just a carry-on.
Follow our tips for how to pack a carry-on bag for any trip! 
Waiting in Long Security Lines
Even if you travel just a few times a year, having either TSA PreCheck or Global Entry can make your time at the airport much better – and faster.
TSA PreCheck will get you through those long security lines faster, while also allowing you to leave on your coat, shoes, and belt plus keep electronics and liquids tucked inside your bag. Global Entry, meanwhile, is your fast-track ticket through immigration after landing back in the U.S. But Global Entry is a two-for-one: It also includes a TSA PreCheck membership, making it the best choice if you're planning any international travel.
Neither program is free, but there are a number of travel rewards credit cards that will cover the cost of enrollment in either program. There's even a way to use one credit card to get TSA PreCheck for your entire family.
Thrifty Tip: There's a way to jump the security line even if you don't have TSA PreCheck or CLEAR Plus. Several airports in the U.S. and Europe will let you schedule a specific time for your trip through the general security screening – and it's free.
Falling Behind with Your Passport, Visa or ID
There's nothing worse than heading to the airport for an international trip only to be turned away because you don't have the right paperwork.
Keep an eye on your passport expiration date and get it renewed early. And it may not be enough just to have a valid passport – many countries, including Mexico, require at least six months of validity. 
Passport wait times are way up right now as international travel rebounds from the pandemic. The U.S. State Department still estimates it will take 10-13 weeks to process routine passport renewal applications. Even if you pay an extra $60 for expedited service you still need to budget up to nine weeks to get your new passport.

Be sure to check any visa requirements for the countries you are planning to visit on the U.S. State Department's website. U.S. citizens can travel to many countries visa-free. Sometimes it's just an e-visa that takes just a few minutes to fill out online, but other countries require a more in-depth process for entry. And the requirements can change with little notice, like how it became easier to get into Vietnam … but could get harder to get into Europe in 2024.
And change is on the way for even domestic flights. Starting in May 2025, you'll need a new Real ID (or your passport) to board a domestic flight. And unfortunately, it's not as simple as getting your normal driver's license renewed. Read up on everything you need to know to get a Real ID.
Leaving Points and Miles on the Table
Signing up for credit cards is the easiest way to earn a bunch of flexible points or frequent flyer miles, but there are plenty of easy ways to continually pad your stash of points and miles to put towards future travel.
For starters, sign up for frequent flyer accounts to make sure you're earning miles on every flight you take.
If you have a travel rewards credit card, pay attention to the categories that will net you additional points. For example, if you're paying for flights, you might want to consider putting them on The Platinum Card® from American Express, if you've got one – it earns 5x points per dollar on airfare booked directly with airlines. Or use the Chase Sapphire Reserve®, which earns 3x and also has great trip cancellation coverage.
In some cases, one simple, extra step can quickly add up, like signing up for airline dining programs to keep earning miles when you go out for dinner. Use online shopping portals for all your shopping to earn bonus points and miles on every purchase. One of our favorites is Rakuten, but airlines like United and American also have their own dedicated portals.
And explore cool partnerships between airlines and other companies that allow you to earn more, like how you can earn bonus Delta SkyMiles when riding with Lyft, booking an Airbnb, or ordering Starbucks.
Bottom Line
Stop making these simple travel mistakes. That's it.