Travelers flying south often head straight for Cancun, Puerto Vallarta, and Cabo – and I can't blame them. But if you're willing to go off the beaten path, even just a little bit, you'll discover an incredibly diverse country with even more to love than the go-to resort towns and beachside cities.
I've traveled Mexico far and wide for years, and yet I still have so much to discover … and that's why Mexico keeps pulling me back. From ancient civilizations to some of the best food on the planet, Mexico has a lot to offer. And of course, the beaches are also truly amazing no matter where you go.
Here, I've rounded up seven lesser-known destinations in Mexico that you should add to your list for your next sojourn south. Most of them I've been to myself … though a few, I'm hoping to visit in the near future.
Let's have a look.

Chetumal
Head a bit further south from Cancun and check out Chetumal.
The capital of the Mexican state of Quintana Roo is a great place to explore nearby lagoons and Mayan ruins while also acting as a cheap gateway to Belize.
This region of Mexico is at the top of my bucket list. One of the biggest reasons: To visit Bacalar. Just a 40-minute drive from Chetumal, this small village sits on the shores of Lake Bacalar, also known as the Lagoon of Seven Colors.

If you want to see some ancient ruins without the crowds of Tulum, you'll be a short drive away from the Archaeological zones of Kohunlich and Oxtankah. You can learn more about this ancient civilization at the Museum of Mayan Culture in Chetumal.
Most tourists passing through Chetumal are either traveling to or from Belize – and for good reason. A water taxi from Chetumal to San Pedro on the popular Ambergris Caye in Belize takes roughly the same amount of time as it does from Belize City, about 90 minutes.
But depending on where you're traveling from, it may be cheaper to fly into Chetumal (CTM) than Belize (BZE) – especially for those in Southern California who choose to fly from Tijuana (TIJ). Otherwise, you may find it more cost-effective to find a cheap flight to Cancun (CUN) and make your way to Chetumal by land.
Related reading: Go Beyond Cancun: Explore Playa del Carmen, Tulum, and Puerto Morelos
Guadalajara
Mexico's second-largest city often plays second fiddle to the capital Mexico City, but it's worth checking out Guadalajara if you're looking to mix some city life in with a visit to the namesake of Mexico's most popular spirit, Tequila.
The town of Tequila, Jalisco is just one hour west of Guadalajara and a perfect day trip to take a shot (or three) straight from the source. There are several distillery tours, including a chance to ride the Jose Cuervo Express train for a full immersion.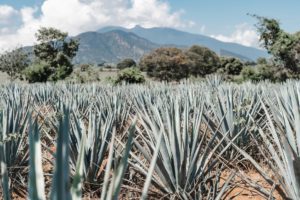 No visit to Guadalajara would be complete without a visit to the Guadalajara Cathedral in the historic center of town. The gothic architecture makes this a landmark recognized across the country. The colorful district of Tlaquepaque is also worth a visit. Walk along Calle Independencia for shopping and restaurants or check out a mariachi at El Parian.
But my favorite part of Guadalajara is easy: the food. It's the birthplace of the Torta Ahogada, a sandwich filled with pork carnitas and smothered in salsa. Throw in some onion, lime, and extra hot sauce and you've got yourself a delicious lunch.
La Paz
When most people think of Baja, they immediately flock to Cabo. But, in my opinion, the beaches are better along the Sea of Cortez. Balandra Beach, just 30 minutes north of La Paz, is one of the most beautiful beaches I've seen anywhere on the planet.

And it doesn't end there. If you're visiting La Paz, you'll be a quick boat ride away from Isla Espirito Santo, where there are over a dozen white-sand beaches to explore. The deserted island is a UNESCO Biosphere Reserve that was created by several earthquakes and volcanic activity.
In the town of La Paz itself, you'll want to be sure to take a walk along the Malecon. It's especially lively during Carnaval as La Paz hosts one of the oldest Carnaval celebrations in the country – dating back to 1898. If you do visit during Carnaval, bring your dancing shoes as there is plenty of music to enjoy at stages set up throughout the city.
Oaxaca
I've only spent a brief overnight in Oaxaca a while back, but the rest of the Thrifty Traveler team sings the praises about this cultural gem in the heart of Mexico years later.
Foodies will want to indulge in the land of seven moles. The most famous, mole negro, is made with ground chiles, nuts, chocolate, and indigenous herbs. Another dish you'll want to try in Oaxaca is Tlayudas –  think of it as spin of a tostada that's the size of a personal pizza.
Read more: The Top 9 Foods and Treats You Need to Eat in Oaxaca
To go along with your food, you'll want to throw something back. In Oaxaca, the local drink is Mezcal. Like Tequila, it derives from the agave plant but it goes through a different process, which gives it a smokey flavor. You can try several different varieties at the many Mezcalerias around Oaxaca.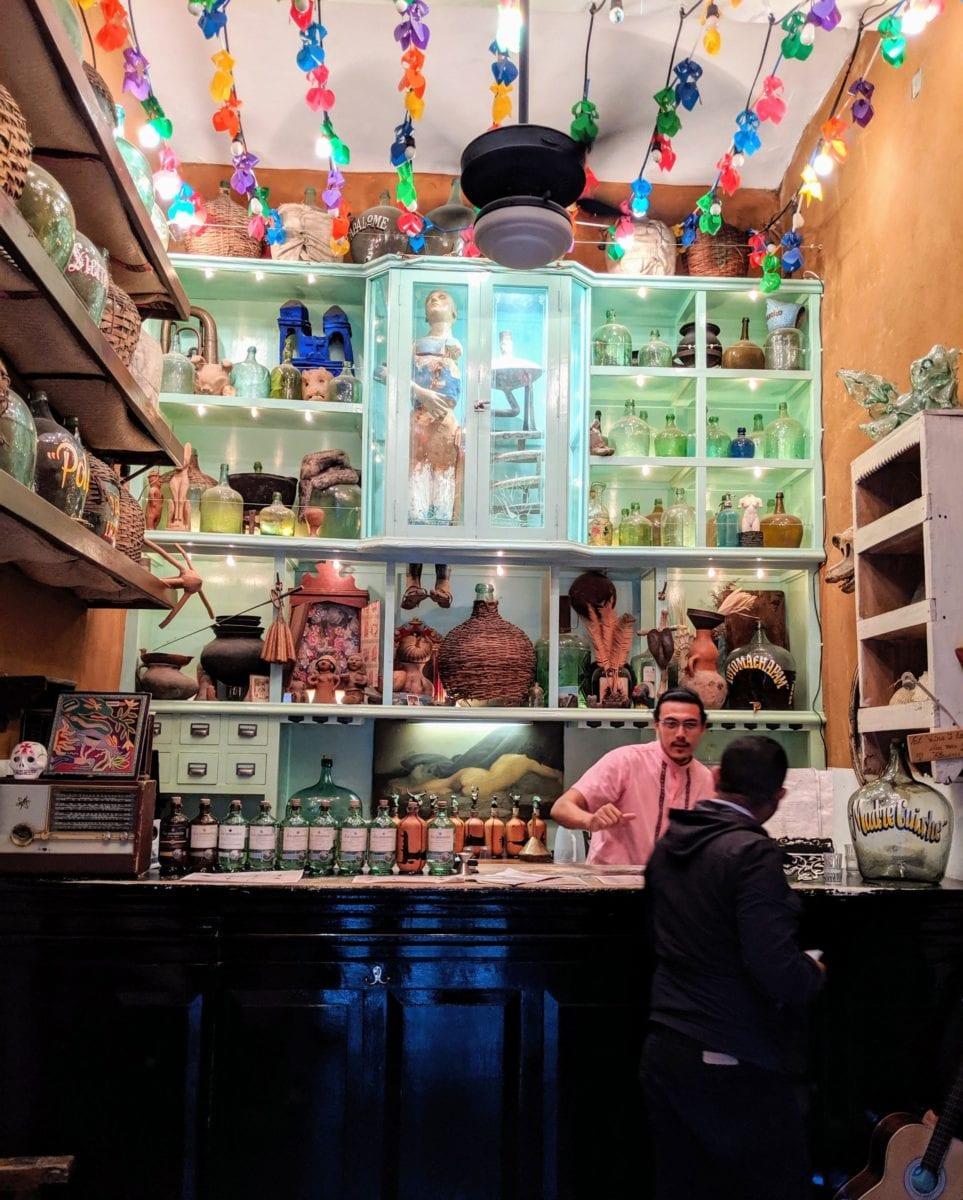 If you want to see a bit of nature outside of Oaxaca, take a day trip out to Hierve el Agua, which is one of only two petrified waterfalls in the world. Just a little further south in the state of Oaxaca, you can enjoy some of the best beach towns in the entire country: Huatulco and Puerto Escondido. Huatulco is more resort-oriented, while Puerto Escondido is more of a laid-back surf town.
Read more: Don't Miss Oaxaca, Mexico's Up-and-Coming Hot Spot
Cholula
Mexico is full of what it calls "Pueblos Magicos" – literally a magic village. And Cholula in the Mexican state of Puebla is one of them.
These are smaller towns around the country that the government has designated as having unique characteristics and traditions. They usually have some incredible architecture as well.
You'll definitely want to check out the Great Pyramid of Cholula. It was built around the 3rd century B.C. and is actually the largest pyramid ever built – even bigger than the Great Pyramid of Giza in Egypt. The Spanish built the Our Lady of Remedies Church on top of the pyramid back in 1574 and it's quite the site with the active volcano Popocatepeti as a backdrop.

While you're in the Puebla area, you should try some Pulque, an alcoholic beverage made from the fermented sap of the agave plant. It may be an acquired taste for an outsider, but the locals are always enjoying this milk-colored beverage at the many Pulquerias in the area.
Cholula is less than 10 miles from Puebla Airport (PBC) but you may find it easier to fly into Mexico City (MEX) and take one of the frequent, luxurious buses from Mexico's largest airport to Puebla in under two hours. And yes, the famous hot sauce you find in your local grocery store is named after the ancient city of Cholula – the oldest inhabited city of Mexico.
Want to learn about another Pueblo Magico? Read our guide to Isla Mujeres!
San Miguel de Allende
In 2008, UNESCO designated San Miguel de Allende as a World Heritage Site. It's been pretty popular with tourists ever since, but you still won't see the massive crowds that flock to the major beach resorts.
Why do tourists visit this landlocked city smack in the middle of the country? Likely because it's one of the most picturesque towns you'll see in Mexico – and that's saying a lot.
The main attraction is La Parroquia de San Miguel Arcangel – a neo-Gothic church that got its current form from indigenous bricklayer Zeferino Guiterrez back in 1880. It's said that he got the inspiration from postcards of Gothic churches in Europe. To get a birds-eye view of the city, take a 20-minute walk from the main plaza up to a viewpoint known simply as El Mirador. You won't be disappointed.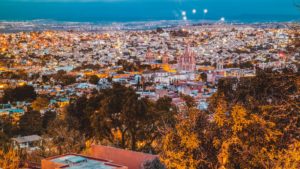 In the surrounding area, you'll be able to kick back and relax in a thermal bath. The most famous hot springs are at La Gruta Spa, which features an underground cave full of thermal water.
The closest airports to San Miquel de Allende are Leon/Guanajuato (BJX) and Queretaro (QRO). Both are about an hour away – and those cities are worth a visit on their own as well. Flying into Mexico City is another option but it's about four hours away.
Thrifty Tip: If you're finding flight prices to some of these Mexican cities are higher than you'd like to pay, you may want to turn to your points and miles. Check out some of the best ways to fly to Mexico using points and miles.
Zihuatanejo
If you're looking for a quieter and more local beach vibe, the fishing village of Zihuatanejo is a great alternative to the resorts in nearby Ixtapa.
A walk along Playa La Ropa is a must to take in all the incredible views of the Bahia de Zihuatanejo. You'll find calm waters and a very chill atmosphere in Zihuatanejo. I'd recommend grabbing a michelada from a pop-up bar and going for an afternoon stroll.

For the freshest fish in town, be sure to stop by the Paseo del Pescador in the morning when the local fishermen are selling their catch of the day. You shouldn't have too much trouble finding a beachfront restaurant to cook up a fresh catch for you if you'd rather not cook it yourself.
If visiting ruins is more your speed, you can check out Xihuacan, which is an ancient settlement that was occupied by three different cultures (Tomiles, Cuitatecos, and the Tepoztecas). It's about a 45-minute drive southeast of town.
Bottom Line
While there's plenty to love about the go-to beach resort towns, there's so much more to Mexico. If you're looking for something a bit more off-the-beaten-path, check out one of these alternate destinations in Mexico for a truly unique experience.