Too many travelers make the same mistake on their trips to Britain: seeing London, and only London.
Don't get us wrong, there's plenty to see and do in London to keep you busy for a week – or a month, even. But don't let the city limits stop you from seeing other amazing places around the country. There are day trips, gorgeous English countrysides, lakes, seaside towns, and more.
Tack some of these destinations throughout England and Scotland onto your next trip through London.
Thrifty Tip #1: Rather than flying in and out of London-Heathrow (LHR), use a multi-city booking, hop on the train, and fly home from another city like Edinburgh (EDI) or Glasgow (GLA).
Bath
Let's start with the perfect day trip from London.
Bath is just over an hour away from London and easy to reach by train – coach buses are cheaper but take about twice as long. Make it to Bath and you'll find it's charming and chock-full of gorgeous architecture.
Bath Abbey, Pulteney Bridge, and the Royal Crescent will make you feel like you've stepped back a few hundred years in time. Don't miss a visit to the Roman Baths, where you can see the thermal springs that the Romans used thousands of years ago!
Thrifty Tip #2: Always book train tickets in advance in the U.K.! I always use Trainline to get the best deals – you can book up to 60 days before travel.
Nottingham
Nottingham has become the stuff of legends thanks to Robin Hood – and you can still see his statue by the castle!
But Nottingham is much more: It's also a fun, lively city with plenty to keep you busy. You can go underground to learn how people used to live and see the City of Caves.
Or head out to Wollaton Hall and Deer Park near the university campus, which was used as a film location for Bruce Wayne's house in The Dark Knight Rises.
There are lots of amazing pubs and bars in Nottingham too. Ye Olde Trip to Jerusalem is supposedly the oldest pub in the country, dating all the way back to 1198.
Step into a seemingly empty boiler shop and walk through the bathroom to find … the speakeasy Boilermaker. Canalhouse has an actual canal with water running through the pub!
Nottingham is easy to get to by train, as it's just about 1 1/2 hours away from London. Sherwood Forest is also about an hour away from Nottingham if you're up for a drive – or just hop on the Sherwood Arrow bus.
York
Head a few hours north of London into central England, and York will welcome you.
York is filled to the brim with history. The city dates back to 71 A.D., when it was founded by the Romans. You can go back in time thousands of years by exploring the medieval cobblestone streets, walking the City Walls, and marveling at the magnificent York Minster.
The Shambles is the oldest shopping street in Europe, and you might recognize it – it was supposedly the inspiration for Diagon Alley and is home to several Harry Potter shops today. Don't miss the fantastic Jorvik Viking Center, and if the weather is nice, check out the ruins of St. Mary's Abbey in the Museum Gardens.
But above all, York is just a fantastic destination for food and drink. There are so many great restaurants and cool bars around the city! And it's the perfect stopping point for a cross-country trip, as it's about halfway between London and Edinburgh by train – 2 to 2 1/2 hours away.
Thrifty Tip #3: Time your visit right to enjoy one of the many festivals that York hosts throughout the year! Whether it's the Viking Festival in February, the Roman Festival in June, September's Food and Drink Festival, the Christmas Markets in December, or just the street festival on Fossgate on select Sundays during the summer, something will be happening in York.
Hope Valley, Peak District
Peak District National Park is one of the most underrated destinations in the entire U.K., if you ask me.
And while the park covers more than 500 square miles (ahem, almost 1,300 square kilometers), you'll want to make a beeline for the Hope Valley. The views from Winnat's Pass and Mam Tor over the area are stunning – see for yourself.
Castleton is a charming village that you can use as your base for hiking throughout the area. The village of Edale and the Ladybower Reservoir (near Bamford) are also excellent to get outdoors and explore.
Better yet, the Hope Valley is easily accessible by the train running from Sheffield to Manchester. You can get from London to the Peak District in under three hours! While having your own set of wheels will be easiest and fastest, Edale and Bamford both have train stations, as does the neighboring village of Hope.
Liverpool
Liverpool is known the world over as the home of the Fab Four, the Beatles.
And to this day, the city boasts a great music scene. For any Beatles fans, visiting the classic sites like the Cavern Club on Matthew Street or Strawberry Fields (located just outside the city center) is a must. And of course, fans can't miss The Beatles Story, the Liverpool museum that captures their whole story.
Not a Beatles fan? No problem, as the city has loads more to explore. Check out museums like the World Museum and the Merseyside Maritime Museum, head down to the waterfront Albert Dock area or Liverpool Cathedral – the largest cathedral in the country.
If you're making your way northwest of London, Liverpool is a must for a city break. It's just about 2 1/2 hours from London by train.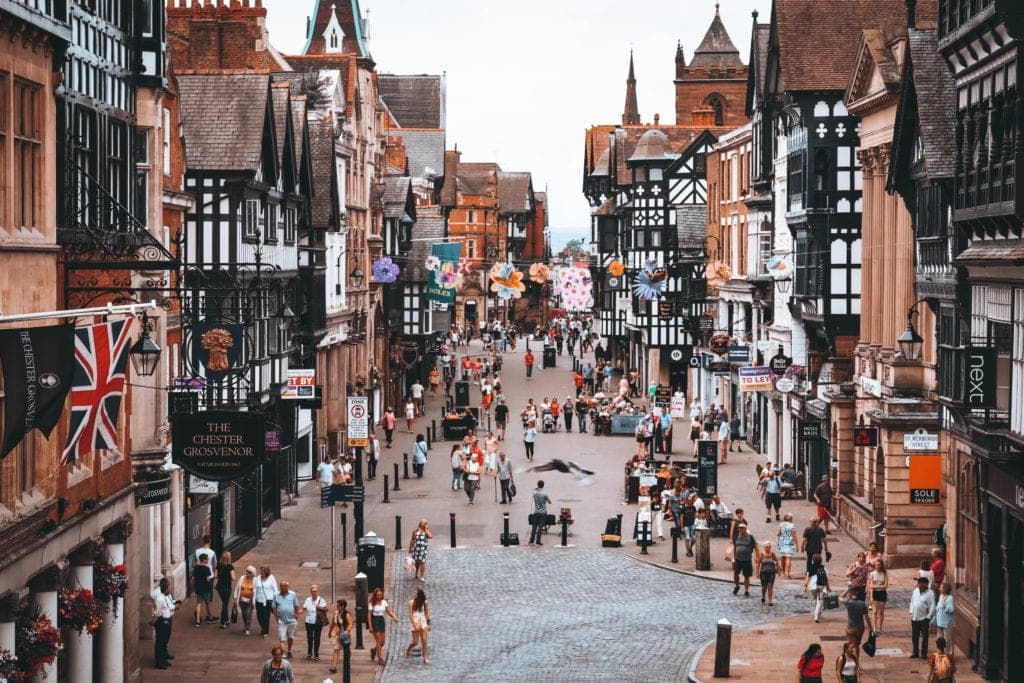 Chester
Chester is less than an hour from Liverpool by train, but it feels a world apart.
Feeling more small town than city, Chester is packed with history and charm. The shopping district couldn't be more quaint: Called The Rows, these Tudor-style buildings are split over two different levels. You can also walk around the City Walls, which date back to the Romans, and even check out the remains of a Roman Amphitheater!
This is definitely a hidden gem in the north of England.
The Lake District
We've made it: my favorite place in all of Britain.
The Lake District National Park is home to stunning mountains and plenty of lakes, waters, and meres. It's one of the most beautiful places in the country. If you want to get outdoors and see some phenomenal scenery on your trip across the U.K., this is definitely the place to visit!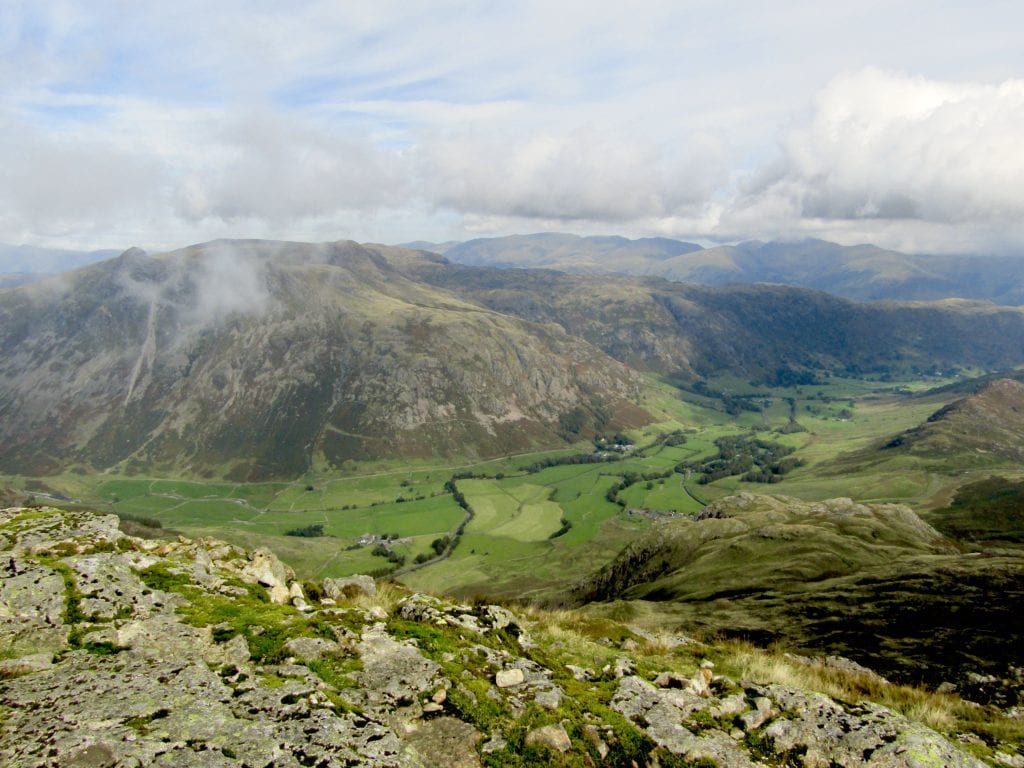 The best way to get around the Lake District is by car. But if you're relying on public transportation, your best bet is to arrive by train at either Windermere station or Penrith station. Direct trains run from London to Penrith and take about three hours, or take a train to Oxenholme and change for the train to Windermere in a three- to four-hour ride. And once you've made it to the Lake District, a strong bus network can get you around the different villages and towns.
Best of all, hiking is free (well, besides parking charges if you're driving). This is probably the main reason most people visit the Lake District! Some of my favorite hikes with the best views are Latrigg Fell (easy), Catbells (moderate), Loughrigg Fell (moderate), Crinkle Crags (difficult), and the Old Man of Coniston (difficult).
Edinburgh
From one capital to another!
Edinburgh is the capital of Scotland and a must-see destination on any trip through the United Kingdom. And this city absolutely oozes history.
There's Edinburgh Castle perched on the hill overlooking the city, the Palace of Holyrood House (the Queen's residence in the Scottish capital), and everything in-between on the Royal Mile. For the best views over the city, hike up Arthur's Seat, an extinct volcano right outside the city center. Or take the less-strenuous stairs and go up Calton Hill.
Just be sure to give yourself at least three days to truly do the city justice.
Thrifty Tip #4: The National Museum of Scotland has a multitude of exhibits and is completely free for visitors. Make sure to visit the rooftop terrace for an amazing view of the city and one of the best-kept secrets in Edinburgh!
Isle of Skye
In the far north of Scotland, deep into the Scottish Highlands, you'll find the Isle of Skye. It's become one of the most popular places in all of Scotland – and for good reason.
The landscapes are pure magic, like something from another planet. If you can devote another three days to the Isle of Skye, it's well worth it. There are lots of great hikes like the Quirang, Camasunary Bay, and Loch Coruisk, so a rushed trip just won't cut it.
Thrifty Tip #5: Accommodations book up months in advance in these parts, especially in summer. So make sure to book ahead if you want somewhere to sleep! If you're looking to rough it, wild camping is legal almost everywhere in Scotland and everywhere on the Isle of Skye. Just make sure you have the proper gear and leave no trace.

Like most rural areas throughout the U.K., a car is the best way to get around, and there are no train services on Skye. If you're not renting a car, look into taking a tour. There are plenty of tours that start from Inverness, or even multi-day tours from Edinburgh that explore different parts of the Highlands!
Bottom Line
Too many well-meaning travelers rush through a trip overseas by focusing on London … and nothing else. Do yourself a favor and get outside of London to explore more of what makes Britain so brilliant.