The travel world is filled with online travel agencies (OTAs), from the giants like Kayak and Expedia to tiny shops like TravelMerry and JustFly.
So what's the difference between booking with an airline and one of these companies? There are a few things you need to know. As with everything in travel, the rules from before COVID-19 no longer apply. And now that travel is more uncertain and unpredictable than ever, booking directly with the airline is more important than ever.
Here's why.

Better Service When Things Go Wrong
Even in good times, bad things happen. Flights get delayed or canceled, reservations get messed up, or maybe you just need to scrap your upcoming trip. And with COVID-19 still rocking the world, the potential for problems is even higher.
So when the inevitable problems arrive, it's just much easier to resolve them when you've booked directly with your airline. You can simply reach out to their customer service or even send them a DM on Twitter or Facebook and they'll be much faster to work with you on your reservation.
Confused about OTAs? Read our guide to everything you need to know about Online Travel Agencies
Smaller OTAs like TravelMerry, Vayama, Trip.com, and others are not known for their stellar customer service – just the opposite. This can cause even more problems if you've got an issue with your reservation, and it's the last thing you need when your plans change. There's nothing worse than getting stuck between the OTA and airline's customer service passing the blame back and forth, leaving your case unresolved.
And while customer service is no doubt better with larger OTAs like Expedia, they're still acting as a middle man. That can slow things down when things have gone wrong and you need a solution fast.
If you want the best customer service possible in case of an issue, it's better to book directly with the airline.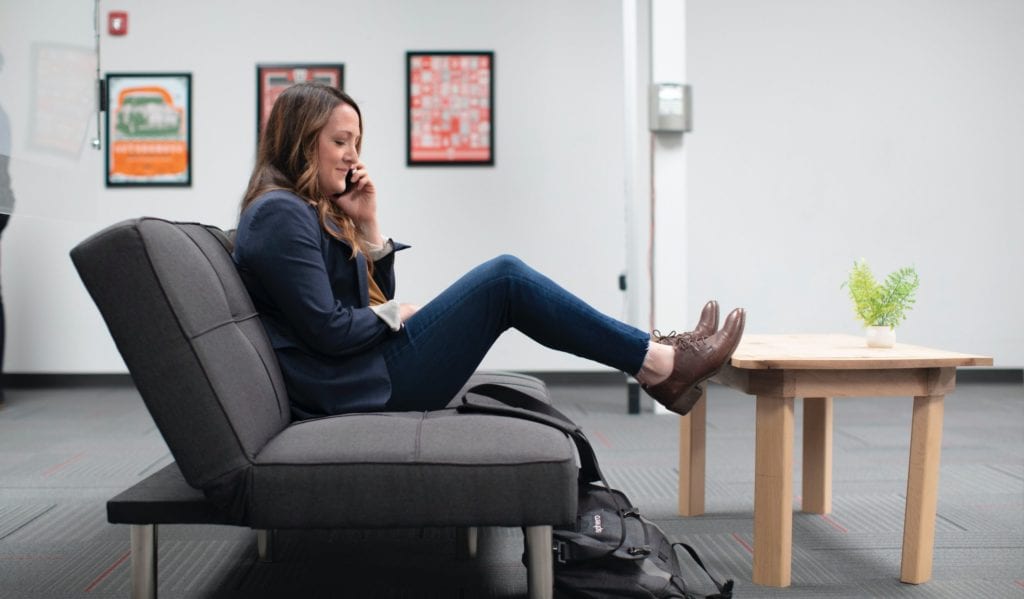 Getting a Refund or a Voucher
Being able to contact the airline directly is even more important during COVID-19. With many countries closed to Americans, flights canceled or re-scheduled, many travelers are scrambling to get a voucher or a refund.
Great customer service is one thing, but when you're trying to get a refund having only the airline to work with is key.
If your flight gets canceled or rescheduled and you're due a refund, trying to get that from an OTA can be a real pain. In our experience, you may get the runaround.
Your travel agency may tell you to contact the airline. They may not be aware of the federal law that requires a refund for any flight that is canceled or significantly changed by the airline. Airlines and travel companies are trying to hold onto as much cash as possible and haven't made it easy for consumers to get their money back.
If you need to cancel or change a flight, most airlines currently have flexible policies that will allow you to do so with no fee. If you cancel, you will get a voucher to use with the airline at a future date. While OTAs are generally following the airline's policies when it comes to cancelations and changes, it just adds another layer of complication.
If you book directly through the airline, there is only one company responsible for giving you a refund or a voucher.
Read more: Cancelling Flights? Use This Flow Chart to Make the Right Decision, The Country is Closed: Do I Get a Refund? 

If those two reasons aren't enough to convince you not to book with an OTA here's a few more:
Get the Best Fare … Sometimes
OTAs like Kayak, Expedia, Travelocity, Priceline, and other similar websites may seem like they've got a good deal on airfare – and sometimes they do. In fact, we've seen savings of $200 or more when booking with smaller OTAs via Skyscanner or Momondo. But don't assume that these websites are always saving you money.
OTAs make their money by taking a cut of the airfare, which can mean that your fare is actually higher through these third-party sites. You have to do some price comparison and find the best deal.
That's why we always tell travelers to start their search with Google Flights. Zero in on the best fare, then check it out directly with the airline. Compare the cost with some OTAs and see if you can drop the price even further.
But keep in mind there's more to consider than just the cost of your ticket.
Earn More Points When You Book Flights
While you generally will earn miles on flights booked with major OTAs, it depends on the fare class. If you want to be sure you'll get your miles, book directly with the airline and be sure you've entered your frequent flyer number.
Airlines want to entice you to book directly with them and have found ways to encourage you to come straight to their site. When you book a jetBlue fare directly on their website, you earn 3 FlyingBlue points per dollar. Southwest's fares can't be found on any OTA: you can only book Southwest flights directly on their website. Budget airlines like Frontier and Spirit announce flash sales with promo codes to direct you right to their website booking page.
The fares you buy through an OTA are more likely to be deeply discounted fares that earn fewer miles than what you'd buy directly from the airline. And while that may save you some bucks, that's not always the case, either.
Looking to get even more bang (or miles) for your buck? When you use your Platinum Card from American Express card, you earn 5x points when you book airfare directly with an airline.

Put That Airline Card to Use
If you've got an airline co-branded credit card, you could be earning more points when you book directly through the airline. Take Delta's cards, for example.
If you've got the Delta SkyMiles Gold American Express Card, you earn 2x SkyMiles on purchases made directly with Delta – and through Dec. 31, 2020, you can earn a whopping 5x SkyMiles!

Count on the 24-Hour Cancellation Policy
It's a federal rule that airlines must offer a 24-hour free cancellation policy on any flight touching U.S. soil. This is a huge benefit to folks booking directly with airlines.
However, the same doesn't necessarily apply to OTAs. Online agencies aren't subject to the same rules as carriers. The good news is that manu major OTAs like Priceline and Expedia typically offer free 24-hour cancellation. Smaller OTAs like TravelMerry or Vayama found through Momondo and Skyscanner generally don't, so beware.
Are the Savings Worth the Headache?
All these factors add up to this question: Are you saving by booking with an OTA like Expedia or Kayak? And are those savings worth the potential hassle?
It's important to weigh the options when considering booking with an OTA versus directly with an airline. Sometimes, you'll be able to find a cheaper fare on an OTA compared to directly through the airline. At other times, the price will actually be cheaper with the airline.
It's important to consider what you may be giving up:
How much would I be saving?
What is dependable customer service worth to me?
What's the possibility I'll need to change or cancel my flight?
Am I maximizing my opportunities to earn points and miles?
How much is the 24-hour free cancellation worth to me?
Pre-COVID, booking with an OTA was more enticing for the possible savings. But now, being able to work directly with the airline if problems arise could easily outweigh any savings.
Read more: Coronavirus Provides Harsh Lesson: Book Flights Directly with the Airline
Bottom Line
Choosing between an extra $40 in savings with an OTA versus the security of booking through the airline itself can sometimes feel like a pretty close debate.
But during uncertain times in travel, we always recommend booking directly with the airline. You know you can count on better customer service if things go wrong. To us (and many), that's worth the cost.