Just over a year ago, getting a visa to enter Vietnam was a bit of hassle. You could either spend $90 and mail your passport to a local Vietnamese consulate, wait hours at the airport in Vietnam to fill out a visa on arrival, or go through an expensive service to get your visa.
And while Vietnam is an amazing country that's easily worth that work, it's gotten far easier to get that 30-day visa you need to enter Vietnam. Two years ago, the Vietnamese rolled out an online E-Visa application process for many foreigners. And these visas cost just $26!
After filling one out for a trip to Vietnam later this fall, trust me: It's a breeze. Here's what you need to know.
Who is Eligible for a Vietnam E-Visa?
Citizens of 46 different countries are eligible to apply for an E-Visa. Don't worry, that includes the U.S. Other countries that make the cut include Great Britain, Japan, China, Germany, Denmark, and even Venezuela.
Scope out the full list of eligible countries.
How to Apply for a Vietnam E-Visa
Vietnam has a landing page for all E-Visa applications, and it spells out all the instructions as you begin your application.
One quick restriction on these visas: E-Visas are only eligible for single entry into Vietnam. So if you're planning to leave Vietnam and return later in the trip, you'll need to explore other options for getting your visa.
Once you head to the website, you'll see a wall of text. For 99.9% of tourists, simply click the link for "Outside Vietnam foreigners" to get started.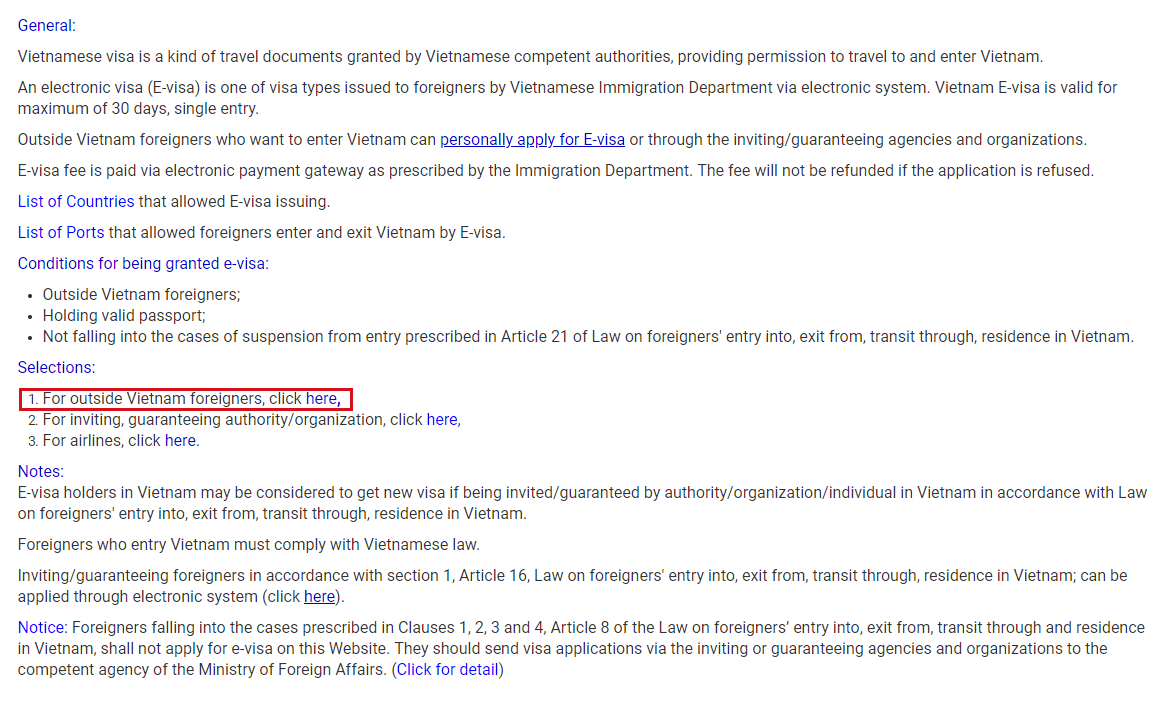 From there, you'll get the instructions on what you'll need to do to fill out your E-Visa application. And the sample is from a delightful looking man named … Martin Specimen. He's Utopian. As in from Utopia. Moving on…
Once you're done appreciating Mr. Specimen and taking in the instructions, it's time to start your application.
You'll need two images to get your application started. The first, a passport-style portrait of yourself, just as the example shows. You're safe taking a selfie and attaching it on the form, but note that the site caps the size at 1 MB, so it needs to be a relatively small file. You'll also need to scan your passport and attach it to the application, though you could also snap a clear smartphone photo of it as well.
From there, it's largely a standard visa application, with fields for your name, date of birth, nationality, email address, etc. Two things stand out.
Vietnam requires you to list a religion on your E-Visa application. While I'm not exactly sure why that is, you're safe to simply put "None" if you feel uncomfortable providing it.
Vietnam asks for a "Temporary residential address." Your best bet is to list the name and address of your first accommodation in Vietnam.
Once you get it all right, submit the application. If all goes well, you'll get a pop-up window that your application was successful – with some critical information on it. Copy down the registration code, as you'll want that for later. You should also get an email with this information once your application goes through.
From there, you'll be taken to a payment client to pay for your E-Visa application. With a fee, the whole thing comes out to $25.96. You can pay with Visa, Mastercard or JCB – sorry, no American Express.
And once that goes through, you're set. You'll get a pop-up window, and the Vietnamese government says your application should be reviewed within three days or so. You should get an email once that determination is final.

How to Check on the Status of Your Vietnam E-Visa Application
Remember that code I told you to copy down? That's what you need to check on the status of your visa application.
Head to this page or simply click "E-visa search" under the search tab on the E-Visa homepage. You'll enter your email address, date of birth, and that registration code.
Once that clears, you should get an email – or a link through the site – to be able to print out your one-page Vietnam E-Visa. You did it: You're going to Vietnam!
Bottom Line
Vietnam may seem a world away – and with amazing cities like Hanoi to explore, it certainly is. But with this simple E-Visa application process and a direct flight from the U.S. on the horizon, it's never been easier to access this amazing place.