After months of seeing sky-high prices, relief is on the way: Whether you're heading somewhere in the U.S. or abroad, we're seeing flight prices drop lately. Did you already pay too much for an upcoming flight? You might be in luck…
During the worst of the pandemic, major U.S. airlines did away with change fees on almost all their flights. That flexibility remains in place today, opening an avenue for travelers to change (or cancel and rebook) their existing reservations when fares drop – and pocket the difference.
You won't get cash back in your pocket this way, but you can at least get some extra money as a voucher or travel credit to put toward another trip. Here's a quick process of six steps (or less) to follow in order to take advantage.

Step 1: Say No to Basic Economy
It all starts with which kind of fare you book from the get go. And there's one to avoid.
Basic economy fares have spread like wildfire to almost every major airline in the country. No free seat selection can be reason enough to avoid these stingy fares, but some like United basic economy and JetBlue basic economy take it even further by not even allowing a carry-on bag onboard.
But there's one even more important reason to avoid these cheaper fares: With few exceptions, basic economy fares cannot be changed nor canceled. That means there's no way to recoup some of your money if prices drop after you've booked your ticket.
Only Delta basic economy and JetBlue basic economy allow you to cancel for a voucher after booking – and you'll pay for it.
Delta basic economy fares get hit with a $99 fee when canceling a domestic flight or trip to Canada, Mexico, or the Caribbean. Long-haul international basic economy fares can be canceled but you'd forfeit $199.
Canceling a JetBlue Blue Basic fare, you'd forfeit $100 on almost any route – or $200 on flights to/from South America as well as London.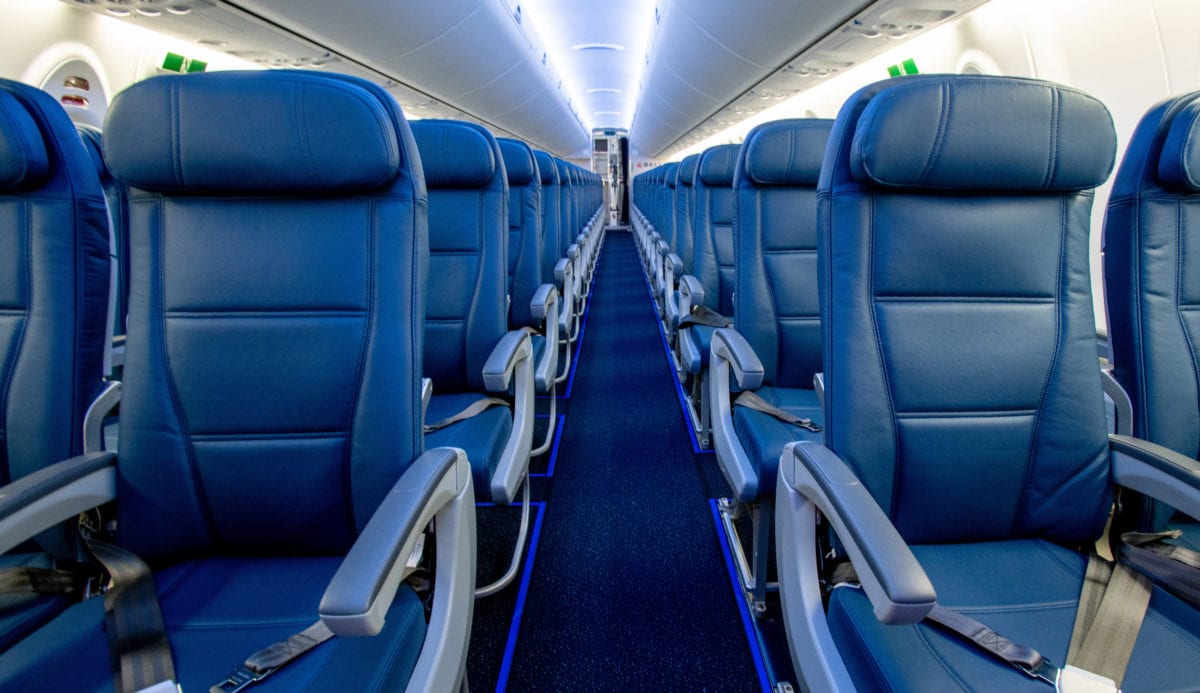 That means with a $199 Delta basic economy fare from Minneapolis-St. Paul (MSP) to Denver (DEN), you'd only get a $100 voucher if you decide to cancel later on. Those fees eat into precious travel money. With basic economy on many other airlines, you simply can't cancel or change flights at all.
Southwest, meanwhile, doesn't sell basic economy. But most importantly, Southwest beat every other airline by years by allowing free change and cancellation for a voucher on every ticket, even on the cheapest Wanna Get Away fares.
One thing to watch for: Airlines may try to upsell you to a refundable main cabin economy fare for even more. That's not necessary unless you really want to get your money back – not just a voucher to rebook.
No matter how you slice it or what airline you're flying, it pays to book at least a standard main cabin economy fare or higher. That's the key to coming out ahead if prices eventually drop.
Step 2. Set a Price Alert (Or Sign Up for Flight Deals)
With the ability to cancel and get a voucher now on the table, it means you might want to monitor flight prices even after you're booked. Luckily, there are some tools that make that easy.
Google Flights is our go-to search engine to find the best deals on flights because it's packed with powerful features to help you find a bargain. And one of them is tailor made for this moment: Google Flights Price Alerts.
Whether you're just starting your search or you've already booked a flight, enter your route and travel dates and bring up the current prices. You can filter down by departure times, airlines, connections, and more to zero in on one particular flight.
Then, just select the option to track prices and voila – you'll get notified whenever there's a significant price change on the flights you're watching. For example, I'm tracking prices for an upcoming trip to New York City just in case the cost comes down.


Just make sure you have a Gmail account and you'll get an email if prices go down – or up. Plus, you can also monitor any flights you're tracking through the Google Flights menu itself and see how they've changed since you started watching. I'm watching prices on this one-way flight from Minneapolis to Los Angeles (LAX).

If you want the heads up on the best deals – and the biggest price drops – you could turn to our Thrifty Traveler Premium flight deal alert service. We send thousands of travelers the cheapest domestic and international flight deals with savings of $250 (or much more) off normal prices.
Let's say you're heading for Greece this fall and booked a $860-ish roundtrip, nonstop fare from New York City (JFK) to Athens (ATH) flying American Airlines. Late last month, we sent members the heads up for nonstop American Airlines fares on that exact same route for just $502 total!

Get flight deal alerts like this one with Thrifty Traveler Premium!
Alerts for amazing deals like this could be your tip to save even more on something you've already got booked – or plan your next getaway.
Step 3. Try to Modify & Rebook Your Flight
When you see that prices for your flights have dropped, it's time to spring into action. You've got a few options to take advantage and get a voucher or travel credit for the difference.
The first (and easiest) way is to simply modify your existing flight. Here's how that works:
Log into your airline account.
Manage your upcoming trips and pick the flights that just got cheaper.
Select the option to change your flights.
Enter the same route, same dates as your current flight and try to rebook it.
Get a voucher for the price difference!
Some airlines allow you to change and rebook the same flight on the same day online and others may require a phone call … or a message on social media. United, for instance, may charge a $50 "reissue fee" if you try to change to the same, cheaper flight on the same day – and it won't let you do it online at all. But if you run into issues like this, don't worry: There's another way to take advantage of a price drop – skip to step 4.
In our experience, Delta makes it extremely easy to simply modify and rebook your existing flight.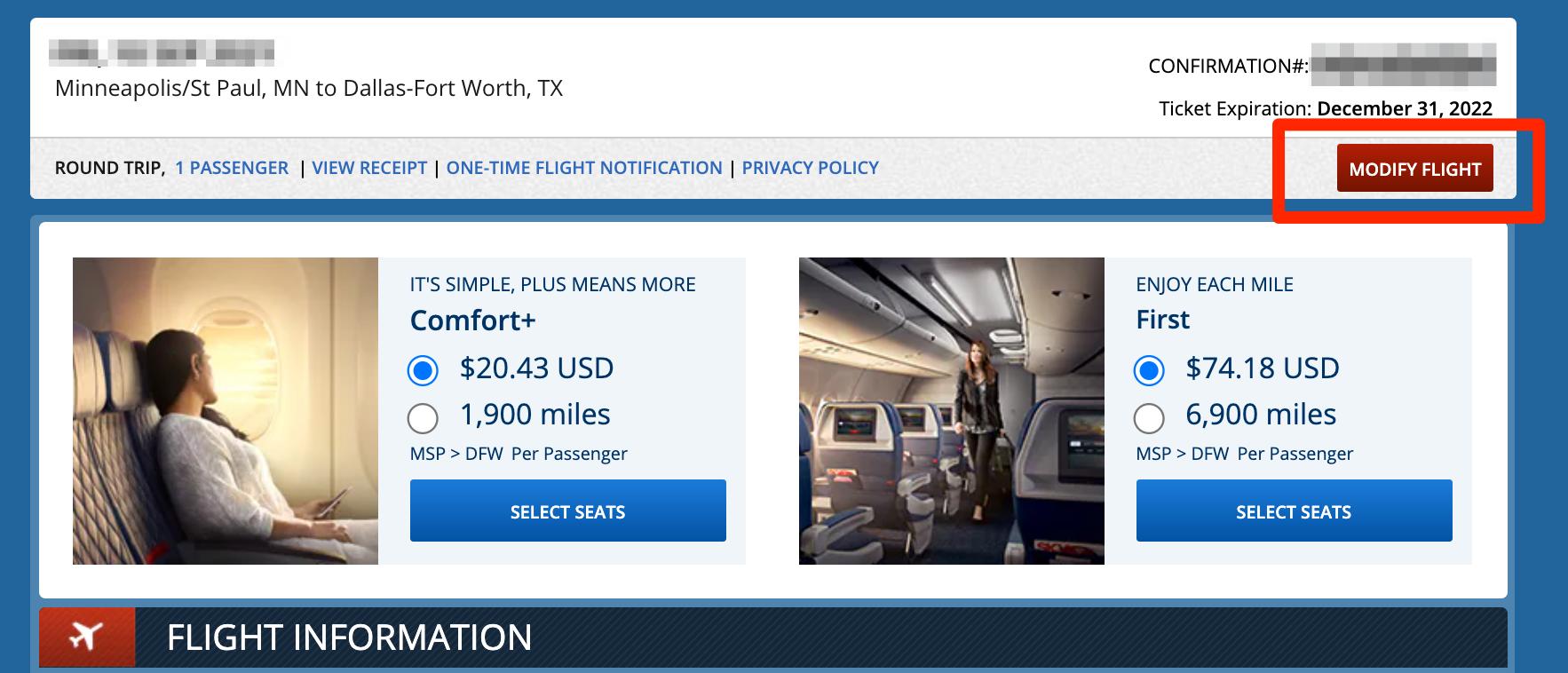 Read our full walkthrough on how to rebook Delta flights for a voucher when prices drop!
Once you select flights, you should see a screen showing you the original price you paid and the new price – the difference will be issued to you as a Delta eCredit. Once complete, you can find the voucher in your Delta account.
And that's it. You're done.
One big hitch to keep in mind: If you've paid for a seat assignment or cabin upgrade (like to First Class or Delta Comfort Plus), Delta often won't allow you to modify your flights – and those extra upgrade fees often aren't refundable. In that case, you may want to skip to the next step or get an agent's help.
Step 4. Or Cancel Your Existing Flight
No luck modifying your flights yourself online and getting a voucher? Don't worry.
So long as you followed step 1 and booked at least a main cabin economy fare, you can simply cancel your existing flight, get a voucher for the value of the ticket, and then use that voucher to rebook the same flight. Depending on how much prices dropped, it's easily worth your trouble.
Let's use the flights to Greece we talked about earlier. After booking for $863, seeing flights drop all the way down to $502 is substantial. Do it right, and you could rebook the same flight and pocket an American Airlines voucher for $361. That's a lot of extra money you could put toward a future trip – or trips!
Just log into your airline account, find your flight, and find the option to cancel the trip. I'm not going to Greece (sad, I know), so here's my upcoming flight from New York back to Minneapolis booked through American Airlines, for example.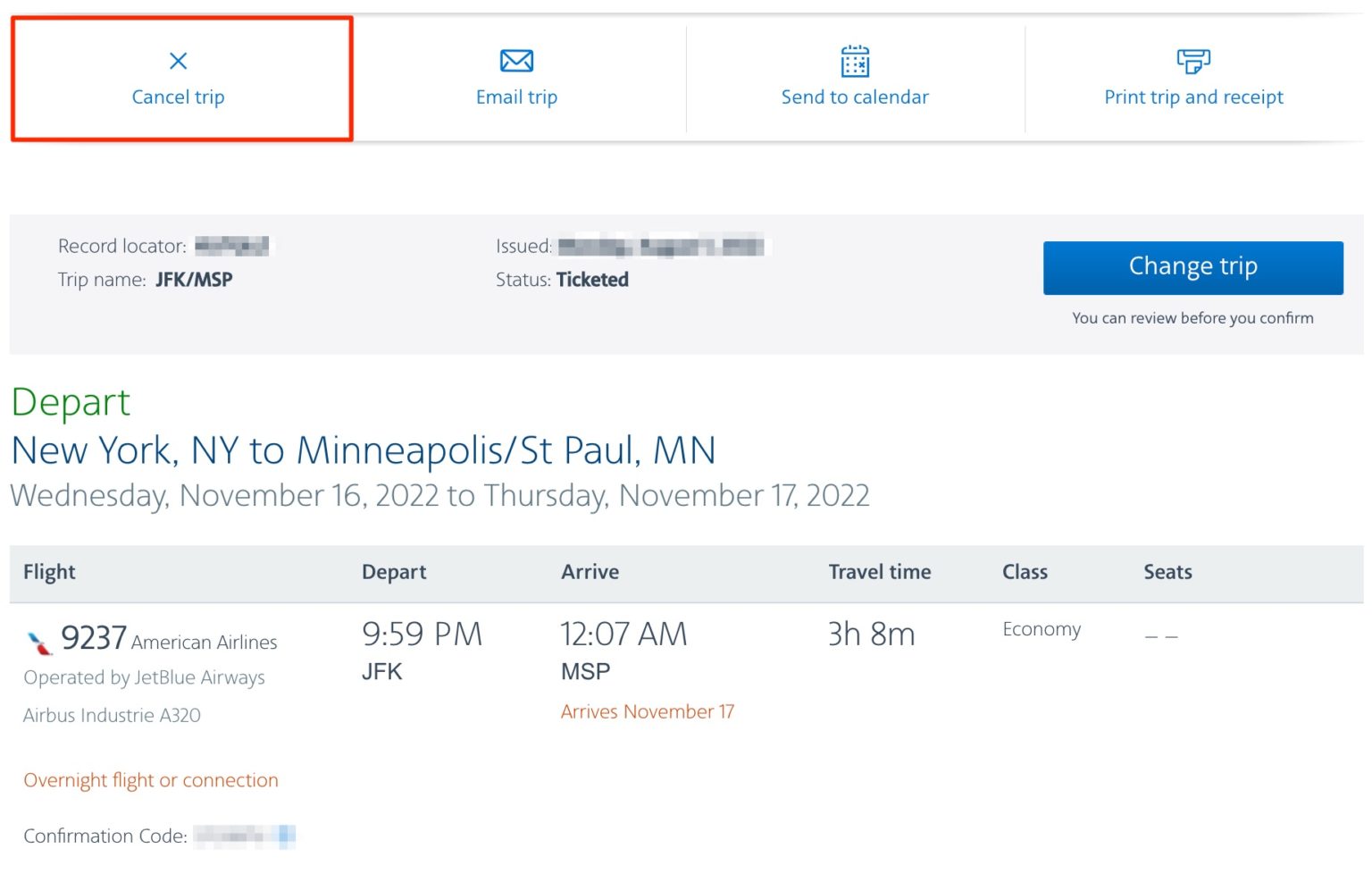 Just be sure that the airline confirms that you'll get a travel credit for your cancellation.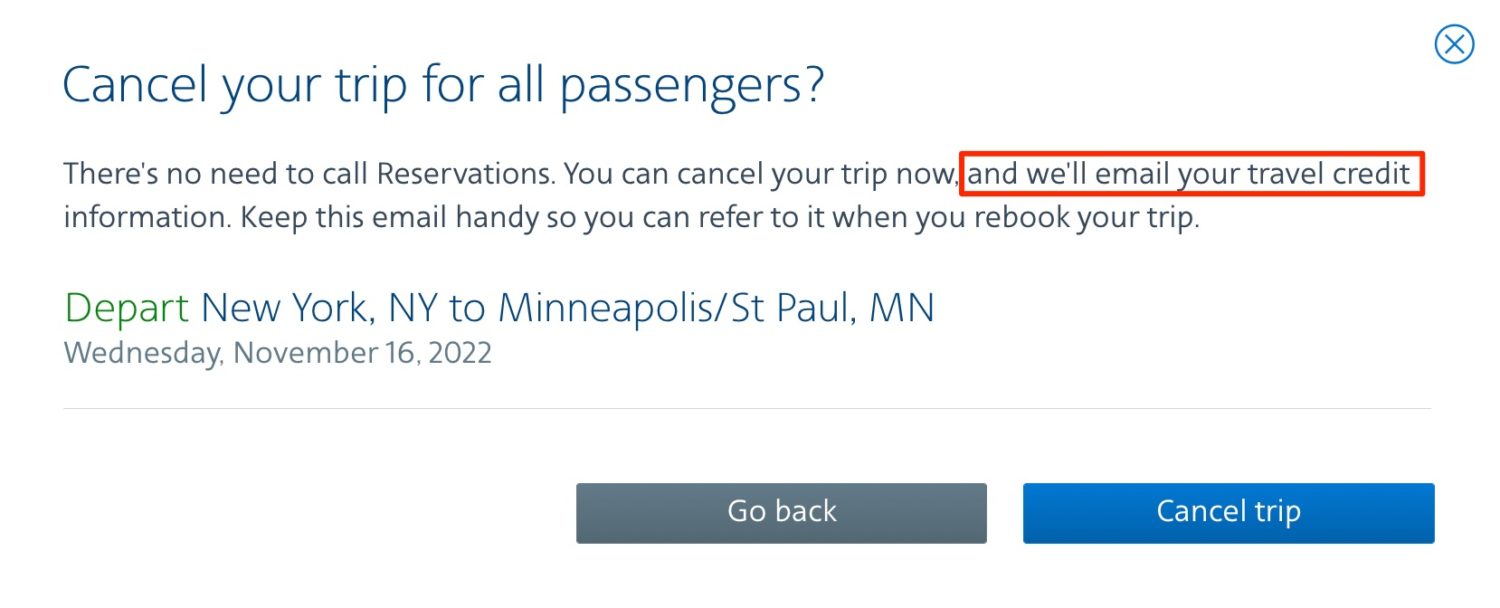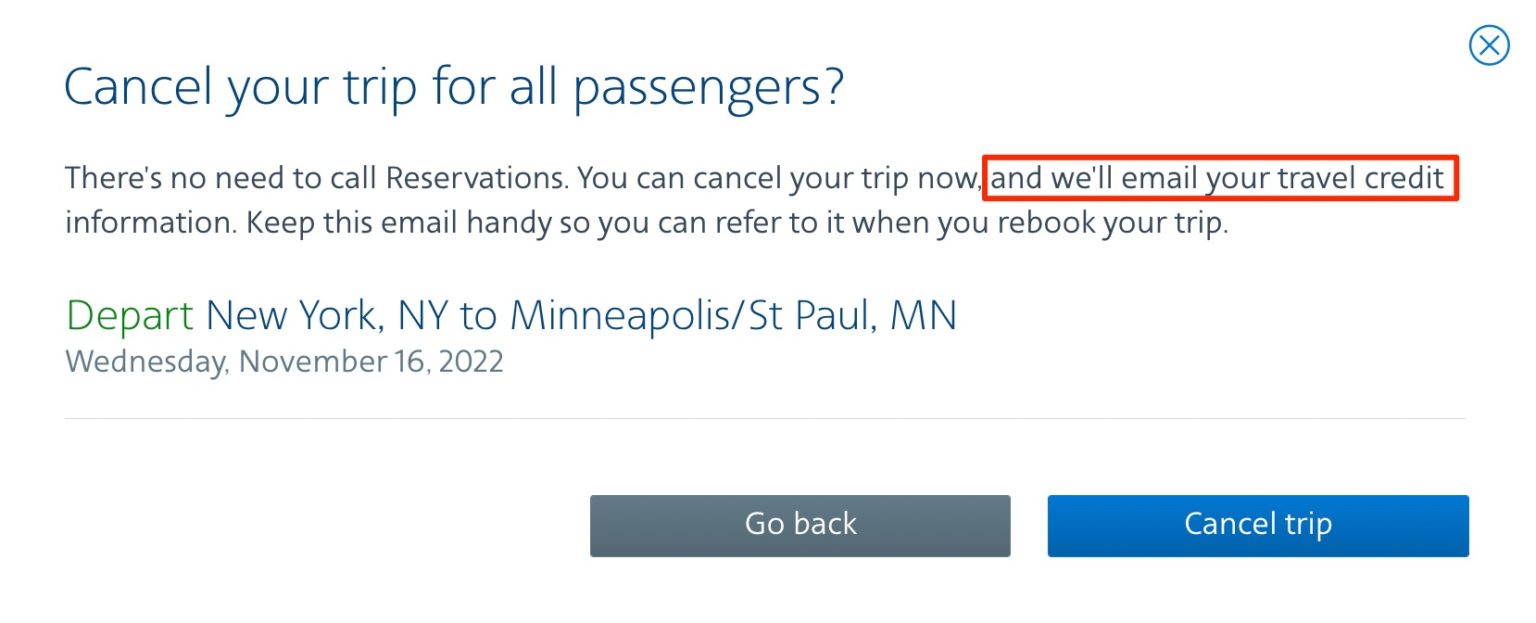 In our experience, these travel credits should hit your account almost instantly – or within a few minutes at most. In a few rare cases, it may take a day or so. You should get an email with your travel credit information, but be sure to check the "wallet" in your frequent flyer account, too.
Step 5. Rebook the Cheaper Flight
This is the fun part. You've got the voucher from your airline, and now it's time to put some of it to use.
Just search your airline or use Google Flights to find the flight you just canceled. Exact same flights, exact same day, exact same times. Of course, you can shift plans a bit if you want. But if fares for different flights have increased, you'll be on the hook for the price difference.
You could, in theory, book a cheaper basic economy flight this time around. Just keep in mind that will make you ineligible to cancel and rebook again if prices drop a second time – plus all those other pesky restrictions with seat assignments and baggage.
Most major airlines have made it fairly seamless to apply a trip credit during the normal checkout process so long as you're logged into your frequent flyer account, as American Airlines does here.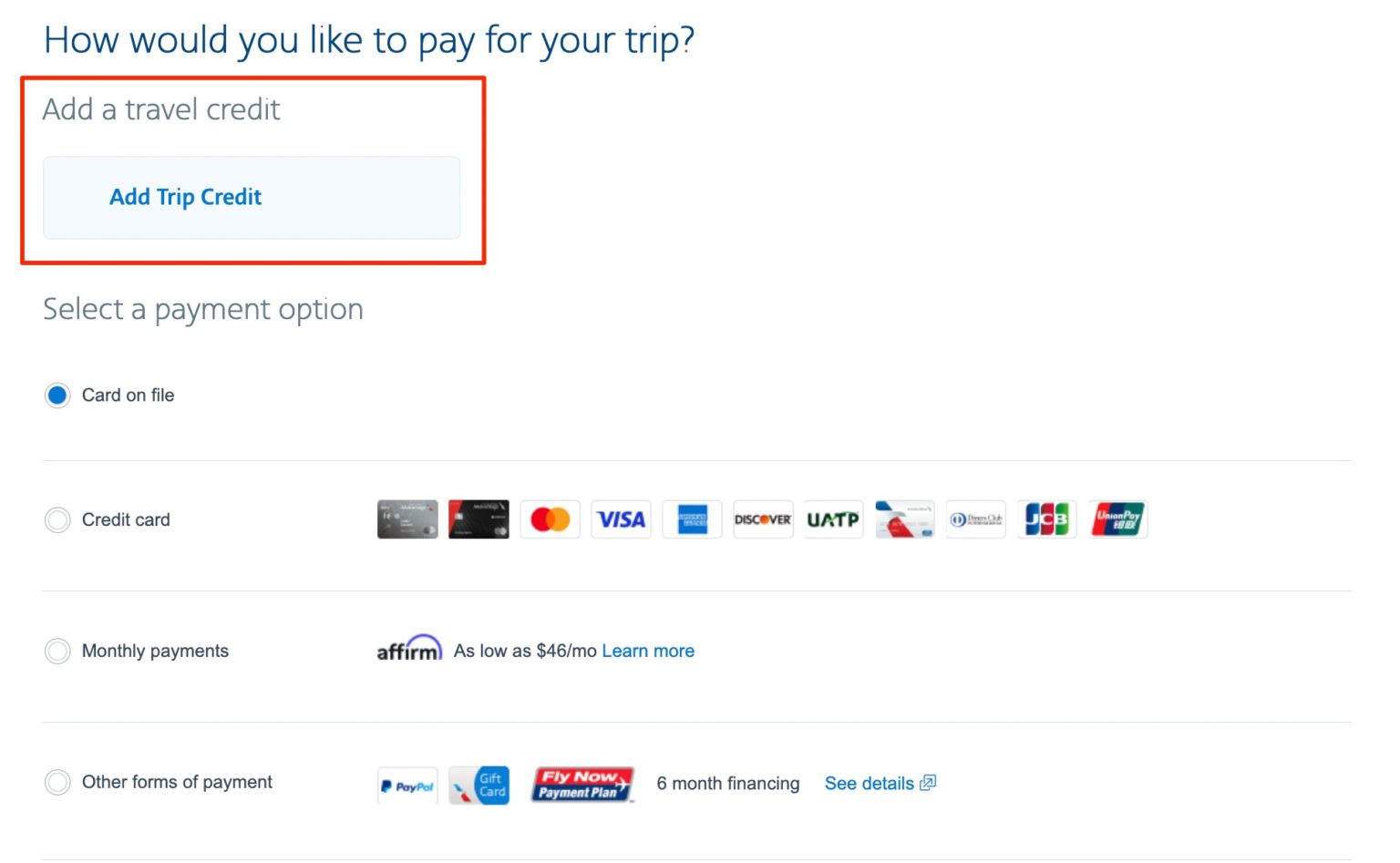 As Does Delta…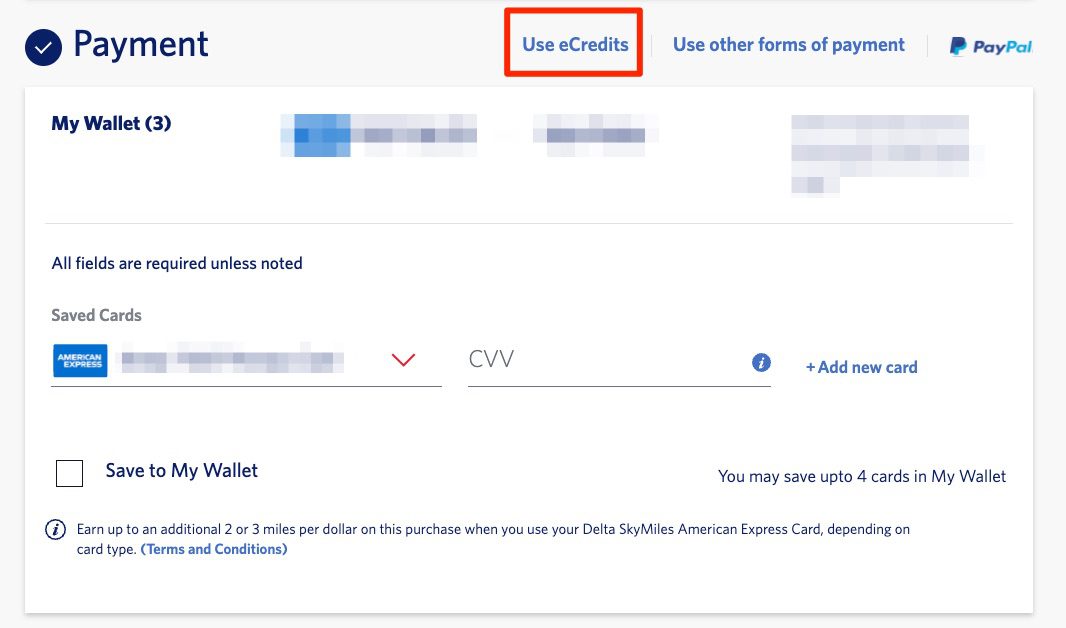 Along with Southwest…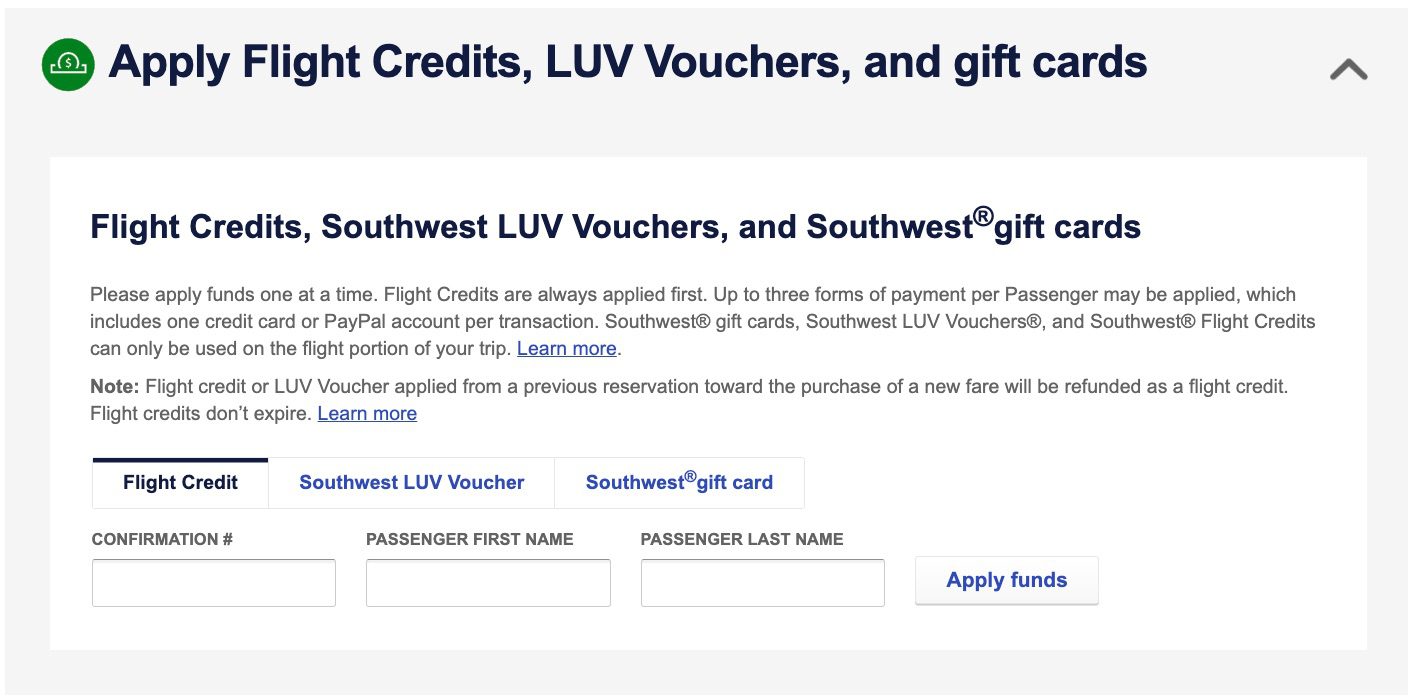 And even United…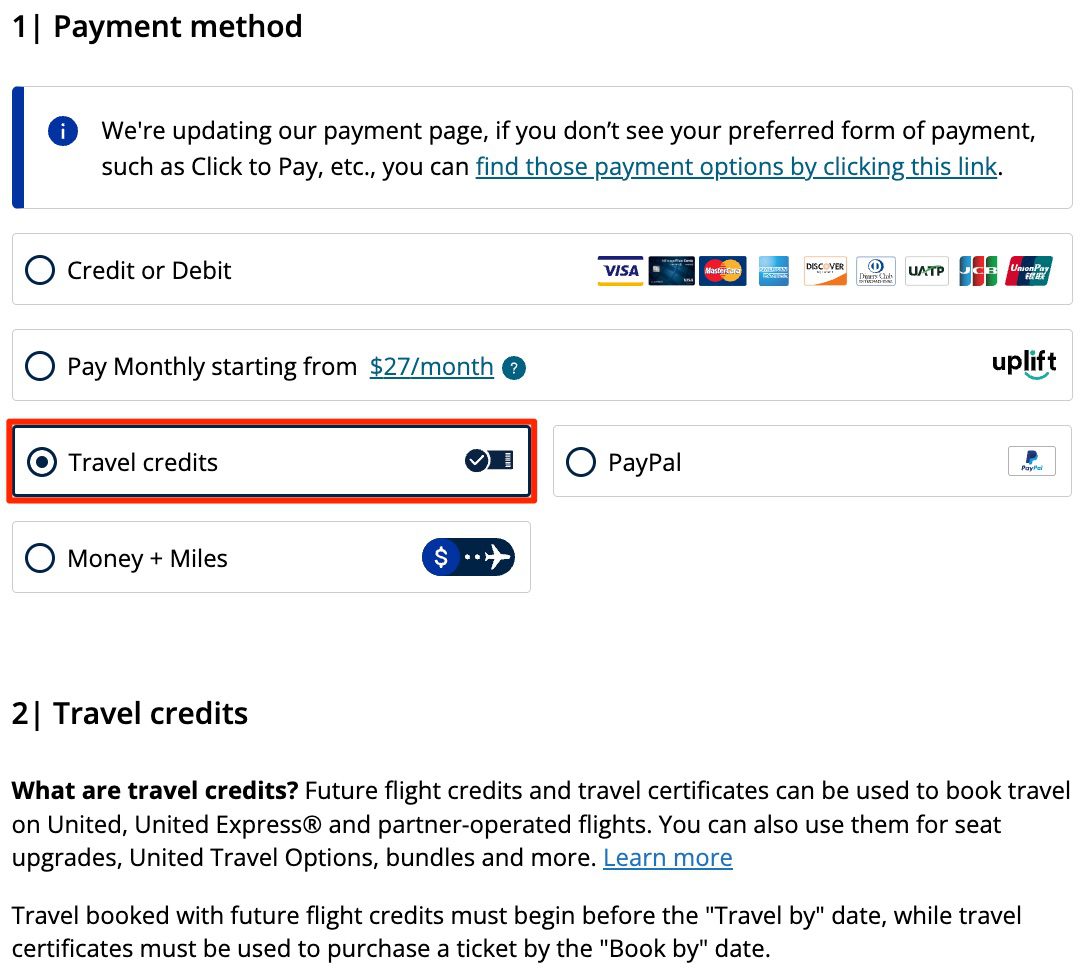 Finish the payment process and you're onto the best and final step!
Step 6. Pocket the Voucher & Use It!
From the moment you hit purchase on rebooking your cheaper flights, another voucher or travel credit should be on its way to your account.
Head to your wallet in your airline account and confirm it's there. For example, here's a Delta eCredit I've got sitting around after rebooking a flight home from Washington, D.C.-Dulles (IAD) to Minneapolis when prices dropped earlier this summer. It may not be much, but that $90 Delta eCredit is mine to use however I'd like.

But pay close attention to that expiration date! These vouchers are a "use-them-or-lose-them" perk, and airlines can be very strict. Some are more generous, but many carriers' travel credits and vouchers expire just 12 months from the date you purchased your first ticket. And in most cases, you'll need to actually take a new trip and put that credit to use before it expires – not just book before that date.
Southwest is a major exception, as the airline recently made all flight credits good for life. After the latest extension, all Delta eCredits (new and old) will last through the end of 2023 – and you can use them for a trip into late 2024!
If you've got a handful of credits, don't worry: Most airlines easily allow you to apply up to four or more toward one transaction. Just keep in mind you can generally only use these travel credits for yourself – not someone else.
Bottom Line
This can be a huge win for travelers.
Flight prices are dropping in many cases, and that gives travelers a chance to come out even further ahead. This ability to change (or cancel and rebook) flights and pocket the difference as a travel credit or voucher is worth taking advantage of if you can!