Delta has gone where no other airline dares go by selling basic economy award tickets, pushing travelers to book these no-frills fares when using their SkyMiles on domestic flights as well as down to the Caribbean and throughout the Americas. Now, those fares are spreading across the globe.
We're now seeing Delta offering basic economy award tickets when using SkyMiles to many destinations in Europe, Africa, Asia, and even Australia and New Zealand. They're not showing up on every long-haul international route just yet – especially over to Europe, where just a handful of routes have been hit with this change as of publication. But it's likely only a matter of time before basic economy awards spread to every city across the continent and the rest of the world.
From London-Heathrow (LHR) to Cape Town (CPT) to Sydney (SYD) and even the airline's brand-new route from Los Angeles (LAX) all the way Auckland (AKL), the lowest rate using SkyMiles will now often get you a skimpy basic economy fare. And the upcharge to avoid those fares and get a standard cabin fare can be hefty: It'll cost you another 18,000 SkyMiles or more, in most cases.
It's unclear when this shift happened, but it's a fairly recent change – and not a good one.  After repeatedly hiking award rates for almost all business class redemptions and raising rates on all its partner airlines, this is yet another devaluation of SkyMiles. 
While basic economy may look like it costs you fewer SkyMiles on paper, it's a mirage: Delta is charging you the same amount of miles it previously did on these routes … but now you're getting far less for them. Even the cheapest Delta SkyMiles flash sales won't be as great a deal as they once were.
Whether you book with cash or miles, flying Delta basic economy means you can't pick a seat for free. You can't change these tickets, and canceling them means you'll forfeit nearly 20,000 SkyMiles. You won't earn credits toward Delta Medallion status, either.
With this simple change, your SkyMiles are suddenly worth less. Delta recently did its Amex cardholders a solid by launching a 15% discount on all Delta flights when redeeming SkyMiles. But, this could easily outweigh that benefit, too.
You'll find basic economy flying almost every airline worldwide these days, but no other major airline sells these fares when travelers redeem miles – only Delta. And now, these pesky fares are now spreading to even Delta's long-haul international routes when using SkyMiles.
It's a tough blow, considering an award ticket on most other airlines is a standard economy fare. Take a look at this example: You can book a flight from Los Angeles (LAX) to Sydney (SYD) on American Airlines for 94,000 AAdvantage miles. You'll be able to pick your seat, get two free bags, and can cancel and get your miles back for free online with a main cabin ticket.
Booking that same route with Delta, you'd need 94,000 SkyMiles … for a basic economy fare. That means you'd have to pay an additional fee to select where you want to sit – or roll the dice on an automatic assignment, hoping you don't get stuck between strangers on a 15-hour flight. Want to cancel? You'd lose 19,900 of the SkyMiles you used to book thanks to Delta's cancellation fee on basic economy.
The spread of Delta's basic economy award tickets has been slow yet steady. It started in late 2018 when these fares cropped up on select domestic flights before spreading to most flights nationwide. By late 2019, basic economy SkyMiles fares spread to the Caribbean and Central and South America, too. Long-haul international routes were obviously the next step.
We're not seeing basic economy award fares on each and every big international Delta route just yet – and not on every date where they have launched, either. So far, you won't see basic economy awards when redeeming SkyMiles on partner carriers like Air France, KLM, or Virgin Atlantic either.
As of publication, we're still seeing main cabin fares at the lowest rates on many flights – especially to Europe, like these roundtrip flights from Minneapolis-St. Paul (MSP) to Amsterdam (AMS).
But that will likely change soon, as it has with this route from Atlanta (ATL) to Amsterdam. Delta may just be rolling out these new basic economy award fares over time.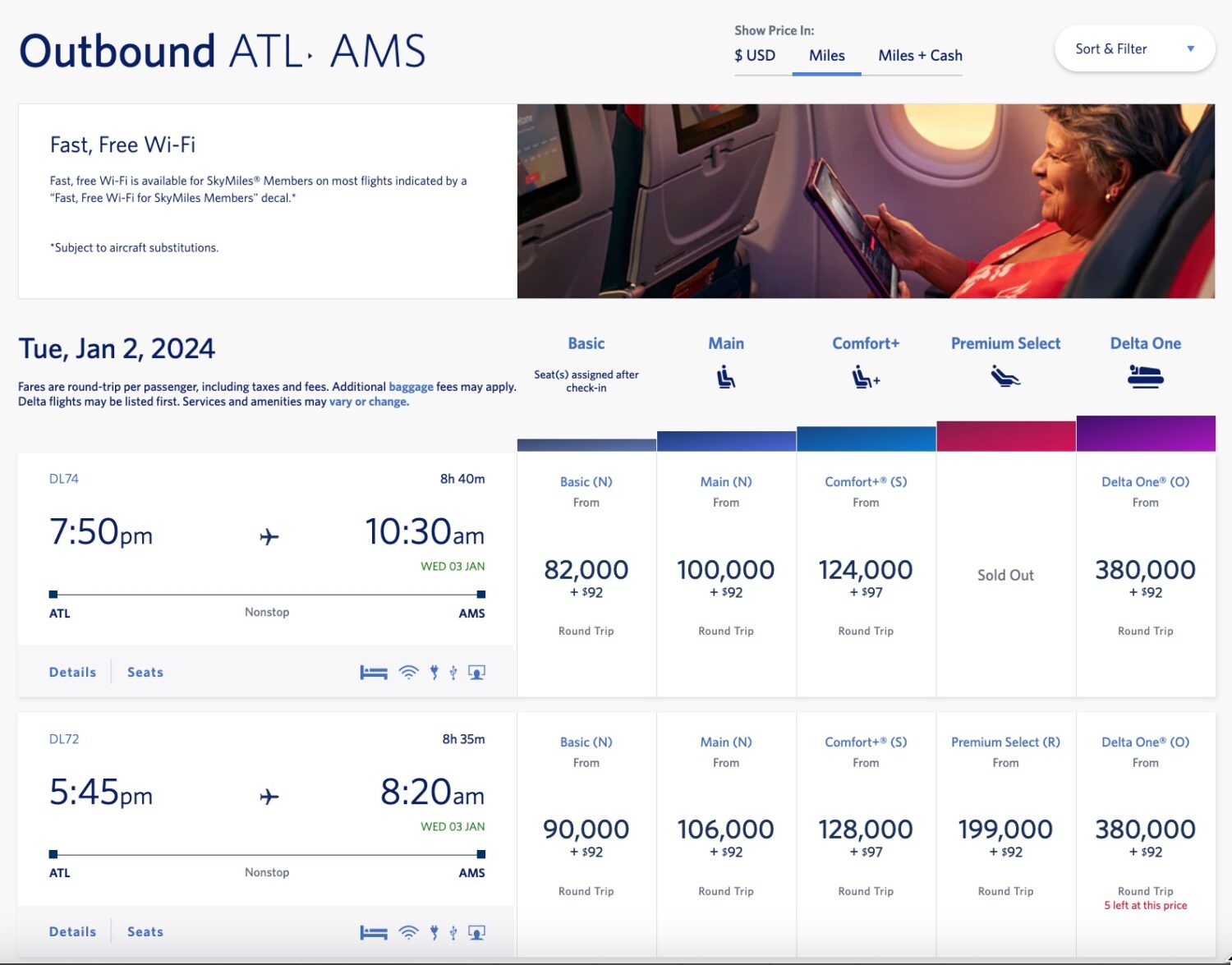 Even select flights to Tokyo-Haneda (HND) are suddenly booking into basic economy. Same goes for the ultra-long-haul flights to destinations throughout Africa like Cape Town (CPT), Johannesburg (JNB), Accra (ACC), and others. Forking over nearly 150,000 SkyMiles for an economy ticket but you still can't pick a seat? Ouch.
It's not just nonstop routes, though. We've also noticed connecting itineraries abroad are also getting the basic economy treatment when using SkyMiles to book.
Bottom Line
Using airline miles has long been a great way to avoid the pain of basic economy. Even as basic economy fares spread nearly worldwide, most airlines' award tickets are your old, standard economy fare.
But not with Delta. With this latest expansion, basic economy fares are becoming unavoidable whether you pay with cash or use SkyMiles. While these stingy fares aren't bookable when using miles on every international route and every date, it's likely only a matter of time before that changes, too.
And that's a bad thing for SkyMiles.
Lead photo courtesy of Chris Lundberg via Flickr