Let's face it, even in the best of times, travel can be stressful, especially if you're traveling with your family. One of the easiest ways to take some of the stress out of travel is by reducing the amount of time you'll spend waiting in line at the airport.
Enter TSA PreCheck and Global Entry. These government-run trusted traveler programs can be real time-savers, getting you and anyone you're traveling with through the airport much faster. But they don't come cheap: Global Entry costs $100 for a five-year membership, while TSA PreCheck clocks in at $78 for a five-year membership (and now just $70 for online renewals).
There are several travel rewards credit cards on the market that offer a credit for the cost of either TSA PreCheck or Global Entry enrollment, but only The Platinum Card® from American Express will cover the cost of enrollment for your whole family. It's just one of the many reasons that the Amex Platinum has earned its reputation as one of the best travel rewards cards on the market.
Read on to find out how this one card can take some of the stress out of traveling the next time you head to the airport.
Covering the Cost with the Amex Platinum Card
Most travel rewards credit cards that offer a statement credit for TSA PreCheck or Global Entry will only reimburse you for exactly one enrollment fee every four to five years – whether you use it for yourself or for someone else.
Not The Platinum Card® from American Express. For one, albeit hefty, annual fee of $695 (see rates & fees) you can cover the cost of TSA PreCheck or Global Entry for not only yourself but your whole family. The key to covering more than one enrollment is to add authorized users with a Gold Card to your account.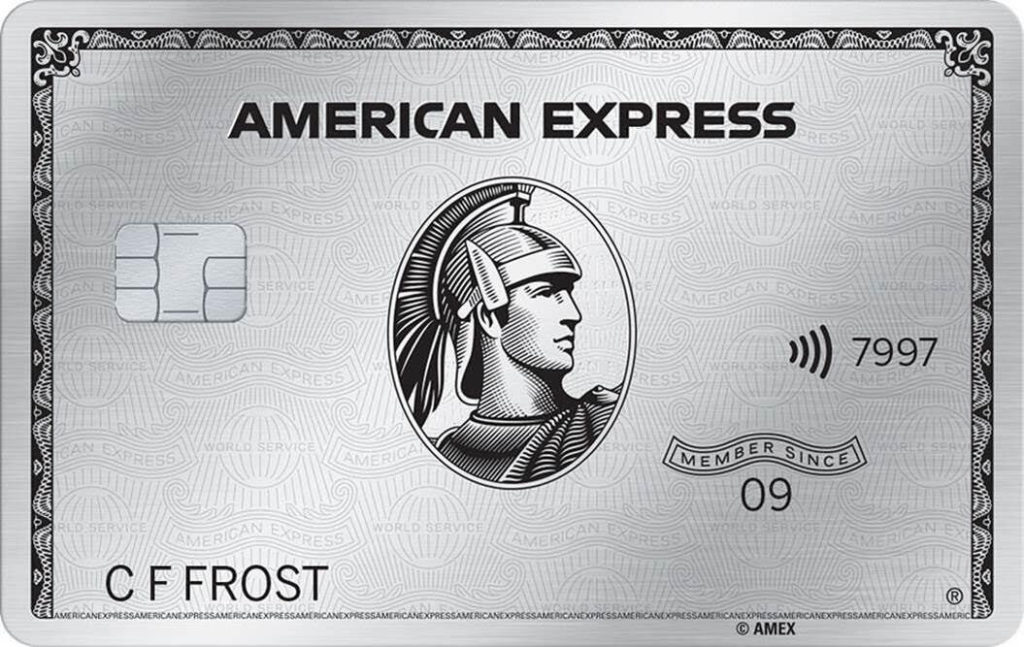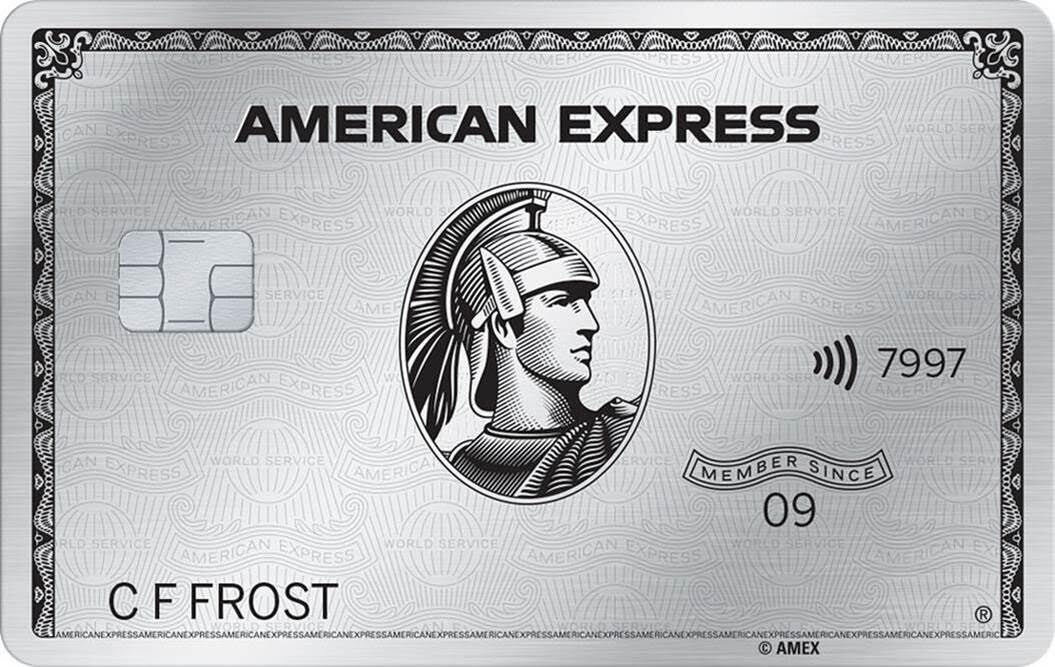 Learn more about the Platinum Card® from American Express.
Check with CardMatch to see if you're targeted for a 150,000-point offer on the Platinum Card® from American Express.
Adding an authorized user to your Amex Platinum Card means that person will get their own physical card, which they can use to make purchases through your account. You can choose whether those authorized users get a Platinum Card or a Gold Card, just be aware that adding an authorized user with a Platinum Card costs $175 each year for up to three authorized users, while there's no additional cost to add authorized users with a Gold card.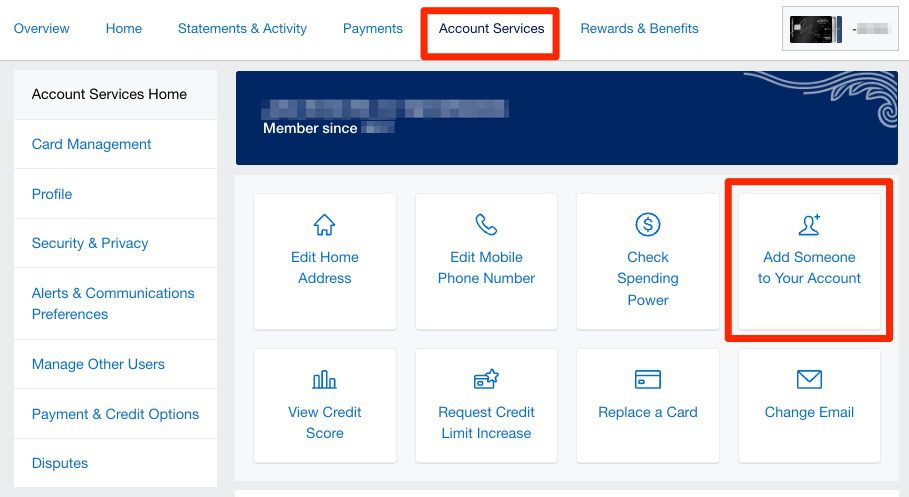 The paid authorized user Platinum Cards get similar benefits as the main cardholder, but critically, the free authorized user Gold cards also come with their own credit to apply for TSA PreCheck or Global Entry.
This little-known trick is buried in the fine print of the benefit terms of the Amex Platinum Card: "To receive the TSA PreCheck statement credit of up to $85, a card member must pay for the TSA PreCheck application fee through any authorized enrollment provider with their eligible card. Additional cards on eligible consumer and business card accounts are also eligible for the statement credit of up to $85."
I put this to the test myself and can confirm it works. I recently added several Amex Gold cards to my account for family members in need of TSA PreCheck. After completing the online application, they went to the enrollment center to finish the process and paid the application fee with their authorized user Amex Gold cards.
Then, I waited to see if I would be reimbursed for the cost. Approximately four days after each fee was posted to my American Express account, a corresponding credit was issued to cover it in full.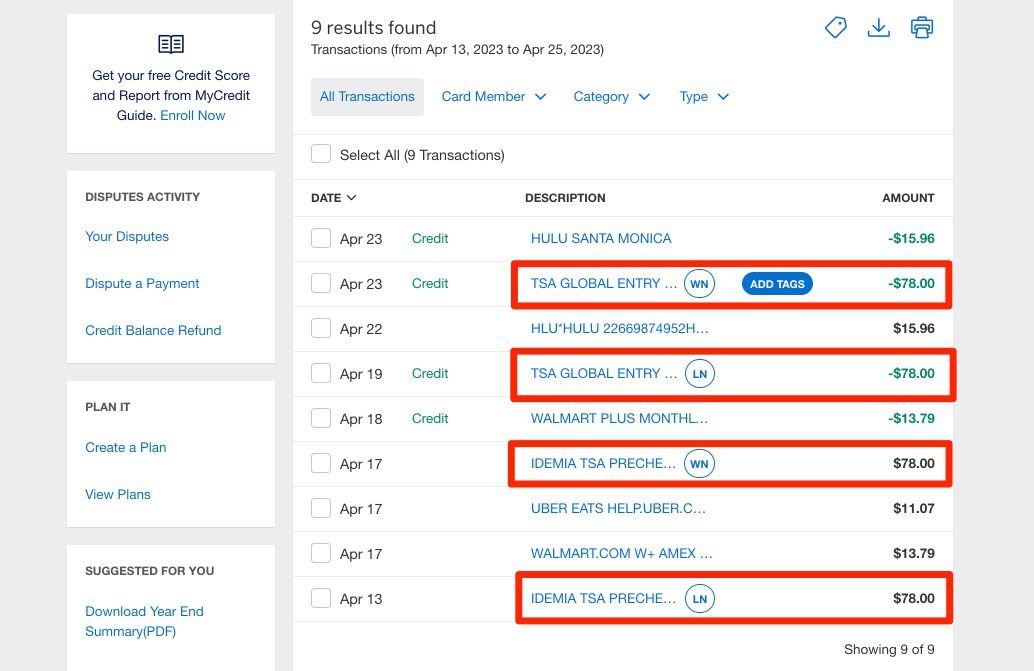 In total, I've now been reimbursed for three separate TSA PreCheck application fees on my Amex Platinum card within the past year.  While this isn't reason enough for me to keep the card on its own, it certainly helps me justify the annual fee and adds to the already impressive list of perks and benefits that the card offers – and now we can all get through the airport faster on our next trip.
Check out our full review of the Amex Platinum here! 
How TSA PreCheck & Global Entry Work
Let's cover what TSA PreCheck and Global Entry are, and why having one of these for your next trip is as essential as packing your phone charger or toothbrush.
TSA PreCheck is a trusted traveler program administered by the Transportation Security Administration (TSA), which provides enrolled members with expedited security screening at more than 200 U.S. airports when traveling with one of the over 85 participating airlines. Global Entry, on the other hand, is the U.S. Customs and Border Protection (CBP) program for expedited clearance upon arrival in the United States. Global Entry automatically comes with free TSA PreCheck, saving you valuable time on both departure and arrival.
With TSA PreCheck or Global Entry, gone are the days of taking off your shoes, pulling out your laptop, and fumbling through your carry-on to find your toiletries. You can still expect to have your luggage screened and you'll need to empty your pockets before going through the metal detector, but it should go without saying that the TSA PreCheck line moves much quicker than the general security queue.
Once you're signed up for either program, be sure to include your Known Traveler Number (KTN) on your reservation when booking your flights to take advantage of the benefits. If you don't have it handy at the time of booking, you can always go back and add it to your reservation after the fact.
Need help deciding which Trusted Traveler Program is right for you? Read our comparison for help picking the best option.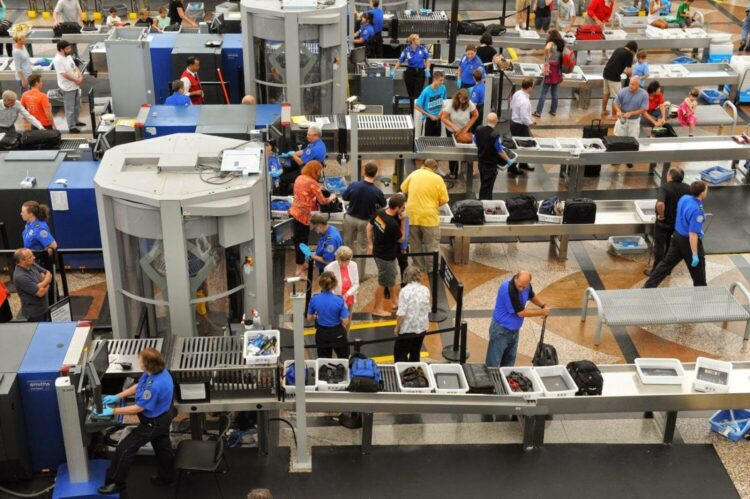 How to Enroll
Enrolling in TSA PreCheck is a pretty seamless process. Global Entry? Not as much.
Let's start with the easy one. To enroll in TSA PreCheck, you'll first fill out a fairly easy application on TSA's website, after which you'll be prompted to schedule an interview at the nearest enrollment center. Some enrollment centers are busier than others, but a quick search showed several open appointment slots at locations across the country.
When you go to your interview, you'll go through a background check and be fingerprinted. This is also when you'll pay your $78 application fee, so be sure to bring the right credit card! You should receive an email within a few days letting you know that you've been approved and providing you with your Known Traveler Number.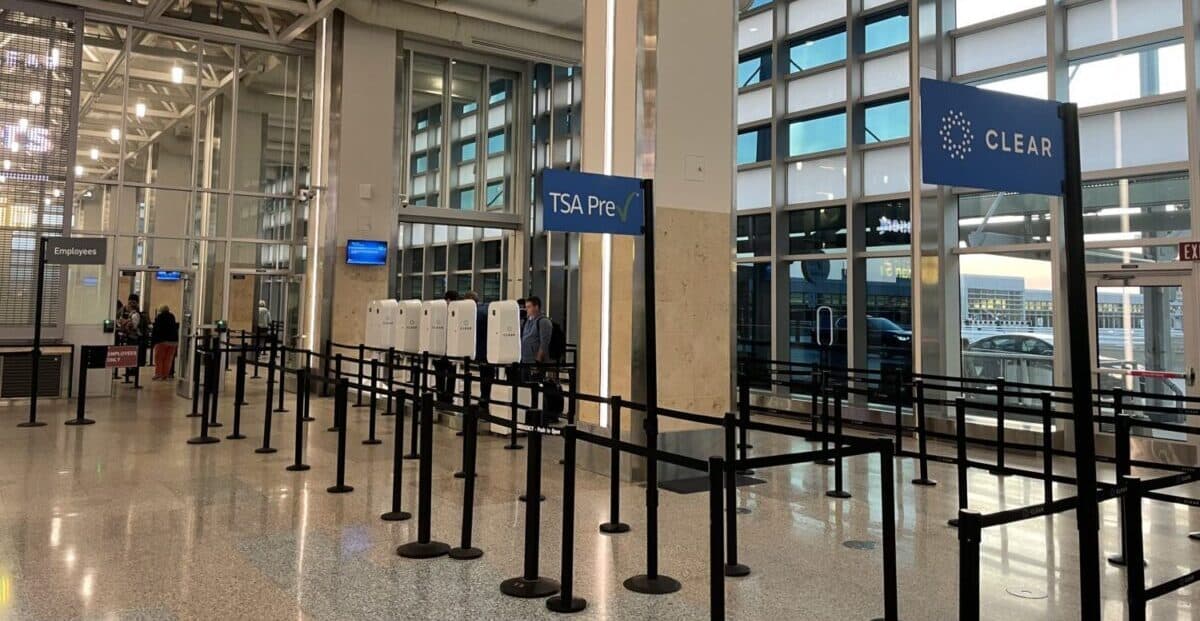 Applying for Global Entry is a tad more complicated. Since Global Entry is run by CBP rather than TSA, it requires you to do a more extensive in-person interview – and these interview slots are tough to come by.
First, you'll need to create a Trusted Traveler Program account on the CBP website. After creating your account, fill out the online application and pay the $100 application fee with the right credit card (again, more on this later). Once you've completed the previous step, you're ready to schedule an interview at your nearest Global Entry Enrollment Center. And depending on where you live, the term "nearest" might be used pretty loosely.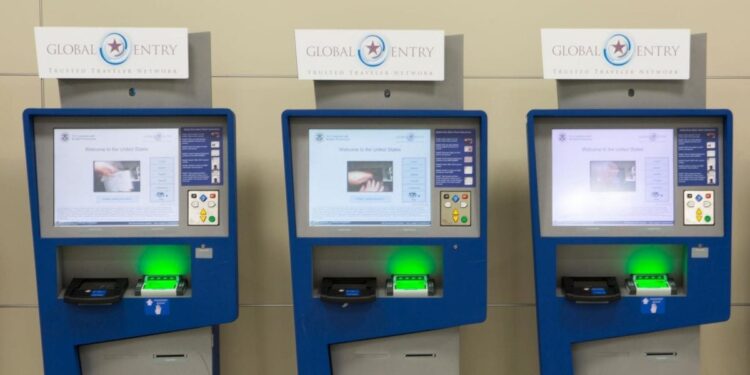 For example, in California, there are five enrollment centers for the entire state. If you live in a less populous state without a major international airport, you might be out of luck completely. The lack of easily accessible enrollment centers is just part of what makes applying for Global Entry so challenging. The other part is actually finding an open appointment even if you do have a location nearby that works for you. That's getting easier, though: CBP now releases a bunch of interview appointments at 9 a.m. local time on the first Monday of each month.
With all that being said, unless you're traveling internationally several times per year, you're probably just better off enrolling in TSA PreCheck and taking advantage of expedited security in the U.S. as soon as possible.
Thrifty Tip: If you're set on getting Global Entry over TSA PreCheck, use Appointment Scanner to search for available interview slots. Or you can complete your interview upon returning to the U.S. from your next trip abroad with Enrollment on Arrival.
Bottom Line
Travel has come roaring back and with the summer travel season on the horizon, it doesn't appear that there will be a slowdown in sight. With the increased crowds come additional time spent waiting in lines and lots of undue stress.
Having either TSA PreCheck or Global Entry in your travel tool belt is a must for even the occasional traveler. Getting the cost of those programs covered for everyone in your family with a single credit card just makes it all the sweeter.