Slovakia may not be at the top of everyone's Europe travel wish list. And that's a mistake.
This European country and its capital, Bratislava, are the perfect introduction to eastern Europe. Bratislava is quaint, beautiful, and a truly affordable city that will instantly make you fall in love. Its location near Vienna in Austria makes it easy to reach.
Authentic, Local Charm 
It's impossible to walk through the streets of Bratislava and not fall in love with its charm. Bright pastel buildings flanked by patio after patio make for stunning views. Start at St. Michaels Tower and Street for a walk through the heart of the city.

How beautiful are these buildings? And the best part is you won't be walking through the streets shoulder to shoulder with other tourists.

Even during peak summer in Slovakia, the vibe is casual. Bratislava isn't stuffed to the brim like Western European cities in summer. This is perhaps what charmed me most about the city: We never felt swept up in hordes of tourists moving from one attraction to the next.
Everywhere we went, we saw locals casually going about their days just as normal. If you've been to Europe in the summer, you know this is a rare feat.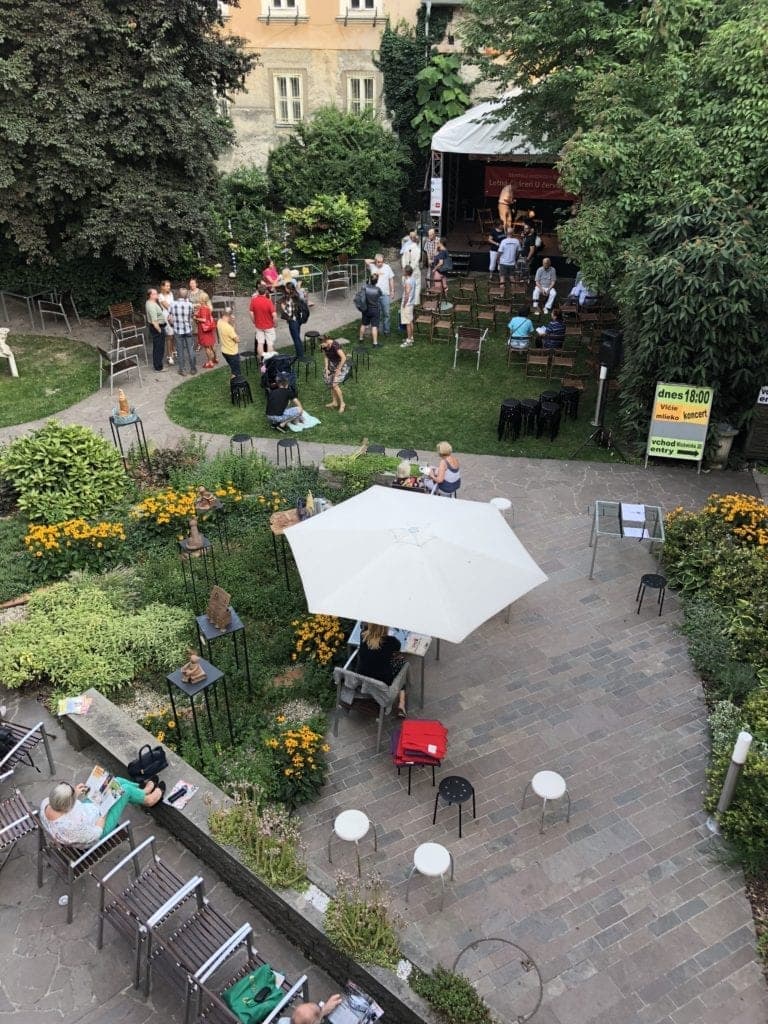 Affordable Things to See & Do 
After traveling from Western Europe, we were a bit worn down from the costs of attractions. That made Bratislava a breath of fresh air – for our itinerary and our wallets.
We took a free walking tour recommended by our hostel receptionist (we stayed in Hostel Folks). Local hostel staff give the best recommendations and always know of cheap or free tours!
The three-hour walking tour we joined took us through all of the capital city. From St. Michael's Tower (do the weapons museum in the tower!), to the old city walls and St. Martin's Cathedral, to the Bratislava Castle and much more, we saw and learned so much. Bratislava has some really quirky statues, like Cumil, the sewage worker, that are a must for photo-ops!

The walking tour was led by a local who told us of Bratislava's history, architecture, and culture. A walking tour is a must in any city. You'll learn so much – and get a better feel for the layout of the city while you walk. Be sure to tip your guide at the end of a free walking tour – that's how they stay in business.
Thanks to our local guide, we learned of a few fun attractions we went to check out on our own. The first was Bratislavsky Mestiansky Pivovar, a local craft brewery. We also found out about Multium, a space and mirror gallery that we absolutely loved.

If you're looking for more amazing views of this city beyond a walking tour, head to the top of the UFO Observation Deck! For more pastel wonder, check out the Church of St. Elisabeth, the famous blue church.
Our hostel receptionist also gave us directions for visiting Devin Castle, just a half-hour outside of Bratislava city. You can take the city bus for crazy cheap to these castle ruins on the Danube River. This is worth a visit if you've got more than one day in Bratislava.

Thrifty Dining
It's hard to pick a favorite part of Bratislava, but the food really wowed us.
Dining out was affordable and delicious! We ate a few times at Pulitzer, which had a killer lunch menu: soup, entree, and a drink for 5 euro! That's really hard to beat. Keep an eye out for lunch specials at restaurants in Bratislava, and take advantage!
Whenever possible, get the bryndzové halušky. This is sheep cheese gnocchi topped with bacon (and in this photo, arugula!) and it is to die for. We couldn't get enough of it! For the soup starter, I highly recommend the local fish soup. And for your beverage, always order Kofola: the Cold War-era rival of Coca Cola, which tastes like slightly flat cola and has a hint of lemon or orange.
Konditorei Kormuth pastry shop was closed for renovation when we visited, but this cafe shouldn't be missed. The interior is absolutely magical!
Other restaurants we enjoyed were Mondeiu, Bratislava Flagship Restaurant, and Modrá Hviezda. Honestly, you can't go wrong! Stop for surprisingly affordable gelato along the main streets, and end your evening with a cup of tea (or three) at one of the many top-rated tea houses in the city.
Bottom Line
Bratislava might just be the most underrated city in all of Europe. The capital of Slovakia has a fascinating history, stunning architecture, and plenty to see and do.
It's under the radar, so the city isn't overrun with tourists. And it's thrifty: food, lodging, museums, and other attractions are very affordable. It's a welcome change from many other European cities.
Want the best flight deals and travel tips delivered to your inbox?
Sign up for Thrifty Traveler, and like us on Facebook or follow us on Twitter & Instagram

Editorial Note: Any opinions, analyses, reviews, or recommendations expressed in this article are those of the author's alone, and have not been reviewed, approved, or otherwise endorsed by any card issuer.