We think points and miles bloggers who call Delta SkyMiles worthless are dead wrong. But there's no denying that they're confusing and require some extra work. The airline doesn't publish an award chart, so there's no barometer to look back to when booking a flight with SkyMiles.
Add in the constant flash sales – some published, many not – and pricing that can swing by tens of thousands of points overnight. Because of this, it can be next to impossible to figure out the base price for a flight. However, there are still some basic tenets that can help you understand SkyMiles. Let's dive in.
The Basics Behind Delta's Award Pricing
Once upon a time, Delta had an award chart just like almost every other airline. That made it quick and easy for travelers to check whether the price they were quoted for an award flight was the best deal. Then in 2015, Delta pulled its award chart in a blow to price transparency. Still, it was relatively easy to zero in on what an award's base price should be.
By using the website's five-week search (something we still recommend you use), you could pretty quickly figure out what a saver-level award fare to a given destination should be. You'd see a one-way flight to Europe started at 30,000 SkyMiles in economy and 70,000 in business. A trip to Japan or elsewhere in Asia begins at 35,000 one way in economy or 80,0000 in business class. There was some regularity.
These days, that's getting much harder to nail down. Award prices fluctuate so much that Delta's award pricing bears little resemblance to having an award chart – invisible or not.
Part of that is by design. It's difficult to get a valuable redemption with your SkyMiles when there's no barometer of what you should be paying. What's more, the lack of an award chart allows Delta to charge some exorbitant prices for flights (more on this below). While other airlines decide whether or not to release award space for a given flight at saver rates, Delta just charges more SkyMiles. Sometimes, a lot more.
The flipside of the lack of an award chart is that we often see some incredible, unadvertised flash sales on flights with SkyMiles. Think 12,000 miles round trip to Mexico or elsewhere in the Caribbean. Or just 24,000 SkyMiles round trip to Europe.
Meanwhile, a few weeks back Delta appeared to raise standard award costs for flights to Europe. But even that was a mixed bag, with drastically different pricing between airports that once priced at an even 60,000 SkyMiles round trip.
Moral of the story: It's getting harder and harder to track what the price of an award flight on Delta should be.
Cash Prices are Key
One thing we can say for sure is that the cash price is now a major factor in how Delta sets prices when using SkyMiles. From an airline perspective, this makes sense. They're limiting how much they give away in free flights, while also making the SkyMile-based costs more predictable over time. But for travelers, it makes it more difficult to squeeze big value out SkyMiles. 
Here's a clear example that helps illustrate this point. Flights from our hometown airport in Minneapolis-St. Paul (MSP) to Chicago-O'Hare (ORD) used to be a major sweet spot for SkyMiles. Like many short domestic flights, you could regularly book a one-way flight for just 5,000 SkyMiles. Considering competitors would charge 7,500-12.500 miles for the same flight, it was a steal.
These days, it's impossible to find an MSP-ORD flight for less than 10,000 SkyMiles. 
So what changed? The cash price for these fares. While you could once easily book a round-trip flight for under $100, flights between MSP and ORD are now regularly close to $200 or more.
Just a few weeks ago, these fares were even more expensive. And the best award rates you could find were 11,500 SkyMiles each way. Basically: Award flights on Delta are starting to act like cash fares. And while it isn't quite uniform, Delta is clearly trying to drive the value of each SkyMile toward 1 cent. Because Delta doesn't have an award chart, that's pretty easy. And it explains why there's so much variation in award pricing.
Hub Penalty and Competition
If you're booking a flight out of one of Delta's hubs like Atlanta (ATL), Minneapolis-St. Paul (MSP) or Salt Lake City (SLC), expect to pay more SkyMiles. We call it the Hub Penalty, and it's one of our least favorite parts about SkyMiles. Delta has a stranglehold on many of its hubs, and its major competitors don't compete at many of them.
Less competition = more control over fares, and Delta exploits that with SkyMiles pricing too.
As an example, check out a month's worth of flights from Seattle (SEA) to Denver (DEN). Delta has a strong presence at SEA but DEN is a United fortress. That's about as good as pricing gets for a domestic flight with SkyMiles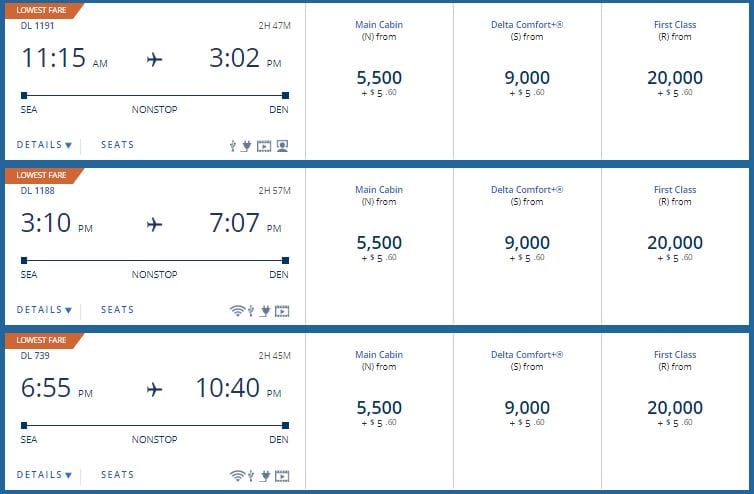 Meanwhile, Delta's flights from SEA to its hub in SLC cost twice as much or more.
The same holds true for flights in and out of Delta's other hubs. Delta flyers are loyal. And when they don't have options for a flight on other airlines, Delta can charge more out of its hubs. And that's exactly what they do.
Paying a Premium for Premium Planes
Many airlines make it difficult to book their latest and greatest planes, especially in premium cabins. Delta takes it to a whole new level with Delta One on its new Airbus A350s. Some airlines won't release saver level award fares for new products, such as Singapore Air and the enormous new suites onboard its revamped A380s. And while we generally urge readers to book saver level awards, a slightly higher, standard level fare could make sense in this case.
In Delta's case, there's no such differentiation between award fare categories. The price is the price. And more often than not, the price for a Delta One suite is exorbitant. Remember those great SkyMiles flash sales on round-trip flights to Asia starting at 40,000 miles? There was no such deal to be had if you wanted to fly Delta One.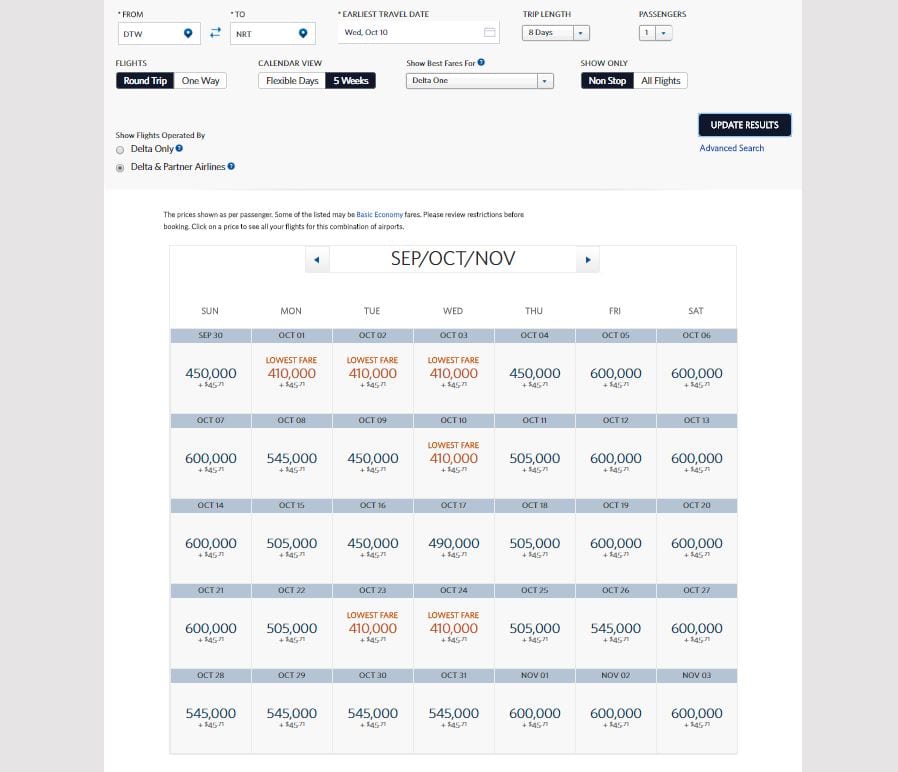 Paying 300,000 SkyMiles or more for a round trip in the new Delta One cabin is generally the average, sadly. You can sometimes find lower prices, and one trick that can work is to add in a connecting flight from a non-Delta hub by starting your journey in an airport like ORD.
Compared to other airlines that offer similar, top-notch business or first-class seating, it just doesn't make sense. So if your priority is long-haul business class flights, don't focus on collecting SkyMiles. And unfortunately, these Delta One flights are rarely available when booking through fellow SkyTeam partner airlines.
It remains to be seen whether award prices for these Delta One flights will drop as they get older and more planes hit the skies. At least briefly, that seemed to be the case with its latest route announcements.
Delta began flying a refurbished Boeing 777 between MSP and Tokyo-Haneda (HND) in November. And compared to the 300,000-plus SkyMiles that other routes are charging, the 90,000-mile price that was initially available for that flight was a steal.
Partners are More…Sometimes
In 2017, Delta started charging slightly more for a flight on its SkyTeam partner airlines like Air France/KLM, Korean Air and more. So while a Delta flight from the U.S. to Europe in business class would normally cost 70,000, Delta would charge 85,000 SkyMiles for the same route flown by Air France or KLM. Delta started to roll back some of these hikes this year, though not to their previous levels.
So on paper, booking a partner airline doesn't make sense with Delta SkyMiles when the airline charges more for them. But in practice, that's not always the case.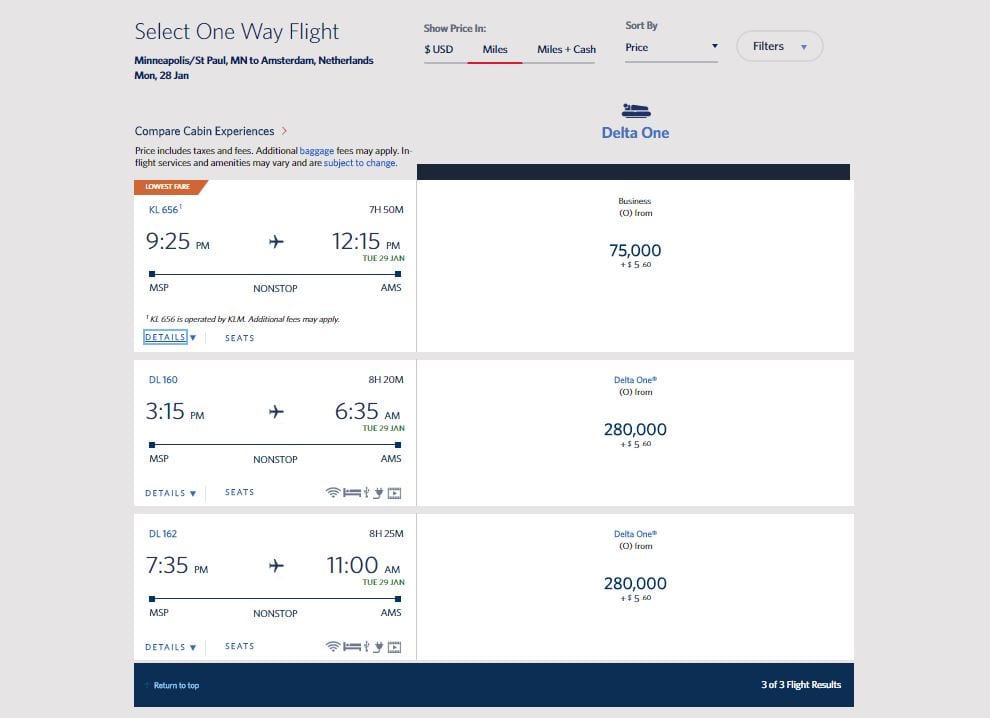 While award prices on Delta flights can vary wildly, partner awards are very stable when booking with SkyMiles. So despite Delta's punitive pricing on partner flights, you may be able to book them for fewer SkyMiles than a fight on a Delta plane.
Bottom Line
Delta doesn't make it easy to understand how SkyMiles work. Nor does it give its flyers an easy way to ensure they're getting a good deal on award flights. Hopefully, this guide gives you some of the basics to make sure you're using your SkyMiles wisely.
Lead photo credit: Chris Lundberg via Flickr