Whether you score a fancy Delta One suite with a closing door or any Delta business class seat, not much beats flying Delta lie-flat over to Europe. There's just one thing: Doing it on the cheap.
But it doesn't matter if you're using Delta SkyMiles or paying cash – it really isn't cheap. These days, you can regularly expect to fork over nearly 300,000 SkyMiles for a one-way flight across the pond … or $3,000 … or more. There's a better way.
Thanks to one of Delta's partner airlines, there's a crafty workaround you can use to book these exact same Delta One flights to Europe for just 50,000 miles each way. It can be difficult to pull this sneaky mileage redemption off – but lately, it's gotten much easier. And when it works, it's one of the best deals in the world of using points and miles.
We'll show you exactly how to book Delta One business class for cheap.
Use Virgin Atlantic Points Instead
We have a mantra here at Thrifty Traveler: When Delta is charging an arm and a leg, check out Virgin Atlantic instead.
Virgin Atlantic's frequent flyer program is one of our favorite ways to book Delta flights and save some serious SkyMiles in the process. Thanks to a close partnership between the two airlines, it's easy to use Virgin Atlantic points to fly on a Delta plane. Time it right, and you can save a boatload of SkyMiles on many Delta flights using this workaround.
But the savings can be truly astounding if you're looking to fly business class to Europe. It's not unusual to see Delta charging 200,000 SkyMiles, 250,000 SkyMiles, 350,000 SkyMiles or even more … all for a one-way flight to Europe in Delta One.
For example, the airline is charging a whopping 370,000 SkyMiles for a one-way flight in Delta One suites from Salt Lake City (SLC) to Paris-Charles de Gaulle (CDG) early next year. Woof.
But if you time it right, you can book that exact same Delta One suite flight to Paris for just 50,000 Virgin Atlantic points. That's less than one-seventh of the cost!

Using SkyMiles, you'd have to fly nonstop or open four-plus credit cards to pull this off. But using Virgin Atlantic, you can do it with a single credit card bonus like the 60,000 points you'll earn after spending $4,000 in three months on the Chase Sapphire Preferred® Card.
If you're dead set on flying in a Delta One suite, you'll need to be picky. You'll only find Delta's best business class suites onboard their Airbus A350 and Airbus A330-900neo. It varies from month to month, but you'll typically only find those planes flying Delta's heaviest transatlantic routes like Detroit (DTW), Atlanta (ATL), or New York City (JFK) to Amsterdam (AMS) or Paris.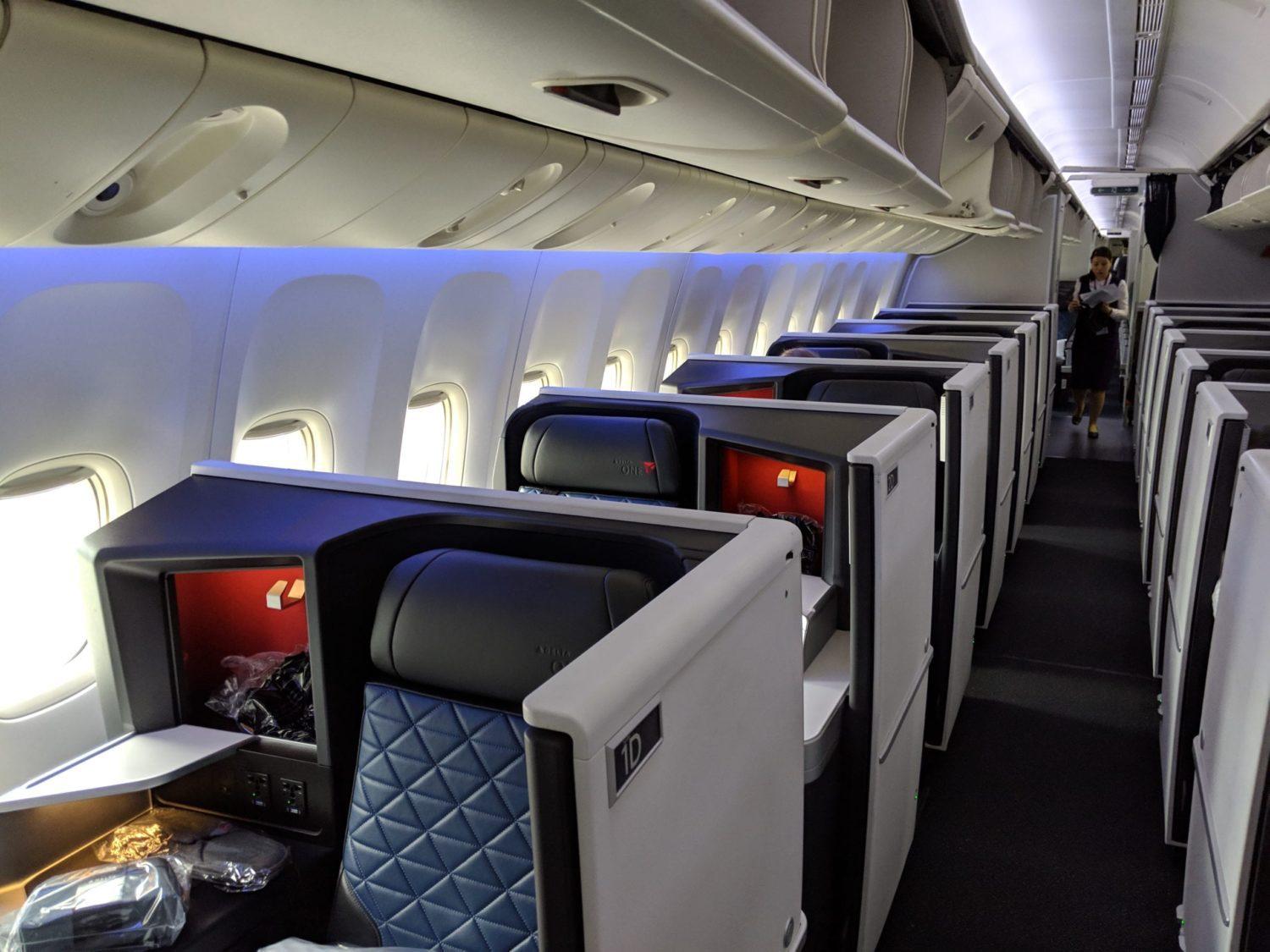 Read our full review of Delta One suites!
Why is this sweet spot so insanely sweet? Who knows. For whatever reason, Virgin Atlantic has decided to sell these Delta One flights for a fraction of what Delta itself charges – though finding them at these rates through Virgin Atlantic can be incredibly hit or miss.
You used to be able to book Delta One awards between the U.S. and Asia for just 60,000 points, but the airline cut that sweet spot in early 2021. Even using Virgin Atlantic, those transpacific business class flights now cost 130,000 points or more each way.
But cheap Delta One flights to Europe are still in reach. And you'll need some Virgin Atlantic points to make it happen. Luckily, that's a cinch.
You cannot transfer Delta SkyMiles over to a Virgin Atlantic account – not even a co-branded Delta credit card will cut it. But points from credit cards like the Chase Sapphire Preferred® Card, The Platinum Card® from American Express or American Express® Gold Card, or even the Capital One Venture X Rewards Credit Card are all you need.
That's because Virgin Atlantic is a Chase transfer partner. And an American Express transfer partner. And a Capital One transfer partner. Oh, and a Citi ThankYou transfer partner as well. That means a stash of 50,000 points on any of these credit cards can get you all the Virgin points you need to book a Delta One flight on the cheap
But before you transfer anything to Virgin Atlantic, you want to make sure the flights you want are available. Lucky for you, that's getting easier lately, too…
How to Book
Now it's time for the harder part. Fortunately, it seems to be getting easier to pull this deal off.
While Delta's award prices when using SkyMiles can jump all over the place, Virgin Atlantic's are far more stable. A one-way flight on Delta within the U.S. is 12,500 Flying Club miles every time. A ride to Europe in Delta One will always be 50,000 miles.
The trick is finding the award availability at that price. It's either there … or it's not available at all. And there's little rhyme or reason behind when a Delta award seat is available through Virgin Atlantic. For the last several years, finding these Delta One awards available at 50,000 points via Virgin Atlantic has been a tough task.
But in just the last few weeks, we've been sending Thrifty Traveler Premium members more and more award alerts with wide-open award space to book Delta One business class through Virgin for a bargain.
For example, last month we unearthed an incredibly rare chance to fly from Minneapolis-St. Paul (MSP) straight to Amsterdam (AMS) in Delta One early next year – with seats for two or more passengers!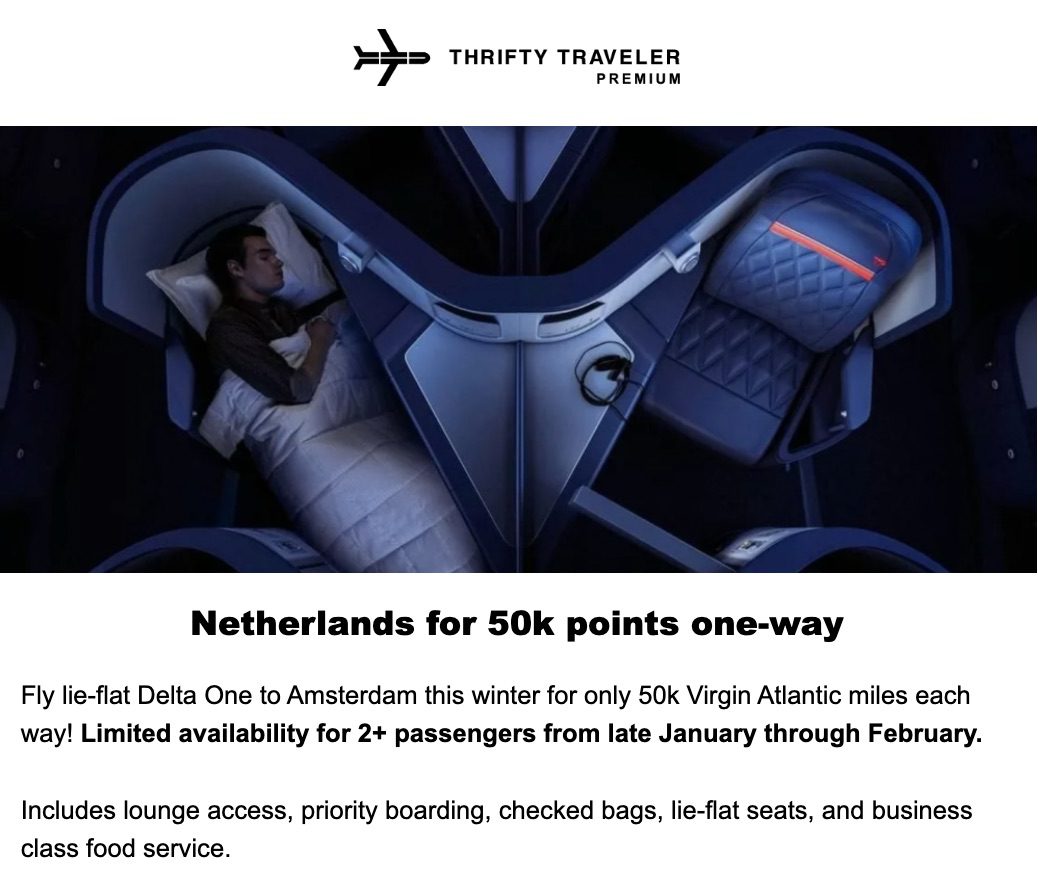 Get more award alerts like this one for the best ways to use your points and miles with Thrifty Traveler Premium!
More recently, we found plenty of dates next winter and into spring 2023 available at 50,000 points each way flying from New York City to Amsterdam as well as an incredibly rare chance to book Delta One business class between Salt Lake City and Paris. Best of all, these routes are flying Delta's A330-900neo – Delta One suite, anyone?!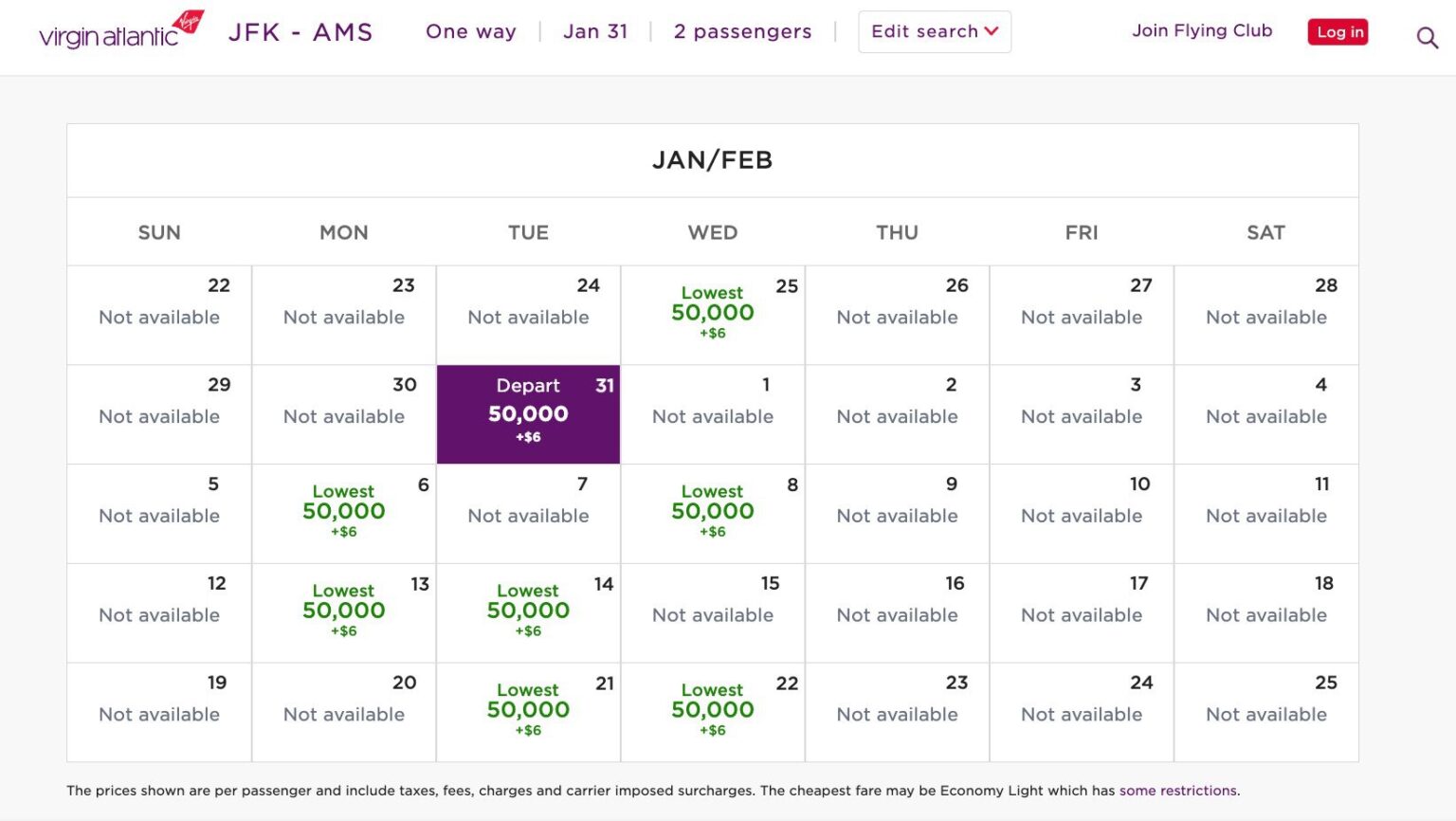 As you can see, deals this good aren't available every single day. Flexibility is key. Anecdotally, Tuesday and Wednesday departures seem to be the best bet. 
But deals to fly Delta One to Europe for 50,000 points that were once nearly impossible to find keep popping up, like this alert we sent flying from New York to Zurich (ZRH) … with enough space for four to fly lie-flat this fall!
And it doesn't stop there. Just today, we found another incredible deal for Thrifty Traveler Premium members to get to Germany in Delta One … next summer! Finding business class seats in the thick of summer is always a challenge, but doing at these rates is unbeatable.
If you're starting from scratch and hoping to find flights on a different flight, you'll want to head to VirginAtlantic.com and plug in a one-way, nonstop Delta route to Europe, searching for Upper Class flights. If you get errors, keep trying different dates or routes until at least one flight pops up.

Unfortunately, Virgin Atlantic made it a bit harder to find hone in on the best deals by removing the ability to pull up a month-long price calendar. But don't worry: There's a backdoor way to pull that up. Just tap what you need to into the URL and start scrolling through the calendar to find the flights that work for you.
Be sure to filter for nonstop flights so you only see results in Delta One business class – not the overpriced (and highly taxed) connecting flights on Virgin Atlantic itself.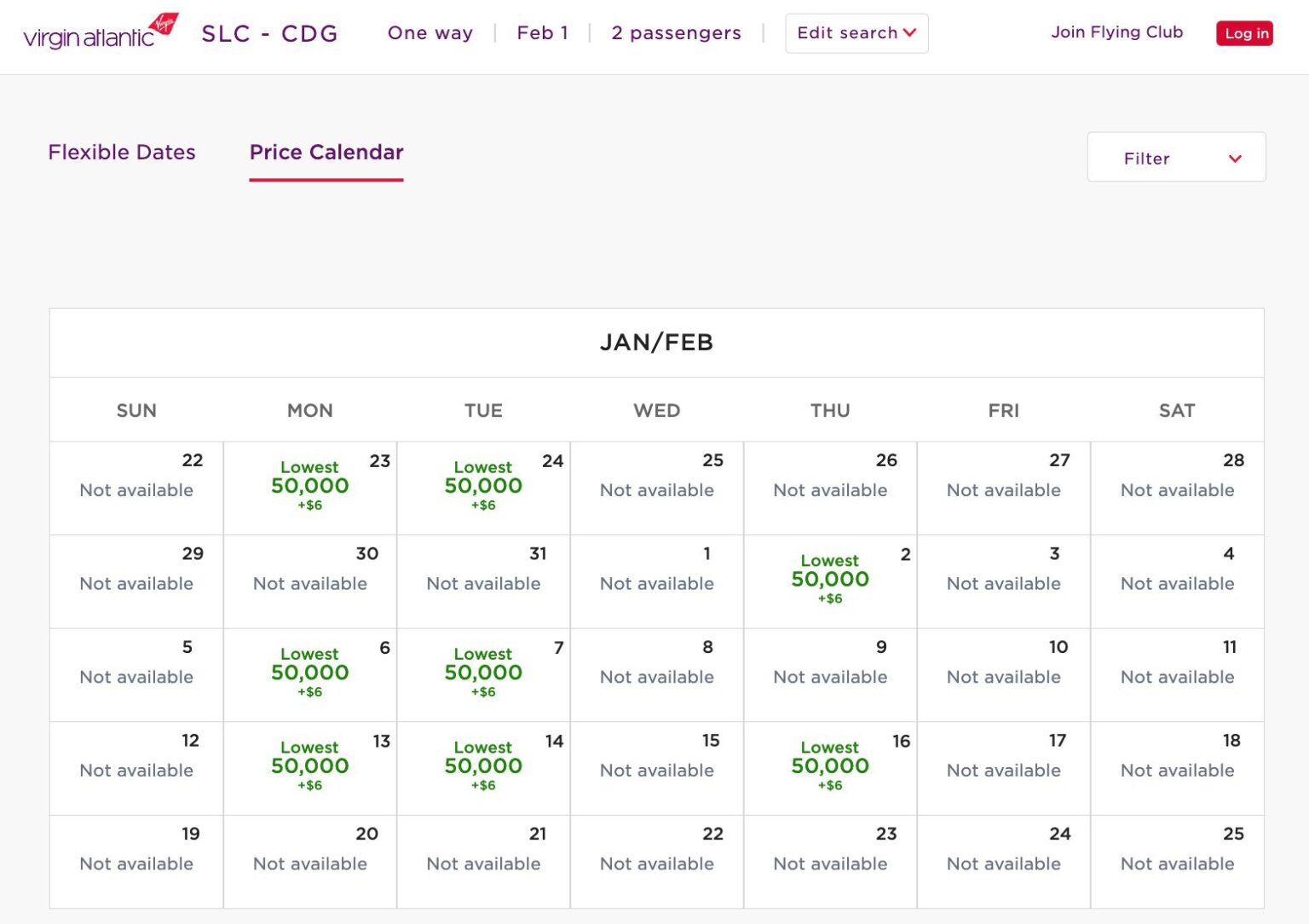 It's still not a slam dunk: You can scan through months worth of flights and find just one date that works, if any. You'll need to be flexible to find the dates that work – or just wait for the heads up from a Thrifty Traveler Premium award alert.
But to fly Delta One business class for a fraction of the SkyMiles it typically costs and just $5.60 for the trip across the pond, that's well worth it.

Bottom Line
Points and miles can be incredibly powerful. But this example takes the cake.
Booking Delta One flights to Europe for just 50,000 points by turning to Virgin Atlantic instead is one of the best ways to fly, period. And while it had been nearly impossible to lock in this deal for several years, that is changing – and that's a win.