UPDATE: Delta has since increased the price for partner economy awards to Europe to 35,000 SkyMiles each way, or 70,000 SkyMiles round-trip.
Let's just cut to the chase: We're convinced that this is one of the best ways to use Delta SkyMiles.
Using SkyMiles to fly to Europe can be spendy, as the airline's unpredictable award pricing can sometimes charge you 40,000 miles or more each way for the trip. But the trick to this one is using Delta SkyMiles to book flights on European partner airlines like Air France, KLM, or Virgin Atlantic.
After an unannounced price drop on these partner awards, it now costs just 30,000 SkyMiles for a round-trip to Europe on one of these airlines. And the beauty of this redemption is that it's not just good for nonstop flights into big hubs like London-Heathrow (LHR), Paris-Charles de Gaulle (CDG), or Amsterdam (AMS). You can connect onward to smaller towns in Italy, almost anywhere in Western Europe, or go as far as Moscow (SVO) and Istanbul (IST) and still pay just 30,000 SkyMiles total. 
Keep reading to see how it's done.
Start at Delta.com 
Even though you're flying some of Delta's partner airlines you're still using SkyMiles to do it – not Air France/KLM Flying Blue or Virgin Atlantic miles.
So your first stop is still Delta.com. You'll be able to find the flights you want by searching through Delta.

The one hitch with this deal is that you'll generally be on the hook for seat assignment fees – typically just $28 or so each way. Still, the savings are substantial.
When it comes time to start digging for these deals, we've got some tips.
Focus on Flying From Hub Gateways
The key to unlocking these cheap flights is crossing the Atlantic Ocean on Air France, KLM, or Virgin Atlantic.
That means your best bet is starting your search from one of the U.S. cities where these airlines fly nonstop. Luckily, there are plenty of options.
All told, Air France, KLM, and Virgin Atlantic fly to more than 15 U.S. cities from their respective hubs in Paris, Amsterdam, and London. Here's a look at all the options.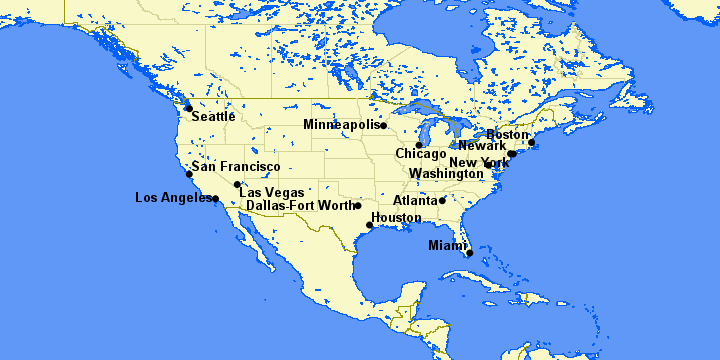 In some cases, you might be able to start your search from smaller airports and find a one- or two-stop itinerary to get you to Europe and back for 30,000 miles. It doesn't hurt to try searching from your home airport to see if you can pull up flights at 15,000 miles each way.
But the results are hit or miss. And at these low mileage rates, it could easily be worth booking a positioning flight to one of these major U.S. gateways to get to Europe.
Filter for Nonstops
The price is nice. But unfortunately, Delta doesn't always play so nice when you're searching for these low-priced flights on Air France, KLM, or Virgin Atlantic.
Whether you're searching for economy flights to book this deal or a business class award, Delta appears to initially hide some of the bookable results on partner airlines. Instead, your search may yield mostly higher-priced flights on Delta – at least at first.
If you're searching for a nonstop flight to London, Paris, or Amsterdam, be sure to filter your results specifically for nonstop flights. 
The difference it makes can be astounding. For example, here are the initial results when looking for flights from Houston-Intercontinental (IAH) to Amsterdam (AMS). Just one date is available at 15,000 miles each way in the spring.
But after filtering to display only nonstop flights, it's a much different story.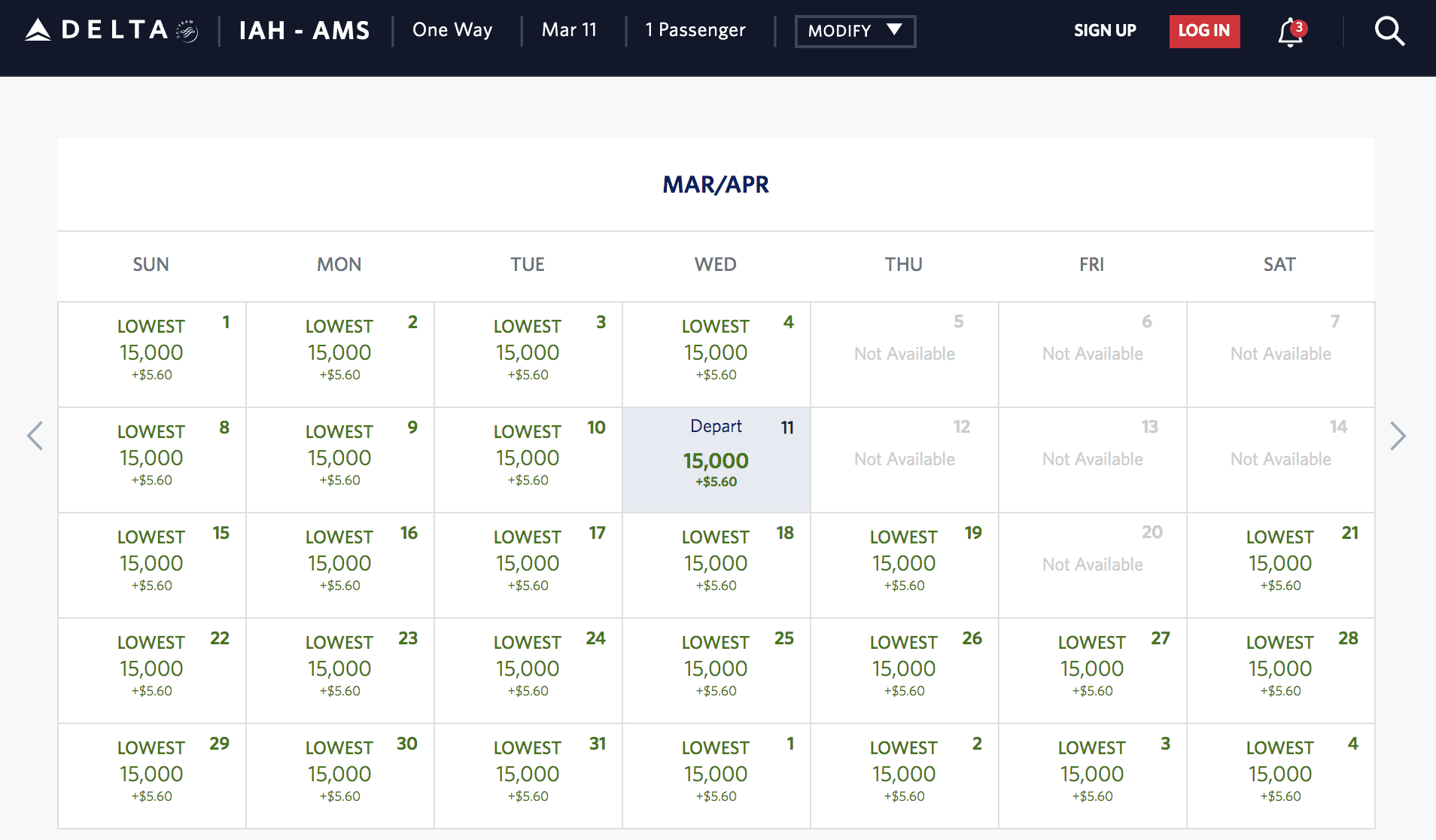 This same pattern plays out over countless flights between the U.S. and Europe. Of course, it only applies if you're searching for nonstop flights to the major European hubs.
If you're trying to get elsewhere in Europe, just start by searching for flights to your final destination. Trying to get from Minneapolis-St. Paul (MSP) to Milan (MXP)? Just search from MSP to MXP –  Delta typically does a better job of pulling up these one-stop itineraries.
But finding the flights that work can be a bit more complicated.
Be Flexible
When you're booking Delta flights with Delta SkyMiles, the prices can vary wildly. But you can almost always book a flight … if you're willing to pay more.
But flying these partner airlines, it's much different. Flights are either available at a fixed price (15,000 SkyMiles between the U.S. and Europe each way) or they're not available at all.
Welcome to the crazy, sometimes unpredictable world of award availability. You have to find available awards that are bookable with SkyMiles in order to make this deal work.
Luckily, finding economy awards typically isn't too tough to pull off. In our experience. You can find flights to and from Europe from many major U.S. gateways most days throughout the spring – and even through mid-summer. Getting connecting flights to continue onward in Europe adds another layer, but can still be easily done.
But it won't always work that way. Some dates may price out much higher because there's no award availability. So being flexible with your departure and return dates is key to getting this deal.
Use Delta's "Price Calendar" search to get a five-week view of the available results. That should allow you to hone in on the low-priced travel dates.
Search for One-Ways First
Zeroing in on award availability can be difficult – especially when booking round-trip flights. We have a trick.
Search individually for one-way flights: First for your flight to Europe around the date you want to leave, and then for the flight back to Europe.
Find a date that works at 15,000 miles for your departing flight, then search for the return flight to Europe at 15,000 miles.
You'll still want to book round-trip, as that will result in far less in cash fees than booking two one-ways separately. The difference can be enormous: Under $90 for most round-trip bookings versus more than $200 for separate one-way flights.
Once you've found the two dates, stitch them together in a round-trip booking. Or … think outside of the box.
Try a Multi-City Booking
Want to skip around Europe a bit? Or are you having trouble finding flights to get home from Europe?
Multi-city bookings are your friend. This is one of our absolute favorite ways to book flights, as it allows you to see more for the same price. Just fly into one city, fly out of another, and bridge the gap with a train ride or cheap regional flight.
For example, let's say you want to fly into Amsterdam but hop around neighboring countries before flying home from Paris. It's no problem: You can still book it for just 30,000 miles round-trip.
Once again, you'll want to search individually for one-ways – find your flight into Amsterdam (AMS) first, then search for the return flight out of Paris-Charles de Gaulle (CDG). Once you find dates that work, plug each flight into Delta's search, but search for a multi-city fare instead.

This can be particularly helpful if you're traveling to harder-to-reach airports like Istanbul (IST) or Athens (ATH), where finding flights to return home can be more challenging than getting there. Instead, see if you can fly home from another airport – just book a cheap flight to get there for your trip home.
How to Earn Delta SkyMiles for the Next Deal
There is truly no better way to use your SkyMiles than these sales and deals. And if you don't already have some stashed away, this should convince you that they're absolutely worth earning.
The easiest way to pile up SkyMiles is by opening a Delta SkyMiles American Express co-branded credit card. These cards are currently offering up to 40,000 SkyMiles after spending a certain amount within three months – but we've seen those welcome bonuses as high as 75,000 SkyMiles. 
Big changes are coming to this suite of cards in early 2020, including a slew of new benefits and slightly higher annual fees. Read our guide to deciding which Delta credit card is right for you!
There's no restriction against opening all three of these Delta co-branded cards: the Delta SkyMiles Gold, Delta SkyMiles Platinum, and Delta Reserve card. Timing it right when the bonuses are higher and being responsible with your spending could give you a large sum of SkyMiles to work with.
But another great way to earn Delta SkyMiles isn't with a Delta credit card at all. American Express Membership Rewards points can be transferred directly to your SkyMiles account. That means you can also use cards like the Platinum Card from American Express, the American Express Gold Card, or the American Express Green Card.
When you see the next Delta SkyMiles flash sale, you can immediately transfer the points you need to your Delta account. These points transfer on a 1:1 basis, so 30,000 Amex points will give you 30,000 SkyMiles. Each of these cards has different pros and cons, so read our guide to deciding which Amex card is the best fit for you.
Delta also offers a few different ways to add to your SkyMiles balance. You can earn SkyMiles on your online shopping, while dining out, taking a Lyft ride, buying concert or sports tickets through Ticketmaster, and booking an Airbnb. Finally, you can also transfer Marriott Bonvoy points into SkyMiles.
Bottom Line
This deal still feels too good to be true, but it's real. The ability to fly to almost anywhere in Europe and back for 30,000 SkyMiles shouldn't be underestimated. And luckily, it's pretty easy to pull off.