No matter if you've got a million miles or more, finding business class award availability to actually book a business class seat on the ultra-long flights to Australia or New Zealand has been nearly impossible. Airlines just don't offer up those seats to members redeeming miles, period. But lately, that has changed … in a big way.
As airlines have added more daily flights and new nonstop routes for this year and next, we keep finding business class deals for our Thrifty Traveler Premium members to book a trip to Australia or New Zealand using points. After seeing next-to-zero availability for years, we've sent 10 lie-flat award alerts in just the last few months.
That includes: Flying American or United Polaris business class to Sydney and beyond for 70,000 miles or less; a business class trip to New Zealand with a stopover in Fiji; ultra-rare availability to fly Air New Zealand or Qantas business class using points for a trip this year or next; and more.
It's still not a sure thing: Unless you're incredibly flexible (or just wait for a Thrifty Traveler Premium alert in your inbox), your search for business class award tickets may still come up empty. But the fact we're finding any award availability at all is notable … and the deals just keep coming. Among the many positive trends we've seen in the world of flight deals lately – dirt-cheap fares to Europe have returned, airfare to Mexico keeps dropping, and even fares from small regional airports are cheaper – this is arguably the biggest surprise.
Here's a look at the best business class award deals to Australia and New Zealand we've found recently.

United Polaris to Sydney & Auckland
United Airlines has a tremendous long-haul business class seat. that converts into an even better bed. It's called United Polaris Business Class.
The problem? United almost never lets travelers redeem miles to book these seats to Sydney (SYD) or Auckland (AKL) – unless you want to fork over 400,000 United MileagePlus miles or more.
Here's the solution.

United flies daily between its U.S. hub in San Francisco (SFO) and Oceania. When you find award availability like this, you could fly nonstop to Australia or New Zealand in a lie-flat seat for as low as 80,000 points one-way (or even less with a transfer bonus).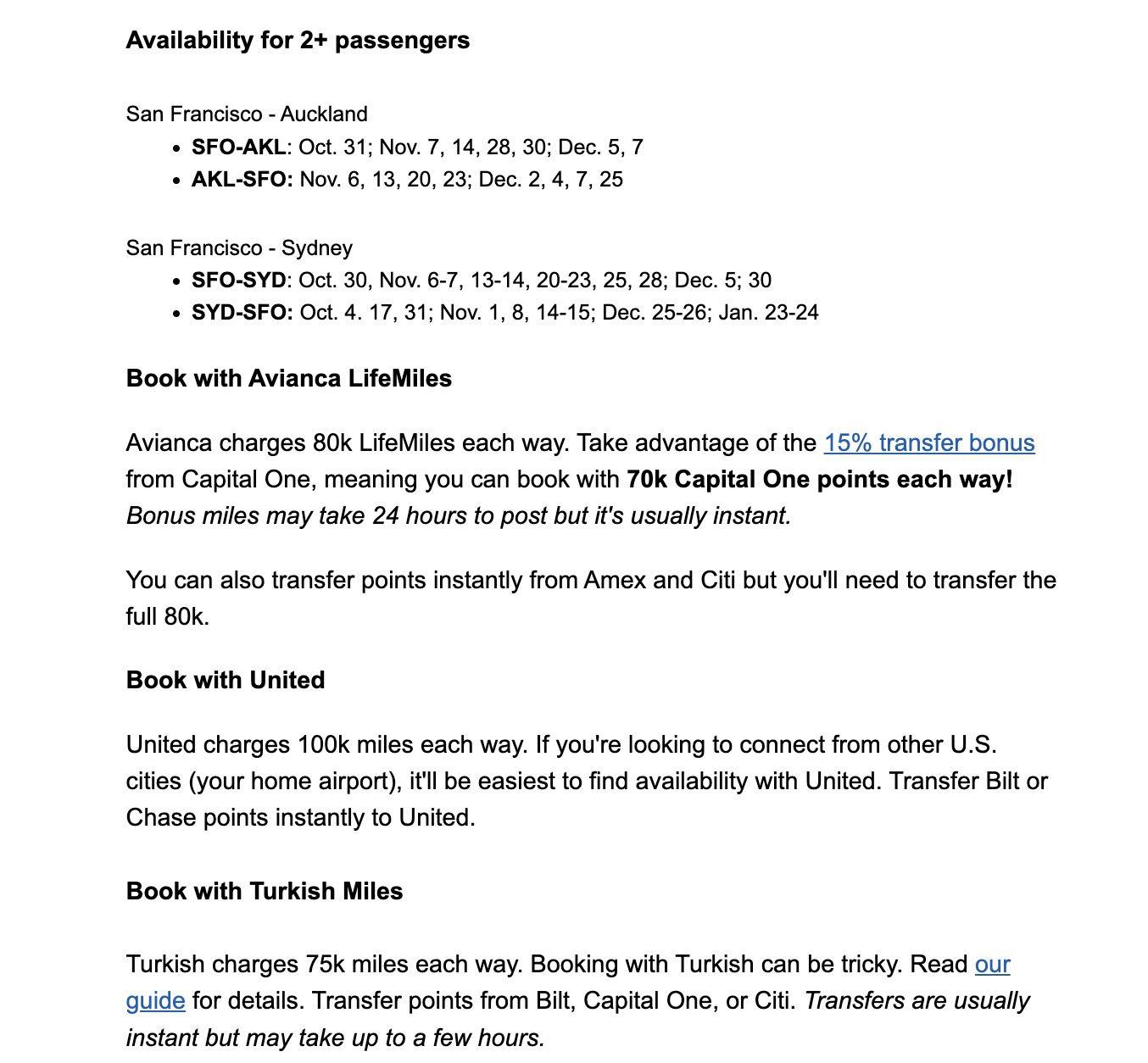 From the dates that work to the cheapest way to book, our Thrifty Traveler Premium alerts give you everything you need to know to book these flights with miles! 
And that was just one of several recent examples. We also found availability to book nonstop flights in United Polaris seats from Houston-Intercontinental (IAH) or Los Angeles (LAX) – even from Los Angeles or San Francisco straight to Melbourne (MEL)!

And just weeks after that, Los Angeles-to-Auckland flights in business class opened up for a trip later this year through winter 2024 – peak summer in New Zealand!

This deal is gone now – get the next award alert with Thrifty Traveler Premium!
While these routes are bookable directly with United for about 100,000 MileagePlus Miles each way, you can also book them through one of its Star Alliance airline partners like Avianca LifeMiles, Turkish Miles & Smiles, and ANA Mileage Club, too – typically for even less! If you have transferrable points like Chase Ultimate Rewards, American Express Membership Rewards, or Capital One Venture Miles, you can transfer those points to any of these airline mileage programs and book these United business class flights down under.
Air New Zealand Business Class (Kind of…)
Speaking of United, the U.S. airline has a partnership with Air New Zealand, which just recently opened up a very cool new way to fly lie-flat to Auckland next year. But it's not in a typical Air New Zealand business class seat…
Let me explain. Air New Zealand recently leased a Boeing 777 from Hong Kong-based Cathay Pacific Airlines. That's a big win, because Cathay Pacific business class seats look like this: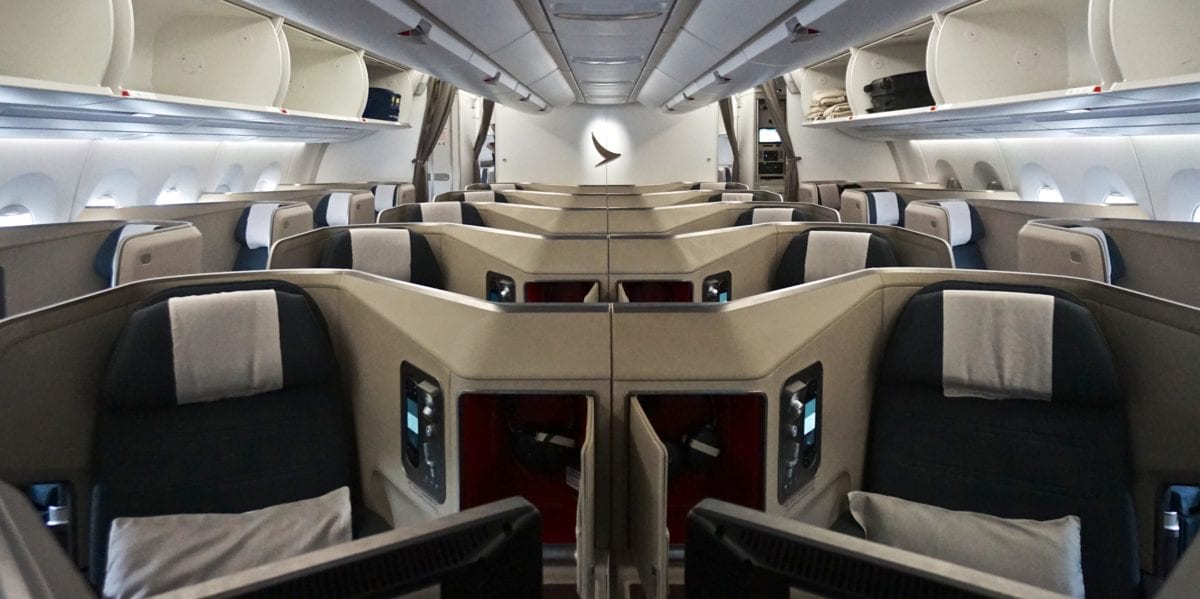 Better yet, you could book it to Auckland for this.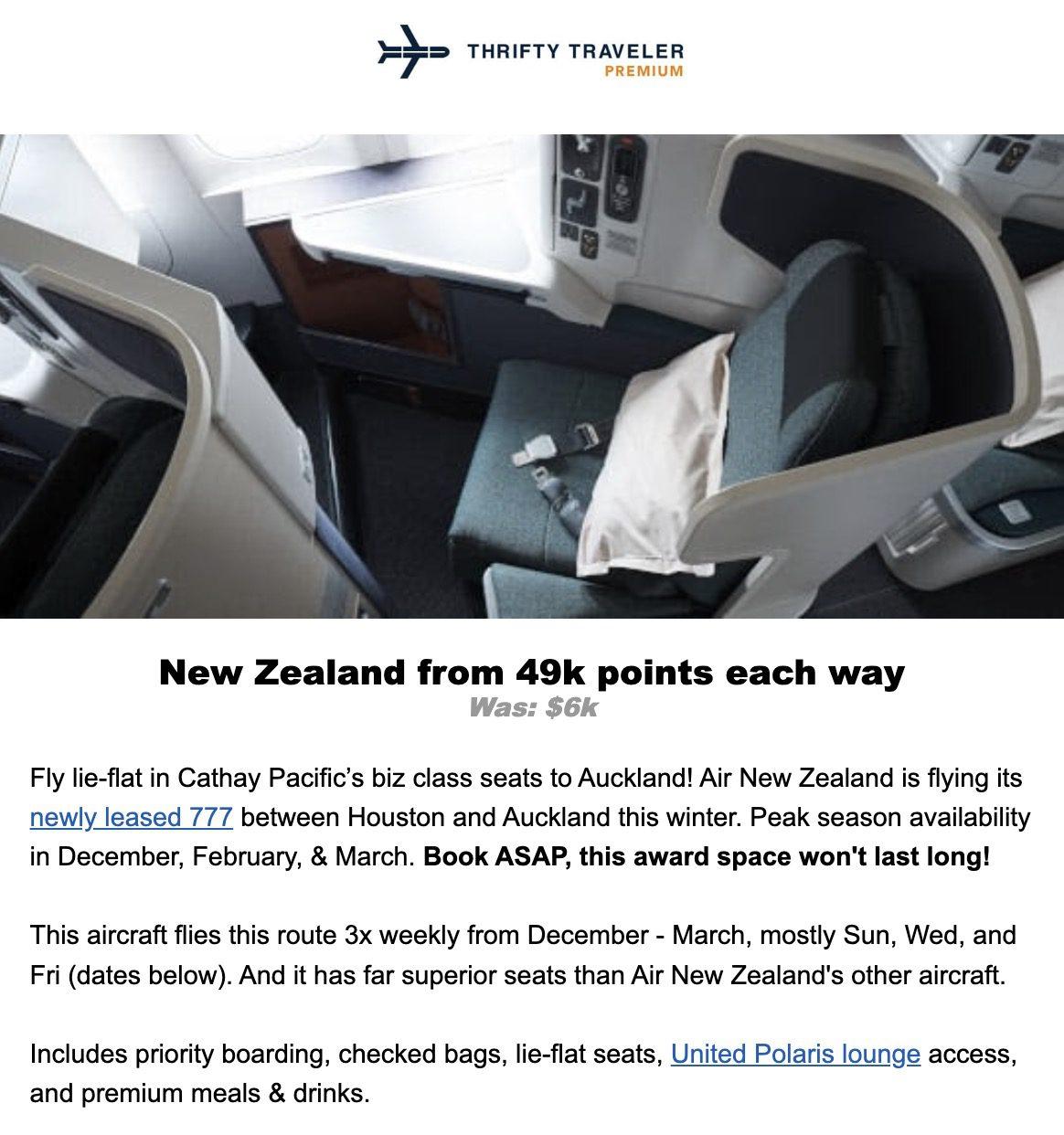 Right when news of this new aircraft broke, we dug into the award space and eventually found dozens of available dates to score a ride in these uber-comfy seats.

The best way to book was using Virgin Atlantic Flying Club which charges just 62,500 miles each way. Factor in a 30% transfer bonus from Chase, and 49,000 points is all you'd need to book a seat that was impossible to find just a year ago.
Qantas Business Class for 80K Miles
Australian flag carrier Qantas is surely worth a look if you want a fancy lie-flat seat to Australia or New Zealand this year. It's a beautiful business class seat, and the airline is making it even better in the years ahead.
Luckily for U.S. travelers, the award space – seats you can actually book with points and miles – to fly Qantas Business Class to Australia this year or next has been easier to find than in years past.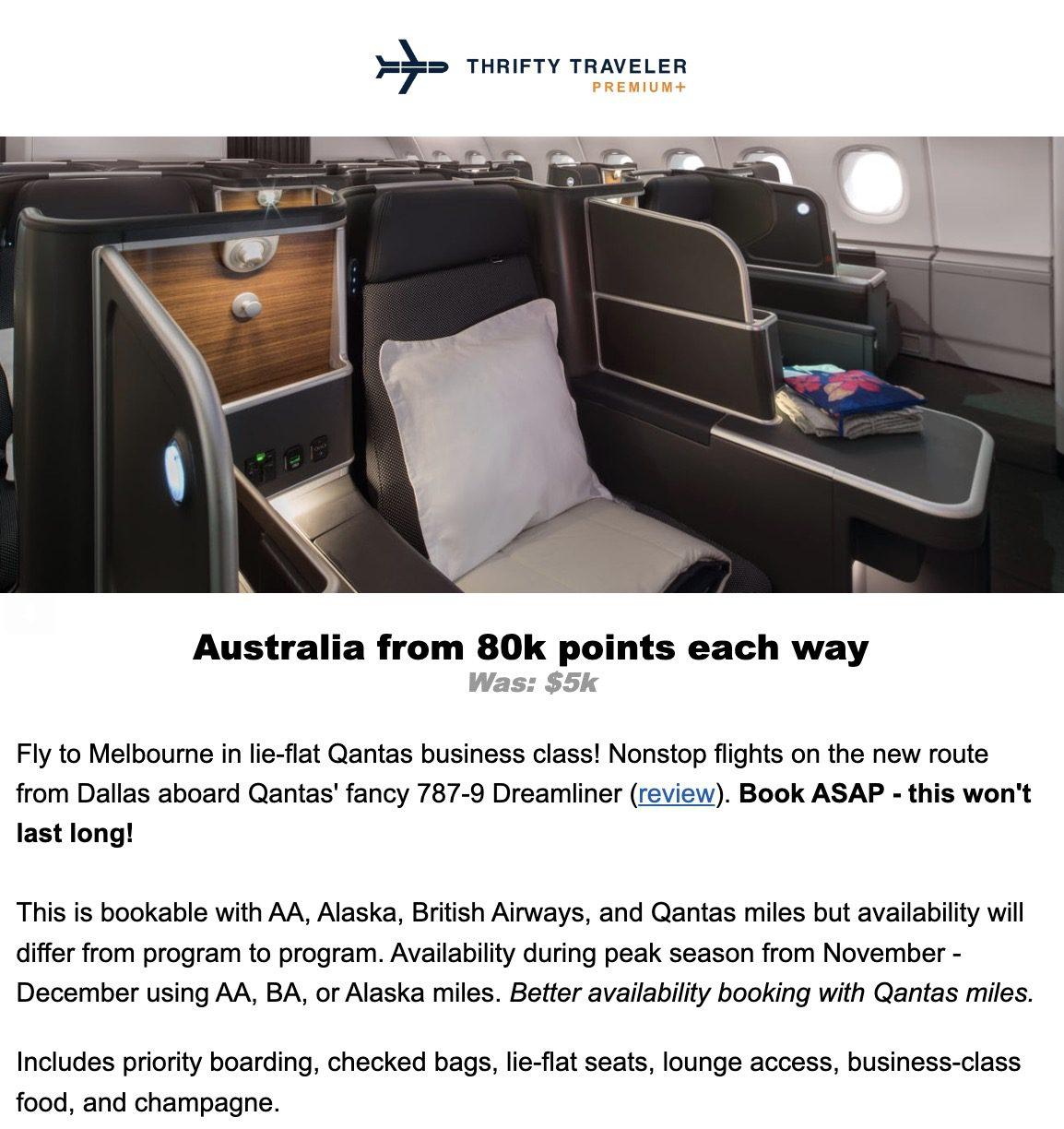 Thrifty Traveler Premium members were recently treated to this sweet deal flying Qantas from Dallas-Fort Worth (DFW) to Melbourne (MEL) this fall. Clocking in at 17 hours and 35 minutes, it's one of the longest flights in the world, but a lie-flat business class seat can make all those hours in the sky much more bearable.
Thanks to its airline partners in the Oneworld Alliance, you could book these seats for 80,000 Airlines AAdvantage miles, 55,000 Alaska Airlines Mileage Plan miles, or 127,000 Qantas Points, among others.

Qantas offers the most daily nonstop flights from the U.S. to both Sydney (SYD) and Melbourne (MEL), but it also flies an awesome nonstop route into Brisbane (BNE), too. And while award space is rare on that route, it's not impossible…
Exhibit A: This deal we sent to Thrifty Traveler Premium members which included Christmas availability – aka summertime in Australia!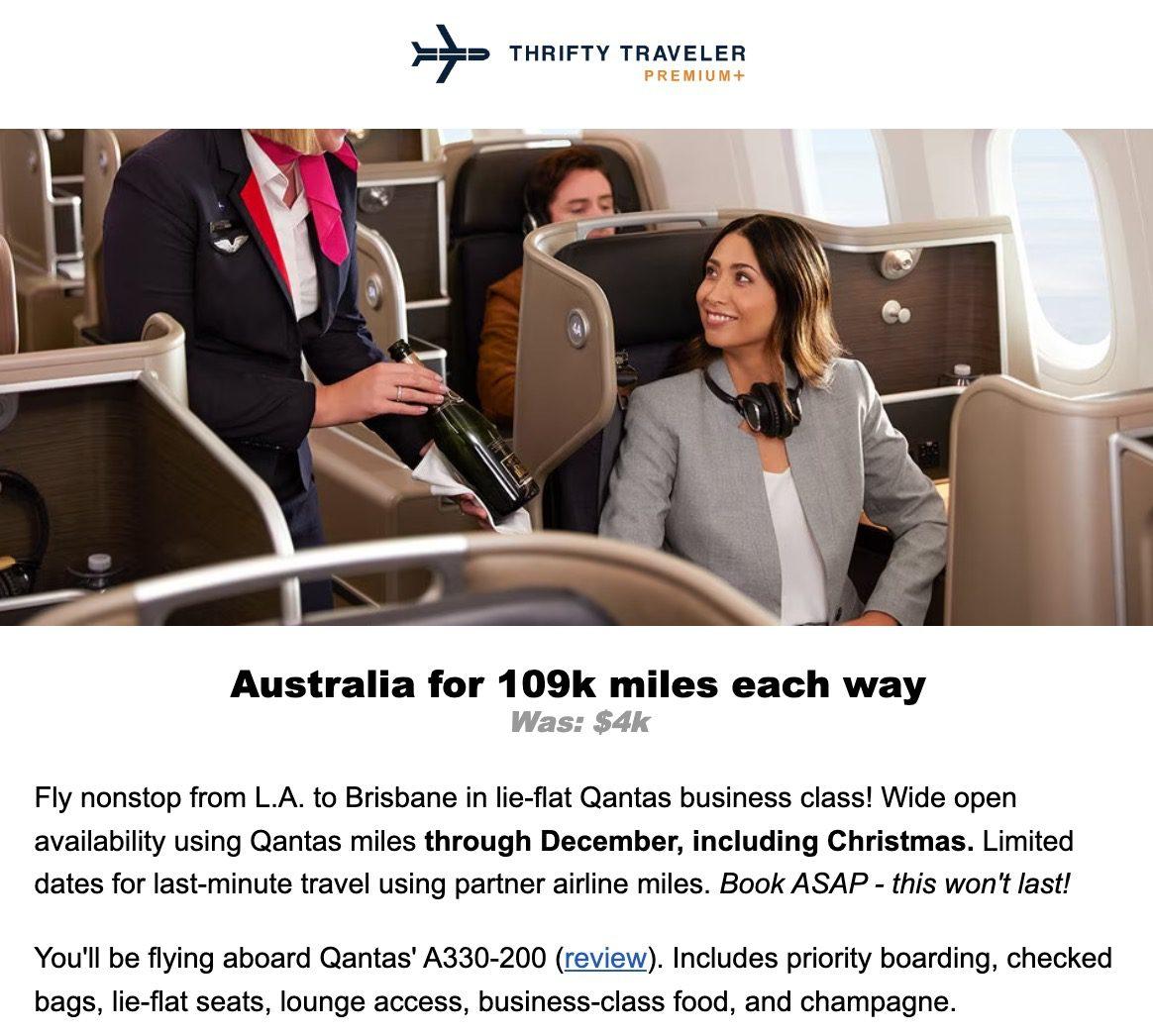 But that's not all. Plenty of dates throughout the rest of the 2023 calendar were booking with points, too.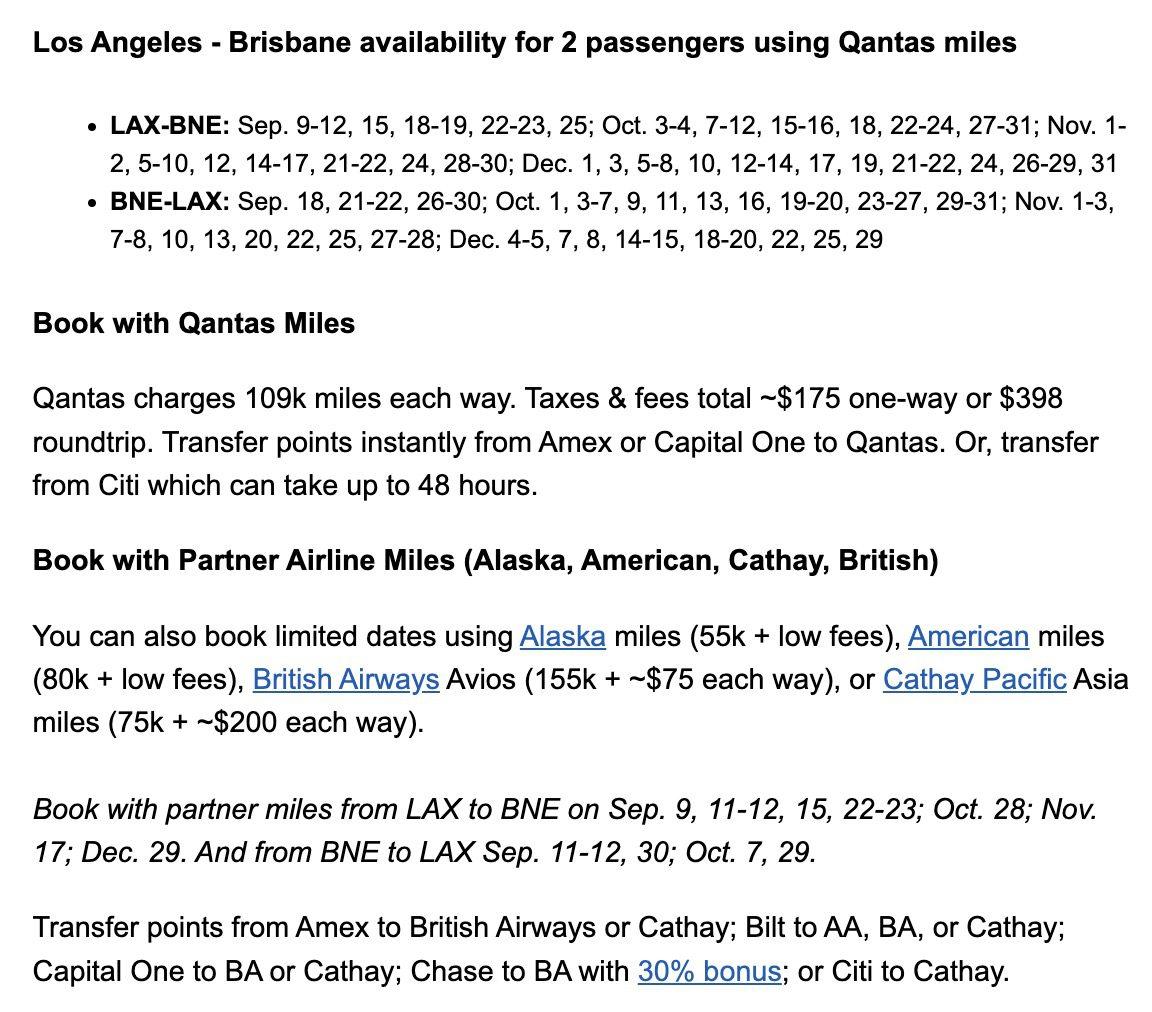 Qantas miles are pretty easy to get – the Australian airline is an Amex transfer partner, a Capital One transfer partner, and a Citi ThankYou transfer partner too. Otherwise, you could snag these seats on select dates using miles from partner airlines like Alaska, American, or British Airways.
If business class seats to Australia are hard to book using miles, then Qantas First Class is the ultimate unicorn deal – it's practically impossible to find these seats. Yet that's just what we found just a few weeks ago.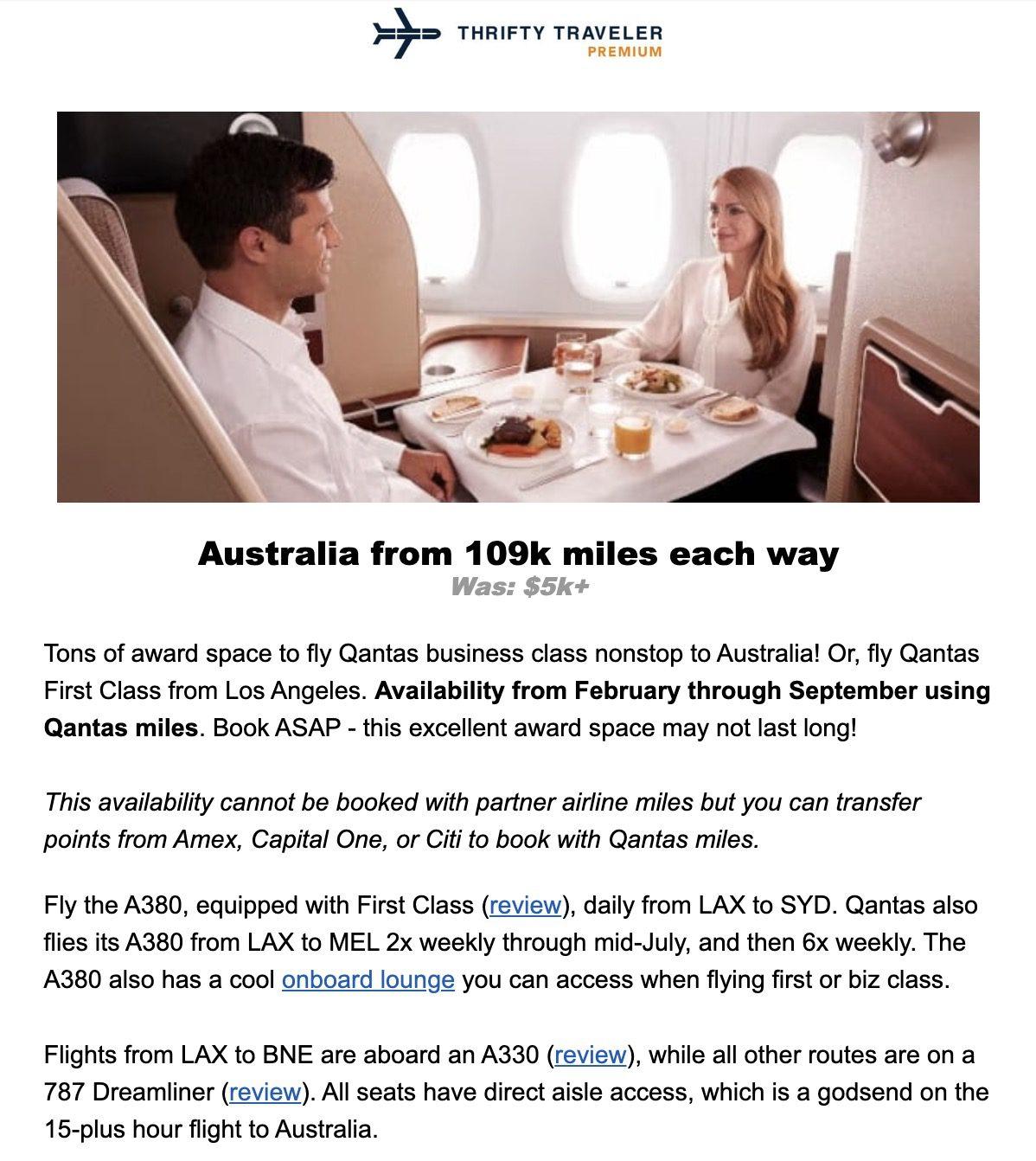 Qantas's A380 has a First Class cabin that it flies from Los Angeles (LAX) every day. While it'd cost you a whopping 163,000 Qantas miles each way, the fact these posh first class seats were bookable at all was shocking.
Along with some spectacular business class availability we found at the same time, it was the clearest sign yet that the tide has turned for getting to Australia using points.

American Airlines Business Class
While Qantas is the biggest airline flying between the U.S. and Australia, we've seen even better deals redeeming American AAdvantage to fly American Airlines business class down to Australia.
Don't believe us? Take a look.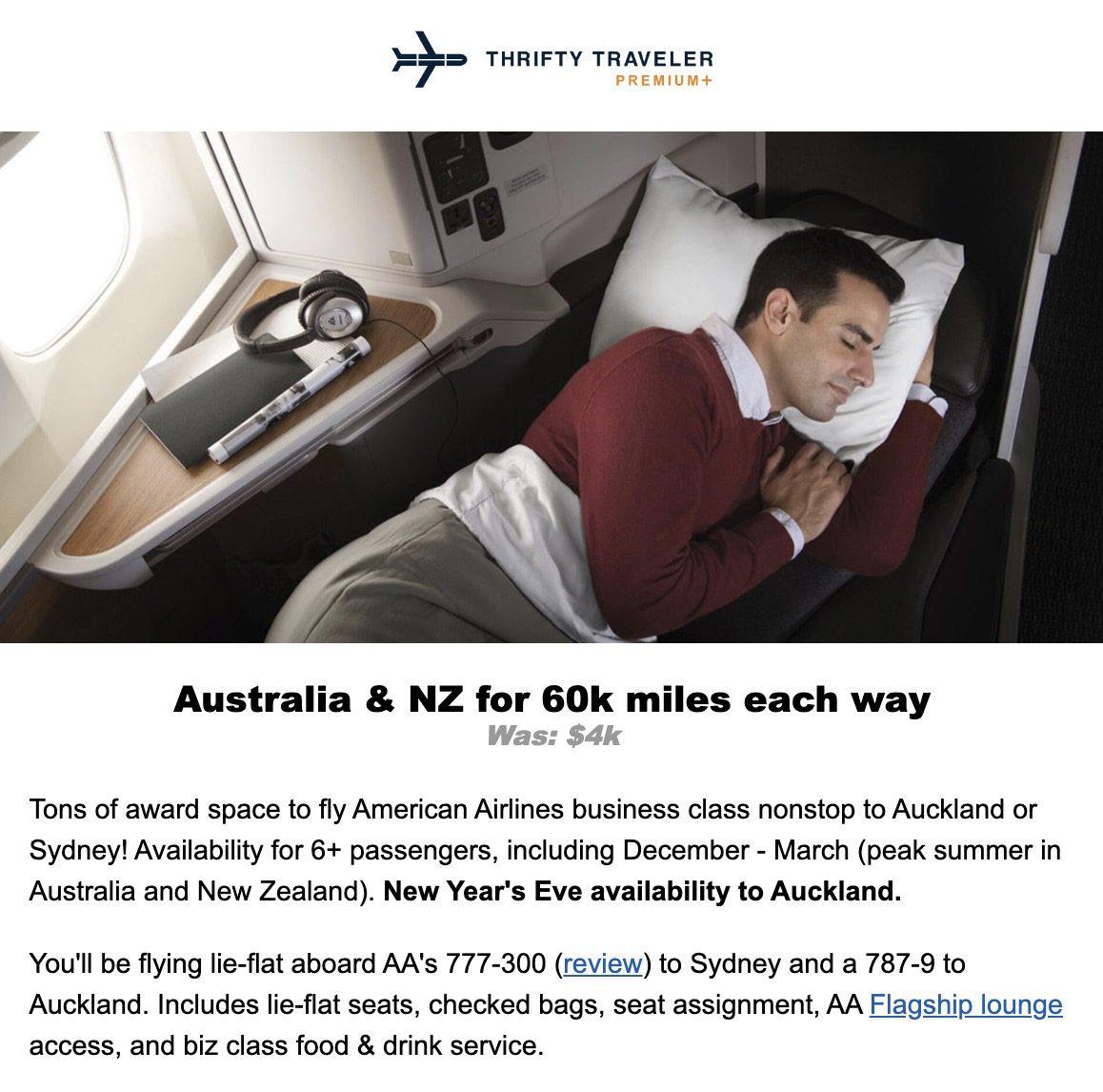 These rates are gone now – get the next deal in your inbox and book ASAP with Thrifty Traveler Premium!
This deal cropped up just a few weeks ago, with tons of availability to book lie-flat American seats to both Sydney (SYD) and Auckland (AKL) through the end of 2023 and as far out as June 2024! Best of all, just 60,000 AAdvantage miles is all it'd take to book.
Fiji Airways (With a Free Stopover!)
United and Qantas might be the most generous when it comes to award availability lately, but they're not alone.
Fiji Airways also flies to Australia and New Zealand with a stop in – you guessed it – Fiji!

These lie-flat seats came with a cheap price tag of just 55,000 Alaska Miles, including the option of adding a free stopover in Fiji. Tack on a dreamy beach vacation on your way to or home from an adventurous trip to New Zealand? Sign. Me. Up.
Read more: Stopover Flights: How to See Two Cities for the Price of One

Alaska miles were the best way to book this deal, but American AAdvantage charged 80,000 miles for a flight to Auckland with a quick stop in Fiji.
First Class Between Australia and New Zealand
If you're going all that way, you might as well see both countries while you're there right? There are plenty of ways to fly between Australia and New Zealand … but may we offer up the best way?

Thrifty Traveler Premium members can opt-in for "Nerd Alerts" like this one!
Remember those Cathay Pacific planes Air New Zealand is flying now? Well, you can also take that plane between AKL and Melbourne (MEL), too!
Those Cathay Pacific planes don't just have a sweet business class, either: You can ride allll the way up front in their ridiculously spacious (and bougie) First Class, too. Best of all, you can book these seats for a sizzling $490 price tag.
Bottom Line
Once is chance, twice is coincidence, and three times is a trend. So what does that make 10?
It has been largely impossible to book business class seats to Australia or New Zealand for years, but that has changed. We've found an unprecedented amount of award alerts to both countries in lie-flat seats lately, with 10 deals in just the last few months.
It's one of the biggest and most exciting trends in the world of cheap flights. And we're guessing it won't be long before our Thrifty Traveler Premium members get the next deal.