American Airlines broke the internet (and its own mobile website, briefly) late Monday with the award sale of a lifetime, selling round-trip flights from the U.S. to New Zealand and Australia for as low as 10,000 AAdvantage miles.
How's that possible? How could flights that typically cost $1,000-plus or 80,000 AAdvantage miles go for so cheap? Was it a mistake fare?
The answer is Economy Web Specials. This is American's way of selling award flights for ultra-cheap, and a firm sign that the airline will eventually follow Delta and United's lead and start pricing awards based on the cash price, demand, time of year, and other factors. It's called dynamic pricing, and while there are big downsides, insane sales like this are the upshot.
Spencer from Straight to the Points found the sale first, with flights from Los Angeles (LAX) to Auckland (AKL) bookable for just 10,000 AAdvantage miles round trip. But other routes were on sale, including Los Angeles, New York City (JFK), or Dallas-Fort Worth (DFW) to Sydney (SYD) for the same unbelievable price.
In each case, flights were available as low as 6,000 miles each way – or 10,000 miles for a round-trip flight.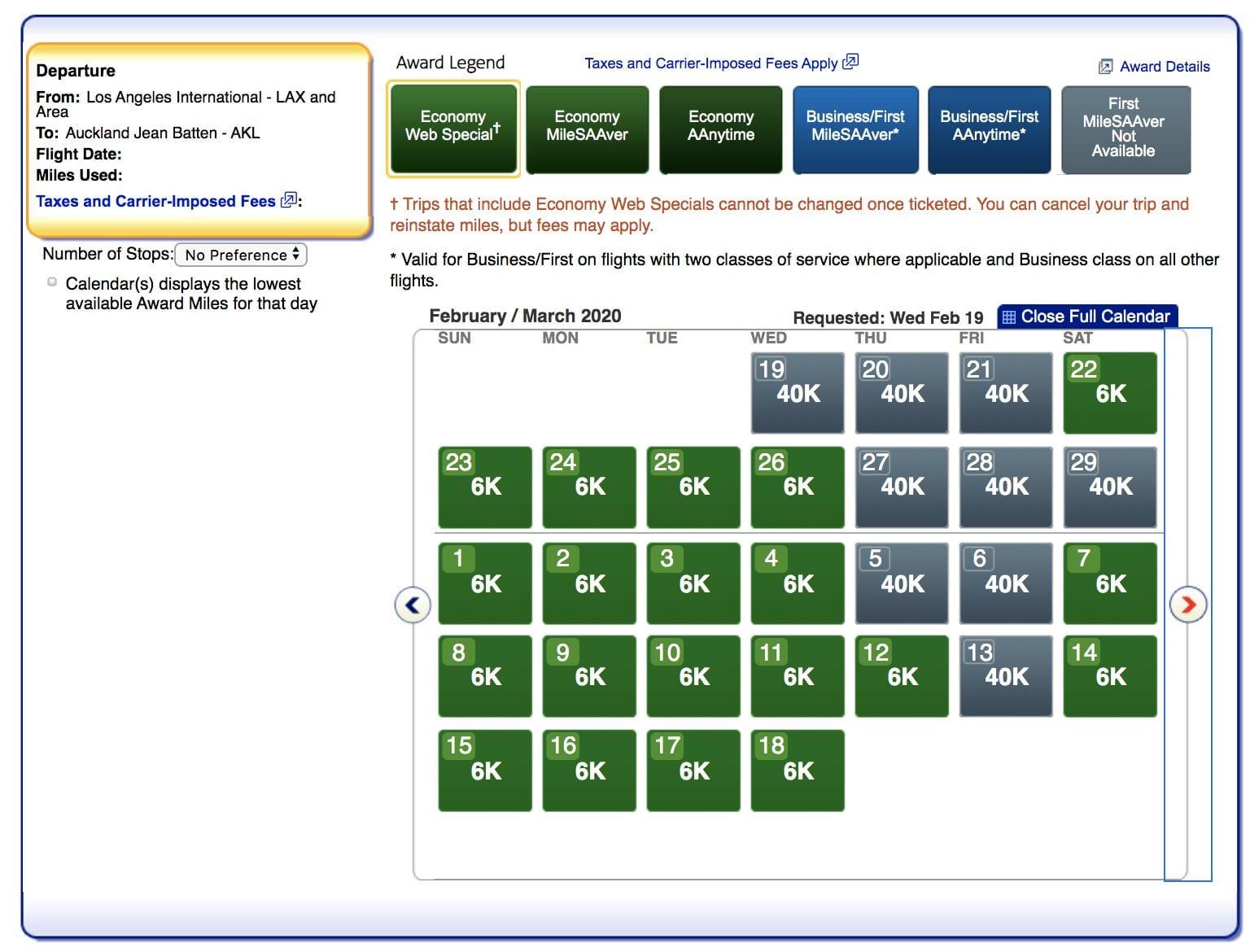 The sale didn't last long: These ultra-low rates expired within two hours. But many of our Thrifty Traveler Premium members were able to book the deal of a lifetime after we shared it in our exclusive member's Facebook group before it died. And the savings here are huge – these flights would have cost more than $1,000 each in cash.
Critically, these fares cannot be canceled outside of the federal government's 24-hour penalty-free cancellation window unless if you have top status with American. And unlike typical American award bookings, they cannot be changed.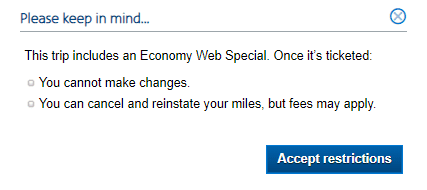 But at this rate, that's a small price to pay. And more sales like this one could be on the way.
Our Analysis
American has been selling these Economy Web Special fares for months. But this sale was a big change.
Though the airline has dabbled with discounted international award fares, most of these special sales have been for domestic flights. These dirt-cheap flights to New Zealand and Australia were some of the biggest and best international sales we've seen from American.
And while these discounted fares were previously only available on a small subset of routes, they're now bookable on far more flights with AA service. It's
That's a mixed bag. On one hand, dynamic award pricing like this makes it almost impossible to know what you're getting with AAdvantage miles. It creates an unpredictable pricing system that often makes top-dollar flights in business and first class exorbitantly expensive. Doubling down on these cheap fares is a sign that American will eventually move that way entirely.
On the other hand, the value of a 10,000-mile flight to New Zealand or Australia cannot be ignored. Travelers who are flexible with their travel plans and fast enough to jump on sales like this can score deals they'd never otherwise get.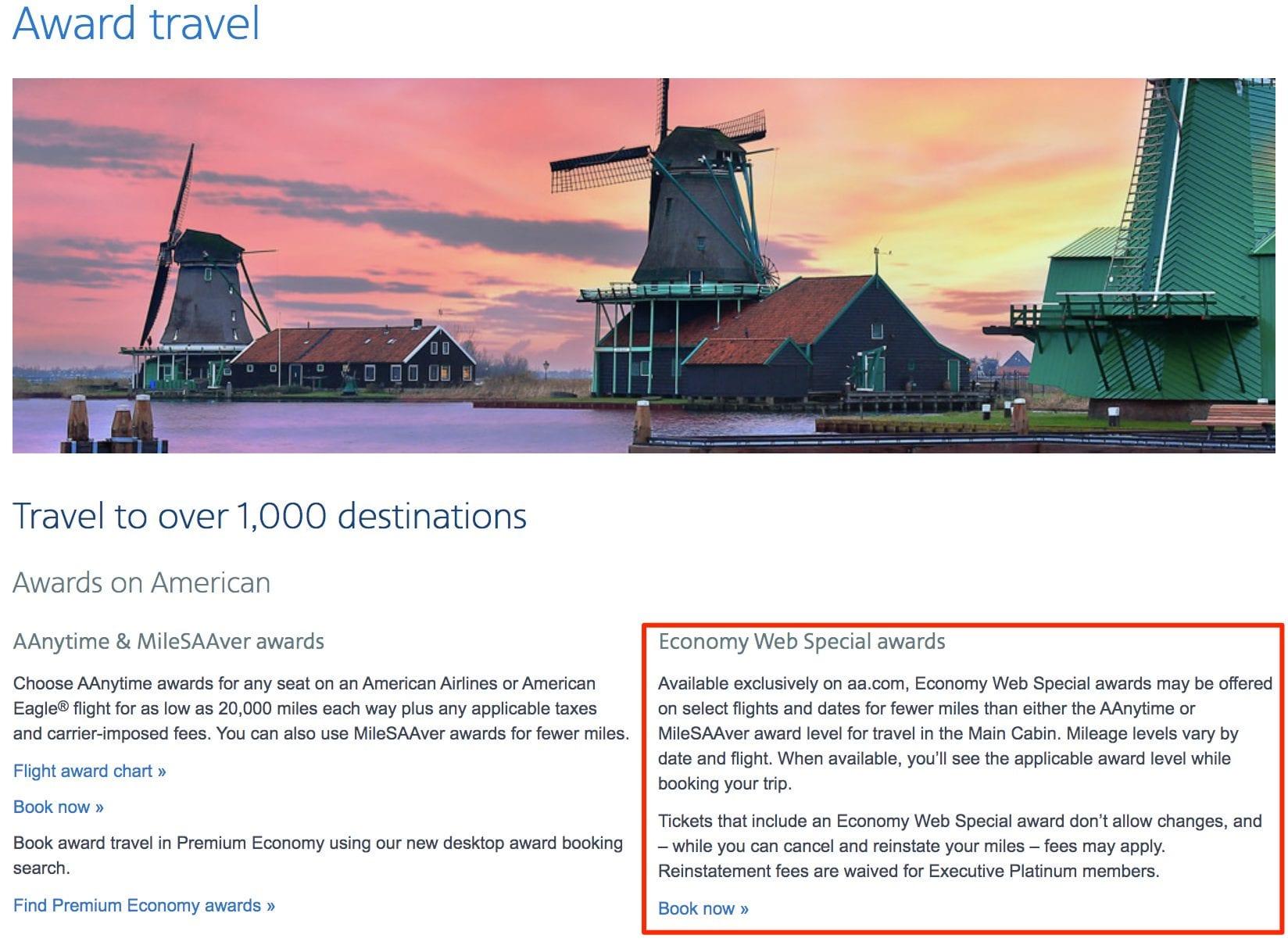 How to Find Economy Web Specials
Unfortunately, American doesn't make these deals easy to find. While Delta often advertises some of its Delta SkyMiles flash sales, American hasn't followed suit – yet.
That means you just have to search for the best deals. Start by using American's older award search, which is far more powerful and also easily displays these discounted sales. Just enter in the flights you're hoping to score a deal on, and cross your fingers.
If it's eligible for Economy Web Special pricing, a tab with that name will pop up in your search results. Click it to see what's available.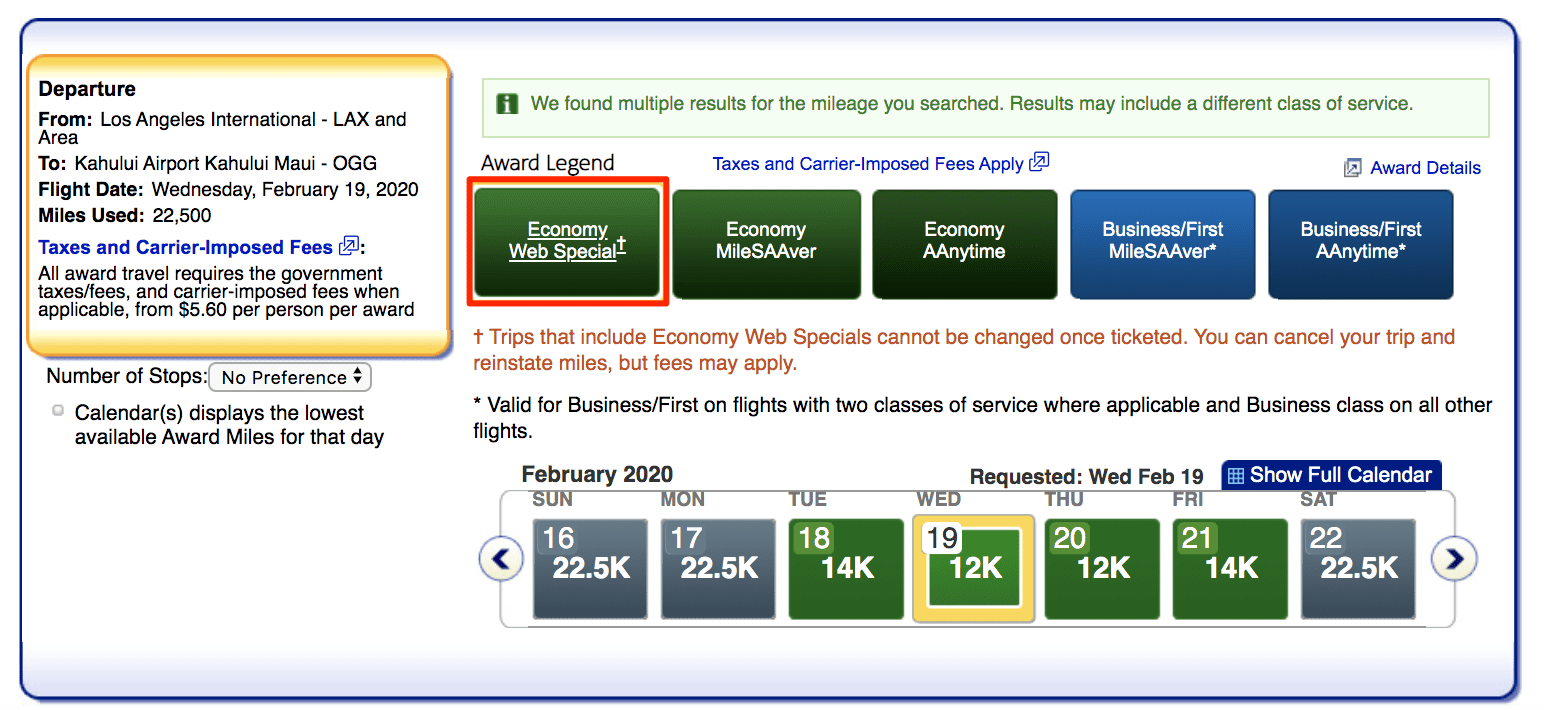 In this example, you'd find flights from Los Angeles (LAX) to Maui (OGG) for as low as 12,000 AAdvantage miles each way. That's nearly half off the typical pricing.
Savings are out there. And in this case, it's clear the savings can be enormous.
You just have to find them.
Bottom Line
This was an unbelievable deal, and clearly it was too good to last long. It might be the surest sign yet that American will eventually start to act more like Delta SkyMiles.
But if that means you can fly to New Zealand or Australia for 10,000 miles round trip, the silver lining is more like gold.