American Airlines miles are well worth earning whether you're a loyal AA flyer or not. But it can be much harder to use them wisely. We're here to help.
We've sent our Thrifty Traveler Premium+ subscribers hundreds of award alerts to use their AAdvantage miles over the years – really, the hardest part was narrowing this list down to just 10 stellar deals. But even so, there are plenty of amazing alerts to pick from, whether you want to score a trip to Europe or the Caribbean for a fraction of what American typically charges or score a lie-flat seat halfway acrosss the world on one of American's five-star partner airlines.
That's what our Thrifty Traveler Premium+ service is all about: Finding the best flights you can actually book with your points and miles. Here's the cream of the crop for what we've found for flyers with a stash of AAdvantage miles.
10K to Australia and Back (Yes, Really)
No, you're not seeing things. No, I didn't miss a zero. Yes, you really could have booked roundtrip flights to Australia (or New Zealand) for just 10,000 miles.
It was like catching lightning in a bottle: For just a few hours back in 2019, American briefly sold flights from several U.S. cities to Sydney (SYD), Melbourne (MEL), and even Auckland (AKL) in New Zealand for just 6,000 miles each way – or 10,000 AAdvantage miles roundtrip. It was so unbelievable, the surge in traffic briefly broke American Airline's mobile app.
Yet plenty of our Thrifty Traveler Premium+ subscribers were still able to book the bargain of a lifetime for just 10,000 miles to the land down under.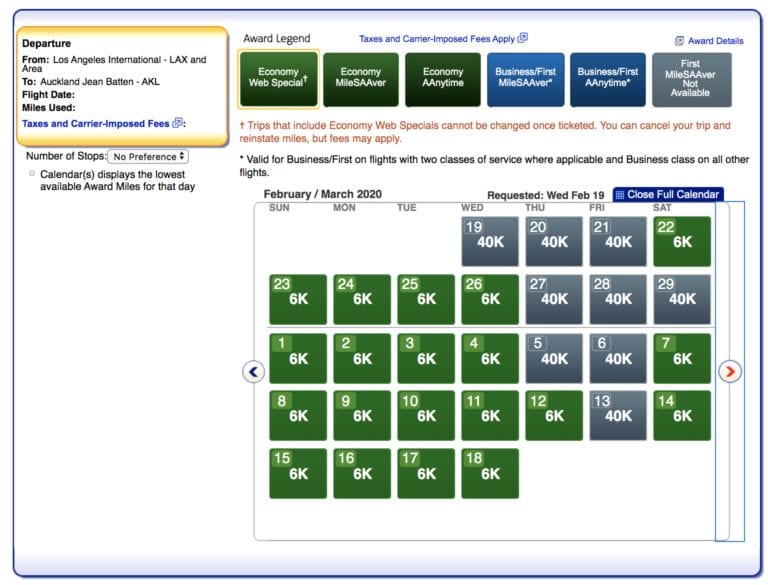 How's that possible? How could flights that typically cost $1,000-plus or 80,000 AAdvantage miles go for so cheap? Was it a mistake fare?
The answer is Economy Web Specials. These random, deeply discounted sales are American's way of selling award flights for ultra-cheap – and American is expected to do more of that in the months ahead as it fully transitions to dynamic pricing. While there are big downsides, insane sales like this are the upshot.
Over the years we've found some other amazing AAdvantage deals to Australia. There was another flash sale a few years later for 55,000 AAdvantage miles roundtrip. We've seen subsequent sales of 70,000 miles to both Australia and New Zealand.
But really, you can't beat getting to Australia for fewer miles than your typical one-way domestic flight to Chicago-O'Hare (ORD) or Miami (MIA).
Lie-Flat Biz Class to Hawaii for 55K
There are plenty of great ways to book flights to Hawaii using points and miles, but scoring a lie-flat seat over to the Hawaiian islands using your points and miles is a tall, tall task. It hinges on finding award availability to book with miles, and that can be impossible.
But that's just what we did. Just last month, we sent Thrifty Traveler Premium+ members an alert for wide-open award space for two flying American Airlines business class to both Honolulu (HNL) and Maui (OGG) later this winter and into the spring, including spring break!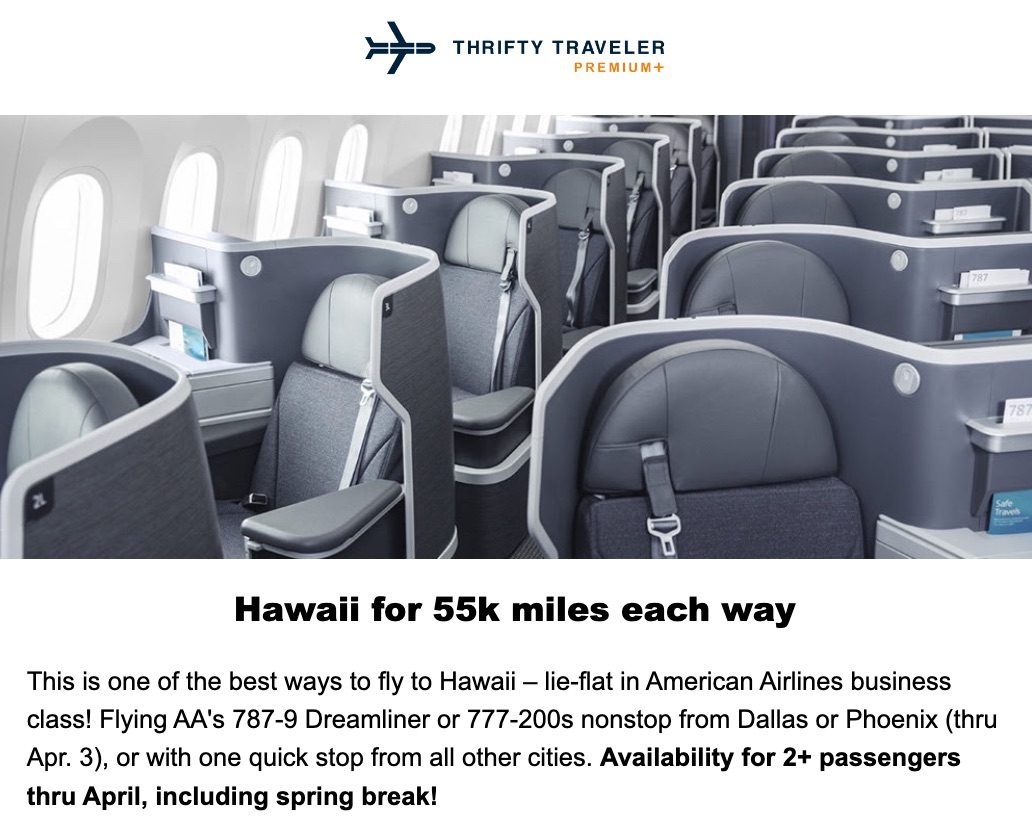 This Hawaii deal is long gone now – get the next alert in your inbox with Thrifty Traveler Premium+!
Flying like that for 55,000 miles to paradise? Yes please. While you'd only get those cushy business class pods on the nonstop flights from Dallas-Fort Worth (DFW) or Phoenix (PHX) to Maui (OGG) or Honolulu (HNL), the beauty of this deal was that you could book from almost any airport in the U.S. and connect onward to Hawaii – still for just 55,000 AAdvantage miles total!
70K AA Miles for the World's Best Business Class
Flying doesn't get much better than this.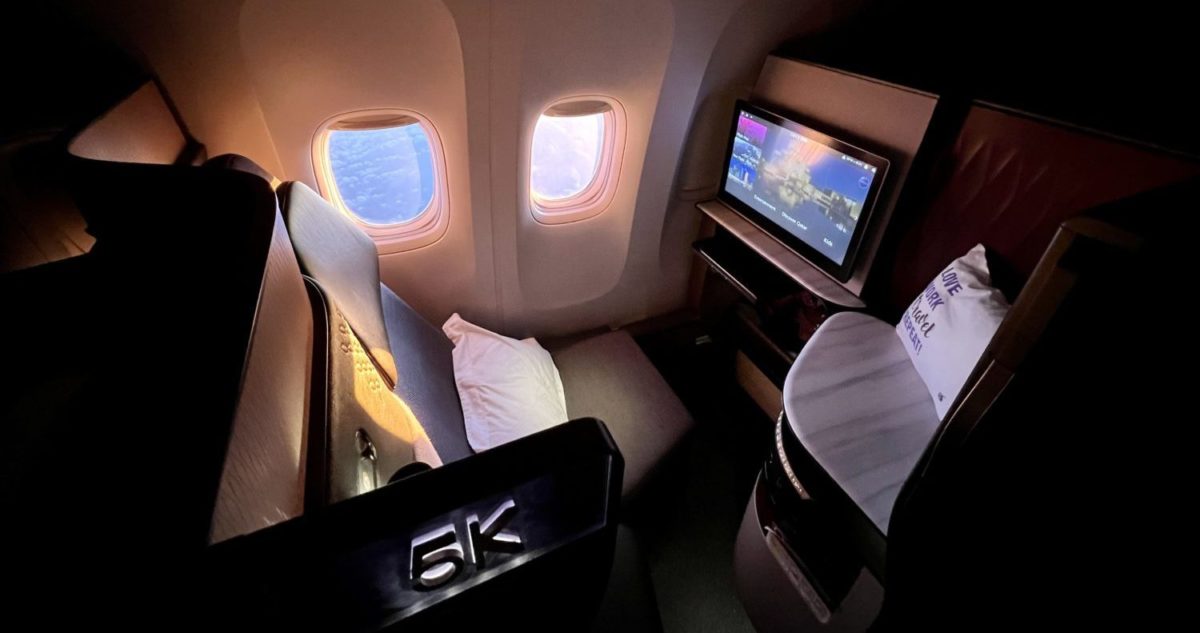 Qatar Qsuites are the best business class in the world, bar none. With great meals, service, and a ton of space and privacy thanks to a door at your suite, the 15-plus hour flights to Doha (DOH) feel more like just five hours. And you can book it for just 70,000 AAdvantage miles each way. 
It's one of our favorite ways to use AA miles, period. That's why we're always looking for availability to book Qsuites with AA miles, letting our Thrifty Traveler Premium+ members know with an instant alert. In fact, we've sent more than 10 alerts to book Qsuites in the last year alone!
We'd argue that American Airlines miles are the single best way to book Qsuites. Here's why:
You can fly nonstop from a dozen U.S. cities to Doha for 70,000 miles
Or you can start from your hometown airport with AA service and make it to Doha with one stop for 70,000 AAdvantage miles
But you can also connect onward almost anywhere in the Middle East, India, or even the Maldives for … you guessed it, 70,000 AAdvantage miles
But there's one Qsuites deal that's arguably even better for just a few thousand AA miles more…
… Or 75K to South Africa
That's right. You can fly Qsuites from the U.S. to Doha or the Middle East for 70,000 miles … or you can tack on another 10-hour flight to the tip of South Africa for just 5,000 more American miles.
Flying in a Qatar Airways Qsuite for just 75,000 AAdvantage miles all the way from the states to Johannesburg (JNB), Cape Town (CPT), or anywhere in Africa is tough to beat, especially on the long journey to South Africa that clocks in at roughly 24 hours of flight time. It's not just one of the best ways to use American AAdvantage miles – it's one of the best deals in the world of points and miles, period.

But actually finding the award availability to book this deal with AAdvantage miles can be harder: You need not just one long-haul flight, but two to make it all the way. We do the legwork for our Thrifty Traveler Premium+ members to make it happen, sending award alerts any time we find some solid award space to fly Qsuites down to South Africa.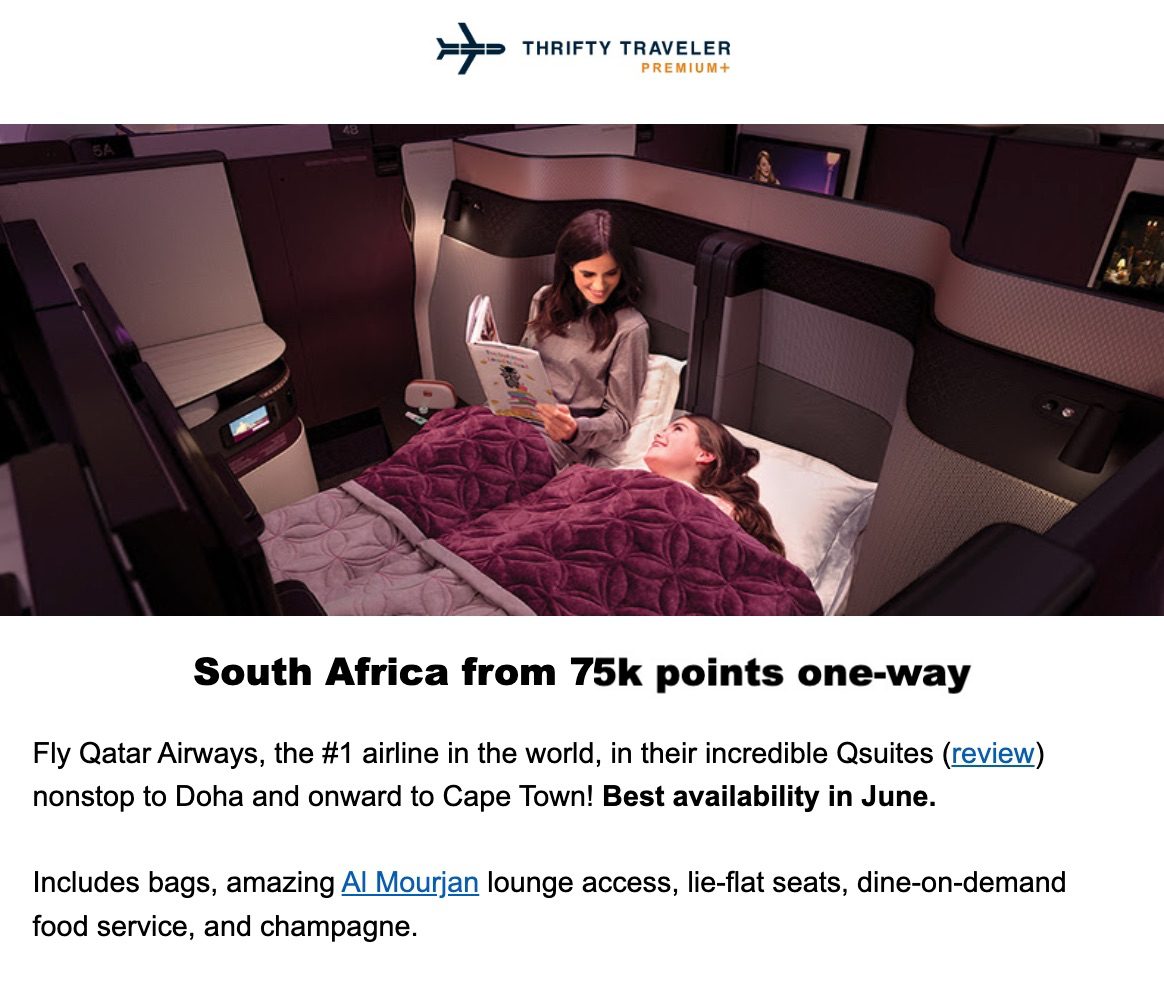 34K AAdvantage Miles to Europe
Delta might be the undisputed king of deeply discounted award deals with their frequent Delta SkyMiles flash sales. But every now and again, we see American enter the fray with some uber-cheap sales, charging a fraction of the AAdvantage miles for routes around the world. This was one of our favorites.
Back in early 2020, American launched a nationwide sale to European cities like Madrid (MAD), London-Heathrow (LHR), Paris-Charles de Gaulle (CDG), and even Budapest (BUD) and Prague (PRG). But here's the amazing part: Whether you flew from big cities like New York City (JFK) and Miami (MIA) or smaller towns like Green Bay (GRB) or Omaha (OMA), it was just 34,000 AAdvantage miles roundtrip!
Best of all, this sale could get you to Europe over peak summer, Thanksgiving, Christmas, or New Year's!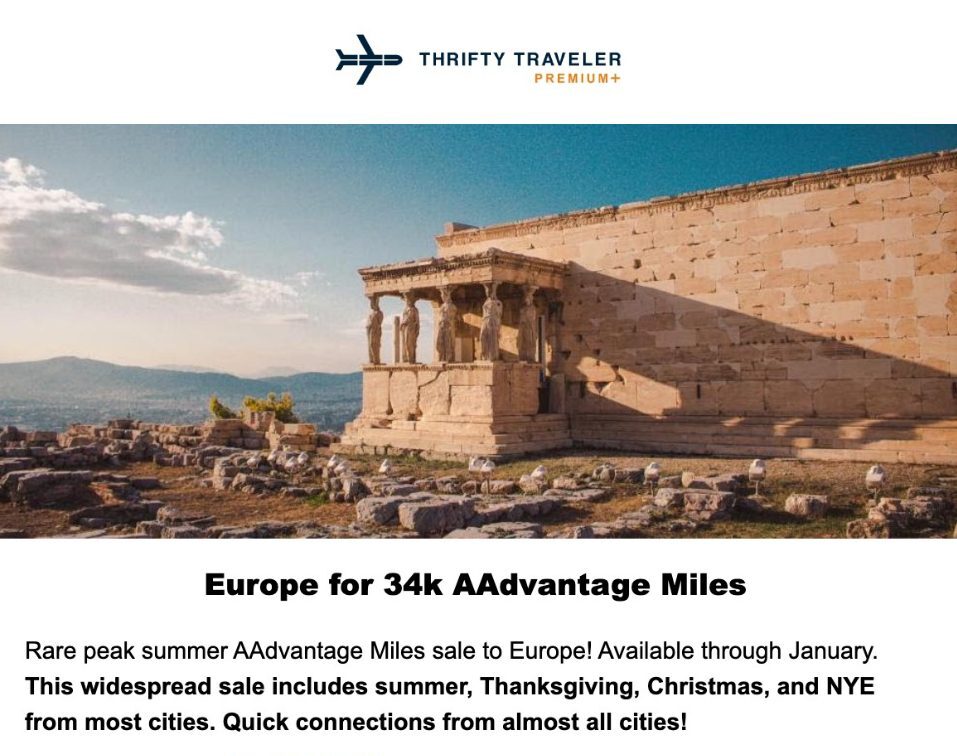 From the big hubs to tiny towns, we find flight deals from more than 200 cities in the U.S. and Canada!
Qantas Business Class to Australia for 80K
Even 1 million AAdvantage miles or more may not do you any good if you're looking to fly lie-flat business class seats to Australia. Airlines are incredibly stingy with releasing these seats to be booked using miles, making it one of the hardest redemptions to pull off.
But every now and again, we find a unicorn fare: An incredibly rare points and miles deal that's sure to disappear in just a few hours if you don't act fast. That's just what we found last month, with wide-open space flying Qantas business class from Dallas-Fort Worth (DFW) to Melbourne (MEL).
We sent our Thrifty Traveler Premium+ members an instant text alert so they could quickly book for 80,000 AAdvantage miles each way before this deal disappeared.
That's just one of several business class deals to Australia using AAdvantage miles we've found in the last few months, including:
A similar deal from Dallas straight to Sydney (SYD) flying Qantas, bookable for 80,000 American miles
Arguably the best one? We sent alerts last year to book business class seats from Los Angeles (LAX) to Melbourne (MEL) and Dallas to Sydney from last November through February 2023 – Australia's summer!
Every email alert we send Thrifty Traveler Premium+ members includes detailed booking instructions so you know exactly what to do.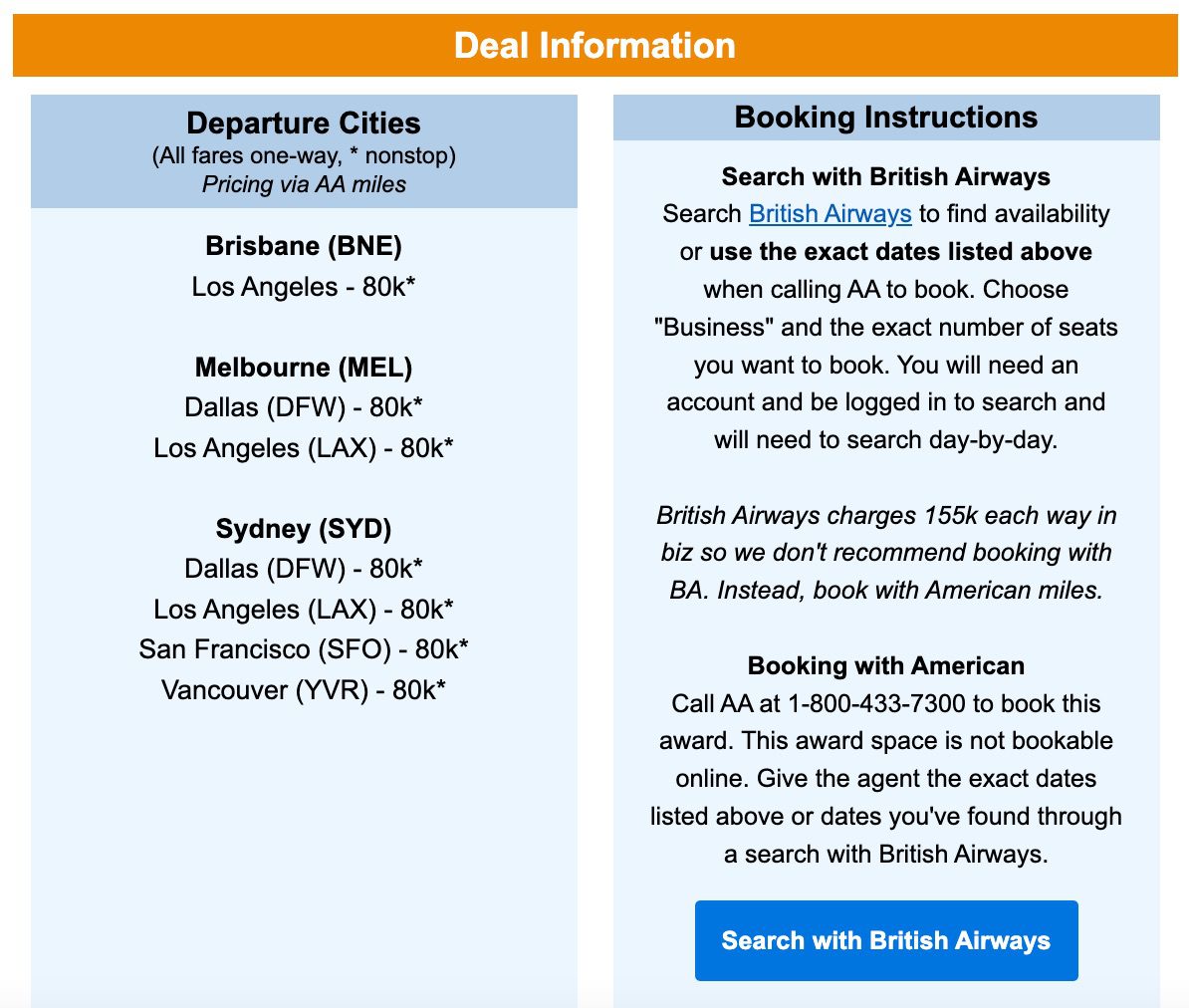 Japan Airlines Biz Class for 60K
This one's my personal favorite. I like it so much, I've booked it several times with my own stash American AAdvantage miles.
Nothing beats the personal space, privacy, and excellent onboard meals when flying Japan Airlines business class. And at just 60,000 miles each way, it's arguably the best way to get to Tokyo.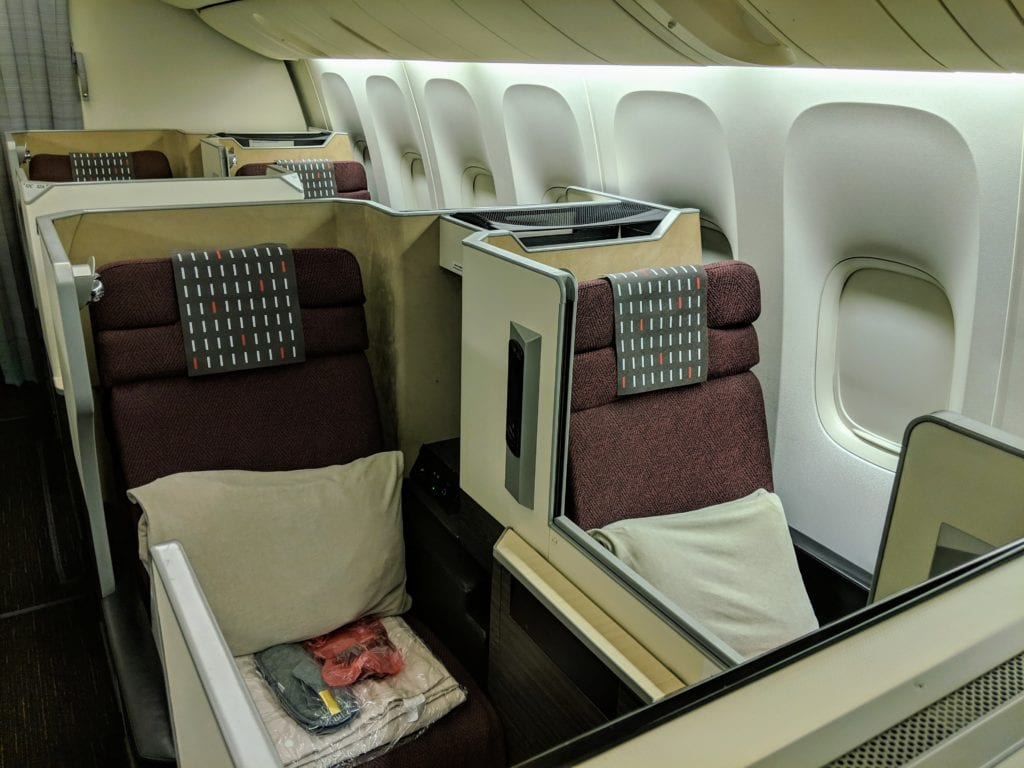 Whether you're trying to get to Japan for next year's cherry blossom season or hit the fresh powdery slopes up in Hokkaido during "Japanuary," we're always looking for the award space to use your American Airlines AAdvantage miles for a flight to Tokyo.
One of the big advantages of using American miles is that you can often add in a connecting flight – like here, from Minneapolis-St. Paul (MSP) to Dallas-Fort Worth (DFW) – before or after hopping on the transpacific flight … and it still costs just 60,000 miles total!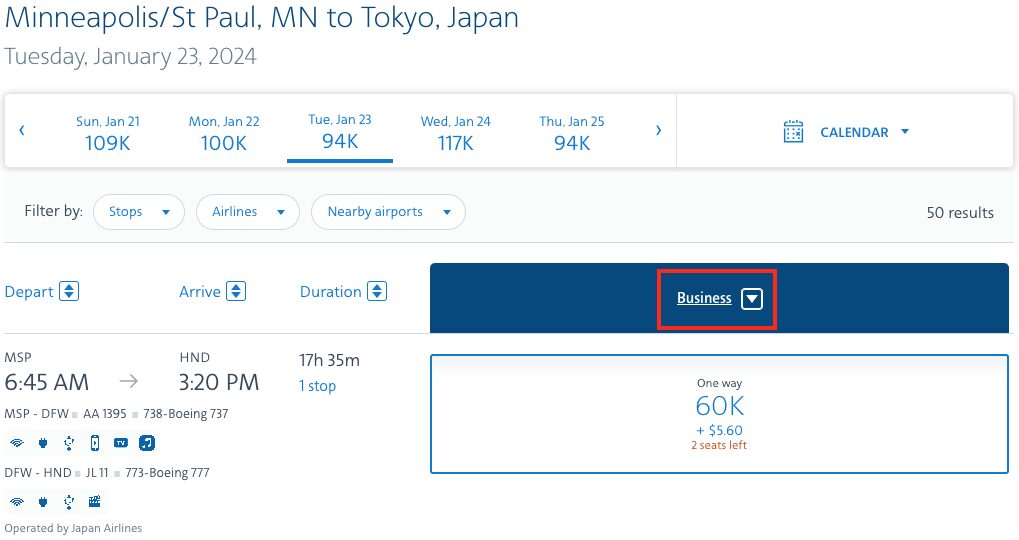 20K to the Caribbean & Costa Rica
Aruba? Jamaica? American Airlines miles can take ya.
Few airlines are better when it comes to getting to the islands of the Caribbean. And that makes AAdvantage miles indispensable … especially when the airline slashes award rates down to just 20,000 miles roundtrip.
We sent this alert to Thrifty Traveler Premium+ members in early 2022, with flights from airports big and small to almost any Caribbean destination you can think of bookable for just 20,000 AAdvantage miles total.
St. Thomas (STT) in the U.S. Virgin Islands? Just 20,000 AAdvantage miles. All the way to Turks and Caicos (PLS)? Still just 20,000 AA miles. Notoriously pricey islands like St. Lucia (UVF) or St. Martin (SXM)? You guessed it: 20,000 AAdvantage miles.
It may not be part of the Caribbean, but Costa Rica is one of the best (yet criminally underrated) warm weather destinations on the planet. A few years ago, we found yet another nationwide flash sale to fly into both Liberia (LIR) or San Jose (SJO) … again, for just 20,000 AAdvantage miles!
Get the heads up on amazing deals like this to use your AAdvantage miles with Thrifty Traveler Premium+!
Cathay Pacific First Class for 110K
If flying the world's best first class seats is on your list, Cathay Pacific first class should be, too.
With a cabin of just six seats, these first class seats are some of the widest you'll find in the sky – with the most comfortable beds, too. Caviar service and top-notch champagne are a given.
But booking these seats with miles is a chore even if you're flying solo, as Cathay is incredibly stingy with award availability. Need two seats? Good luck.
Just as Cathay Pacific finally brought first class back to the states after a long pandemic pause, we found it: First class seats for two passengers flying from Los Angeles (LAX) to Hong Kong (HKG) later this year. We even listed out the dates so Thrifty Traveler Premium+ members could quickly book with their American Airlines miles.
This deal is long gone now – get the next one in your inbox with Thrifty Traveler Premium+!
First class or not, 110,000 AAdvantage miles is pretty steep for a one-way flight to Hong Kong. But that's a small price to pay for flights that typically cost $8,000 or more.
80K to Fiji in Biz Class
Fiji is on millions of travelers' bucket lists … but it just sounds expensive, doesn't it? It doesn't have to be.
On the long list of partner airlines you can book using American AAdvantage miles, Fiji Airways has to be near the top. Its latest-and-greatest business class seats look superb. Just 80,000 AA miles and you're on your way to paradise in the South Pacific. Or maybe you're just making a pitstop and continuing all the way to Australia or New Zealand!
How to Earn AAdvantage Miles
If you didn't know it already, this list should make clear that you should be earning American miles. So, how do you earn AAdvantage miles – besides flying American?
For starters, there's the Citi® / AAdvantage® Platinum Select® World Elite Master Card®. You can currently earn 50,000 miles after spending $2,500 in the first three months of card membership.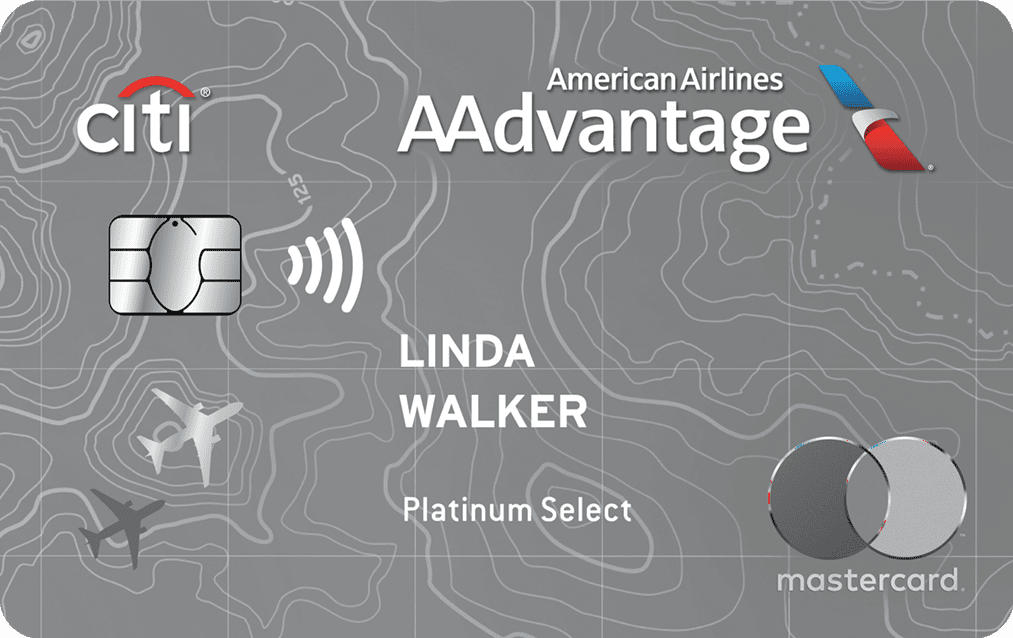 Learn more about the Citi® / AAdvantage® Platinum Select® World Elite Master Card®.
But American Airlines is unique in the fact that they have co-branded credit card relationships with both Citi and Barclays thanks to the merger of American and U.S. Airways a few years ago. For the time being, American has made the decision to continue the relationship with both banks.
That means you've got another option. And few credit cards offer a better, more lucrative welcome offer bonus than the AAdvantage Aviator Red World Elite Mastercard. Just by opening the card and making a single purchase, you can earn 50,000 American Airlines AAdvantage miles. These are some of the easiest miles you will ever earn. The card's $99 annual fee is not waived in your first year.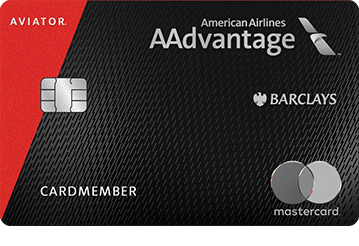 Learn more and apply for the AAdvantage Aviator Red World Elite Mastercard (this is not an affiliate link)
This is significant because you can earn the welcome offer bonus on each card, netting you 100,000 American Airlines miles after spending $2,500 on the Citi AAdvantage Platinum Select Card in the first three months of card membership and making just one purchase on the Barclays card (and paying the card's $99 annual fee).
But the best way to earn AAdvantage miles might not be an American Airlines credit card at all – especially if you're paying rent.
The Bilt Rewards Mastercard® allows you to earn 1x point per dollar you spend on rent each month without paying extra fees – and there's no annual fee for holding the card, either. It's a no-brainer option for renters.
Bilt Rewards sweetens the deal with what it calls Bilt Rent Day: A monthly promotion that allows you to accelerate on the first of each month. So long as you make at least five transactions every month with your Bilt card, you normally earn 3x points per dollar spent on dining, 2x points per dollar spent on travel, and 1x points on other purchases. On Bilt Rent Day, that doubles: You get 6x points per dollar on dining, 4x points on travel, and 2x points on all non-rent expenses.
Here's the beauty of earning Bilt points: You can transfer them to your American Airlines account on a 1:1 basis, so 50,000 Bilt points gets you 50,000 AAdvantage miles.
Click Here to learn more about the Bilt Rewards Mastercard®
Bottom Line
Really, this is just the tip of the iceberg.
There's no need to scour the internet for the best ways to use your AAdvantage miles or search in vain for award availability. That's what Thrifty Traveler Premium+ is all about.