What's better than seeing Taylor Swift in concert? Capping off an incredible trip to Paris, London, Mexico City, or even Japan by seeing Taylor Swift in concert.
On Tuesday, Taylor finally announced her upcoming international concert dates, including shows in Mexico, South America, Europe, and even Asia and Australia. There's a total of 50 shows abroad starting this summer all the way through summer 2024. That means you've got plenty of destinations to choose from – and lots of time – to start plotting how to get there.
With tickets for the remaining U.S. shows still reselling for well over $1,000 for even the cheapest nosebleed seats, you could try to score a ticket to one of her international shows, book a cheap flight abroad … and still come out ahead! Aside from the Latin America dates, which were announced earlier this month, tickets haven't gone on sale yet for most of these tour dates. And for nearly all of the European dates, it's still early to even book flights. But start studying up on your options and you'll be ready for it.
So grab your passport (and our hand) as we break down all your best bets to catch the Eras Tour abroad.
Mexico City: Aug. 24-27
The Eras Tour international leg kicks off in Mexico City, and it might be the easiest – and cheapest – city to get to on this list.
There are plenty of cheap flights to Mexico City (MEX) if you live in a city with service from low-cost carrier Volaris. Nonstop flights from airports like Chicago-O'Hare (ORD), Dallas-Fort Worth (DFW), Houston-Intercontinental (IAH), Los Angeles (LAX), Las Vegas (LAS), Orland0 (MCO), Oakland (OAK), Sacramento (SMF), San Antonio (SAT) can be found for under $250 over those dates!


There are some solid options to fly to Mexico City using points, too – flying Delta, to boot! You can use Virgin Atlantic points to book Delta nonstop flights from Minneapolis-St. Paul (MSP), Los Angeles (LAX), Salt Lake City (SLC), and other Delta hubs for as low as 25,000 points roundtrip and about $100 in fees.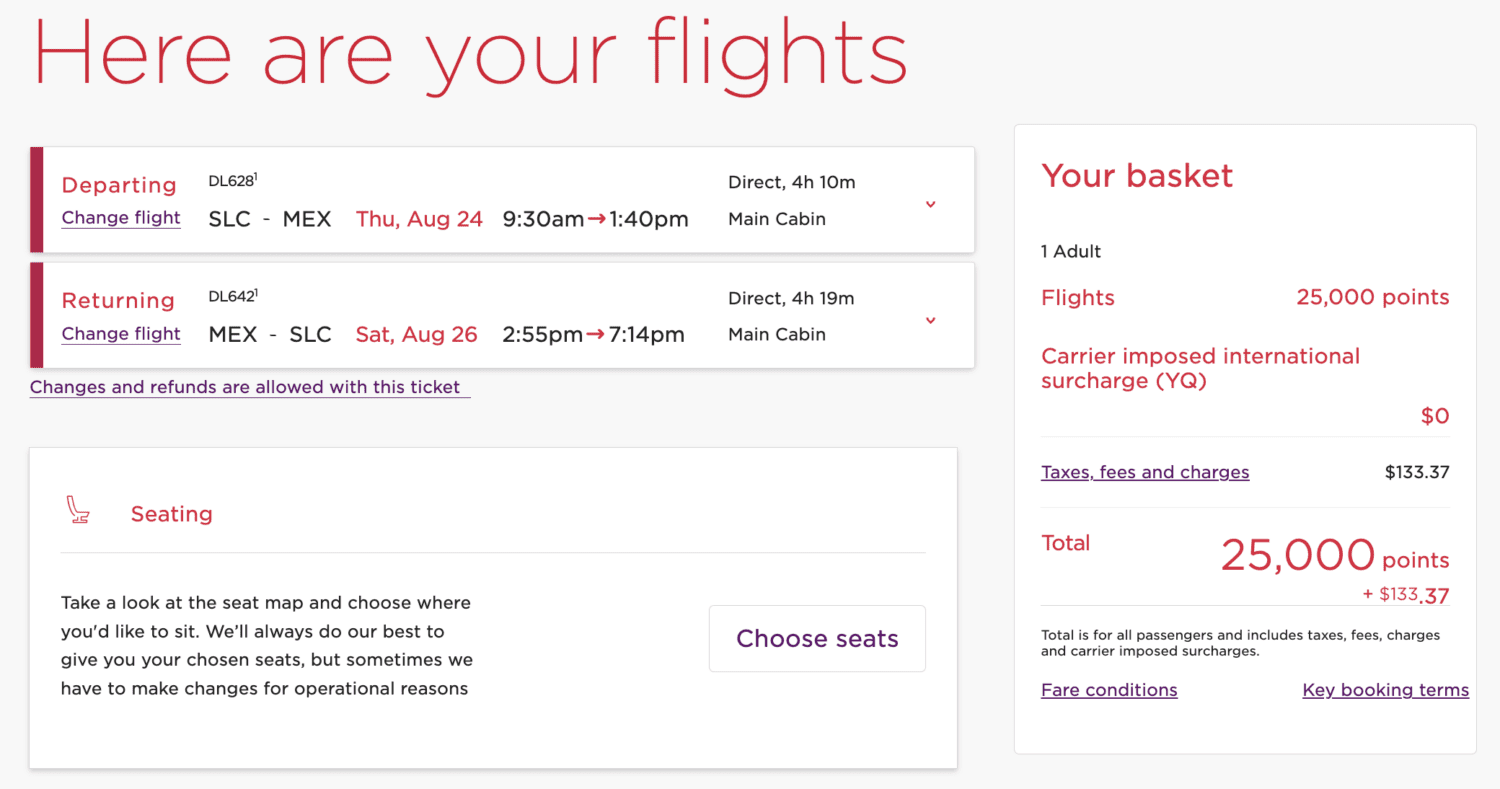 Don't worry, those points are incredibly easy to earn: You can transfer points to Virgin Atlantic from all the major banks like Chase, American Express, Capital One, Bilt Rewards, and Citi. Points from go-to travel cards including Chase Sapphire Preferred® Card, the Capital One Venture X Rewards Credit Card, or the American Express® Gold Card are all you need.
That's not your only option for getting down to Mexico City using points and miles, though. You can book Aeromexico flights using Air France/KLM Flying Blue miles for as low as 22,000 miles roundtrip and about $100 in taxes and fees.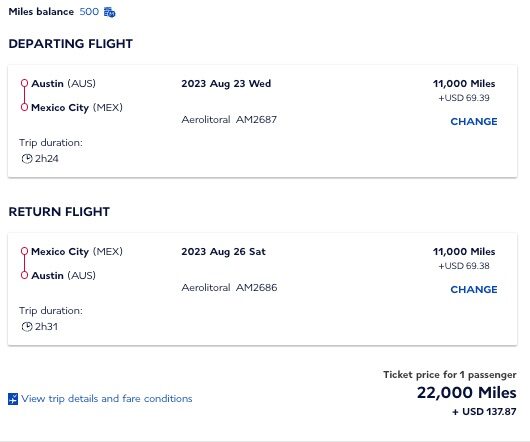 We pulled up this flight for our social media manager Lauren, who's based in Austin and might be the biggest Swiftie on our team. But that's just one among more than a dozen U.S. cities you could fly from booking this way.
Tokyo: Feb. 7-10
Japan is back open for travel and is undoubtedly one of the hottest destinations right now. Visiting Tokyo and seeing Taylor Swift perform is the ultimate bucket list trip, if you ask me.
Flights that long across the Pacific Ocean don't always come cheap, but we've been finding some great deals on airfare lately that could get you to Tokyo when the Eras Tour comes through in early February next year. You'll often find the lowest prices departing from the West Coast – particularly Los Angeles (LAX), where a dozen or more flights take off for Tokyo every day. That makes the region ripe for deals like this, which included February dates.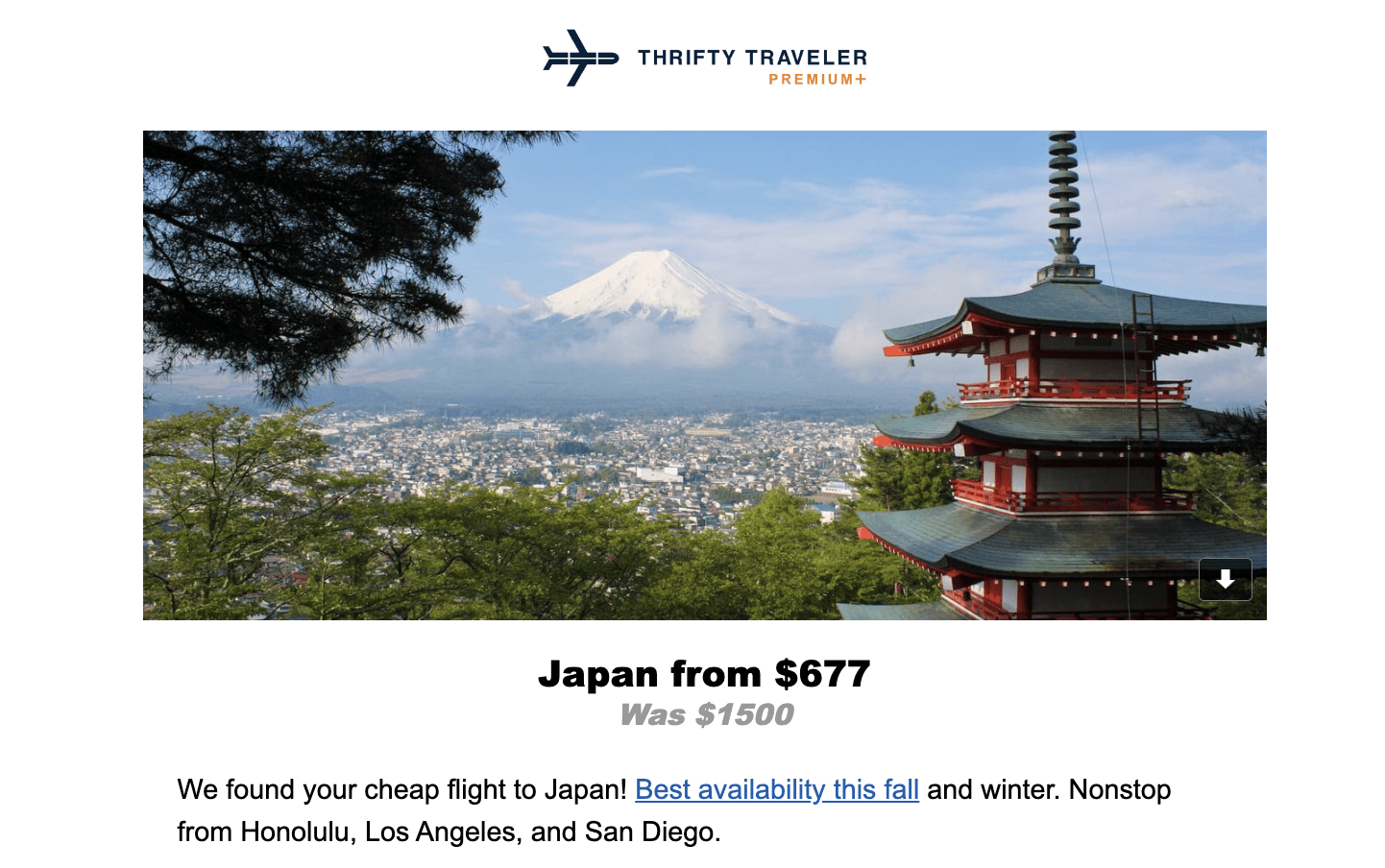 Join Thrifty Traveler Premium to be notified when we find cheap flights to Japan for anytime of the year – not just for the Eras Tour! 
Don't live on the West Coast? You may want to book a separate positioning flight within the U.S. in order to get to a gateway where there are cheaper flights to Japan. Seattle (SEA), San Francisco (SFO), Los Angeles (LAX), San Jose (SJC), and even San Diego (SAN) are some of the best bets.
Maybe you've got a stash of points and miles you've been hoarding. Now's the time to use them for Taylor: You can fly in one of the best economy seats to Japan on Japan Airlines (JAL) for just 70,000 American Airlines AAdvantage miles roundtrip. And thanks to how American prices out award flights, it can work out at that price whether you're flying nonstop from one of JAL's many U.S. outposts or if you need to add in a connecting flight from your home airport flying American before the long flight overseas.


You can book these flights with your AAdvantage miles directly on American's website. Finding one-way economy flights on JAL at 35,000 miles is usually a cinch as award space tends to be wide open: Just search on AA.com and make sure you select "redeem miles."
But if you want a little more luxury for your transpacific jaunt, look to Japan Airlines business class. American charges just 60,000 AAdvantage Miles for a one-way business class flight from the U.S. to Tokyo-Narita (NRT) or Haneda (HND). There are other options to book, but this is the most cost-effective way to get to Japan in style on JAL. Plus, American makes it easy to cancel and get your miles right back for free if plans change!
Award availability comes in waves: Sometimes you can find plenty of seats months in advance, while other times you'll only see award space to book Japan Airlines business class to Tokyo just a few weeks out.
See all of our best ways to book flights to Japan!
Paris: May 9 & 10
Seeing Taylor Swift in Paris just sounds like a dream, doesn't it? This might just be the single best option on the entire tour calendar – especially if you've got some transferrable credit card points and, like us, you live in Minneapolis-St. Paul (MSP) to take advantage of one of the best ways to fly economy to Europe.
The hitch with most of these European tour dates is that airlines typically only sell fares about 11 months in advance, so it's too early to book flights to most of the cities on the list. But not Paris.
That means you can currently book these from Minneapolis-St. Paul (MSP) to Paris-Charles de Gaulle (CDG) for just 30,000 points roundtrip, landing in time to catch one of two Taylor Swift concerts.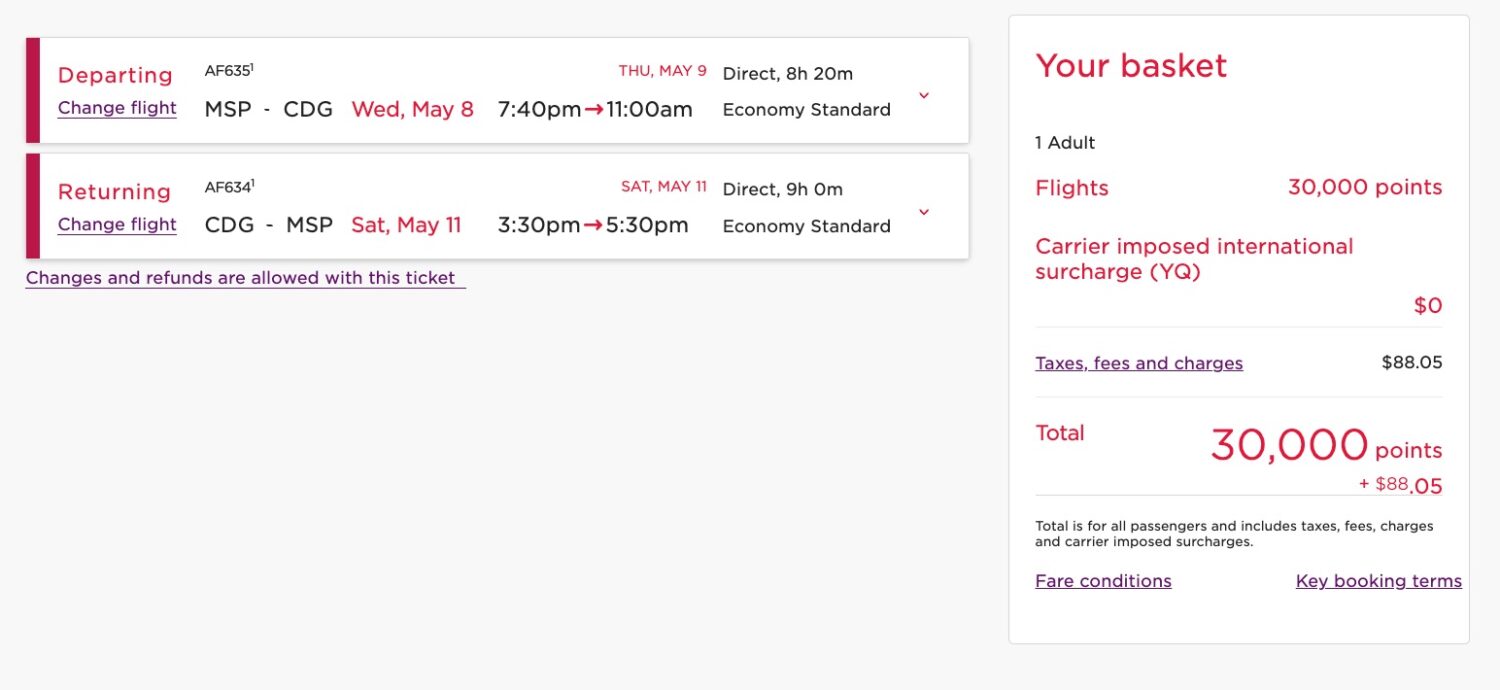 The trick here is that you're booking nonstop flights on Air France using Virgin Atlantic Flying Club points. You can transfer points to Virgin Atlantic from all the major banks like Chase, American Express, Capital One, Bilt Rewards, and Citi. That means a stash of 30,000 points on cards like the American Express® Gold Card or the Chase Sapphire Preferred® Card is all you need. Not bad for flights that typically cost $1,200 or more, right?
This is one of our favorite deals to send out to Thrifty Traveler Premium+ members when we spot decent availability booking these Air France (and KLM flights) with Virgin points. With the help of frequent transfer bonuses to Virgin Atlantic, it could get even cheaper.

Get alerts to use your points and miles – and not just to see Taylor Swift – with Thrifty Traveler Premium+!
You can also book nonstop Air France flights to Paris from several other cities – sometimes for even fewer miles. But from every other city except Minneapolis, you're on the hook for more than $350 in taxes and fees on top of all those miles.
Don't have points to use? No problem. Tons of airlines fly in and out of Paris, which means it's ripe for the occasional cheap flight. And because the Paris tour dates fall in early May, you've got much better odds of snagging a deal before the peak summer crowds (and peak summer prices…) descend on Europe later in the calendar.
Lisbon, Portugal: May 24
Lisbon is a criminally underrated city in Europe. Lucky for you, it's also one of the cheapest cities in Europe to fly into. That makes Taylor's stop in Portugal one of the top contenders if you want to catch her abroad next year.
No joke: We routinely see roundtrip fares to Lisbon (LIS) and Porto (OPO) in the north in the $400s roundtrip, and sometimes even less. You can thank TAP Air Portugal for the low fares we routinely find to the beautiful coastal nation. A cheap ticket overseas plus a (potentially) cheaper concert ticket? That's a winning combo.

Want to arrive in Portugal refreshed? You can't beat flying TAP Air Portugal business class … especially when you can do it for just 35,000 miles from New York City (JFK) to Lisbon using Avianca LifeMiles. That's the only route that works at that absurdly low price, but it's one of the best ways to book business class for the price of economy – or honestly, even less!


It's too early to book this one, but flights should be bookable within the next few weeks. In the meantime, study up on all our favorite spots in Lisbon and why Portugal deserves to be on your Swiftie shortlist.
Dublin: June 28 & 29
Much like Lisbon, Dublin (DUB) is reliably one of the cheapest spots in Europe for overseas flights.
Thanks to the nation's flag carrier Aer Lingus and competition from the big U.S. airlines as well as ultra-low-cost European carriers, Dublin is the perfect place to find a cheap flight en route to an incredible Taylor Swift show. How cheap?


Roundtrip flights to Ireland for less than you'll likely pay for the concert tickets? Yes, please. Keep in mind that you'll likely see higher prices for a trip in June, but Dublin is still one of the safest bets on this list to catch the Eras Tour overseas.
And – yet again – just like Lisbon, there's an even better way to get there: Aer Lingus business class. Finding the award availability to fly business class to Europe using your points and miles can be a real challenge – especially once summer has started, as is the case for Taylor's Dublin concerts at Aviva Stadium.
But we routinely find and send Thrifty Traveler Premium+ members alerts to fly Aer Lingus business from the U.S. to Ireland from just 60,000 points each way. Yes, even over the summer.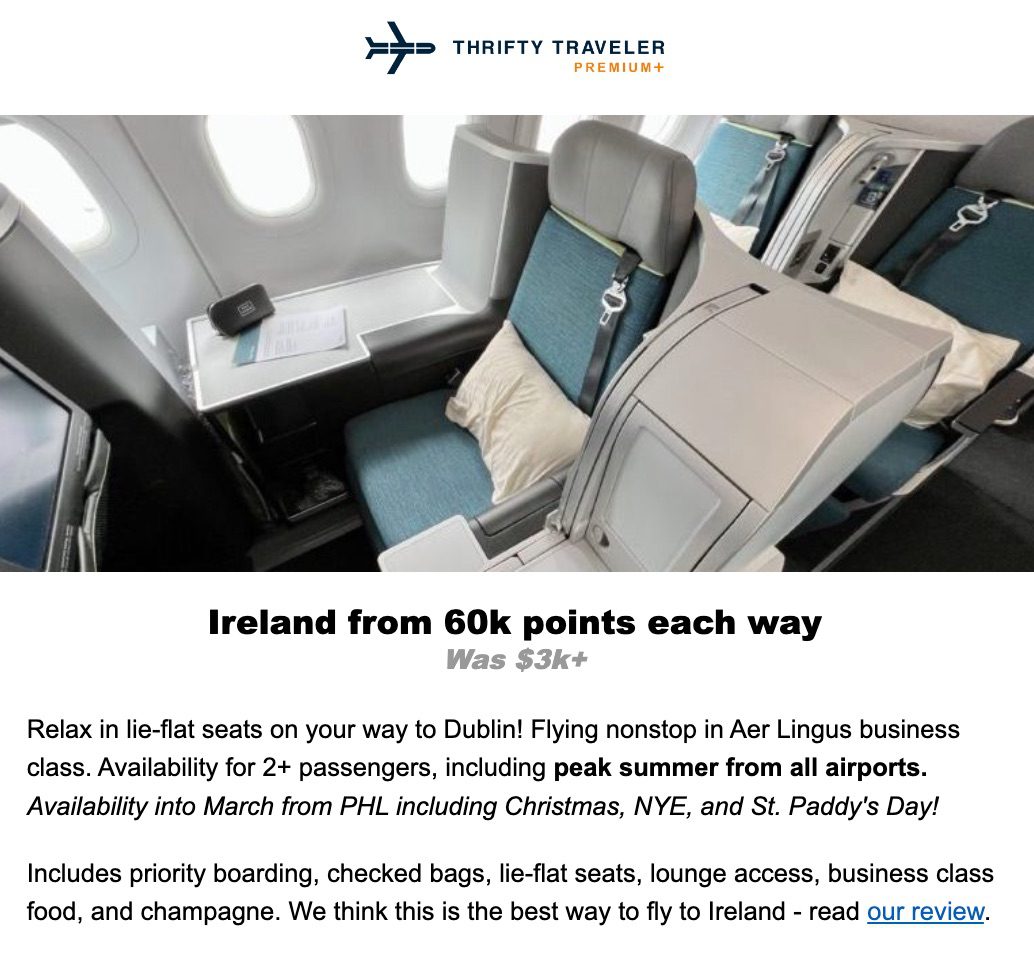 You can book those seats whether you've got Alaska Mileage Plan miles or credit card points from cards like the Chase Sapphire Preferred® Card, the Capital One Venture X Rewards Credit Card, or the American Express® Gold Card, since you can transfer those points to British Airways or Aer Lingus itself to book.
Amsterdam: July 5 & 6
Once again, Amsterdam makes our list because it features one of the best ways to get to Europe using miles.
Yet again, you could use Virgin Atlantic Flying Club points (which are incredibly easy to earn through credit card transfer partners) to book flights, this time flying the Netherlands' own KLM. Starting from Minneapolis is the best deal, but because these concert dates fall in the thick of summer, you'll need to fork over 50,000 points and about $90 in taxes and fees.
Otherwise, try to book Delta nonstops to Amsterdam from 30,000 Virgin Atlantic points each way from many hubs including Boston (BOS), New York City (JFK), Atlanta (ATL), Detroit (DTW), Salt Lake City (SLC), and several more. Booking these flights using Virgin Atlantic points is one of our favorite workarounds to save miles. It can be tough to find in the summer, but we've done it before for our Thrifty Traveler Premium+ members.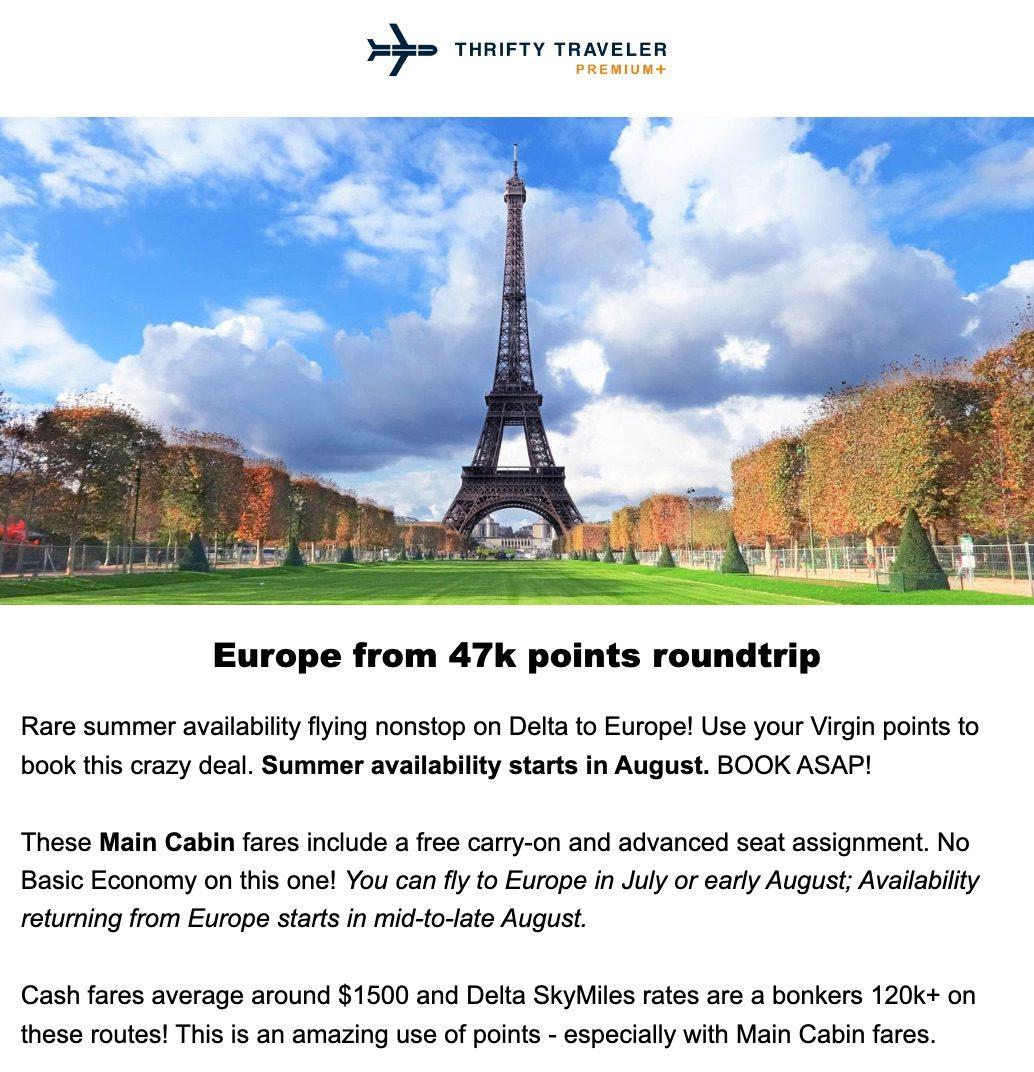 Paying cash? Fares into Amsterdam during July are rarely cheap. But with JetBlue set to commence nonstop flights to Amsterdam this summer from both New York City (JFK) and Boston (BOS), we've got our fingers crossed on some nicer fares next summer, too.
Just keep in mind: You'll need to wait until mid-to-late August in order to book these flights. Set your calendar reminders now.
London: June 21 & 22 and Aug. 16 & 17
Look, London isn't cheap. It's typically not cheap to fly there and it's generally not thrifty once you're there, either.
But you've got four dates to pick from in London alone – plus five more if you're willing to hop on the train up to either Liverpool or Edinburgh or over to Cardiff in Wales. That's nine chances to catch Taylor in concert next summer, structuring a great trip around the U.K. around it. But really, what could top seeing her at the iconic Wembley Stadium with 90,000 fellow Swifties?
Plus, while flights into London aren't our favorite for a cheap fare over to Europe, we do occasionally see fares tumble under $500 roundtrip. Starting your search from major East Coast hubs like New York City, Newark (EWR), Boston (BOS), or Washington, D.C.-Dulles (IAD) – and taking a separate positioning flight from your hometown, if necessary – is the key to coming out ahead.

It could pay to think outside of the box … and one airline will help you there: Norse Atlantic Airways. This ultra-low-cost carrier often sells roundtrip fares into London-Gatwick (LGW) for far cheaper than major carriers – think as low as $139 each way. And believe it or not, Norse Atlantic economy is a nice experience.
But there may be no better deal crossing the Atlantic Ocean than Norse Atlantic Premium, a Premium Economy seat with more legroom and better service at a fraction of the normal price.
Bottom Line
Taylor Swift is taking her record-breaking Eras Tour abroad. If you missed out on seeing her here in the U.S., this could be your best chance.
There's no guarantee concert tickets will be any cheaper for these dates. But if you can score a cheap flight to one of these cities and pair it with a Taylor Swift concert, you're looking at the trip of a lifetime.
Executive Editor Kyle Potter contributed to this story.
Lead photo courtesy of Ronald Woal via Flickr