If you have designs on a Europe trip this summer, we've got good news: Cheap flights to Europe are in steady supply … but only if you know where to look.
These days, a typical flight from the U.S. to Europe clocks in at around $800, with some peak summer fares routinely eclipsing $1,000 per ticket roundtrip. But before you hand over your credit card, know there's a better way.
We've already identified some of the best U.S. airports for cheap fares across the Atlantic. But the same holds true on the other side of the pond: Some European cities are regularly cheaper (and we mean much cheaper) to fly into. Again and again, we're finding and sending our Thrifty Traveler Premium members cheap transatlantic fares to some of the same destinations.
Planning to travel this summer? Subscribe to our free daily newsletter to get all our Summer Travel Week stories!
From the Emerald Isle to the Iberian Peninsula and all the way up to Scandinavia and back, these destinations with roundtrip fares under $500 – and sometimes even under $300 – are easily worth a visit. But even if they're not on your radar, you'd be wise to hop on one of these flights. The reason? Flights within Europe are crazy cheap, meaning you could score a cheap long-haul flight, then connect onward to your final destination and come out way ahead.
Just see how cheap these flights from Madrid (MAD) across the continent can get…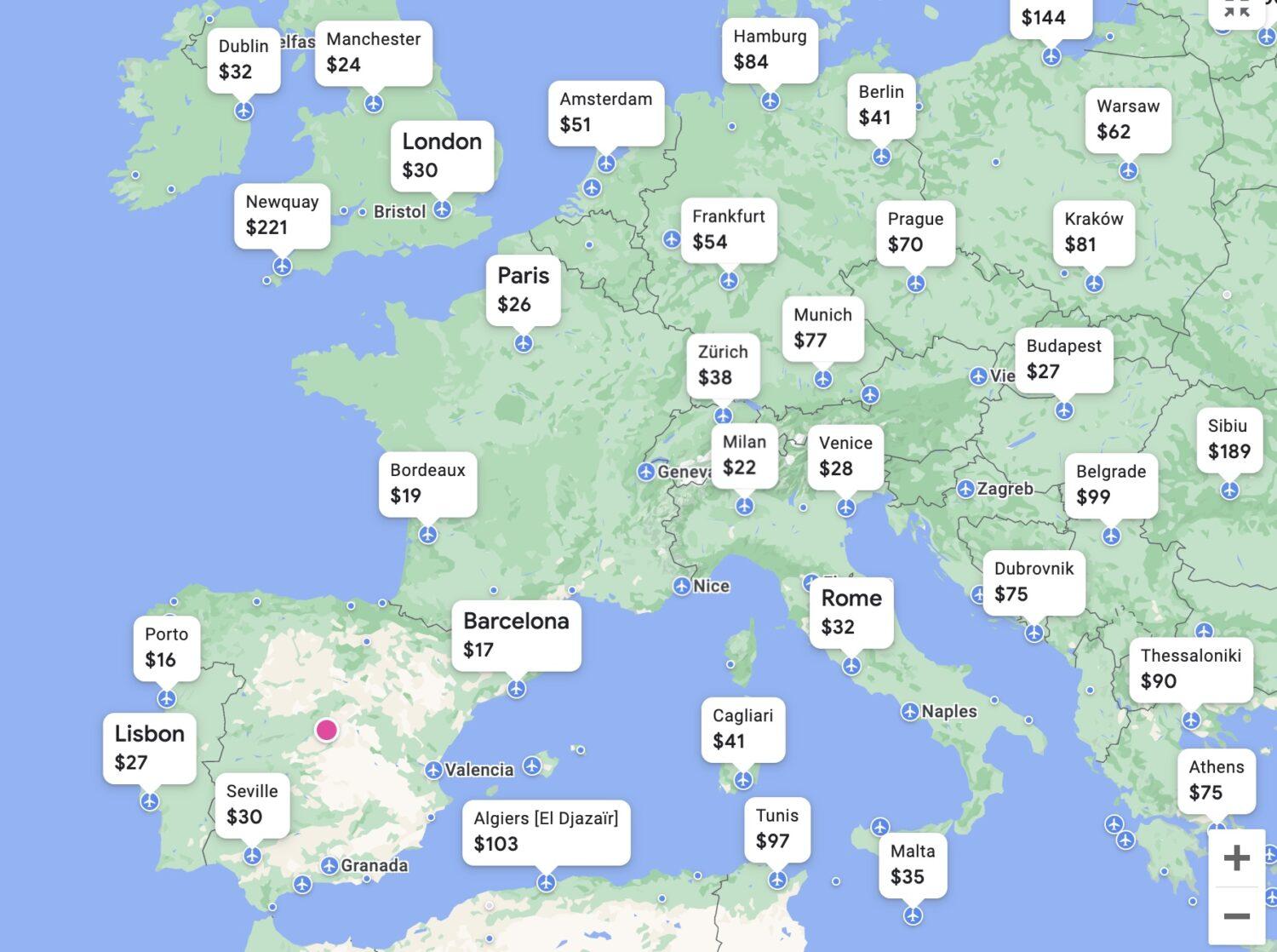 That's right! You just have to get there. After that, the continent is your oyster. So if you really want to go to Rome this year, the best way to get there isn't finding a flight from the U.S. to Rome (FCO). It will pay to look at flights to Lisbon (LIS) and Madrid (MAD), too, which could get you there for half the price.
So let's take a look at those places where the cheap flights are flowing and get started on planning your trip.
Ireland
Thanks to the nation's flag carrier Aer Lingus and competition from the big U.S. airlines as well as ultra-low-cost European carriers, Dublin (DUB) is the perfect place to find a cheap flight and start a European journey. How cheap?
This Thrifty Traveler Premium flight deal was a doozy. Dozens of U.S. cities featured Dublin fares for less than $600. Normally, these fares will run travelers closer to $700 or $750 to get over to Dublin.
If Dublin is on your list, great. Even if it isn't, you could book a cheap roundtrip fare like this, spend a few days checking it out, then head onward to Europe.
And it's not just budget carriers. Remember when we mentioned Aer Lingus? That wasn't a decoy. The Irish airline runs nonstop routes all over North America. From time to time, they put those routes on sale … big time!
Get ultra-cheap fares to Dublin and elsewhere in Europe with Thrifty Traveler Premium!
This deal proves that Ireland is a first-ballot, hall-of-famer for finding cheap flights to Europe. Aer Lingus's nonstop routes can creep up into the $600s and $700s, but they routinely run big sales like this one throughout the year.
But allow me a second to dabble in a little luxury, too.
Think about this: You book this sweet business class flight and arrive in Dublin (DUB) feeling refreshed and ready to explore Europe. Then, you jump on a quick, $50, intra-Europe flight to start your journey. Does that sound good to anyone else?
It's better than paying the $2,000-$4,000 this flight might otherwise cost you, too.
Only our Thrifty Traveler Premium+ members get these award alerts to use their points and miles!
Scandinavia
Yes, you read that right. While they might have a reputation for expensive flights (and expensive everything else), we've seen fares to the likes of Denmark, Finland, Norway, and Sweden tumble.
It's all thanks to competition from a handful of airlines like SAS, Norse Atlantic, Icelandair, and even Finnair. Lately, Norway has been especially cheap. Summer availability is a little bit trickier on the Nordic carriers, but aiming for early fall or late spring could lead to some huge savings.
This flight deal from a few months ago featured fares in the $400s from all over the U.S. to Oslo, Norway (OSL). While fares have dipped to Norway recently, you can consistently find crazy cheap flights to Helsinki (HEL), too.
Finally, Copenhagen (CPH) also benefits from some consistently cheap airfare. These fares from coast-to-coast were all below $479 roundtrip and some were even sub-$400. Plus, it included some great late August availability to scratch that summer travel itch, too!
Overall, flights to Scandinavia can routinely run travelers around $700 or $800 depending on where in North America they originate. But these airlines consistently run big sales on their routes. If you're ready to pounce, you can save big!
And thanks to budget carriers like SAS and Norwegian, connecting on to the rest of Europe from these Scandinavian countries is easy – and cheap.
Spain
If you can get to Spain for cheap, you can get almost anywhere in Europe for less. Lucky for you, cheap flights to Spain aren't hard to come by.
While this super low fare is for December travel, Madrid (MAD) is still a great airport to target for summertime flights. For a trip from Fargo (FAR) to MAD, you can normally expect to pay $800 or more, so this half-off rate was a boon for Premium subscribers in North Dakota.
Fares into Spain are regularly the cheapest you'll find across the continent. There are so many airports in the country, every airline flies there, and some crazy low fares from Iberia always lead to big sales.
A sale this widespread to Spain had our heads spinning. Visiting Spain is as cheap as ever right now, and cheap flights from Spain to elsewhere in Europe are easy to come by. Let's take a look at that map again.
Like the other cheap European hotspots, your best chance at a cheap summer fare right now is going to be in late August or early September. But if you aim for those weeks on the calendar, it's going to save you hundreds.
Portugal
Whether you fly them or not, you can thank TAP Air Portugal for the low fares we routinely find to the beautiful coastal nation.
Portugal is an incredible place to visit all on its own, but either Lisbon (LIS) or Porto (OPO) would be the perfect place to start or end a European adventure with a cheap ticket.
This flight deal to Portugal featured some insanely low fares starting at just $411, a savings of about $200-$300 from where fares tend to end up.
These prices are gone now, get the next cheap fare in your inbox with Thrifty Traveler Premium!
The same pattern of late August and early September fares applies to Portugal, too.
Honorable Mentions
Ireland, Scandinavia, and the Iberian peninsula take the cake when it comes to consistently cheap flights. But the savings don't have to stop there.
The first runner-up is Reykjavik (KEF) in Iceland. It's a major hub for cheap flights from both Europe and North America thanks to some low, low fares from Icelandair.
Plus, it's perfectly designed for stopovers, where you take a few extra days in Iceland heading either west or east before continuing on. I whipped up this perfect Iceland stopover itinerary after two long weekend visits to the island over the last few years, which should get those gears turning.
Way way further east is the city of Vienna, Austria. Vienna (VIE) was one of the only airports that kept offering cheap flights from the U.S. as fares soared elsewhere in Europe. In fact, it's been an unexpected stronghold of cheap fares over the last few months whether you're flying nonstop from New York or flying all over the country.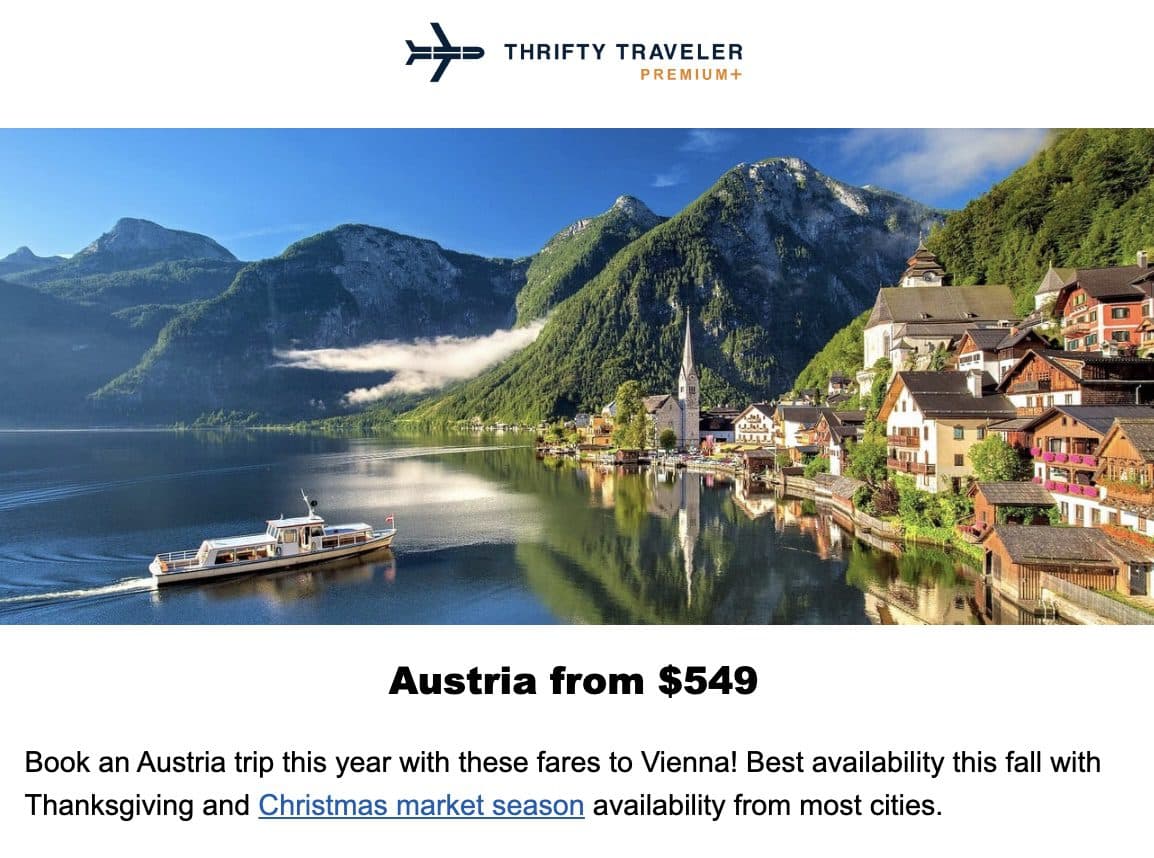 Plus, Austrian Airlines has a robust network throughout Europe that can help you connect on to the next destination with one quick flight.
Finally, we have Budapest (BUD): One of our favorite under-the-radar European cities and a spot where your dollar goes the furthest in Europe.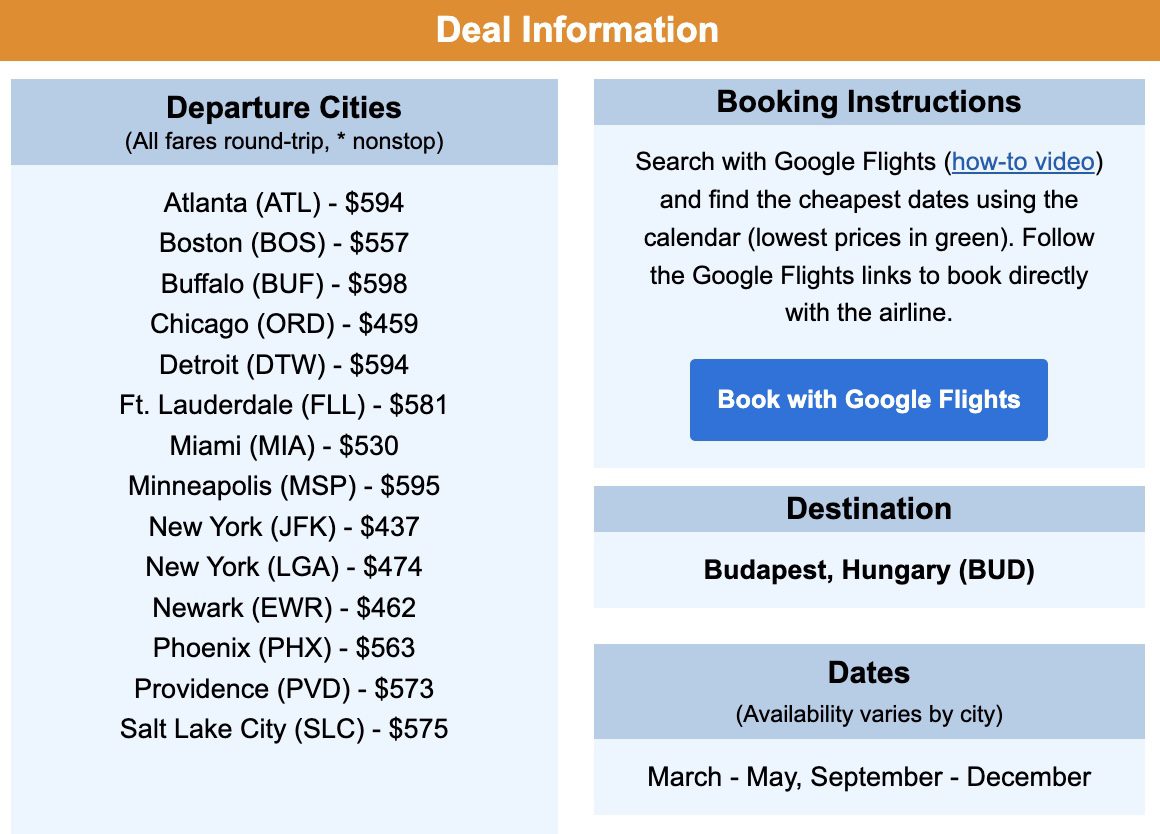 This Budapest (BUD) deal could get you to Europe for under $598.
With all of these locations, flying to hot spots like Switzerland, Italy, or Germany will probably cost you double. But if you look around at the cheapest spots and do the math on what a connecting flight would cost you, you can stand to save huge.
From any of these places, the rest of the continent is just a hop, skip, and jump away!
Bottom Line
Starting your summer trip to Europe with flights to Spain, Ireland, Portugal, and Nordic countries is a surefire way to save on airfare.
While we've seen airfare dropping across the board over to Europe, these destinations stand out as having the cheapest fares overall. Starting here, then connecting onward throughout Europe to your final destination is a sound strategy to save money on your next European excursion.