Capital One on Wednesday finally unveiled its brand new Capital One Travel portal, a travel booking platform powered by the popular app Hopper where Capital One cardholders can book flights and other expenses – using cash or points.
For years, using Capital One's Purchase Eraser has been the go-to way to use miles from cards like the Capital One Venture Rewards Credit Card – it's one of the easiest ways to redeem points for travel, period. Just book a flight, charge it to your Venture Card, then log in and wipe away the cost using your points.
After adding the ability to transfer miles directly to airlines and hotel chains a few years ago, this new Hopper-powered platform will be the newest option to redeem points or simply use cash. Their partnership was first announced back in March 2021, but it's not live yet: The new Capital One Travel portal is expected to roll out to Capital One cardholders over the coming weeks and months.
While we typically urge all travelers to stick to using Google Flights to search for airfare, Capital One has added some features to this new portal that could turn the logic of staying away from online travel agencies (OTAs) and other third-party sites on its head.
The Ins & Outs of the New Capital One Travel Portal
The COVID-19 pandemic has provided travelers across the globe with a stark reminder to avoid online travel agencies whenever possible. Sure, you might save a few bucks on a flight or hotel. But when things go wrong, dealing with a middle man when you need to change or cancel your trip can be a nightmare.
But in some ways, this new Capital One Travel portal was designed to counter the stress of the pandemic. It's got a handful of additional bells and whistles you won't see on other, similar portals that could easily convince Capital One cardholders to book their flights and other travel expenses.
The Capital One team gave us a sneak peek at the upcoming portal. When it goes live, Capital One cardholders should see it in their travel hubs of their accounts. It will be available to cardholders with the Capital One Venture, the Capital One VentureOne, Capital One Spark Miles, Capital One Spark Miles Select and Capital One Walmart Rewards cards.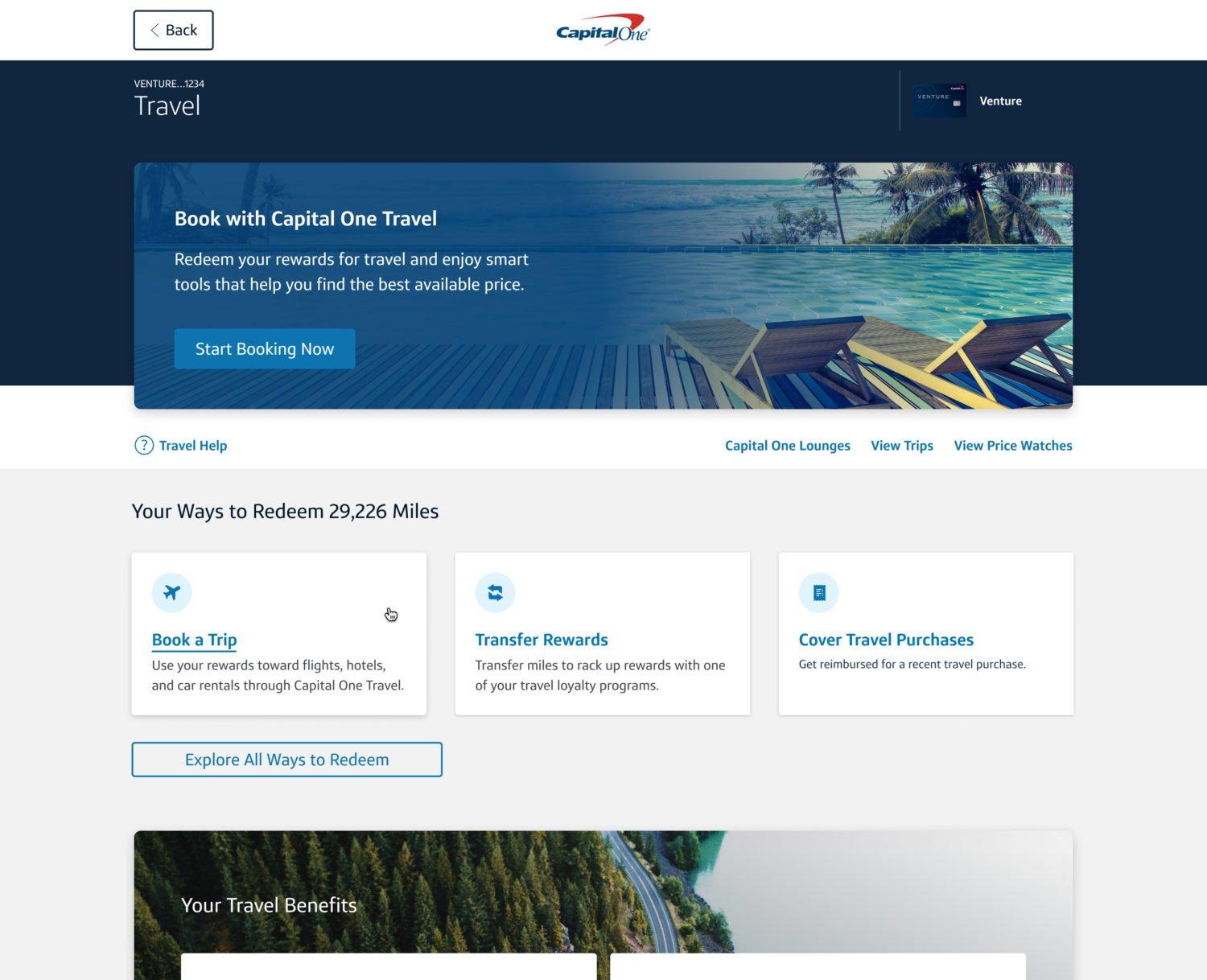 Here's a look at some of the features of the new Capital One Travel portal.
Solid (But Not Outstanding) Redemptions & Earning
If you've got Capital One Venture Miles to burn, it's all about redeeming your miles for travel. On that front, this new portal has some room for improvement.
Every Venture Mile will get you 1 cent toward a flight or other travel expenses when redeeming through Capital One Travel. That means a stash of 50,000 Venture Miles can get you $500 in flights.
That's to be expected – but it does fall short of alternatives like the Chase Sapphire Preferred Card, the Capital One Venture Card's primary competitor among travel credit cards. With the Preferred Card, you get a bonus: 1.25 cents per point when booking through the Chase travel portal. That means 50,000 points gets you $625 toward free travel.
The Capital One team hasn't ruled out giving cardholders a similar bonus down the line, but it's not in the cards for now. When booking using cash, you'll earn 2x Venture Miles on flights, just like any other purchase on a Venture Card. Plus you'll earn 5x Miles on hotels and rental cars booked through Capital One Travel.
This all begs the question: Why book through Capital One Travel when you could book directly with an airline, then cover the cost of your flights using Purchase Eraser for the exact same value.
That's where things get interesting…
Automatic Refunds if Prices Drop
Just admit it: This is pretty cool.
As a flex of Hopper's price-prediction prowess, every flight booked through Capital One Travel will get free price drop protection. If the price of a flight you booked drops within 10 days, Capital One will refund you the difference.  And it's completely automatic.
Two caveats: That only extends to flights where Capital One and Hopper predict that prices won't fall. And there's a maximum amount you can get, which varies from flight to flight.
Still, that solves a major pain point for the average traveler. "When's the best time to book flights? Is this really a good price, or could it get better?" Every traveler out there has a story about kicking themselves when prices get even better after booking.
The same is true if you booked a flight using Venture miles through the Capital One portal – you'll get some miles back. And you can even get multiple refunds if the price continually drops, for a total of up to $50 (or 5,000 Venture Miles) back in refunds to start.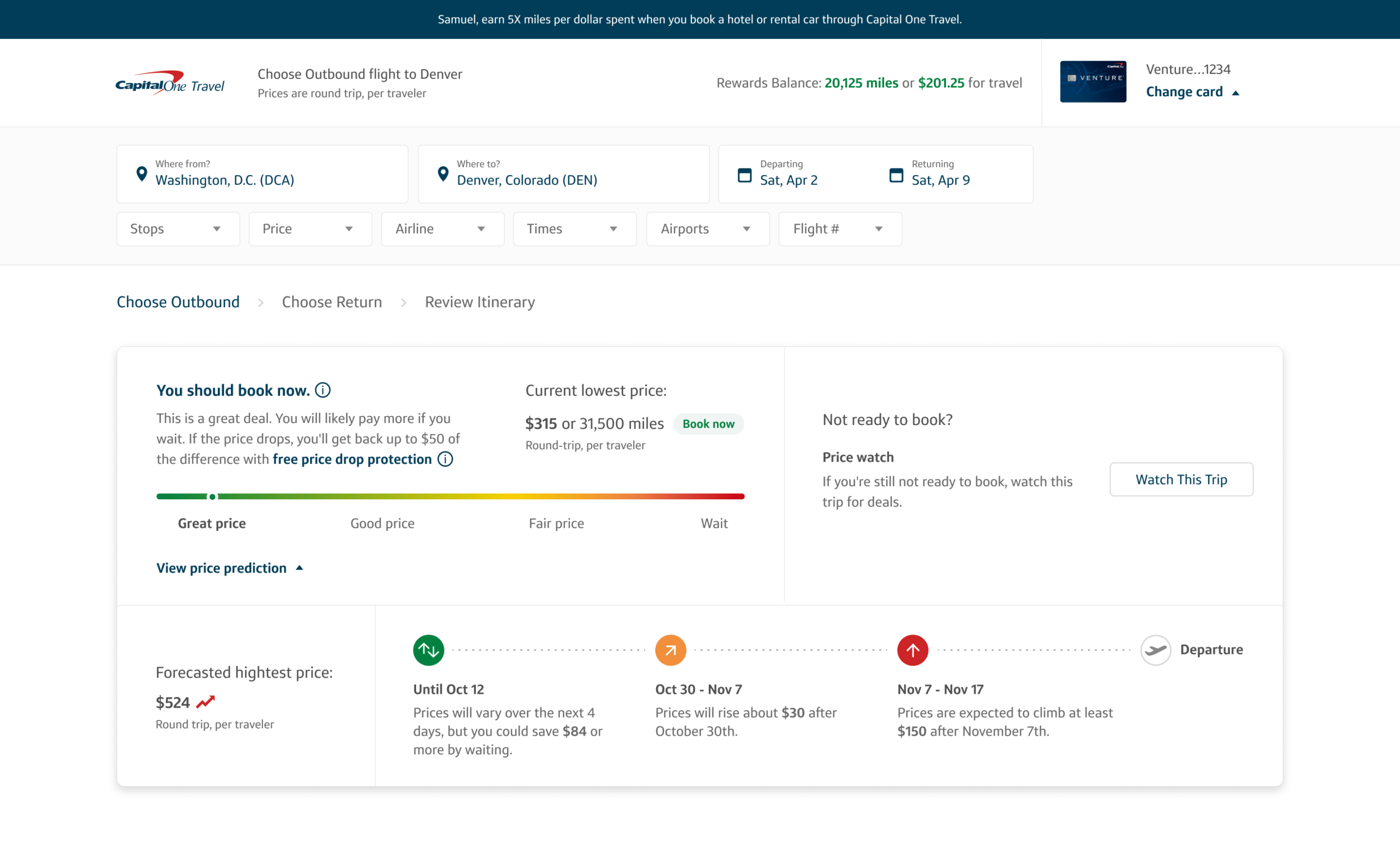 Freeze Your Flights, Too
Not ready to book yet? There's the 24-hour rule, which guarantees a 24-hour window to cancel for a full refund when booking almost any flight. Capital One Travel has its own solution.
For a small fee, Capital One users can freeze the price of a flight. If prices increase on your frozen fare, you'll pay the lower price you locked in earlier. If fares decrease, you'll obviously pay the lower one.
You can freeze a fare for up to 14 days, which is incredibly generous. And that makes this just another cool, unique option.
Price Alerts & Price Matching
It goes beyond freezing fares when you're ready to buy. Capital One Travel is taking a few pages out of Google Flights' book.
Capital One Travel will sport a price alert function similar to Google Flights Price Alerts, with the ability to monitor prices and get an email when fares increase or decrease on the flights you're eyeing. It'll also feature color-coded calendars, which should make it easy to spot the cheapest days to fly.
Capital One is also offering a price-match guarantee. If you find a better price on your flights, hotel, or rental car within 24 hours of booking, you can submit a request with some details and get refunded the difference.
Built-In Cancel for Any Reason Add-Ons
Travel insurance is not created equally. That $10 or $20 travel insurance policy airlines upsell you before checking out may not do you much good.
The rise of COVID-19 has also given rise to the "cancel for any reason" policy, a safety valve that – you guessed it – allows you to cancel a trip for any reason. Typically, you'll get just 75% or so of your costs back.
That's why Capital One has built in a cancel for any reason option to travel bookings through Capital One Travel. For what the company described as "a small fee," you can cancel a trip and get 80% of your expenses back. And you can cancel up to 24 hours before departure.
Capital One did not respond to specific questions about the cost of this add-on policy. Expect the cost to vary depending on what you're booking.
An Emphasis on Customer Service
Let's address the elephant in the room. A great website with unique features is only good until things go wrong and you need help.
When the pandemic first struck last year, customer service at even major online travel agencies like Hopper was atrocious. Changing flights, getting trips canceled, and tracking down refunds was a massive headache that led thousands of travelers to swear off using third-party sites ever again.
Capital One clearly knows that pain. Their team told Thrifty Traveler they've put a major emphasis on customer service, building out digital tools so that most requests can be handled easily online while also beefing up Capital One Travel agent support teams to work the phones when things need a human touch.
Only time will tell whether Capital One Travel can live up to that goal of easy service. But it's clear it's on their radar, and that's a start.
Bottom Line
We'll admit it: When Capital One first started touting its new and improved travel portal, we were skeptical. After the nightmare that was 2020, building out a travel portal seemed like the wrong way to go.
But Capital One has addressed many of the pain points of booking travel through a platform like this while also adding some unique features that could – and perhaps even should – sway Venture cardholders and others to give the new Capital One Travel portal a hard look.
Watch for this to roll out in the coming weeks!