With one visit, you'll fall in love with Lisbon.
The capital of Portugal is a massive, hilly city that feels much cozier than any major urban hub of its size. It's full of old-world charm, thanks to cobbled streets and aging architecture.
It has everything you want out of a trip to Europe: great food, history, and rich culture – all at a fraction of the price of the rest of Europe. You'll be amazed at how far you can get and how much you can eat for next to nothing in Lisbon.
Yet the city is often overlooked as travelers flock to England, France, Amsterdam, or Italy.
You need to change that.
How to Get into Lisbon
If you've flown into the Lisbon (LIS) airport, you've got some options. Like all of Portugal, Uber and taxis are fairly cheap.
But Lisbon has a large and easy-to-use subway system – it's among my favorites in Europe. And while other cities like Madrid charge extra to get from the airport into town, it's dirt cheap in Lisbon – just 1.5 euro ($1.70 USD) for any ride within Lisbon. Getting from the airport to your accommodations is the perfect way to start learning the public transit system so you can use it throughout your stay.
Grab a multi-use Viva Viagem card for just .50 euro each and load it up using cash or credit. Unfortunately, these cards can't be shared, so you and your companion will have to each grab your own.
The ride from the airport to your hotel or Airbnb should take one transfer at most and roughly 30 minutes or less.
Prepare to Walk … A Lot
Bring your tennis shoes. Some cities are best explored by bus, car, or Uber, but Lisbon simply must be seen on foot.
There's no better way to soak in Lisbon's beauty than to walk, and walk, and walk. Turn down any narrow alleyway. Climb the hills. Look up everywhere you go, admiring the beautiful buildings that line every street.
In just a few hours (or maybe minutes), you'll be disarmed by Lisbon's unassuming beauty. The seemingly ancient streets and pastel-washed and tile-laden architecture are simple and unpretentious. Other cities have their major sites and classic architecture. But Lisbon has beauty around every corner.
Head for the hills of the Baixa-Chiado neighborhood, where you can ride a funicular up the steep slope or hike it yourself. Along with Bairro Alto, Alfama, and Rossio, it's the perfect spot to stay for a few nights or more.
Let's Talk About the Sidewalks
While you should definitely be looking up at block after block of impossibly cute architecture, don't forget to look down every once in a while. The sidewalks in Lisbon are intricate and ornate.
The detail on seemingly every street is impeccable. Block after block.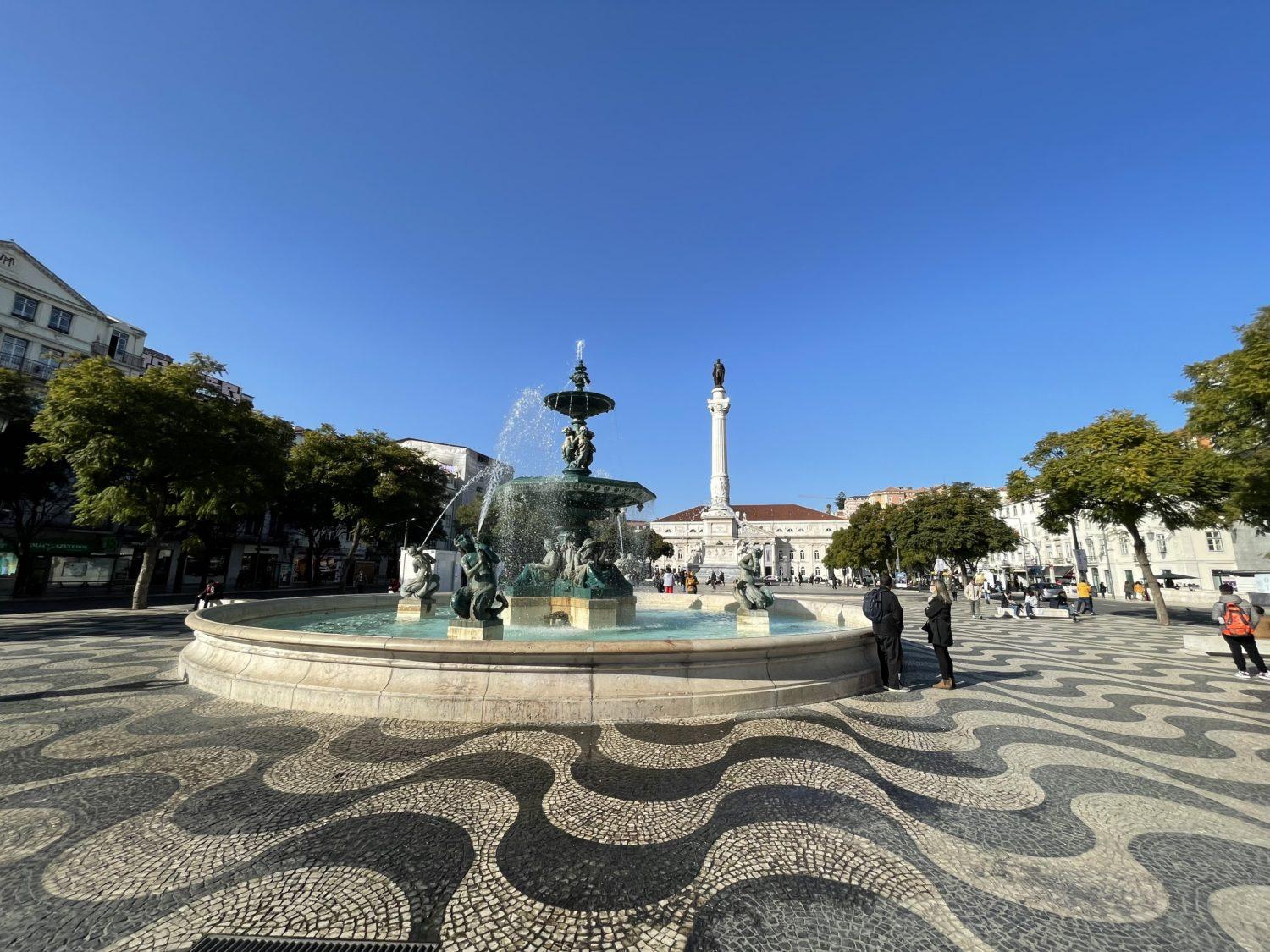 The sidewalk art stopped me in my tracks multiple times as I strolled through Lisbon. I've never seen anything like it.
When your feet ache, hop on the subway and make your way back for a nap. Or go for a different mode of transportation for the perfect tour through Lisbon.
Hop on Tram 28
Make your way through Lisbon's hills, neighborhoods, viewpoints, and vistas on board Tram 28. 
This tram is a Lisbon icon, and its age shows – but that's just part of its character. It travels creakily all the way from eastern Lisbon at the Martim Moniz station, winding up hilltops, passing by churches and train stations all the way west to the Campo Ourique stop on the west edge of town.
The entire ride takes about an hour, and it's well worth the time for a pass-through of many of Lisbon's nooks and crannies that you couldn't hope to cover by foot. A one-way ride is 3 euro ($3.40 USD), but it's roughly half that cost if you use your Viva Viagem card.
A note of warning: This tram is popular. Get there at 10 a.m. or earlier if you can to avoid the long line for boarding. Luckily, trams tend to come in pairs or trios, so even a seemingly daunting line can move fast.
Lisbon By Boat
Located along the Tagus River, Lisbon is ripe for aquatic exploration. I took two different boat rides to see Lisbon from new angles during my time there.
The first was a quick ferry ride across the river to Cacilhas, which is where Lisbon's version of the San Francisco-esque Golden Gate Bridge connects to and where its Rio de Janeiro-esque Christ the King statue lives.
The ferry ride from Cais do Sodre in downtown Lisbon takes just 10 minutes and costs about $4 roundtrip.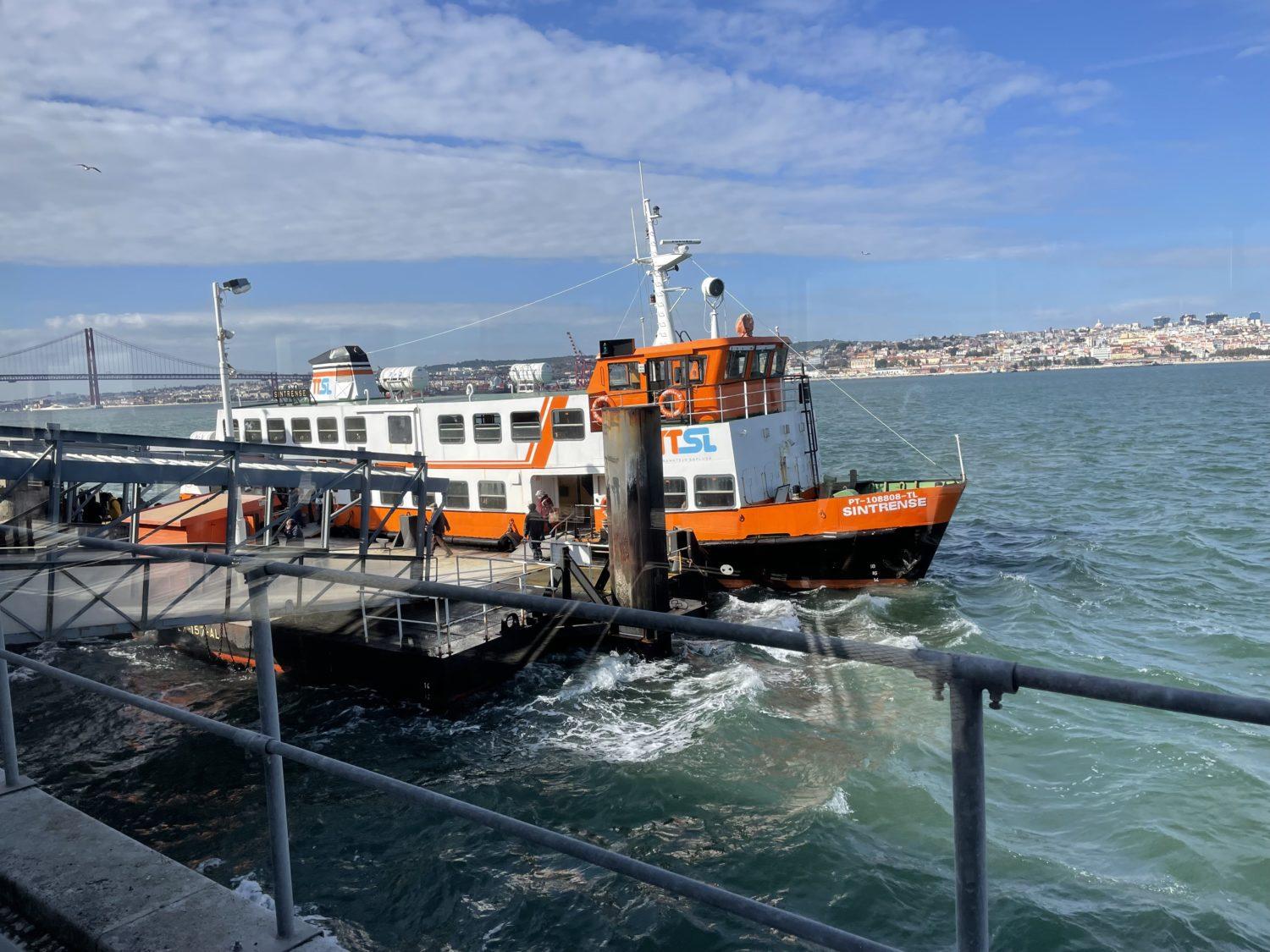 The ferry itself is not much to look at. It's more of a commuter boat than a sightseeing boat. Still, it offered some fun views of the river and back at the city of Lisbon, too.
When I arrived in Cacilhas, I disembarked and walked along the riverfront toward my lunch spot. It seemed like I was going nowhere until I stumbled upon Ponto Final, a beautiful waterfront restaurant famous for its bright yellow decor and fence-less proximity to the river itself (shoutout to the Lisbon episode of Somebody Feed Phil on Netflix for directing me to this gem).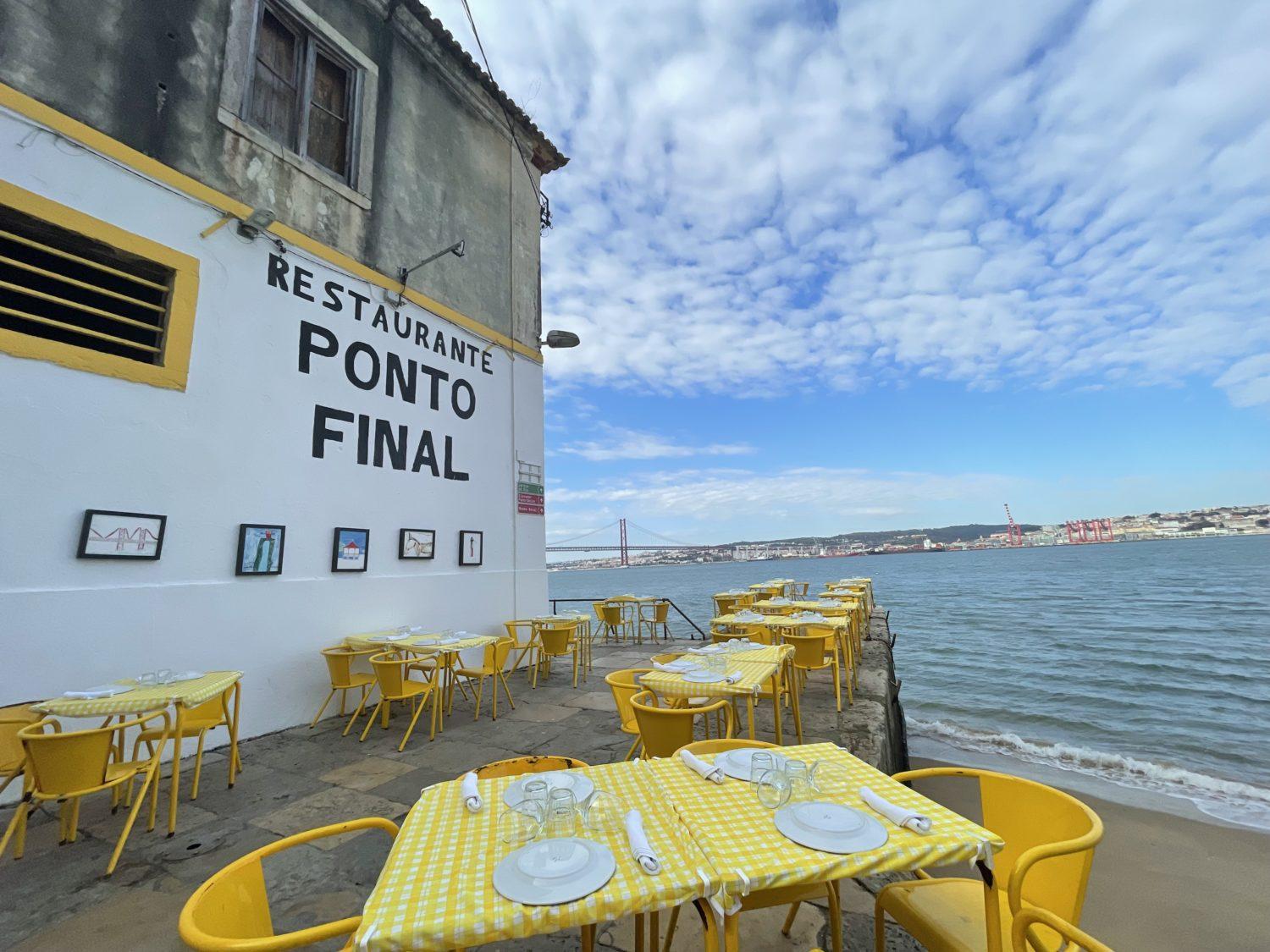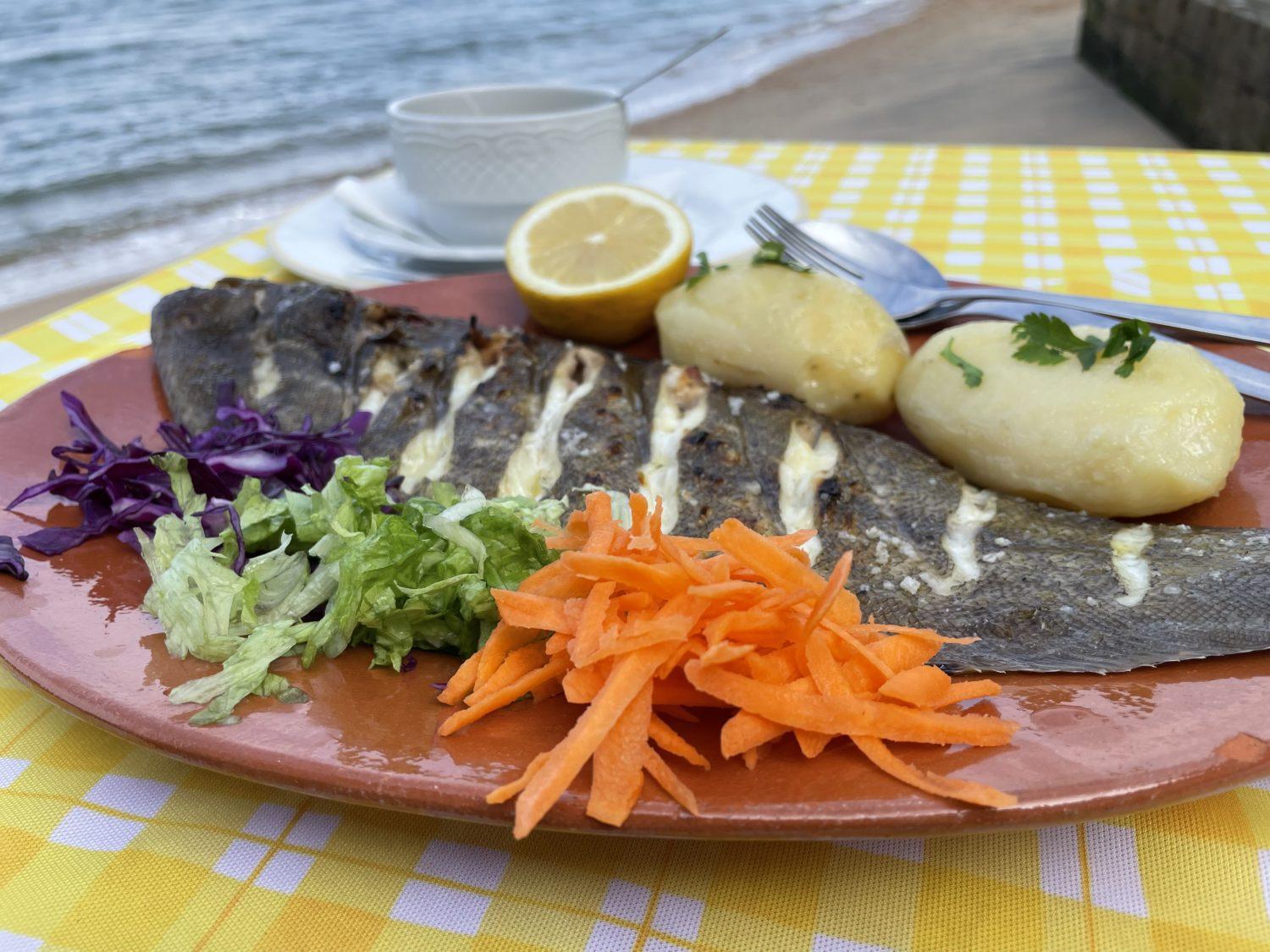 After my meal, I meandered back to the boat, crossed back over to Lisbon, and prepared to take yet another aquatic adventure.
This one was a sunset sightseeing cruise of the Tagus River.
I booked this tour through Viator as well. It was a slow, sunset ride west down the river and back into downtown Lisbon. It included some snacks and a carafe of wine all for $33. You should be able to book tours through Airbnb Experiences as well.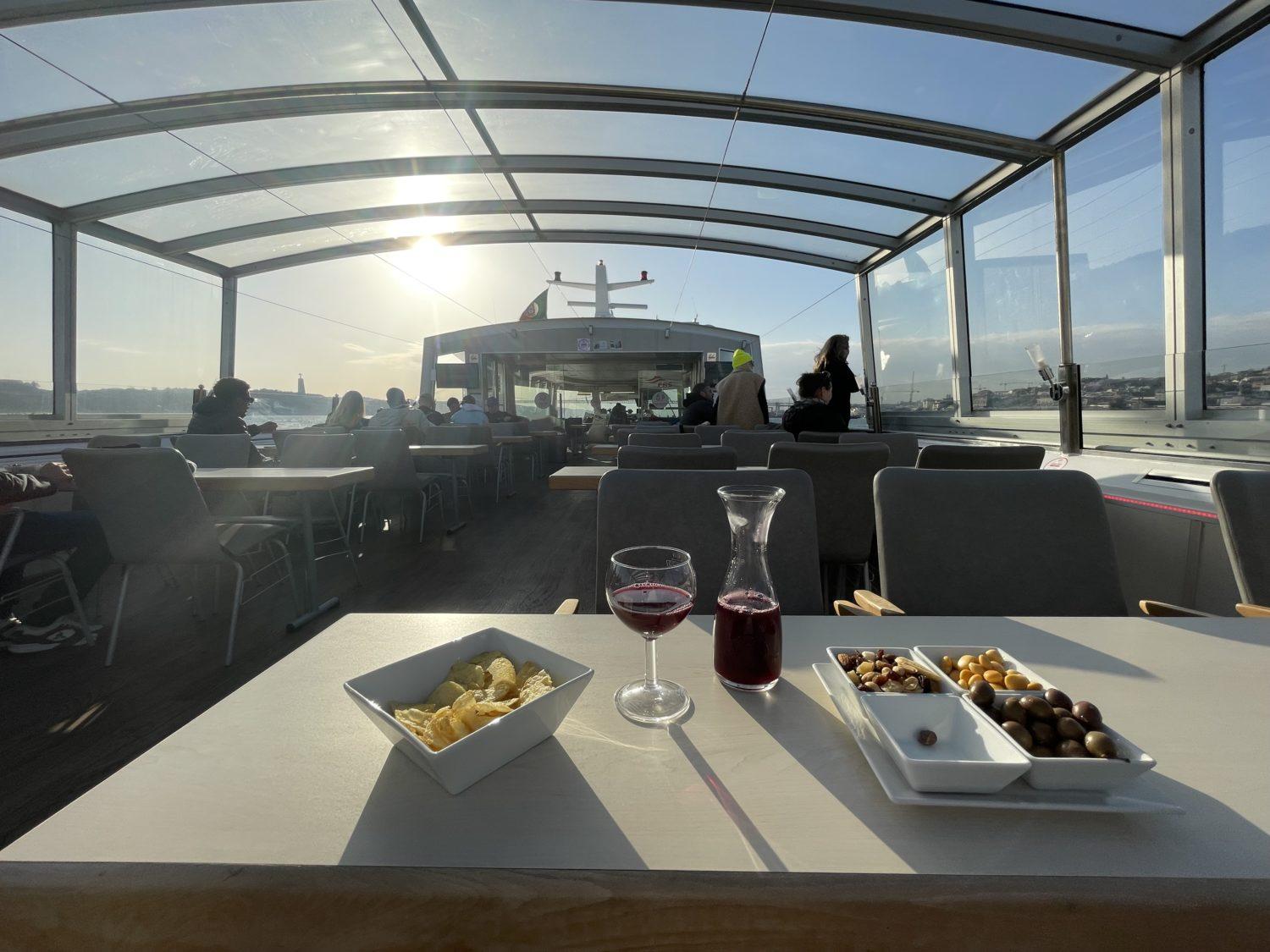 The trip was two hours long and took us underneath the historic bridge and by the Jesus statue.
The last sight on the western end of the tour was the Tower of Belém, a medieval landmark and the longest surviving structure of Lisbon.
Honestly, the river cruise was a little underwhelming. There was no guided tour, but rather a slideshow playing on monitors for offering a few tidbits of information. If I had to do it over, I would have booked one of the numerous private sunset river cruises you can find on Airbnb experiences, Viator, Trip Advisor, and many more.
Food + Cheap = Heaven in Lisbon
Forget restaurants. You want tascas.
That's the name for the cozy, 20-seat local joints you'll find spread across Lisbon. And in the neighborhoods of Lisbon, you can't walk more than a few steps without finding another tasca that's more delicious than the last.
Os Bons Malandros, a block away from one of the best Airbnb's I've ever stayed in, was chic, small, and tremendous. Get the grilled octopus with potatoes, a classic Portuguese dish.
Don't miss Fumeiro de Santa Catarina, a dimly lit and low-key neighborhood tasca on the edge of Chiado. Everything here, from the weekly spare ribs special to the scallops and even the starters, goes through the smoker. It was a highlight of our four days in Lisbon.
But this is Lisbon – you're on the sea, and you want more seafood. Head down to the waterfront around the Alfama neighborhood and find any spot that tickles your fancy for a lunch special. At any spot you choose, you can typically get a set lunch menu with a starter, main fish course, dessert, and a glass of wine for less than 10 euro.
Thrifty Tip: Dining is already cheap in Lisbon, but make it even cheaper by using The Fork, our favorite dining app in Europe. 
Looking for something hip yet still cheap? Go to Time Out Market, the first-of-its-kind of these trendy markets in an old warehouse not far from the waterfront. Here you'll find dozens of food vendors, from Portuguese classics to sushi to gelato to burgers.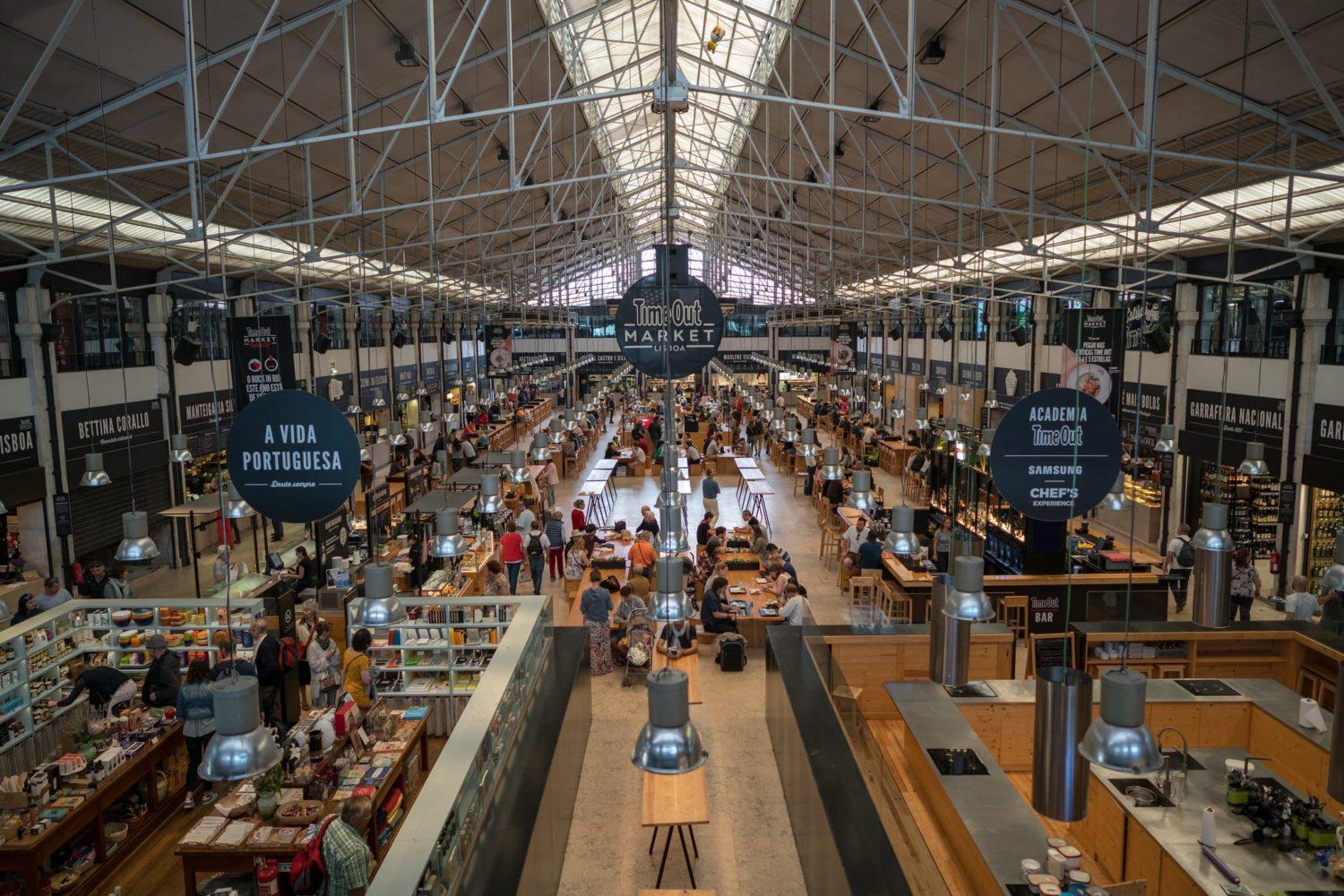 Pasteis de Nata
It's been months since I last had one and my mouth still waters every time I think of pasteis de nata, an egg custard tart that's almost synonymous with Lisbon.
You can find them everywhere, and don't hesitate to try them all. But I promise you won't find any better than at Manteigaria, a small chain of shops that cranks out nothing but pasteis de nata and coffee. Head there at breakfast to start your day. Stop in after lunch for an espresso and sweet pick-me-up. Get one before bed. You get the picture – they're that good.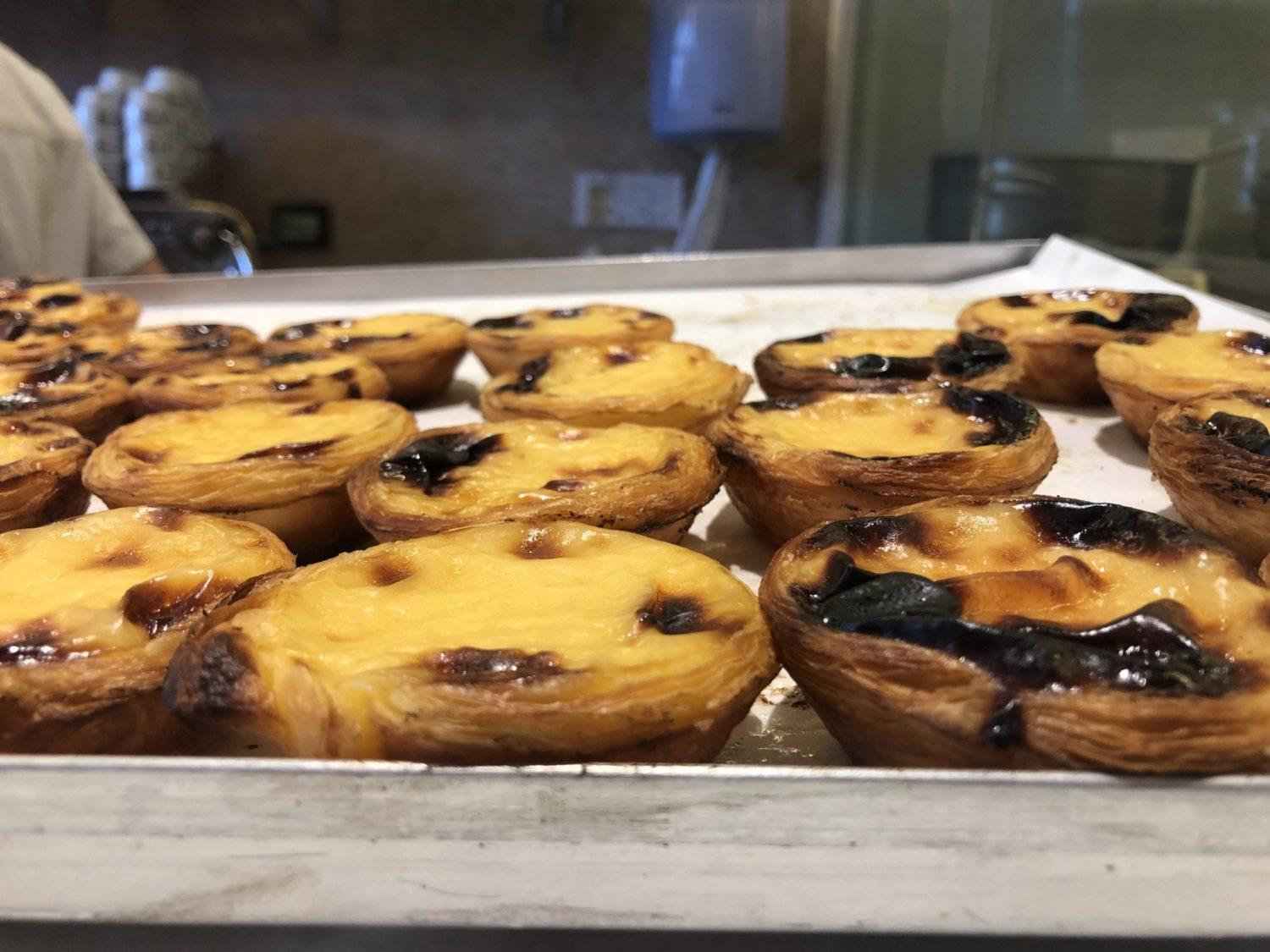 And the best part? These flaky, creamy treats are typically just 1 euro each. So you can afford a few (or a few dozen).
A Day Trip to Sintra
If you need a quick escape from the hustle and bustle of Lisbon city life, we don't blame you. Sintra is perfect.
Just northwest of Lisbon, this tiny town packs a huge punch for tourists and sightseers. Whether you knew it or not, you've likely seen Sintra and its iconic castles built into the hills.
Sintra was once (and in some ways, still remains) a playground for the Portuguese kingdom – the oldest and once largest in Europe. Today, the entire town is a UNESCO World Heritage site.
There's the unforgettable Palacio de Pena, a fairytale castle that looks like the dream from a child deadset on using the entire box of crayons.
Or check out the stunning Monserrate Palace, a summer retreat for Portuguese kings and queens with some serious Arabian flair.
And many more castles like the Sintra National Palace, Quinta da Regaleira, Castelo dos Mouros, and more. Sintra feels like more than a place – it's a place in time.
Thrifty Tip: Want to hop around to several castles? Unless you're up for a serious hike, call an Uber to drive between the stops. It's far less expensive than the scheduled tour buses (which often have long lines).
Luckily, you don't need a time machine to get there. Just hop on the subway line from Rossio station in the heart of Lisbon for the 40-minute ride. It will cost just 5 euro ($5.60 USD) round trip.
A Half-Day Trip to Cascais
From downtown Lisbon, board a train at the Cais do Sodre station and make the 30-minute journey west along the banks of the Tagus River to the beautiful beach town of Cascais.
Roundtrip tickets from Lisbon to Cascais start at $5 and can be purchased at the station. Otherwise, purchase the ~$6 day fare and beach hop your way to and from Cascais, stopping at the numerous beaches that line the river.
Historic Cascais has transitioned over the years from a traditional fishing town to the lavish home to Portuguese royalty, to a buzzy, beachy resort locale.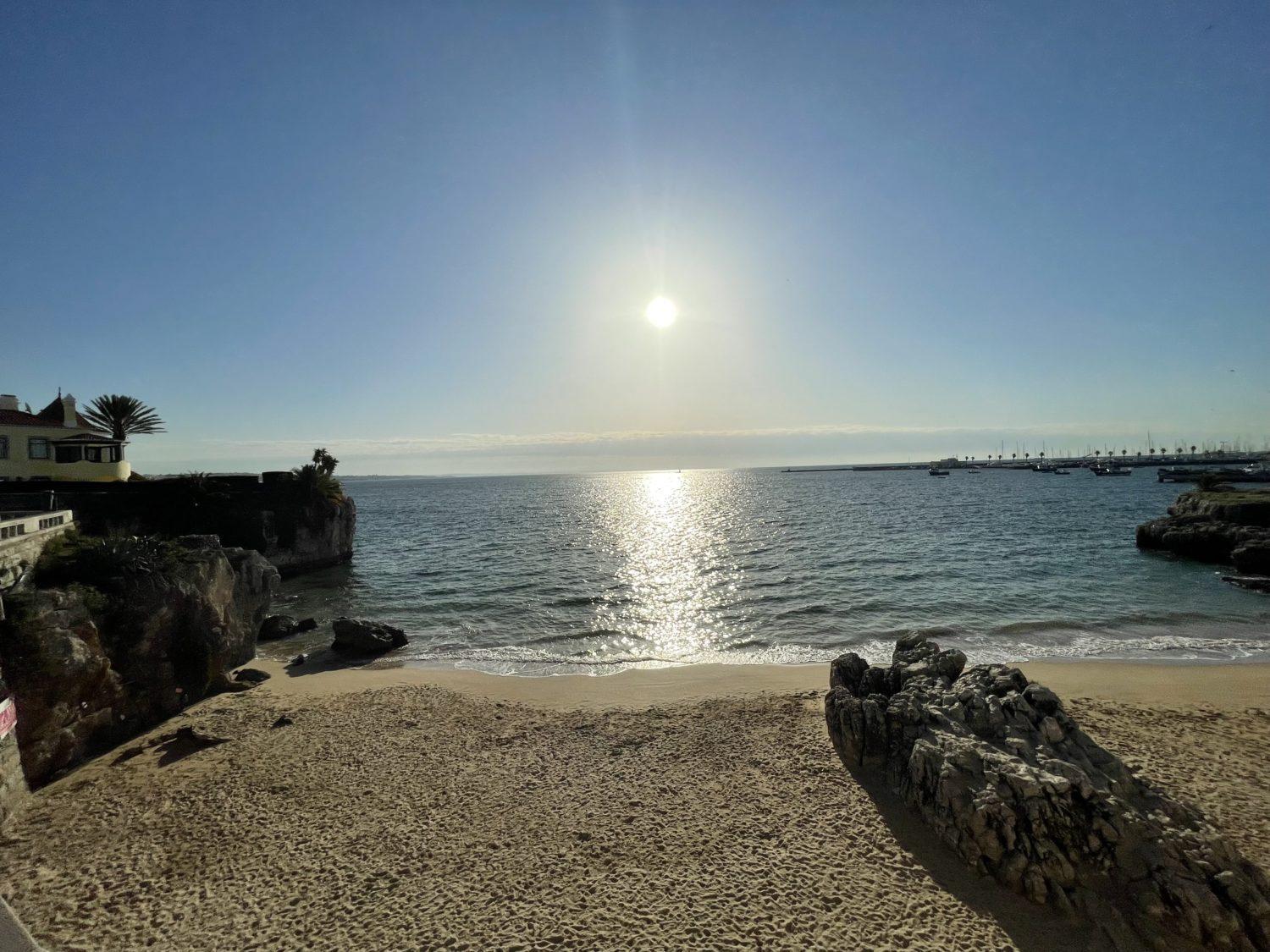 Just steps from the train station are a few popular beaches and tons of restaurants, bars, and shops in a charming little downtown. Cascais also dabbles in the beautiful sidewalk game!
From downtown Cascais, walk along the riverfront and keep heading west. You'll pass the Palácio da Cidadela de Cascais and the Cidadela de Cascais, the royal palace and citadel around which Cascais is centered.
Keep going and you'll pass by the Forte de Santa Marta, a beautiful landmark and fort on the point of the Portuguese Riviera.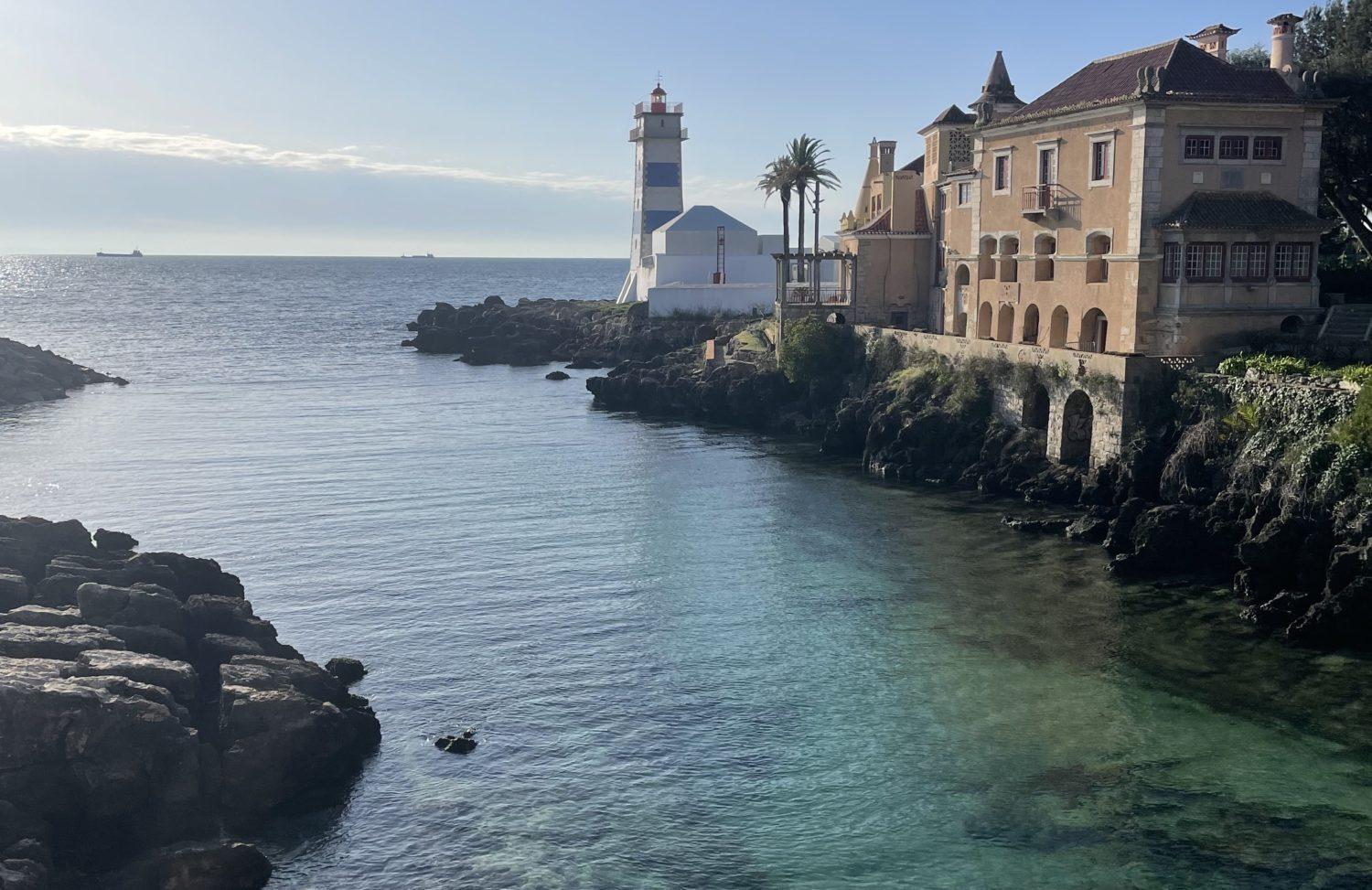 From there, the landscape starkly changes from quiet beaches into a dramatic, rocky seaside. Stroll along the boardwalk or walk into the rocks themselves to get a closer look at where the Tagus River becomes the Atlantic Ocean.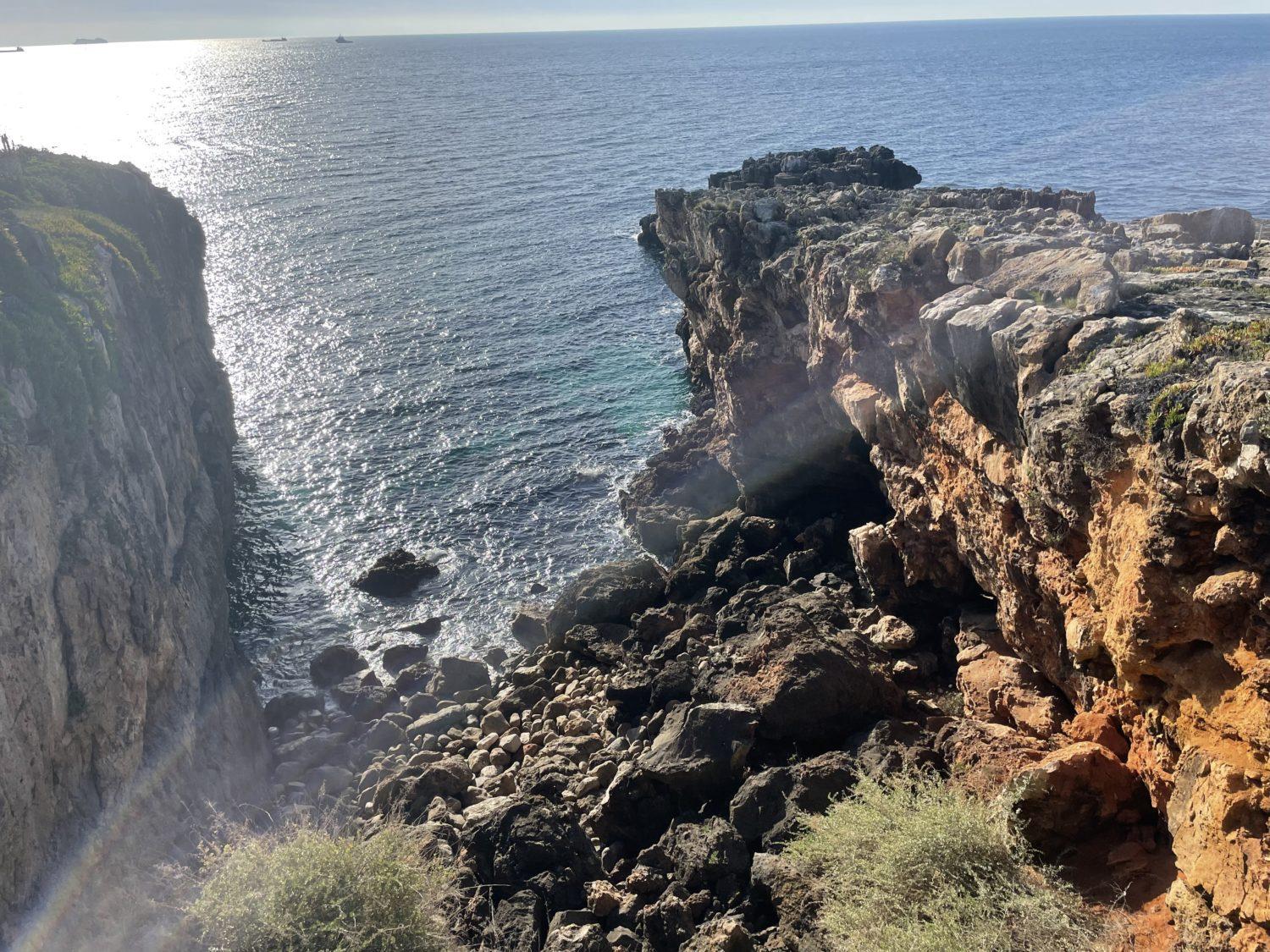 About a mile-and-a-half from the train station is the Boca do Inferno (translates to English as the "Mouth of Hell"). This beautiful rock formation isn't as scary as its name suggests. Instead, it's a cool, natural rock archway leading out into the Atlantic Ocean.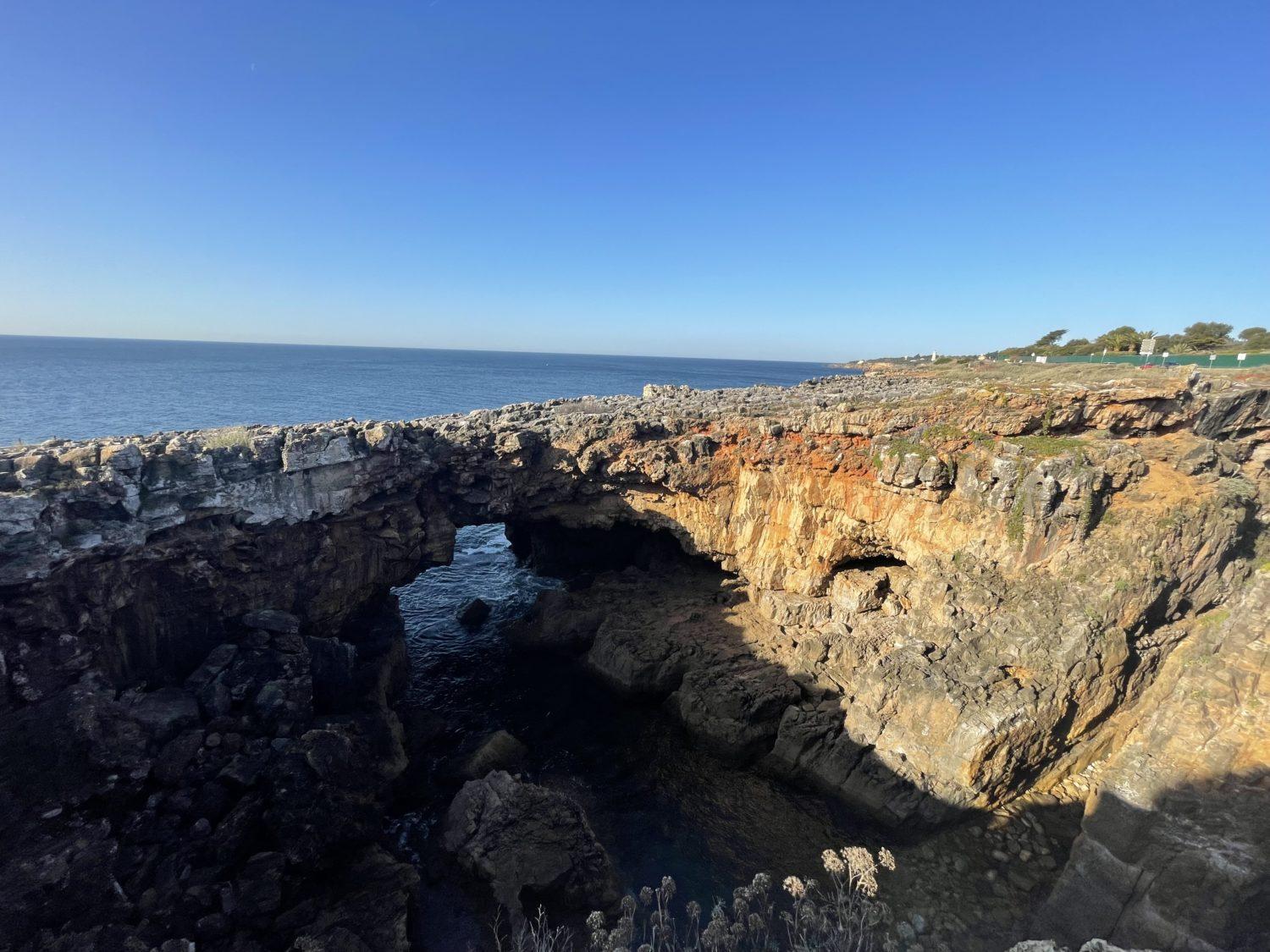 Further along the coastline are more beautiful rock formations, some lighthouses, and some great seaside eateries that would make for a fantastic day.
If I had to do it over again, I'd rent a bicycle from downtown Cascais and make a day of riding the Atlantic coast of Portugal.
My leisurely, nearly 3-mile out-and-back walk I did from downtown Cascais to Boca do Inferno was a perfect half-day excursion, though.
Tour Lisbon's Soccer Obsession: Benfica
I would argue one of the best ways to get to know another culture is through sports. It's something that both unites and divides. It takes cities to the highest highs, and what feels like the lowest lows.
It can also bring grown men to tears, which is what I witnessed during a stadium tour at Benfica in Lisbon during my trip.
From downtown Lisbon, take the subway about 15 minutes up to the Alto dos Moinhos stop and walk under the bridge to the stadium. I booked an evening tour of Benfica's Estádio do Sport just about an hour before the team played a Portuguese Cup match about 40 miles away.
The tour was $22 when booked through Viator, and included access to the team's museum.
I started in the museum, where I took a self walking tour through all of the exhibits. It was as much a retelling of all of Portugal's history through a soccer lens as it was a tribute to one team. They were not, however, shy about Benfica's achievements.
This four-story, transparent trophy case was literally not enough to house all of the team's trophies but made for quite the spectacle. The museum tour also included a very cool immersive tribute to its fans where you ride up and down an elevator inside a room where screens wrap all the way around the viewer.
After my walk through the museum, I walked over the stadium tour entrance. I waited about five minutes and began the tour. With me were three different father-son combinations for whom this was a truly spiritual experience. There were many tears.
My tour guide provided the tour in both Portuguese and English even though I was the only English speaker.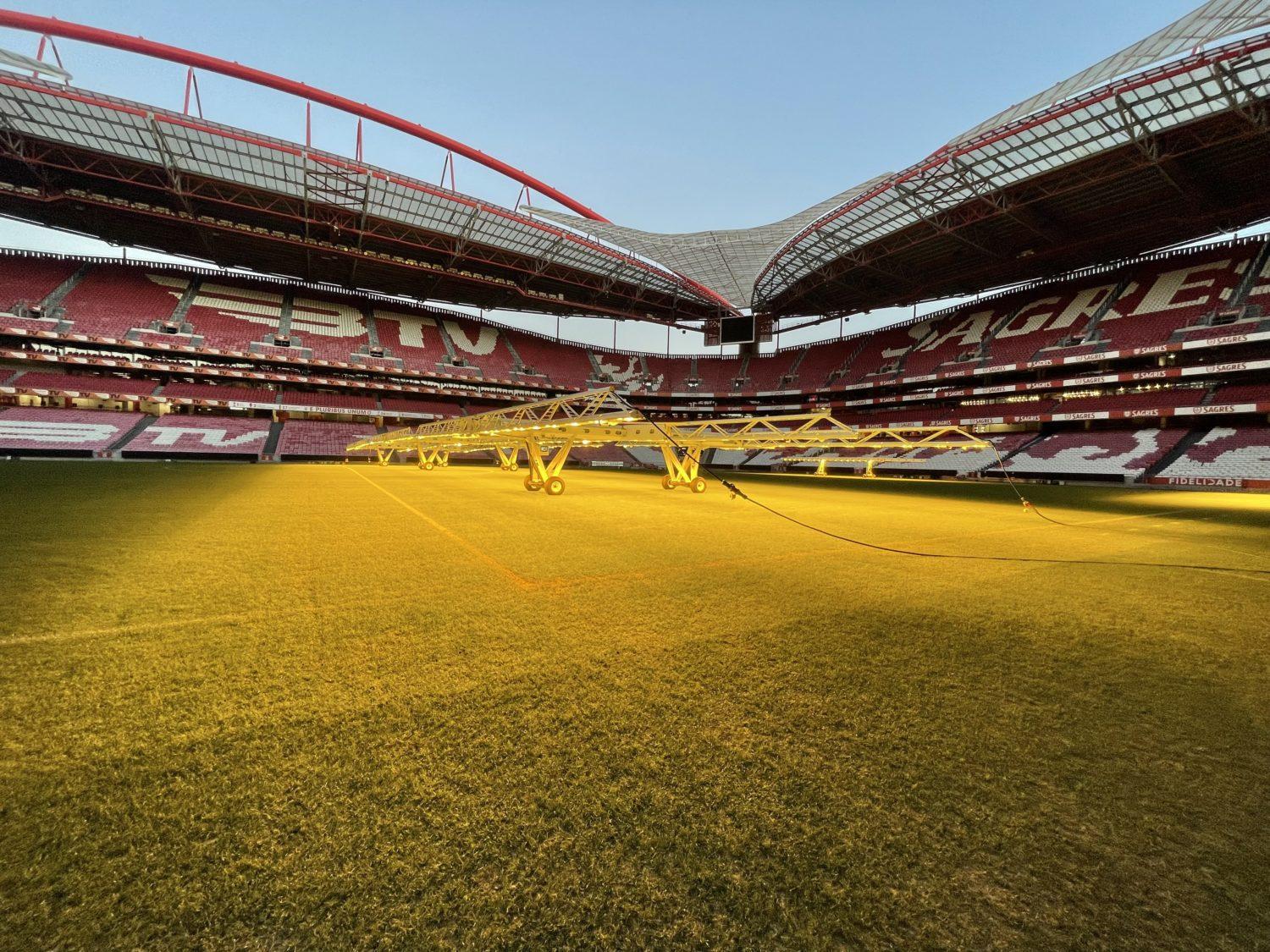 The stadium was beautiful and enormous. While we were there, the field was undergoing a special light treatment and most of the stadium personnel was up north with the team, so it was quiet.
Maybe the most interesting factoid my tour guide told me was that his season tickets were only about $160 per season! He said he gets between 25 and 30 matches per year, too. Could you imagine going to a single NFL game for less than that? It blew my mind.
After seeing the field, the tour guide took us inside to see the media room, the visiting team locker room (even he, a team employee, had never seen Benfica's locker room), and the entrance tunnel.
Before leaving we went and saw the team's eagles, which traditionally circle the stadium full of roaring fans before every home match. The eagles live year-round at their perch inside the stadium and go inside only for a few hours at night.
Ultimately, the stadium tour was well worth the $22. It was a fascinating look into a team Lisbon truly loves and I would definitely replicate the experience in other cities in my future travels.
Bottom Line
Lisbon is so much more than your typical capital city – it's a jewel of Europe. Get here before the rest of the world discovers just how amazing Portugal – and Lisbon in particular – can be.
It's one of the thriftiest international cities we've found, but is ripe with its own unique culture from the beach, to the dinner table, to the soccer stadium, and back again.
Thrifty Traveler editor Kyle Potter contributed to this story.