With one visit, you'll fall in love with Lisbon.
The capital of Portugal is a massive, hilly city that feels much cozier than any major urban hub of its size. It's full of old-world charm, thanks to cobbled streets and aging architecture.
It has everything you want out of a trip to Europe: great food, history, and rich culture – all at a fraction of the price of the rest of Europe. Yet it's often overlooked as travelers flock to England, France, Amsterdam, or Italy.
You need to change that.
How to Get into Lisbon
If you've flown into the Lisbon (LIS) airport, you've got some options. Like all of Portugal, Uber and taxis are fairly cheap.
But Lisbon has a large and easy-to-use subway system – it's among my favorites in Europe. And while other cities like Madrid charge extra to get from the airport into town, it's dirt cheap in Lisbon – just 1.5 euro ($1.70 USD) for any ride within Lisbon. Getting from the airport to your accommodations is the perfect way to start learning the public transit system so you can use it throughout your stay.
Grab a multi-use Viva Viagem card for just .50 euro each and load it up using cash or credit. Unfortunately, these cards can't be shared, so you and your companion will have to each grab your own. The ride from the airport to your hotel or Airbnb should take one transfer at most and roughly 30 minutes or less.
Prepare to Walk … A Lot
Bring your tennis shoes. Some cities are best explored by bus, car, or Uber, but Lisbon simply must be seen on foot.
There's no better way to soak in Lisbon's beauty than to walk, and walk, and walk. Turn down any narrow alleyway. Climb the hills. Look up everywhere you go, admiring the beautiful buildings that line every street.
In just a few hours (or maybe minutes), you'll be disarmed by Lisbon's unassuming beauty. The seemingly ancient streets and pastel-washed and tile-laden architecture are simple and unpretentious. Other cities have their major sites and classic architecture. But Lisbon has beauty around every corner.
Head for the hills of the Baixa-Chiado neighborhood, where you can ride a funicular up the steep slope or hike it yourself. Along with Bairro Alto, Alfama, and Rossio, it's the perfect spot to stay for a few nights or more.
Thrifty Tip: Forget about booking a hotel in Lisbon – this city is perfect for Airbnb.
When your feet ache, hop on the subway and make your way back for a nap. Or go for a different mode of transportation for the perfect tour through Lisbon.
Hop on Tram 28
Make your way through Lisbon's hills, neighborhoods, viewpoints, and vistas on board Tram 28. 
This tram is a Lisbon icon, and its age shows – but that's just part of its character. It travels creakily all the way from eastern Lisbon at the Martim Moniz station, winding up hilltops, passing by churches and train stations all the way west to the Campo Ourique stop on the west edge of town.
The entire ride takes about an hour, and it's well worth the time for a pass through many of Lisbon's nooks and crannies that you couldn't hope to cover by foot. A one-way ride is 3 euro ($3.40 USD), but it's roughly half that cost if you use your Viva Viagem card.
A note of warning: This tram is popular. Get there at 10 a.m. or earlier if you can to avoid the long line for boarding. Luckily, trams tend to come in pairs or trios, so even a seemingly daunting line can move fast.
Food + Cheap = Heaven
Forget restaurants. You want tascas.
That's the name for the cozy, 20-seat local joints you'll find spread across Lisbon. And in the neighborhoods of Lisbon, you can't walk more than a few steps without finding another tasca that's more delicious than the last.
Os Bons Malandros, a block away from one of the best Airbnb's I've ever stayed in, was chic, small, and tremendous. Get the grilled octopus with potatoes, a classic Portuguese dish.
Don't miss Fumeiro de Santa Catarina, a dimly lit and low-key neighborhood tasca on the edge of Chiado. Everything here, from the weekly spare ribs special to the scallops and even the starters, goes through the smoker. It was a highlight of our four days in Lisbon.
But this is Lisbon – you're on the sea, and you want more seafood. Head down to the waterfront around the Alfama neighborhood and find any spot that tickles your fancy for a lunch special. At any spot you choose, you can typically get a set lunch menu with a starter, main fish course, dessert, and a glass of wine for less than 10 euro.
Thrifty Tip: Dining is already cheap in Lisbon, but make it even cheaper by using The Fork, our favorite dining app in Europe. 
Looking for something hip yet still cheap? Go to Time Out Market, the first-of-its-kind of these trendy markets in an old warehouse not far from the waterfront. Here you'll find dozens of food vendors, from Portuguese classics to sushi to gelato to burgers.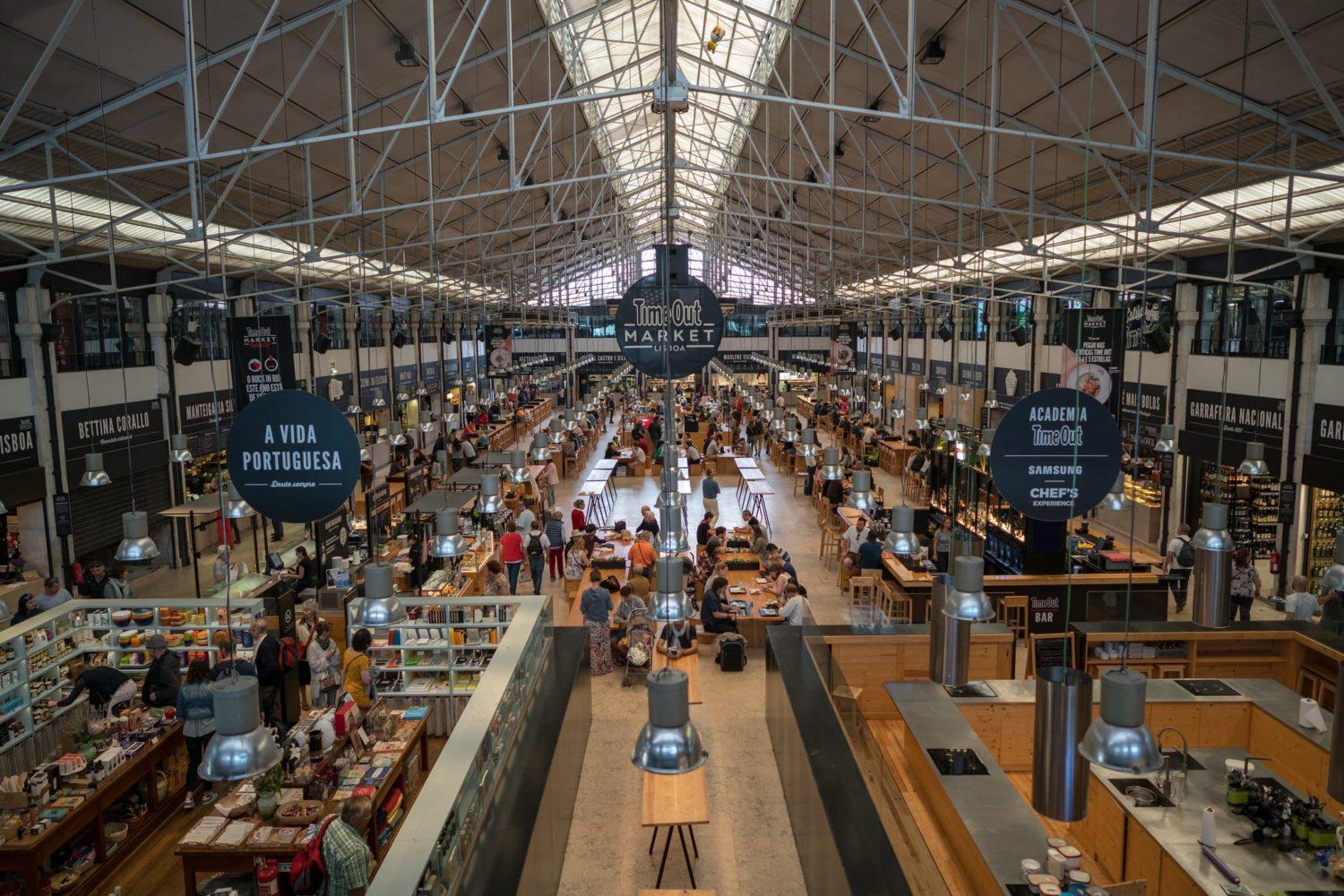 Pasteis de Nata
It's been months since I last had one and my mouth still waters every time I think of pasteis de nata, an egg custard tart that's almost synonymous with Lisbon.
You can find them everywhere, and don't hesitate to try them all. But I promise you won't find any better than at Manteigaria, a small chain of shops that cranks out nothing but pasteis de nata and coffee. Head there at breakfast to start your day. Stop in after lunch for an espresso and sweet pick-me-up. Get one before bed. You get the picture – they're that good.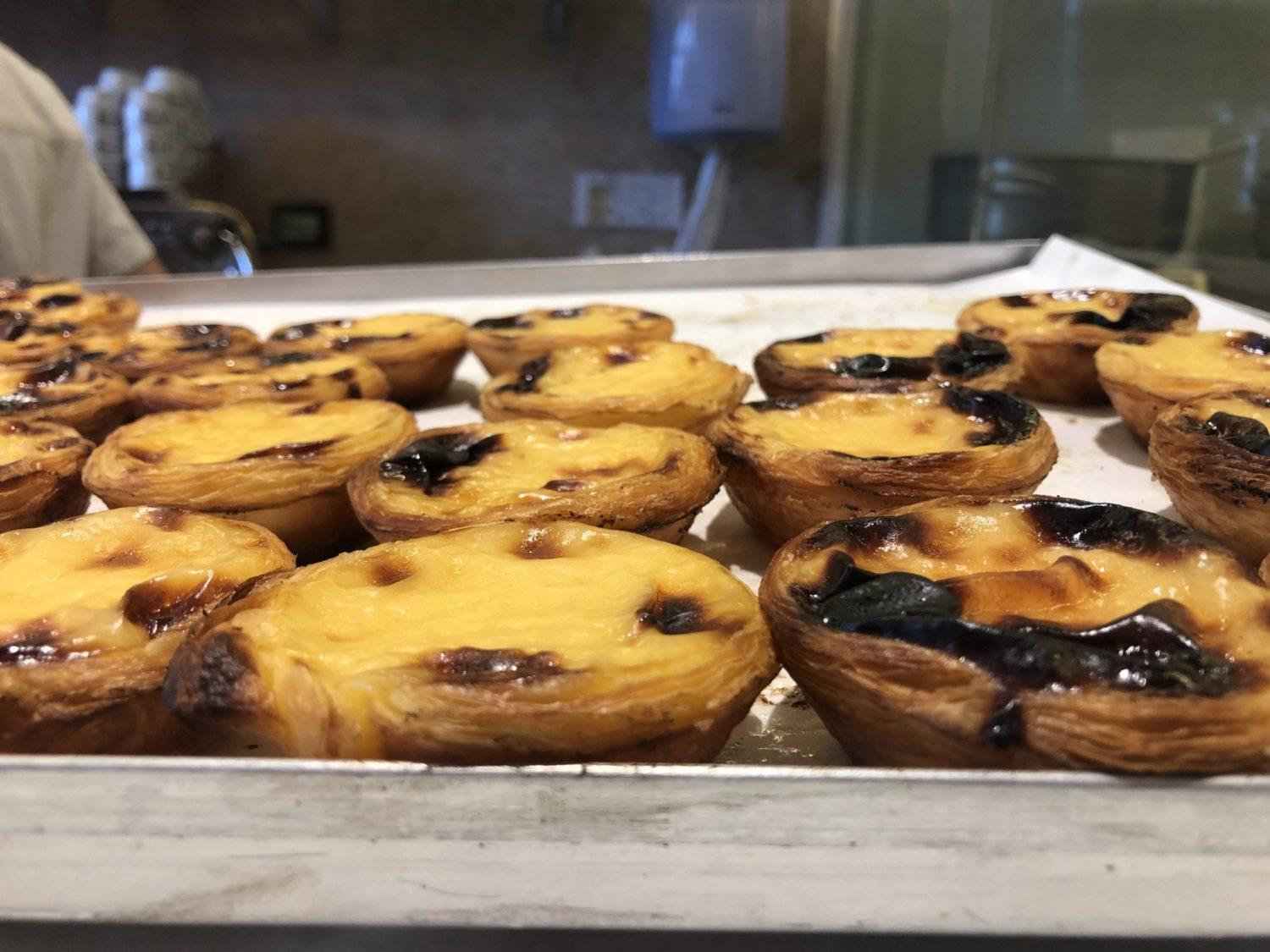 And the best part? These flaky, creamy treats are typically just 1 euro each. So you can afford a few (or a few dozen).
A Day Trip to Sintra
If you need a quick escape from the hustle and bustle of Lisbon city life, we don't blame you. Sintra is perfect.
Just northwest of Lisbon, this tiny town packs a huge punch for tourists and sightseers. Whether you knew it or not, you've likely seen Sintra and its iconic castles built into the hills.
Sintra was once (and in some ways, still remains) a playground for the Portuguese kingdom – the oldest and once largest in Europe. Today, the entire town is a UNESCO World Heritage site.
There's the unforgettable Palacio de Pena, a fairytale castle that looks like the dream from a child deadset on using the entire box of crayons.
Or check out the stunning Monserrate Palace, a summer retreat for Portuguese kings and queens with some serious Arabian flair.
And many more castles like the Sintra National Palace, Quinta da Regaleira, Castelo dos Mouros, and more. Sintra feels like more than a place – it's a place in time.
Thrifty Tip: Want to hop around to several castles? Unless you're up for a serious hike, call an Uber to drive between the stops. It's far less expensive than the scheduled tour buses (which often have long lines).
Luckily, you don't need a time machine to get there. Just hop on the subway line from Rossio station in the heart of Lisbon for the 40-minute ride. It will cost just 5 euro ($5.60 USD) round trip.
Bottom Line
I didn't expect to fall in love with Lisbon, but here we are. It's so much more than your typical capital city – it's a jewel of Europe.  Get here before the rest of the world discovers just how amazing Portugal – and Lisbon and particular – can be.