Bilt Rewards, the new rewards program that lets renters earn points for their monthly rent payments is giving members a new way to use those points: its own travel portal.
Bilt officially launched its new travel booking portal on Thursday, giving members access via the Bilt smartphone app as well as the Bilt Rewards website. The new platform gives renters (or Bilt credit card holders) an even easier way to use some of their points toward travel than the impressive array of Bilt transfer partners. It's powered by Expedia, allowing members to book flights, hotels, rental cars, and even theme park tickets to the likes of Disney and Universal Studios.
It works much like the Chase travel portal – one of our favorite ways to book flights using points. And much like Chase, all points redeemed through the Bilt portal will be worth 1.25 cents apiece – meaning 10,000 Bilt points are worth $125 toward travel.
Read on for everything you need to know about Bilt Rewards and their new travel booking portal.
What is Bilt Rewards?
If you're not familiar, Bilt Rewards is a new rewards program that allows qualified U.S. renters the ability to earn rewards by paying their rent through the Bilt Rewards app. Essentially, you can earn points on your rent payment no matter where you live.
If your landlord is a member of the Bilt Rewards Alliance (and even if they are not), you will be able to pay your rent electronically through the Bilt Rewards app by securely linking your bank account. Even if your landlord is not affiliated with Bilt Rewards, you are still able to pay rent through Bilt with a check, fee-free, and earn points. That means that technically any renter is able to use Bilt Rewards.
Additionally, there is a no-annual-fee Bilt Rewards Mastercard that allows you to earn 1x point for every dollar you spend on rent payments with no fees. And you'll have the ability to earn 1x point on up to $50,000 in rent payments each and every year.
You will also earn 2x points on travel when you book directly with an airline, hotel, car rental, or cruise line. Finally, the card will earn 3x points per dollar spent on dining plus 1x points per dollar spent on other purchases, as long as cardholders make a minimum of five-card transactions in a statement period.
How Does the New Bilt Rewards Travel Portal Work?
To access the new Bilt Rewards travel portal, simply head to the Bilt app or the Bilt Rewards website. If you've used travel portals in the past, it will have a similar look and feel.
Bilt has partnered with Expedia to power its new booking portal. As a result, Bilt says that they have secured inventory with Expedia for flights on 500-plus airlines, stays at more than 700,000 properties, hundreds of car rental companies, and a range of popular activities, like theme park tickets.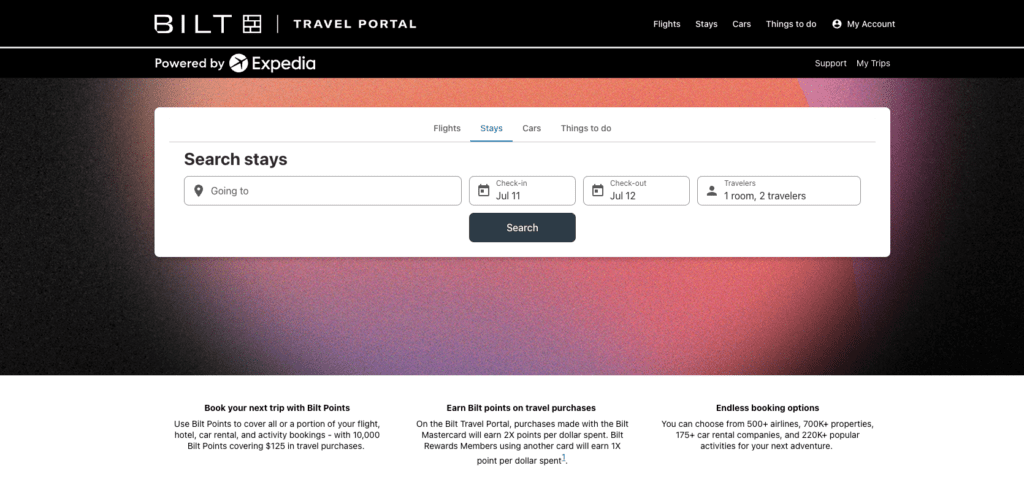 Bilt members will have the ability to use their points to book any inventory available on the Bilt Travel Portal. Like other portals, you'll have the ability to cover all or just a portion of a travel expense with your points. If you cover just a portion of your travel expense with points, you can cover the balance with any payment card. There is no requirement that it be charged to a Bilt Rewards Mastercard.
If you do use the Bilt Rewards Mastercard, you'll earn 2x points on purchases made through the portal. If you are a Bilt Rewards member without the Bilt credit card, you can still earn 1x points per dollar spent in the portal.
But one of the coolest features of Bilt's new travel portal is that you will have the ability to toggle between flight search results to help determine whether using transfer partners like United, American Airlines, or Air Canada Aeroplan will be a better deal than using the travel portal.
Better yet, Bilt is pulling real-time award availability for these comparisons.
That's impressive. It's an incredibly useful and user-friendly feature we've not really seen from other programs, pointing travelers to the best ways to maximize their points.
Bilt's full list of travel transfer partners is listed below.
| Program | Type | Transfer Ratio |
| --- | --- | --- |
| Aer Lingus Avios | Airline | 1:1 |
| Air France/KLM Flying Blue | Airline | 1:1 |
| Air Canada Aeroplan | Airline | 1:1 |
| American Airlines AAdvantage | Airline | 1:1 |
| British Airways Avios | Airline | 1:1 |
| Cathay Pacific Asia Miles | Airline | 1:1 |
| Emirates Skywards | Airline | 1:1 |
| Hawaiian Airlines HawaiianMiles | Airline | 1:1 |
| Iberia Avios | Airline | 1:1 |
| Turkish Miles & Smiles | Airline | 1:1 |
| United MileagePlus | Airline | 1:1 |
| Virgin Atlantic Flying Club | Airline | 1:1 |
| World of Hyatt | Hotel | 1:1 |
| IHG Hotels | Hotel | 1:1 |
| Marriott Bonvoy | Hotel | 1:1 |
Bottom Line
Bilt Rewards has launched a new travel booking portal – providing more ways for members to use their points for travel. The portal is available now in both the Bilt Rewards app and on the website.
Images courtesy of Bilt Rewards