Americans aiming to score a lie-flat seat overseas are almost spoiled for choice, with dozens of airlines flying more and more business class seats across the Atlantic. But heading to Ireland, there's a clear favorite in my mind…
Go figure: It's flying up front with Ireland's flag carrier in Aer Lingus business class. It's not the flashiest business class seat you'll find flying across the pond. But where other airlines struggle even with some of the basics, Aer Lingus does it all – and does it all well, if you ask me. There's a comfortable seat (and an almost unbelievably spacious one, if you can grab one of four throne seats), charming service, and good food, too.
Read our full review of Aer Lingus business class on the flight from Dublin (DUB) back to Washington, D.C.-Dulles (IAD) and why, even though it was far from perfect, I'd pick it again in a heartbeat.

How to Book Aer Lingus Business Class
Aer Lingus is a bit of an oddball in the world of airlines and points and miles. It's not part of one of the big airline alliances … and yet it's owned by the same conglomerate that runs British Airways. Plus, it's got a handful of one-off partnerships with other airlines.
And that's a win for travelers looking to redeem some miles for a seat in Aer Lingus business class. There are plenty of options to book, including:
You can book using 60,000 Alaska Mileage Plan miles each way, though those miles aren't exactly the easiest to earn
United MileagePlus miles are an option, and the airline charges roughly 70,000 miles each way (give or take a few thousand). United is a Chase transfer partner, so points from cards like the Chase Sapphire Preferred® Card are all you need.
You could use Aer Lingus's own Avios, naturally. But its website is a bit of a disaster
British Airways Avios is a strong contender with award rates starting at 60,000 miles each way (or even lower – keep reading). Plus, you can easily earn Avios as British Airways is a Chase transfer partner, Amex transfer partner, and a Capital One transfer partner, too.
With low rates and reasonable fees, British Airways is the go-to option here, if you ask me. Time it right during the off-peak travel season and you can score a one-way flight for as low as 50,000 Avios each way. The award rates jump to at least 62,500 Avios each way for routes to and from the West Coast as well as Florida – and all the way up to 75,000 during peak seasons.
Oddly, flights departing the U.S. get hit with a nasty $700-plus in taxes and fees while westbound flights out of Dublin are far more reasonable at under $200.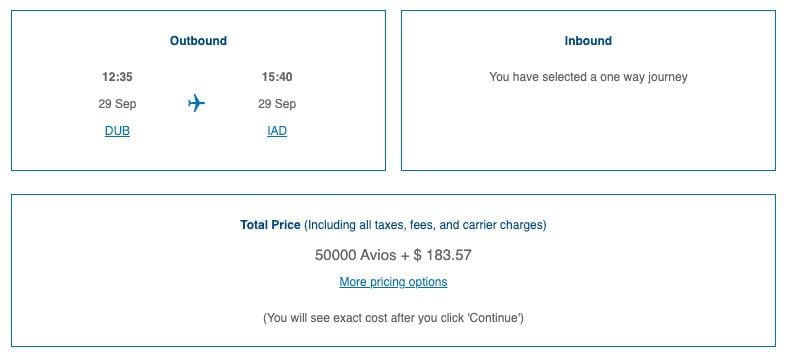 Aer Lingus currently flies between Ireland and about a dozen North American cities. Nearly all of Aer Lingus's pre-pandemic routes have made a comeback save one: its nonstop route connecting Dublin with Minneapolis-St. Paul (MSP), which airport officials hope resumes come 2023. But the rest of the bunch are back on the map.
In addition to routes in and out of Dublin (DUB), you can also fly straight into Shannon (SNN) from New York City (JFK) and Boston (BOS). Plus, Aer Lingus operates a pair of seemingly random routes into Manchester (MAN) from New York and Orlando (MCO).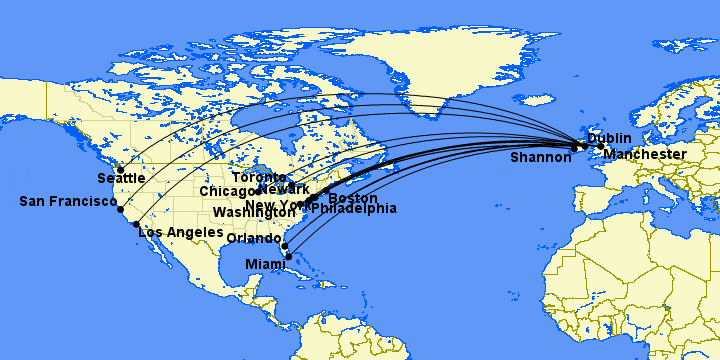 No matter which airline program you're using or which route you're looking for, the best site to find award availability for Aer Lingus is easily United.com. But whether you're heading for Dublin (DUB), need a ride back home after an Irish vacation, or both, we routinely see some solid award space flying Aer Lingus between Ireland and the U.S.
As summer got underway, we sent our Thrifty Traveler Premium members an award alert with an absolute goldmine of Aer Lingus business class availability: Seats for four (or more!) passengers flying between Washington, D.C.-Dulles (IAD) and Dublin … in the middle of summer!

Get more award alerts like this one plus cheap domestic and international fares with Thrifty Traveler Premium!
In the end, that's exactly what I booked to get home from a trip to Dublin. Since it was in the middle of July, it totaled up to 60,000 Avios and under $200 in fees for the one-way flight. A 30% transfer bonus from Chase to British Airways at the time made it even cheaper – just 47,000 Chase was all we needed to book a lie-flat business class seat across the pond!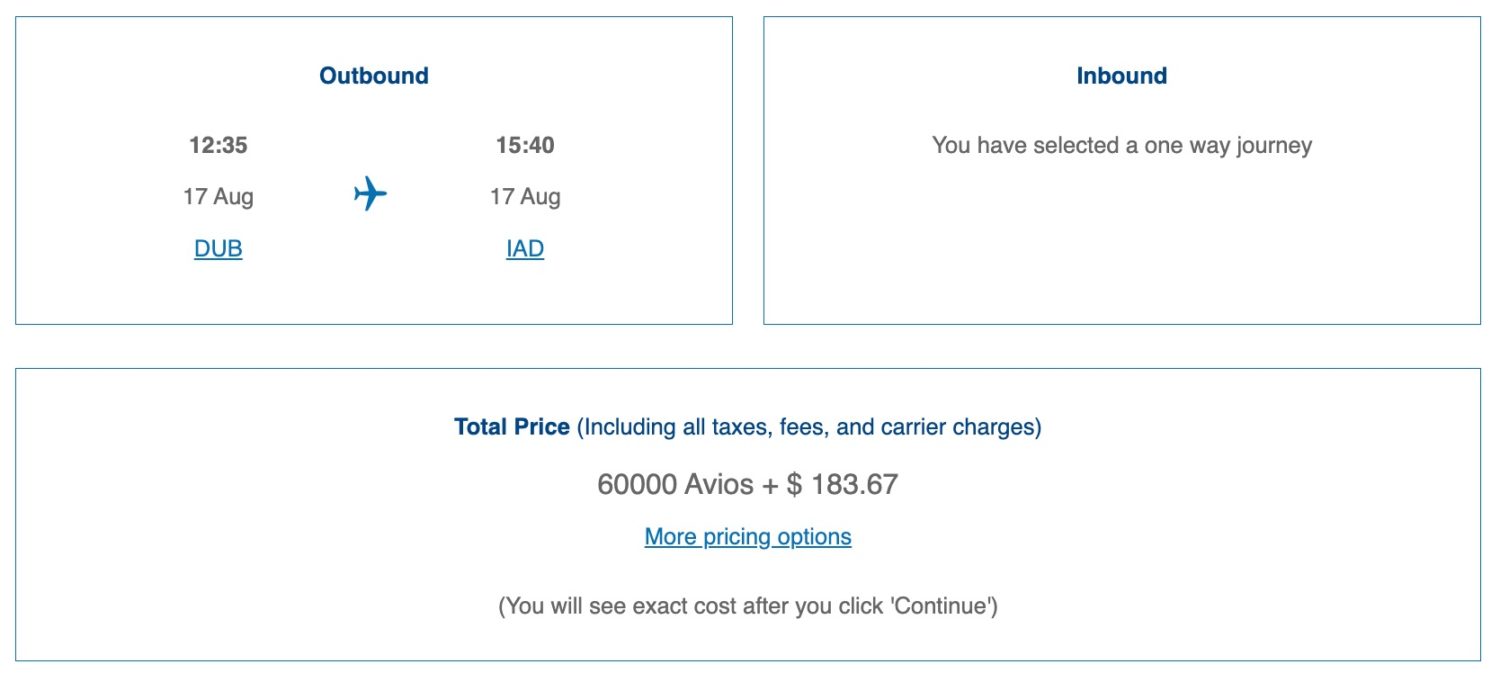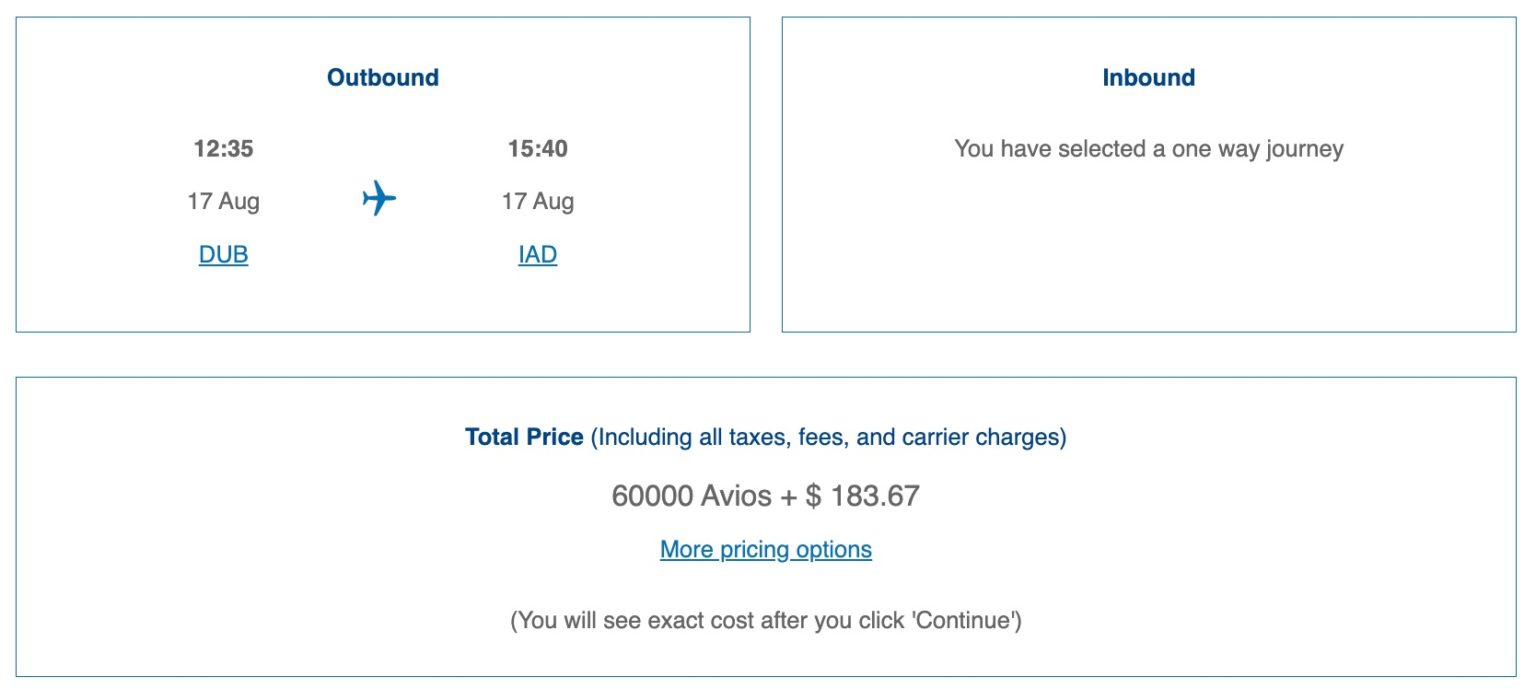 At Thrifty Traveler, we don't accept freebies. We use our own points, miles, or cash to pay for every single flight or hotel you see reviewed here – including this one.
Departing Dublin & Lounge Access
Whether you're flying up front or back in economy, heading back to the U.S. from Ireland is different from many international flights.
That's because Dublin (DUB) is one of a handful of international airports across the globe with Preclearance facilities, where you clear customs and immigration even before flying back to the states, meaning you can skip that process upon landing. You'll also find Preclearance in Shannon (SNN), at many major Canadian airports, several Caribbean hotspots, and in Abu Dhabi (AUH).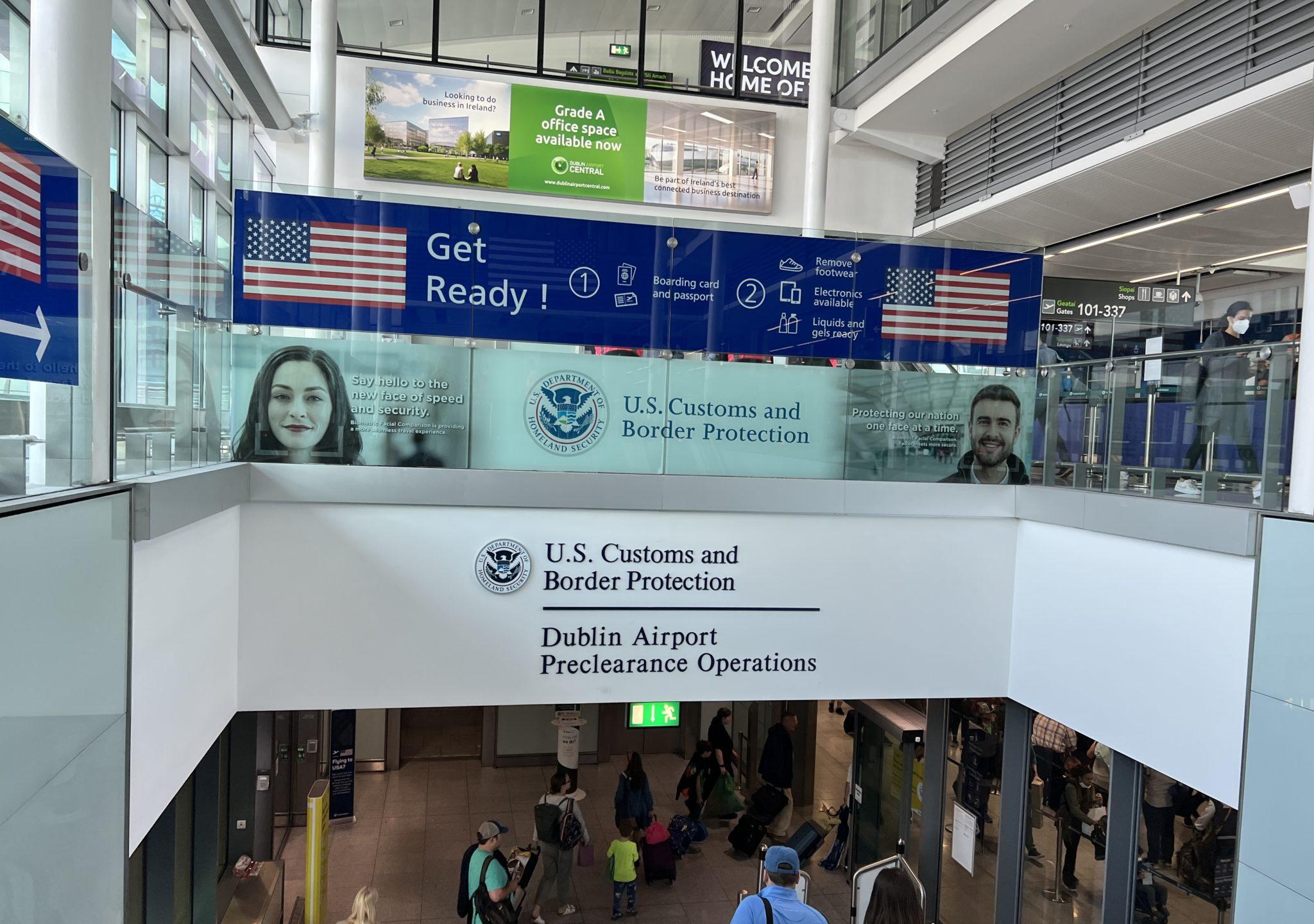 Other than the fact you're clearing customs on the other side of the pond, it was just like doing so back home – though there is an additional security checkpoint before you clear customs. Dublin even has a dedicated Global Entry lane, which made the process fly by in just a few minutes.
While Aer Lingus has its own lounge in the main part of the terminal, that's completely inaccessible once you've cleared customs and immigration. Fortunately, there's a lounge in this dedicated space for premium passengers heading back to the U.S.: the 51st & Green Preclearance Lounge. Located at the far end of the terminal at ground level, you can get in if you're flying Aer Lingus business class as well as premium cabin passengers with Delta, American, and United.
It's not a part of Priority Pass or any other lounge membership available through credit cards like The Platinum Card® from American Express, though you can buy a day pass for $35 online or $39 on the spot … at least if it's not too busy. But the lounge was packed when I visited around 9:30 a.m. – I saw one customer trying to pay for entry get turned away.
The lounge itself is basic but nice, with plenty of seating and tons of natural light and views of the tarmac. I love the fact that it's at ground level, allowing you to watch planes pull in and out from the gates.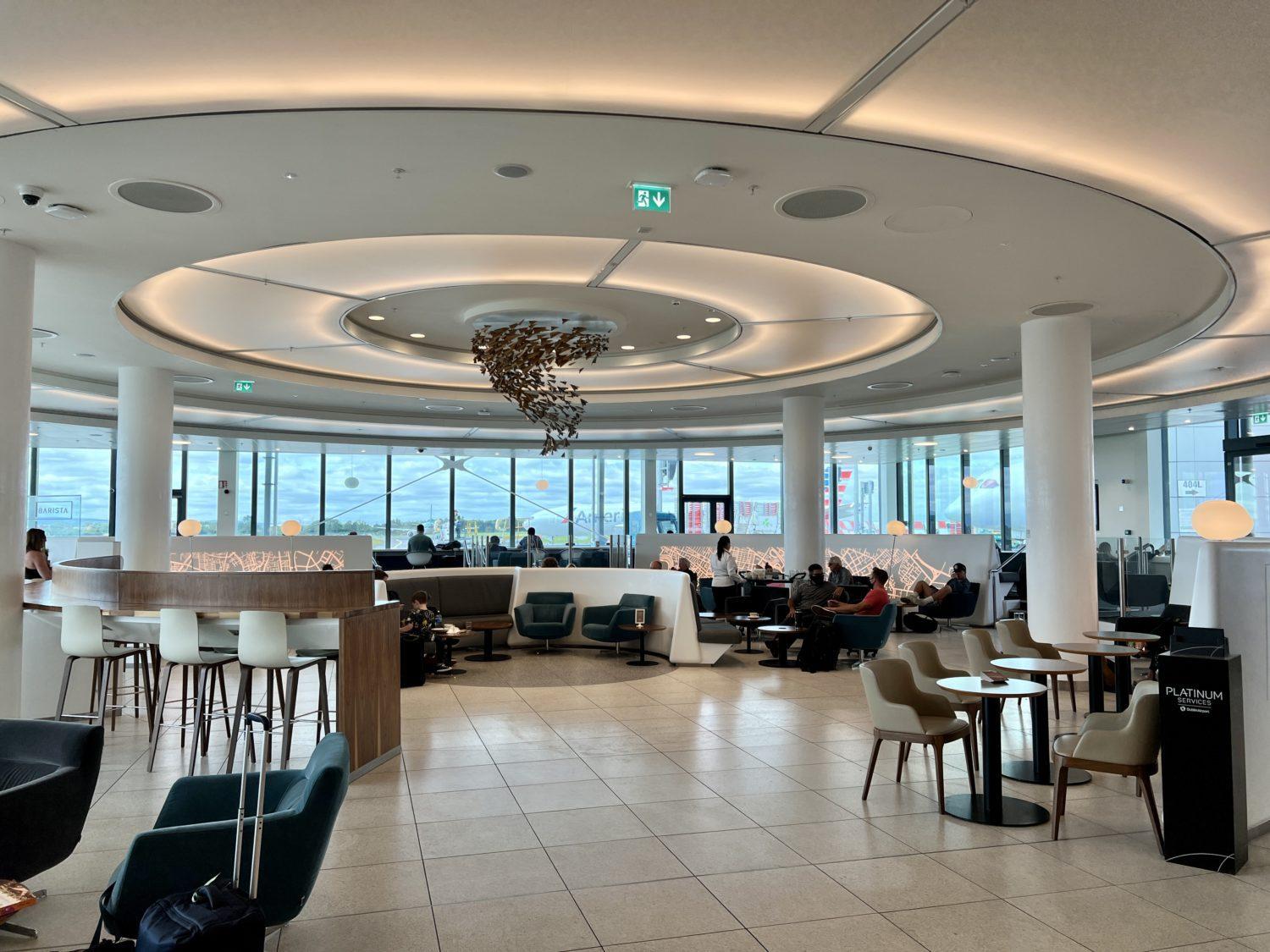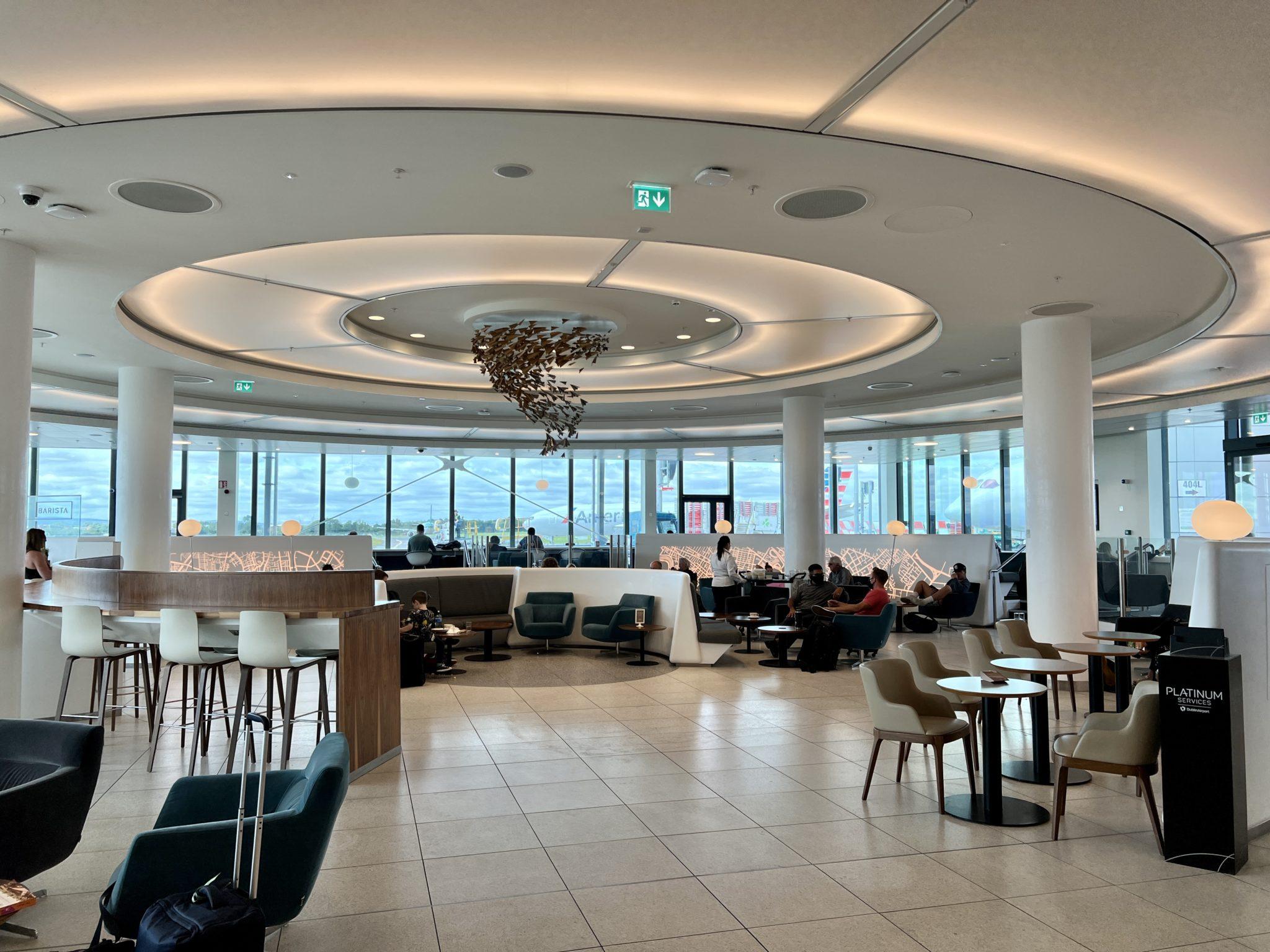 There was a decent buffet spread for breakfast, allowing travelers to grab some baked goods or even throw together a full (and not half-bad) Irish Breakfast. There's also a bar with beers, wines, cider, as well as a barista making coffee drinks like a delicious cappuccino.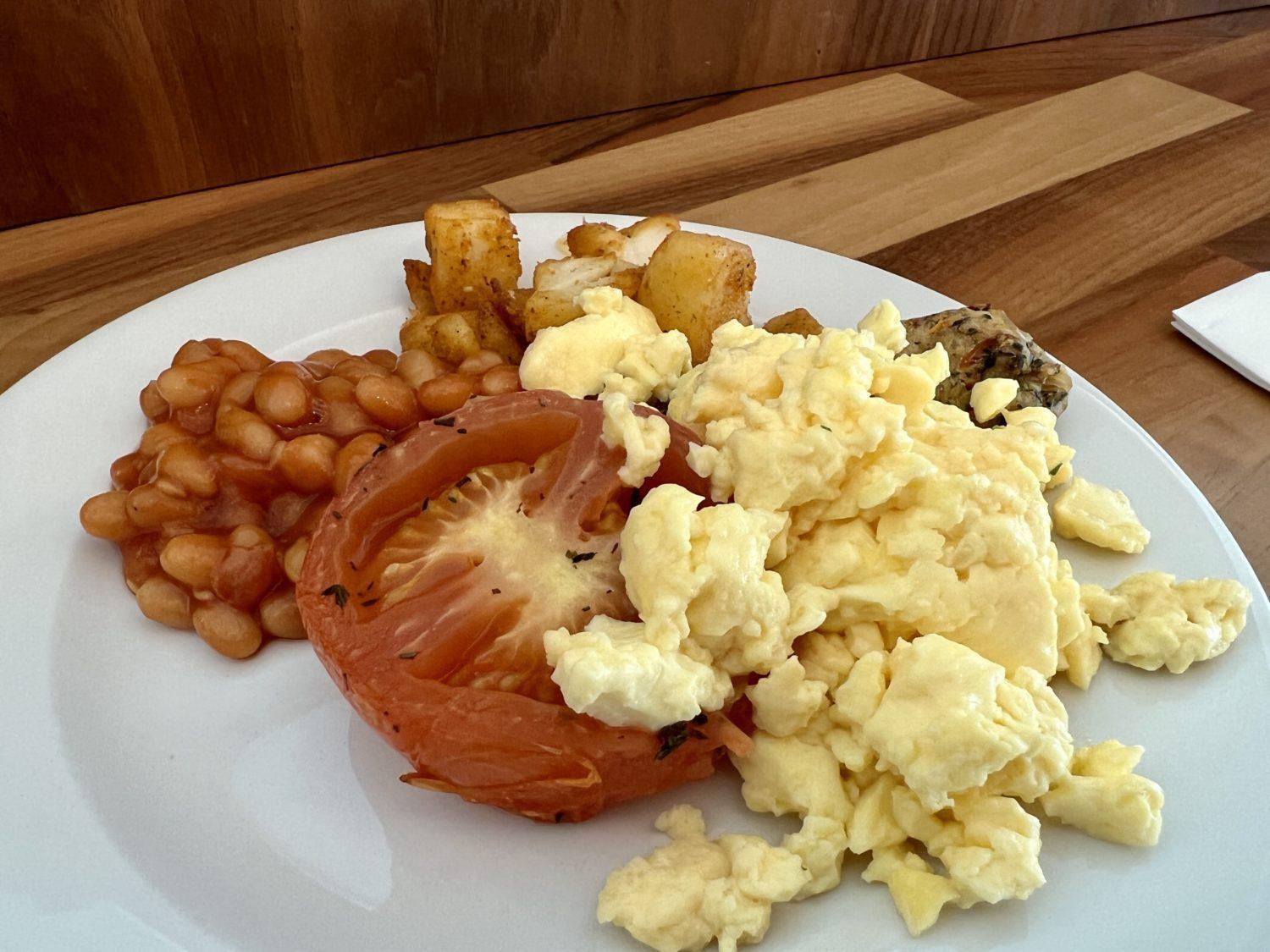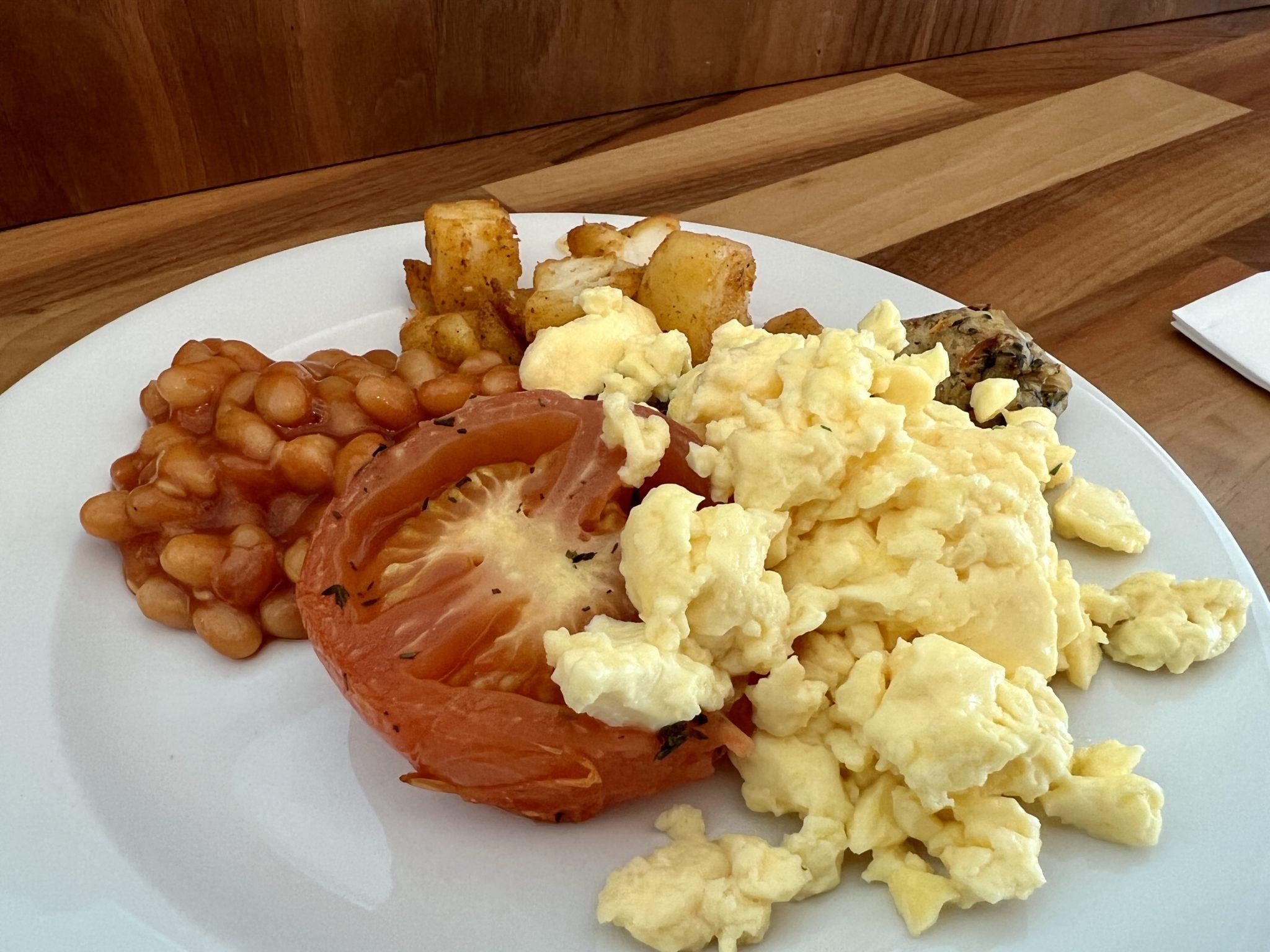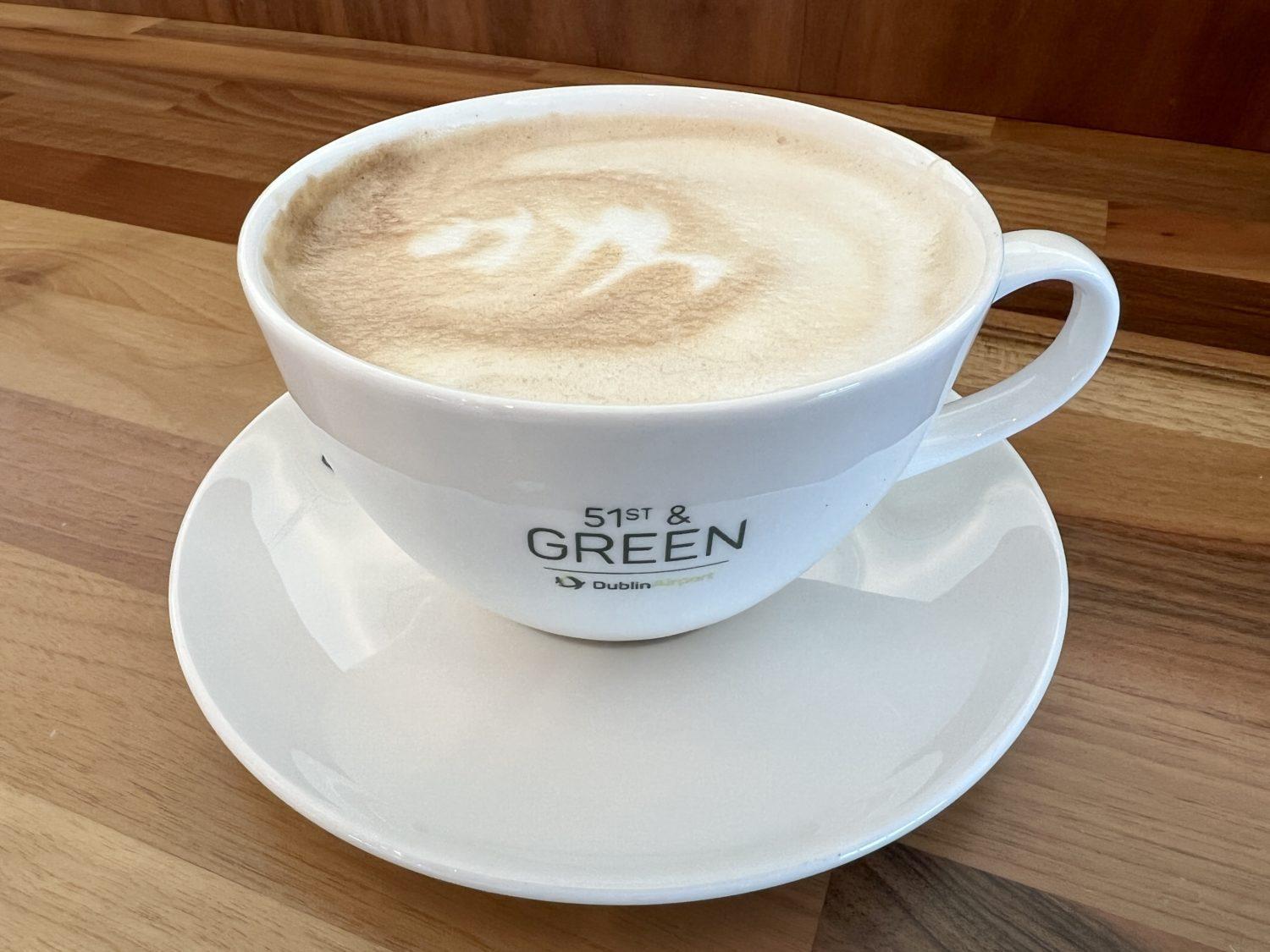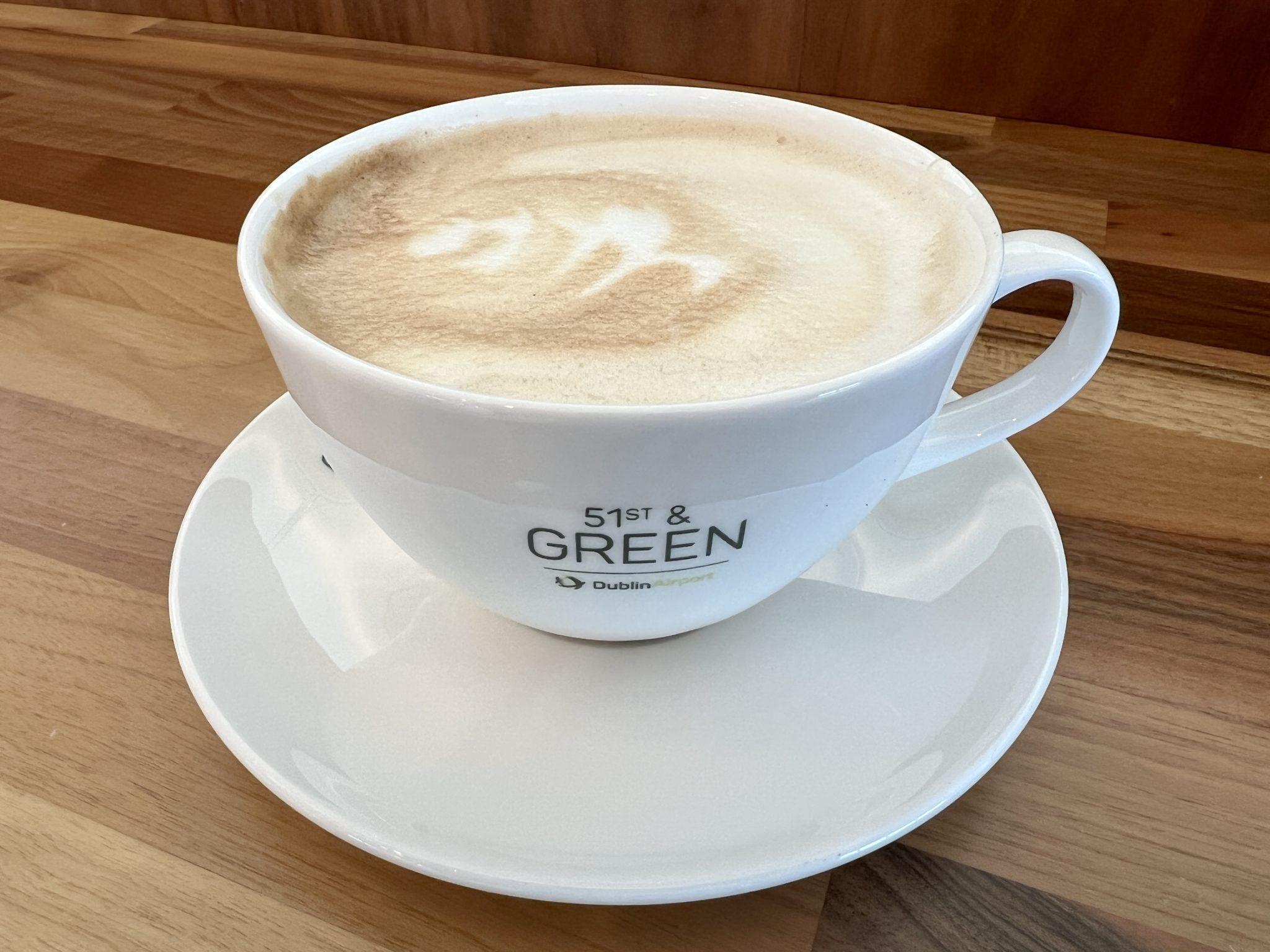 After a quick breakfast and soaking in the lounge's natural light, I was on my way to board the flight back to Washington, D.C.-Dulles (IAD).
The Aer Lingus Business Class Cabin
On many airlines, flying transatlantic on the narrowbody planes you typically see on short domestic flights is a bummer. But that's not the case with Aer Lingus and its excellent Airbus A321.
These planes have business class seats that keep up with almost anything flying across the Atlantic Ocean.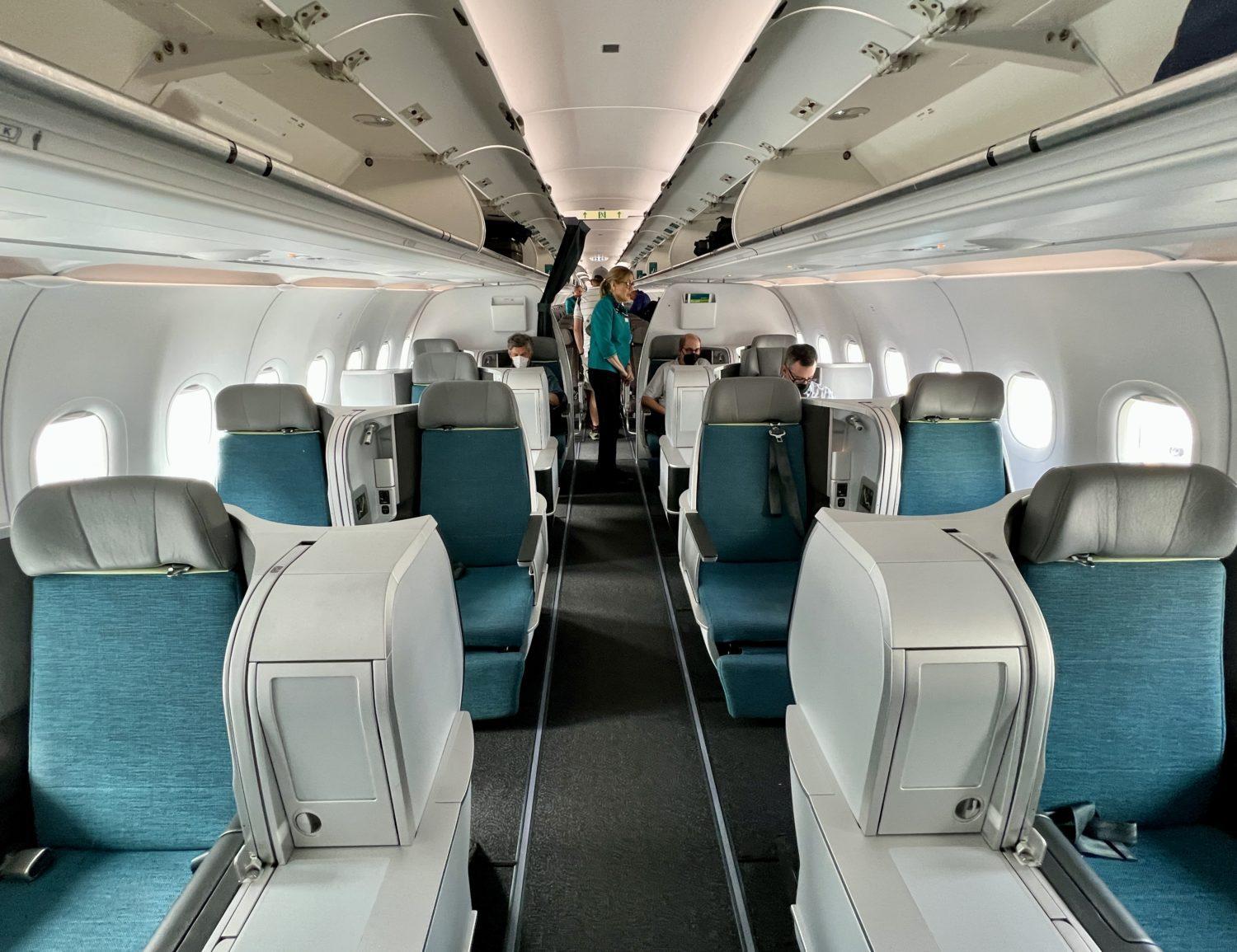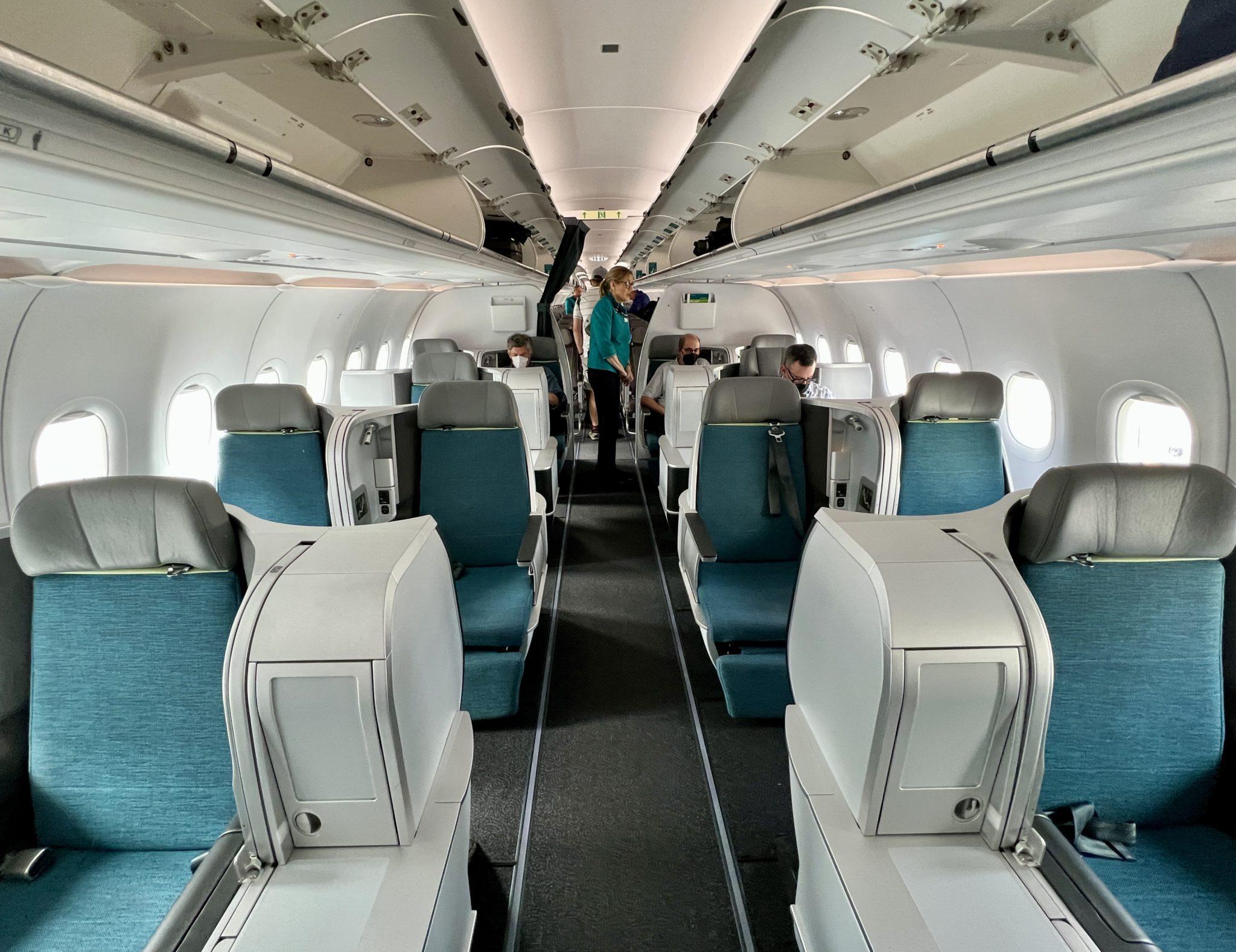 With just one aisle and five rows of seats in Aer Lingus business class, it's a fairly small cabin on this A321. But that's not a bad thing: It's cozy and sharp looking with the teal upholstery, gray leather, and a small pop of bright green accents on every seat.
I'm not kidding when I say it's a small cabin: There are just 16 business class seats total on these jets. And the arrangement is a bit of an unusual one. The even-numbered rows (in rows 2, 4, and 6 – Aer Lingus skips row 1) on either side of the aisle have pairs of seats in a 2-2 configuration. That makes them a good selection for couples or companions traveling together.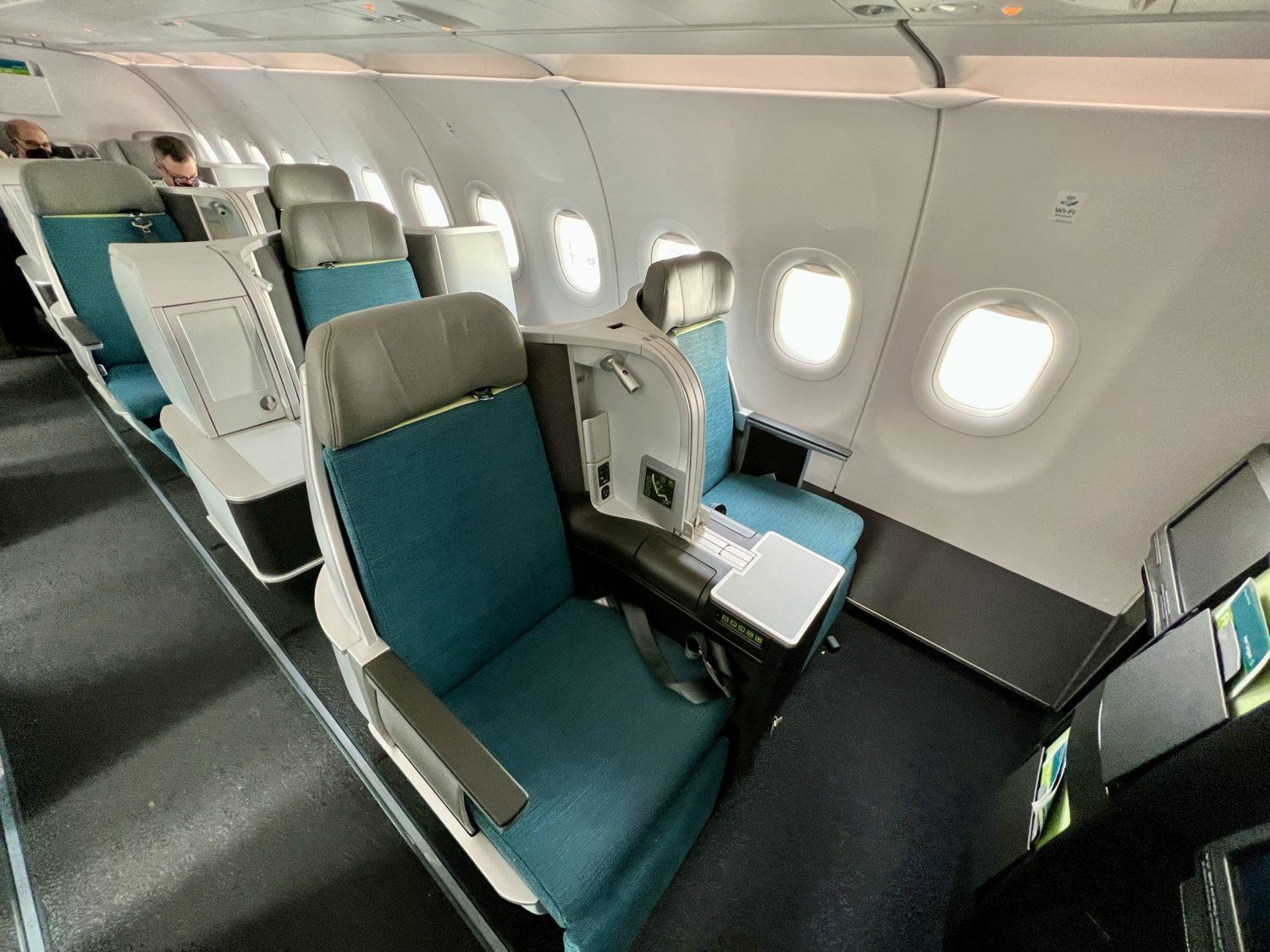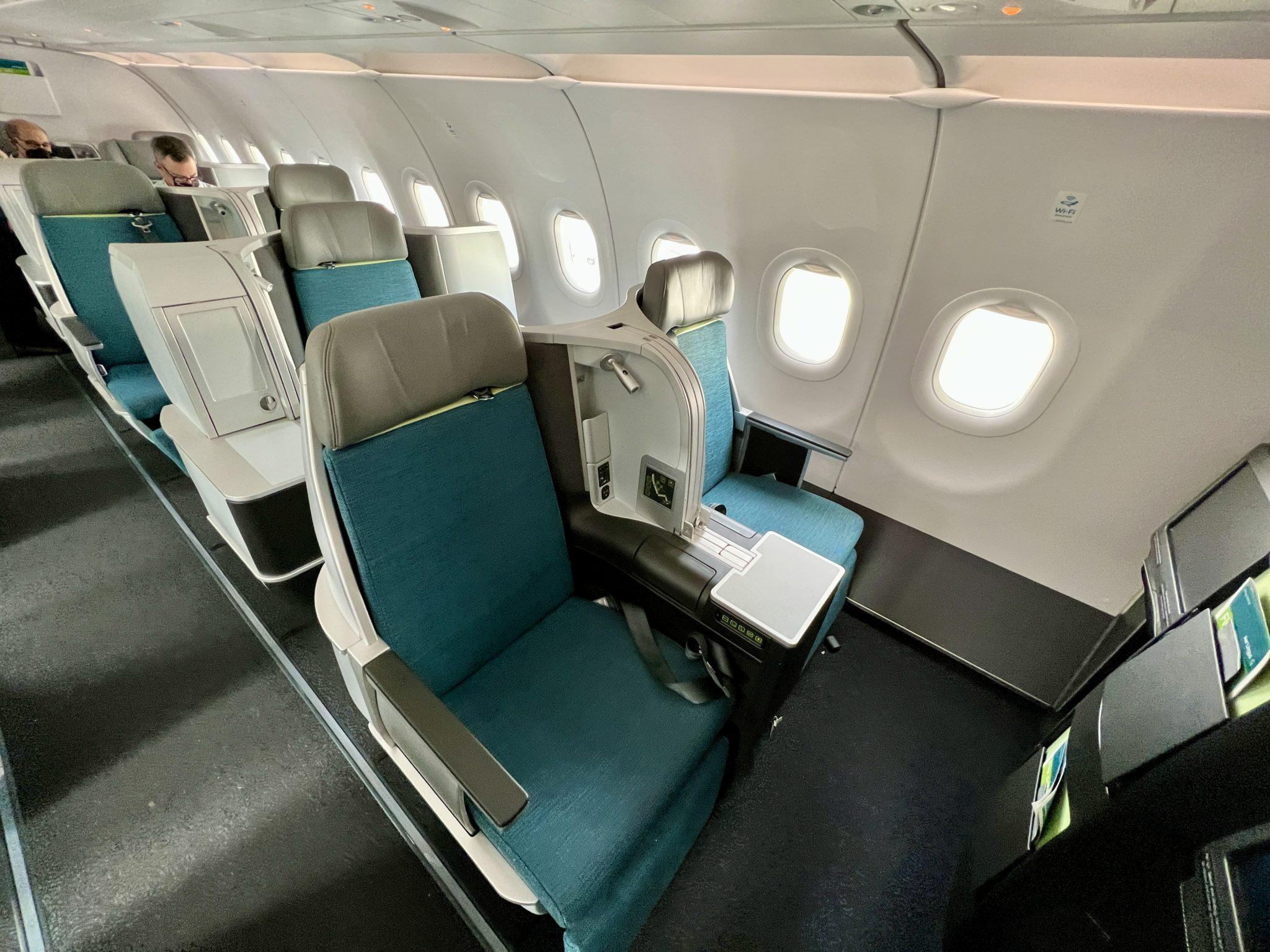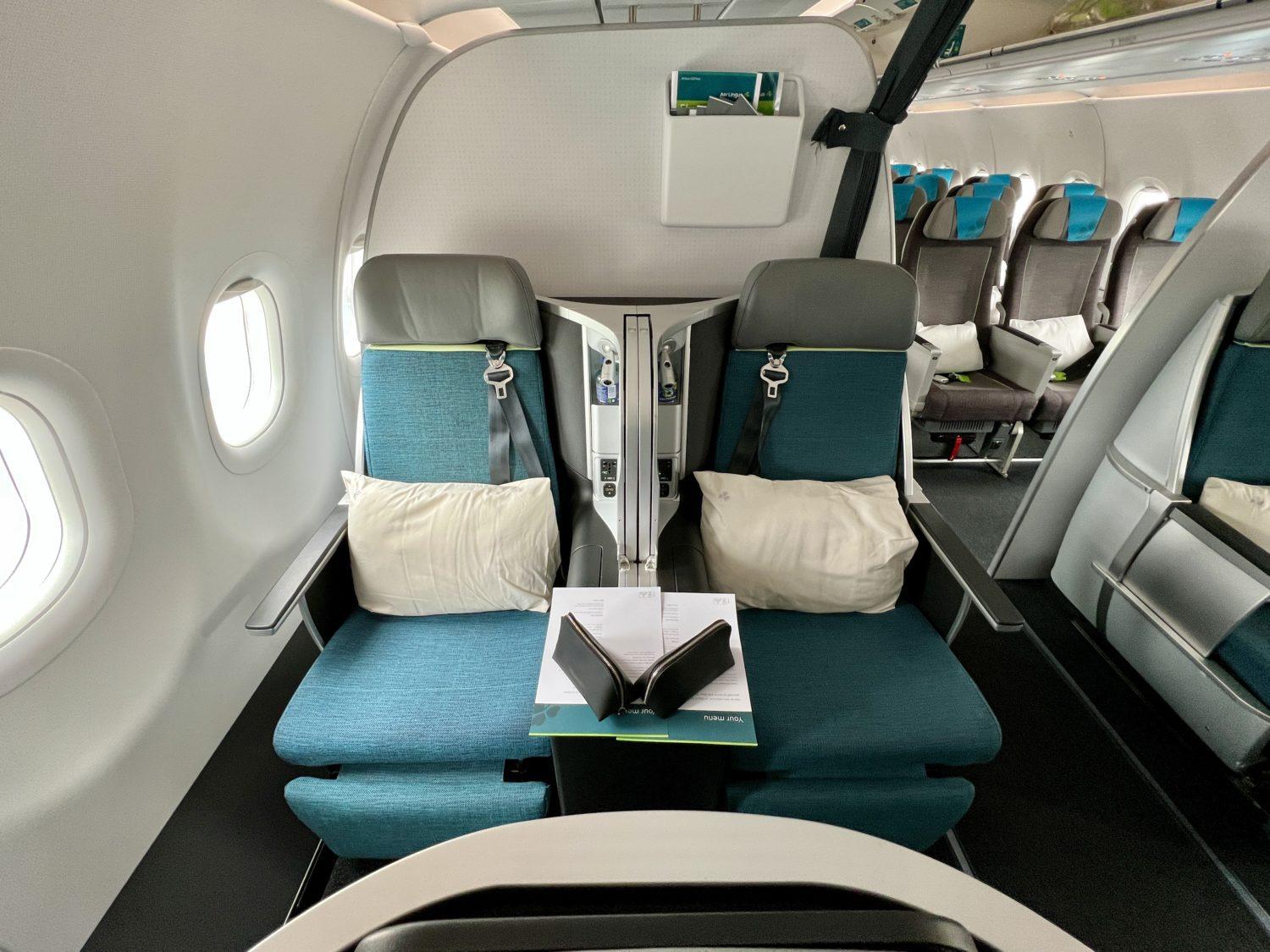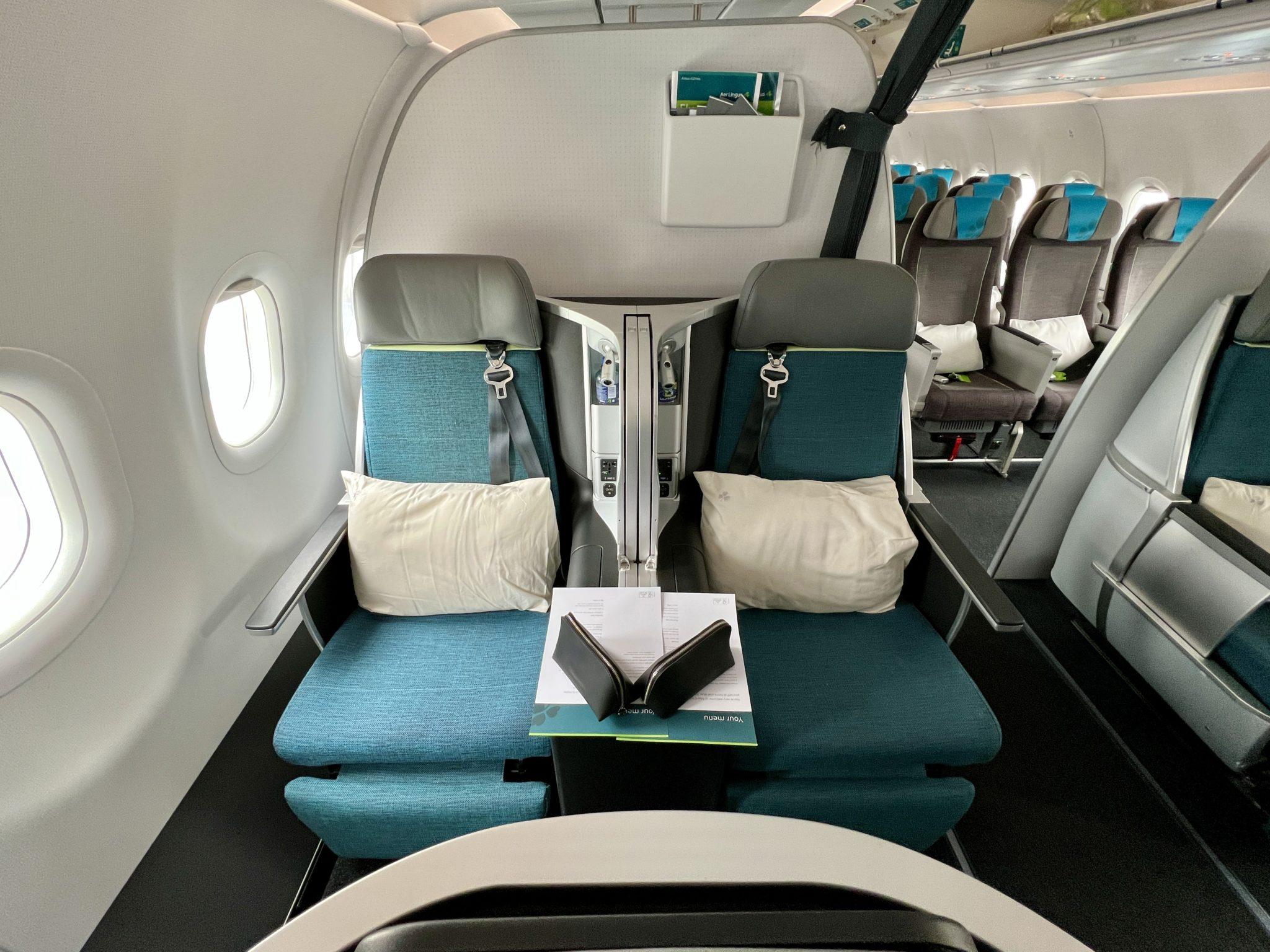 But in rows 3 and 5, you'll find the crown jewel for solo travelers: Four so-called "throne" seats, single seats with a ton of storage and access straight into the aisle. Unlike JetBlue, Aer Lingus chose not to install privacy doors on these solo seats.
These Aer Lingus business class throne seats are available on a first-come, first-served basis. Just be warned: No matter which seat you're angling for, you might have to call the airline to pick it, as it's not always possible to do so online or via Aer Lingus's app.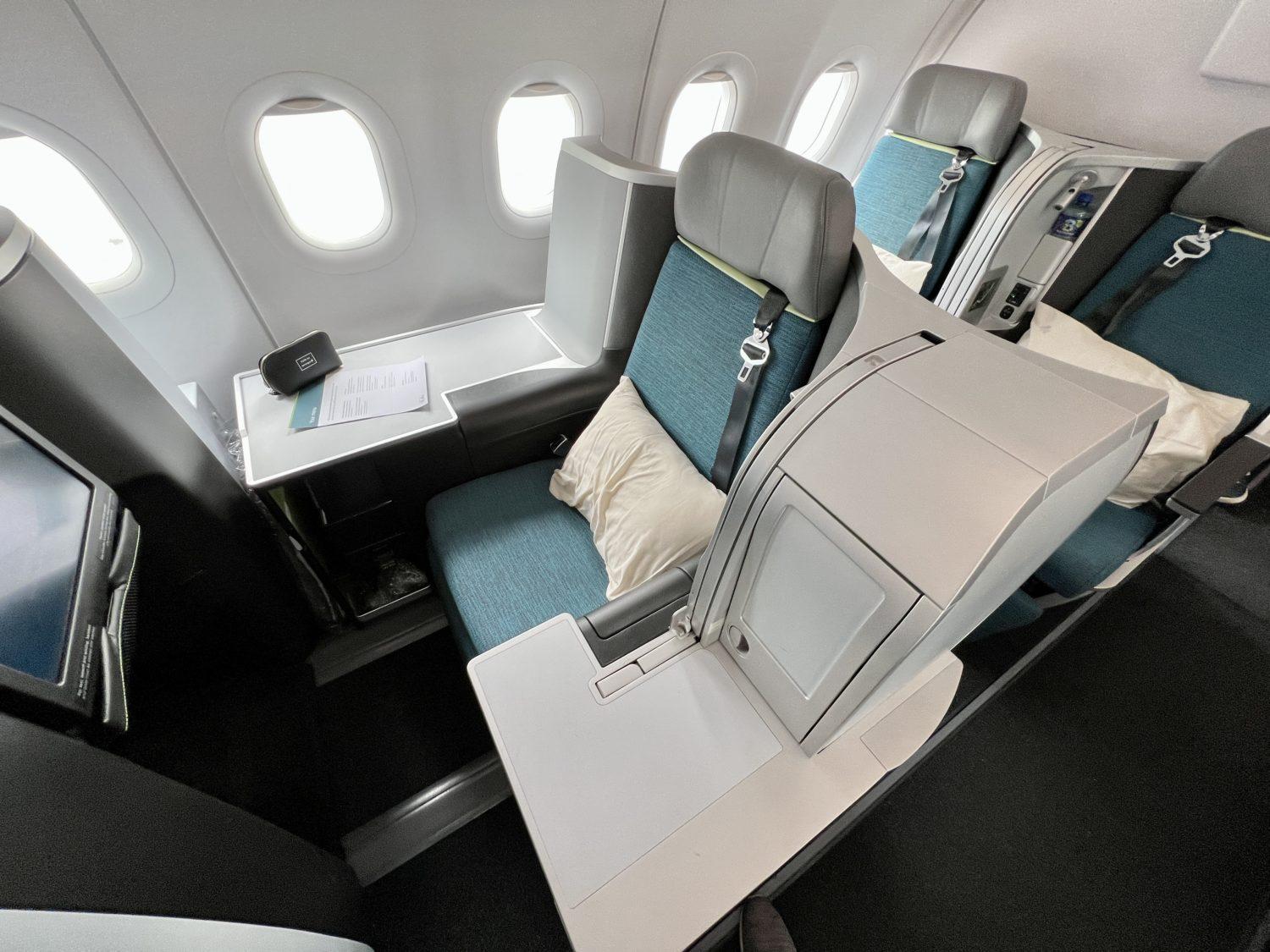 If this setup looks familiar, you're not seeing things. You'll find a similar arrangement flying JetBlue Mint on some of the airline's older planes as well as on TAP Air Portugal business class on the A321 and several other airlines. But I really like the look of the Aer Lingus business class cabin. It's sharp, clean, and calming.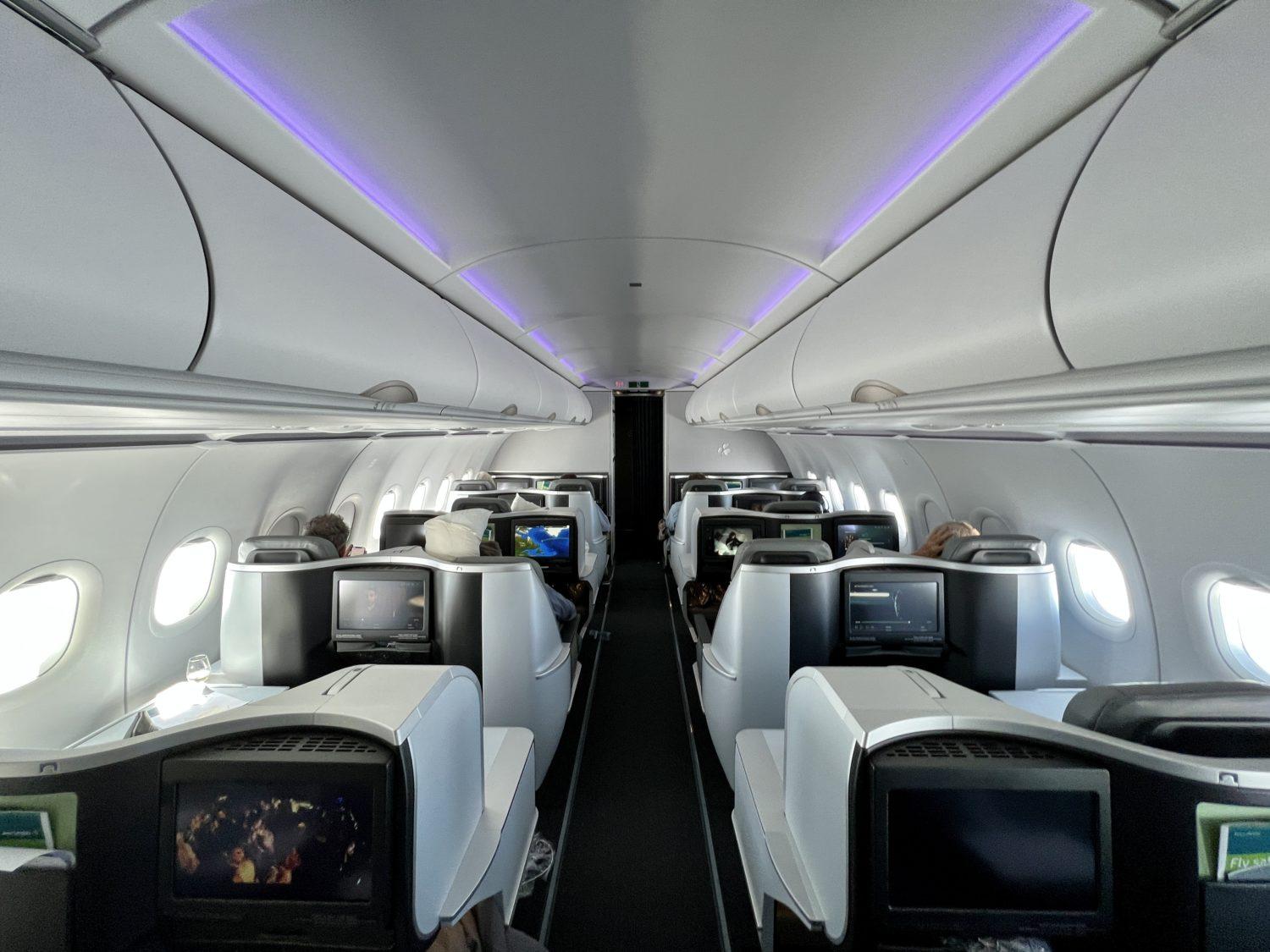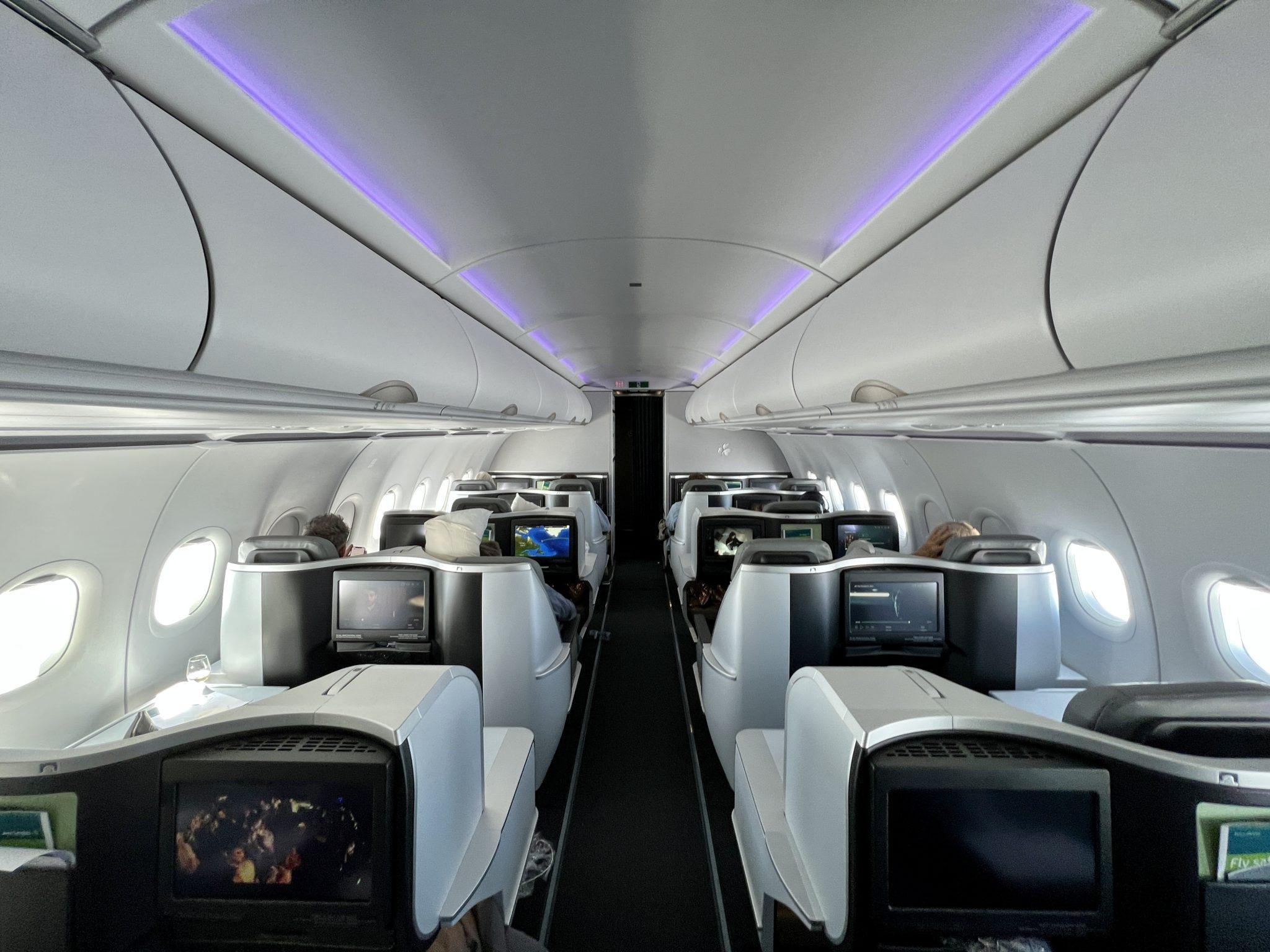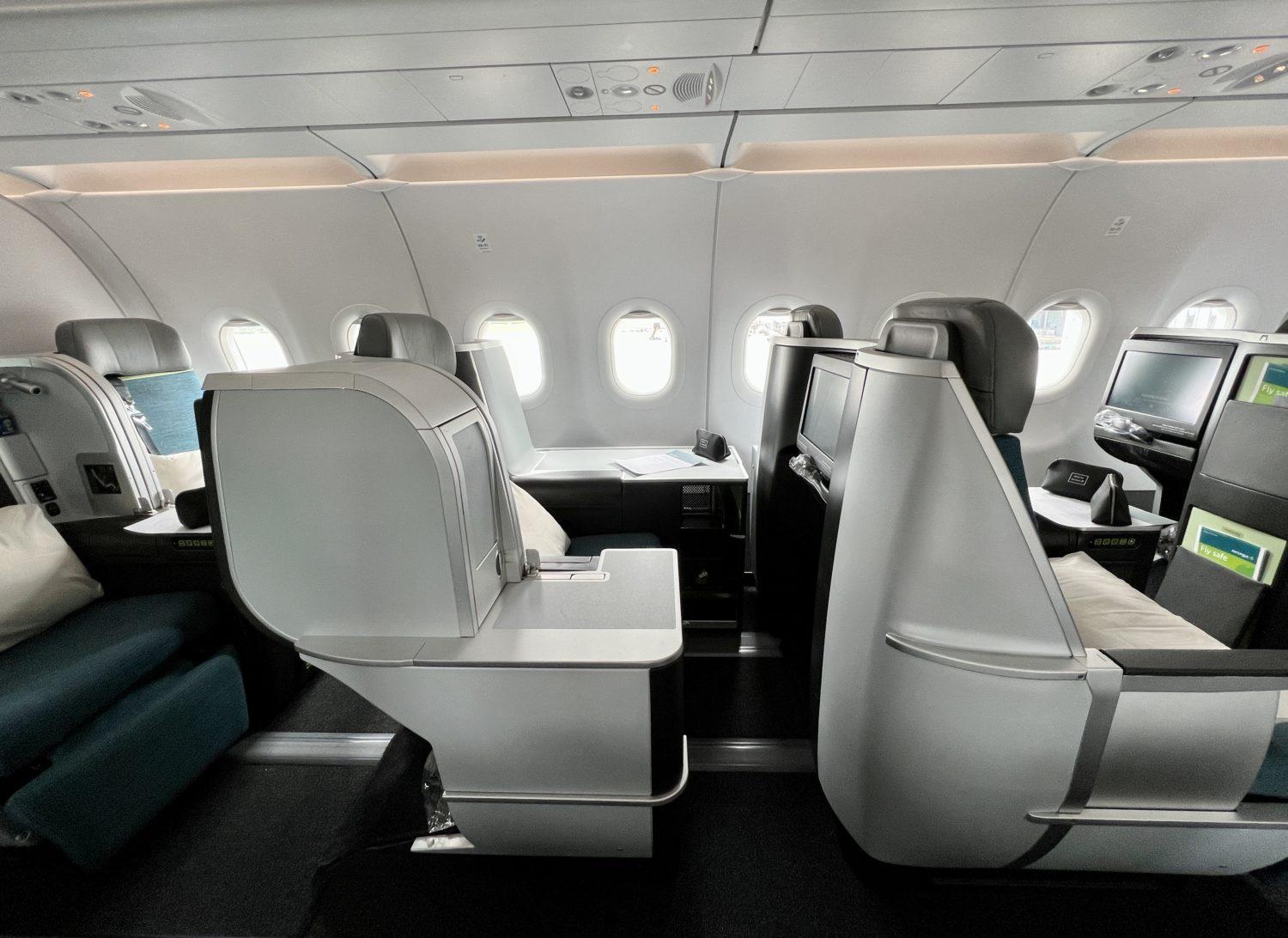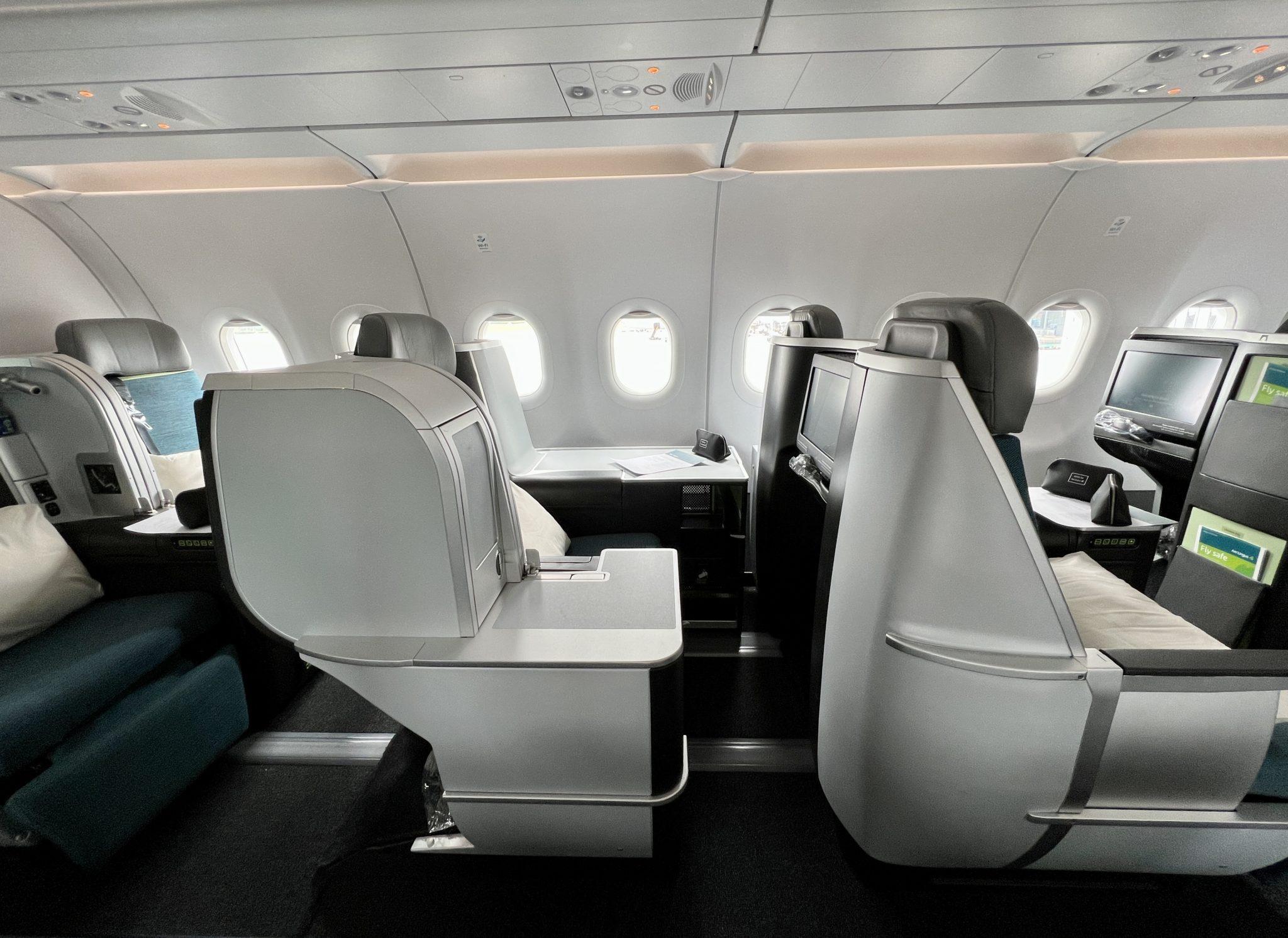 The one major downside of the small cabin on this Airbus A321 is that there's just one lavatory for business class, up at the front of the plane. And the restroom is about as standard as it gets.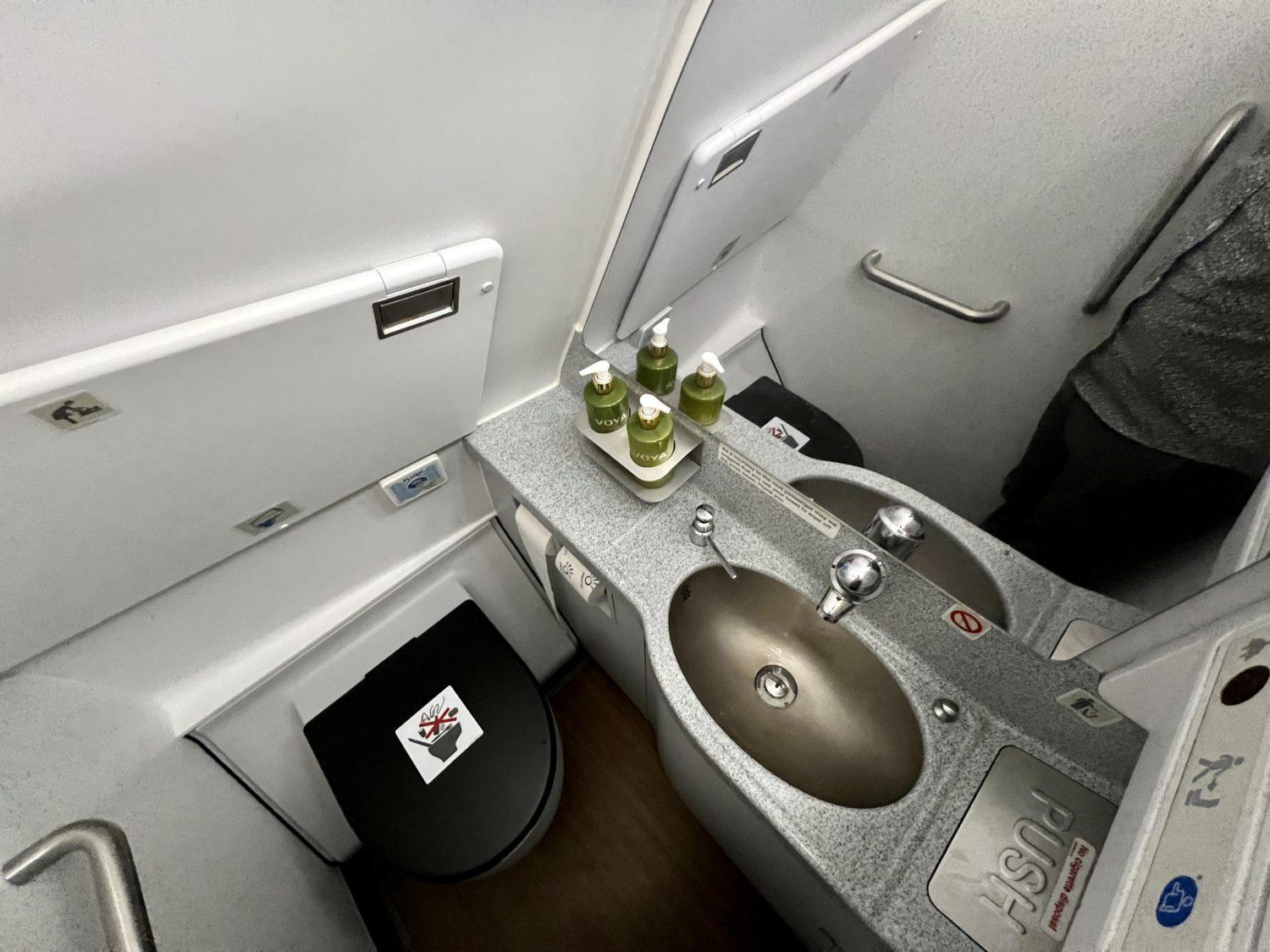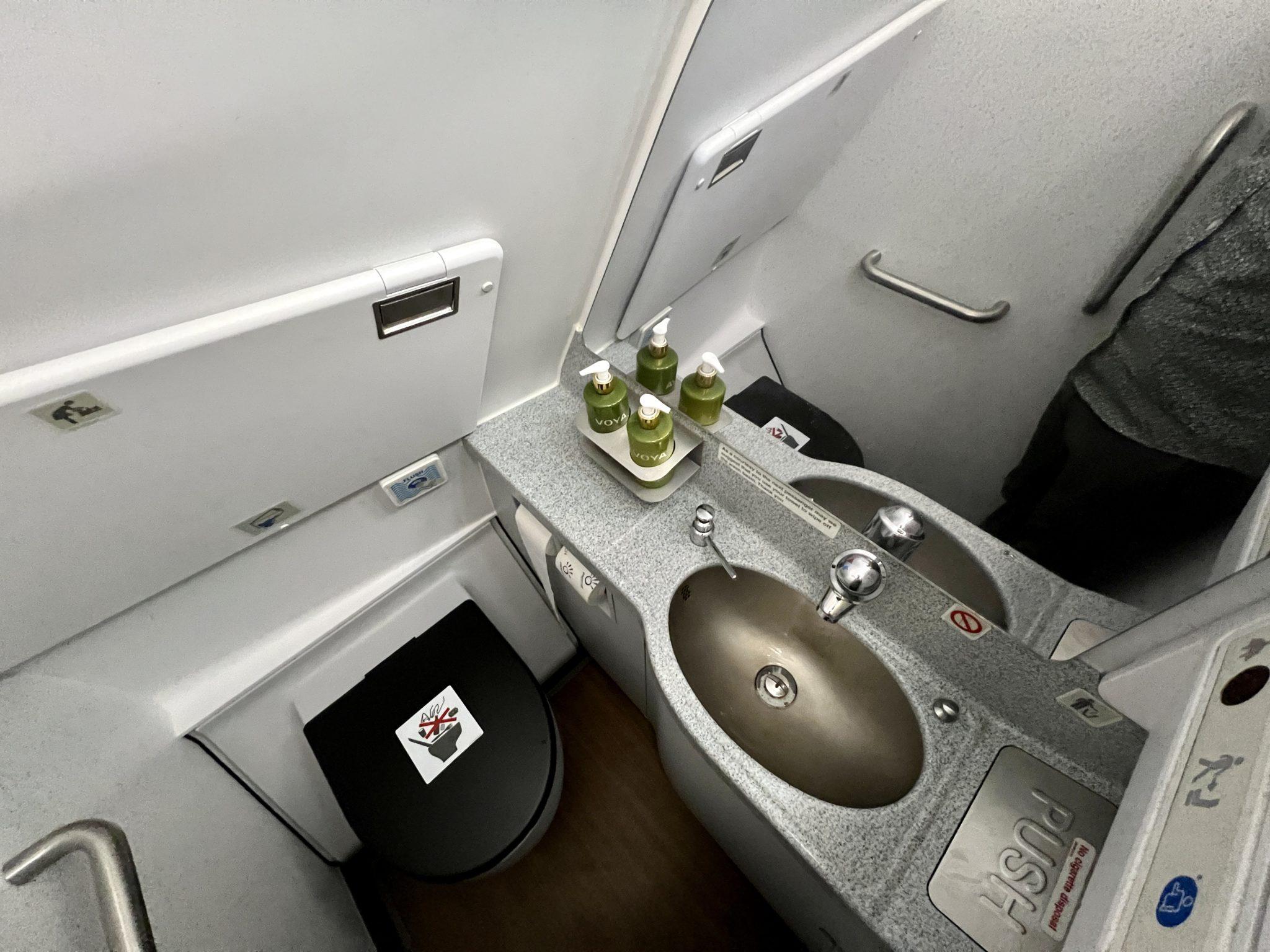 The lavatory was at least stocked with some nice VOYA hand soap and lotion – something you won't find at the back of the plane.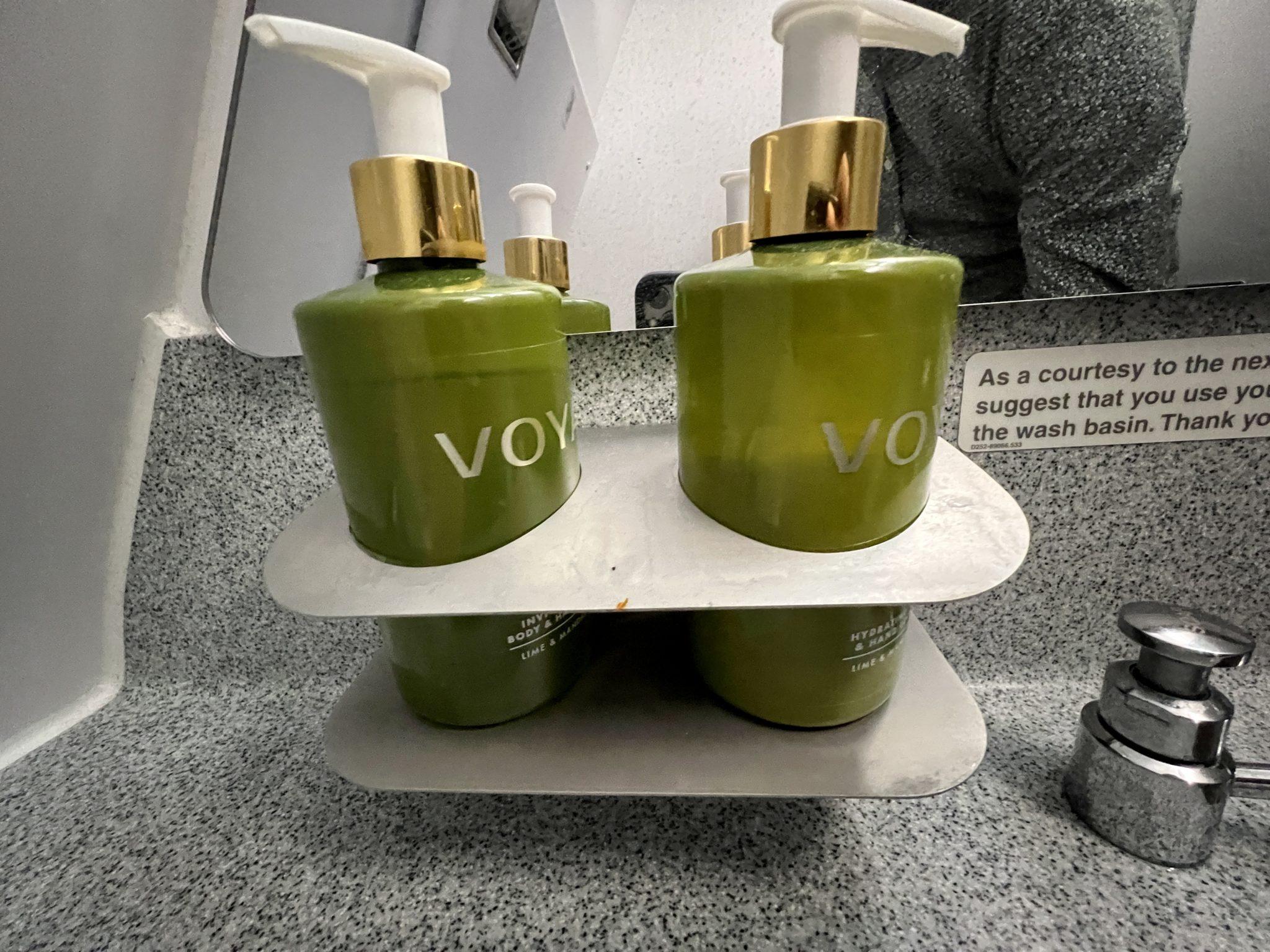 The Throne Seat in Aer Lingus Business Class
After striking out trying to pick a seat online after booking, I called up Aer Lingus. And I'm glad I did: I was able to pick seat 5K, a throne seat.
If you're flying solo, snagging one of these four seats could be the difference between a phenomenal flight and a merely average one.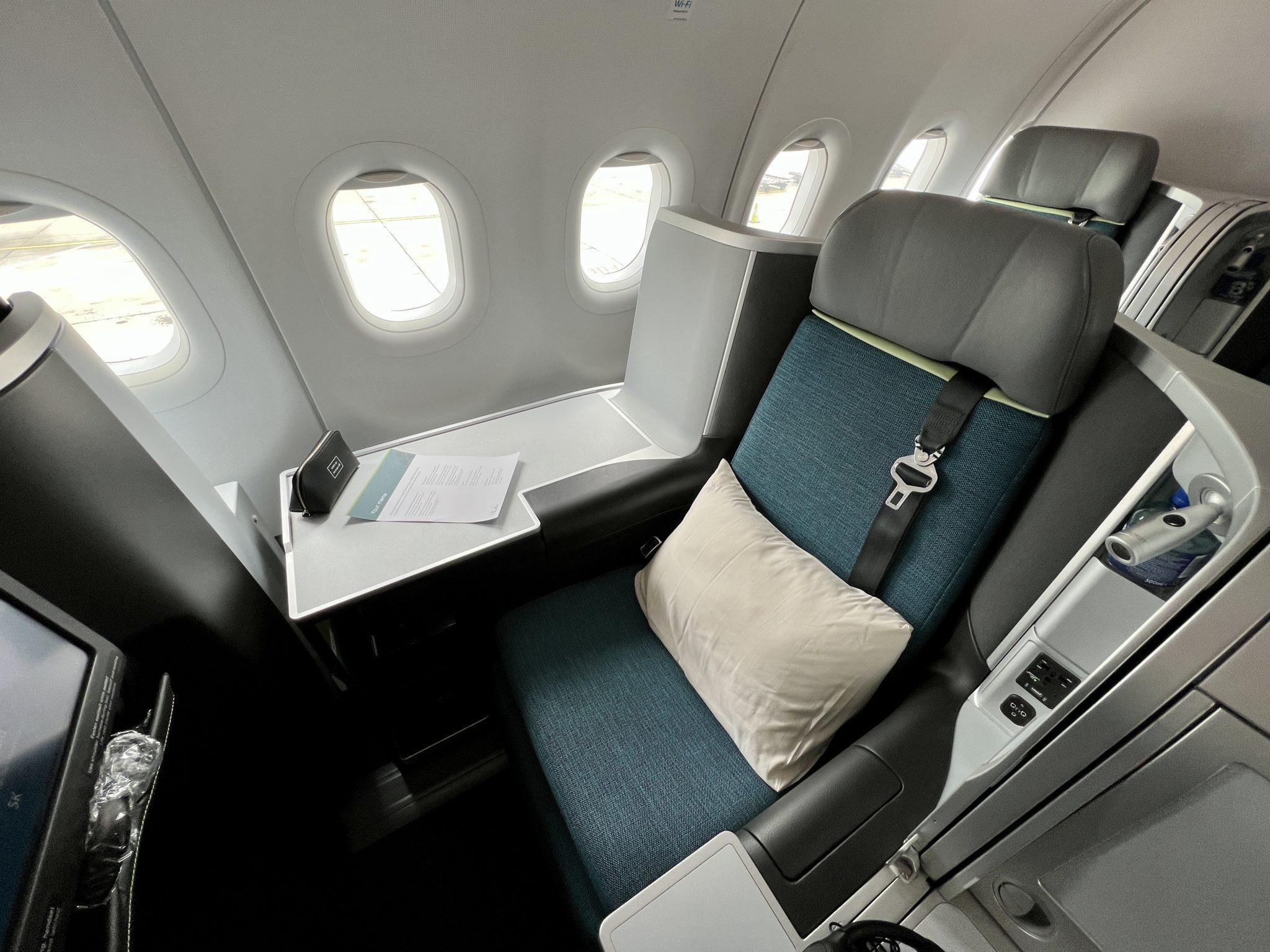 The additional privacy and direct-aisle access is one thing – while they still aren't the most private seats in the world, it's a huge step up compared to sitting next to (and maybe even climbing over) a stranger. But there is an absolutely unparalleled amount of storage in these Aer Lingus business class throne seats, with two sizable console tables on either side of the seat itself and plenty of compartments throughout.
Just look at this massive surface along the windows.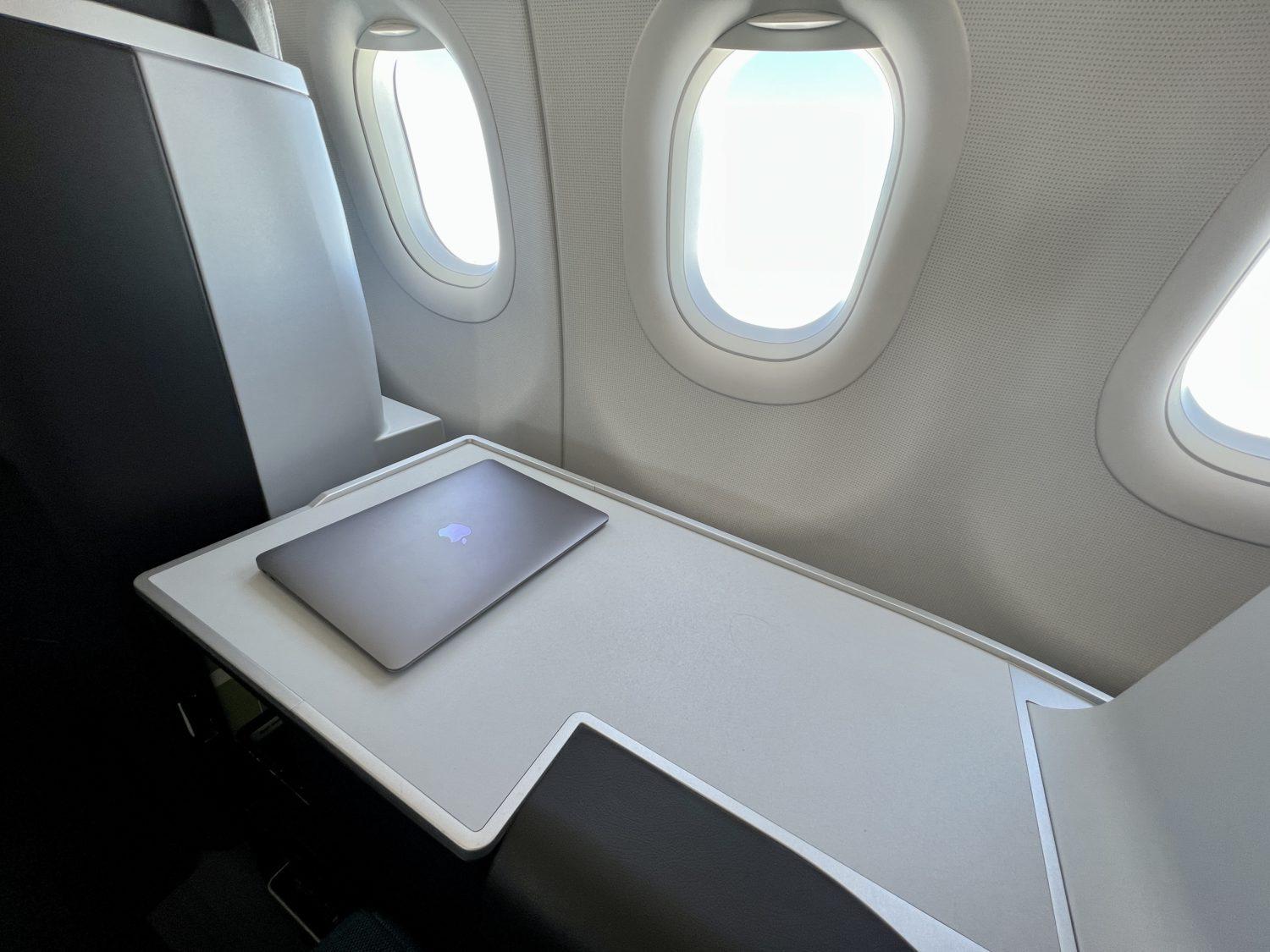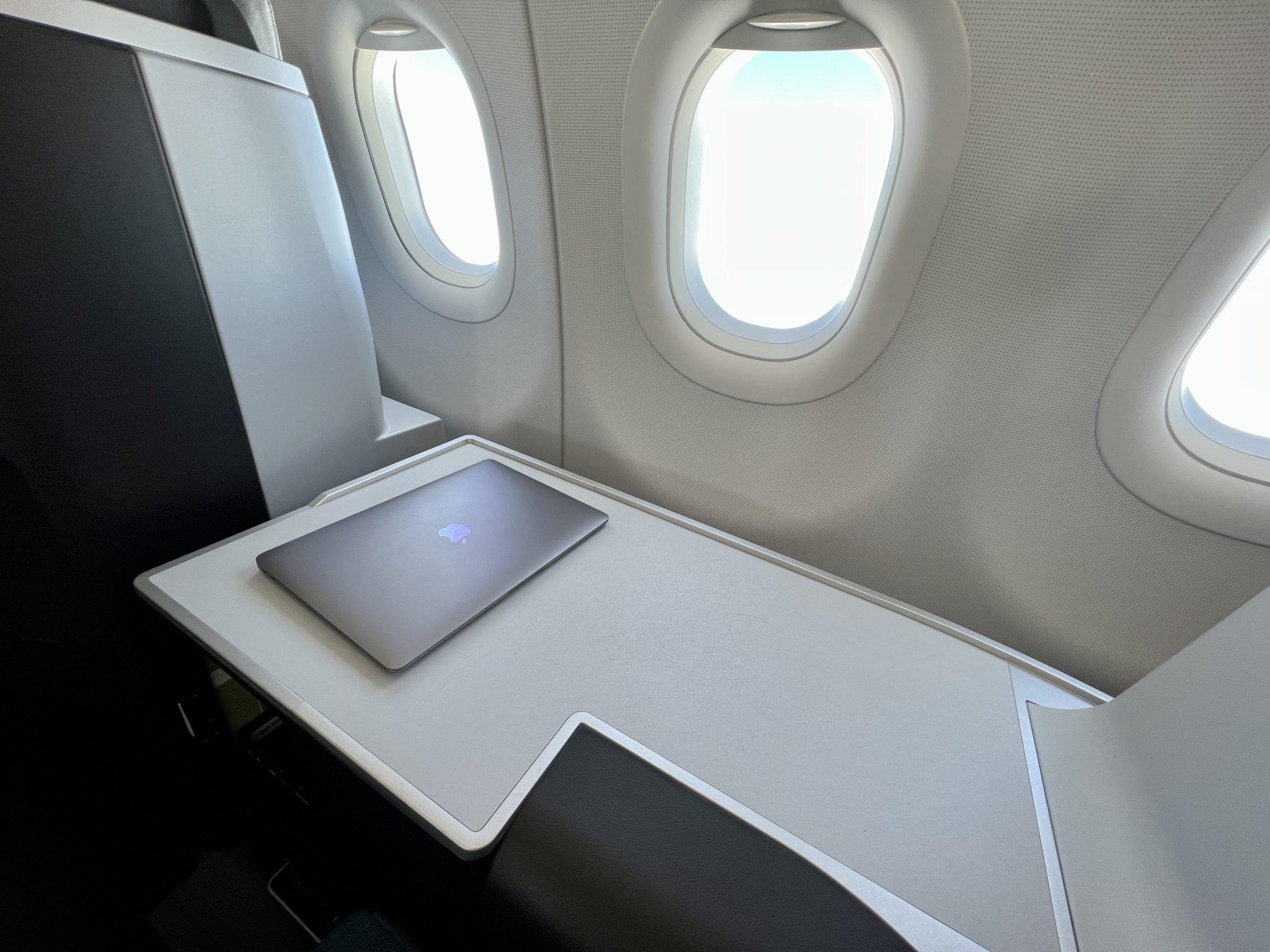 Below that there are several sizable storage compartments, including a great spot to tuck away a laptop as well as a long, deep cubby to stow your goodies … and then another storage pocket close to the floor.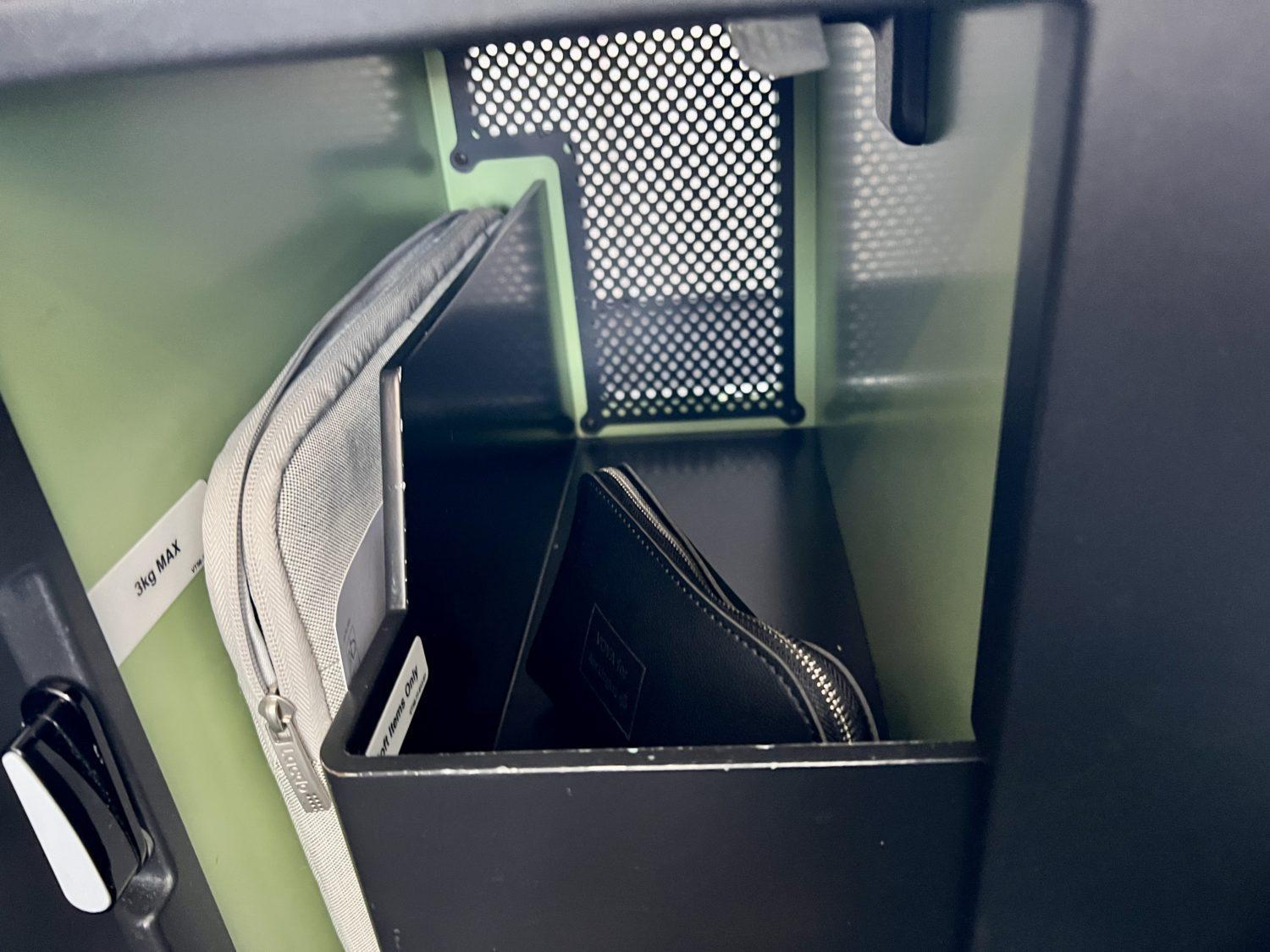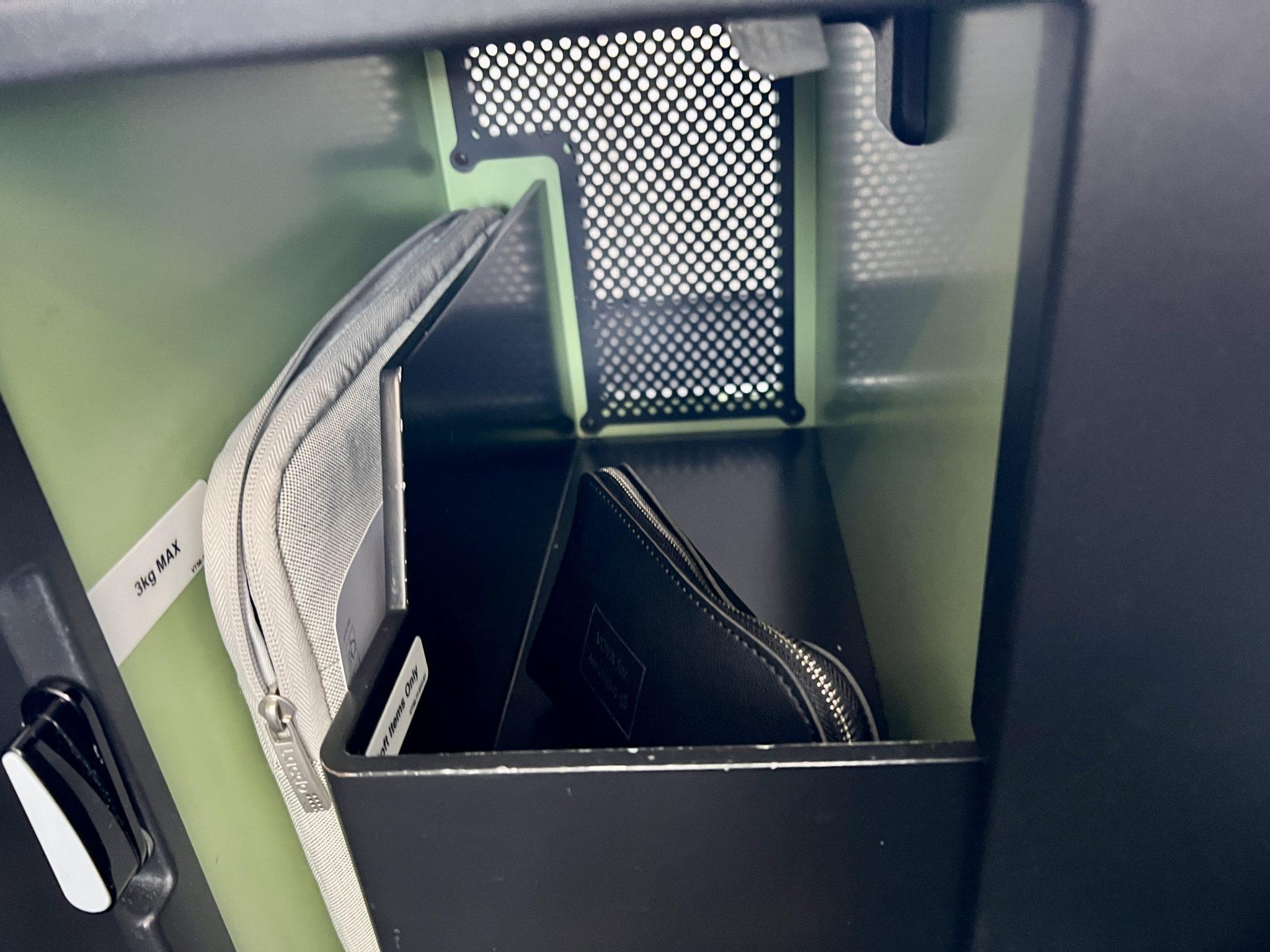 Underneath the screen in front of you, you'll find another small compartment by pulling down the mesh divider, making it a great spot to store some headphones or an amenity kit.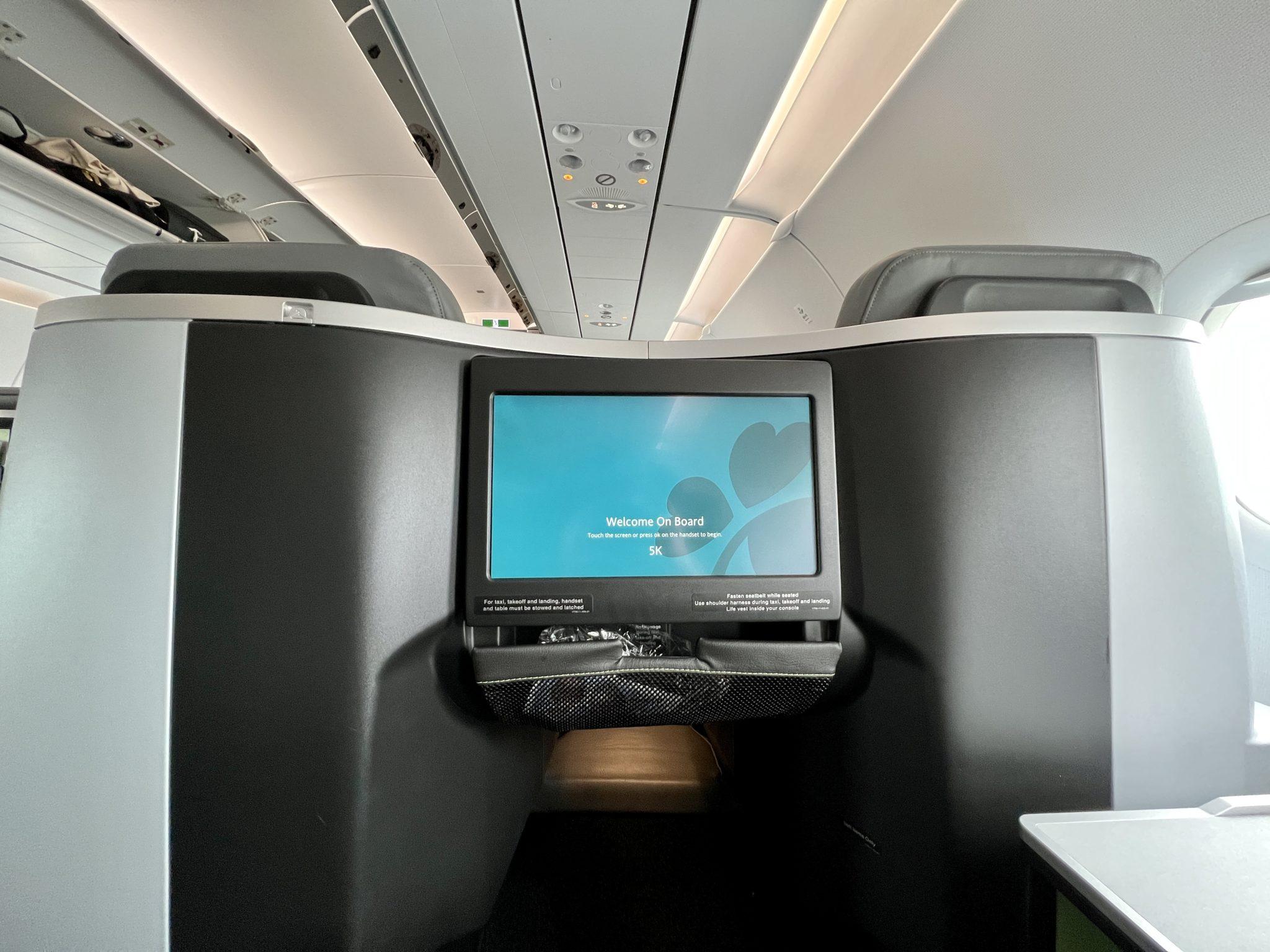 Along the aisle, there's yet another large console table with another big storage compartment inside a door. Seriously, if you can't find room for all your belongings in these seats, you've just got too much stuff.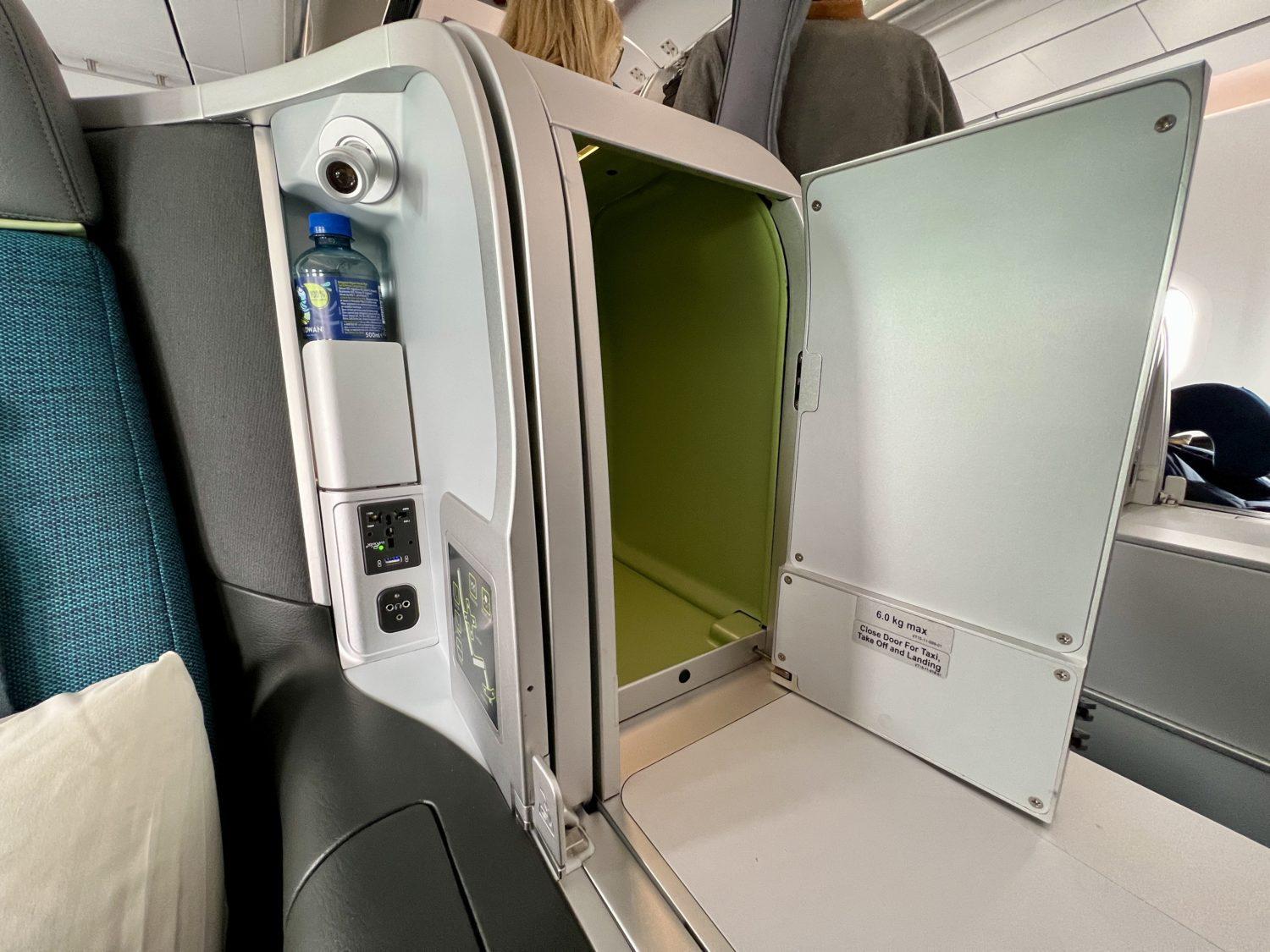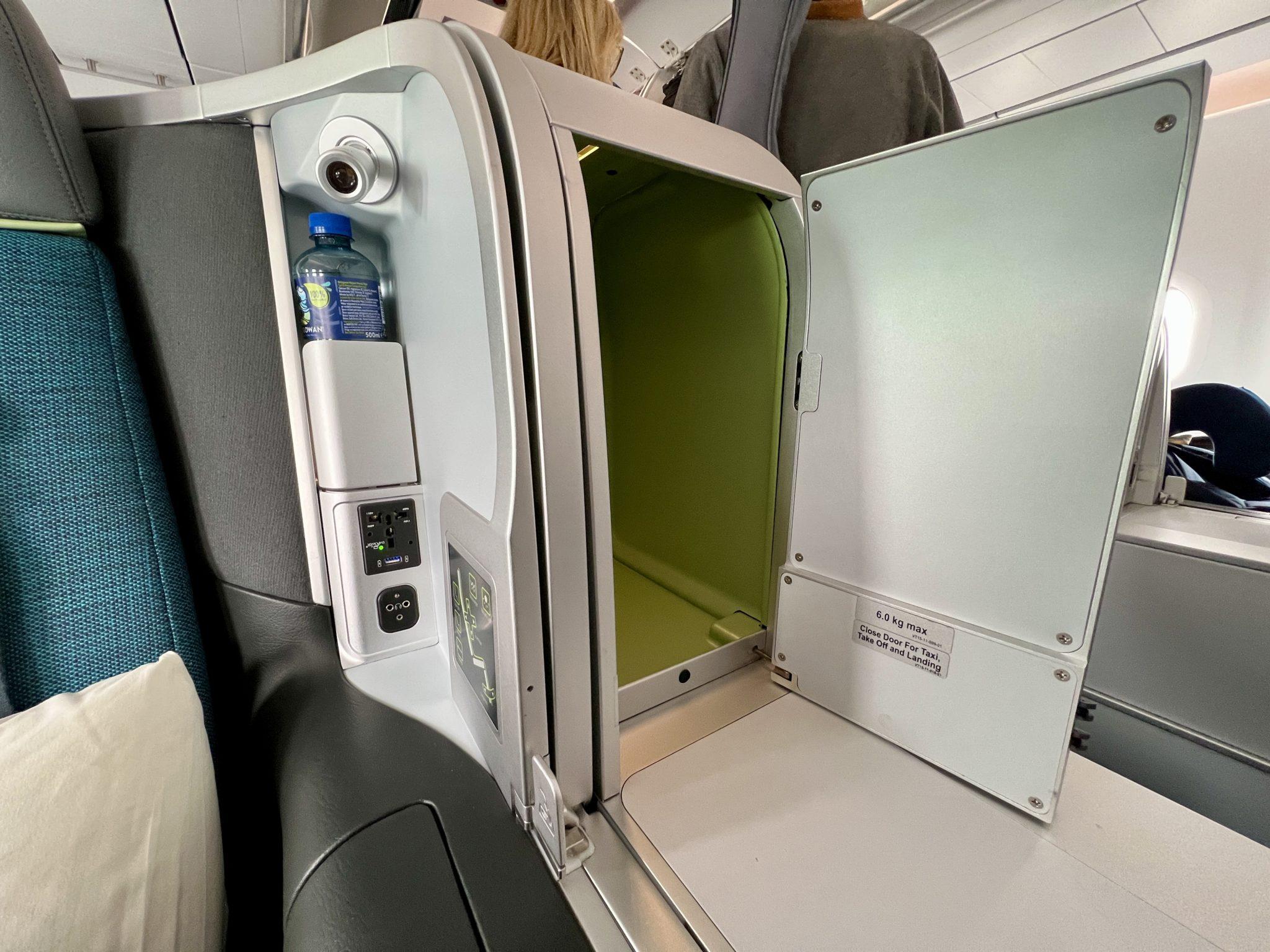 Finally, there's a small literature pocket in the walkway from the seat to the aisle. Once again, the pop of bright green is a nice look.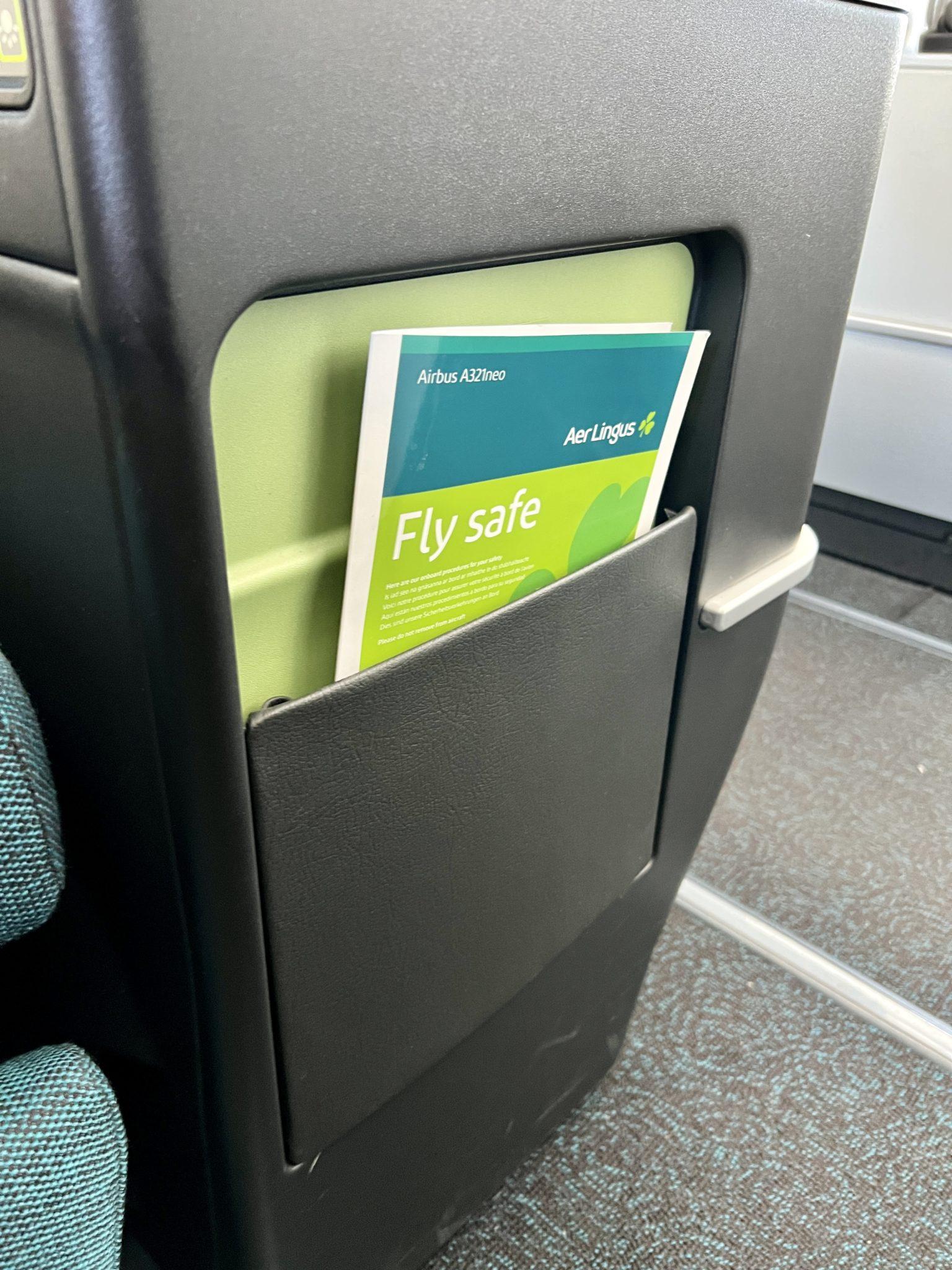 But it's not just the massive amount of space and storage that makes Aer Lingus business class stand out. The seat itself is darn comfortable, measuring in at an impressive 22 inches wide with 78 inches of legroom when reclined into bed mode. I thought the seat padding was great. While it was adjustable, a more substantial headrest would have been a nice touch.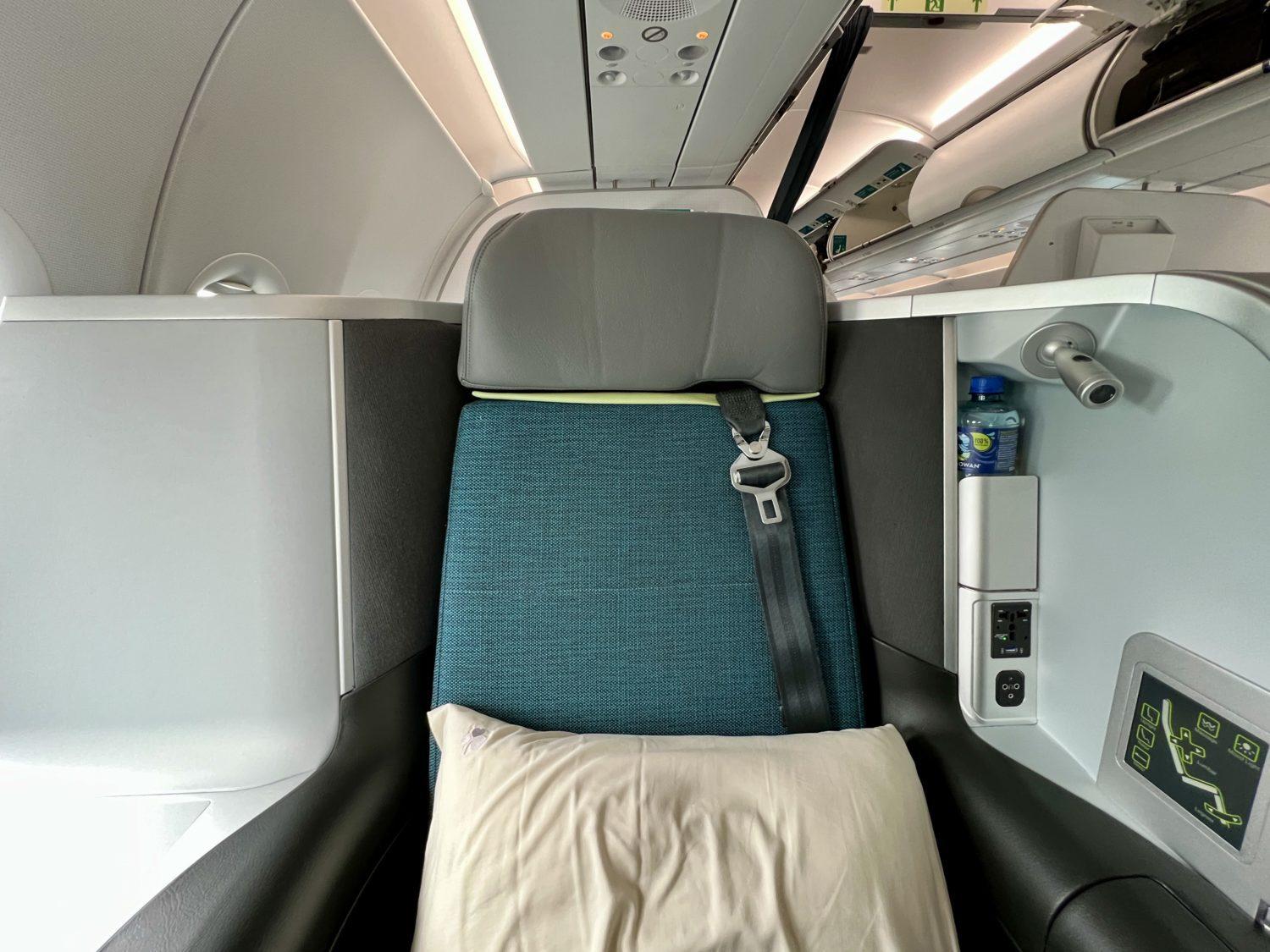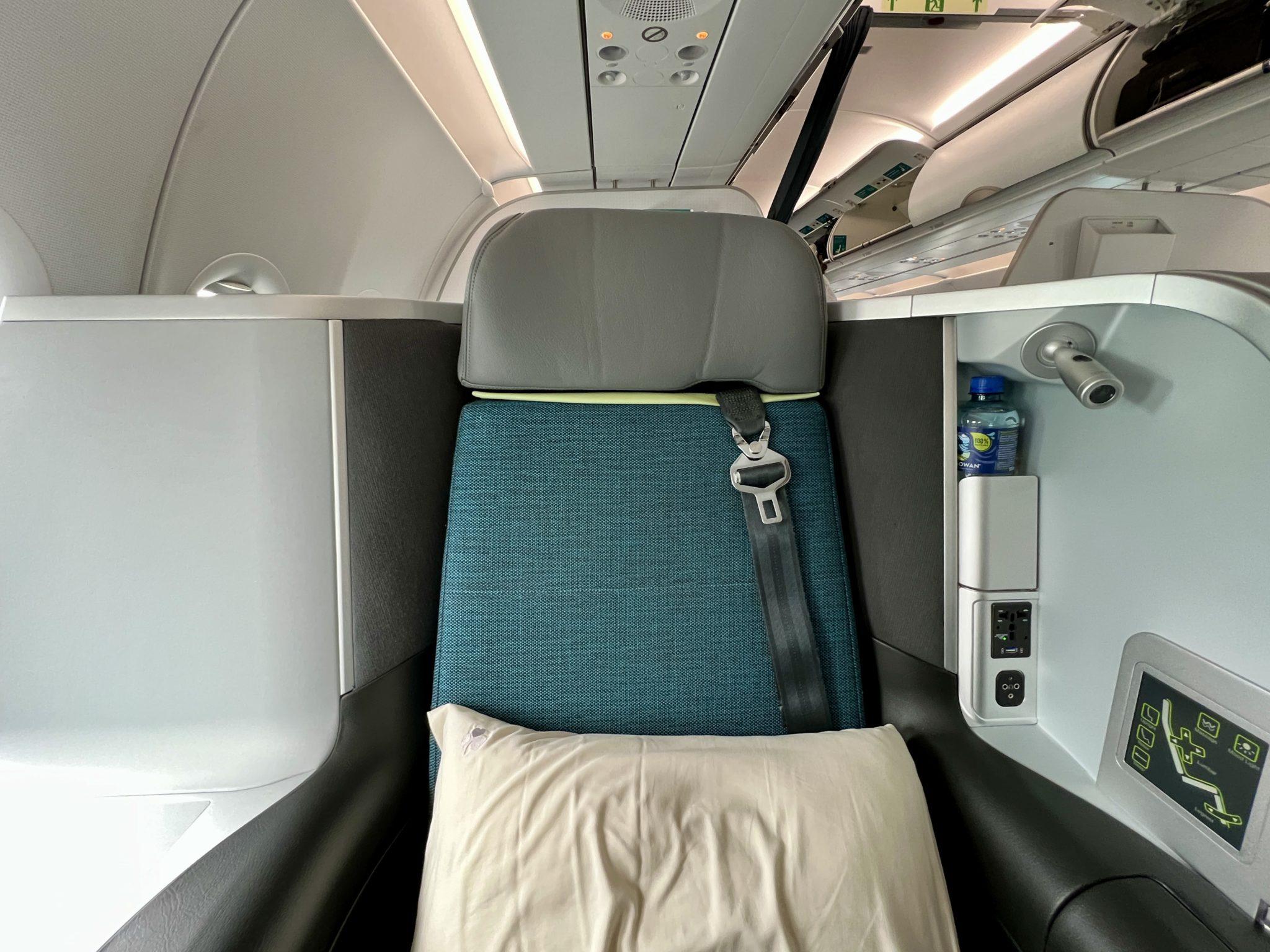 If there's one downside to these throne seats, it's the footwell: It's really, really tight. That's a byproduct of the fact that your legs slide in between the two seats ahead of you, making it hard to move your feet or legs around much (if at all) when reclined.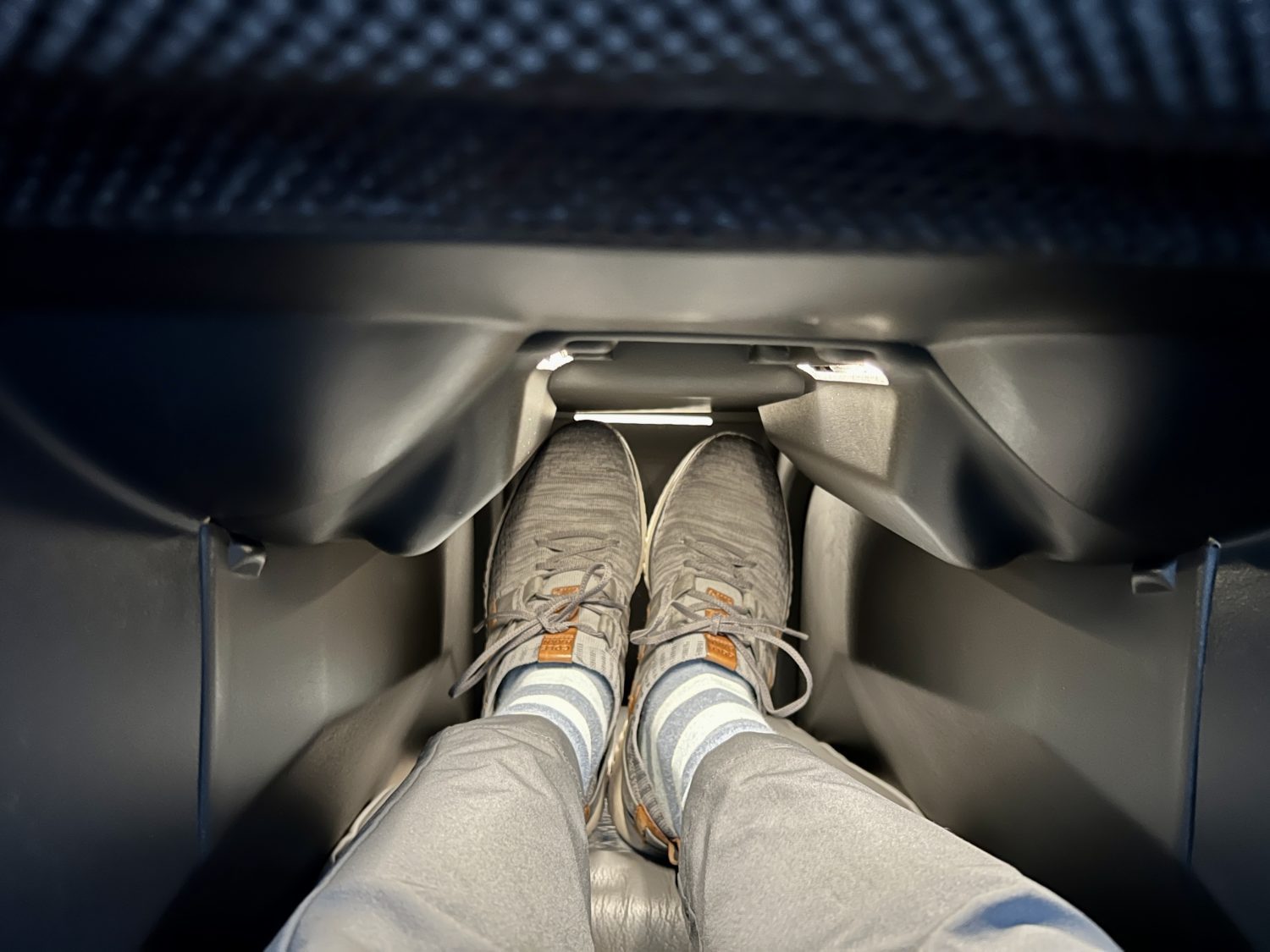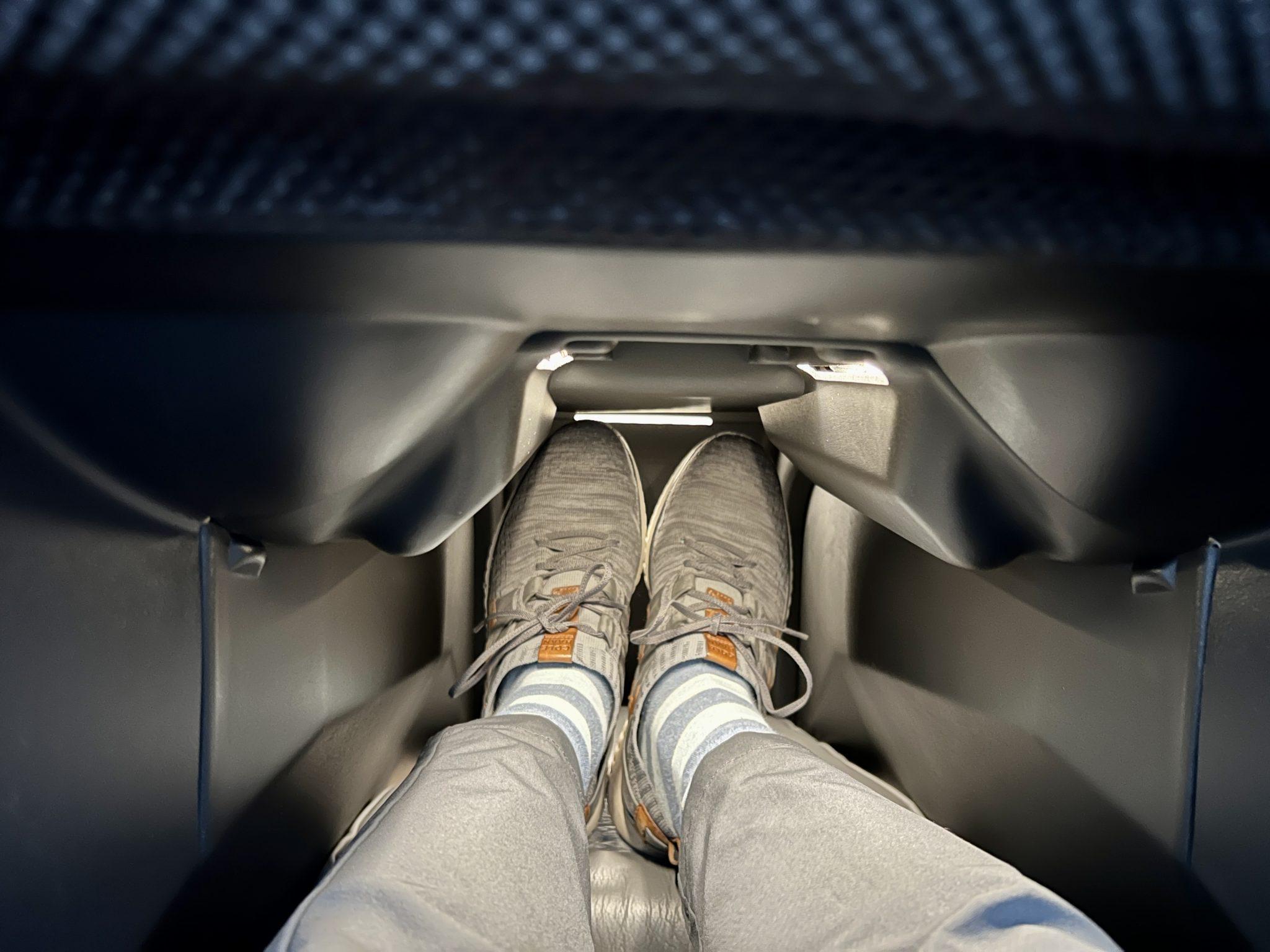 For me, sacrificing some mobility while laying down is easily worth the extra privacy and vast storage. And even with my feet shoved far inside, I thought it was more than comfortable enough to grab a quick nap on the daytime flight back to the states.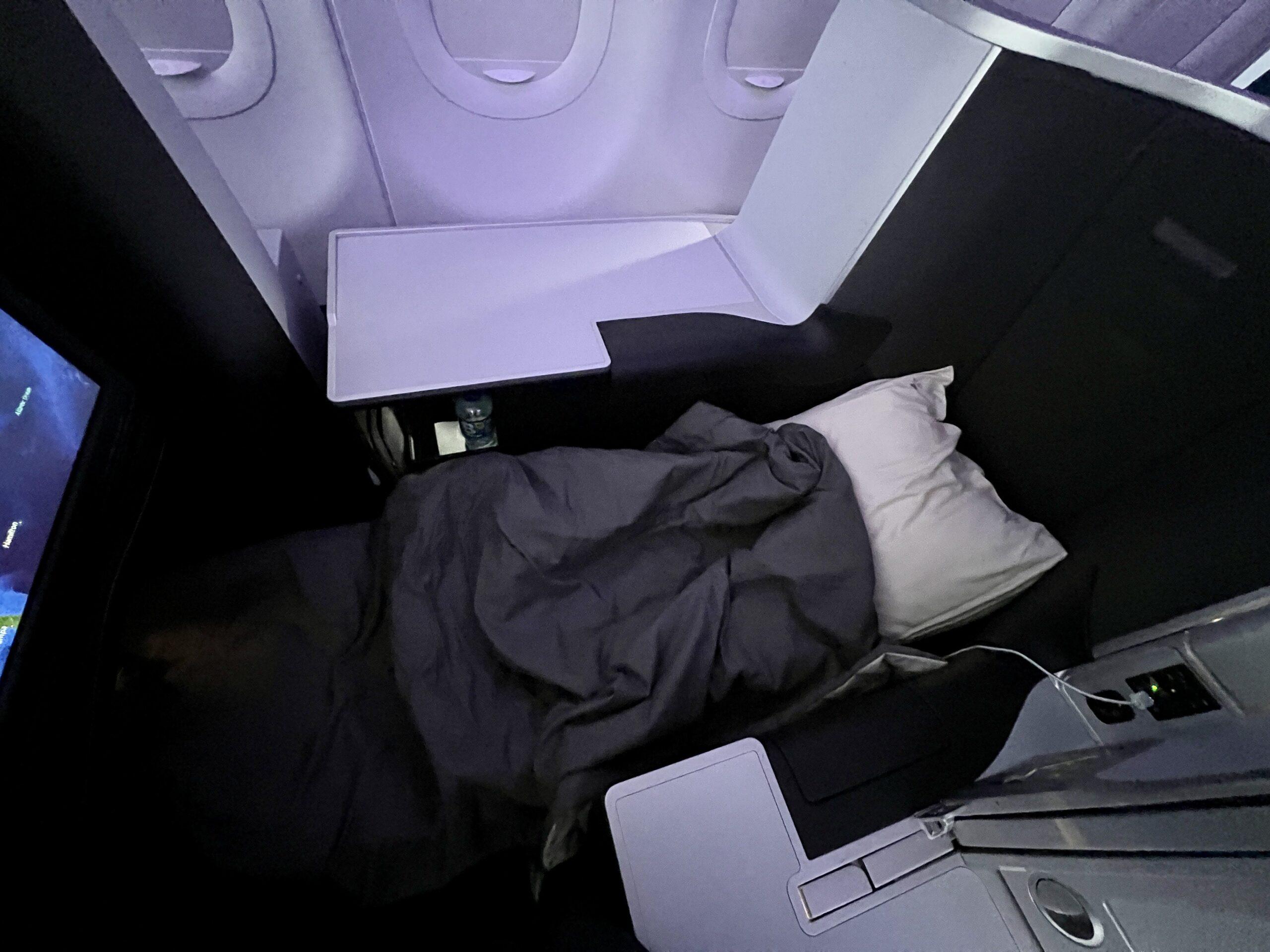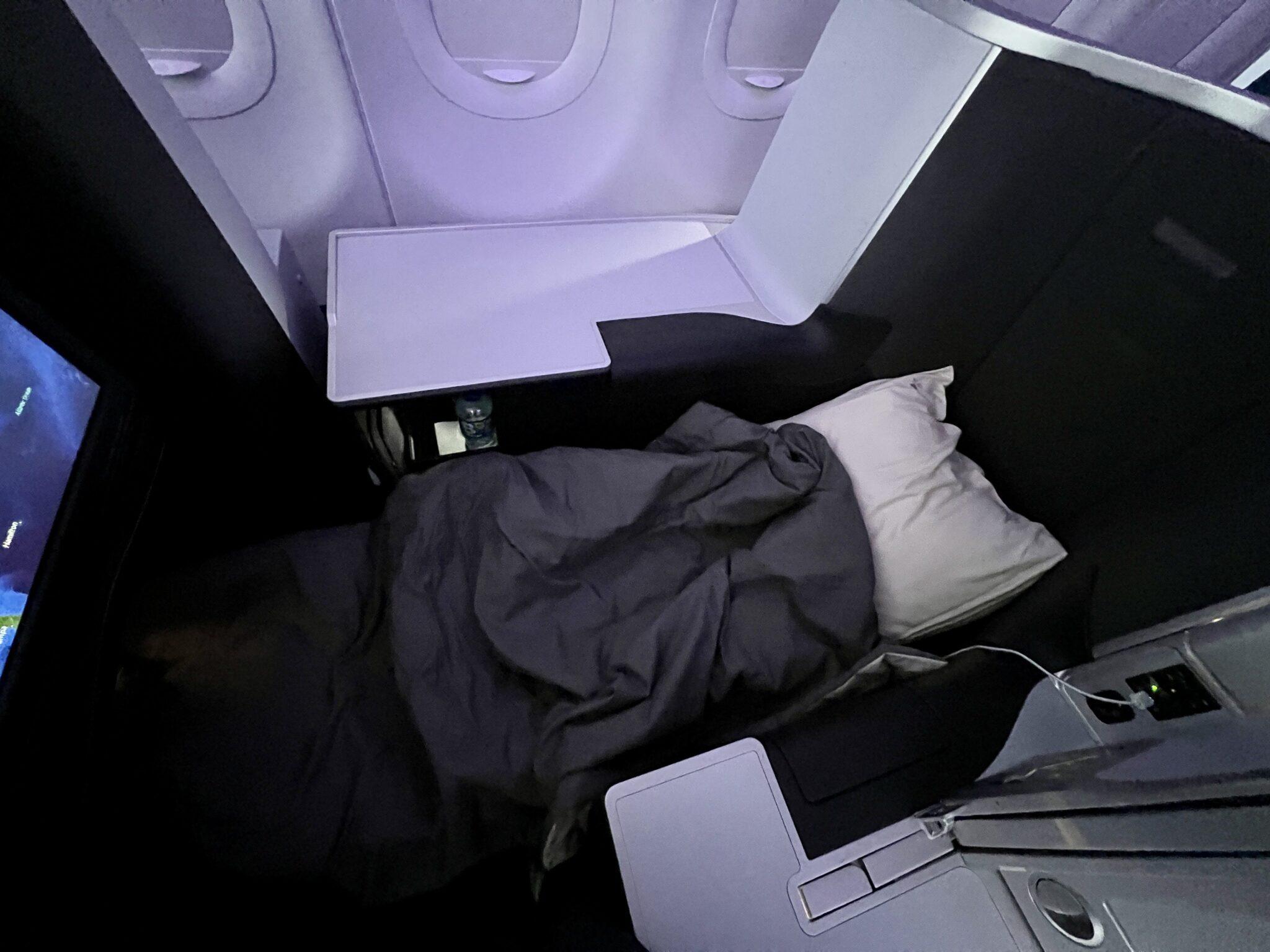 Still, there's no question that some of the two-seat pairs are far more generous on this front.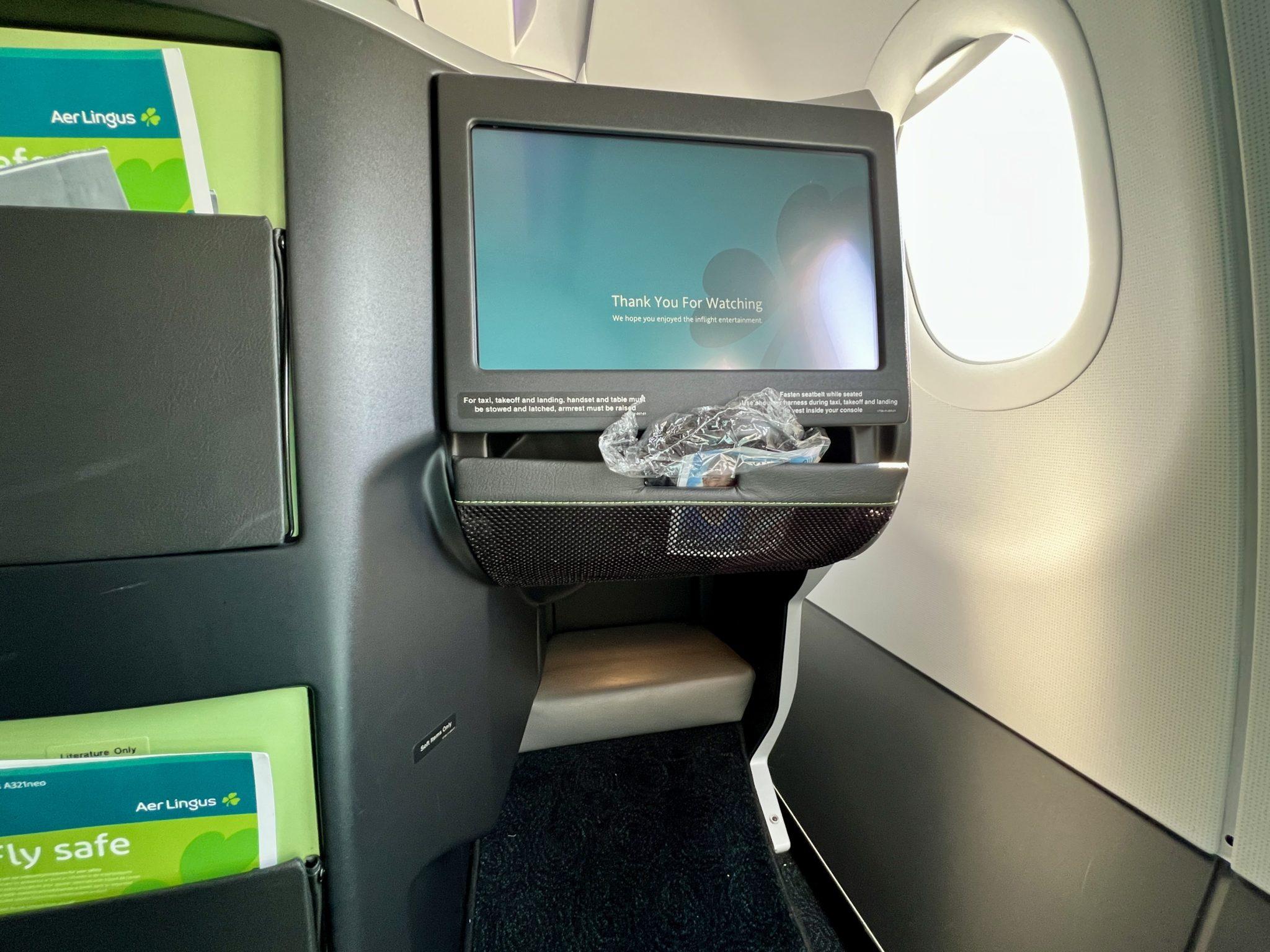 Back in the throne seat, there's a reading lamp you can turn on and off with a quick push of a button near your head. There's also a small spot for a water bottle – so small, in fact, it's hard to get a bottle in and out of this space.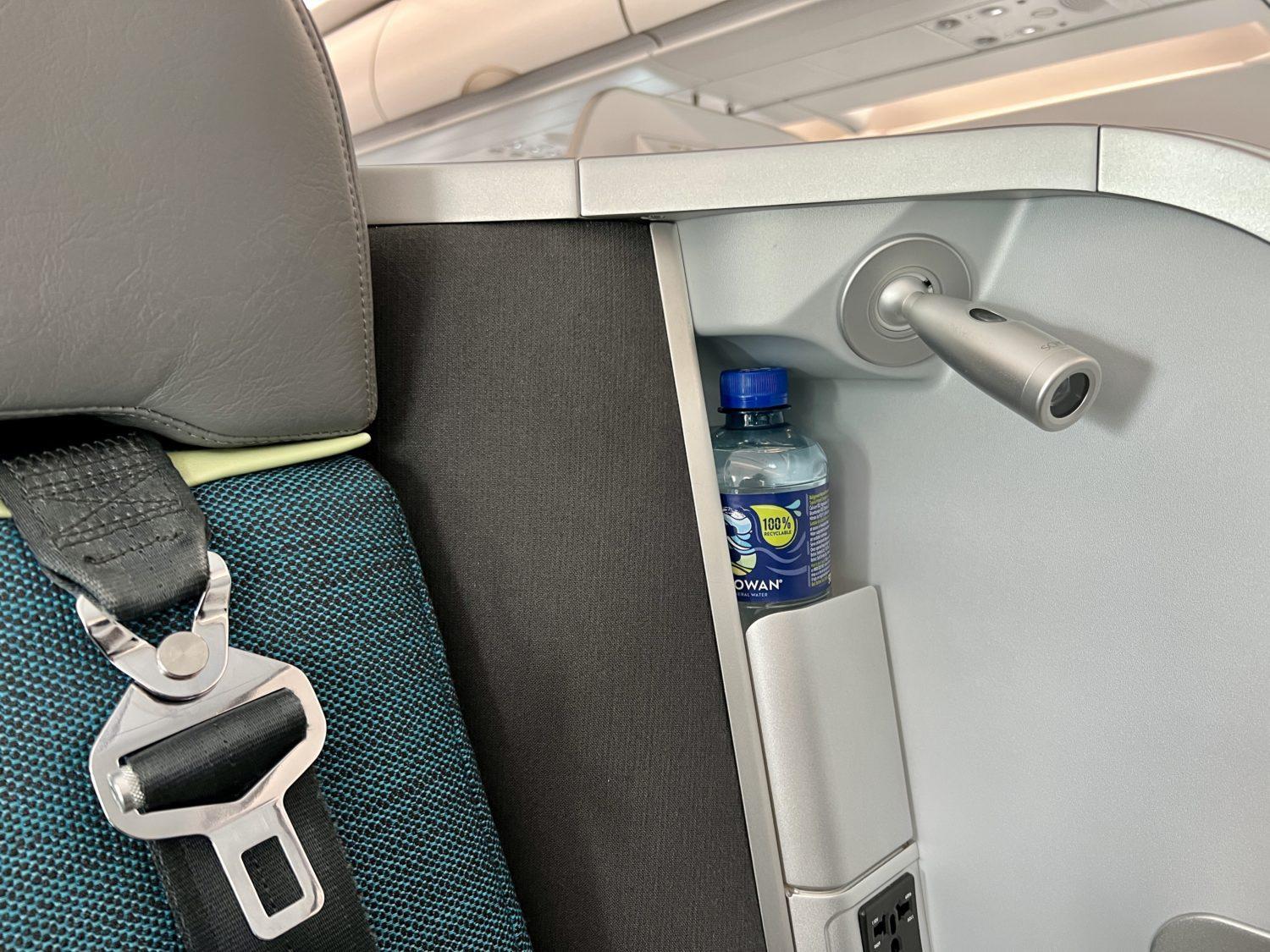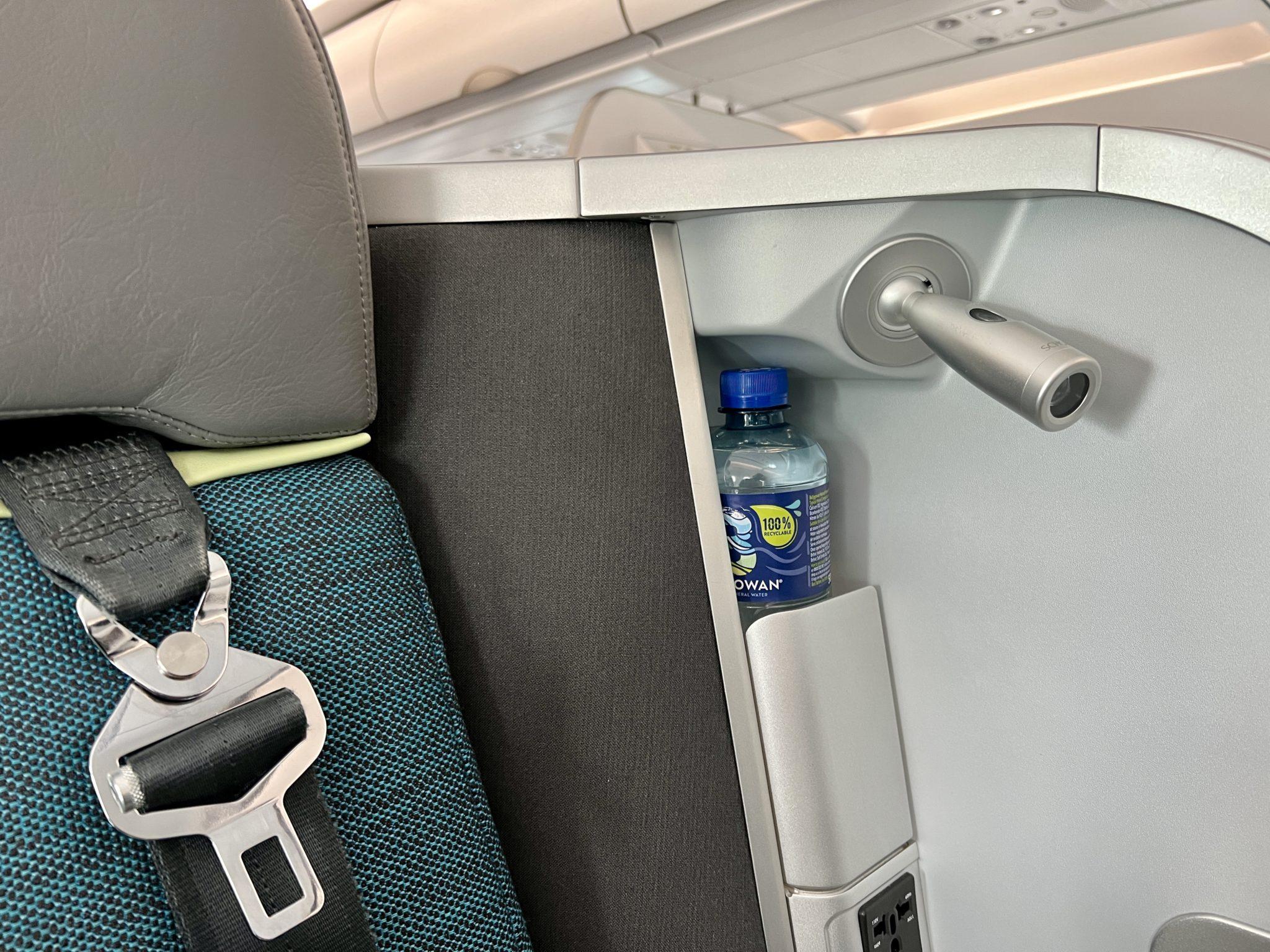 You'll find some detailed seat controls – including a rare massage function – in a panel on the aisle-side console. This is also where you'll plug in a pair of headphones, with a universal power adapter and USB socket available, too.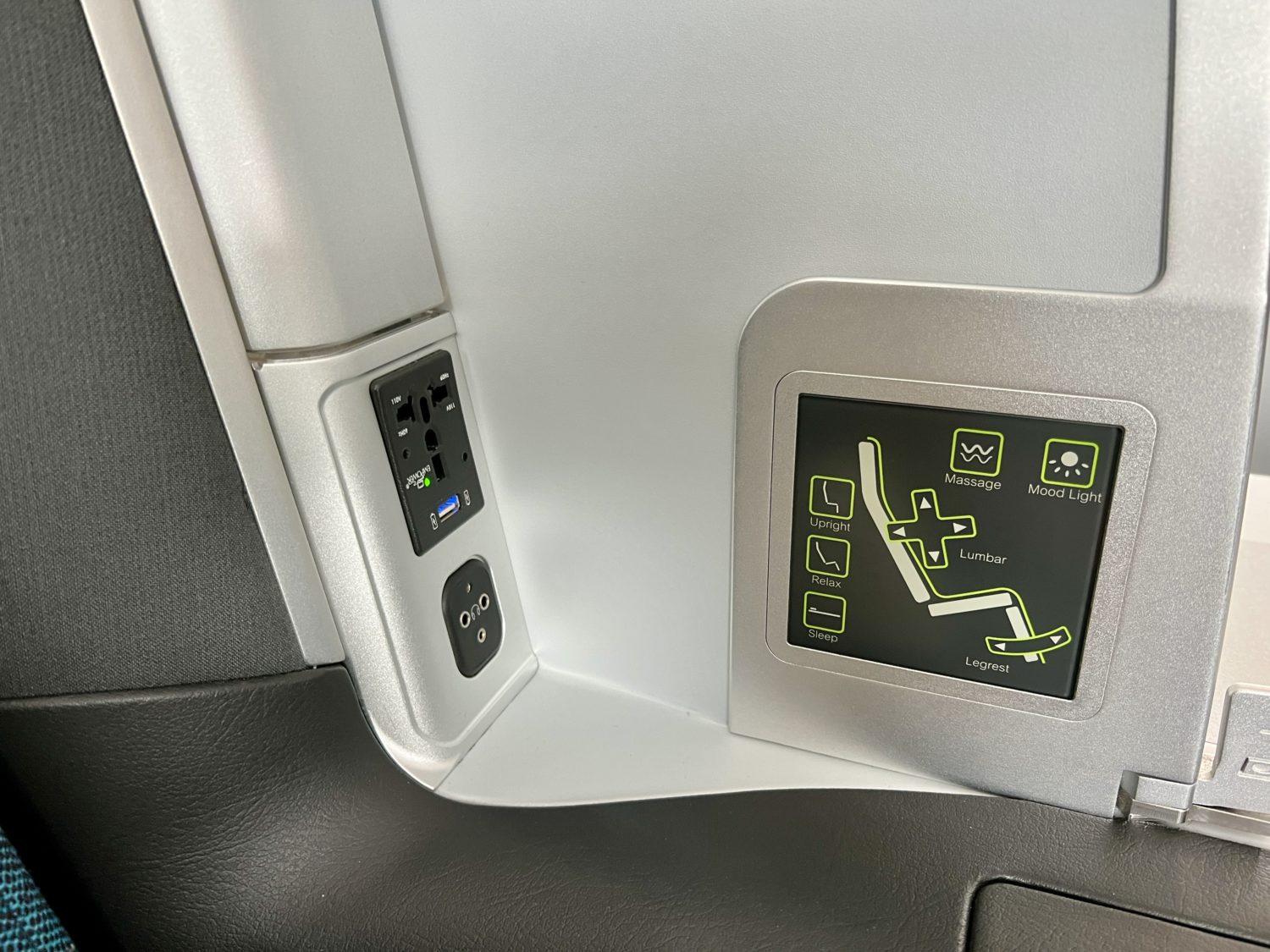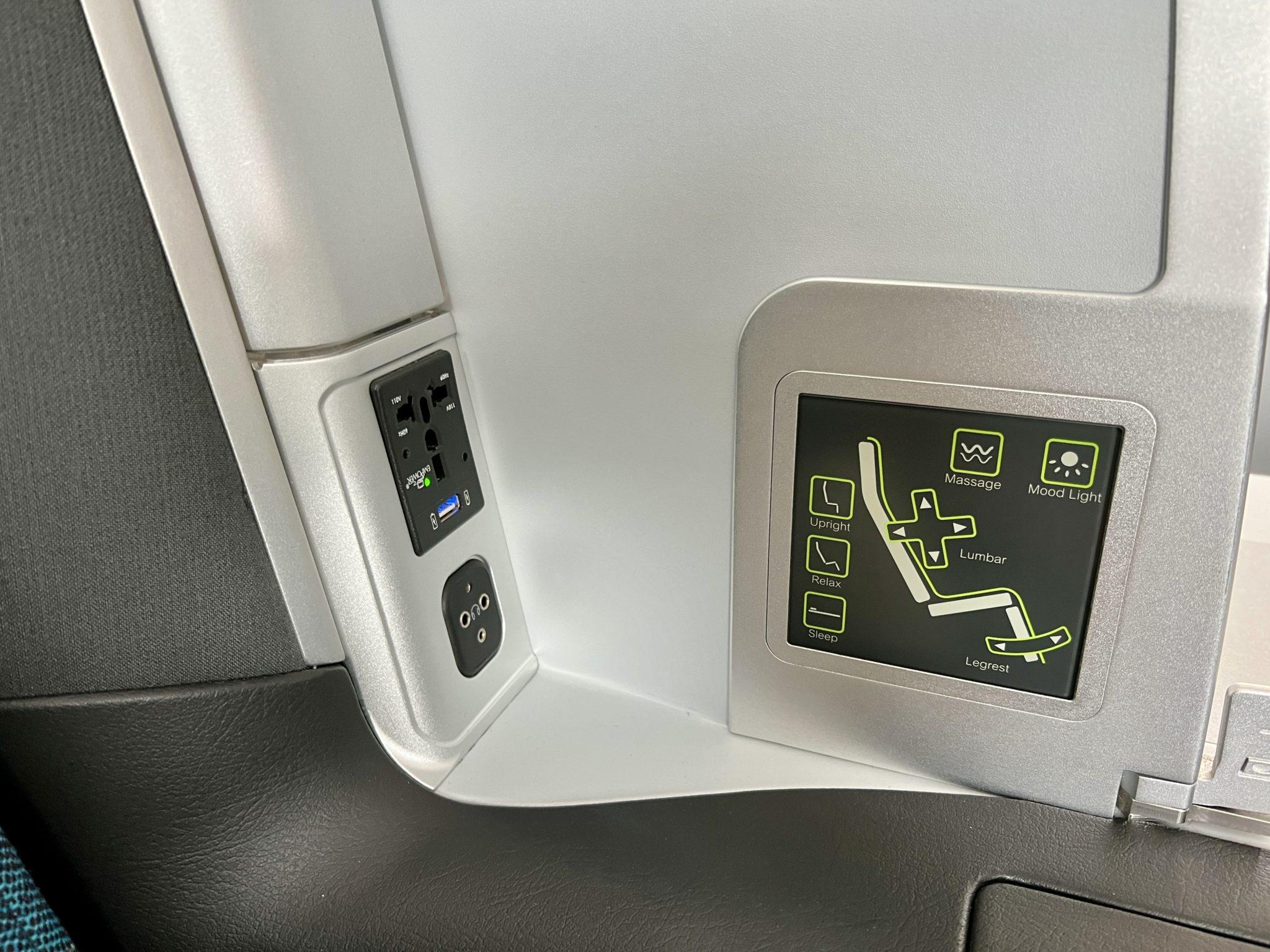 There's yet another, simpler set of seat controls along the console table itself if you simple want to recline or lounge without fine-tuning your seat settings. Lift open the flap and you'll find the wired in-flight entertainment remote.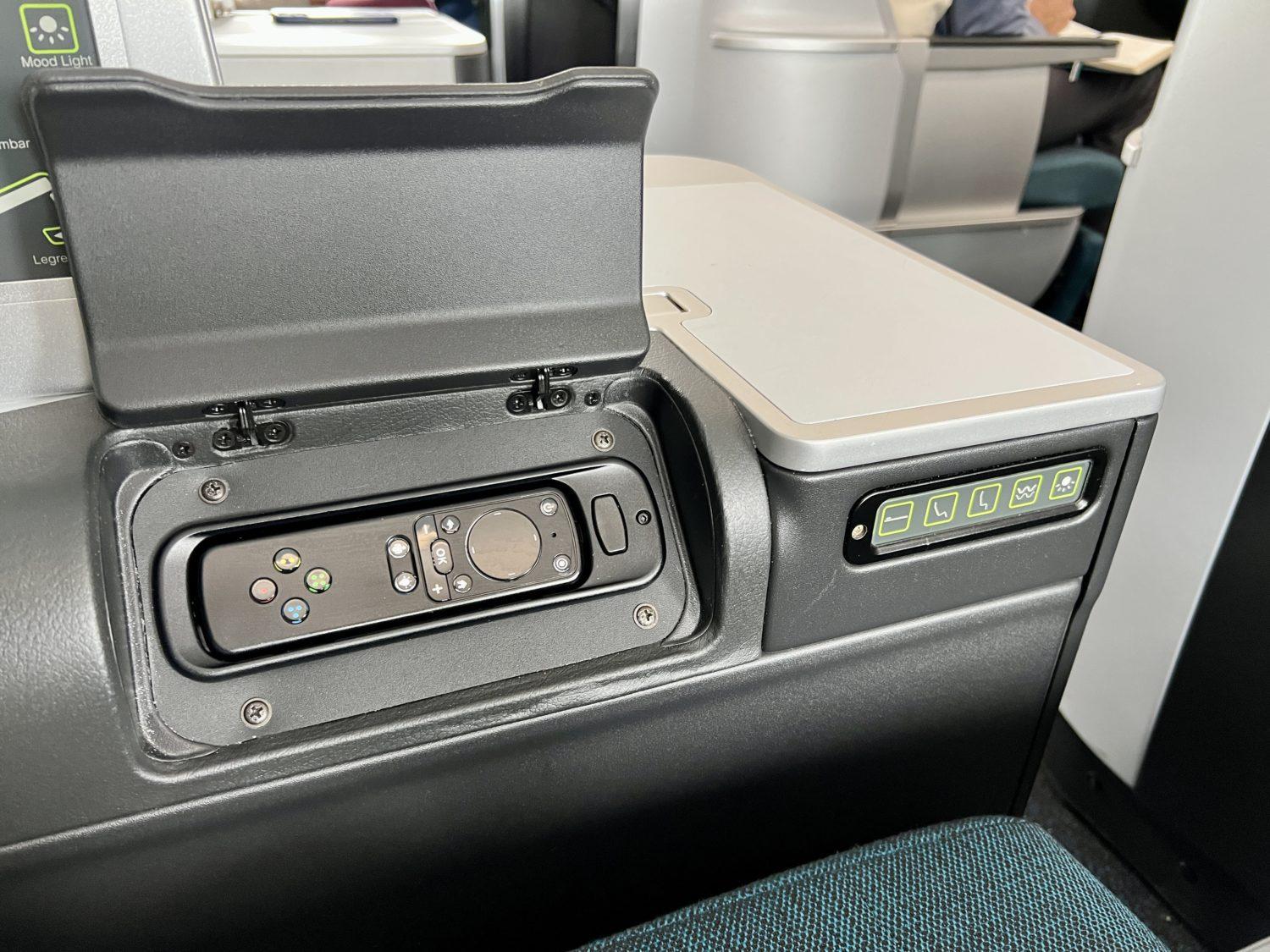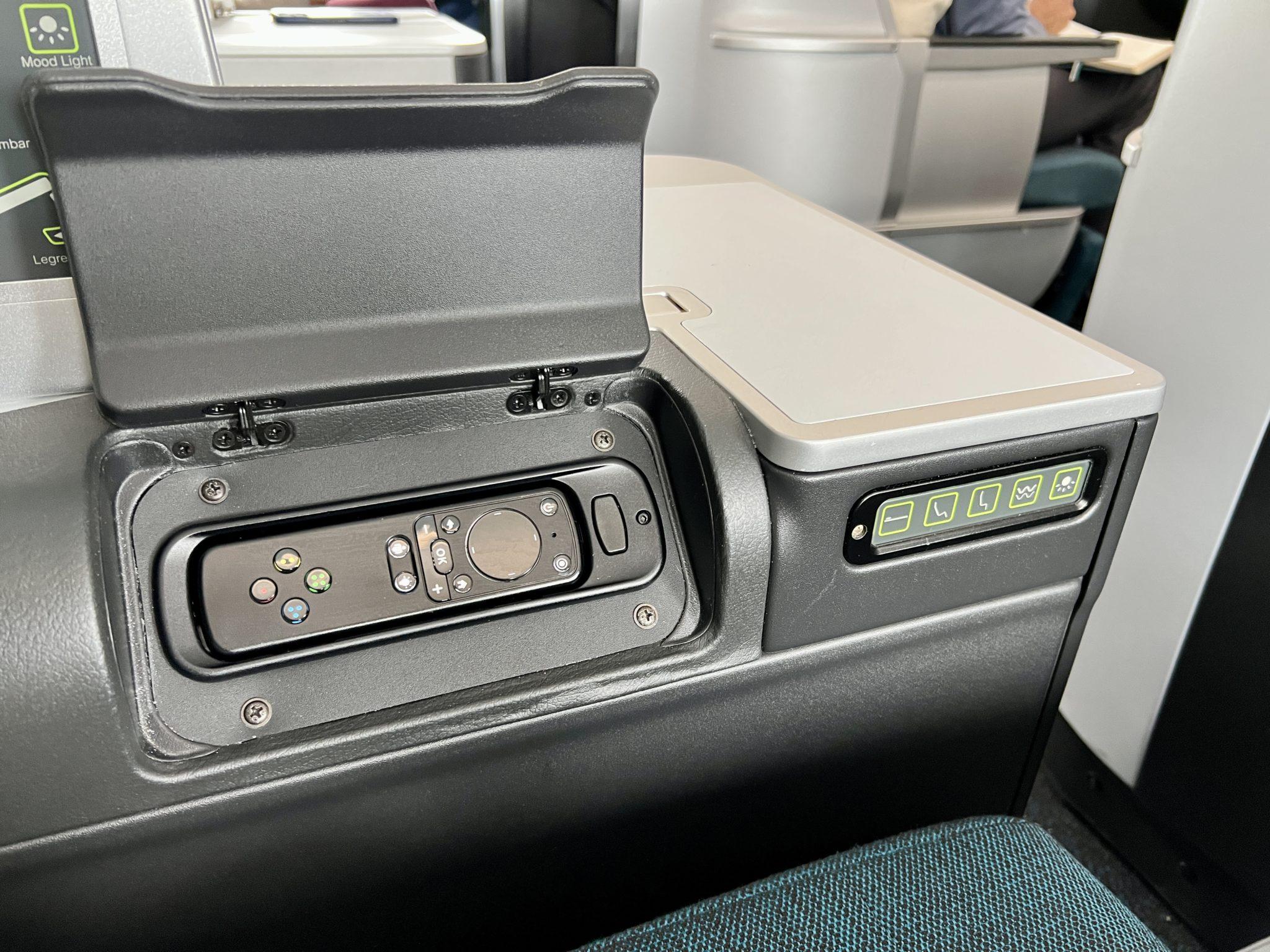 This is also where you'll find the fold-out tray table. Just pull that tab, then pull the tray out from the console and fold it down in front of you. While it's a fairly large surface, it wasn't particularly stable while working.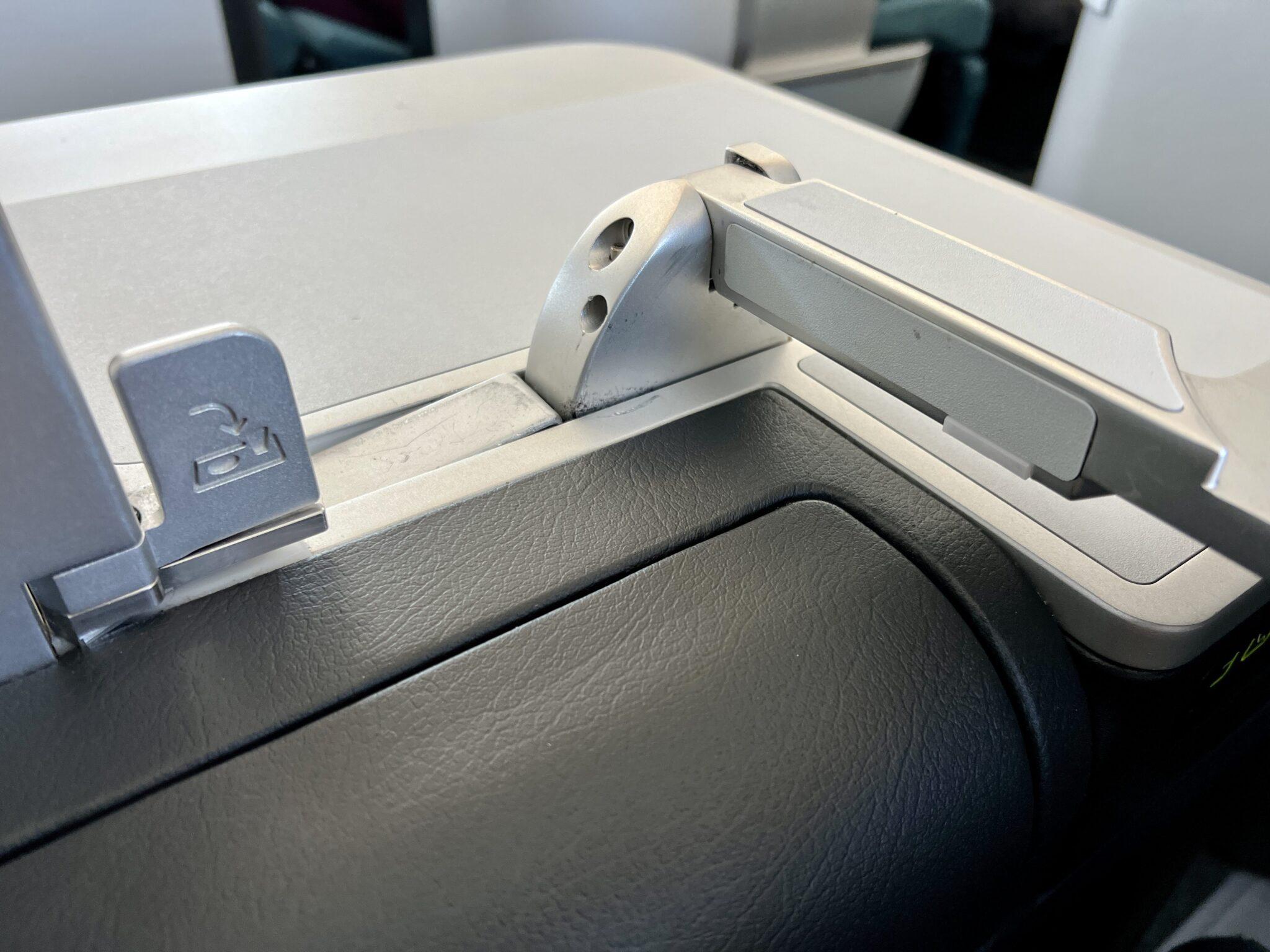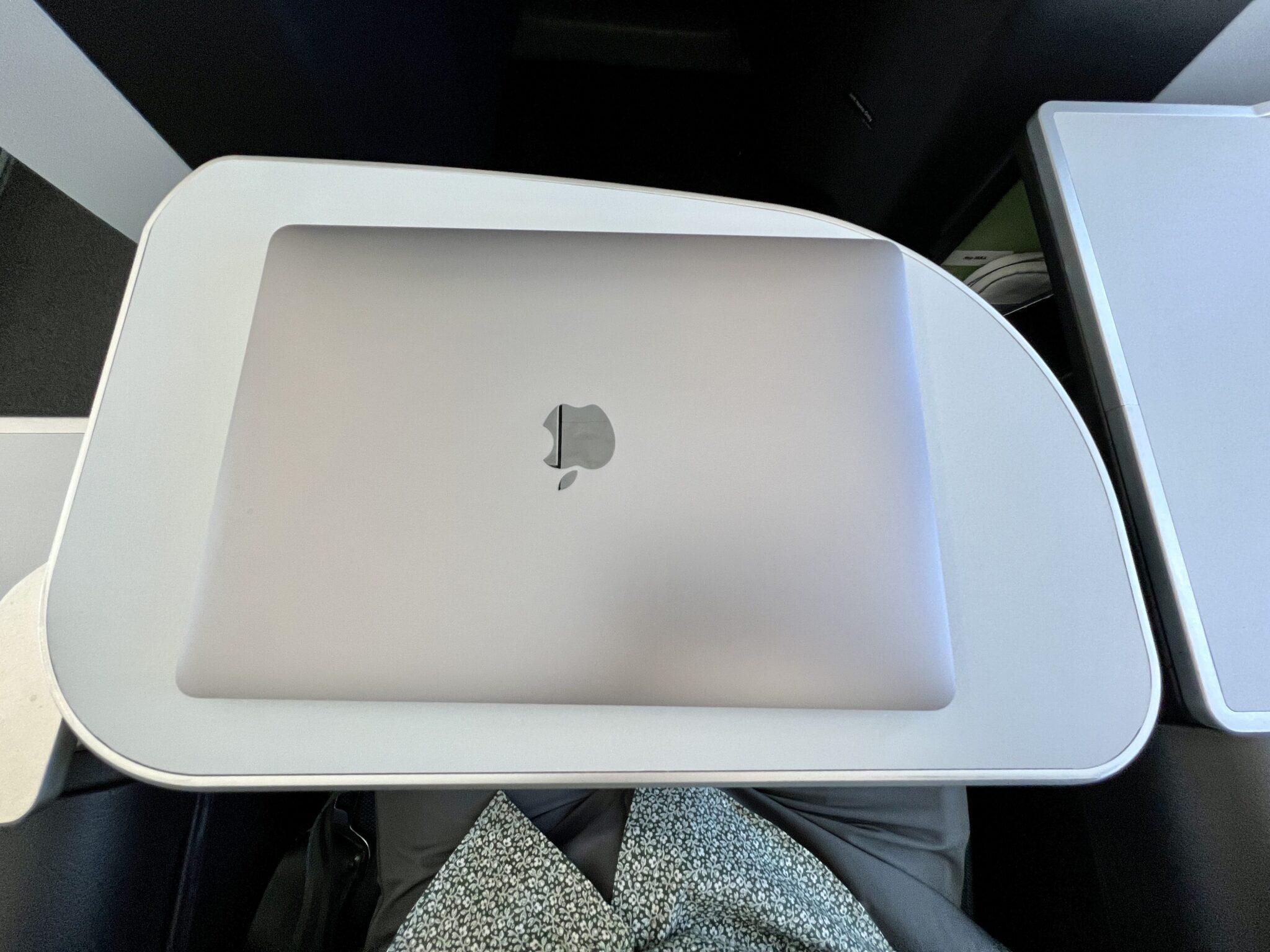 Amenities
If there's one area where it seems like Aer Lingus is skimping, it's amenities.
Don't get me wrong: There are still plenty of goodies available flying Aer Lingus business class across the Atlantic. But compared to the likes of, say, United Polaris business class or even better airlines, the amenity kits and bedding available on this flight were far more basic.
Many of these amenities were waiting at each seat upon boarding, including an amenity kit as well as a pillow.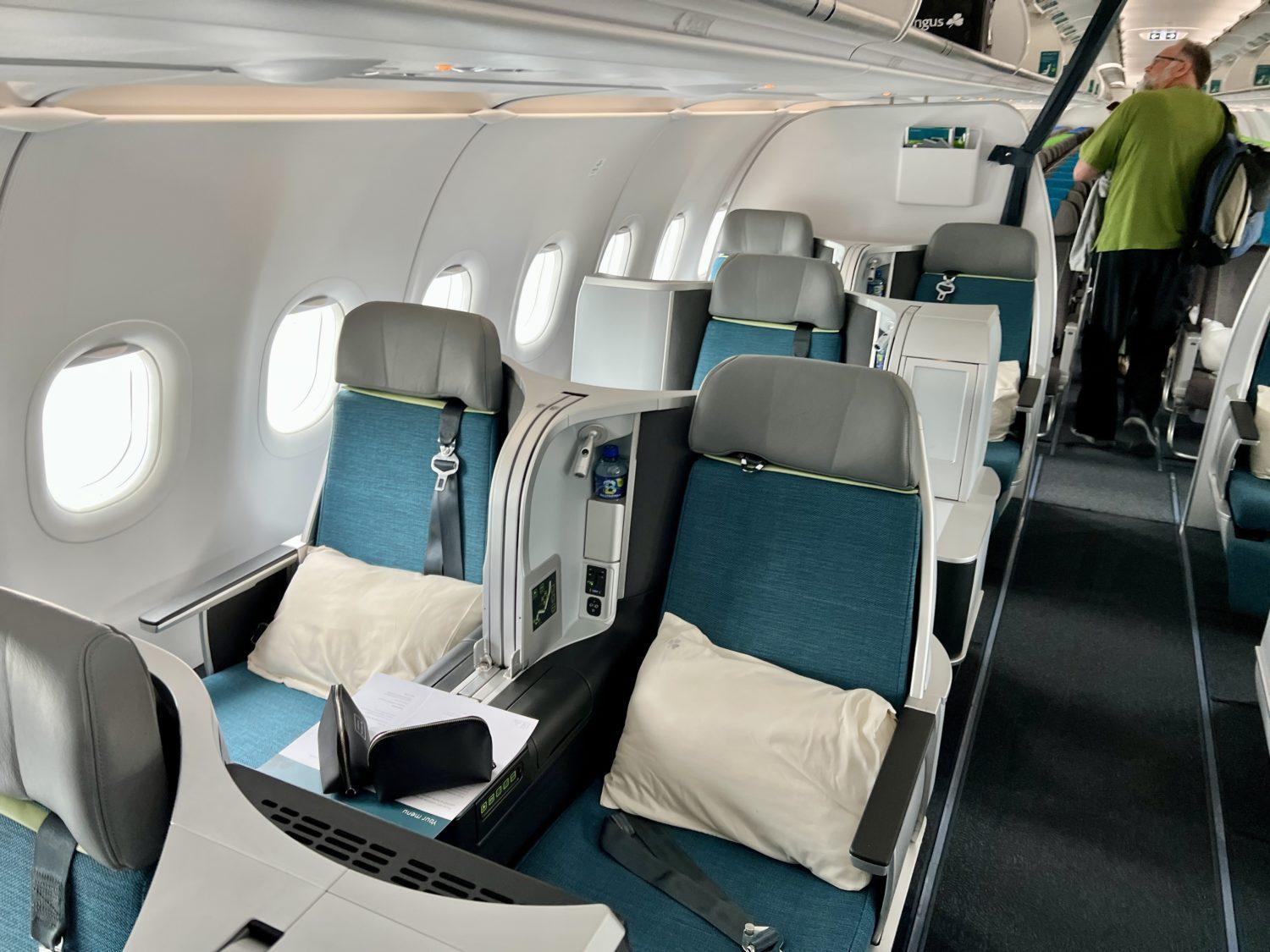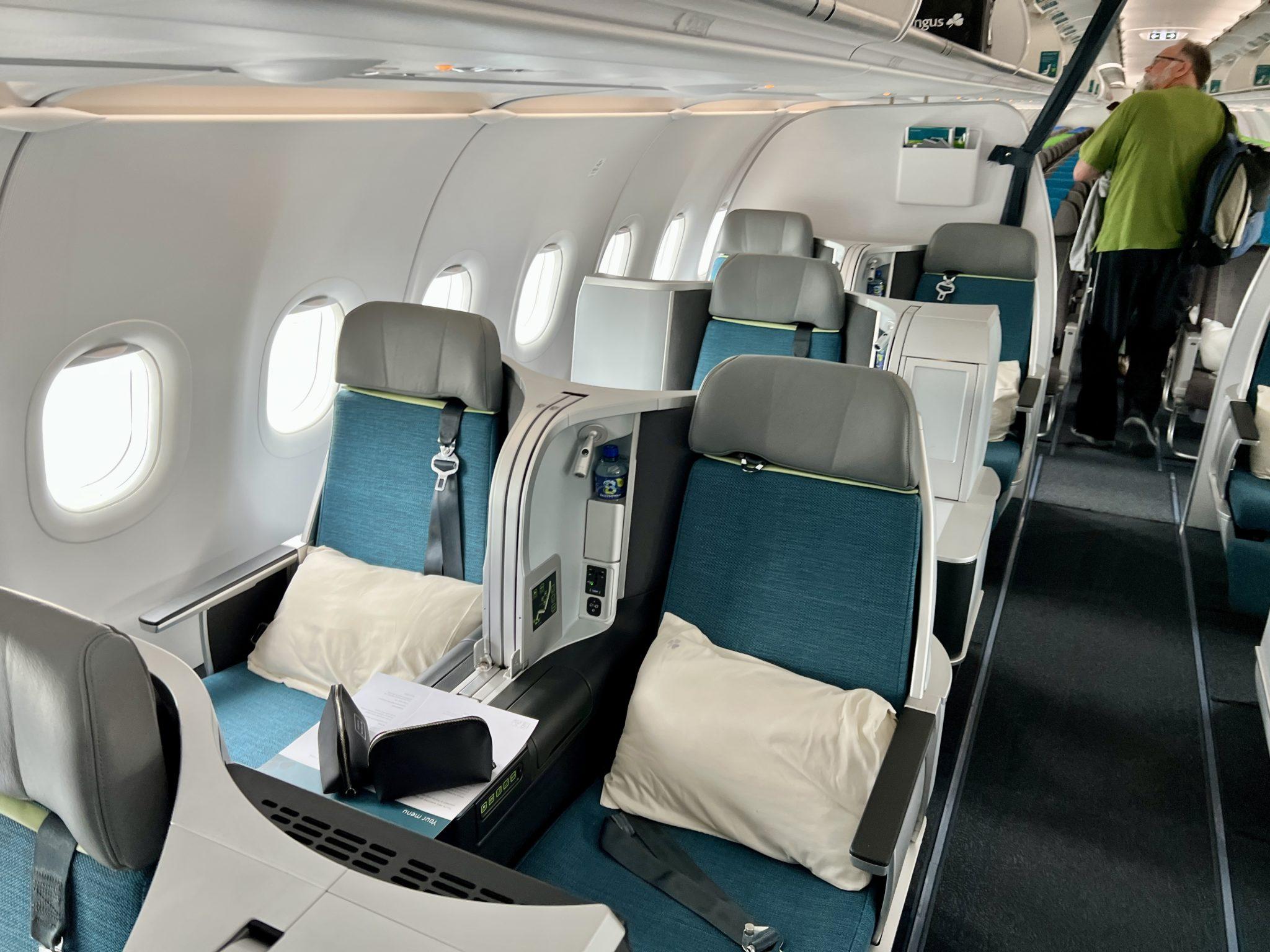 Each amenity kit consisted of a simple, pleather pouch with Aer Lingus and Voya branding.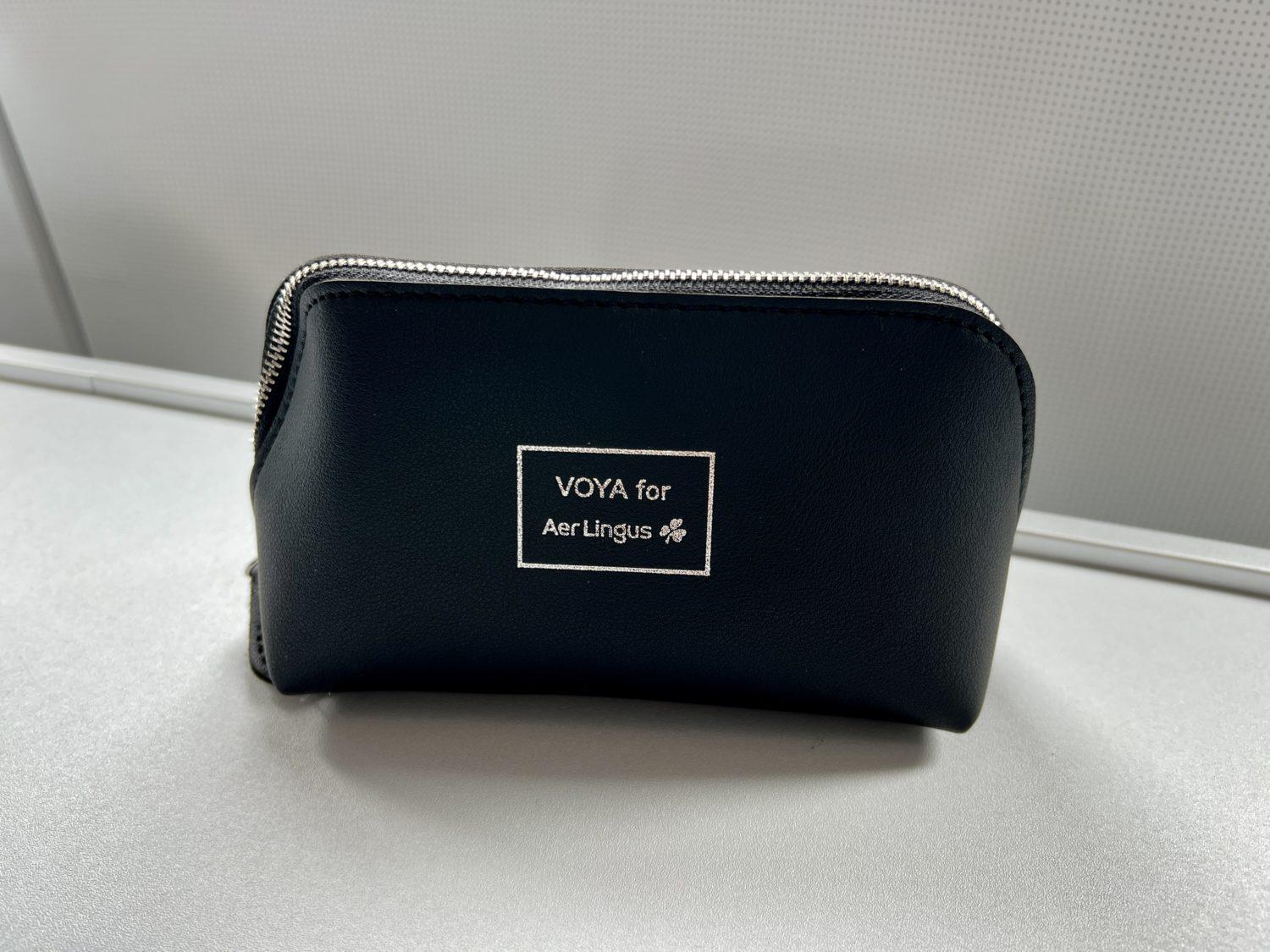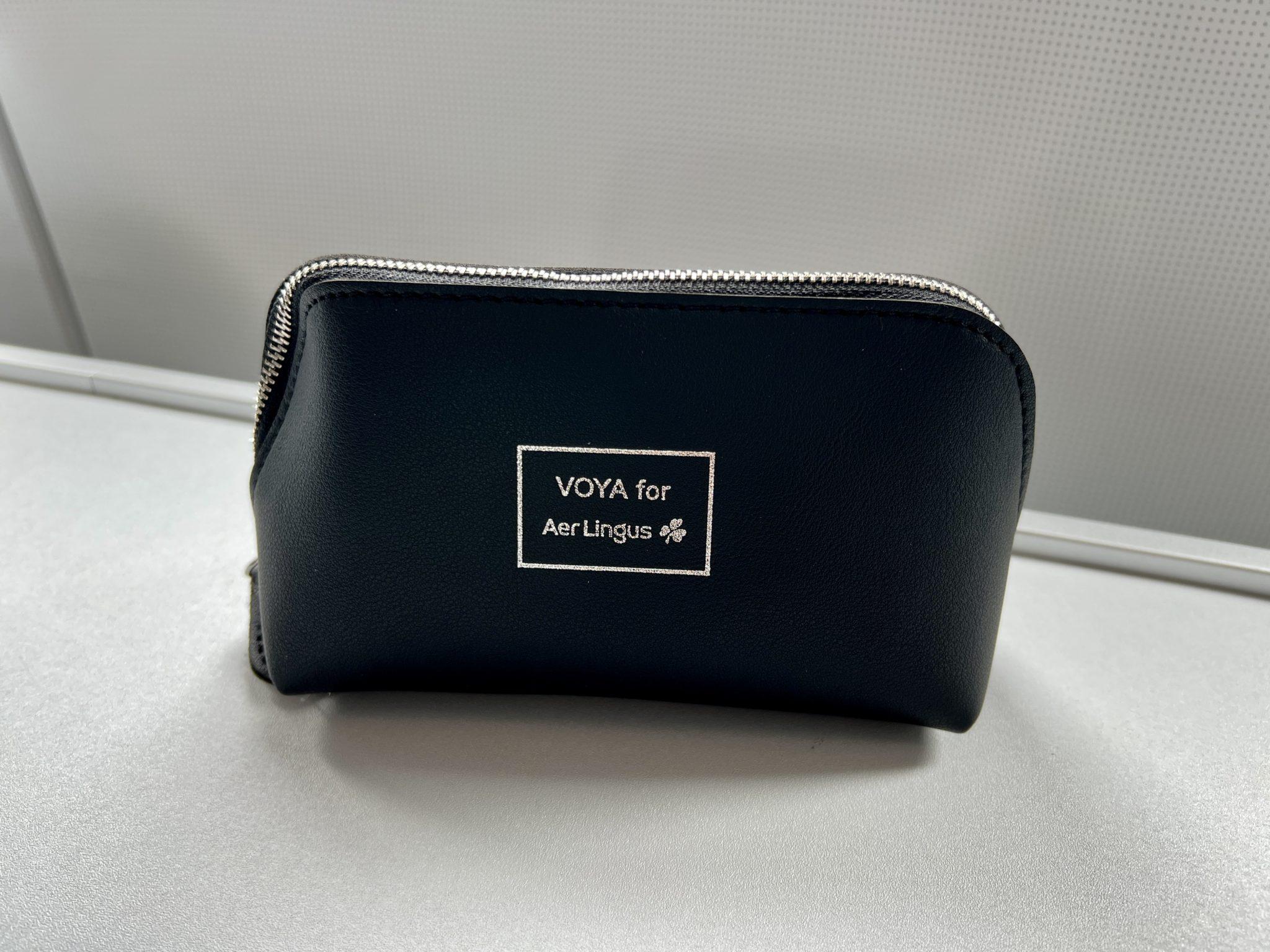 The contents were also pretty simple, including a pair of socks, eye mask, ear plugs, a dental kit, a pen, and some Voya hand cream and lip balm. It's what you might need and not a bit more.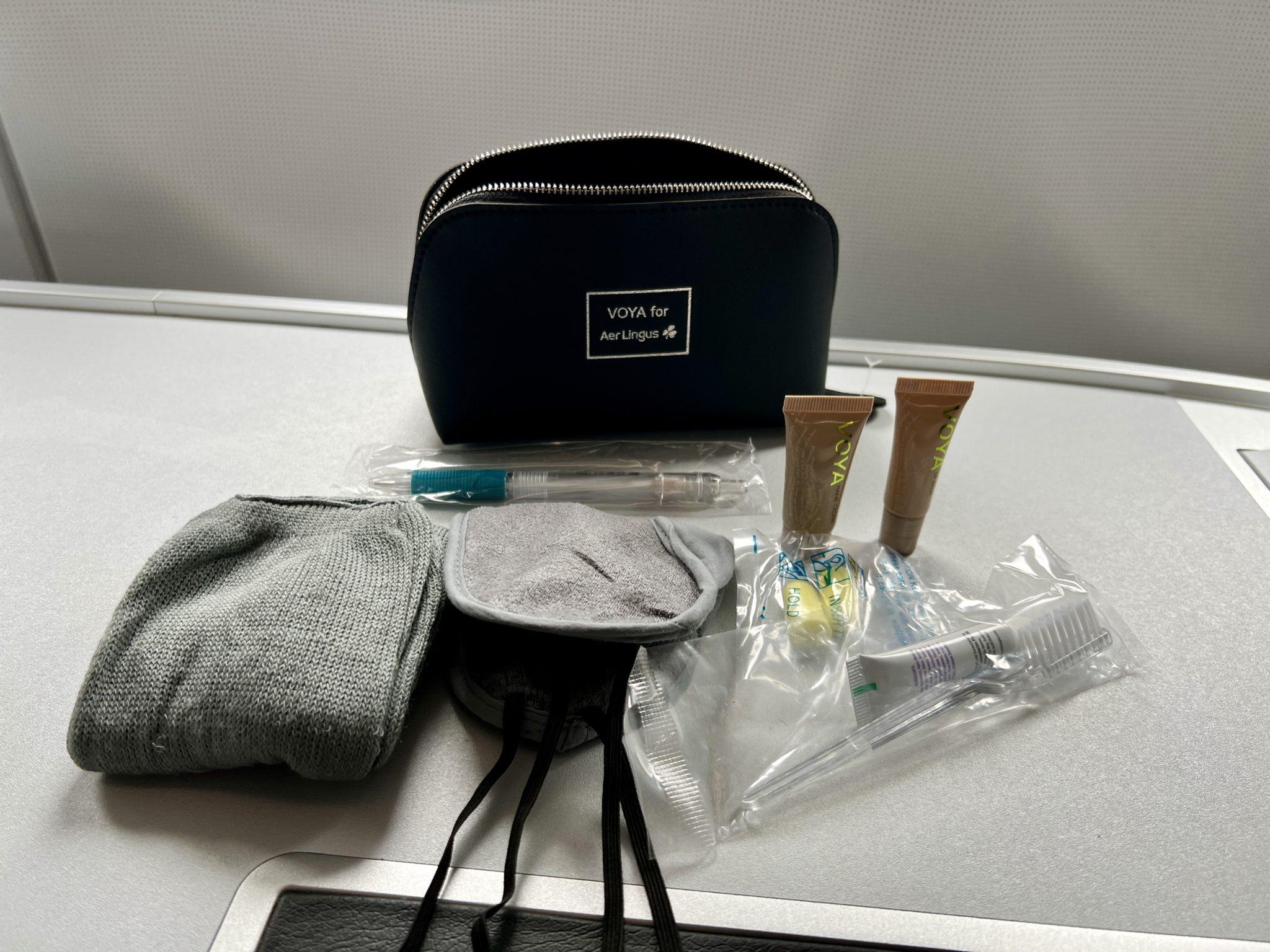 The pillow was just fine – not too flimsy, but by no means plush or impressive, either. There were duvets waiting in overhead bins above, and they were equally average. The bedding was all cozy, but really, there was nothing too impressive here on the amenity front.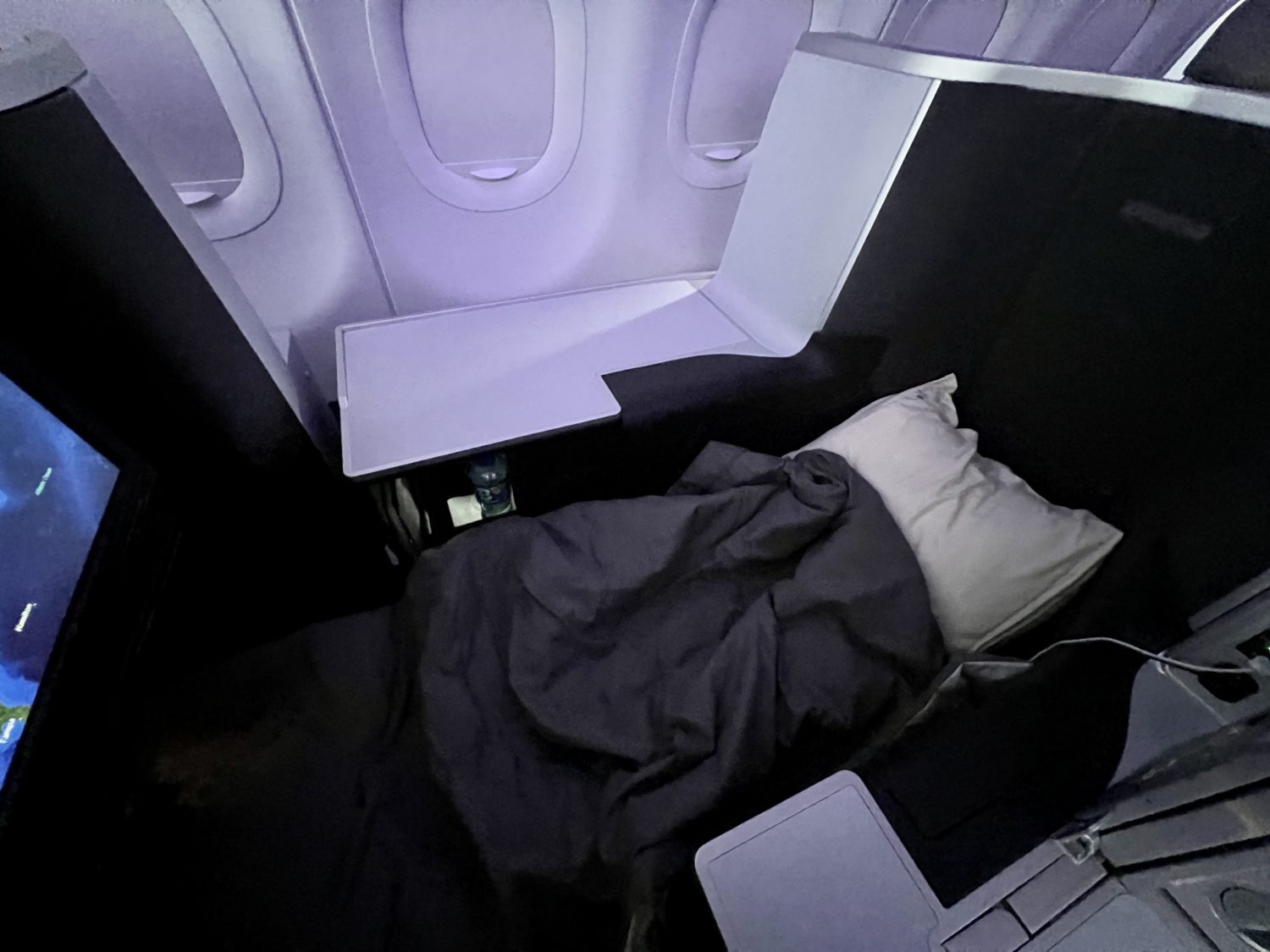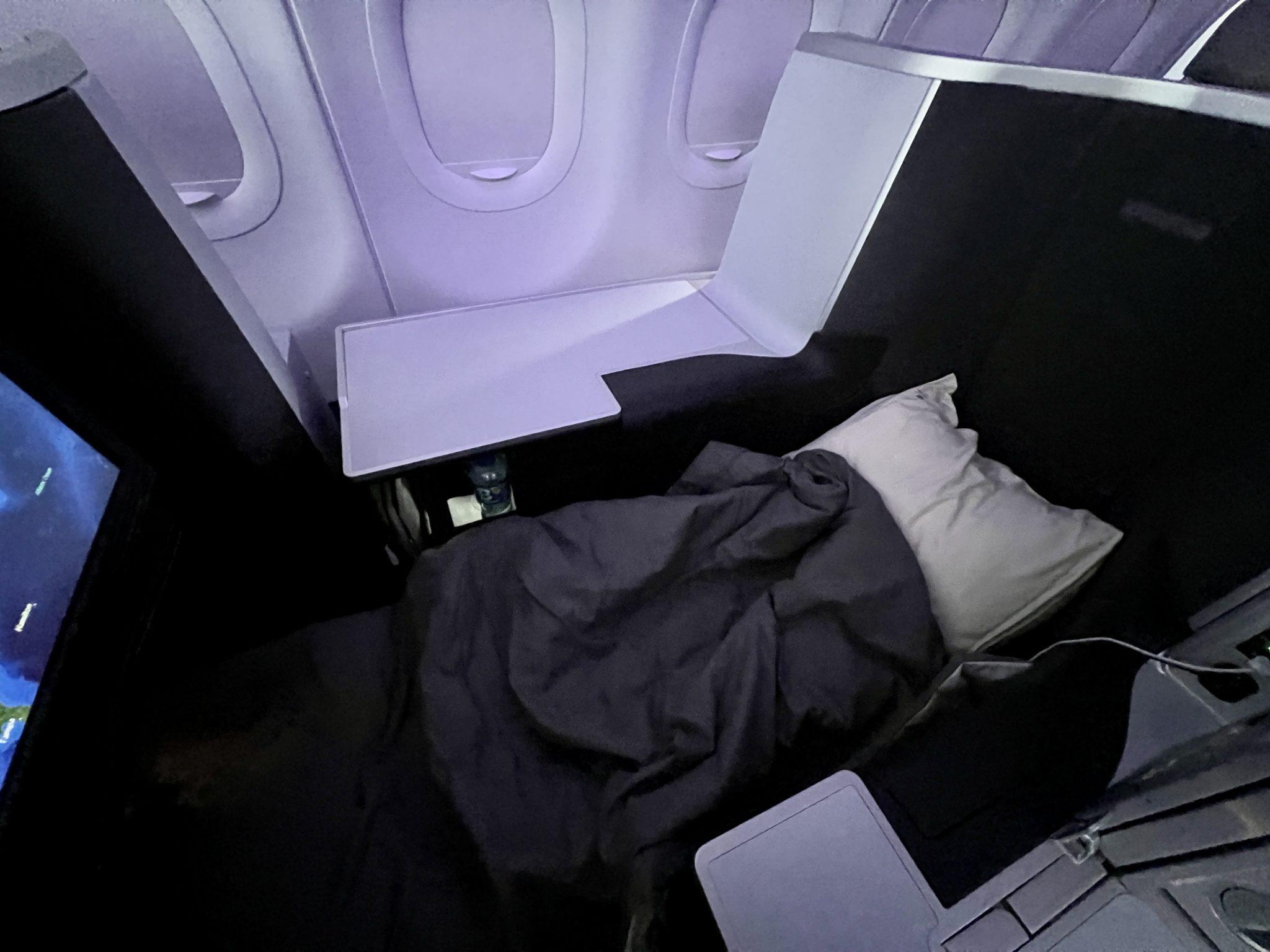 Like many airlines, Aer Lingus could step it up with their headphones. These were fairly flimsy without much sound quality or noise-cancellation to speak of – nor were they particularly comfortable.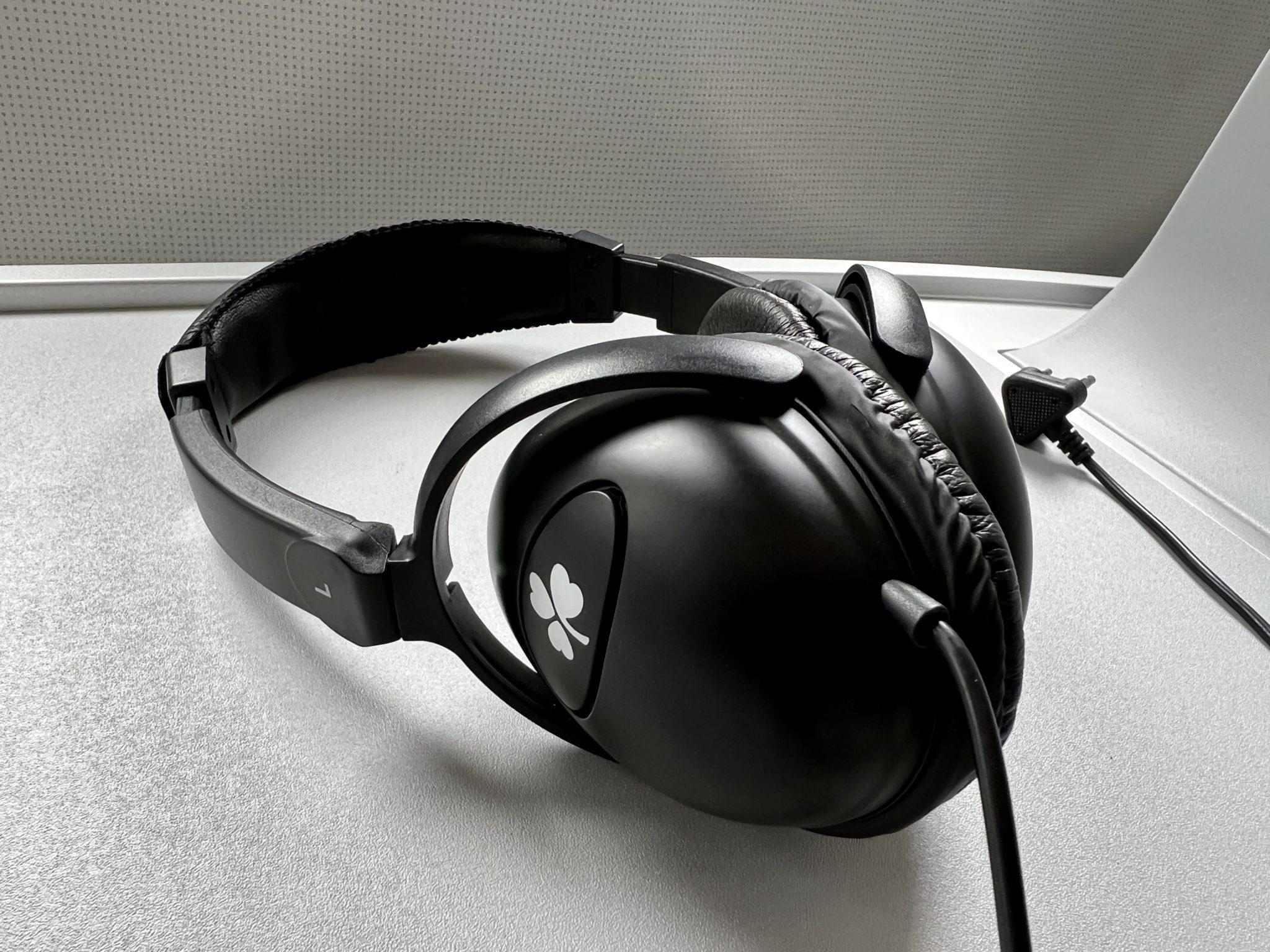 Dining & Service in Aer Lingus Business Class
From the cheeky service to the food itself, the in-flight experience was … well, just quintessentially Irish. And that's a good thing. This is Ireland's flag carrier, after all.
The single flight attendant working a nearly full cabin of 16 seats was obviously hustling, but still warm and cheery throughout the flight, always quick to offer refills and something else to eat with a joke and a smile. And thankfully, Aer Lingus doesn't try too hard with its catering: It just does the basics and does them well.
That said, service was fairly slow to get started with a nearly full cabin and not the quickest throughout. That's fine on a daytime flight back to the states. But I could see it being an issue for Europe-bound flights overnight, where everyone just wants to get fed and to bed.
The eats and drinks commenced almost an hour into the flight with a choice of drink, though Aer Lingus didn't have a drink menu onboard (at least not that I could find). With a glass of champagne in hand, the flight attendant also dropped off a tasty container of biscuits with a small dish of sweet onion chutney, both of which were tasty.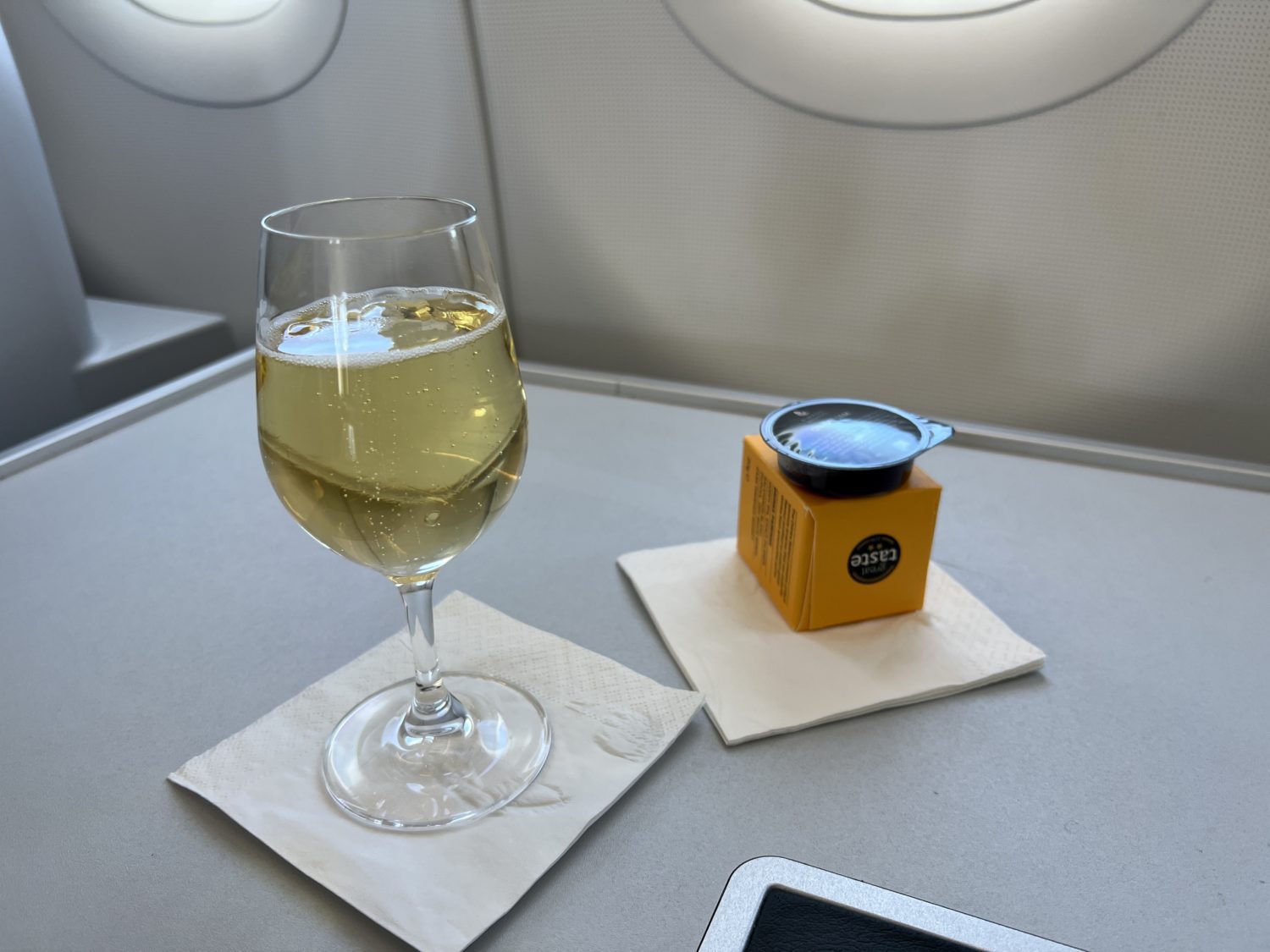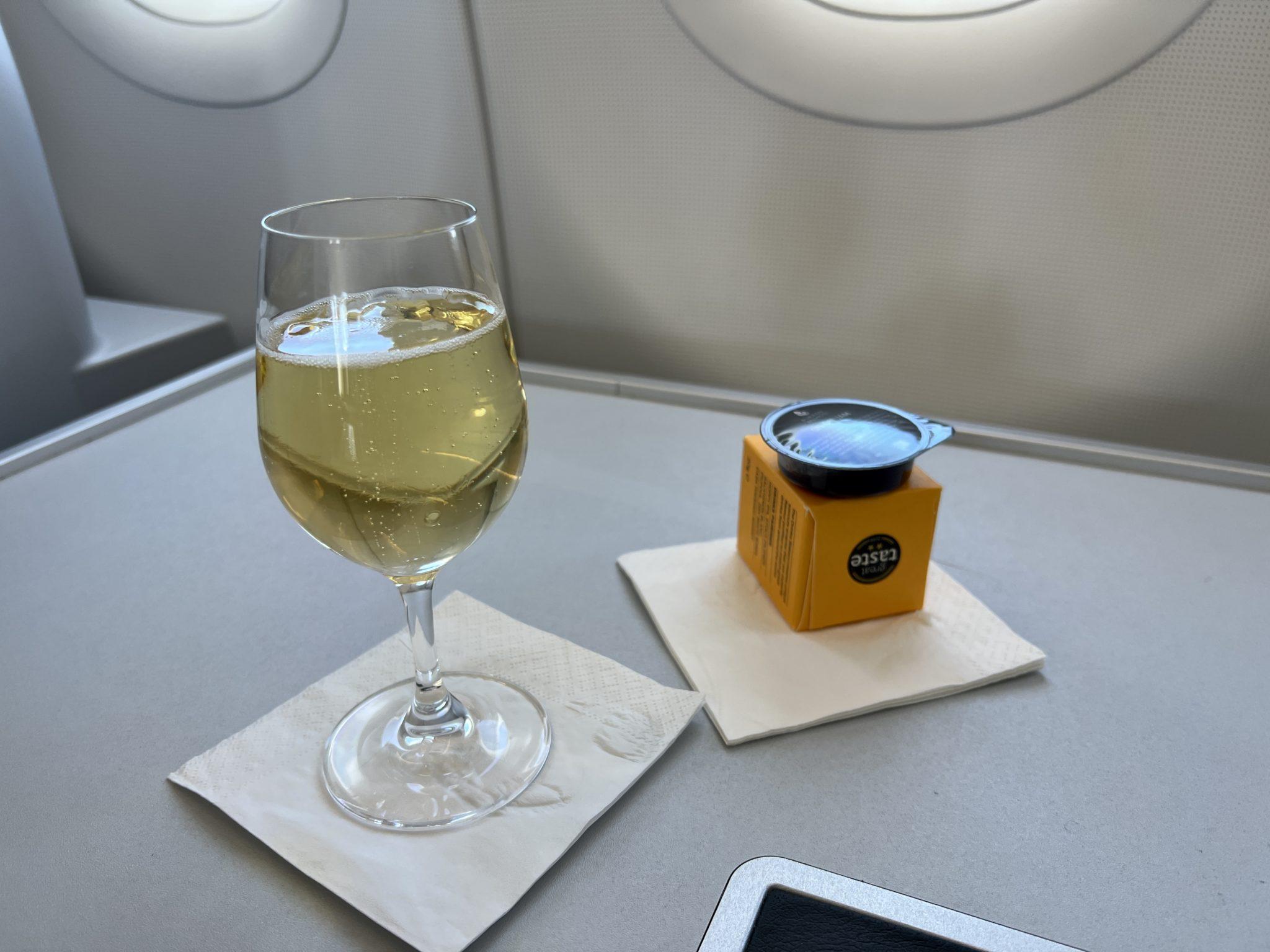 About 30 minutes later, the flight attendant returned with a table cloth and, shortly afterward, came with a tray of starters. And they were great: a nice variety of light and flavorful bites including some roasted red pepper, fresh mozzarella, and smoked salmon with a squeeze of lemon. The side salad with goat cheese, picked onion vinaigrette was fresh and crisp. With a small loaf of Irish soda bread, it was a wonderful plate.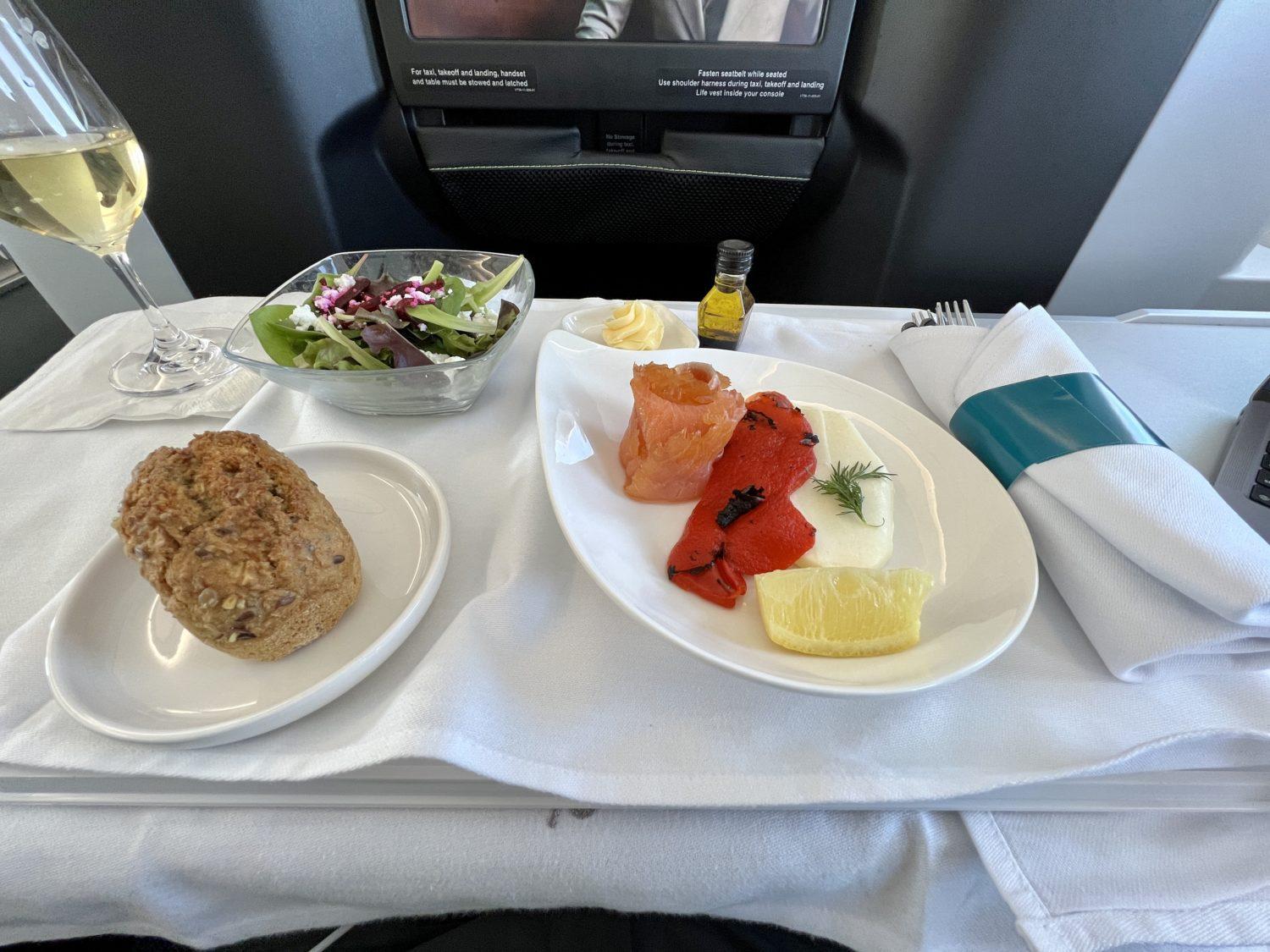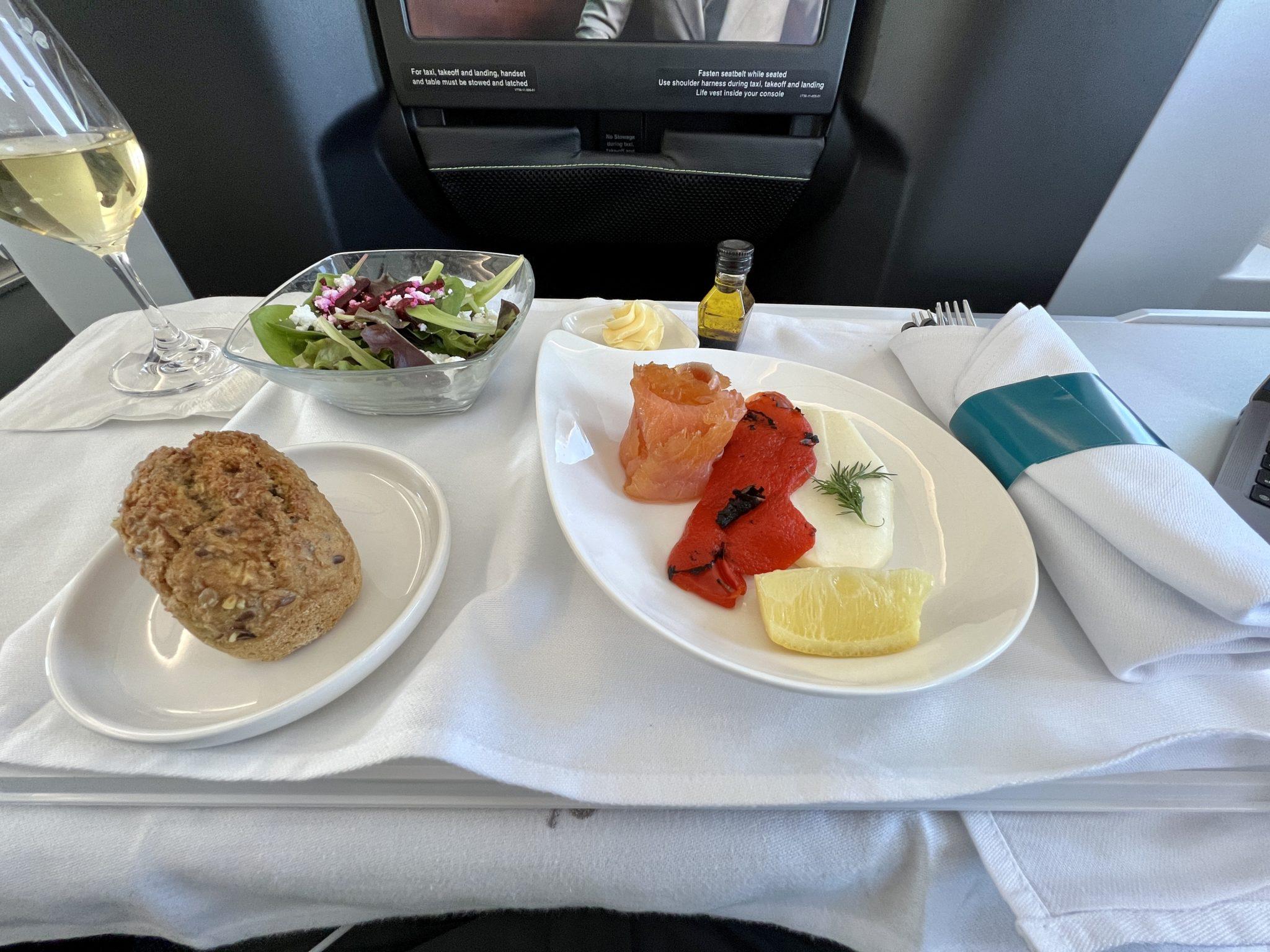 Can we just take a minute to appreciate the absurd amount of space available at these throne seats? You could eat three meals at once … not that you would.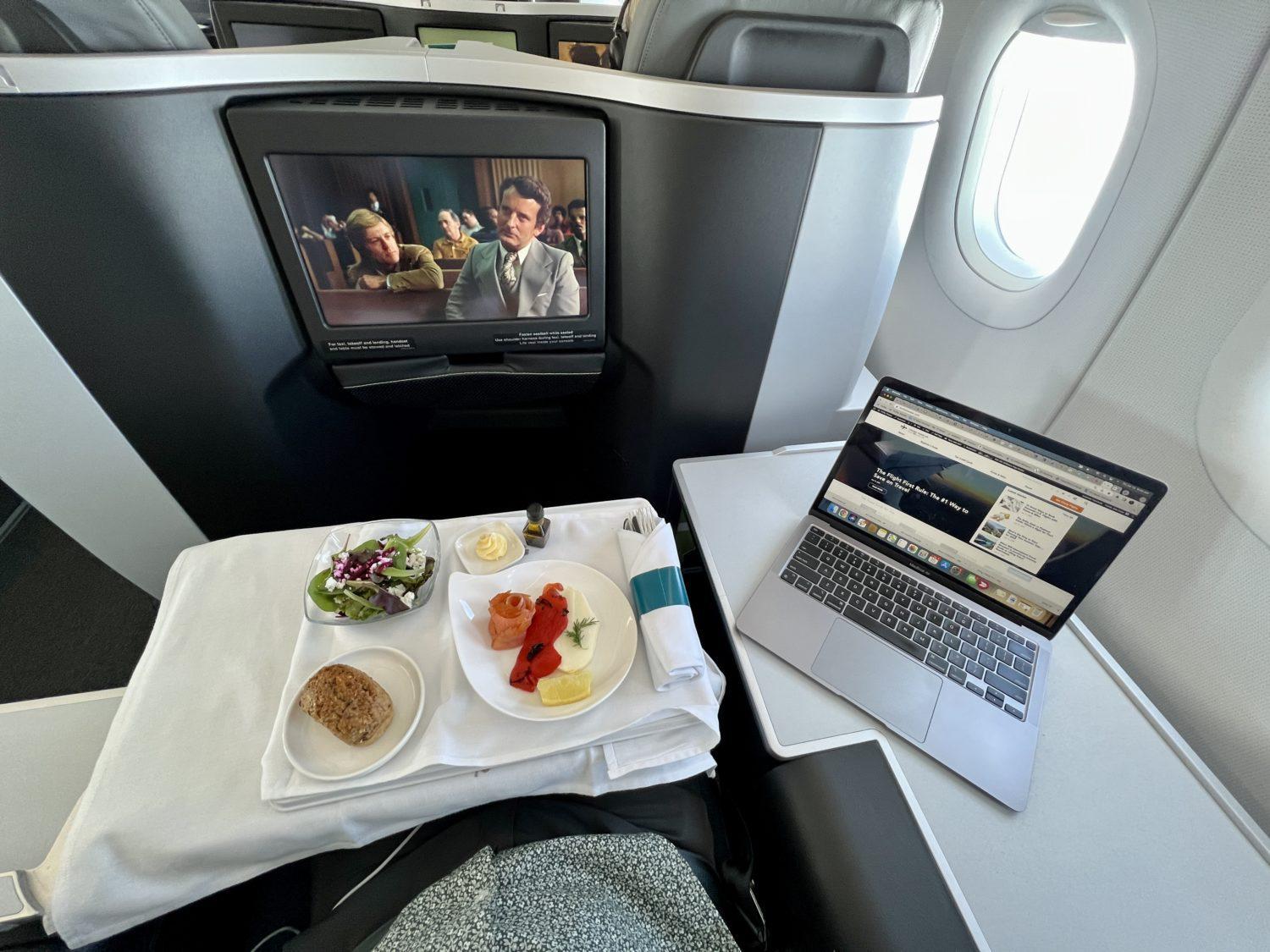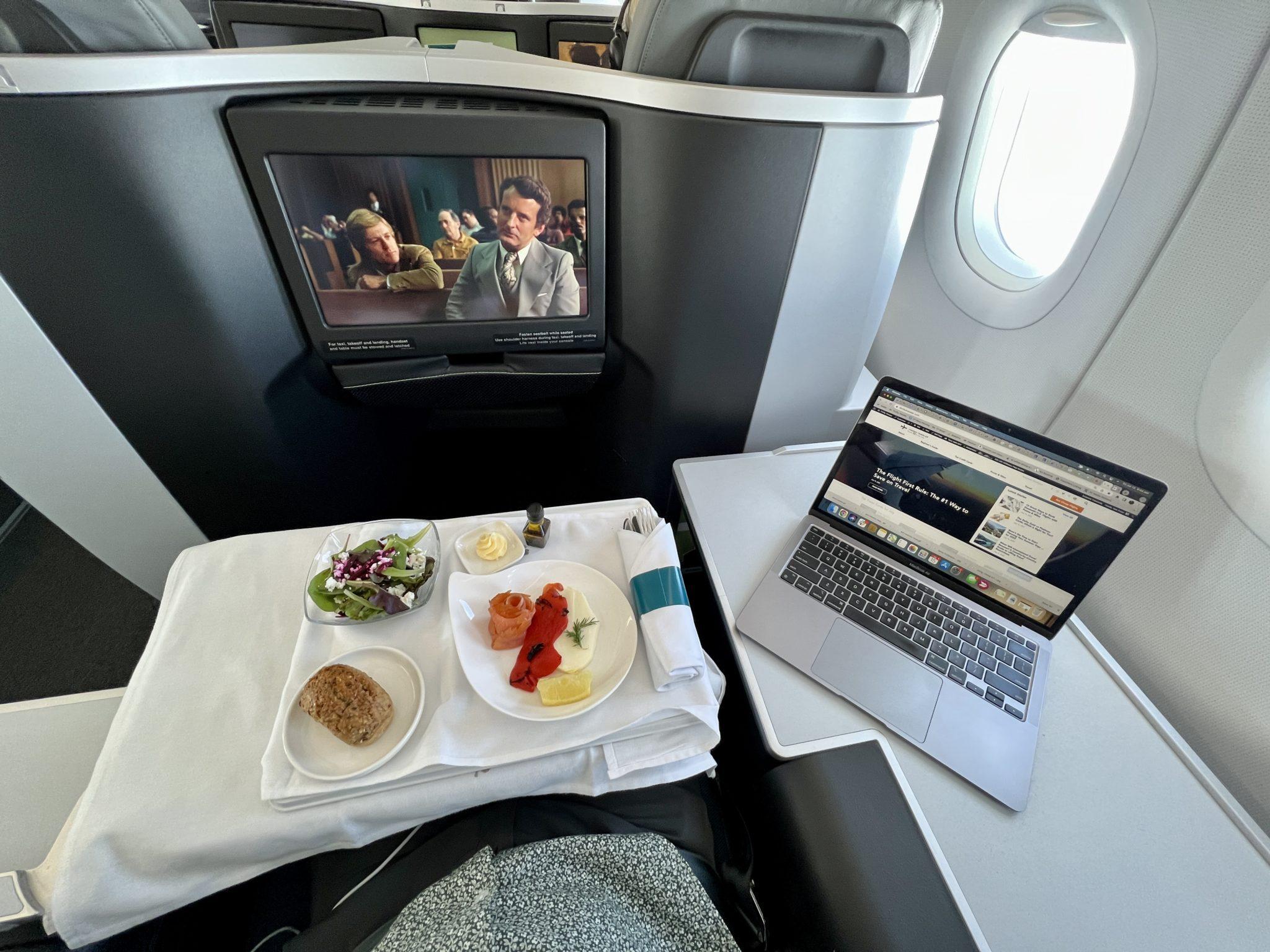 For entrees, Aer Lingus offered a choice between a seared beef fillet, herb-crusted cod with baby spinach, and an herb-crusted chicken salad for dinner.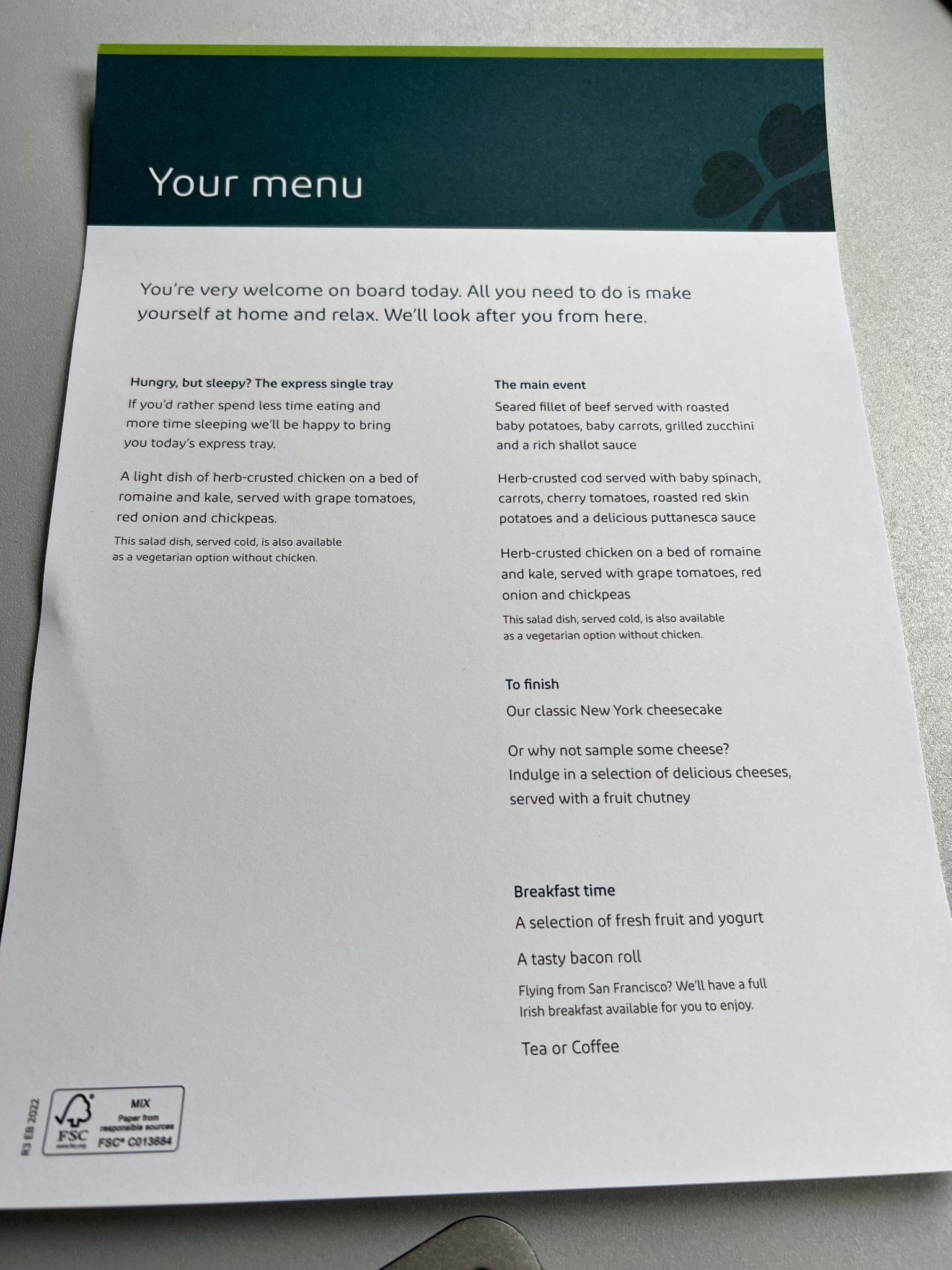 Shortly after finishing off the appetizer, the flight attendant swung by with my order: beef, please.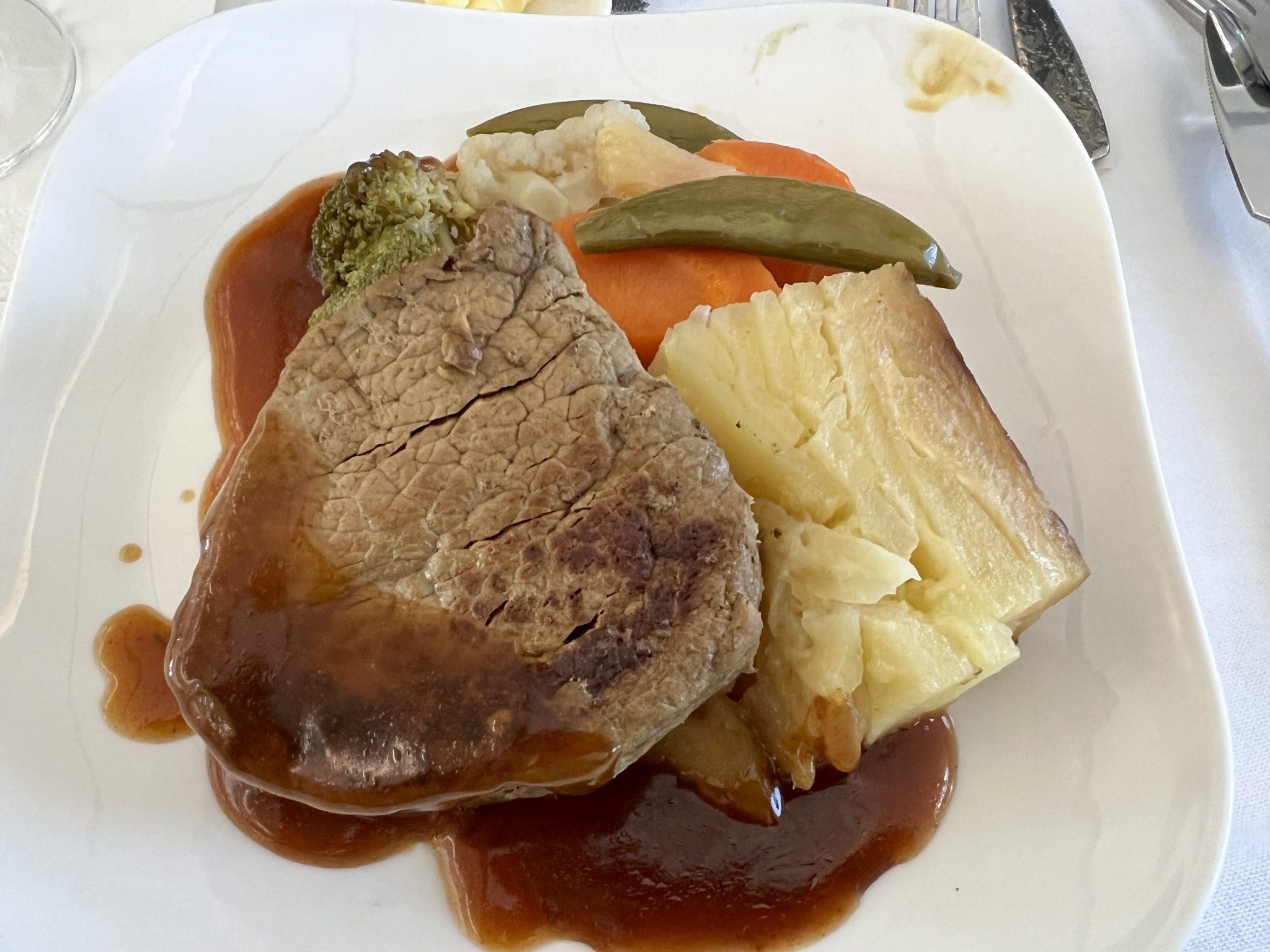 As is almost always the case with beef on a plane, it was on the far end of well-done … but still tender and flavorful, especially with the help of the shallot gravy. The potatoes were also delicious in an almost au-gratin style. The rest of the vegetables, however, were overcooked to the point of being mushy.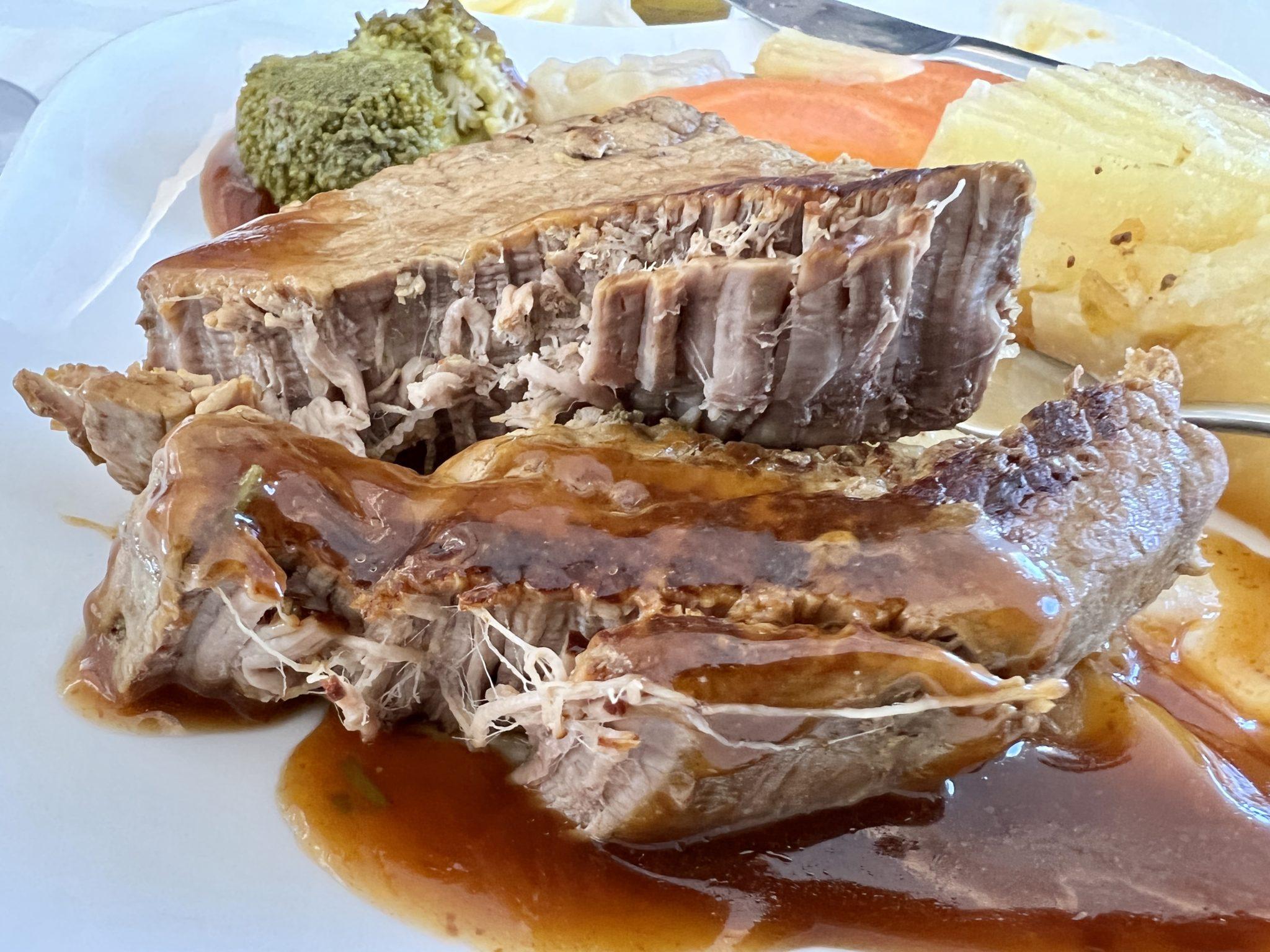 In all, it was truly a good meal – but by no means spectacular. It ended with a lovely looking cheese plate, thanks to the slate board it was served on and a dish of that excellent sweet onion jam. While more substantial than most cheese plates you'll get at 35,000 feet, the cheeses were a bit too similar … and the crackers were flirting with going stale.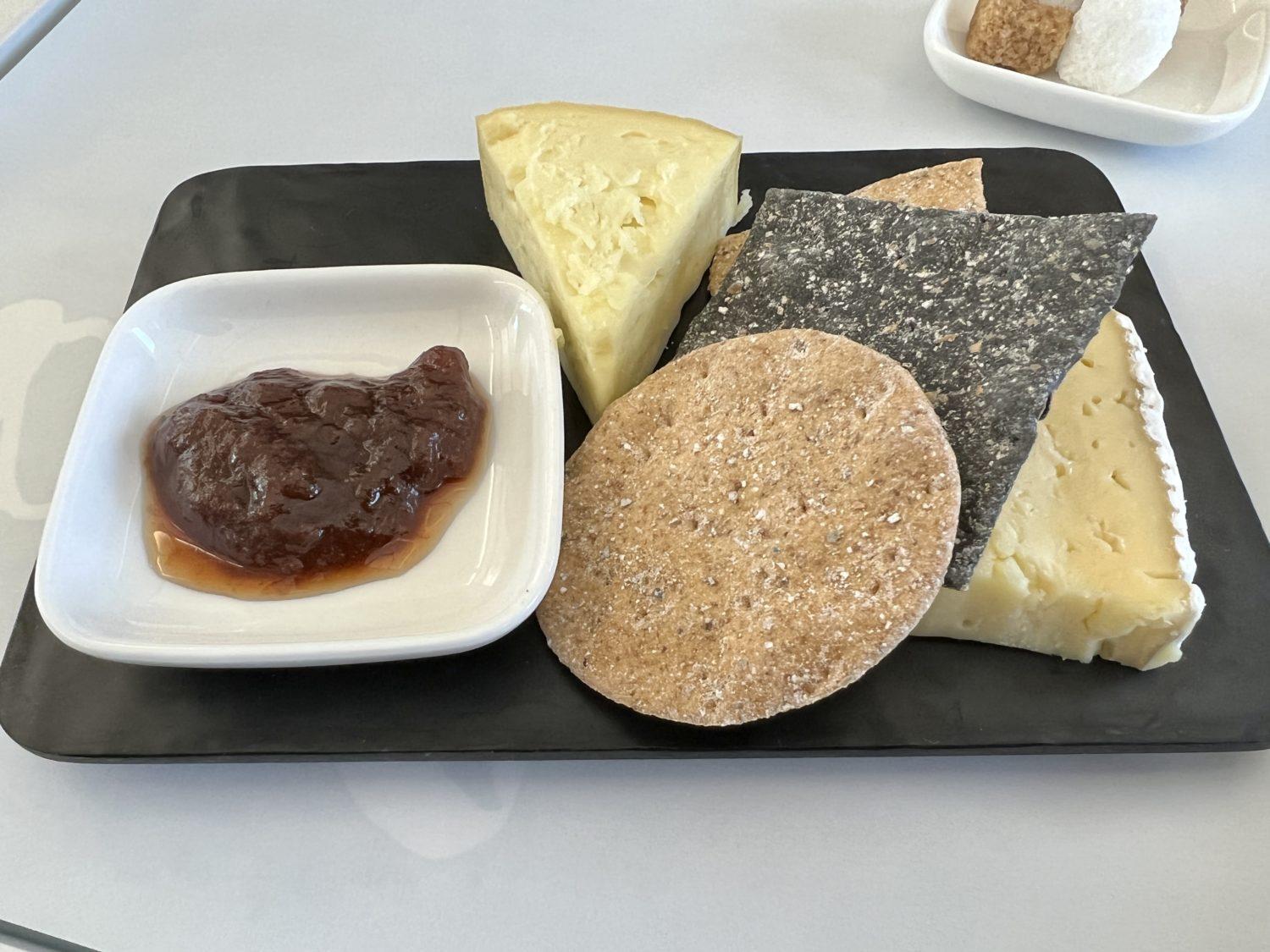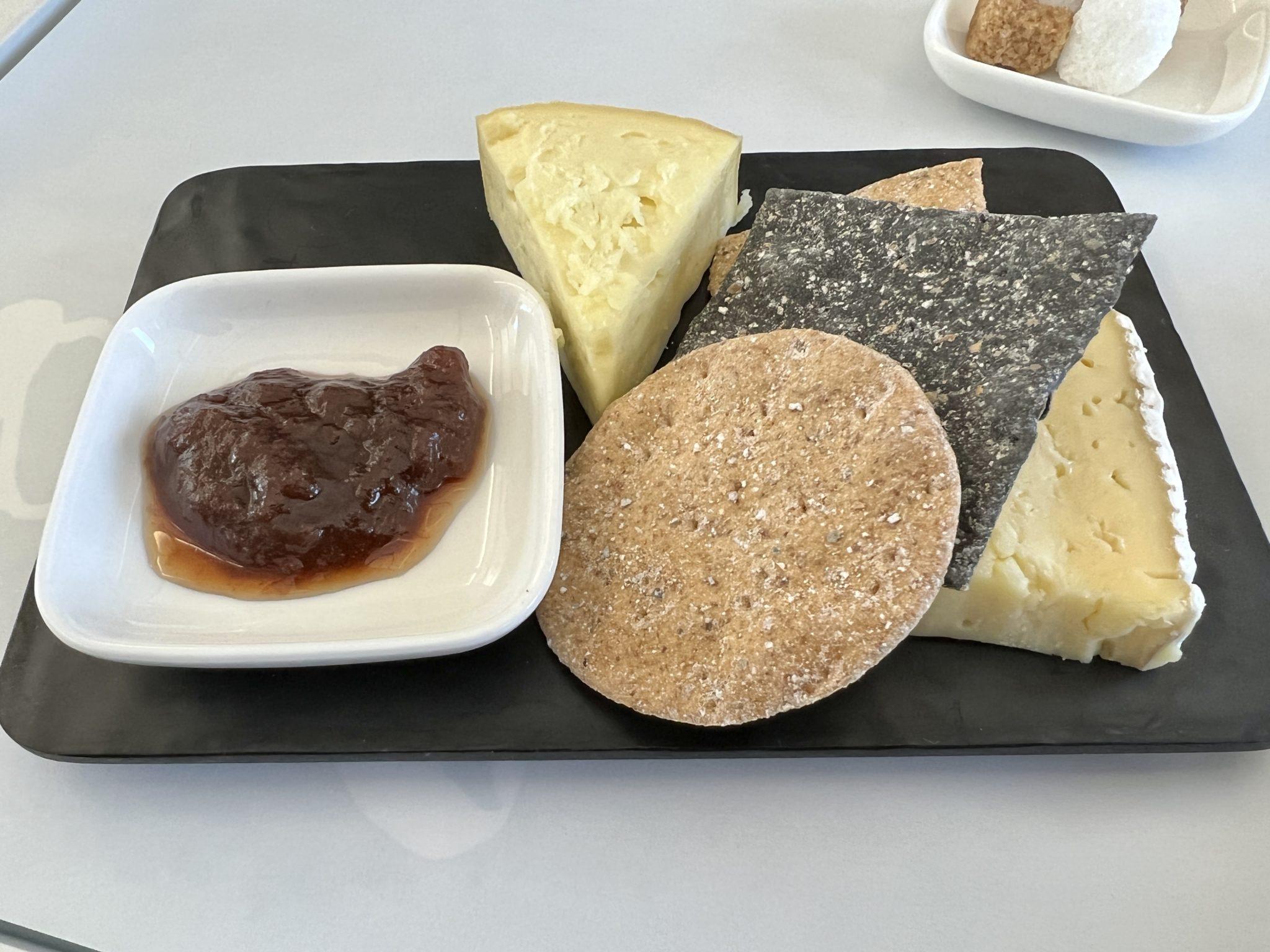 After wrapping up dinner (or lunch – who knows what time it is up there?!), an excellent hourlong nap and a few hours of work, the cabin lights came back up about 90 minutes before landing. While the menu promised a choice of fresh fruit and yogurt or a "tasty bacon roll," the flight attendant swung through the cabin and asked if I'd like a tray for tea. Sure thing, and a coffee!
I didn't expect much, but it was excellent – maybe the highlight of food onboard Aer Lingus business class, in fact. Both tea sandwiches – a nice egg sandwich and some kind of chicken salad with a zesty mayo – were top-notch, unlike many of the cold, stale sandwiches served before landing. To top it off, there was a small platter of sweet treats like a small cheesecake and eclair.
On many transatlantic flights, meals just before landing feel like a rushed afterthought. While simple, this was still great.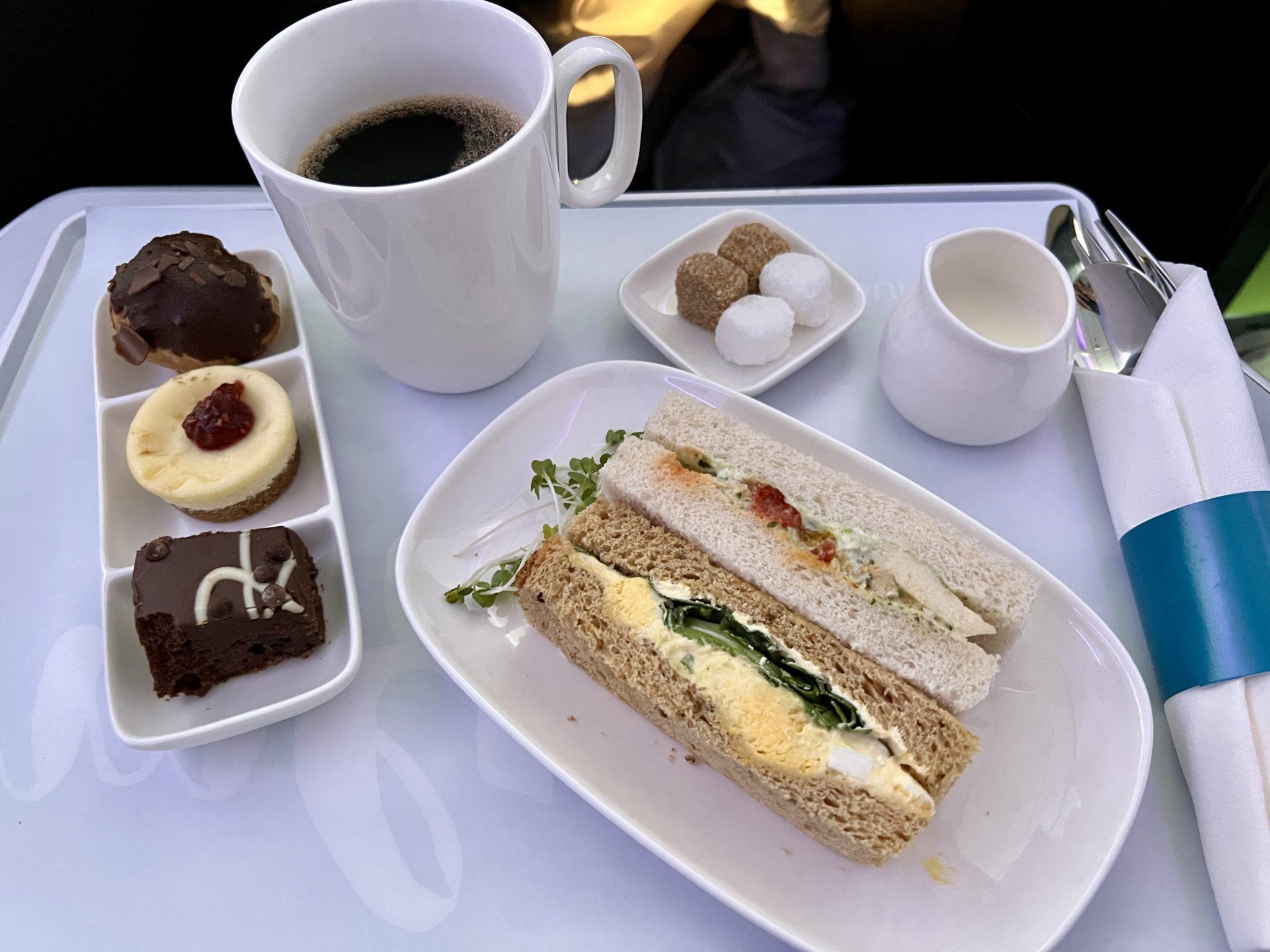 Entertainment
Every seat in Aer Lingus is equipped with a 16-inch touchscreen monitor that you can also control with the wired remote in the side console table.
They're not the sharpest or largest screens you'll find in the sky, but they did the job. There was a decent but not overwhelming selection of movies and TV shows onboard, with a mix of fairly new releases and even more old classics. Like I need an excuse to watch "Forgetting Sarah Marshall" or "All the President's Men" again, right?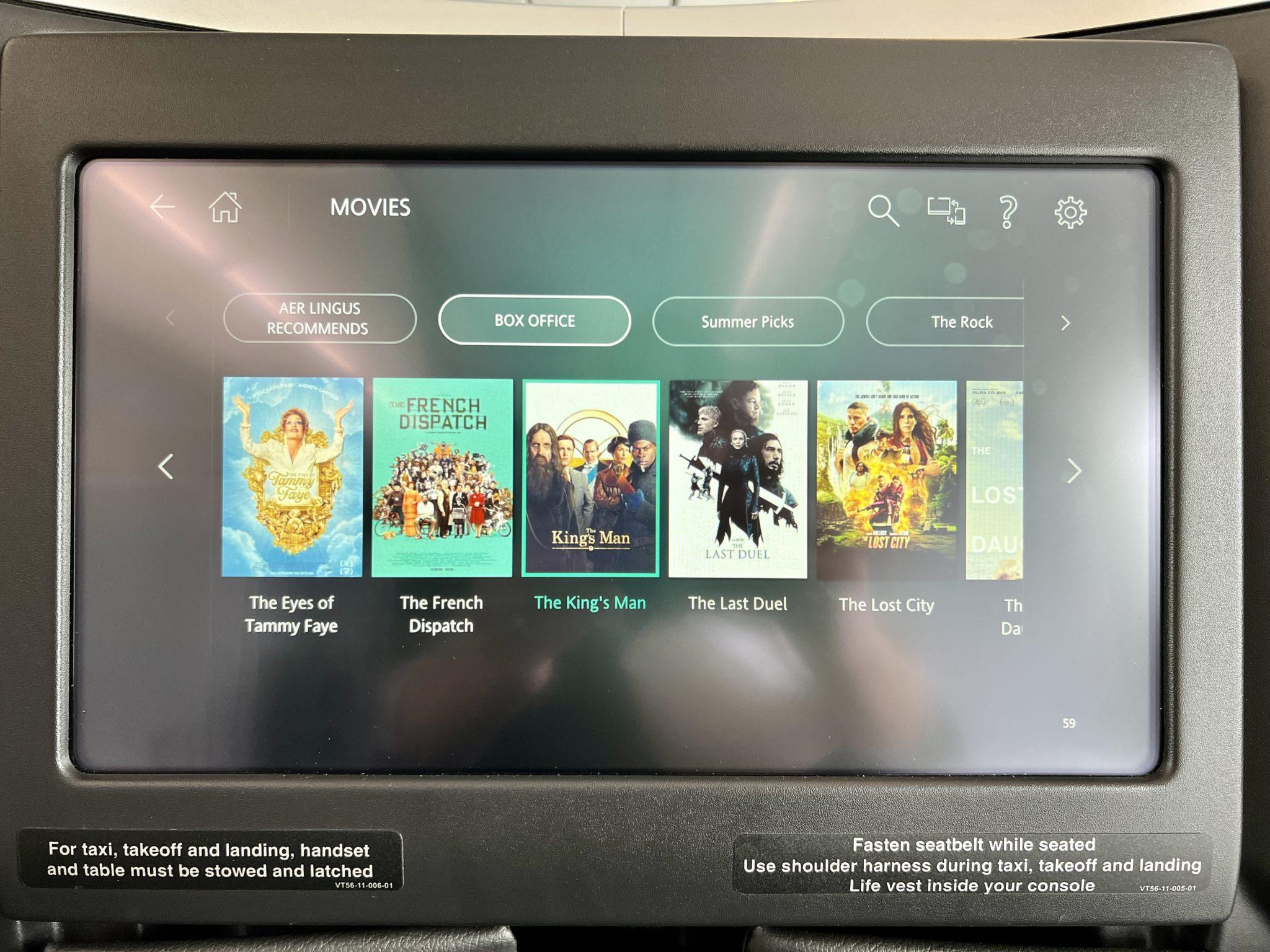 Beyond that, the entertainment options are fairly basic. You won't find much more than a map to track your progress across the Atlantic Ocean.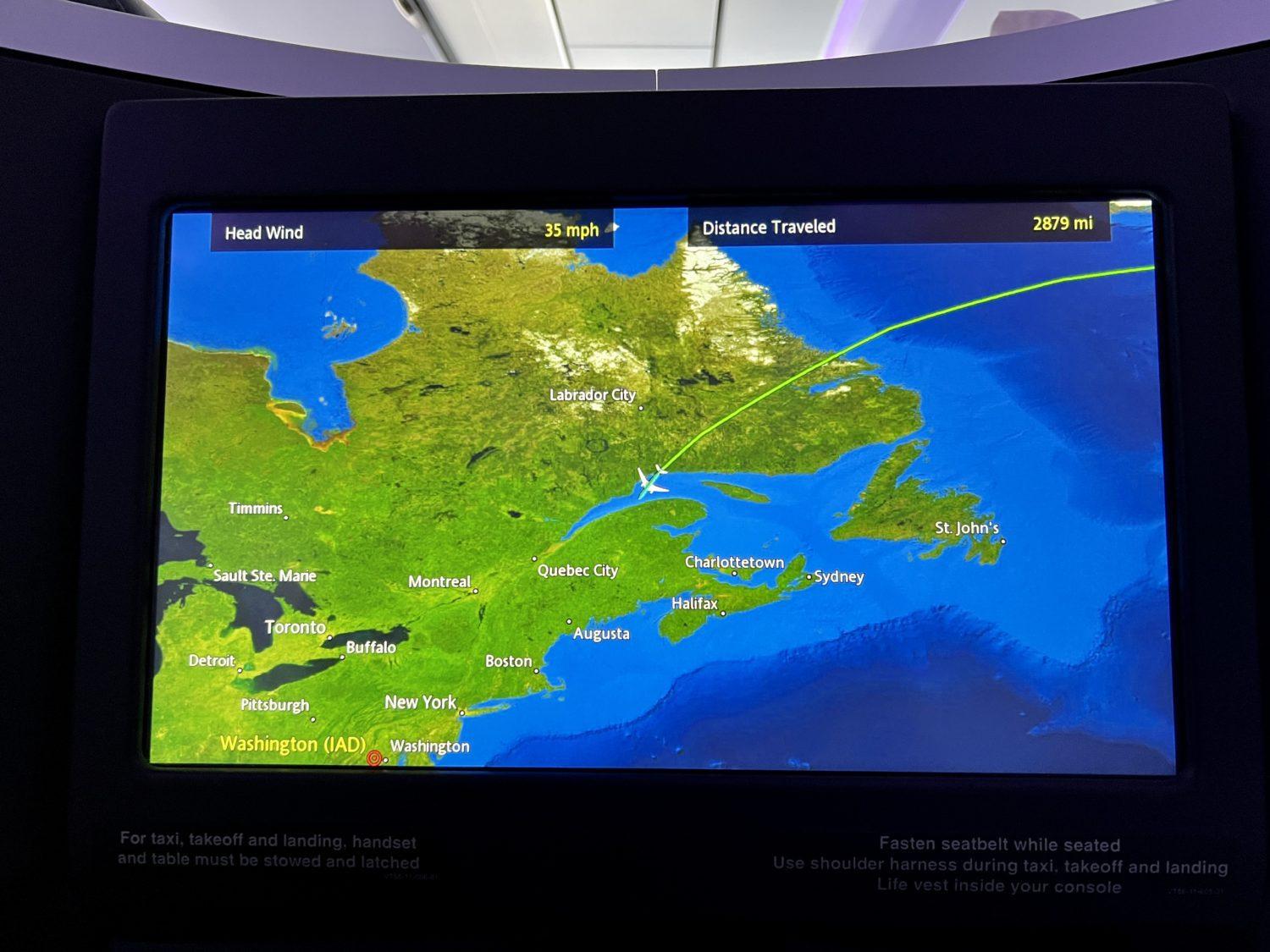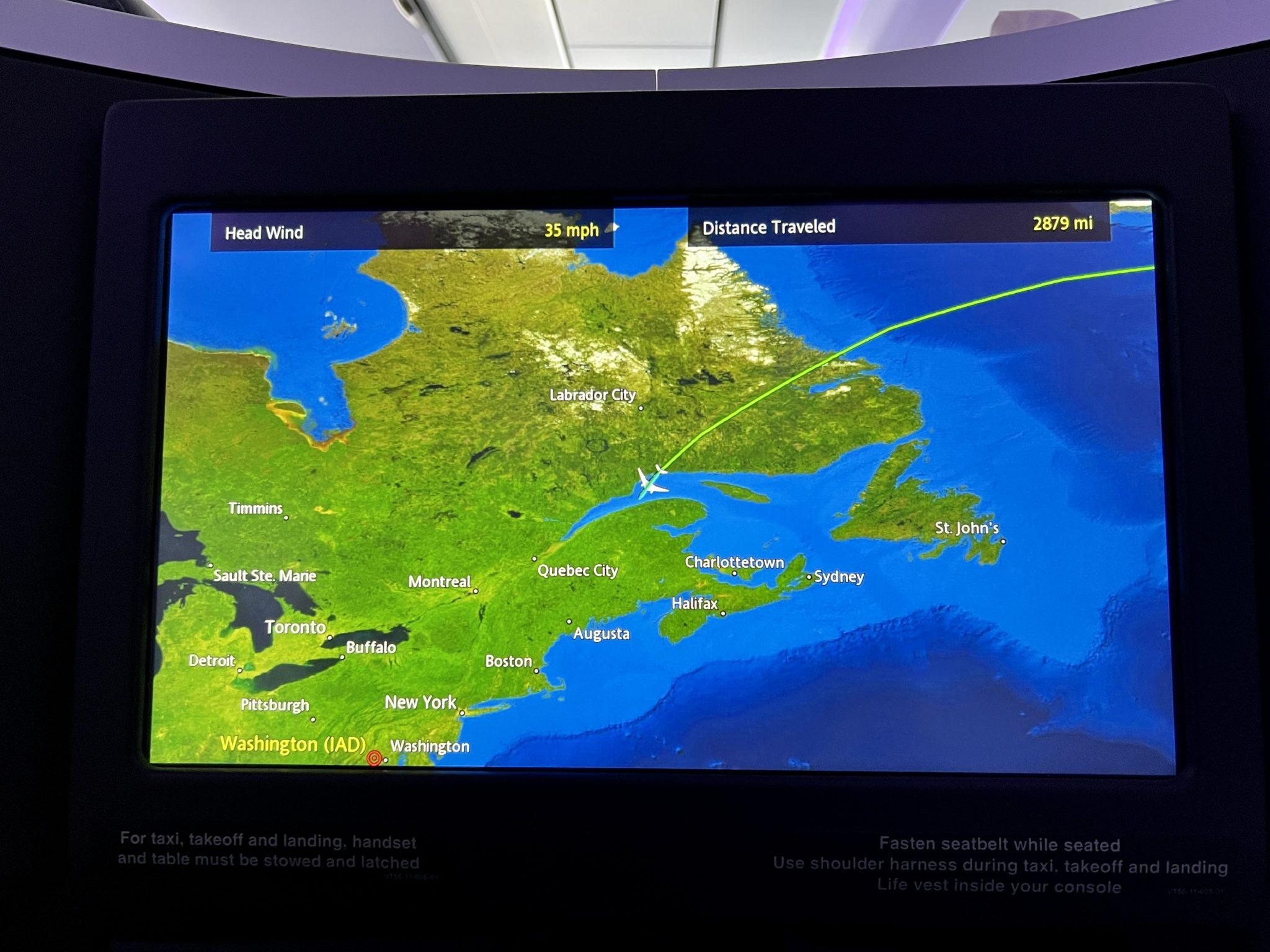 Aer Lingus also offers Wi-Fi on these transatlantic flights in a handful of reasonably priced packages. But don't buy them flying Aer Lingus: You'll get a promo code to log on for free. That's always a nice touch.

Bottom Line
Even in a coveted throne, the seat wasn't my favorite. I've had better meals flying business class on other airlines and probably better service, too.
And yet I loved flying Aer Lingus business class … and I'd gladly book it again for another trip to Ireland. Where other airlines with flashier cabins and seats swing and miss on key aspects of business class, Aer Lingus got almost all of the basics right – and then some.
For a quick nonstop flight in or out of Dublin, you can't beat it. And if Aer Lingus were to up their game with amenities and dining just a tad more, it'd be a contender for one of the better ways to fly to Europe in business class, period.