This time last year, travel to Europe was slowly ramping up again. But 2023 is different: Transatlantic travel is back in full swing. And what better way to get there than booking a nearly free flight with your points and miles? You've got several options to do so … and it starts from just 10,000 miles each way!
Sure, you might get a better dollar-for-dollar value using your points and miles to book business or first class seats across the pond. But if you'd rather splurge elsewhere or just want the cheapest way to get from A to B, it'll always cost you fewer miles to book economy – and it's much easier to find the award space to use your miles for economy seats, too.
Whether you're looking to fly the whole family or just want to take as many trips as possible using your points and miles, here's a look at some of the best ways to fly economy to Europe.

Make a Cheap Flight Free with Credit Card Points
One of the easiest ways to use points and miles for free flights is to book a cheap flight deal with Chase Ultimate Rewards through the Chase travel portal orbook directly through the airline and erase the purchase from your statement using your Capital One Venture miles. Instead of paying in cash, you'll use your credit card points as if they were cash. The cheaper the flight, the fewer points you'll need.
Whether you find a deal using Google Flights or get a cheap flight alert sent straight to your inbox from Thrifty Traveler Premium, you'll be able to use your points to book the deal. Best of all, unlike when using airline miles, you won't have to pay any additional taxes and fees – those are covered by your points. And you'll usually earn frequent flyer miles on your free flights as well.
Competition is heating up for flights to Europe once again. We've sent Thrifty Traveler Premium members deals for flights to Oslo (OSL) flying Delta and SkyTeam partners as low as $230 roundtrip!

Get cheap flight alerts like this one sent straight to your inbox with Thrifty Traveler Premium!

Use Chase Ultimate Rewards via the Chase Travel Portal
When flights are this cheap, you won't find a better way to book the flights with points and miles than to book through the Chase travel portal.
If you have either the Chase Sapphire Preferred® Card or the Chase Sapphire Reserve®, you'll get a discount when booking with Chase points. Every point from the Preferred Card is worth 1.25 cents toward travel, while you get 1.5 cents apiece from the Chase Sapphire Reserve.
Let's put this into action with those cheap flights to Oslo. With the Chase Sapphire Preferred Card, $230 flights from New York City (JFK) to Oslo (OSL) could be booked for just 18,245 points roundtrip. If you hold the Chase Sapphire Reserve, it would only be 15,324 points.

Cover Your Flights with Capital One Miles
Rather book directly with the airline than mess around with travel portals? That's not a bad idea, and using Capital One Venture miles to cover your travel purchases is even easier.
Book any flight you want and pay with your Capital One Venture X Rewards Credit Card or Capital One Venture Rewards Credit Card. A few days later, you can go back and cover the cost using your miles. You have 90 days to "erase" a travel purchase from the time it appears on your statement. Every mile is worth 1 cent.
This means you could use Venture miles to cover this $398 roundtrip flight from Chicago-O'Hare (ORD) to Paris-Charles de Gaulle (CDG) with just 39,800 Capital One miles.


It's super easy. There are no blackout dates. You'll earn frequent flyer miles, and most importantly, you can book directly with the airline.
Fly American Off-Peak for 22.5K Each Way
If flight prices are on the expensive side, you may want to use frequent flier miles to book flights. One of the easiest and most consistent deals you can book is American Airlines off-peak to Europe for just 22,500 AAdvantage miles one-way.
American determines how many miles you need to fly from point A to point B based on its award chart. Flying from the U.S. to Europe in economy typically costs 30,000 miles … but the airline carves out a better deal during the off-season: Just 22,500 miles each way, a 25% discount compared to the typical rates during the rest of the year.
The exact dates for the off-peak season may change slightly from year-to-year, but you'll generally find it to be for travel dates between November and mid-December, and mid-January thru mid-March.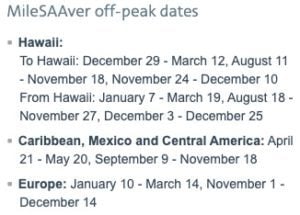 American plans to transition away from this pricing structure when redeeming AAdvantage miles to fly American Airlines, shifting to a dynamic pricing model. But until that happens, you can still easily score a deal for 22,500 miles each way – even for travel around Thanksgiving.
It doesn't matter if you're flying nonstop or with a connection, it will cost 22,500 miles each way.

You'll find these rates for flights operated by American Airlines as well as flights on partner airlines. Just be sure to avoid any flights operated by British Airways, as those come with high cash fees on top of your miles. Instead, look for flights operated by American itself or other partners with lower fees.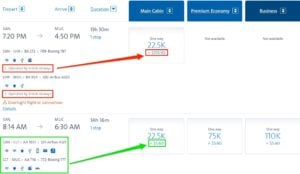 Another advantage of booking flights to Europe with AA miles is that you'll always be booking a standard main cabin economy fare – not the cheapest American basic economy tickets. That means you still get a free checked bag, seat assignment, and the ability to change or cancel your flights with a full refund of your miles.
How to Earn American Miles
While none of the major banks with transferable points like Chase, Amex, Capital One or Citi allow you to transfer to American miles, you can easily rack up a bunch of AAdvantage miles with one (or a pair of) American Airlines credit cards. Few airlines make it so easy to rack up 100,000 miles.
But if you're earning points on rent with Bilt Rewards or the Bilt Rewards Mastercard, you can transfer those points to American at an even 1:1 ratio.
United Miles (& the Excursionist Perk!)
As part of the largest airline alliance in the world, you'll have more flight options when using United MileagePlus miles to book flights to Europe than any other airline's frequent flyer program.
And it goes beyond being able to book flights on United and other Star Alliance airlines such as Air Canada, Lufthansa, Swiss, SAS, and Turkish Airlines. United also has several smaller partner airlines within Europe, including Aer Lingus, Air Dolomiti, Edelweiss, Eurowings, and Olympic Air.
Best of all, you won't get hit with high fuel surcharges when booking with United miles as it doesn't pass along these fees that some other programs charge when flying certain airlines like Lufthansa, Swiss, and Turkish.
As for the rates, United has variable pricing that can fluctuate along with cash prices. Generally, you'll generally find United flights priced at 30,000 miles one-way and partner airline flights for 33,000 miles one-way.

However, you'll sometimes see even lower saver award rates, such as this rare United flash award sale to Europe Thrifty Traveler Premium+ members received last year. Flights to London (LHR) were going for just 44,000 United miles roundtrip from nearly every airport with United service in the U.S., including peak summer travel!

Sign up to get cheap flight alerts for free – or upgrade to get 10x as many flight deals including award alerts like this one from your home airport with Thrifty Traveler Premium+!
United has a really intuitive advanced search tool to help you find the flights you want and the best way to take advantage of the United MileagePlus program is to book a multi-city trip and use United's excursionist perk to get a free flight within Europe sandwiched in between your long-haul flights.
For example, you could see both Greece and Switzerland with this itinerary by flying Turkish Airlines from Chicago (ORD) to Athens (ATH) via Istanbul (IST). Then, tour some Greek Islands on your own before flying Edelweiss from Chania Airport (CHQ) on the island of Crete to Zurich (ZRH), and, finally, flying United from Zurich back to Chicago … with all flights totaling just 58,000 United miles plus around $83 in taxes and fees, roundtrip.

Study up on how the United excursionist perk works!
For comparison, this same itinerary (or a similar multi-city route) can often cost $2,000+ when booking with cash. This makes using United miles for these types of trips extremely valuable – even if you're flying economy.

Read More: 5 of the Best Ways to Use United Mileage Plus Miles
How to Earn United Miles
There are several ways to earn United miles from flying United or one of its partner airlines or earning miles with a United-branded credit card like the United Explorer Card.
But one of the best ways is to keep your options open by earning transferrable Chase Ultimate Rewards points with cards like the Chase Sapphire Preferred® Card or the Chase Sapphire Reserve® Card. United is a Chase transfer partners, which means you can instantly transfer to United miles at an even 1:1 exchange – so 50,000 Chase points gets you 50,000 United miles – when you're ready to book.
Delta SkyMiles Flash Sales
If you can catch a Delta SkyMiles flash sale, it's one of the cheapest ways to get to Europe using points and miles.
How cheap? Back in 2019, we saw flights to London as low as 14,000 SkyMiles roundtrip. These were some of the cheapest SkyMiles deals we've ever sent to Thrifty Traveler Premium+ members.

More recently, we've unearthed widespread, nationwide deals to Europe starting from just 32,000 or 34,000 SkyMiles roundtrip for travel through the fall and winter.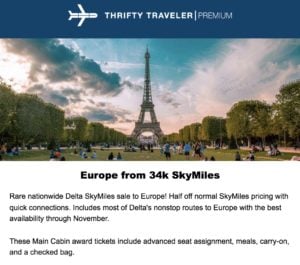 Not only did this deal include nearly every airport in the U.S. with Delta service, but it also included destinations across Europe, like Amsterdam (AMS), Rome (FCO), and Dubrovnik (DBV).

This unbelievable deal is gone now – get the next cheap SkyMiles flash sale to Europe sent straight to your inbox with Thrifty Traveler Premium+!
How to Earn Delta SkyMiles
There are plenty of ways to earn Delta SkyMiles. Of course, you can earn SkyMiles with a Delta-branded credit card. But we think the best credit card for earning Delta SkyMiles is … not a Delta card.
Rather than get a Delta-specific card, we'd recommend an American Express Membership Rewards credit card like The Platinum Card® from American Express or the American Express Gold Card®. Delta is an Amex transfer partner, which means you can wait for a great SkyMiles flash sale to Europe and then instantly transfer the points you need to your Delta account for booking.
When transferring Amex points to Delta SkyMiles, you'll need to pay a minimal 0.06 cent fee per point transferred, with a maximum fee of $99. For example, transferring 34,000 SkyMiles would incur a fee of $20.40.
Iberia Flights to Spain from 17K Miles Each Way
If you're looking to fly to Spain, you won't find a cheaper way to get there on a consistent basis than using Iberia Plus Avios.
Nonstop flights to Madrid (MAD) from the East Coast start from 17,000 Avios one-way or 34,000 roundtrip in economy when flying on off-peak travel dates. Iberia publishes a calendar with peak travel dates shown in red.
You'll find the 17,000-mile off-peak rates from Boston (BOS), New York (JFK), and Washington D.C. (IAD). Chicago-O'Hare (ORD) also gets in on these rock-bottom rates.

Flying from one of Iberia's other U.S. gateways? It'll cost 21,250 Avios one-way for off-peak flights from Miami (MIA), Dallas (DFW), or Los Angeles (LAX) to Madrid. If you're looking to fly Iberia's seasonal route from San Francisco (SFO) to Madrid, you won't have many choices for off-peak travel dates, but the rates will be as low as 25,500 Avios one-way.


The low rates do come with a bit of a drawback in the form of higher taxes and fees than you'll find when booking flights with other airlines. Expect to pay around $90 one-way or $200 roundtrip in taxes and fees when booking nonstop Iberia flights to Europe with Avios.
Thrifty Tip: Once you've logged in to your Iberia Plus account, use this link to navigate directly to Iberia's award search tool. It's a much better tool than the one you'll find on the homepage. Also, you may need to type in the city name ("Chicago") rather than ORD.

Read more: How to Fly to Europe for Just 34K Miles Roundtrip with Iberia Airlines
How to Earn Iberia Miles
Iberia Avios are fairly easy to earn thanks to partnerships with American Express Membership Rewards and Chase Ultimate Rewards. Transfers from Chase are instant, but if you're transferring from Amex, it may take a few hours – or even a few days.
Another workaround is to instantly transfer points from Amex, Chase, or Capital One to British Airways Avios and then move your BA Avios to your Iberia Avios account. This is only possible if your Iberia account has been open for at least 90 days and has earned some miles. You can simply credit a flight on Iberia or Oneworld partner to your Iberia account – or just transfer some points from Amex or Chase.
Virgin Atlantic Flying Club from 10K Points Each Way
The Cheapest Way to Fly One-Way
Looking for the cheapest one-way flight to Europe? Redeeming Virgin Atlantic Flying Club points is about as cheap as it gets for a one-way ticket across the pond.
Flights start from just 10,000 points one-way when flying Virgin Atlantic flights during the "standard season" from the Northeast to or from the U.K. Virgin publishes seasonal dates on its award chart page.

The lowest rates are for flights from Boston (BOS), New York City (JFK), and Washington D.C. (IAD). You will get hit with a $125 fuel surcharge, but this seems negligible when you consider the rock-bottom points rate and what it can sometimes cost for a one-way cash ticket.
For example, this one-way flight from New York to London (LHR) costs $631 in economy.

But you can book the same exact flight for just 10,000 Virgin miles plus $150 in total taxes and fees. That's a bargain!

There's an even sweeter deal than this, though…
The Minneapolis Loophole
There is a special loophole when departing from Minneapolis-St. Paul (MSP) — and only if you are flying to or from Minneapolis.
Thanks to partnerships between the airlines, you can also book Air France or KLM flights with Virgin points. From other cities, these partner award flights get hit with high fuel surcharges. But for some reason, Virgin does not charge the same fees for these flights when flying from or to Minneapolis, giving Minnesotans one of the sweetest sweet spots in all of points and miles.
You can book nonstop flights from Minneapolis to Amsterdam (AMS) … or connect almost anywhere in Europe starting from just 15,000 Virgin points each way or 30,000 roundtrip in economy. Taxes and fees end up around $6 one-way or $90 roundtrip on the nonstop flights to Amsterdam. Sadly, flying Air France in and out of Paris is no longer an option after the airline cut service to Minneapolis.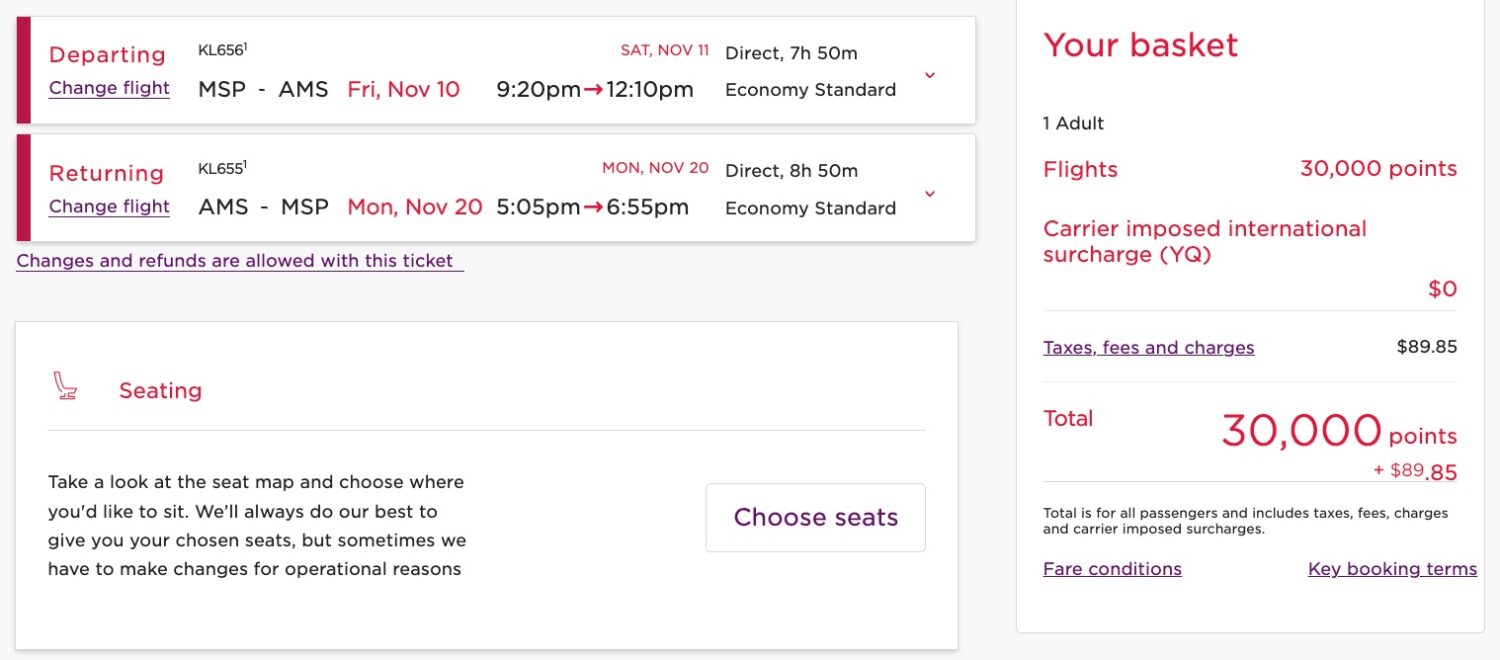 The fees will vary depending on your destination city due to local taxes, but you can expect most to be around $90 roundtrip. You'll need 50,000 miles roundtrip to fly during the busier seasons – Virgin Atlantic's website breaks it down.
This is one of our favorite deals to send out to Thrifty Traveler Premium+ members when we spot decent availability booking these Air France-KLM flights with Virgin points.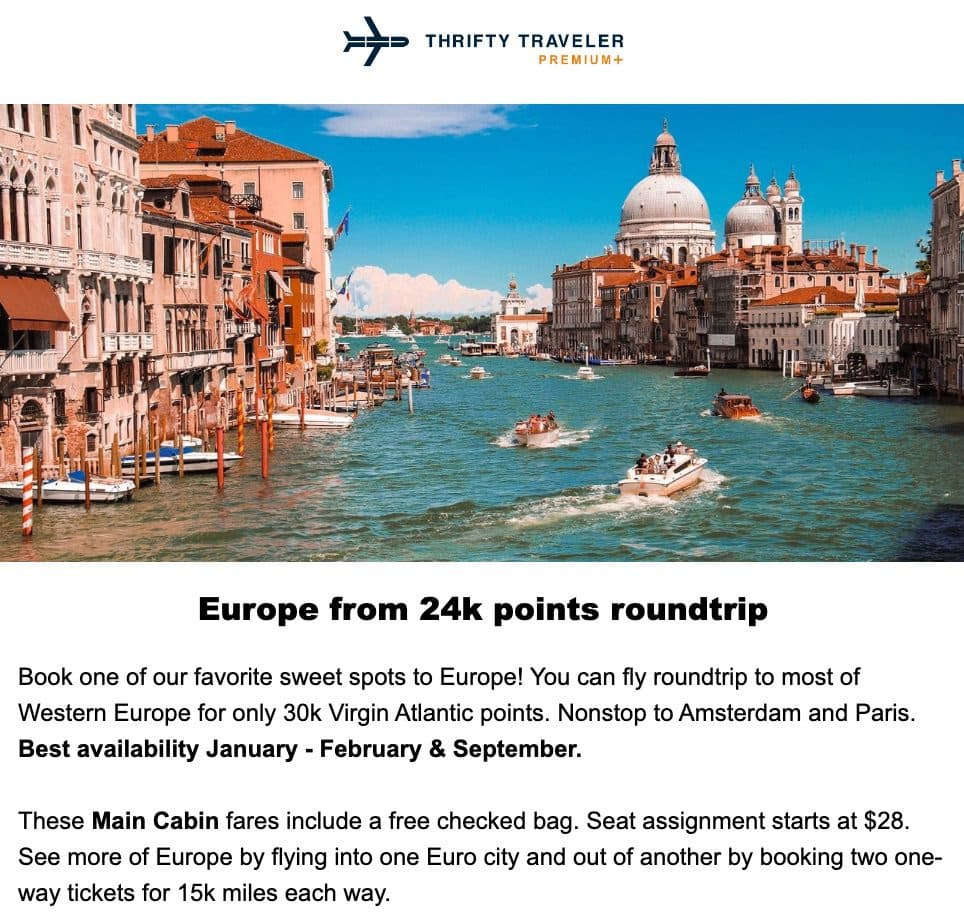 And yes, these are main cabin economy fares, which include a checked bag.
How to Earn Virgin Atlantic Points
Virgin Atlantic Flying Club points are some of the easiest to earn since you can instantly transfer points to Virgin at a 1:1 ratio from all major transferrable points programs, including Amex, Chase, Capital One, and Citi. And if you're earning points on rent, you can also transfer Bilt Rewards.
It can be especially lucrative if there is a transfer bonus … and you're in luck. Through March 31, you can get a 30% bonus when transferring Capital One miles to Virgin. That means 23,100 Capital One miles is all you need to book roundtrip flights to Europe!
Avianca LifeMiles from 20K Miles
There are some interesting ways to fly to Europe for less using Avianca LifeMiles. That's right! Using miles from an airline based in Colombia will give you some of the best opportunities to book flights to Europe, especially since you won't be paying any high fuel surcharges when you redeem LifeMiles.
Of course, you won't be flying Avianca itself, but rather one of its Star Alliance partners such as United, Air Canada, SAS, or Lufthansa. While most flights between North America and Europe cost 30,000 miles each way, there is a unique sweet spot for flights between northeastern U.S. states and northwestern Europe.
Officially, it's supposed to cost 20,000 miles one-way to fly economy between the United States 1 and Europe 1 zones, while all other routes should cost 30,000 miles one-way. At least that's what the Avianca LifeMiles award chart says.

And this holds true for some of these routes, such as this nonstop flight from Boston (BOS) to Copenhagen (CPH) on SAS.


But there is some variable pricing with Avianca LifeMiles awards to Europe. Case in point: Nonstop flights on Brussels Airlines from New York City (JFK) to Brussels (BRU) price out at 22,000 miles one-way even though Belgium is in the "Europe 2" zone and flights should price out to be 30,000 miles one-way.


Flights from further west may also be lower than they should be such as these one-stop United flights from Denver (DEN) to Zurich (ZRH) for 22,500 miles one-way, plus just $13 in taxes and fees.


Avianca's site can be a pain to navigate sometimes but you may want to check it out to see if you can find lower rates than advertised on any Star Alliance flights you're looking to take. You'll need to create an account and log in to search.

How to Earn Avianca LifeMiles
Avianca frequently has promotions to buy miles at a discount, although it will rarely be worthwhile to buy miles for an economy award redemption.
Instead, you can easily earn LifeMiles by instantly transferring Amex, Capital One, or Citi points to your Avianca LifeMiles account at 1:1 ratio. All these programs regularly offer transfer bonuses to LifeMiles, which means you may get an even better rate on the transfer depending on the month.
Honorable Mentions
We've covered the best of the best, but there are plenty more options out there.
The following redemptions are all decent options to book an economy award to Europe, but each has a small drawback that made me cut it from the top options. Still, if you're able to make any of these work for your travel plans, you can get some good value when using these programs.
Book Delta Flights via Virgin Atlantic
Unless you hop on a deeply discounted SkyMiles flash sale, you'll regularly see roundtrip flights to Europe for 90,000 SkyMiles, 120,000 SkyMiles, or even more.

But what if I told you that you could book those exact same flights for literally half the cost? Virgin Atlantic Flying Club comes to the rescue once again.

Read our full guide to booking Delta flights using Virgin Atlantic points!
At 30,000 miles each way, it's not quite as cheap as the 10,000- to 15,000-mile redemptions up above. But it's still a stellar deal, especially when you can book nonstop Delta flights to Paris-Charles de Gaulle (CDG), Amsterdam (AMS), Berlin (BER), and beyond during the middle of summer! Throw in a transfer bonus to book these fares for even fewer points, and it's tough to beat.

Get great deals like this one we sent members last week with Thrifty Traveler Premium+!

ANA Mileage Club for 55k Roundtrip
While the better deal with ANA is clearly booking business class seats to Europe for 88,000 miles roundtrip, you'll have an easier time finding award space in the economy cabin for 55,000 miles roundtrip.
The main drawbacks here are the fuel surcharges when flying certain airlines and the fact that you can only book for yourself or registered family members. Perhaps most importantly, you must book roundtrip – ANA doesn't allow one-way award tickets. It also takes 48 hours for transfers from Amex, which shouldn't be too much of an issue since economy award space will likely stick around long enough for you to book.
Read our full guide to using ANA Mileage Club miles!
Fly Aer Lingus Nonstop to Ireland from 13K Avios
You can fly nonstop on Aer Lingus flights to Ireland for just 13,000 Avios one-way or 26,000 roundtrip from central and northeastern U.S. and Canadian cities during off-peak travel dates. From Florida and West Coast cities, rates start from 16,250 Avios one-way in economy for off-peak dates. The Aer Lingus award chart explains the details.
You can transfer Amex and Chase points to Aer Lingus Avios or use the workaround to transfer Capital One miles to British Airways Avios, and then transfer those over to Aer Lingus. But the IT on the Avios website isn't the best and you may run into hiccups.
That's one of the major drawbacks to booking flights with Aer Lingus Avios. It can be a very frustrating booking experience with the website crashing or taking forever to load any results. You might be better off simply calling the airline at 1-855-585-8264 to book.
The other drawback? Taxes and fees total roughly $110 one-way or $250 roundtrip. These aren't the worst fees considering the low number of miles required, but you may be better off booking a cheap cash fare when flying roundtrip in economy.
Air France-KLM Flying Blue Promo Rewards
Air France-KLM Flying Blue releases monthly Flying Blue Promo Rewards for specific routes and travel dates. These can sometimes bring economy awards down as low as 11,500 miles one-way or 23,000 roundtrip.
However, there's one one big drawback: You'll get hit with taxes and fees between $150 – $250 roundtrip when booking flights with Flying Blue. Still,  this can be an excellent way to fly to Europe on the cheap – especially when cash fares are high.
Bottom Line
You don't need to fly business class to get a good deal using your points and miles. Flying economy, you'll be able to take more trips and have an easier time booking the whole family over to Europe.
Don't let your points and miles sit in the bank, never to be used. If you want to fly to Europe and the cost of tickets is keeping you from doing so, try booking one of these economy awards to get you over there to explore the old world.