Wouldn't it be great if you could earn points for paying your rent?
It seemed so sensible, yet none of the major banks or loyalty programs had found a way to tackle the issue without paying a fee through services like Plastiq. That is until nearly two years ago when Bilt Rewards opened its proverbial doors for business by offering renters a way to earn transferable points while paying what for most is their largest monthly expense.
Depending on who you rent from, you have two different options for how you make your payment and earn points. If you live in one of the one million or so apartments that are currently a part of the Bilt Rewards Alliance, you can simply pay your rent through the Bilt app and earn a flat 250 points per month. If your landlord isn't a part of the Bilt Rewards Alliance, or you'd like to earn even more points, then you'll need the Bilt Rewards Mastercard®.
The Bilt Rewards Mastercard allows you to charge rent to your card and earn 1 point per $1 spent, up to 100,000 points per calendar year, all without paying any additional processing fees. Considering other third-party processors charge around 3% for processing rent payments with a credit card, this can add up to significant savings over the course of a year. Best of all, the card has no annual fee!
And even though the Bilt Mastercard is marketed towards renters, its appeal stretches far beyond that. With its top-tier transfer partners, an impressive list of travel benefits, and useful category bonuses, all with no annual fee, a case could be made for the Bilt card to be one of the best travel rewards credit cards, period.
Learn more about the Bilt Rewards Mastercard®.
Let's take a closer look at all the Bilt card has to offer and see if it deserves a place in your wallet, regardless of whether or not you pay rent.
Related Reading: Bilt Rewards Overhauls Rewards Program
Bilt Rewards Mastercard® Overview
The Bilt Rewards Mastercard was initially geared towards renters looking to earn rewards for making their monthly rent payments, without paying additional processing fees. After relaunching the Bilt Card through a partnership with Wells Fargo, the card's revamped earning structure now makes it an excellent choice for everyone – not just renters.
That's because this card is packed with benefits that help it punch well above its weight class.
Here is what you need to know about the Bilt Rewards Mastercard:
1x points per dollar spent on rent in the Bilt Rewards app (up to $100,000 per calendar year)
1x points per dollar spent on everyday purchases
2x points per dollar spent on travel
3x points per dollar spent on dining
Earn double points on Rent Day (the 1st of the month), up to 10,000 bonus points per month

6x points per dollar spent on dining
4x points per dollar spent on travel
2x points per dollar spent on everyday purchases
1x points per dollar spent on rent

Trip cancellation, interruption, and delay protection
Trip delay reimbursement
Auto rental collision damage waiver
Cell phone insurance
No foreign transaction fees
No annual fee!
It's important to note that in order to earn points for rent and purchases made with your Bilt Card, you need to make a minimum of five purchases each statement period. With this requirement, Bilt is encouraging you to keep their card at the top of your wallet and make it your go-to card for all your purchases. With the ability to earn additional points on dining and travel, that should be reason enough to make it an everyday contender for many folks.
For more information on Bilt Rent Day, check out some of the fun promotions they've run in the past! 
Welcome Offer
It's time to address the elephant in the room. The Bilt Rewards Mastercard does not come with a flashy welcome offer like many of the other top travel rewards credit cards.
We understand that this is a non-starter for some who rely on those big welcome offers to kick-start their points earning. But for most, it shouldn't be that big of an issue. And what the Bilt card lacks by way of a welcome offer, it makes up for in innovation, encouraging cardholders to engage with the rewards program and earn an unconventional welcome offer through different public and targeted promotions.
While this isn't official, we've heard reports of many new cardholders receiving an email from Bilt on the day their card arrives, offering 5x points per dollar spent everywhere (excluding rent), up to 50,000 points. If you time your application with any large upcoming purchases, this sort of offer could more than make up for the lack of a traditional welcome offer that you'd get with a new card.
Impressive Travel Benefits
Most cards that include travel protections come with $100 or more in annual fees – that's not the case with the Bilt Card.
Sticking true to form, they've found a way to pack benefits typically reserved for premium cards into the no-annual-fee Bilt Rewards Mastercard®.
So what kind of benefits are we talking about here?
Trip Cancellation & Interruption Protection
If your trip is canceled or interrupted due to a covered reason such as death, accidental bodily injury, or physical illness to yourself or a family member, you are eligible for reimbursement of any nonrefundable common carrier (plane, train, bus, cruise, etc.) tickets. In order to be eligible for this benefit, the entire fare must be purchased with your Bilt Rewards Mastercard and coverage maxes out at $5,000 per covered person. Using Bilt points earned from the card would also qualify.
That means if you pay for something like airfare or a cruise with your Bilt Card, and you or a family member get sick or hurt before or during your trip, you're eligible for reimbursement of any nonrefundable tickets for you, your spouse, and any dependent children traveling with you.
Trip Delay Reimbursement
If your trip on a common carrier is delayed by six hours or more, you're eligible to receive $200 per day, for up to three days, for necessary expenses like food, temporary lodging, and entertainment. The maximum benefit for all covered travelers is $1,800 per trip and your Bilt Rewards Mastercard must have been used to pay the entire fare of your covered trip.
Translation: If your flight gets delayed by six hours or more due to weather, mechanical issues, or any other covered reason, you can get $200 per person to help cover the cost of food, hotels, or even an airline lounge day pass!
Primary Rental Car Insurance
Bilt's auto rental collision damage waiver provides up to $50,000 of coverage in the event of an accident or theft. This coverage is primary, meaning you won't need to run it through any other insurance first, and applies to rentals in the U.S. and abroad (excluding Israel, Jamaica, The Republic of Ireland, and Northern Ireland). The maximum length of your rental period must be 31 days or less, which certainly shouldn't be an issue for most travelers.
In order to take advantage of this car rental coverage, you must pay for the rental with your Bilt Rewards Mastercard and decline the rental company's collision loss/damage insurance. It's important to note that this coverage is not all-inclusive, which means it does not cover such things as personal injury, personal liability, or third-party personal property. So it wouldn't cover any damages to other cars or property and it doesn't cover any injuries.
Cellphone Protection
While not travel insurance per se, there's hardly a travel accessory more important than your cellphone. Ensuring it's protected from damage, theft, or loss is a must.
Bilt's cell phone insurance will reimburse you, up to $800 per covered loss, in instances where your phone is damaged, stolen, or accidentally parted with (i.e. lost). Reimbursement is limited to the cost of repair or replacement for your original cell phone, minus a $25 deductible.
In order to be eligible for this coverage you must pay your monthly cell phone bill with the Bilt Rewards Mastercard and it applies to all active lines on the plan, not just the cardholder's phone.
Read more: The 4 Best Credit Cards Offering Travel Insurance
How to Redeem Bilt Points
Now it's time for the fun part: Reaping the rewards of your hard-earned spending! There are lots of exciting ways to use your Bilt points and they go beyond just travel.
Book Travel Through the Bilt Travel Portal
Let's start with the easy one. Bilt partnered with Expedia to build a powerful travel search engine that allows you to search for and book flights, hotels, rental cars, and activities. Your Bilt points are worth 1.25 cents each towards travel when booking through the Bilt Travel Portal.
For the most part, you should see the same pricing that's available directly through the airline's website or Google Flights. To begin your search, navigate to the "Rewards" section in the Bilt app or on their website and click on "Travel".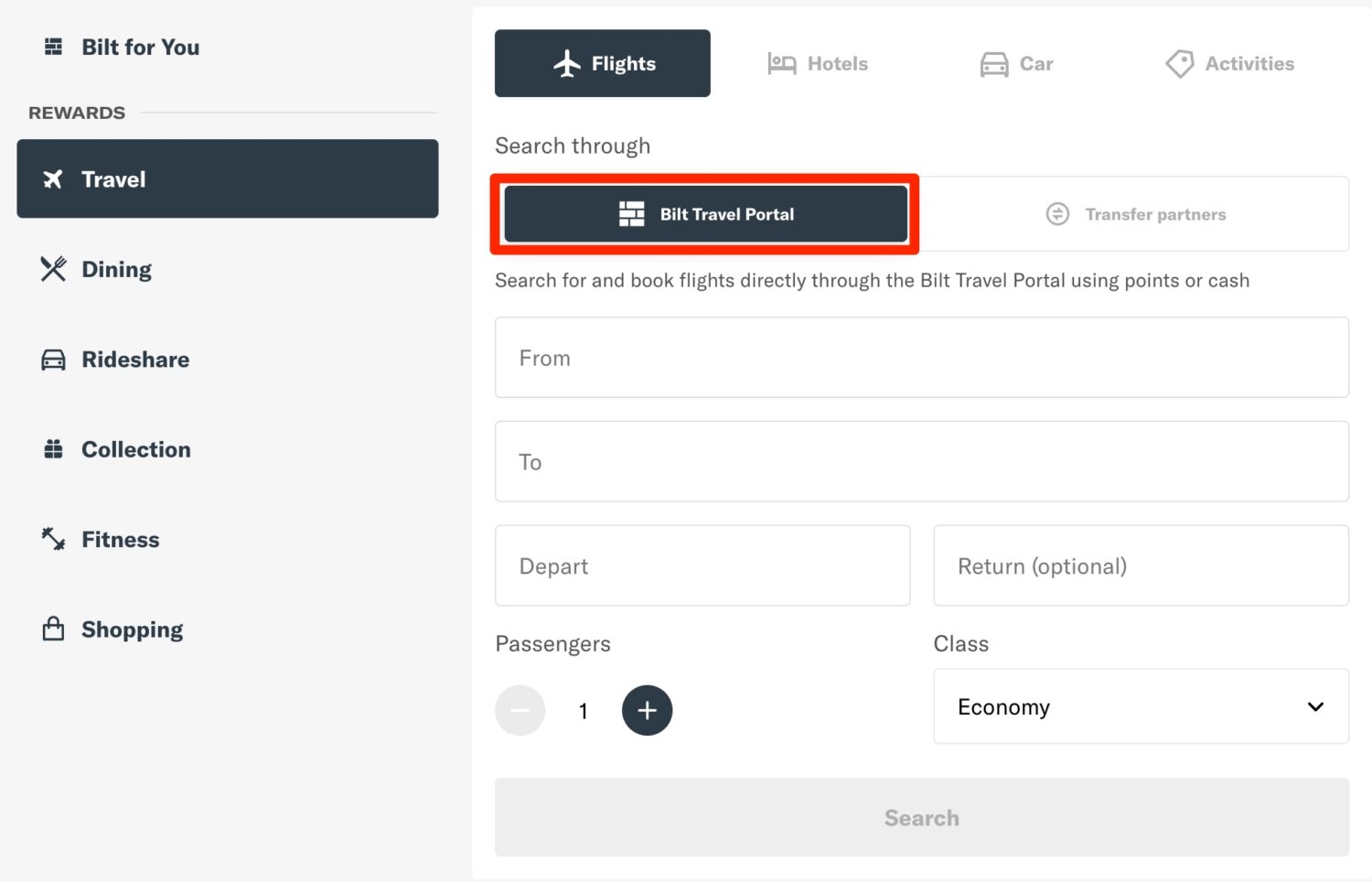 Thrifty Tip: Using your Bilt points like this is a great way to book the flight deals we send out as part of our Thrifty Traveler Premium+ membership!
If this all sounds and looks familiar, that's because it's also how point bookings work in the Chase travel portal with the Chase Sapphire Preferred® Card, albeit without the $95 annual fee.
Read More: Bilt Rewards Launches New Travel Booking Portal Powered by Expedia
Transfer Points to Partners
The power of Bilt points, though, really lies in Bilt's hotel and airline transfer partners, and Bilt has amassed arguably the best list of transfer partners in the industry. You can transfer your Bilt points at a 1:1 ratio to all 14 of Bilt's transfer partners, often redeeming them for a much better value than you would get booking through the Bilt travel portal.
| Program | Type | Transfer Ratio |
| --- | --- | --- |
| Aer Lingus Avios | Airline | 1:1 |
| Air France/KLM Flying Blue | Airline | 1:1 |
| Air Canada Aeroplan | Airline | 1:1 |
| American Airlines AAdvantage | Airline | 1:1 |
| British Airways Avios | Airline | 1:1 |
| Cathay Pacific Asia Miles | Airline | 1:1 |
| Emirates Skywards | Airline | 1:1 |
| Hawaiian Airlines HawaiianMiles | Airline | 1:1 |
| Iberia Avios | Airline | 1:1 |
| Turkish Miles & Smiles | Airline | 1:1 |
| United MileagePlus | Airline | 1:1 |
| Virgin Atlantic Flying Club | Airline | 1:1 |
| World of Hyatt | Hotel | 1:1 |
| IHG Hotels | Hotel | 1:1 |
Traditionally, award bookings have been a more advanced travel trick, requiring you to know about things like award charts, routing rules, partner programs – the list goes on and on. But thankfully, Bilt has taken a lot of the work out of these types of redemptions by teaming up with the powerful award search tool, point.me, to offer members a way to find awards that are bookable with one of Bilt's transfer partners.
Instead of navigating to the travel portal when you go to redeem rewards through Bilt's website, you'll simply need to change to the "Transfer partners" search option and input your desired search criteria such as date, destination, and departure city.
The site will then search for one-way award availability across all Bilt transfer partners. It will then display all your options for transferring your Bilt points to an airline partner's mileage program and booking that same flight.

Be warned that because the search tool is looking for award availability across multiple travel partners, it does take a little longer to search than you're probably used to. As it starts to find options, they will appear on the screen before the complete list is available. When finished, you can sort the list by "quickest flight" or "lowest price".
Let's use the same MSP-New York flight search that we showed above as an example.

Here, you'll see the two cheapest award options for using Bilt points are by booking with Air Canada's Aeroplan or Virgin Atlantic's Flying Club. In both instances, transferring Bilt points to one of these partners would be significant savings over using them to book for the same date through the Bilt travel portal.
Non-Travel Redemptions
As promised, you can even use your Bilt points for things other than travel. Although, in most instances, your points won't be worth nearly as much for doing so. But at the very least, it's nice to have the option to use your points for things like merchandise, fitness classes, or even for paying rent!
One of the easiest uses of your points, for something other than travel, is to use them on Amazon purchases. Simply link your Bilt Rewards Mastercard to your Amazon account and choose the "pay with points" option at checkout.

Using your points for Amazon purchases will give you a value of .7 cents per point (100 Bilt points = $0.70). Making it a much less valuable redemption than either the travel portal or transferring your points to partners.
In addition to Amazon purchases, you can also use your points to cover the cost of everyday items within the "Bilt Collection." Here you'll find everything from chess sets to ski goggles to artwork.

Given the wide array of items available through the "Bilt Collection", there should be a little something for everyone, but just like with using your points for Amazon purchases, the value per point isn't terribly good.
One last redemption option is pretty fitting for a credit card that started as a way for renters to earn rewards and build their credit, and that is to use your points towards a downpayment on a house. Given the recent rise in home prices and increased borrowing costs, home ownership likely seems out of reach for some, but being able to earn rewards on rent and then use those rewards for your downpayment at a rate of 1.5 cents per point may make it more attainable than you think.
More Ways to Earn Bilt Points
So what if you're still not earning Bilt points quite as quickly as you'd like? Bilt has come up with some creative ways for both cardholders and general rewards members to engage with the program and earn additional points. Some of these we've already covered or alluded to, but others might be brand new, so let's take a look.
Pay Rent
If you're a renter it's an absolute no-brainer to pay your rent through the Bilt Rewards program – there's simply no better way to earn points on one of your biggest monthly expenses. There are over one million apartments in the Bilt Rewards Alliance that have partnered with Bilt and accept monthly rent payments through the Bilt app.
What if your property isn't a part of the Bilt Rewards Alliance? No worries! You can still earn points by putting your monthly rent payment on your Bilt Rewards Mastercard. Even if your property only accepts checks, you can pay with the Bilt card and they will send a paper check on your behalf.
Refer a Friend
Bilt incentivizes you to share your love for the Bilt Rewards Mastercard® by referring friends. In turn, you'll receive 2,500 Bilt points for every friend you refer with a 10,000 point bonus for completing five referrals.
The number of points you can earn through the referral program is capped at 2 million Bilt points, so unless you're really popular, you shouldn't have an issue with too many referrals.
Link Loyalty Programs
Bilt has partnered with 14 of the biggest names in travel – such as American Airlines, United, Hyatt, and IHG – to offer 1:1 point transfers and allow redemptions within those individual award programs. You can currently earn 100 bonus points for every loyalty program that you link to your Bilt Rewards account.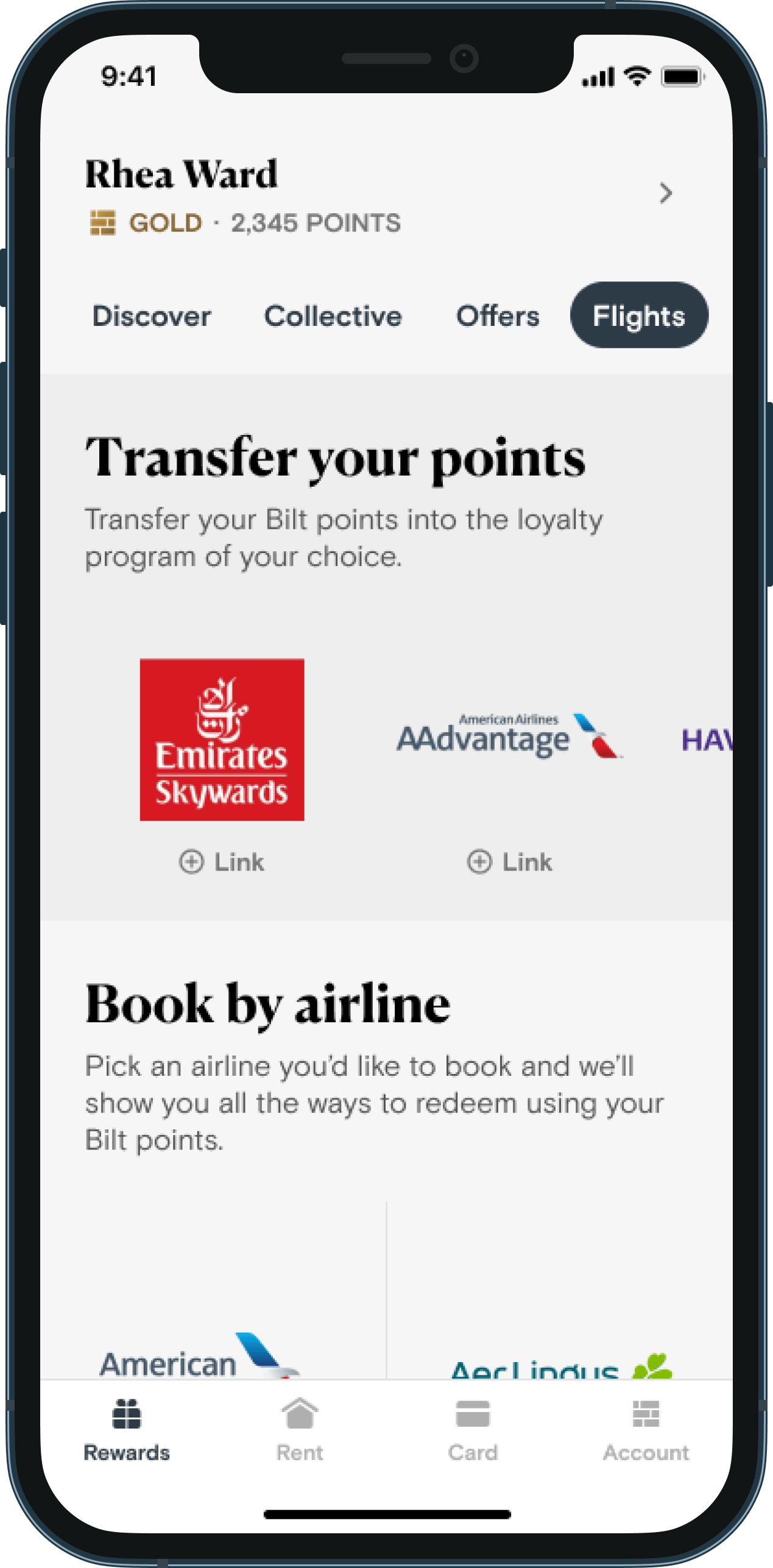 That means if you link a new or existing account to all 14 of their partners, you'll earn a pretty simple 1,400 transferrable points. These are seriously some of the easiest points you'll ever earn!
Bilt and Lyft
Bilt and Lyft have partnered together to allow Bilt Rewards members to earn points on each and every Lyft ride. You'll earn 2x Bilt points for every dollar spent with Lyft and an additional 3x Bilt points if you pay with a Bilt Mastercard. All you need to do is link your accounts in the Bilt app, then select Bilt as your preferred rewards program.
Knowing how integral rideshares have become in our daily lives, this is a pretty easy way to earn some extra points for simply getting to where you need to go.
Read More: Earn Up to 5x Bilt Points on Every Lyft Ride!
Bilt Dining
Bilt recently launched an exciting new feature in its app called Bilt Dining, which allows members to earn bonus points at participating restaurants. While the biggest bonus is for members who pay with their Bilt Rewards Mastercard®, Bilt also allows members to link non-Bilt cards to the dining program in the app and earn extra points that way as well.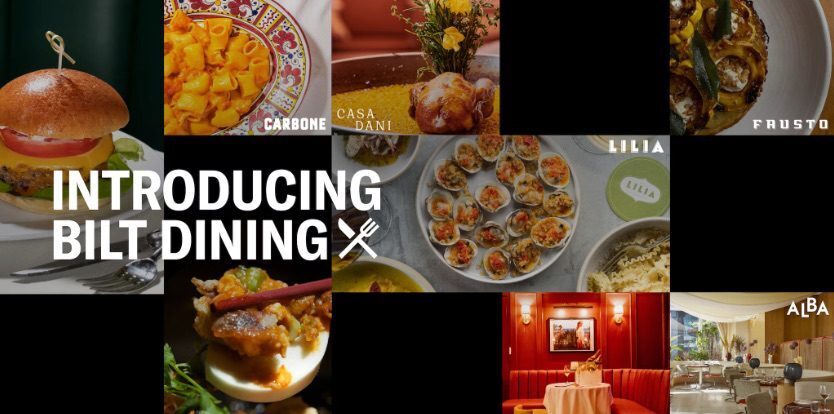 Here's what you can earn through Bilt Dining.
5x Bilt Rewards points for every dollar spent at participating restaurants by paying with any non-Bilt credit card (Visa, Mastercard, and American Express cards only), plus any additional rewards you might earn from those cards
8x Bilt Rewards points for dining and paying with the Bilt Card (5x Bilt points for dining + 3x Bilt points for paying with the Bilt Mastercard = 8x Bilt points)
11x Bilt Rewards points for dining on Rent Day and paying with the Bilt Card (5x Bilt points for dining + 6x Bilt points for paying with the Bilt Rewards Mastercard on Bilt Rent Day = 11x Bilt points)
As of publication, Bilt Dining has limited reach, with participating restaurants located in New York City, Boston, Atlanta, Dallas, and Chicago. More cities and restaurants are scheduled to come on board with Bilt Dining in the near future, making this a valuable feature to be aware of going forward.
Read More: Earn up to 11x Bilt Points at Select Restaurants
Bottom Line
The Bilt Rewards loyalty program has been a disruptor in the industry since day one, so it should come as no surprise that they'd aim to do the same thing with their credit card. While initially targeted toward renters, the Bilt Rewards Mastercard is an extremely well-rounded travel rewards credit card that any traveler would do well to have in their wallet.
Travel benefits like trip delay and cancellation protection, no foreign transaction fees, and access to a full slate of transfer partners, are unheard of for a card with no annual fee. Not to mention it's unprecedented to be able to pay rent and earn valuable cards without paying a fee. Add it all up, and we might just have a challenger to our best card for beginners.
Learn more about the Bilt Rewards Mastercard®.