Did traveling more make your list of resolutions for 2020? Join the club.
But don't let the year pass you by without fulfilling this one. We're here to help with some of the best tips and tricks we know to help you travel more, for less.
1. Make Travel a Priority
This is really what it all comes down to: having the right mindset. If you make travel a priority, you'll travel more. If you don't, you probably won't.
Traveling takes time and energy to plan. And whether you're an expert travel hacker or a newbie to points and miles, it costs money. We've all got limited time and limited resources, after all. Start your year by building part of your life around travel, and you'll find yourself traveling more.
Set aside part of each paycheck into a dedicated travel fund. Even if it's just $50 or $100 each month, that can build up fast and allow you to take an extra trip or two this year. Contact your bank to create a new savings account, or open up a special, travel-only checking account.
And be strategic about using your time off from work. You could take random Fridays off throughout the year and enjoy some extra sleep and more long weekends at home. Or you could save that PTO for a handful of long weekends across the U.S., a few weeklong trips abroad or an incredible, two-to-three-week vacation across Europe, Asia, or South America.
The power to travel more is yours. Set the pieces in motion to start 2020. Just remember: Life is short, travel now. 
2. Rethink The Way You Travel: Book the Cheap Flight First
It might seem contradictory, but keeping your options open – and not setting your plans in stone – is the true key to traveling more.
Think of it this way: If you decide you're going to London over the second week in July, you're locked in. You've given all the power to airlines to charge whatever they want because you've decided that's when and where you're going. Of perhaps you even book your hotel before your flight: now you have to pay whatever flight prices are for those dates, because you've committed. It's the single biggest (and most costly) planning mistake that travelers make.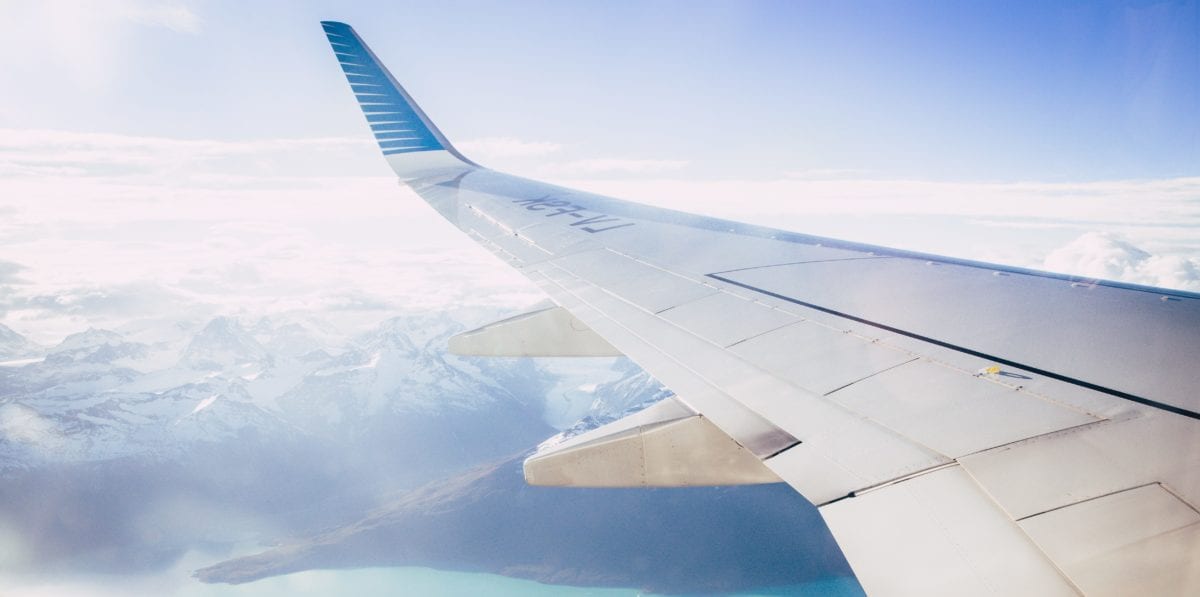 Instead, rethink the way you plan your travel: Book the cheap flight first, and let the rest fall into place. Being flexible with your travel dates and waiting for an epic flight deal to come around can save you a ton on one of the biggest travel costs: airfare.
If you make your travel plans based on a great fare, you'll have extra cash you can use on the actual trip. Instead of picking the exact dates you want to travel in advance, zero in on a location and wait for the best deal you can find on airfare in that time frame. 
Or better yet, go explore wherever the next cheap ticket might take you. That's what many of our Thrifty Traveler Premium members do.
We find the cheapest flight deals to cities around the world, and notify them when fares are half their usual price. Maybe Morocco, Belize, or Vietnam wasn't on your radar, but when a bargain fare pops up, you can capitalize on the cheap flight deal and make your money go further.
No matter what approach you take, being flexible is crucial to save money and travel more. And luckily, we've got just the tool for you to start your cheap travel off with a flight deal.
3. Get Notified of Cheap Flights
If you're subscribed to our free daily newsletter, you've seen the domestic flight deals we post every single day. You even get an occasional dirt-cheap international fare.
But if you're ready for a ton of international flight deals that save travelers $250 – $500 on each flight deal we find, it's time to get yourself a Thrifty Traveler Premium membership.
Thrifty Traveler Premium is our international flight deal notification service. Sign up, and you'll get the best flight deals we find to your inbox every day to international destinations, along with Alaska and Hawaii. You can set your preferences to receive alerts for all airports, or just your home hub.
Sign up, and you'll be instantly notified of the cheapest flights to get to Europe, Asia, South America, Africa, Australia, and more. Check out the rundown of some of the best fares we found in 2019, including roundtrip flights to Hawaii for under $100! This list still blows our mind.
For just $45 a year, you'll get instant flight deal alerts sent directly to your inbox. That's less than a cup of coffee a month, and you'll easily make that money back (and then some) by saving hundreds on your first flight deal.
Of course, we're a tad biased. But we think there's no better way to see the world on the cheap than Thrifty Traveler Premium.
Sign up for Thrifty Traveler Premium Now!
4. Travel at the Right Time
Want to save money on airfare while also avoiding the crowds? Say hello to your new best friend: the shoulder season.
Traveling during the thick of the summer will never be cheap. If you can, avoid flying between June 20 and Aug. 20, when you might pay double or more for a plane ticket – and more for hotels, too.
Instead, aim for shoulder season, the late spring and late summer/early fall periods that straddle the summer. We find tons of flight deals for travel in May to early June and late August through October. Depending on where you're heading, you'll find the perfect mix of good weather, fewer crowds, and some major savings. 
And when it comes time to book a flight, forget that old myth that the best day to book airfare is on Tuesday. There's no magical day to book cheap flights. The reality is that airlines are constantly tweaking their prices, and it's almost impossible to single out any major patterns.
What is true, however, is that there are cheaper days to actually fly. Travel on Tuesdays, Wednesdays, and Saturdays to score the best deals. Read our guide to finding the cheapest flights possible.
5. Book Now, Ask Questions Later
This one might sound simple, but it's one of the key aspects of being a thrifty traveler. If you see a great fare but aren't sure you can make it work, book it anyway.
The reason? The federal government requires airlines to fully refund any fare touching U.S. soil within 24 hours of purchase – so long as they're booked directly with the airline. Domestic or international, it doesn't matter. You've got 24 hours to decide whether you want to actually take the trip or dump it.
That's enough time to scope out your lodging options, OK things with your boss or spouse, and recruit a buddy to join you.
Give yourself more time to decide, and you'll probably find excuses. Maybe the timing isn't perfect. Or you'll convince yourself you'd rather go to another destination. It's always far easier to say no than yes.
As frequent travelers, the entire Thrifty Traveler team can count on one hand the number of trips we've regretted taking (hint: it's zero.)
6. Get Started with Points and Miles
If you've written off points and miles as some credit card scam or too difficult to use, it's time to change that in 2020.
Whether you simply want to travel more or want to fly in style in first class, points and miles can be a gamechanger. We've flown $6,000-plus flights and taken bucket-list trips for nearly free thanks to points and miles. And we're here to show you that you can, too. If you want to take one or two more trips in 2020, there's no better way than using points and miles.
Read our guide to getting started with travel rewards cards. You'll learn how to take it slow as you get started, study which of the dozens of credit cards out there might be the right fit, and get a few recommendations.
Check out the Chase Sapphire Preferred, our #1 starter card. It's a great option for beginners because you can easily get $750 in free travel – or even more if you utilize some of Chase's airline transfer partners.
Or learn how you can save $750 on your next flight with the Capital One Venture Rewards Credit Card. There's no easier way to use points and miles to unlock free travel. You can simply purchase a flight, hotel, cruise or more, then log in and erase the purchase from your statement using those points. This card also has some incredible perks to improve your travels, including a $100 credit for Global Entry or TSA PreCheck.
If you're a loyal Delta flyer and want to get a better grasp on using SkyMiles, read our guide on understanding SkyMiles and the best ways to earn them. Then there's the fun part: the best ways to use them!
Airlines don't make it easy to understand how to use your points and miles. That's where we come in. Stay tuned to Thrifty Traveler, and we'll help you out. Once you get the hang of it, you'll see just how points and miles can change your life and your travels.
7. Go Where it's Cheaper
Maybe you've got your heart set on Hawaii or Paris for 2020. And we can't blame you – they're incredible destinations.
But you can have a dreamy vacation without going to that dream destination. Save some money by going where your dollar goes farther.
Want a feel for western Europe without breaking the bank? Head to Portugal, one of the cheapest countries in Europe with incredible cities like Lisbon and Porto. Or check out some gems in eastern Europe that won't break the bank. Cities like Bratislava and these other awesome under-the-radar cities will have you heading east.
Need a beach escape but Hawaii is too pricey? Head to Thailand, Bali or the Philippines! Sure, the flights are much longer. But we're constantly finding seeing cheap fares to Southeast Asia with Thrifty Traveler Premium. And once you're there, you can stay and eat for a fraction of the price, enjoying some marvelous beaches.
I bet we can sell you on a trip to Hanoi, Vietnam in just four words: Beer is a quarter. And everything in this incredible city is cheap. Even notoriously spendy places like Switzerland don't have to be so expensive.
8. Think Outside the Box to Save on Lodging
Big box hotels and major resorts can be expensive. Especially if you're eating every meal on-site.
Give Airbnb a shot if you haven't already. No matter where you're headed, there are bound to be some great options that can help you save in more ways than one.
The potential cost savings go beyond the nightly rate. Spend less on dining by buying some groceries and whipping up a meal or two in your Airbnb kitchen during your stay. Save on laundry – or checked bag fees – by doing your laundry inside your rental.
Not sold on Airbnb just yet? Check out Airbnb Plus. Think of it as a specially curated subset of the top-rated homes, with properties inspected and photographed by Airbnb. They're the best of the best.
Thrifty Tip: New To Airbnb? Sign up using our link and you will receive $40 towards your first stay (we will get $20 as well).
Looking for even more savings on accommodations? Make 2020 the year you stay in a hostel! If you're not one to share a room with a few other travelers, get yourself a private room. You can still take advantage of all the perks hostels have to offer: local staff, (often) free breakfast, walking tours and day trips organized by the staff, common areas, and being surrounded by fellow travelers of all ages. Don't knock them 'till you try them!
You can even get creative this year and go camping or glamping to save. Check our guide on camping on Kauai if you want a fun way to save some big bucks on lodging in Hawaii. Stay in luxury even in nature by glamping in some of the most beautiful places in the world.
Lodging doesn't have to be expensive — or boring! Spice it up this year with some unique accommodations.
9. Stop Paying ATM or Currency Exchange Fees
In 2020, it's time to say goodbye to paying money to get your own money and exchanging money at a poor rate at those horrible airport kiosks.
Luckily, there are two debit cards on the scene in 2020 that can allow you to take out your money for anywhere in the world without any fees. One is from Charles Schwab, and the other is from SoFi Money. Having one of these debit cards is a must-have for any traveler. If you're wondering which is best for you, read our guide comparing these two cards.
Want to save better for your travels this year? Make this account your dedicated travel fund and deposit money to fund your trips. That way, when it comes time to hit the road, you can use the money you've saved without paying any ATM of foreign transaction fees.
It may seem small, but the savings add up fast whether you're traveling in the U.S. or abroad.
Bottom Line
No matter your resolutions or destinations in mind for 2020 travel, make this the year your travel more, for less. Use our favorite thrifty tips to stretch your dollar and see the world this year.