Officially, today is National Cheap Flight Day. But if you ask us, we call it … well, just any other day.
Along with Black Friday, Cyber Monday, and Travel Deal Tuesday, today is the latest day when travelers are convinced they'll get the best deals on flights. We search for cheap flights 365 days a year, so take it from us: It's more of a marketing gimmick than a money-saving reality. Whether it's National Cheap Flight Day or any old Tuesday, there's no sense in waiting for a specific day to book flights. There is no magical day to score the best deal. You can find cheap flights every day of the year. 
Let us prove it to you: Get 40% off your first year of Thrifty Traveler Premium+ flight deal alerts – sign up with promo code CHEAP today!

The next dirt-cheap flight deal can pop up at any time, any day of the week. Airlines are constantly tweaking prices on fares and loading new deals – and the best deals are rarely advertised as carriers try to undercut their competition with lower prices. If you're lucky, you can even catch a mistake fare – the holy grail of cheap flights.
But the only way to ensure you're getting the best deal possible is to be patient and flexible, and use the best tools to find the best deals. So forget about National Cheap Flight Day: Make every day of the year your day to book cheap travel.
Here's how.

Follow the Flight First Rule
Most travelers follow the same script when planning a trip: Pick a spot, decide on your dates, book a hotel, then check out flights.
The single biggest change you can make to save on flights as you return to travel is also the easiest: Flip that script on its head and follow what we call the Flight First Rule. And yes, it's exactly what it sounds like.
By booking your flights first, you open up a world of potential savings. Pick your dates in advance, and you're putting yourself at the whim of whatever the airlines want to charge you. Start by searching for flights, and you can let the prices guide you to the cheapest flights possible. 
Whether your schedule is wide open to travel at any time of the year or you've only got a one-to-two-week window to travel, even changing your departure or return dates by a single day can mean some serious savings.
And when it comes time to start searching, there's one place to look…
Use Google Flights to Start Your Search
It's time to ditch Expedia and Kayak and come to the light: Google Flights is the best place to start your search for airfare.
Rather than an online travel agency like other search engines, Google Flights is a price aggregator, pulling the best fares directly from the airlines. If you're new to using Google Flights, check out our resources and learn to use it like a pro to book the cheapest flights possible.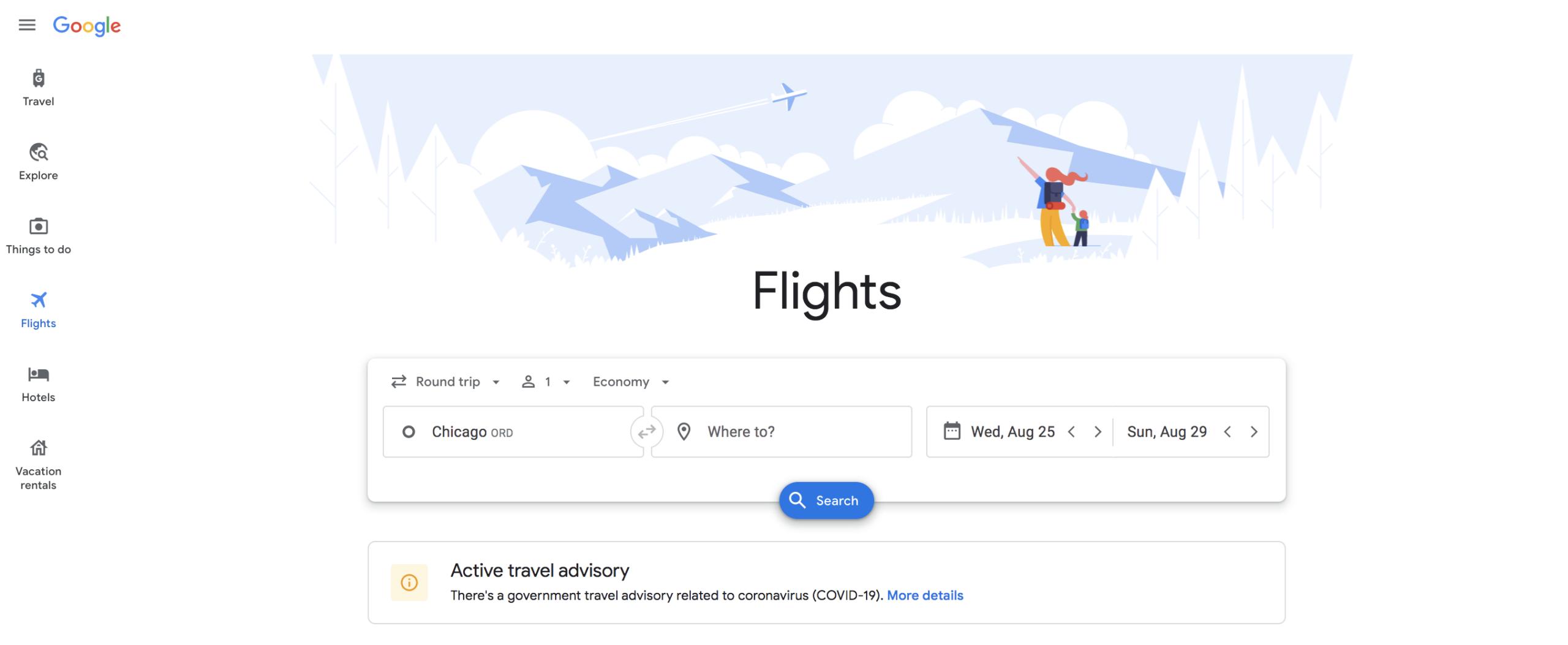 It's easily the most powerful tool to find cheap flights. While you can sometimes find even better deals by using other sites like Skyscanner or Momondo, Google Flights should always be your starting point to find a cheap fare.
Give us a Follow!
Looking for cheap flights? Start here – with us!
We hunt for the cheapest international and domestic flight deals each day. But instead of searching our website each day, just sign up and starting getting our free daily newsletter. We'll send you the best cheap travel tips plus other travel news!
You can also follow along on Facebook, Twitter, and Instagram!
Pick the Cheapest Time to Travel
There may be no best day to book flights. But timing is still important – it hinges on when you get on the plane, not when you buy your ticket.
Looking to save big bucks on airfare? These are our best tips for rethinking when you travel.
Fly on off-peak days: Although flight prices are unpredictable, the cheapest flights typically depart and return on Tuesday, Wednesday or Saturday. Make a long weekend trip from Wednesday to Saturday, or fly in and out on Saturdays instead of Sundays. These small changes can save you a ton.
The death of last-minute fares: It's time to put this myth to rest: the age of last-minute deals on flights is over. Now, last-minute purchases are often business travelers and companies that are willing to foot a big bill for it. So avoid booking within 30-45 days before your flight. Plan ahead and don't bank on getting a last-second fare. You don't want to get stuck paying three times the price for waiting.
Capitalize on the shoulder season: Peak summer – from June through August and into September – is a pricey time to travel. There are few sales, and prices are often more than double the norm. Not to mention, your destination could be packed with tourists. Instead, try traveling during the shoulder season. The best dates are between May and early June and late August through September.
Level Up with Thrifty Traveler Premium+
Want to travel on the cheap? Don't wait for some special holiday to buy your flights. Let us do the work for you.
If you're looking for the cheapest domestic and international flight deals from your home airport, want discounted business or first class fares, or are tired of searching for the best ways to use your credit card points and airline miles, you've come to the right place. That's what our Thrifty Traveler Premium+ service is all about.
How cheap are we talking? How about …
But the points and miles deals we've been finding lately have been even hotter, like:
Amazing Delta SkyMiles flash sales to New Zealand for 34,000 SkyMiles or Tokyo for 42,000 SkyMiles roundtrip
Ultra-rare award space to book United Polaris business class to Australia later this year
Tons of chances to fly Qatar Qsuites to Doha (DOH) or elsewhere in the Middle East – or even the Maldives
… and much, much more – we've sent 20 award alerts in August so far alone!
Get alerts like this one for even less – use promo code CHEAP for 40% off your first year of Thrifty Traveler Premium+ alerts!
Bottom Line
It might say National Cheap Flight Day on the calendar, but take it from us: Every day can be a cheap flight day.
Airfare is unpredictable and constantly changing, and that means that cheap flights are popping up 24/7/365. It's not about booking on some special holiday or a specific day of the week – it all comes down to using the right tools, being flexible, and having the right mindset.
Get cheap flights sent straight to you 365 days a year – get your first year of Thrifty Traveler Premium+ flight deal alerts for 40% off, sign up with promo code CHEAP today!