A few years back, I worked some points magic and booked a dream trip to Hawaii for free – two round-trip tickets for 30,000 points each. But the thriftiness didn't stop with Delta SkyMiles and Thrifty Traveler Premium flight deal.
I wanted to keep saving money on two other big costs of travel (especially in Hawaii): lodging and transportation. For our week in tropical paradise, we would be camping in Kauai.
It's an off-the-wall way to stay in Hawaii for a fraction of what you'd pay at a resort or hotel, while still exploring everything the islands have to offer. Read on to find out how this camping adventure went, and how you can do it in Hawaii to keep an expensive destination affordable.
Camping Kauai: What You Need to Know
Don't worry, there are plenty of ways to camp as you explore Kauai. 
The first option: Tent a  tent or camper van in Kauai. When we first went to Kauai, there were just a few tents and campers available through Airbnb. But it seems to be getting more popular – quite a few more options have popped up.
You book a camper van through Airbnb like this one:


Or book through a camper van company like Kauai Camper Vans or Outdoorsy: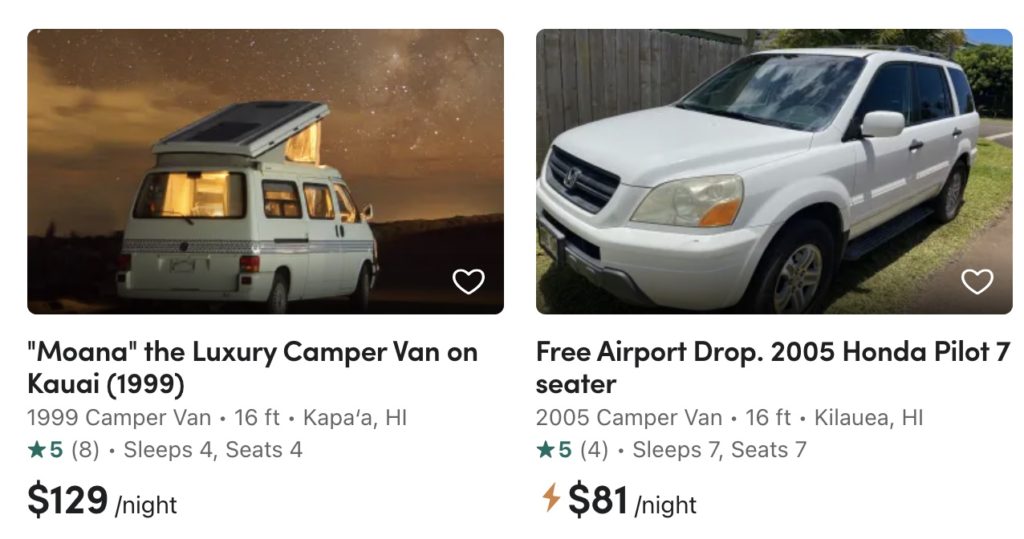 Of course, options like this can double as your transportation and sleeping accommodations. With the capacity to sleep up to four guests, these options above could mean major savings.
Keep in mind that these types of vehicles will guzzle more gas than a rental car would, and gas is expensive on the Hawaiian islands. But driving around in your own Airbnb for the week is worth it for the experience alone.
If you're looking to pitch a tent, these sites have options for you, too. When we were searching for atypical lodging options for our trip, a few tent rentals were available with SUVs. This is a great way to get the camping experience on a budget – and a rental car, too.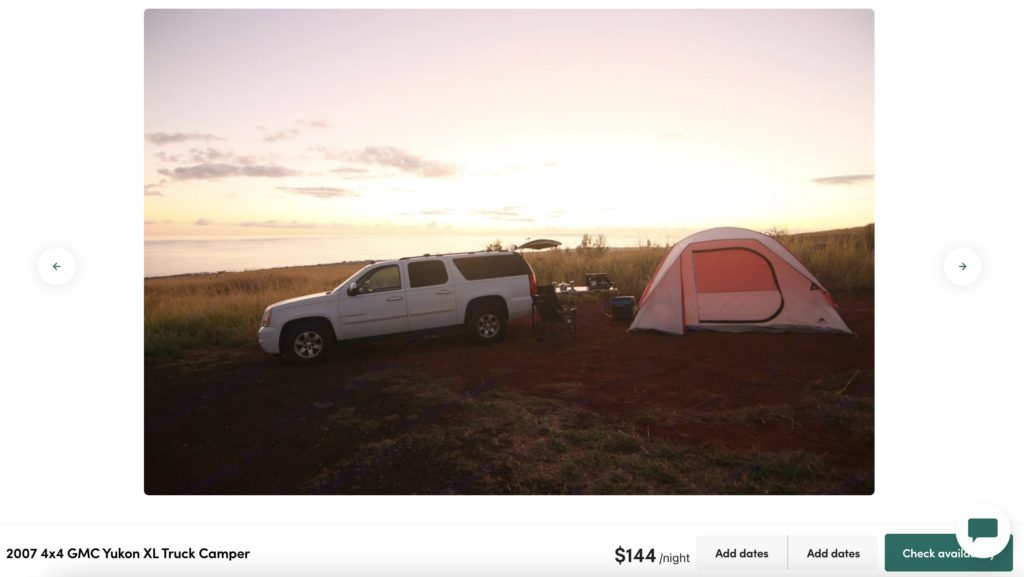 Or, go ultra-budget and pack your own tent for your trip! However, we found that renting all the tent and camping equipment once we got to Kauai was much easier – and included a vehicle, tooo.
What It's Like to Camp in Kauai
For our trip to Kauai, we went with this more budget-friendly option: a Chevy Suburban with camping gear. At the time we booked, it was just $77 a night. Now, you can expect to pay $80 – $150 a night. This came with all the necessary camping gear if we wanted to set up a tent. But the queen air mattress fits perfectly in the back of the SUV for a solid sleeping option.
The Suburban came with unlimited miles – we just had to pay for gas. Rather than sleeping in the back, we spent almost every night camping in a tent because it felt a little more authentic. Plus, we were paying for camping spots so we figured we should use them. This SUV came with everything imaginable necessary for camping and cooking outdoors.
Some things to note when selecting your camper:
Read the reviews carefully. If they aren't all 5-star reviews, carefully note the feedback past customers have given. Make sure this is an awesome vehicle to drive and sleep in or awesome camping gear.
Check the amenities listed: Make sure that everything you'd like to have for your camping trip is included. At first, we were overwhelmed by the number of things that were included in our SUV as tools, but almost everything came in handy. If you're not sure what should be included for a camper or tent, cross-check with other similar listings on the site.
Take additional costs into consideration. For us, purchasing camping permits and filling the SUV with gas were additional costs that definitely added to that $77/night cost. It's still cheaper than both hotel and rental car costs, but something to keep in mind.
How Much Does a Camping Permit Cost in Kauai?
Don't get fined! Here's how to know whether you need a permit for camping in Kauai.
If you choose to stay at a private campground, you won't need a permit. You'll just pay the nightly fee, often around $20 per night.
If you choose a state campsite, you'll need to reserve your spot online. Permitted state campsites are $30 per night and can house a total of 10 guests.
If you choose a county campsite, you'll need to reserve your spot and get your permit in person. County camping permits are $3 per person, per night – much cheaper than the private and state campsites (though some spots may incur an additional nightly cost.
Where Do I Buy a Camping Permit?
County sites are reserved by walking into a local County Parks office during business hours.
The Lihu'e Civic Center's county campsite office is in the Pi'ikoi Building. Walk to the center of the building from any of the outside doors, and you'll see the permit office kiosk window there.

Let the kiosk attendant know which campsites you'd like to stay at, for which nights, and the attendant will check site availability.
Bring the following information for your permit paperwork: names of campers, number of tents and approximate size (one-person, two-person, etc.) Note that you'll need to pay for your permit(s) in cash, so either bring cash or use the ATM in the building.

Once paid and booked, you're set! The attendant will give you two copies of your permit(s) for your stay. One will stay with you, and the other will go in a plastic baggie the attendant gives you. You'll tie that permit to your tent to show park rangers that you have paid for your permit. It's particularly handy to have this attached to your tent in case rangers come around late at night.
Local county campsite offices and hours are somewhat limited and not exactly reliable, so try to go mid-morning to avoid lunch hours and early closing times. I highly recommend planning your campsites for your whole trip in advance and booking them all at the Lihu'e Civic Center near the airport upon your arrival.
The Best Spots to Go Camping in Kauai
Similar to the other Hawaiian islands, there are several campsite options when it comes to camping in Kauai. Our SUV host mentioned that some locals and gutsy tourists will disregard the camping regulations and just park or set up camp for free.
In our experience, the park rangers were patrolling pretty often, so it's not worth the fine or trouble. Kauai has private, state, and county campsites. A campsite plot can cost from $3 – $25 per night.

Private Campsites in Kauai
The private campground in Anahola is known as Kumu camp. Sites are $15 – $20 per night. You can make reservations by visiting their website or calling 808-378-4146.
The campsites are designated spots and include a bamboo windbreak wall, access to restroom and showers, fire pit and picnic table, and beachfront access.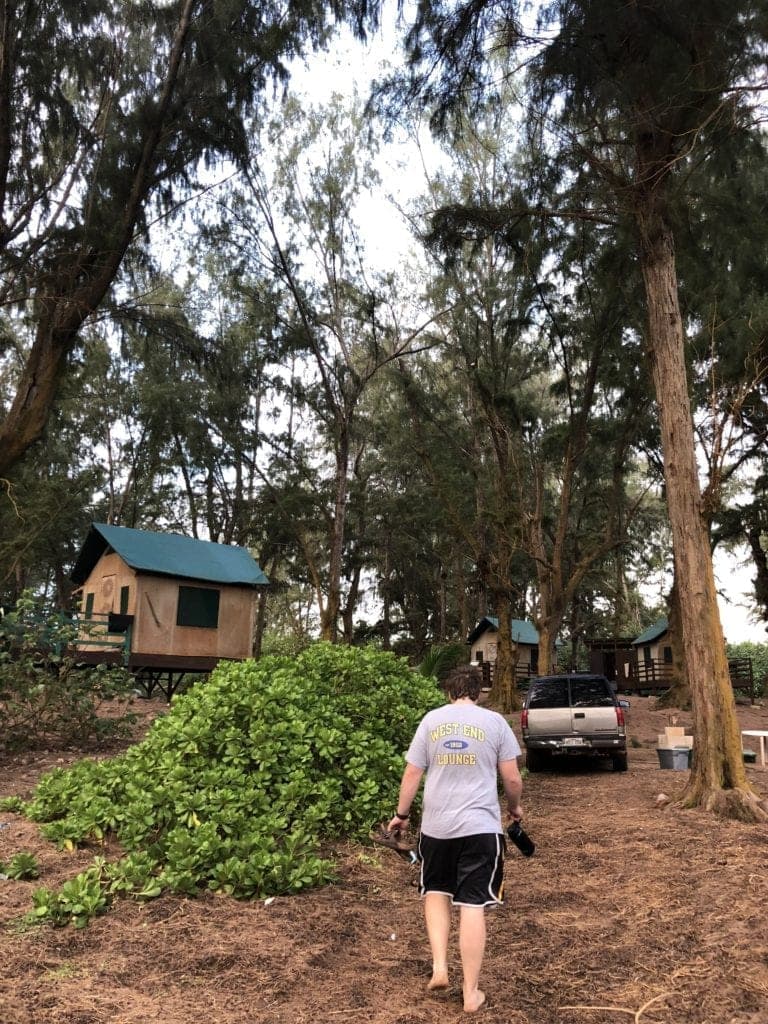 Kumu Camp also offers other accommodations besides camping spaces. They offer the "tentalows" pictured above, which are a canvased tent with bed and linens, deck furniture, shower, and beachfront access for $60 a night.
They also have yurts available for rent: large, circular tents with four to five beds inside, electricity, and a shower. For $120 a night, this 400-square-foot yurt can be a great option to sleep eight to 10 for cheap.
All have access to the bathrooms and showers. Side note: Though they were marketed as hot showers, we didn't have any hot water during our stay.
State Park Campsites in Kauai
There are a few state campsites on Kauai.
Polihale State Park: West side of the island on the beach
Koke'e State Park: North central part of island in the mountains where it is cold at night
Napali Coast State Wilderness Park: backcountry camping for experienced backpackers (special rules and fees apply)
State campsites are reserved online, which you can do here. The fees to stay at a state campsite are $30 per night for non-residents.
County Campsites in Kauai
We opted to stay at county campsites for most of our trip, since the permits were so cheap.
The county campgrounds are:
Anini Beach Park: North shore, cheapest and most crowded
Anahola Beach Park: Northeast shore in Anahol
Lydgate Park: East shore on the water, reopening TBD
Salt Pond Park: South on the water, reopening TBD
Haena Beach Park: North shore; currently closed
Hanalei Beach Park: North Shore near the town of Hanalei, currently closed
Lucy Wright Park: South on the water, currently closed
When we camped in Kauai, we decided to stay at county campgrounds Salt Pond Park and Lydgate Park.
Salt Pond Park County Campsite
We stayed at Salt Pond Park for two nights during our stay on Kauai. At just $3 per person, per night, it's as cheap as it gets to stay on Kauai. It was a great location, right on the southern portion of the island with great restaurants nearby. With a full day planned at Waimea Canyon National Park and Na'Pali Coast State Wilderness Park on the west coast, it was a convenient spot for the night.
The Salt Pond Park campsite is located on a stretch of land right on the beach. There are no designated campsite plots here, like in other campsites on Kauai. You can set up camp in the designated grassy area of the campsite. Everyone keeps a pretty good distance from each other and tends to set up camp near the trees along the edge so others can walk freely through the middle. There were roughly 20 other tents camping on the property during our stay at Salt Pond Park.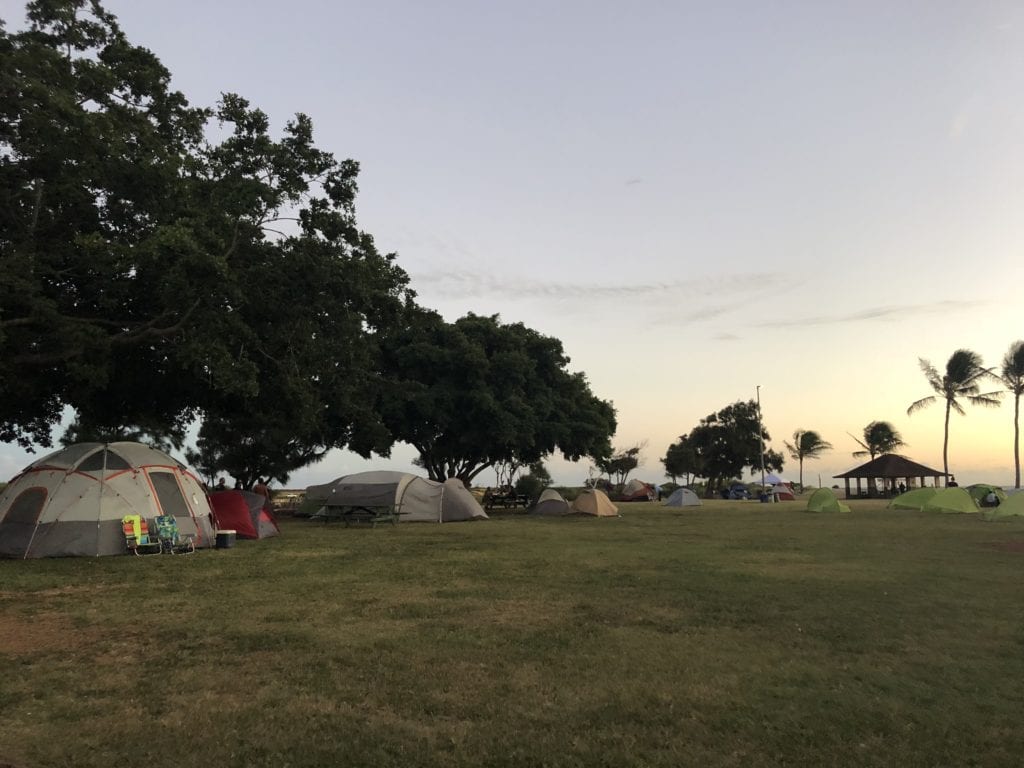 It's hard to believe a $6 per night stay came with such a gorgeous beach. We watched the sunset and sunrise both days we camped here. We left our tent up, but learned a valuable lesson: campsites near the beach can get windy! Luckily we had tied our canopy down; otherwise, it would have flown away. Make sure all your camping goods are tied down and secured before heading out for the day!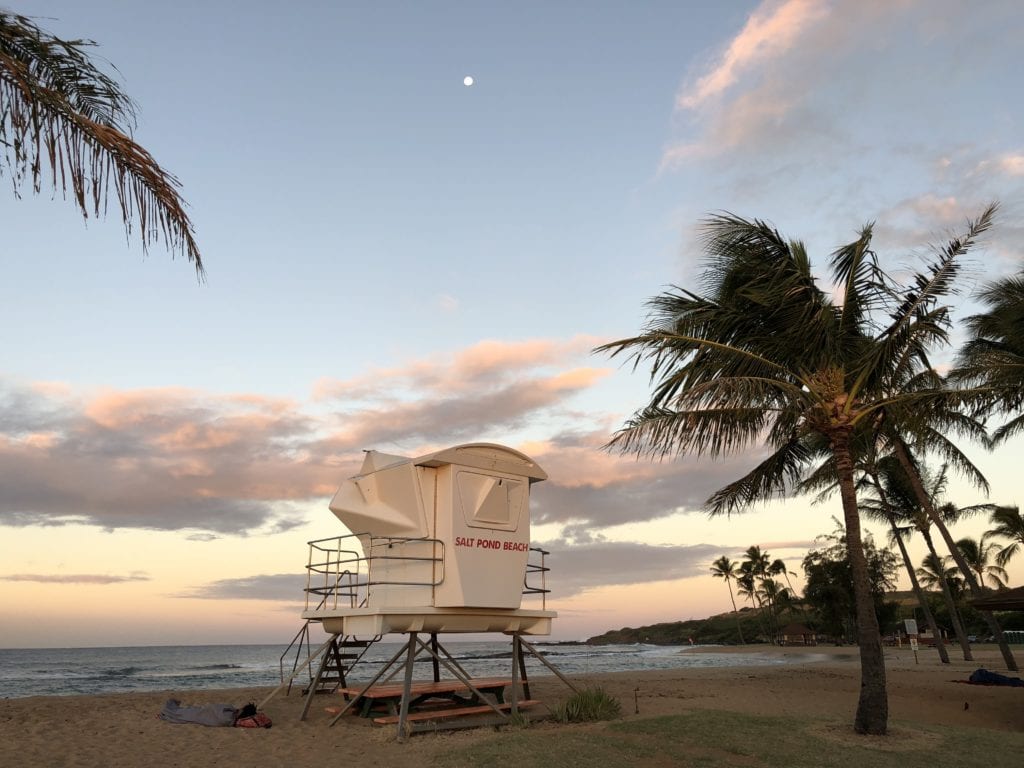 There are a few shelters here with benches and electrical outlets, an outdoor shower, a drinking faucet and outdoor sink, a few charcoal grills, and a campsite restroom. The amenities aren't anything fancy, but for a few days, we didn't mind. Another thing we found out quickly about camping in Kauai was the insane amount of roosters that inhabit the island. Roosters were everywhere, and they were especially perusing the campsite, morning and night, cock-a-doodle-doo-ing to each other. Bring earplugs if you don't want to be awoken at 5 a.m. to the sound of the rooster songs.
Lydgate Park County Campsite
We capped off our Kauai camping experience at Lydgate Park, our third and final stop. We opted for Lydgate for our last two days on Kauai because it's relatively close to the hiking spots we wanted to check out – Sleeping Giant trail, in particular – and not far from Lihu'e (LIH) for our early morning flight.
Like Salt Pond, Lydgate Park is a county campsite. But it's much more expensive: $25 per campsite each night. In the end, we felt the proximity to the airport and beachfront access justified the greater cost. And rather than the "anywhere goes" setup of Salt Pond, you get your own little plot.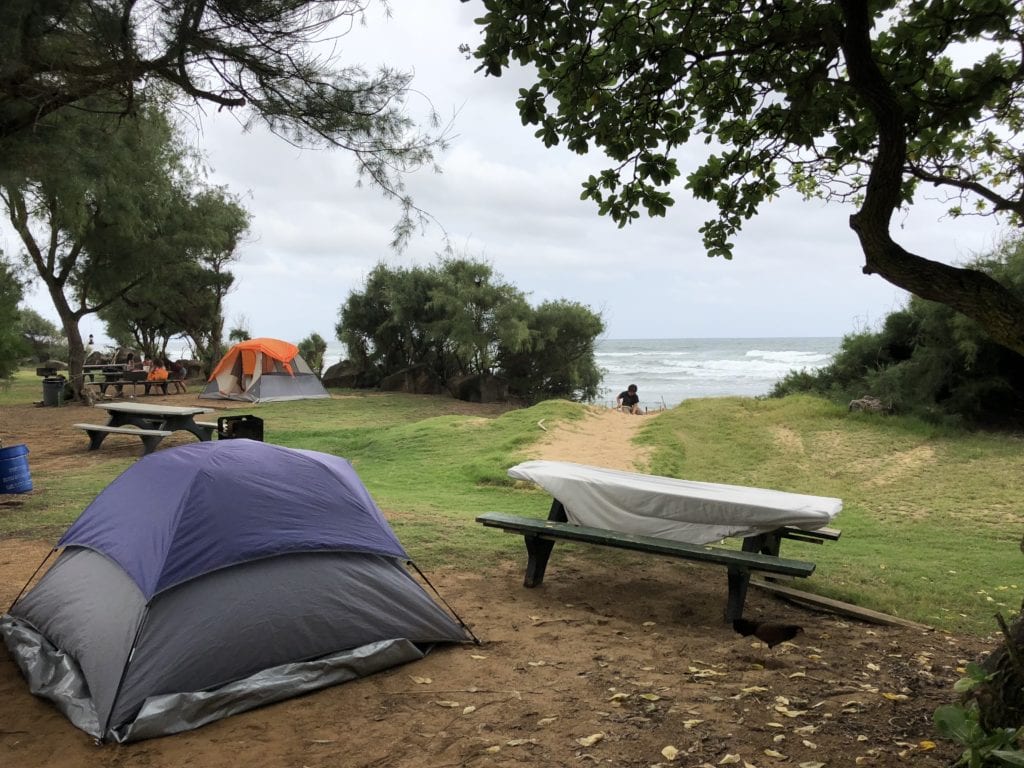 The campsite at Lydgate was peaceful and scenic. The campsites were shaded by trees overhead, and the spectacular oceanfront views with a sandy path to the beach just steps away were a major highlight. The beautiful trees allowed us to put up our hammock and enjoy the ocean view. Unfortunately, it rained our second day and we could have used a bit better rain cover on our tent, so we sought refuge in the Suburban.
The amenities at Lydgate were a bit better than the Salt Pond amenities: shower stalls (no doors or curtains) were available for use in the campsite restrooms, unlike Salt Pond. Lydgate also had two park benches and one grill for each campsite plot.
What Does it Cost to Camp in Kauai?
This totally depends on what type of camping experience you choose. Here's a quick breakdown of what it might run you:
Camper van or SUV: $100 – $200 per night
Campsite: $3 – $25 per night
Gas: Varies, usually $4-plus per gallon
While camping on Kauai can definitely be cheaper than staying at a resort, it can still add up. We wanted the adventure camping brought, the ability to check out a few different sites during our trip, and the flexibility of having a vehicle – and staying in it, too.
Bottom Line
Camping in Kauai is a spectacular way to experience the incomparable natural beauty of the island. You can live among the scenery and wake up to an oceanfront view for just $3 a night.
Sure, camping doesn't have the luxurious amenities that a hotel or Airbnb (with walls) would offer. But if you're looking for a unique adventure unlike any other at incredibly cheap prices, I highly recommend camping in Kauai.