Love being in the outdoors, but don't want to sleep in a sleeping bag on your next trip? It's time to give glamping a try.
Glamping is a hybrid of the words "glamorous" and "camping." It lives up to its name, and it's having a serious moment in the travel world. Also known as luxury camping, it comes in many forms and levels of luxury.
From tents to yurts to treehouses, they all have on thing in common: Glamping is a few (or many!) steps up from your usual tent and sleeping bag camping experience. Extra amenities and no setup labor is just the start for this kind of lodging.
Its rise to prominence is a win for travelers. You can stay in the outdoors with some (or all) of the accommodations you'd find in other lodging options. If you're not a camper, don't tune out! You may find that some of these glamping options are more luxurious than a hotel suite. And avid campers, don't rule glamping out: this can be a fun way to really kick back on vacation while still enjoying the outdoors.
Types of Glamping
While luxury camping options have all been deemed "glamping," the lodging type, space, amenities, price point, and experience can vary drastically from one to the next. Glamping comes in many shapes and forms.
Tents
Yeah, this isn't your ordinary tent. Massive structures like these take us from camping to glamping. No need to bring or pitch your own tent on an outdoorsy trip: book a tent like this one in Port Angeles, Washington! Way more space than your typical pop-up tent, and more amenities, too.
Always be sure to read what amenities do and do not come with a glamping site, as that will also vary drastically. For example, this one includes a mini-fridge, coffee maker, and water cooler that runs on solar power, and an outdoor heater. Facilities provided are porta-potties, though other glamping sites will include full bathrooms and showers. What a view!
Yurt
Yurts are perhaps the most popular form of glamping. Check out this Elegant Hilltop Yurt on Organic Dairy Farm in England as a great example of what a yurt is like. Flat on the sides and rounded at the top, this is a comfortable way to camp in style!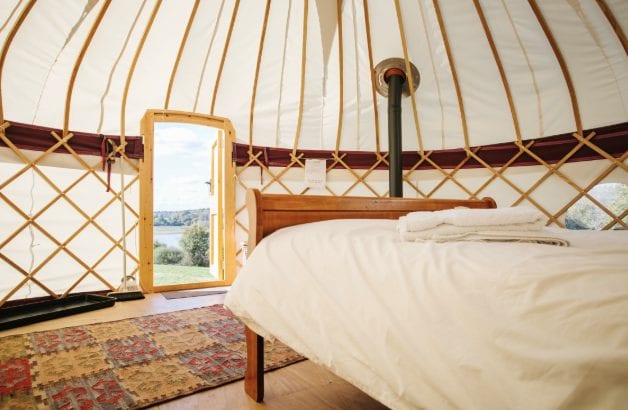 Many yurts even come with an indoor fireplace and nice floors. Other amenities, like a kitchen, bathrooms, showers, and patio (for this place in particular) are outside of the yurt, and sometimes are communal. This spot is only $70 a night!
Tipis
Here's an example of a glamping tipi. "Glamping in a Hidden Paradise" in Ponta del Sol, Portugal for $93 a night may look simple, but it's got more amenities than some hotels.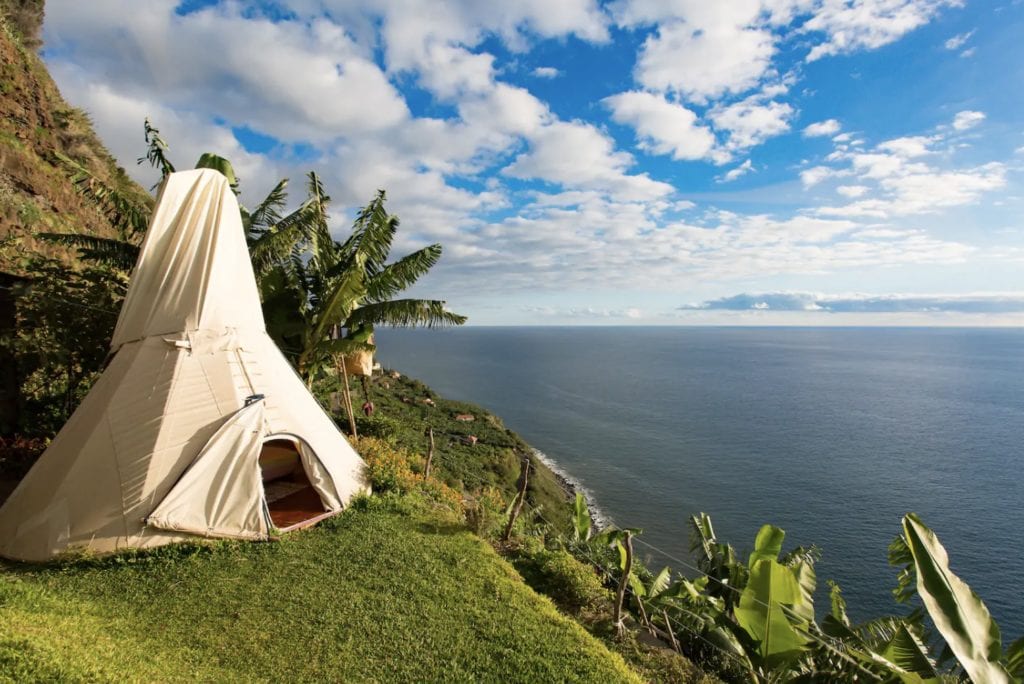 There are showering facilities, a shared kitchen and dining room, lounge room with a fireplace, and even an infinity pool overlooking the sweetest view. When it comes to being nestled in nature, this does it best!
Airstream Campers
This may not be the first thing that comes to mind when you hear glamping, but parked Airstream camper vans are very popular! This "Eco Gastro Beach Airstream" in Ensenada, Mexico is such a comfortable way to get private, unbeatable views.
These aren't your typical camper vans. When it comes to glamping, you'll often find they're meticulously decorated and make the most of their space! This one has a kitchen, shower and bathroom ensuite, and WiFi. For only $72 a night, that's one heck of an ocean view!
Dome
If this isn't suddenly at the top of your bucket list, you're lying.
This is the "Amazing Dome in the Jungle" of Costa Rica, and there are many more domes like this around the world. Like many other glamping accommodations, the sleeping space itself is private. But other amenities like restrooms, showers, kitchens, and lounges are separate and shared by fellow glamping visitors.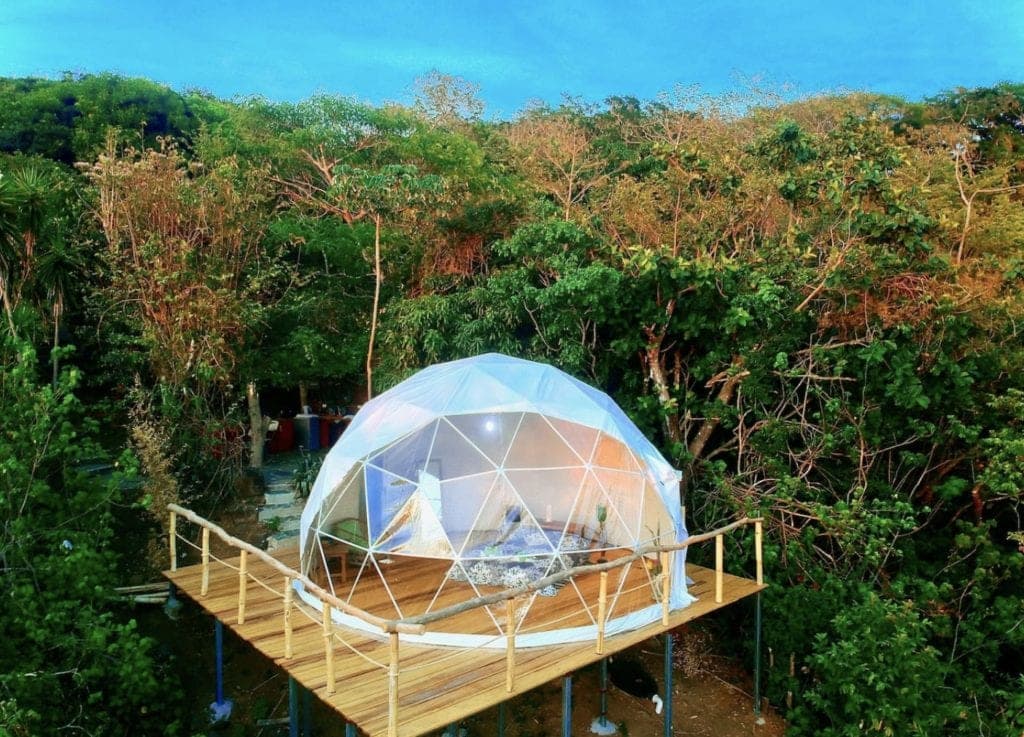 You can't see a sunrise like this from a hotel in town!
Camper Van
If you want a glamping option that you can also use for transportation, rent a camper van! This is the perfect option for an outdoorsy vacation or road trip when you want to stay in different spots each night. Drive around for the day, then pull your camper van into a campsite for the night. How awesome is this "Where the Wild Things Are" Mystery Machine in Kauai?
I love using my wheels as lodging. It means I don't have to backtrack to an Airbnb or hotel every night, and can set up shop at the closest campsite to where I end up each day.
Thrifty Tip #1: Interested doing the same? Check out my guide to renting camper vans in Kauai and Iceland; both were the perfect destinations for it!
How to Book Glamping Sites
So, if these photos have convinced you to give glamping a try, now it's time to search!
There are hundreds of websites and companies to book glamping through. Many campsites have their own websites you can book on, like Red Rocks Glamping. Other sites are hosts for glamping sites across the country and around the world, like Glamping Hub, Glamping.com, Under Canvas, and so many more. Some traditional campsites like those a part of KOA Campgrounds offer glamping-style yurts and huts on campsites.
However, I find that the easiest way to compare many different styles of glamping and filter for my amenities and price range is to search on Airbnb. While Airbnb doesn't have a "Glamping" filter, you can go to "Unique Stays" under More Filters and choose which types of glamping lodging you're interested in.
Thrifty Tip #2: New to Airbnb? Sign up using our link and you will receive up to $55 towards your first stay (we will get $20 as well).
Here's an idea of what to filter for:

Alternatively, just Google search for glamping spots at your destination (like "Lake Tahoe Glamping") and see what Airbnb options pop up.
Thrifty Tip #3: Looking for more resources on Airbnb? Check out our guide to unique Airbnb homes, and our top five ways to save on Airbnb bookings.
Bottom Line
If you haven't tried out glamping yet, consider it for your next scenic trip! Glamping can be an affordable (and eco-friendly!) way to stay comfortably in the great outdoors for less.