Thailand is a hotspot for a reason.
It mixes some of the best beaches in the world with dirt-cheap prices and incredible food. But it also has solid infrastructure, the ability to handle a mass influx of tourists (the country planned to accept 38 million visitors last year), and it's safe. And seeing as we're finding flights from the U.S. to Thailand from as low as $372 round trip through Thrifty Traveler Premium, it's cheaper than ever to get there.
That's made it a prime choice for travelers making their first trek to Southeast Asia. Here's how to make the most out of your trip.
How to Prepare
Budget Your Time
When budgeting time for your trip, try your hardest to give yourself at least two whole weeks. Thailand is a large country and two weeks left me feeling as though I had barely scratched the surface. As a U.S. Citizen with at least six months of remaining passport validity, you can stay in Thailand for 30 days without a visa. Check out additional travel requirements here.
Visit the Doctor
Once your trip is booked, be sure to check out the CDC website for travel to Thailand. I made an appointment with a travel nurse so we could decide together which vaccines on the CDC list were ones I would need. I personally chose to get vaccinated for Hepatitis A, typhoid fever, and Japanese Encephalitis – but your needs might vary. Depending on where you are planning to travel to within Thailand, you might need to bring malaria pills. Also, ask your doctor for a Z-Pack (azithromycin). Just do it—you'll thank me if you get Bangkok Belly.
Thrifty Tip #1: Walgreens offers most travel vaccinations without a consultation. Call your local Walgreens a week ahead of when you would like your vaccines and they'll order them for you if they aren't in stock. Be aware that most travel vaccines are not covered by insurance, so be sure to discuss costs with them.
Learn the Language
Lastly, have some fun before your trip and learn some Thai! The locals will appreciate it as English is not widely spoken. I use an app called Drops that uses associative learning (think pictures and games instead of grammar lessons!) to make picking up the language quite easy. The app itself is free for 31 languages, and you can purchase a premium version if you want unlimited learning time.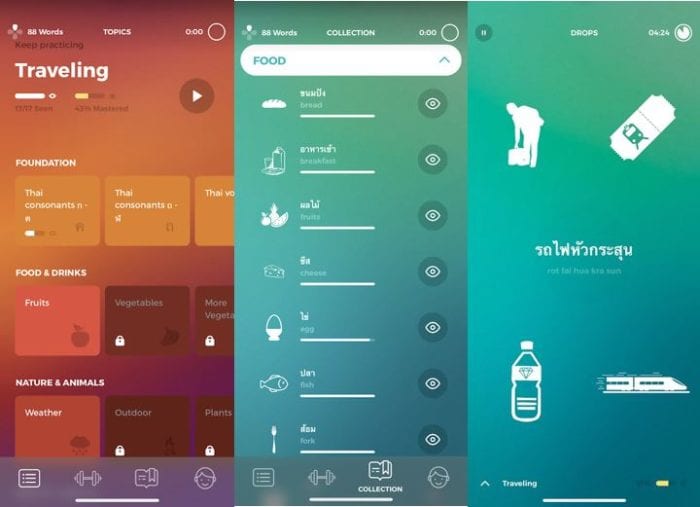 What to Bring to Thailand
Cash
Thailand is still very much a cash-based society, so carrying cash is a necessity. You can easily get by with $50 or less in Thailand. But don't actually bring the a bunch of Thai baht with you! Make sure you have the Charles Schwab debit card, which allows you to take out cash in any country in the world and never pay ATM or foreign exchange fees.
Sunscreen
Don't bank on purchasing sunscreen in Thailand being a simple feat. Not only is sunscreen quite expensive ($15 or more a bottle, seriously), but many of the sunscreens contain skin whitening agents – a popular feature throughout Southeast Asia. Stick with your favorite brand from home, even if it takes up some space in your suitcase.
Bug Spray
Dengue Fever is endemic in Thailand along with other mosquito-born illnesses. There is no cure or treatment for Dengue Fever so the best thing you can do is prevent mosquito bites. Bring a quality mosquito spray with you as bug spray in Thailand is expensive much like sunscreen.
Individually Wrapped Sanitary & Flushable Wipes
Every morning before I left the hotel, I threw a few sanitary hand wipes and flushable wipes in my backpack. When sitting down for some delicious street food, give the silverware or chopsticks on the tables a quick antibacterial wipe before using.
Toilets outside of hotels in Thailand often do not have toilet paper and insist that you use a wonderful invention called the "bum gun." And it's exactly like it sounds.
Don't fear the bum gun – it's refreshing as promised. But it's also very wet, so these wipes are great to clean up and toss when you're done.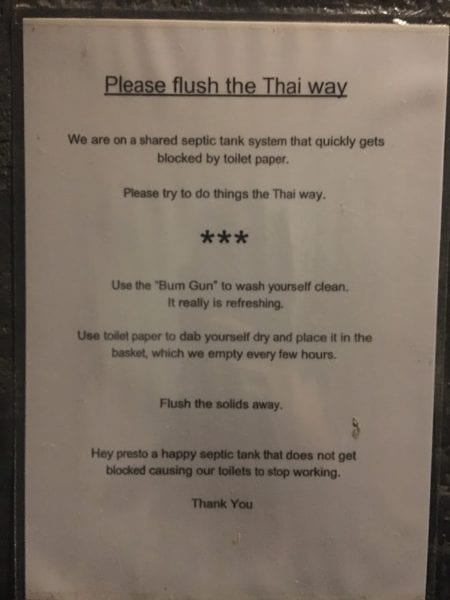 Collapsible Water Bottle
Invest in a collapsible water bottle like this one. Use it on your long-haul flight and collapse it right back down to go through transit security on a layover. It also comes in handy since the tap water in Thailand is not safe to drink. There is a 7-11 on almost every corner that will have large bottles of water for less than $1. Buy two and use one to refill your water bottle and one as a reserve to stow away in your backpack.
Temple Pants
Thailand has two seasons—hot and hotter. Because of this, long pants probably aren't top of mind on your packing list. However, you will need them if you plan to visit any of the beautiful temples. Entering any Buddhist temple will mean you will need your shoulders and knees covered. Aim for light slip on pants that can easily roll up in a backpack and not weigh you down.
Thrifty Tip #2: You can buy a pair of infamous elephant pants just about anywhere in Thailand for 100 baht (about $3). The material is very light and the pants have an elastic waistband to make slipping them on and off for temples a breeze.
A Thailand Itinerary for the First-Timer
Bangkok: 3-4 nights
In addition to being the main transit hub, Thailand's capital city has much to offer visitors. Start your morning at the Grand Palace, a beautiful historic complex in the heart of Bangkok. Entry is allowed starting at 8:30 a.m. and tours won't start to arrive until after 9 a.m., so get there early to have the place to yourself. Plan to spend a couple hours on a self-guided tour.
Wat Pho is known as the Temple of the Reclining Buddha and is another main temple you'll want to visit.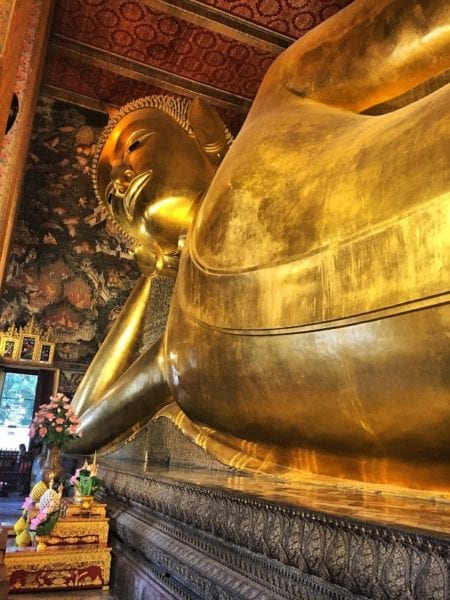 The Wat Pho complex houses additional temples and you'll easily be able to spend time exploring here. Be sure to bring your temple pants as you'll need your knees and shoulders covered for the duration of your visit.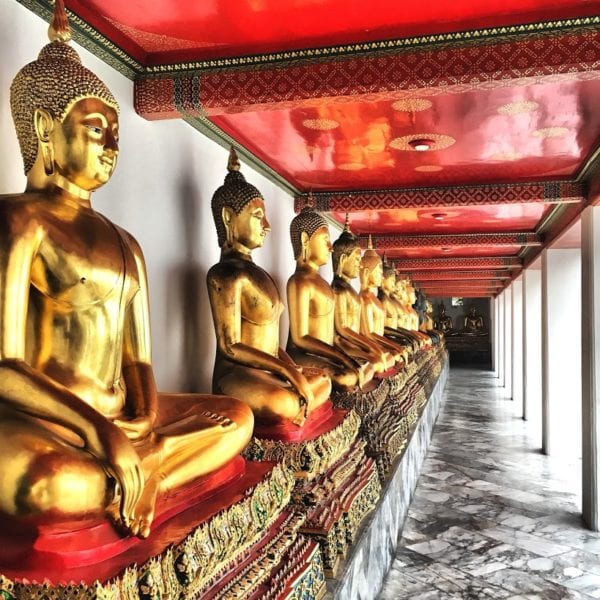 Once you've worked up an appetite, hop on the river taxi and head for Chinatown. Here you will find endless food options, a large market with souvenirs and goods such as jewelry, and lots of photo opportunities. Bangkok's Chinatown is one of the largest in the world and no visit is complete without a stop here.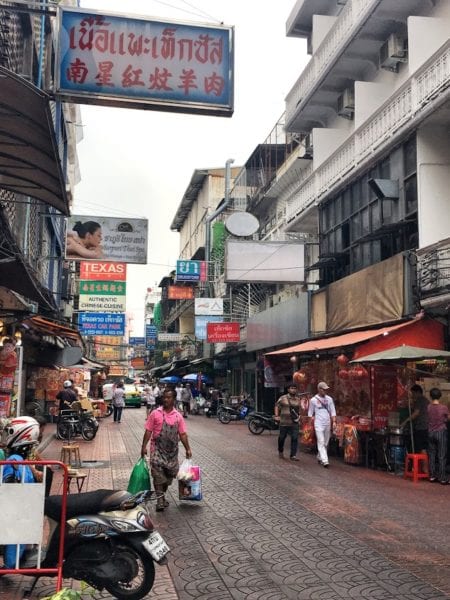 If high-end shopping is your thing, pay a visit to Siam Paragon which caters to luxury goods. Bargain hunters need to go straight to the MBK Center, an eight-floor utopia packed with over 2,000 shops. Here you will find anything from luggage to clothing and electronics. Negotiating on price is common practice here so start your bargaining at around 30% of the original asking price. Be aware that many of the products are counterfeit and some are of better quality than others.
After a day of walking has made your feet weary, pull over just about anywhere for a 30-minute foot massage. Expect to pay about 300 baht ($9) per hour of massage. Massages are notoriously cheap throughout Thailand, so I went full #TREATYOSELF and got one every single day.
Start your evening with a visit to any one of Bangkok's infamous rooftop bars. While a drink will run you a cool $15-$20, the view more than makes up for it. Vertigo & Moon Bar at Banyan Tree Bangkok is situated on the 61st floor and offers some of the best views of the city.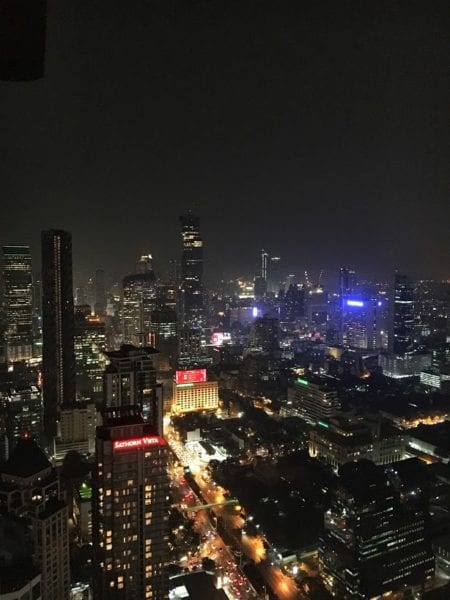 From there, progress to the streets to find scrumptious street food. A meal will generally run $1-$3 USD. The quality of the food was so good that we barely visited any restaurants while we were there. Be watchful for how busy the stalls are, and only eat at stalls that have patrons so you know the food is fresh.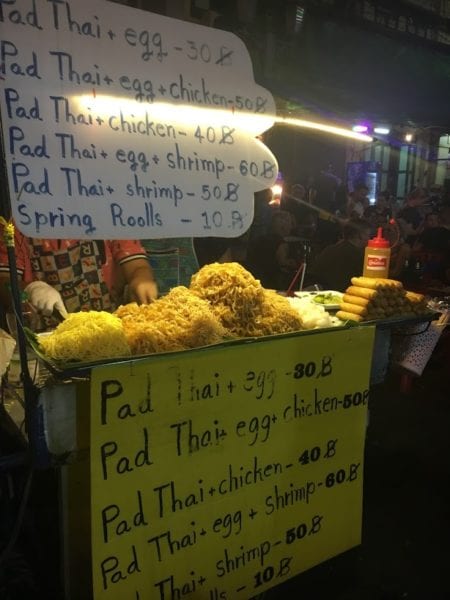 Finish your night at the famous Patpong Night Market. Here you can find an array of good ready to be bargained for and any number of bars and nightclubs. The market has a reputation for being a little seedy but we always felt extremely safe. Visit Soi 2 and Soi 4 just to the east of the market for cheap drinks and a taste of Bangkok's gay nightlife.
Where to Stay
Amara Bangkok, from $103. This 4.5-star property has a fantastic infinity pool overlooking the city and modern amenities. We found the price to be a bargain relative to other properties at this level. The central location in Silom is walking distance to many things and has easy water taxi access.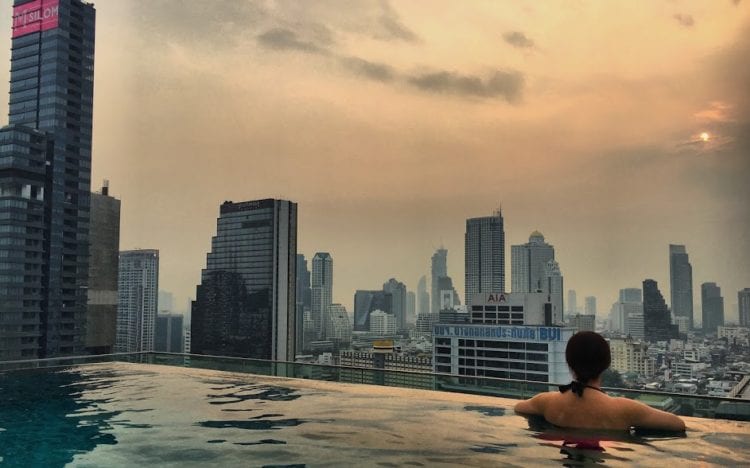 How to Get Around Bangkok
Uber, BTS (Sky Train), River Taxi
Thrifty Tip #3: Use the no flag or orange flag water taxis (10-20 baht one way) – the blue flags are tourist boats and cost double the fare. You can directly pay the staff onboard the boat.
Chiang Mai: 4 nights
A 1 hour and 15-minute flight from Bangkok will put you in beautiful and quaint Chiang Mai in northern Thailand. After the hustle and bustle of a city like Bangkok, this is the perfect place to slow it down for a few days.
We arrived in the afternoon and enjoyed a wonderful dinner at Huai Kha, a traditional northern Thai restaurant perched on a deck in the middle of the city. You'll remove your shoes when you enter as is customary many places in northern Thailand. Grab a spot along the edge of the deck to let your feet dangle off the edge while you dine.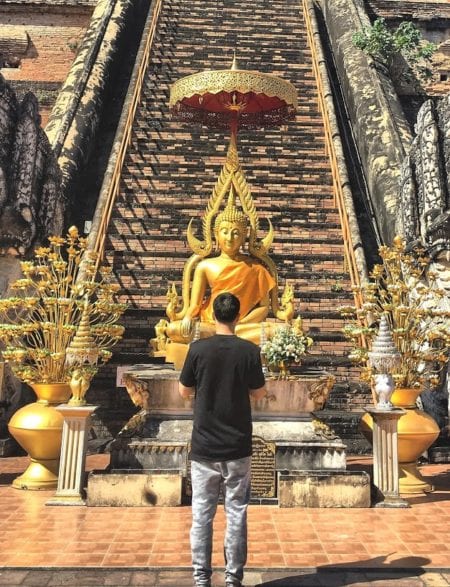 Start your morning with a self-guided walking tour of the city. You'll find a unique temple around every corner and most of them are worth exploring. We spent an entire half-day wandering the streets visiting all of the ornate temples in the area, most of which are free.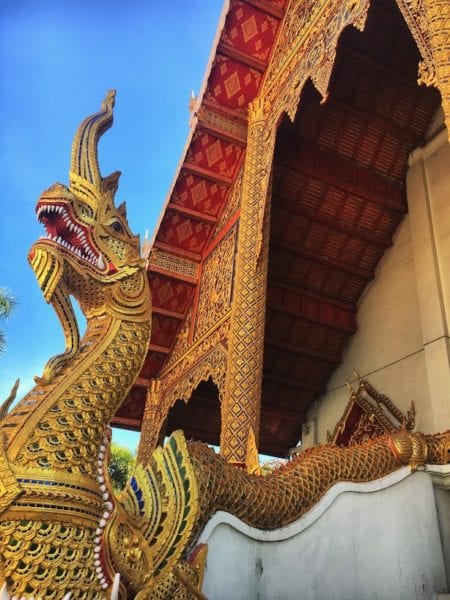 After you've worked up an appetite, head over to Khao Soi Loong Prakid Gard Gorm for some lunchtime khao soi. Khao soi is a delightful curry soup with meat and crispy rice noodles. It's the staple dish of northern Thailand, and nobody does it better than this place. Expect to pay $2-$4.
Next, hitch a taxi up the hill to Wat Phra That Doi Suthep. If you're feeling adventurous, you can also hike or bike to the top but it's quite the climb! The temple boasts a rich history and amazing views of the region. You can climb 309 stairs to the temple or take a tram for a fee.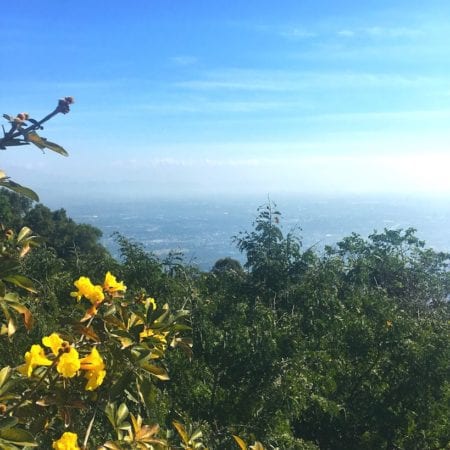 Make time for a cooking class while you're in Chiang Mai. We opted for a full day with Thai Farm Cooking School, an organic farm outside the city. They picked us up from our hotel and provided an entire day of instruction on authentic Thai cuisine. We visited a local market to shop for ingredients and were able to learn about the herbs grown on the farm. The day-long course ran about $50 per person and included transportation, ingredients, and the market visit.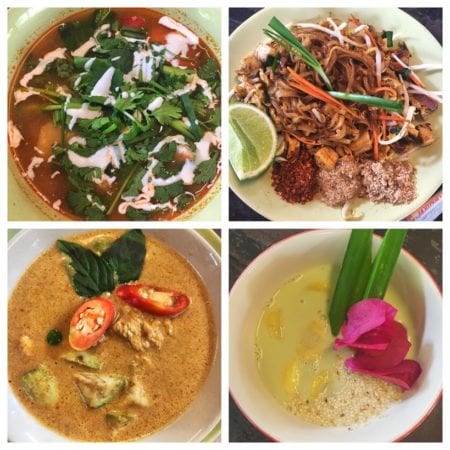 Wrap up your stay in Chiang Mai with a trip to the Night Bazaar. You'll find culture, a variety of food, and just about anything your heart desires to purchase. It's just outside the main area of the city and can be reached within a 15-minute walk.
Where to Stay
Makkachiva, from $77. Here you will feel like you're staying with the locals. No shoes allowed inside the hotel, and you'll be given your own personal key for your room that you leave with the front desk when you leave for the day. Breakfast is included, and we're still having dreams about the delicious garlic fried rice, fresh fruit, and chicken soup.
How to Get Around
Uber, Motorbike or Bike Rental
Krabi: 3 nights
If you are looking for the beach and a party, Phuket is undoubtedly the destination for you. Or maybe the islands of Koh Phi Phi, Koh Samui, or Koh Phangan are calling your name.
But if you're looking for some R&R, consider skipping Phuket and head to Krabi. With direct flights from Bangkok and Chiang Mai, it's an easy destination to reach.
A 30-minute taxi from the airport will land you near Ao Nang, a quiet resort area on the coast of the Andaman Sea.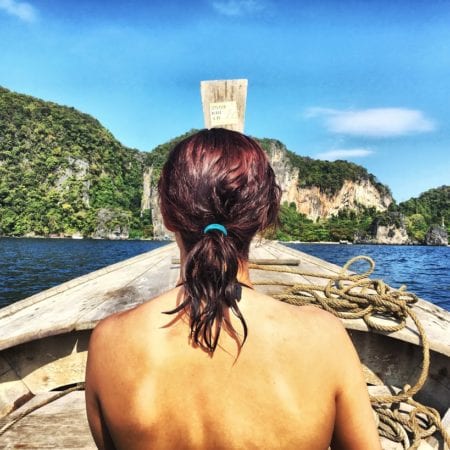 Start your island exploration with a day-trip through Andaman Camp & Cruise. They offer private longtail boat tours to various locations. We chose the Hong Island Tour which took us snorkeling at Red Island and also included stops at Hong Island, Pakbia Island, and Paradise Island. All of these are very close to Koh Phi Phi, without the crowds. Since this is a private tour, we were able to curate our start time to beat the other tours to the islands. A private longtail tour through this company ran us 8,000 baht (about $250) for the day but included a driver, an English-speaking tour guide, and an impressive lunch spread. We felt it was well worth the price and split the cost between two people, but if you have four people this could be even more affordable.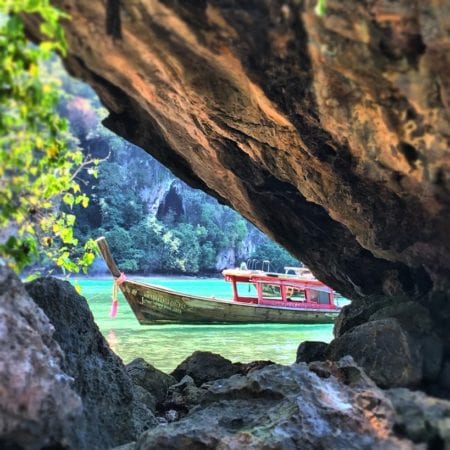 Finish off your stay in the islands with a trip to the famed Railay Beach. This beach is accessible only by boat and features towering limestone cliffs and fine white sand. Our hotel was around the bay from this beach, and renting kayaks to check it out by yourself was an option. You can also hop around the corner to Phra Nang Bay, another beautiful beach with a cave that can't be missed.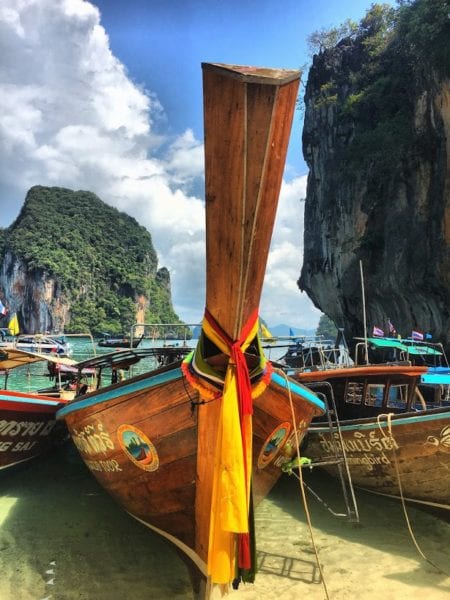 Where to Stay
Centara Grand Beach Resort & Villas Krabi from $214. The resort is situated on a private beach accessible only by boat and can only be described as what I imagine being in Jurassic Park is like. Lush vegetation is everywhere while limestone cliffs tower above the resort. You can take the "monkey trail" (yes, frequented by local monkeys) into town—it's about a 10-minute hike. The rooms are large and well-appointed and the beach is pristine.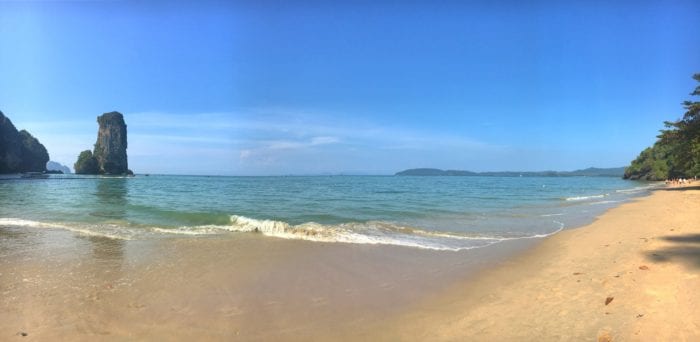 Thrifty Tip #4: The Centara Grand was our "splurge" for the trip and we redeemed points from our Capital One Venture Rewards Credit Card for our stay here. If you don't already have this card in your wallet, sign up bonuses are 50,000 miles once you spend $3,000 on purchases within 3 months from account opening, which is a $500 value.
How to Get Around
Taxi, as transportation options in Krabi are limited. Agree on a price with your taxi driver before beginning your trip.
Bottom Line
Thailand is an incredible country and the perfect starting point for Southeast Asia. Between the Buddhist temples, succulent street food, and white sand beaches, you'll need to put this on your radar sooner rather than later.
Subscribe to our Newsletter, like us on Facebook, and follow us on Twitter & Instagram

Editorial Note: Any opinions, analyses, reviews, or recommendations expressed in this article are those of the author's alone, and have not been reviewed, approved, or otherwise endorsed by any card issuer.