By the time I landed in Hanoi, I had spent months building it up in my head as a utopia. How could one city offer such incredible food, shopping, sights, museums, cheap beer, and, well … cheap everything?
And yet somehow, Hanoi still blew my sky-high expectations away. It is a city full of contradictions: chaotic yet cozy, exotic but approachable. Just a day into exploring the streets of the city's Old Quarter, it became my favorite city in the world.
While there are no direct flights from the U.S. to Vietnam, it's getting easier and easier to get there with just a single stop. We're sending more and more great fares to Hanoi (HAN) or Ho Chi Minh (SGN) through Thrifty Traveler Premium. 
Here's your guide to getting the most out of a trip to Hanoi.
Where to Stay and What to Do in Hanoi
Hanoi is a massive city of nearly 8 million people and counting. But first-timers should head straight to the city's Old Quarter, full of street food stalls, shops, museums and more. It's the perfect home base for seeing the city. 
It's easy to get to the Old Quarter from Hanoi (HAN) airport. Just arrange transport with your accommodations or hop in an Uber for a roughly 30-minute ride and just $10-$15 each way.
When it comes time to book your stay, there is no shortage of options. In fact, there are so many boutique guest houses and hotels that it can be overwhelming. And if you're on a budget, three- and four-star hotels are easily under $60 per night throughout the Old Quarter.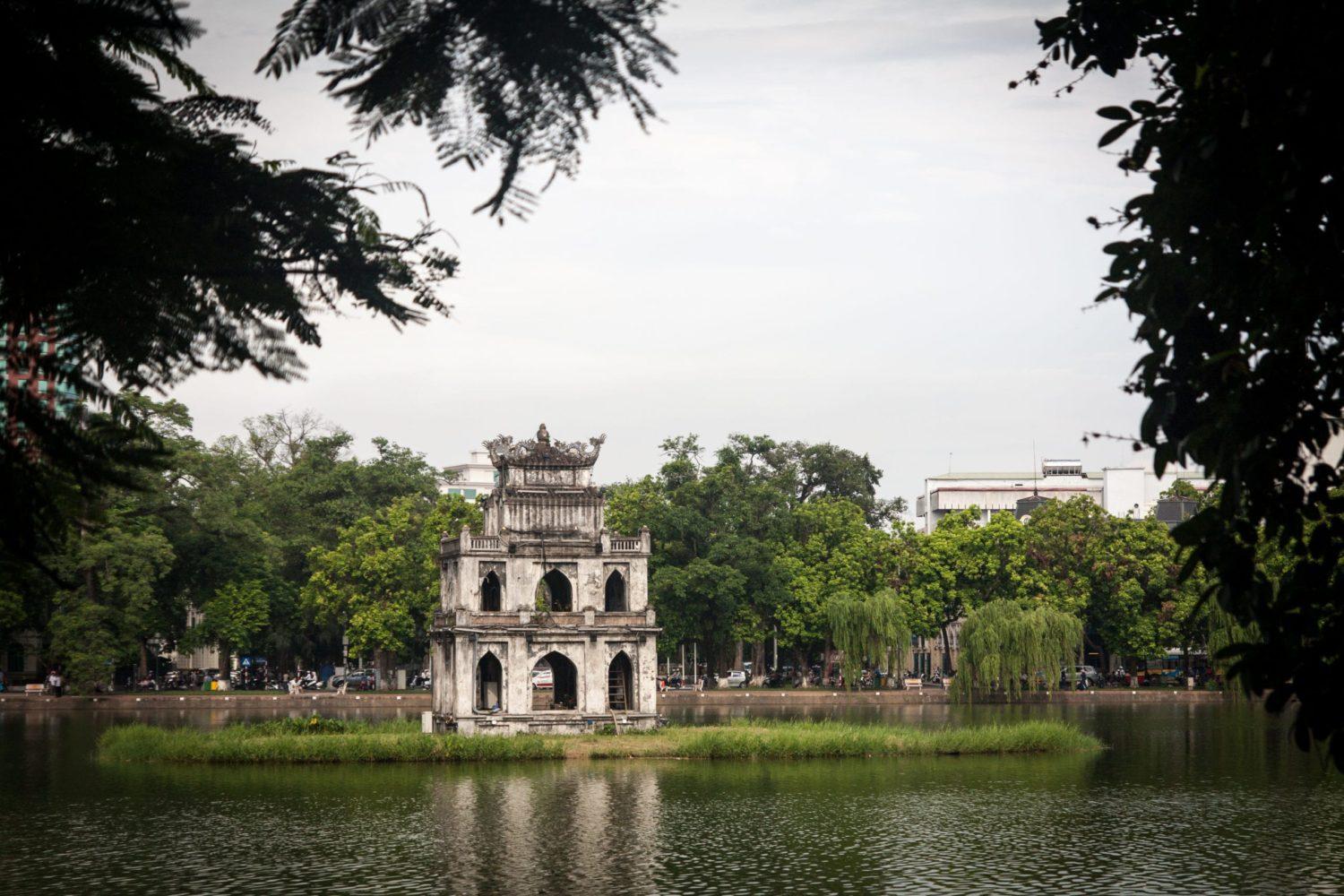 One of our favorite sites for booking accommodations in Hanoi – and throughout all of Southeast Asia, really – is Agoda.com. It's exhaustive in its listings, reliable, easy to navigate, and has plenty of filters to find the right place to stay.
Just beware of a well-known hotel scam throughout Vietnam. While checking in, the front desk may say they need to move you to a "sister hotel" – likely a result of overbooking, and almost certainly a worse property. Stand your ground or ask for a refund. 
There are also some great hostels around the Old Quarter that you can book for dirt cheap. Not sold on hostels? Check out our guide to Hostelworld, a great booking website with plenty of good options around Hanoi.
Once settled in and on the ground in Hanoi, you'll find plenty to do and see around the Old Quarter. The area is centered around Hoan Kiem Lake, a small and serene lake that's home to two island temples: Thap Rua (Turtle Tower) and Ngoc Son Temple. It's a perfect spot for a morning stroll and to get your bearings for exploring the city.
Eat, Eat More, then Take a Food Tour
You cannot fully explore Hanoi without diving headlong into its cuisine. Skip the bun cha, nem cua, banh cuon, or even pho, and you'll miss the city entirely. Hanoi is a place to be discovered one dish at a time – preferably on a small plastic stool.
Food is firmly weaved throughout daily life in Hanoi. Most Vietnamese people eat out for every meal but dinner. That means there are plenty of restaurants, street vendors and food stalls to pick from.
Nervous to eat food from a street vendor? We can't blame you – the standards for food preparation are no doubt different than in the U.S. It's not uncommon to see a whole dead pig slung across the back of a scooter. But don't let that stop you. Just watch for lines of locals, a sure bet that the food there is tasty and that your meal hasn't been sitting out for a while.
Like much of Southeast Asia, Vietnam is a cash-based society. That's never truer than at the food stalls lining block after block of Hanoi. You can almost never count on being able to use your credit card, so be prepared to have cash handy.
Thrifty Tip #1: Never pay ATM fees again! Grab the Charles Schwab Debit card and you'll be able to get your cash in any country for free.
Not to worry, though: You won't need much cash to eat like a king in Hanoi. A massive bowl of noodles is often just $2 USD or less.
Pho, a Vietnamese staple that's spread like wildfire in the U.S., is a safe place to start. But with deeply flavored broths and gobs of fresh herbs to pile in, the pho you'll get at even the simplest street stalls will put most fare in the states to shame.
Eat like former President Barack Obama and grab some bun cha, the classic Hanoi dish he shared with the late Anthony Bourdain. It starts with grilled pork patties and pork belly, mix in some fresh herbs and a fish sauce-based broth, add some rice noodles and you're in for a treat. This was my first meal in Hanoi, and it set the bar high for Hanoi's food scene.
Shrimp fritters called banh tom are a standout snack, with whole small shrimp fried inside a batter of sweet potato. I still dream of my favorite side dish, rau muong or stir-fried morning glory, a water spinach fried in plenty of garlic.
But don't stop at food. Vietnam also has a deep culture with coffee and more variations on your favorite caffeinated beverage than you'll know what to do with. Just beware: It's strong, and it will ruin Starbucks for you forever.
Start with the classic Vietnamese coffee, a pour-over through a small tin into a small glass. Do it right, and you'll have some condensed, sweetened milk at the bottom waiting to be stirred in. The condensed milk is a holdover from French colonization, when they shipped it in because Vietnam didn't have its own dairy industry. An avowed black coffee drinker, I was skeptical. But consider me a convert.
And be sure to find the renowned "egg coffee" at a local cafe. The name is a bit misleading: It's more like a custard that you mix in with your coffee, instantly forming a kind of liquid tiramisu.
All these must-eat foods and drinks can be hard to navigate on your own. That's why we recommend you enlist an expert and go on a guided food tour. There's nothing better than spending a half or full day crisscrossing the streets of Hanoi with a local who knows the best food stalls in the city. There are plenty of great food tour operators in the city. Mark and Tu have been helping tourists decode the food scene for years at Hanoi Street Food Tours, and gave us a morning full of food and conversation I'll never forget. To this day, that tour remains one of my favorite travel experiences.
Bia Hoi is Vietnamese for 'Insanely Cheap Beer'
There are happy hour prices, and then there's bia hoi prices. 
Bia hoi is the freshly brewed beer carted into bars and stalls across the city every afternoon. When it's gone, it's gone. And it can go fast: After all, it's tough to beat an ice cold glass of beer for a quarter or less. Show up to a Bia Hoi stall down the street in the late afternoon and you should be set to enjoy some of the cheapest beer in the world. 
At just 3% ABV or less, this fresh-brewed beer goes down easier than a Coors Light or Bud Light. Still, be sure to pair it with some local snacks. In Vietnam, when you're drinking, you're eating. Grab a bag of peanuts at your table or order a plate of fried tofu or stir-fried morning glory and nibble as you order glass after glass. 
You'll find bia hoi on street corners and tucked into stalls scattered across the city. The most notorious spot is known as Bia Hoi Corner, a stretch of several blocks north of Hoan Kiem Lake that caters to Western tourists.
Want a more authentic experience (and maybe some cheaper prices)? Skip Bia Hoi Corner and head just west of the lake instead, where you can find plenty of bia hoi spots that aren't packed with tourists.
Mind the Scooters
The rules of the road in Vietnam are less laws than they are guidelines. And most drivers don't follow those guidelines, anyway.
Traffic in Vietnam can feel a bit daunting to a first-time visitor in Hanoi. There aren't many cars on the road, but the streets are packed with thousands upon thousands of scooters. And their drivers move like an indistinguishable school of fish through the narrow roads.
With few street lights – and even fewer people who obey them – a simple task like crossing the street suddenly seems impossible. Here's how you do it: Just walk across the street. 
It's scary and thrilling to watch as the locals move in unison to whiz right past you. After a few times, you'll be a pro at parting the sea of scooters to get where you need to go.
Museums Upon Museums
Not a museum person? I don't care. The museums that chronicle Vietnam's history could change that.
Vietnam and America are forever linked by the horrific war that claimed 3 million or more lives. You've learned about it in school and on TV. But this is your chance to see the war from the other side, where it's simply called "The American War." As the country's current capital city and the stronghold of the communist North Vietnamese government during the war, it's the perfect spot to learn.
My favorite museum was the Vietnamese Women's Museum. It shares the story that Vietnamese women have played through its history, including its many conflicts. There's also Hoa Lo Prison – better known as the Hanoi Hilton. It's the site where Americans and other allied soldiers were held captive, including the late Sen. John McCain. Today, it offers a chilling glimpse at what McCain and other prisoners of war went through – viewed through the lens of Vietnamese propaganda.
There are many more museums worth a visit. But check out Ho Chi Minh Museum, which can only be described as a glowing monument to the country's revolutionary leader and president.
Oh Hey, Ha Long Bay
One of the best parts about Hanoi lies 100-plus miles to its east. Hanoi is the perfect base to see Ha Long Bay.
Ha Long Bay is on the South China Sea, filled with jaw-dropping limestone karsts. It is spectacular, breathtaking, and otherworldly. There's no other place on Earth like it, which might be why it's a UNESCO World Heritage site and one of the New Seven Wonders of the World.
The only way to see Ha Long Bay is by cruise boat. It's worth booking at least a one-night cruise to get as much out of this majestic place as you can. Just be warned: Ha Long Bay is not a well-kept secret. The bay is filled with ships of tourists, and, unfortunately, sometimes bits of floating garbage.
Your cruise will organize plenty of activities during your overnight stay, including kayaking, visits to fishing villages, a pearl farm tour and more. But there's nothing better than drinking in the bay with a coffee at sunrise and again with a cocktail or beer at sunset.
Thrifty Tip: Arrange a transfer with your cruise operate from your hotel in Hanoi to make the two- to three-hour drive east to Ha Long Bay and back.
Bottom Line
It's been almost two years since I've set foot in Hanoi, and I'm itching to return in just a few months. From its people to its food to its culture and environment, there is so much to love and explore in Hanoi.