You've heard of Bali. You might not be quite sure why, but you know you want to go there. Follow that instinct. 
Bali is a top-notch vacation hotspot in Indonesia for good reason. It has fully earned its place on millions of traveler's bucket lists for its beaches, food, culture, and unrivaled hospitality. Its booming tourism industry has only made it more popular.
However, it's still difficult to navigate, and there's much more to Bali beneath the surface. We did the hard work for you with this guide.
Bali's Beaches
The best of Bali isn't its beaches. Don't get me wrong, Bali has some excellent sandy spots. Between the main resort areas where tourists and local hawkers make it crowded and some tiny, hidden gems scattered across the island waiting to be discovered by scooter, you could do far worse than Bali for your next beach getaway.
But don't spend your entire vacation lounging at a beach club. This Indonesian island has so much more to offer.
Rather than being its sole selling point, Bali's beaches enhance an unbeatable blend of culture, adventure, and hospitality. You'll find that in bustling markets and cozy warungs, Bali's signature restaurants where you can get a traditional meal with a beer for $5 or less. And you'll feel it as you walk past the small shrines that dominate Bali's streets and neighborhoods, showcasing the island's homegrown blend of Balinese Hindu that infuses the island with life and peace.
In short, Bali is so much more than just its beaches.
If you're looking to spend all day on perfect white powder beaches, head to Thailand, a Caribbean island or the Maldives. But if you want some good-to-great beaches thrown in on an island that blends a unique culture, earnest hospitality, and breathtaking views from the rainforests to the ocean coasts, Bali is your place.
When To Go
No one wants to spend their tropical vacation inside or under an umbrella. Like much of Southeast Asia, Bali has just two seasons: Dry season and wet season. The dry season lasts between May and October or November. Expect plenty of rain during the wet season, which generally runs from November or December through April.
The 101 on Bali's Hangouts
Bali isn't some tiny sandbar. It's a big and diverse island, where you can see seaside cliffs, beaches, rainforests, rice fields, mountains, and volcanoes – all within the space of a few hours. So it can be hard to pick a spot after you've touched down at Bali's Ngurah Rai (DPS) airport. Here's our quick rundown on some of the main hot spots:
Kuta

– Tourists, tourists, tourists. Party central near the airport, with packed beaches and megamall shopping

Seminyak

– North of Kuta, with a touch more class and nicer beaches

Denpasar

– Bali's bustling capital city, and a good stop for the essentials to avoid tourist pricing

Canggu

– Hipster paradise, complete with cool restaurants, beach clubs, and smoothie bowls

Uluwatu

– Clifftop sunset views on Bali's western coast

Nusa Dua

– Upscale big box resorts – the Canc

ú

n hotel zone of Bali

Sanur and Keramas

– Bali's oldest and tamest resort enclaves, a perfect place to disappear and relax

Ubud

– Rain forest haven, surrounded by terraced rice fields and packed with markets, warungs and restaurants
And while there's plenty to explore on Bali itself, the island is just one of more than 18,000 in the Indonesian archipelago.
Don't sleep on Nusa Penida or Nusa Lembongan, unspoilt islands just a 30-minute boat ride to the east. Head a bit farther east and you'll find a trio called the Gili Islands as well as Lombok – all worth a few days of your time.
These smaller islands may have the best beaches in the region, so check them out.
Budget Bliss
It can be tough to get a decent hotel room in New York City for under $200 a night. Even in Mexico, a nice beach-side resort will cost you. But in Bali, here's what $200 can get you.
Bali offers 5-star luxuries at 2- or 3-star prices. And no matter your price point, the vast array of accommodations in Bali will have something for you. Whether you want to be pampered at a full-service resort or have your run of the house at an Airbnb, few destinations do lodging better.
With the explosion of tourism in Bali, it can take weeks to pick among the dizzying array of options. We hit a homerun with our stay at Komaneka at Keramas Beach, one of four branches of a small, locally-owned hotel chain. From the lobby to the black sand beach and the to the architecture and layout of each villa, every detail of this place was perfect.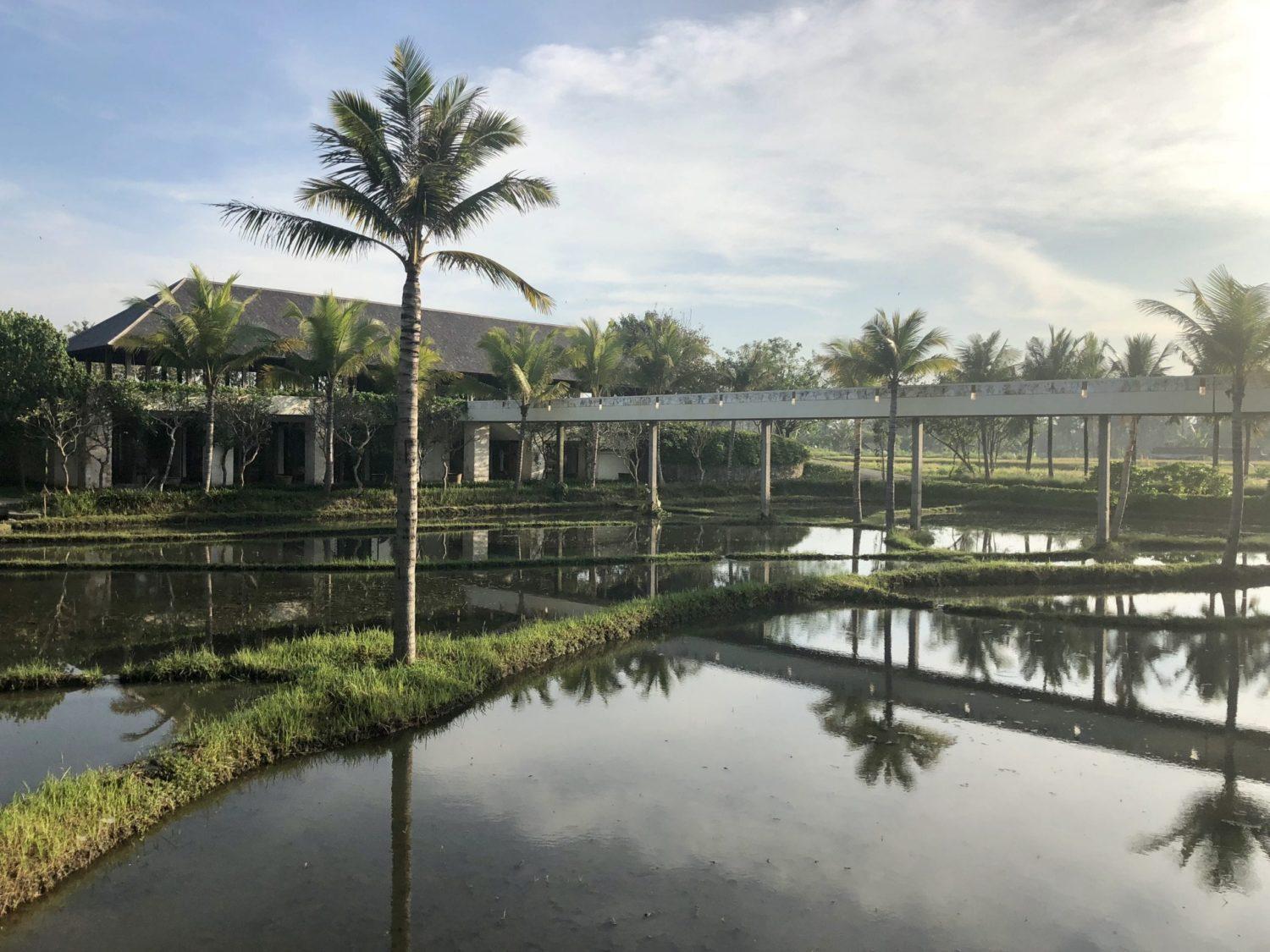 Want to wake up with a dip as you stare at the rice terraces? Pool villas like this one at Puri Sebali in Ubud are plentiful. And cheap, too.

You may have heard Bali is overrun with tourists, and that's not exactly wrong. It is, however, popular for good reason. There are few places better to score a luxurious tropical getaway for pennies on the dollar.
Eat and Drink
Thailand and Vietnam may be cheaper, but you can still get your fill for just a few bucks in Bali. And the cuisine is great. With an exchange rate of roughly 15,000 Indonesian Rupiah for every $1 USD, the 25,000 rupiah you'll pay for a Bintang beer is downright cheap. A meal of nasi goreng, Indonesia's signature fried rice dish served with beef or chicken satay, starts as low as 30,000 rupiah – two measly bucks!
Indonesian food is simultaneously familiar and one-of-a-kind. It's a mix of fresh ingredients, fried noodles or rice, and grilled meat or fish. If you like Thai peanut sauce, most Balinese restaurants put them to shame (they also slather it on a salad called gado gado). Most meals are served with some kerupuk – fried crackers – and sambal, a spicy concoction that's as hot as you dare ask for.
Warungs are where you want to be for an authentic experience. Even around big resorts, these streetside restaurants are a dime a dozen. There are some Balinese classics like nasi goreng or mie goreng, a fried noodle dish. Look out for a chance to eat babi guling, suckling pig. Another standout is nasi campur, a smorgasbord of rice, satay, tempeh, sprouts and more delicious, sometimes unidentifiable things.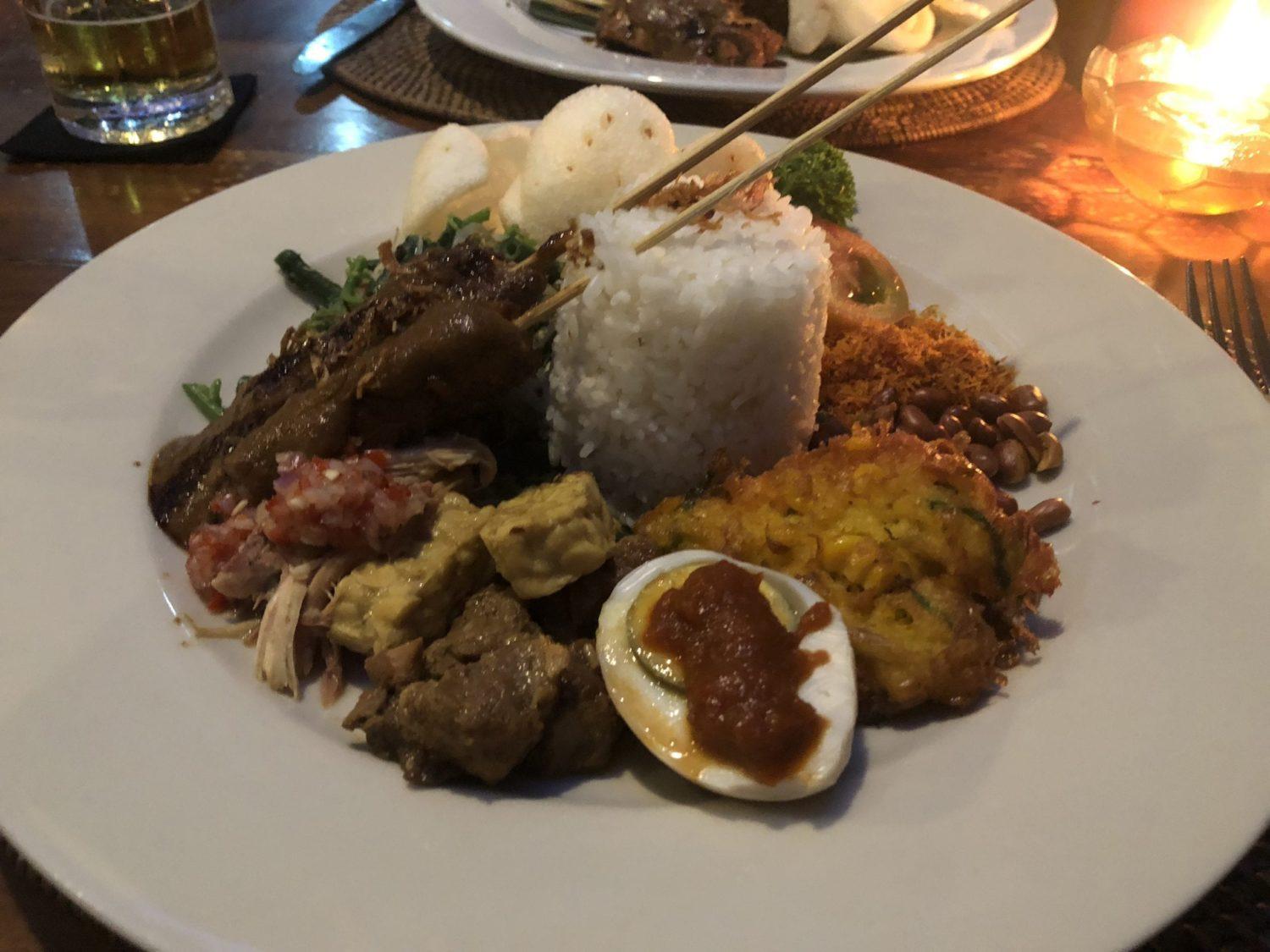 If your palette isn't up for it, tourism has brought plenty of Western options to the island as well. Top-notch steakhouses or pizza and burger joints dot the island. And Bali is famous for its smoothie bowls, fresh fruit, and juices.

Eating breakfast at a table is so boring. In Bali, you can eat your breakfast as it floats in the pool. It's a shamelessly and obligatory Bali experience.

Just remember: Like much of Southeast Asia, cash is king in Bali. More and more restaurants are accepting credit cards, but it pays to be prepared with cash. And make sure you have a Charles Schwab debit card in your wallet. It's the only way to avoid paying ATM fees no matter where you're traveling.
Thrifty Tip: Be sure to use an ATM that's inside a bank branch or a small glass booth, as that's the best way to protect against card skimmers.
Get Around with Grab
Want to hop across the island and see all that Bali has to offer? Download Grab. Think of Grab as Indonesia's version of Uber – because it is. The southeast Asia rideshare company actually bought Uber in the region earlier this year, creating a massive network of drivers.
And Grab is seriously cheap. Expect to pay less than $1 for 10-15 minute ride. If you need to get across the island, it may be $8-10. Unlike Uber, you can pay with cash.

But the app itself is much like Uber or Lyft. Simply plug in your location destination to see the price and request a ride. You'll see a map of available drivers, get a notification when one has accepted your fare and be able to track their progress as they pick you up and bring you to your destination.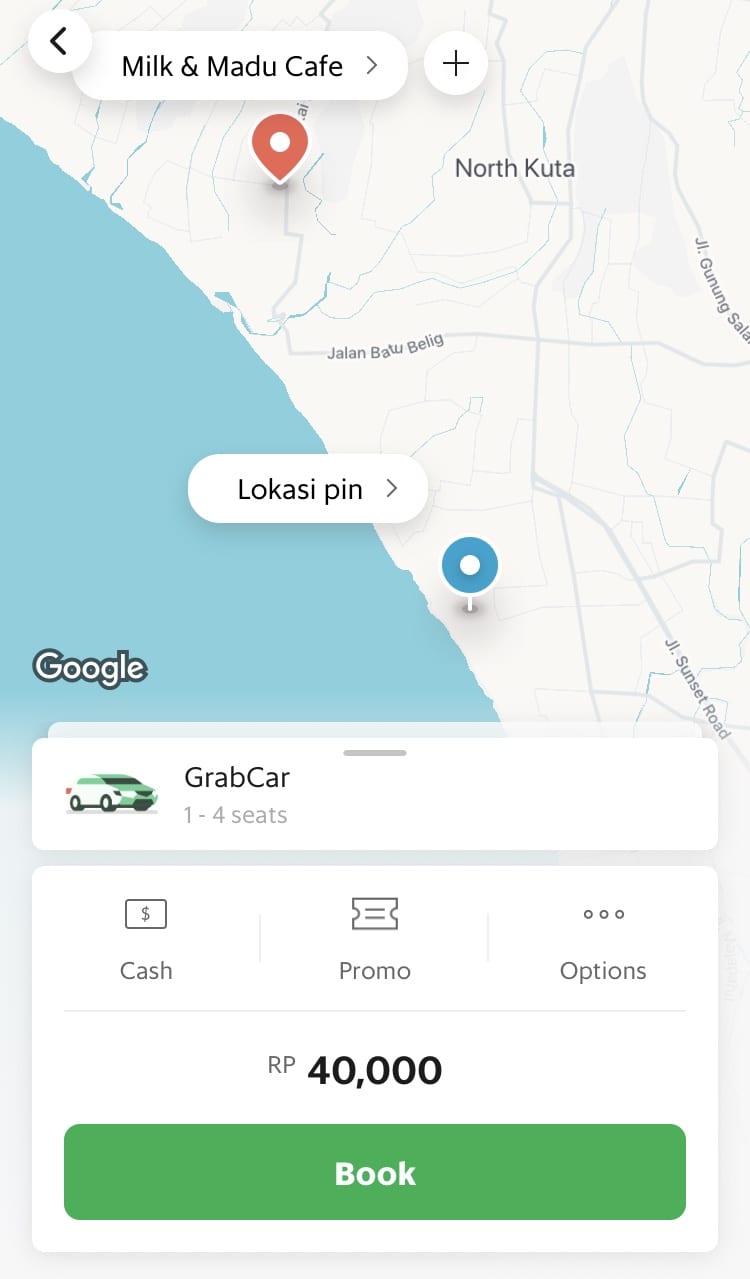 Just beware Grab isn't welcome everywhere in Bali. Some areas like Nusa Dua ban them outright, while many hotels and resorts say they're not allowed for guest use. The taxi mafia is strong in Bali, and it's not a fan of Grab.
If you'd rather play it by the books, you can book a driver through your hotel or better yet, hire a private driver. Expect to pay about $30 for someone to drive you around the island for an entire day on a guided tour of the island or popping into whatever sights you want to see.
One downside to Bali's popularity is some gnarly traffic, snarling the island's narrow streets. A ride from the island's west to east coast – just 15 miles or less – can take two hours. Try to get through Ubud during midday and you could be in the car for more than an hour.
Hang Out Up in Ubud
If you're going to Bali, you need to get away from the coast and spend some time in Ubud. An hour-plus drive up into the hills of central Bali, Ubud is a collection of villages surrounded by rainforests and rice fields. It's known as Bali's cultural heart, and it lives up to that reputation. My one regret about our two-week stay in Bali is that we didn't spend more time in Ubud.
The central part of town is busy, filled with boutiques, markets, warungs, restaurants and coffee shops. Ubud's art market is full of hand-carved wooden sculptures, beautiful sarongs and tapestries and of course, rattan bags and baskets.

Thrifty Tip: Ubud's art market is wonderful, but head to Sukawati market south of town for better prices.
Get outside of Ubud's main drag and you'll find beautiful temples like Campuhan or Gunung Kawi, a sacred water temple carved into stone. Take a long walk through the nearby rice fields, or head to the famous Tegallalang rice terraces for a breathtaking trek. Just be sure to get to Tegallalang before 10 a.m., when the crowds start to descend.

Just south of Ubud is the Sacred Monkey Forest, which is worth the entry fee 50,000 rupiahs, or about $3.25, to see what it's like when little monkeys run the place.
Bottom Line
Bali is popular for a reason. Do it right, and you'll long to go back to this magical island that has something to offer for everyone and then some.