For the first time in more than two years, nearly all of Europe is wide-open and ready for travelers. But with no restrictions to get in, period, and cheap flights to get you there, Ireland should be on the top of your list for a visit in 2022.
After frequent visits over the years (and even living there for a summer), I headed back to Ireland for a weeklong trip last month … and, as always, it was "a good craic" – Irish slang for "a good time" pronounced like the word "crack." The friendly people, lively atmosphere, and seas of green that Ireland is known for haven't gone anywhere.
But I didn't just get to see how this exciting country has emerged from the pandemic as it tries to resume some sense of normalcy. Traveling with a group of friends for a wedding, I also got to show them my old stomping grounds, seeing the country through the fresh eyes of some who were traveling abroad for the first time. That made the rolling hills, medieval castles, and Ireland's vibrant culture in city and countryside even better.
Here's what to expect if you're planning a trip to Ireland in 2022.

Getting into Ireland from the U.S.
As of early March this year, Ireland no longer has any COVID-19 restrictions for entry. None.
Ireland was among the first European countries to remove all pandemic restrictions, shortly after Iceland lifted its travel requirements. That means that no testing or proof of vaccination is required to enter Ireland.
Arriving at the immigration desk in Dublin (DUB), I simply handed the officer my passport and was asked the typical questions about the reason for my visit and how long I planned on staying. My passport was stamped and I was on my way, just as easy as it was back in 2019.
I noticed that more passengers were masked at the airport in Dublin than you'll find at U.S. airports these days ever since the federal mask mandate ended in April. But the Irish government no longer has any rules regarding masking within the country. Still, it's recommended to wear a mask in certain situations across Ireland. You'll commonly see people masked up in pharmacies or while sitting in the front seat with a taxi driver.
But for the most part, life in Ireland is back to the "old normal."
Grab A Guinness (Or Three)
Once you step foot on Irish soil, you won't have to search too far for a pint of its world-famous stout. You'll find Guinness at any pub and the rumors are true: It really does taste better in Ireland.

If you visit the Guinness Storehouse in Dublin, you'll get to learn all about the iconic beer, including the fact that it sources its water from the Wicklow Mountains, which many say is the reason Guinness from Ireland gets its distinctive flavor.

Another reason is the pour. And you won't get a more perfect pour than at the rooftop Gravity Bar at the Guinness Storehouse. You'll get to enjoy a pint while gazing out at 360° views of Dublin. It was a beautiful Irish afternoon the day I visited.

Perhaps the most interesting part of this visit to St. James' Gate was the fact that you can have a pint of Guinness poured with your face on it. And it only costs the normal price of a pint – around $6 USD. You'll get your picture taken and then a machine will print your face on the beer.

You can literally drink your own face. Technology never ceases to amaze me.

Of course, there's more to Dublin (and Ireland) than Guinness. So I'd highly recommend taking one of the free walking tours in town to get out for a walk and see the sites while learning a bit about the history of Ireland and the city. Our walking tour ended at the famous Molly Malone statue.

The fictional woman who sold fish on the streets is an important figurehead of Irish culture and inspired one of Ireland's most famous tunes with the refrain: "Alive, alive, oh!"
This couldn't be a better metaphor for the state of Ireland right now. It's open. it's alive, and the locals are extremely welcoming.
Live Music Lives On in Dublin
If you're a fan of live music, you'll have a blast in Ireland. The pub culture is fascinating even if you don't drink. In Dublin, you'll be able to catch live music any day of the week at almost any hour of the day, whether it's in the famous Temple Bar district or at any local pub.

For beer lovers, there are more choices than just Guinness these days. As craft beer has exploded across the world, you'll now find plenty of different beers on tap no matter which pub you enter. If you want something stronger, there are, of course, plenty of Irish whiskeys to choose from as well.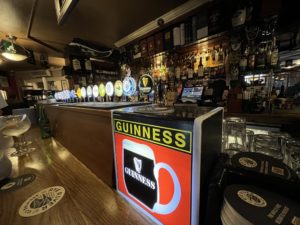 If you're in the mood for a coffee with an Irish twist, you'll want to try one of Ireland's proper Irish coffees. The barmen take this drink seriously and while it takes some time to craft, it's worth the wait.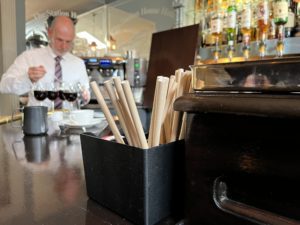 But the main event of any pub is enjoying the tunes, chatting, and dancing with the crowd. And it's all back in a big way in Ireland today. If you're in Malahide just outside of Dublin, check out Gibney's.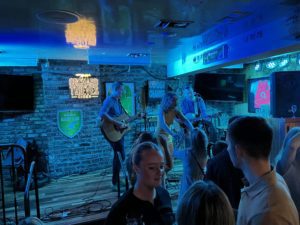 Read more: All the Top Things to Do in Dublin
Coastal Ireland: Malahide Castle and World-Class Golfing
While the Dublin Castle isn't much to gawk at, there are plenty of medieval castles to visit throughout the country.
Near the coast on the outskirts of Dublin, you can take a walk through the well-manicured grounds of the Malahide Castle and Gardens. It's worth the ride on the Dublin Area Rapid Transit (DART) train for a visit to this coastal community.

Ireland is also home to some of the best golf courses in the world. I'm not much of a golfer myself, but I did get a chance to hit the links (and lose plenty of golf balls) at Portmarnock Hotel and Golf Links just outside of Malahide. For golf fans, you can't go wrong with a trip to Ireland.

You'll get some of the best scenic views while walking a golf course in Ireland. It's a great way to spend an afternoon even if you're not a big-time golfer.

Beyond Dublin: Exploring the Countryside
For many, the best parts of Ireland are outside of Dublin.
I wasn't able to explore the entire country on this short trip, but in the past, I've really enjoyed visiting the West of Ireland. The city of Galway and the nearby Connemara Mountains should be on every traveler's list of places to go in Ireland. And, of course, no trip to Ireland would be complete without seeing the famous Cliffs of Moher.

A car is not necessary while in Dublin, but you may find it useful to rent a vehicle to explore the rest of the country. For those that don't want to take the wheel on the left side of the road, there are plenty of options to see the countryside through tour companies or Ireland's robust bus and train network. This will allow you to see more popular sites in Ireland such as the Blarney Castle, Cork, Ring of Kerry, or a side trip up to Northern Ireland, U.K. to see Belfast and the Giant's Causeway.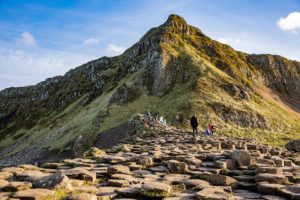 On this particular visit, I got to see some new places in County Meath, northwest of Dublin. I visited the town of Trim, where the movie Braveheart was filmed. Of course, there was a castle to check out … and it was enormous.

In town, life was a bit slower-paced and much less crowded than the bustling city of Dublin. For those that want to avoid the crowds, it's fairly easy to do so by visiting one of these smaller towns in Ireland. You'll have tons of wide-open space and quiet streets.

The cathedrals of Ireland are also something to marvel at. The St. Patrick's Church in Trim caught my eye with its inspiring architecture.

And, of course, every town (large or small) will have a classic pub to enjoy the craic.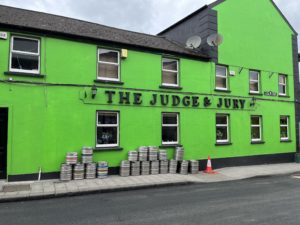 Testing & Pre-Clearance Before Returning to the U.S.
Update: Since this story was published, you no longer need a test to return to the U.S. Keep reading for information on Pre-Clearance.
You might not need a test to get into Ireland, but you will need one to get home.
Yes, all travelers returning home from abroad still need a negative test before flying to the U.S., taken no more than one day before departure – regardless of vaccination status. You can plan ahead and grab some at-home tests for international travel or just plan to pop in and get a test at one of the many testing locations around Dublin, including at the airport.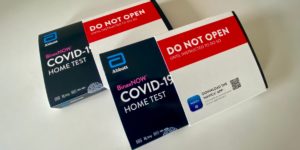 I was heading onward to Greece, so I didn't need a test in this case. But there's a special wrinkle with flying from Ireland back to the U.S. that you'll want keep in mind: Dublin (DUB) as well as Shannon (SNN) are some of a growing number of international airports with pre-clearance facilities. That means you'll be clearing U.S. Customs and Immigration at Dublin Airport (DUB) before you get to your departure gate – not after landing on a flight home from Dublin.
So you'll want to plan extra time to go through all the document checks to ensure you don't miss your flight, especially when flying Aer Lingus. Expect longer lines at check-in for Aer Lingus due to the fact that Dublin is the airline's major hub. That's why I'd caution against getting tested at the airport and instead recommend taking your test the day before your flight, whether you use an approved at-home test kit or get a test elsewhere in town.
Remember: You can take your test anytime one calendar day before your departure. For example, if your flight departs at 3 p.m. on a Saturday, you can still take a test at 10 a.m. on Friday. It doesn't matter if it's more than 24 hours prior, just so long as it's just one calendar date before departure.
This will give you peace of mind and take one more bit of stress away from the flying experience. You can look up where to get a test locally on the website testfortravel.com. There are surely more locations as well so don't hesitate to ask your hotel or a local pharmacy. The Irish want to welcome visitors from the U.S. and make it fairly painless to get a test to return home.
Read more: Tips on How to Find a COVID-19 Test Abroad to Fly Back to the U.S.
Getting to Ireland for Less
The good news for travelers is that there are plenty of great flight deals to Ireland as long as you book a flight when the prices drop.
Whether you want to fly nonstop on American, Delta, United, or Ireland's flag carrier Aer Lingus. You can even embark on a 2-for-1 adventure flying Icelandair or PLAY Airlines with a stopover in Iceland – or make your stopover in Ireland before flying onward in Europe with Aer Lingus. No matter how you do it, we've seen plenty of great deals to Ireland lately.
Case in point: This deal we sent to Thrifty Traveler Premium members just last month with nonstop flights starting from $380 roundtrip for fall and winter travel.

Get flight deals like this one sent straight to your inbox with Thrifty Traveler Premium!

And there's more where that came from. We've also recently unearthed a deal allowing you to visit both Ireland and Iceland for just $433 roundtrip. The routing via Iceland to Ireland makes sense and it's a great way to score a cheap flight if your airport doesn't have nonstop service to Ireland.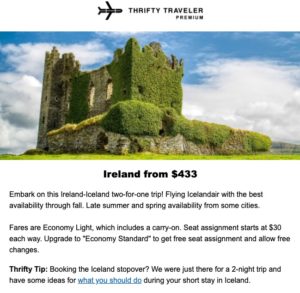 Read more: What It's Like in Iceland Right Now

Looking to use points and miles? We think flying Aer Lingus business class to Dublin (or beyond) is one of the best ways to use Alaska Airlines miles.
Long story short, it's a bargain to fly to Ireland compared to current domestic travel prices or further-flung international destinations.
FAQs About Traveling to Ireland
What time of year should I travel to Ireland?
As far as the weather goes, the best time to visit Ireland is between March and November. You'll normally find some pretty big crowds in Dublin during peak summer months, so if you want to avoid that, you may want to try and time your visit during a shoulder season between March and May, or September to November.
Outside of Dublin, you shouldn't see too many crowds any time of year unless you're at the most popular tourist attractions.
What should I pack for Ireland?
You'll definitely want to pack a few warmer clothing items as the temperature does drop into the 40s at night throughout the year. You'll get some nice summer days but don't let that fool you as you go about your day. It will cool off at night. It's best to be prepared.
Don't forget to pack a thin, waterproof jacket as well. These will come in handy with the frequent rainfall in Ireland. Don't let a little rain ruin your trip though – it usually passes and it's what keeps Ireland beautifully green.
What kind of food does Ireland have?
Ireland might not be best-known for its cuisine, but what the country does make, it does well. Think stews, Shepherd's Pie, fish and chips, and plenty of smoked salmon. I was quite impressed with the quality of the food on my most recent visit.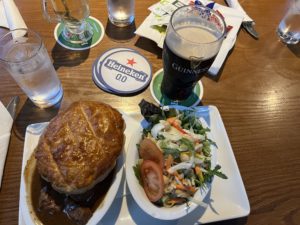 You'll notice that the Irish love their chips (french fries). We even had them served with lasagna when we went for Italian one night.
Is Ireland expensive?
Not compared to its European neighbors.
Ireland will surely be more expensive than Mexico or Latin America, but not quite as expensive as the U.K. or Iceland. I'd say it is one of the more affordable places to visit in Western Europe. And the fact that the U.S. dollar is nearly on par with the euro makes a trip to Ireland (or Europe in general) cheaper than it has been in quite some time.
Bottom Line
If you're thinking about taking a trip abroad this year, put Ireland on your list.
Cheap flights combined with no travel restrictions and a culture that thrives on welcoming visitors from abroad make Ireland the perfect choice for your first trip back to Europe, or even your first adventure abroad.