Travel is booming. Gas prices are up. And travelers are seeing higher flight prices than they've seen in years … but not everywhere.
It's undeniable that flight are more expensive now whether you're heading somewhere close to home or abroad. But savvy travelers shouldn't run and hide from their next trip. There are still many destinations where you can score a great deal on flights.
We search all day, every day for cheap flights to send to our Thrifty Traveler Premium members … and the deals are still out there. And I'm not talking about a trip to Milwaukee or Tulsa, either – no offense to either city. We keep finding low fares to places you've been dreaming about all winter like Mexico, London, Costa Rica, and Miami.
Now more than ever, scoring a good deal on flights is about using the right tools and picking the right spot. Here are a few places we're consistently finding great deals.
Want cheap flights sent straight to you? Sign up for Thrifty Traveler Premium!
Don't forget to also check out our guide on how to find cheap flights!

Alaska & Canada
There's no question that domestic flight prices are up compared to last year, or even just a few months ago. But that's not true across the board – it depends on where you're going.
One destination that still stands out as a great spot if you want to fly for less is Alaska. 

From the very start of the pandemic, Alaska has been an increasingly hot destination for Americans looking for outdoorsy trips closer to home. But even as the pandemic enters a new phase, all the same things that make Alaska great are still there – including cheap flights.
Flights as low as $199 roundtrip to the nation's 49th state started cropping up in 2020 but they're still around, including the cheap flight alert we sent to Thrifty Traveler Premium members just a few weeks ago. Sure, there are cheap fares from the usual major hubs like New York City (NYC), Seattle (SEA), and Los Angeles (LAX) … but also even small towns like Fayetteville (XNA) and Green Bay (GRB).

Get Thrifty Traveler Premium for $49 a year now before prices go up to start getting flight deal alerts like this!
But the stunning mountains of Alaska aren't the only place you can chase some views for cheap this year, either. Oh, Canada?

I love this flight deal we sent out to Calgary (YYC) a few weeks ago, helping travelers from dozens of U.S. departure cities get up to Alberta for as low as $198 roundtrip. Alberta is the perfect gateway to explore Banff National Park, Lake Louise, Jasper National Park, the Powder Highway, and much more that the region has to offer.
So while airfare to U.S. locales like Glacier National Park and Grand Teton National Park seem to just keep climbing and climbing, the fares across the border have held fairly steady in comparison. And after Canada dropped its pre-travel testing requirement for vaccinated travelers at the start of the month, it's even easier to get in.
I'm crazy about the mountains, but I know that not everybody likes the high alpine like I do. If you're looking for more a sipping-a-cold-drink-on-a-warm-beach kind of vacation, you're in luck.
Mexico & The Caribbean
Mexico has remained a hotspot throughout the entire pandemic thanks to easy-to-navigate travel restrictions … oh, and cheap fares to get you there.
Even as flight prices elsewhere climb, the same is true today. We keep finding cheap flights to Mexico like this one.

This fare to Puerto Vallarta (PVR) was part of a cheap flight alert we sent to dozens of U.S. cities for less than $300 total.
Want to leave the beach behind and dive into Mexico's best food city instead? Take your pick with these dirt-cheap fares all the way to Oaxaca (OAX).

Trips to Mexico might be tried-and-true, but you can also venture out into the Caribbean without paying the sky-high prices you're seeing elsewhere. You just have to wait for the right deal … like this one. Just $268 (or less) could get you to several Caribbean islands whether you were looking for a spring break vacation or a getaway for next winter.

These flight prices are long gone! Get Thrifty Traveler Premium to get the next deal sent to your inbox!
When you see $253 for roundtrip flights to Turks and Caicos, you can safely forget what you've heard about all flights getting more expensive. No matter rising gas costs, airlines still need to compete for your business. This was a classic example of a fare war, with American Airlines offering some unbelievably low fares to some normally expensive Caribbean destinations
The U.S. Virgin Islands stand out as another great Caribbean destination for cheap flights. Bonus: Because it's a U.S. territory, you don't need a negative COVID-19 test to get in or get home, either!

Iceland
I understand the urge to write off a big trip abroad when you think airfare is going to be out of reach. But trust me: Now is the time to put Iceland back on your list.
For starters, Iceland has dropped all travel restrictions – that's right, all of them. Getting into Iceland is just like it was back in 2019. But most importantly, finding a flight deal to get there for $500 (or less) roundtrip isn't hard.


As flight prices all over the world rise, Iceland fares are holding steady … and even dropping in some cases. There are some fantastic nonstop and one-stop options on highly rated airlines that can get you to Reykjavik (KEF) sooner, so you can explore the volcanoes, black sand beaches, and picturesque landscapes this year without getting beaten by rising airfare.

London & Portugal
Elsewhere across Europe, flight prices are looking higher than they've been in years. But two destinations stand out within Western Europe: London and Portugal.
Every summer, people eye up destinations like Iceland hoping to plan the perfect, budget-friendly trip. But if you time your trip right, you can even score a cheaper flight to notoriously expensive London.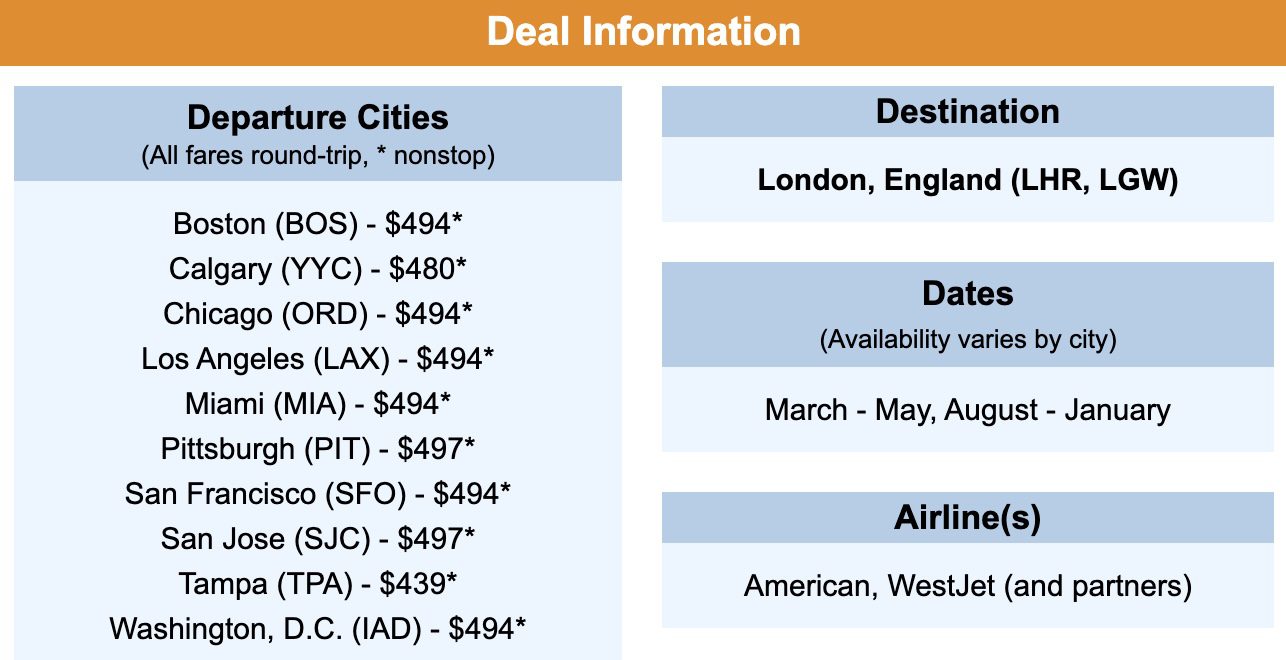 As you can see by this deal we sent Thrifty Traveler Premium subscribers a few months ago, London flights  – nonstop, no less! – are not astronomically high if you know where to look. Just avoid the peak summer from mid-June to mid-August, when airfare is always expensive.
Why let the savings on a trip to Europe stop with the flight? Portugal is as thrifty as Europe gets. And we're still seeing some surreal fares to get you there later this year, too.

This flight from United's Newark (EWR) gateway came at a ridiculous value as other airfares around the world spike. Whether you go to Lisbon (LIS), Porto (OPO), or somewhere else, Portugal is one of our favorite countries in Western Europe. And just last week, we found a cheap flight to help Thrifty Traveler Premium members from all the way over in San Francisco get there for less than $400 roundtrip!

Central America: Costa Rica, Belize & Panama
When flights are looking more expensive, it's time to think outside the box and go wherever a cheap flight may take you. Why not dig into Central America?
Panama and Belize are growing in popularity thanks to a surge in cheap flights. How cheap? How about $171 roundtrip for a nonstop flight on Delta…

That's half the price (or less!) than what you'll pay for most short flights to Denver (DEN) or even Las Vegas (LAS) these days.
Panama not doing it for you? Check out Belize, renowned for its beaches and scuba diving. While the deals to Belize aren't quite as frequent, we're still seeing a steady supply of sub-$300 fares to Belize City (BZE) for a trip throughout 2022 and even into early 2023.

But the most popular destination in this region has always been Costa Rica – and for good reason.

Costa Rica has everything you could want from a vacation, and flight deals into its two major airports of Liberia (LIR) and San Jose (SJO) are abundant despite climbing prices to many other tropical destinations.
Colombia & South America
One sweet spot for flight deals keeps popping up in the western hemisphere: Colombia.
Colombia is beautiful place to visit – take it from our editor Kyle, who just went in February. And he got there for less than $250 roundtrip thanks to one of our own Thrifty Traveler Premium flight deals.

That deal didn't last long … but that doesn't matter, because we keep finding sub-$300 fares to Bogotá (BOG) and Cartagena (CTG) from countless U.S. cities for travel into 2023. Pair a cheap flight with its relatively lax entry restrictions, Colombia is getting more and more popular.

But the cheap flights can get you beyond Colombia if you want to explore elsewhere in South America. Got Machu Picchu on your bucket list? Scratching it off the list starts with a flight to Peru, and cheap flights into Lima (LIM) aren't hard to find these days even when you're seeing other sky-high international fares.

Even in normal times, getting as far south as Argentina or Chile can cost an arm and a leg. Yet we're still regularly finding deeply discounted fares down to the Chilean capital of Santiago (SCL). At a time when Americans are bracing to overpay for flights, these fares we found recently starting at just $331 were roughly $700 off normal prices.

Anywhere Your Points Can Take You
Make this your mantra: When flight prices look high, it's time to turn to a stash of points and miles.
Whether you've got Delta SkyMiles, American AAdvantage miles, or a balance of flexible Chase Ultimate Rewards points, they can help you offset the higher costs of airfare more than any flight deal ever could.
There's a ton of value out there no matter which points you use, but one of our favorite ways to book travel right now is with Delta SkyMiles. You can score even expensive domestic trips or international fares for just a few thousand SkyMiles thanks to an onslaught of Delta SkyMiles flash sales.

Thrifty Traveler Premium members even get award alerts like this one to use their miles, too!
Take a look at that fare to Montego Bay, Jamaica (MBJ) from New York City (NYC)! This was part of a Delta SkyMiles deal we sent that could get you down to the beach for just a handful of miles. And if you're looking to book domestic flights using SkyMiles, you won't even need a handful – it's more like a pinch!

These nonstop fares to Denver (DEN) were eye-popping, especially that record-low 4,000 SkyMiles flight from Seattle (SEA). I bet you wouldn't even notice those miles were gone!
But the good deals don't stop there when using your SkyMiles. We found another 4,000-SkyMiles fare to Phoenix (PHX) for later this spring.

Seattle isn't the only place that is getting great SkyMiles values, but it's a particularly sweet spot for SkyMiles deals. Seattle was also included on this SkyMiles deal to Miami (MIA, FLL), which also included dozens of other U.S. departure cities.

Starting with a single digit balance of SkyMiles, you could fly down to South Florida for your perfect getaway. Book one now for a late spring break or pick some dates in fall or winter when you'll miss the sun the most.
Your points aren't doing anything for you just sitting in your account. Look at using your Delta SkyMiles as a way to beat rising airfares this year.
Bottom Line
Flight prices are going up and there's no denying that. But don't despair.
Instead of putting off your travel plans or resigning yourself to paying an arm and a leg, focus on the spots you can get to where prices are still looking low.
Canada, Colombia, Portugal, Denver, and tons of other desirable destinations continue to be cheap flight hotspots, even as the average cost of airfare goes up. Or do it for nearly free by leaning on your points and miles.