Travel is booming and travelers are seeing higher flight prices than they've seen in years … but not everywhere.
It's undeniable that flights are more expensive now whether you're heading somewhere close to home or abroad. The federal government released its latest Consumer Price Index on Tuesday with more proof: Airfare jumped by 6.3% in February from January and is up by more than 26% compared to a year ago.
But savvy travelers shouldn't run and hide from their next trip. There are still many destinations where you can score a great deal on flights.
We search all day, every day for cheap flights to send to our Thrifty Traveler Premium members … and the deals are still out there. And I'm not talking about a trip to Milwaukee or Tulsa, either – no offense to either city. We keep finding low fares to places you've been dreaming about all winter like Australia, Bali, Banff, the Bahamas, Iceland, New Zealand, and the United Kingdom.
Now more than ever, scoring a good deal on flights is about using the right tools and picking the right spot. Here are a few places we're consistently finding great deals.
Want cheap flights sent straight to you? Sign up for Thrifty Traveler Premium! 

Canada
There's no question that on average flight prices are up compared to last year, or even just a few months ago. But that's not true across the board – it depends on where you're going.
One destination that still stands out as a great spot if you can fly to for less is Canada. 

You can find great flight deals flying most airlines up to Canada, but the underlying cause of these cheap fares is WestJet's huge route expansion into the U.S. market.
Competition from the Canadian budget airline has resulted in crazy cheap flights to destinations like Calgary, Alberta (YYC), which puts you right on the doorstep of Banff National Park and the Icefields Parkway.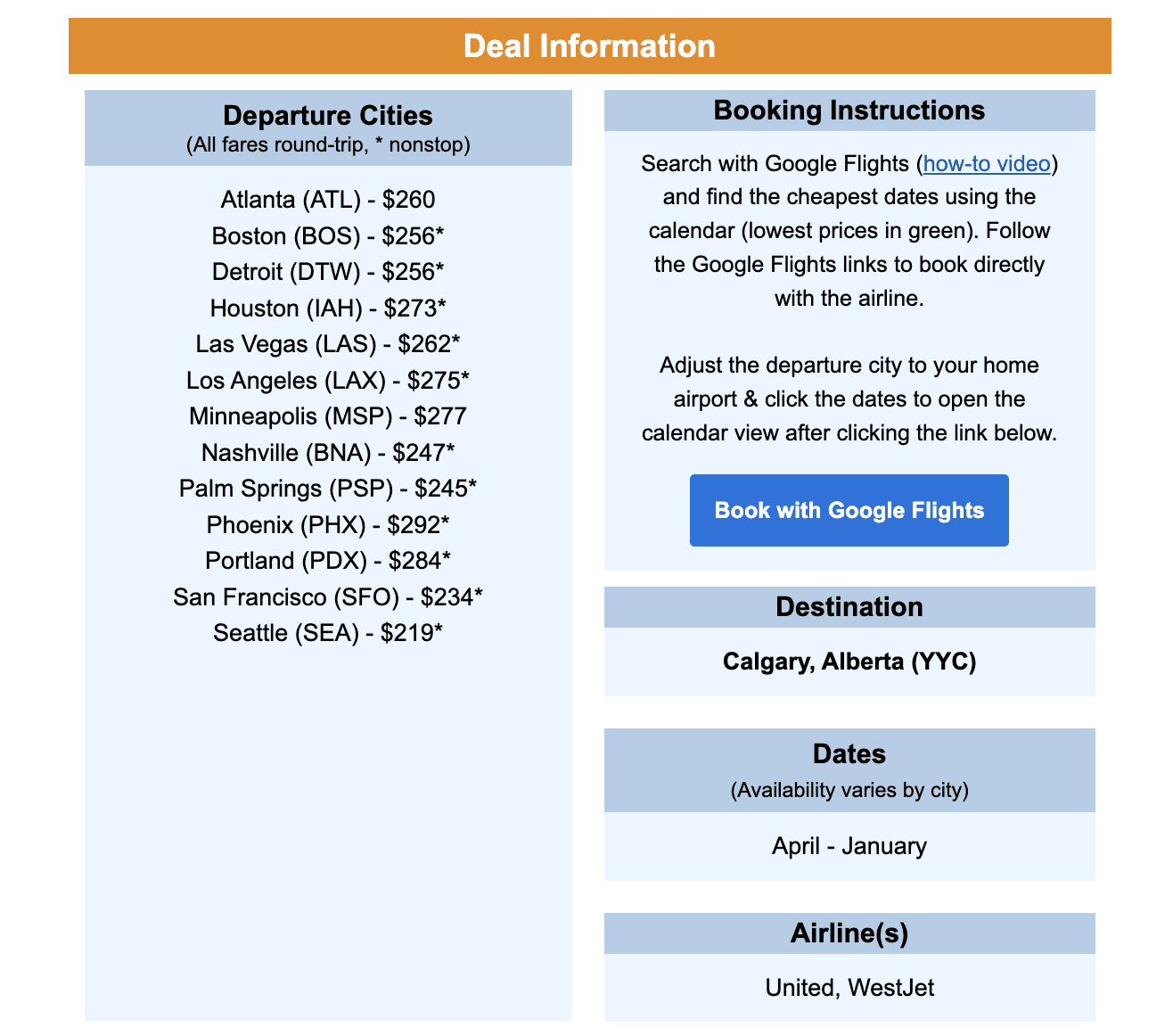 Anything under $400 roundtrip to places like Calgary or Vancouver (YVR) usually catches our attention, but fares have been especially low lately.

A cheap flight to Vancouver is the perfect incentive to explore one of my favorite cities and it puts you on the doorstep of Whistler, which is great for skiing, hiking, or mountain biking, depending on the season.
Across the Strait of Georgia, just west of Seattle, is the city of Victoria, British Columbia situated on what's called Vancouver Island.
Canadians know Vancouver Island is one of the most naturally stunning landscapes on the continent. And with low fares like these, Americans are going to learn the same very soon.

Cheap flights to Canada are easy to find right now and if you're on the hunt for natural beauty, Western Canada is exactly where you should look.
Mexico & The Caribbean
Even as flight prices elsewhere climb, there's one region we consistently find cheap flights: Mexico and the Caribbean.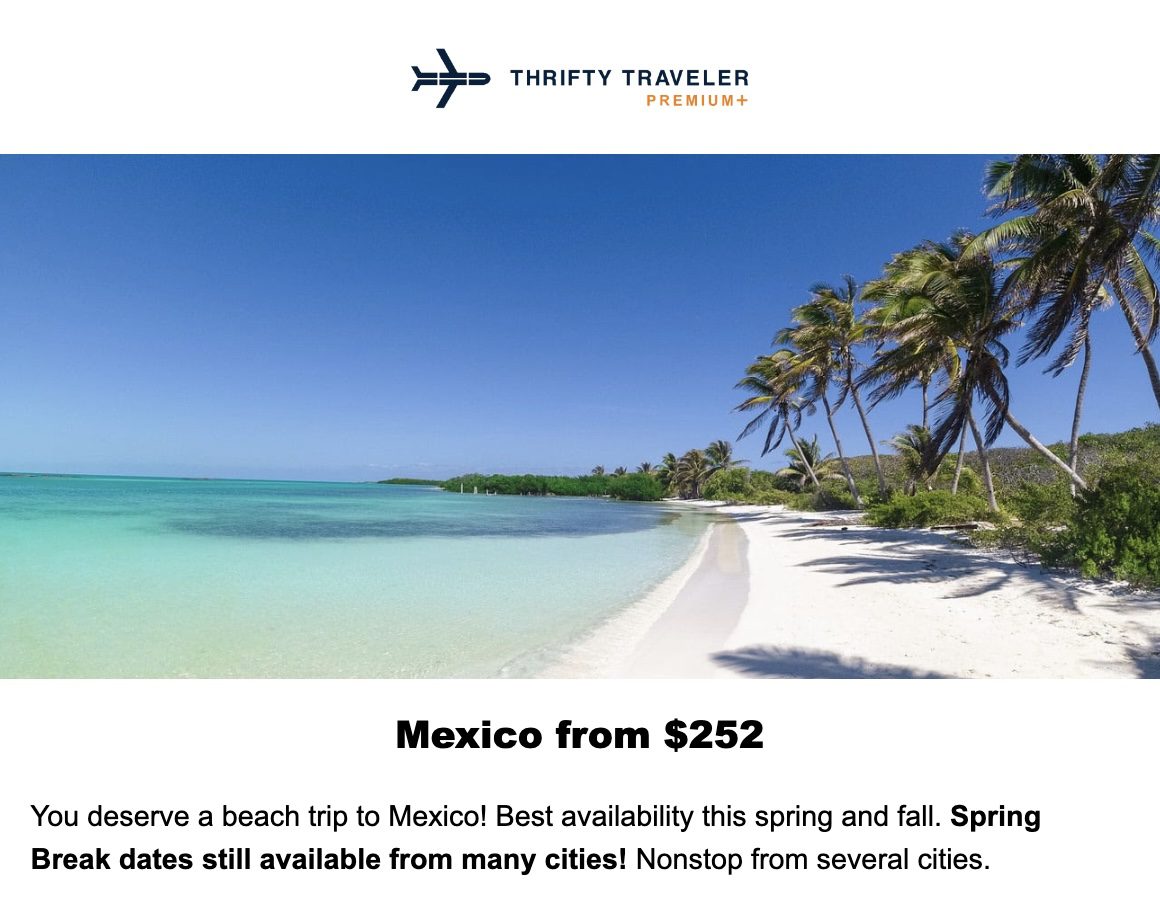 These flight prices are long gone! Join Thrifty Traveler Premium to get the next deal sent to your inbox!
Cancún flight deals are a staple of our Thrifty Traveler Premium service, but we love delving further into the Caribbean to find our subscribers other sweet, sunny options like Aruba (AUA).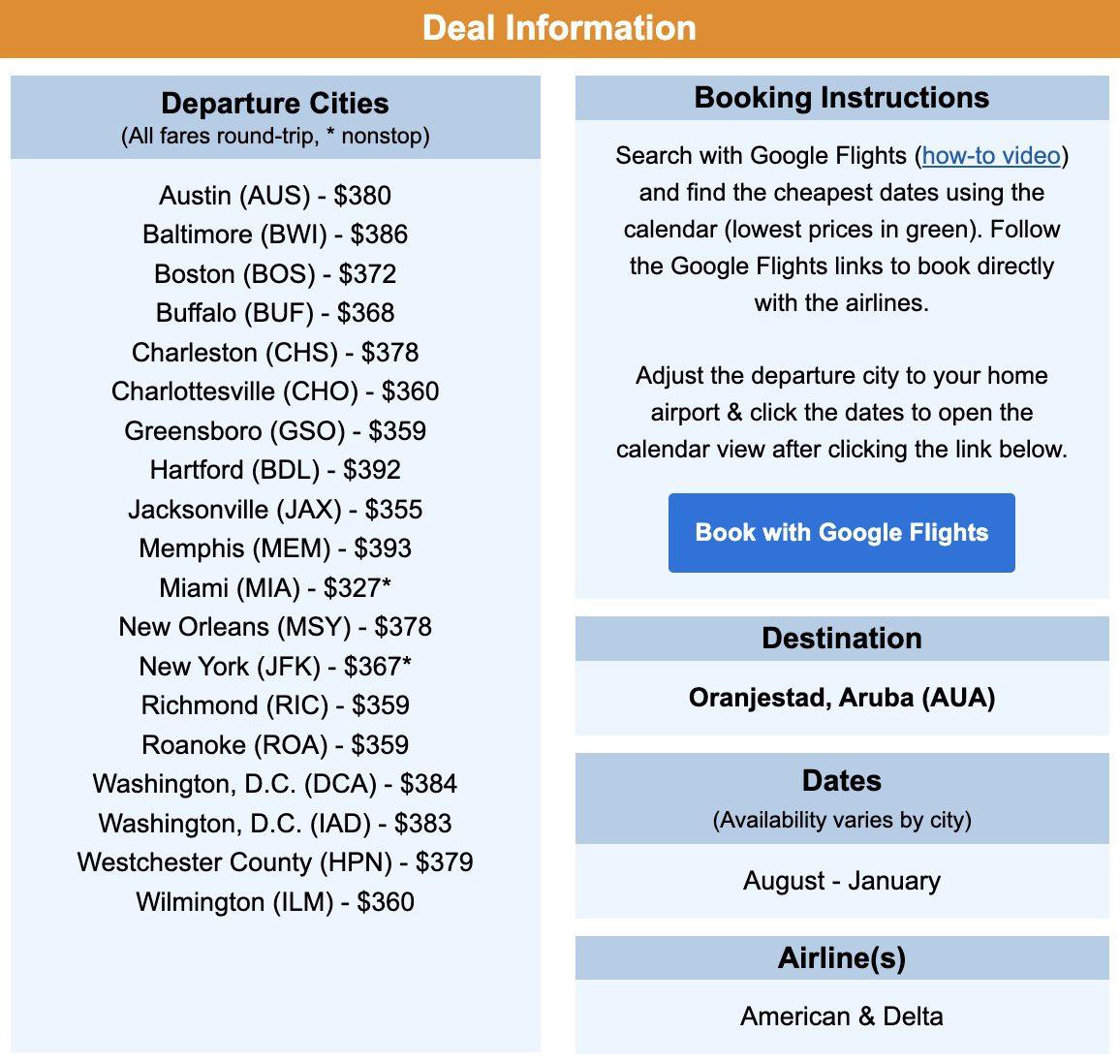 Close by and very similar to the more popular Aruba is Curaçao (CUR). This lesser-tread beach destination in the Caribbean deserves your attention for a number of reasons, but none more important than it's become very cheap to fly there.

And there's always the tried and the true vacation hotspot: The Bahamas. Cheap flights to Nassau (NAS) have been pretty abundant lately, and your next getaway could be the cheapest one yet.

There's always a great flight deal to Mexico or the Caribbean if you know where to look, and unlike other locations, it's not getting more expensive to get there.
Nordic Countries
I understand the urge to write off a big trip abroad when you think airfare is going to be out of reach. But trust me: Now is the time to put the Nordic countries of Denmark, Finland, Iceland, Norway, or Sweden on your list again.
Scandinavia is home to many low-cost carriers that service the U.S. Icelandair, PLAY, Norse Atlantic, and SAS all have roots in Scandinavia. That drives flight prices down – not just on those budget airlines, but on all carriers.

Sub-$400 roundtrip fares to Iceland are always a treat, and Baltimore (BWI) wasn't alone on this deal. About 10 different Icelandair hubs around the U.S. all got in on this one.
The same goes for this lovely deal with service to Copenhagen (CPH). If you're looking to maximize your time off and want to visit Copenhagen when it's quiet, consider going during Thanksgiving.

When it comes to Norway, the cheapest flights are usually into Oslo (OSL). But there's something interesting happening on the west coast of Norway: A few weeks ago, we found about 100 different U.S. airports offering sub-$600 flights to the Fjords of Norway, including the towns of Bergen (BGO), Stavanger (SVG), and Trondheim (TRH).

If Sweden or Finland are more your speed, you can get there quickly and cheaply, too. Here were the two best fares, with New York (JFK) lucking out with cheap nonstops on both routes!

If you're looking for an adventurous expedition through the Fjords of Norway, a northern lights-spotting trip in Lapland, Finland, or a perfect long weekend exploring the intimate city of Copenhagen, flight prices aren't going to be your excuse not to go this year!
U.K. & Portugal
Elsewhere across Europe, flight prices are looking higher than they've been in years. But two destinations stand out within Western Europe: the U.K. and Portugal.
Every summer, people eye destinations like Iceland hoping to plan the perfect, budget-friendly trip. Time it right, though, and you can score a cheap flight even to notoriously expensive London.

As you can see from this deal we sent Thrifty Traveler Premium subscribers a few months ago, London flights  – nonstop, no less! – are not astronomically high if you know where to look. Just avoid the peak summer from mid-June to mid-August, when airfare is always expensive.
But cheap flights to the U.K. go beyond the city of London. This was a special one for the soccer fans out there.

And even further north, pour yourself a couple of fingers of whiskey in Scotland.

The Scottish Highlands aren't the first destination that comes to mind when I think of cheap flights, but Inverness (INV) has helped buck that trend of late.
Whether you go to Lisbon (LIS), Porto (OPO), or somewhere else, Portugal is one of our favorite countries in Western Europe.

This flight deal included fares to Lisbon (LIS), Faro (FAO), and the increasingly popular Porto (OPO). Even though it's getting more attention, Porto is often home to some of the cheapest flights in all of Europe.

Western Europe is on everyone's list. But if you want to get there cheaply, start your trip by aiming for one of these spots in the U.K. or Portugal.
Australia and Asia
This one might surprise you, but the evidence doesn't lie: Cheap flights to Australia and some of the best destinations in Asia are actually out there right now.
It might be hard to believe because we've all gotten a little too used to seeing four-digit airfare across the Pacific, but Australia and Asia flight deals are making a big comeback.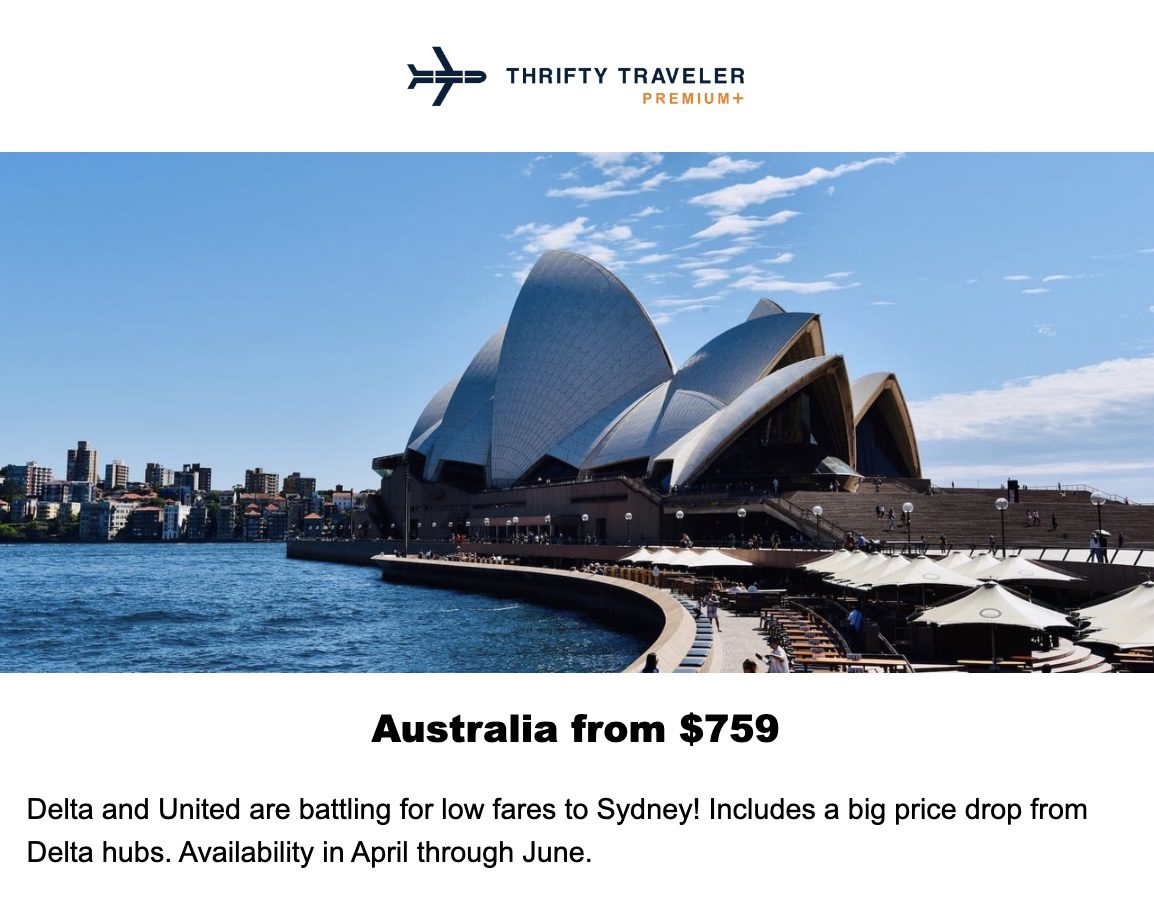 United and Delta started to compete on economy flights down to SYD, and that led to some beautiful fares like this one from Minneapolis-St. Paul (MSP) all the way down under.

Further north, in Asia, the typical $1,200 or $1,300 flights are also going on sale from time to time. This recent deal to Bali, Indonesia (DPS) is a great example of how low they can go.

Flying 5-star airlines Cathay Pacific and Singapore, you could fly to Bali to start an epic adventure. Ditto for this super rare flight deal to Cambodia (PNH).

After seeing this flight deal, Cambodia and Angkor Wat skyrocketed up my travel bucket list.
Fares to Bangkok, Thailand (BKK) have also been a little steep this year, but they're stabilizing. We're always on the lookout for Thailand flights in the $800s and this deal was a no-brainer to send to our Thrifty Traveler Premium subscribers.

Ditto for sub-$700 fares to Japan, like this Singapore flight to Tokyo-Narita (NRT).

We lumped Australia and Asia together because the trend is clear: The places where we've become used to seeing four-digit fares are getting cheaper, and we have the flight deals to prove it.
Anywhere Your Points Can Take You
Make this your mantra: When flight prices look high, it's time to turn to a stash of points and miles.
Whether you've got Delta SkyMiles, American AAdvantage miles, or a balance of flexible Chase Ultimate Rewards points, they can help you offset the higher costs of airfare more than any flight deal ever could.
There's a ton of value out there no matter which points you use, but one of our favorite ways to book travel right now is with Delta SkyMiles. You can score even expensive domestic trips or international fares for just a few thousand SkyMiles thanks to an onslaught of Delta SkyMiles flash sales.

Only Thrifty Traveler Premium+ members get SkyMiles alerts like this one!
Washington, D.C. is great for a vacation, but your points and miles can take you much, much further, too.

Like… a lot further. New Zealand flights are almost always too expensive to book with cash, but if you have 70,000 American Airlines miles, you can get there during New Zealand's peak summer (our winter).
And for just 47,000 Virgin Atlantic points roundtrip, you could fly to Seoul, South Korea (ICN), and back, too!

Virgin Atlantic's addition to the SkyTeam alliance helped pave the way for this sweet deal since you can now book Korean Air flights with Virgin points. Airline alliances like SkyTeam allow travelers to redeem miles from one airline across a dozen more alliance partners.
Another SkyTeam partner, Delta Air Lines, is also to thank for this deal flying to South Africa with Virgin points.

And if you want to get to Europe, it won't take nearly that many points, either. This Air France/KLM Flying Blue award sale gave us some unbelievable flights to Europe and back for just 15,000 miles each way.

These fares could get you to Europe in peak summer in August, too.
You've been saving those points and miles up for a reason. Use them to fly somewhere you wouldn't be able to otherwise.
Bottom Line
Flight prices are going up, there's no denying that. But, don't despair.
Instead of putting off your travel plans or resigning yourself to paying an arm and a leg, focus on the spots you can get to where prices are still looking low.