I caught my travel bug in Barcelona.
Between the food and wine, art, history, architecture, and jaw-dropping landscapes, Spain's most popular city has something for everyone. Barcelona is both laid back and buzzing with energy. Set foot in the city, and you'll see what the buzz is all about.
And while it's great at almost any price, getting to Spain is cheaper than ever. Thrifty Traveler Premium has been finding round-trip flights for under $300 – some nonstop!
Here's why Barcelona is one of the best cities to explore, and what you should do once you get there. 
Where to Stay in Barcelona
Barcelona is a massive city, with more neighborhoods than letters in its name.
I love getting lost in the winding streets of the El Born neighborhood. This trendy area has many restaurants and cultural options to pick from. Bonus: It's just a ten-minute walk from the beach!
Stop into the Basilica de Santa Maria del Mar, then have dinner at one of the many cafes in the shadows of the Basilica. For the art lovers out there, we enjoyed visiting the Picasso Museum, which has one of the largest collections of works by Pablo Picasso in the world.
The Gothic Quarter neighborhood of Barcelona has a medieval feel to it and is the home to trendy restaurants, bars, and clubs. It's a great spot to hit the town late into the night. Here you can also find Placo Reil, a grand square and perfect for some people watching with an espresso.
The Gothic Cathedral is a landmark from the 13th century that's a favorite with the locals. We stopped by Las Ramblas but quickly discovered it lacked the authentic feel we craved. Beware the pickpocketers on this boulevard.
If you are searching for a vibrant Barcelona neighborhood, look no further than the El Raval neighborhood. It has an artistic feel with lots of energy. El Raval is close to the Museum of Modern Art and it's also a great place to grab an authentic meal. That makes it a great home base, close to many sights.
See Barcelona through Gaudi
It's great to get off the beaten path and dig in beyond a city's tourist traps. But some tourist magnets are powerful for a reason.
No visit to Barcelona is complete without a visit to La Sagrada Familia, the famed work of Antoni Gaudi and a UNESCO heritage site. The construction for this church started in 1882 and still continues today with a goal to have most of the construction completed by 2026, the 100-year anniversary of Gaudi's death.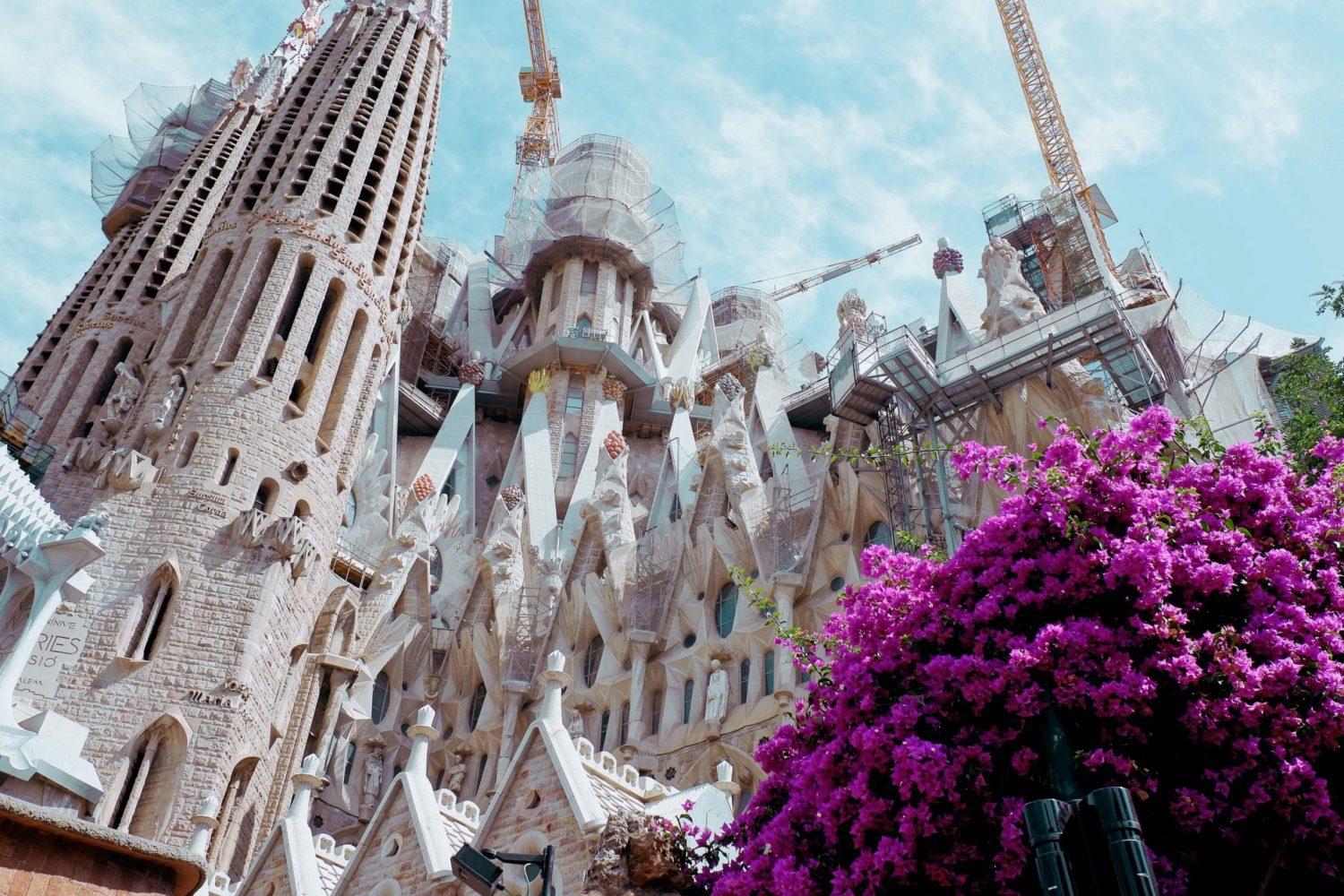 The stained glass windows in this structure are nothing short of stunning and the architecture of the vaulted ceilings and columns are beyond unique. If you want stunning views of Barcelona, make sure you get a ticket with Tower access!
Thrifty Tip: Beat the long lines at the Sagrada Familia – and all of Gaudi's sites – and buy your tickets in advance from their website.
But Gaudi's work around Barcelona stretches far beyond Sagrada Familia.
Casa Batllo is a gem in the portfolio of Gaudi's works and the inside of this once residential home feels like you are under the sea. Make sure you stop on each of the unique floors and top off your visit on the roof, checking out the many chimneys – each one is a piece of art. Snap a photo out on one of the building's balconies against the colorful tiles for a memory to take home with you.
Soak in the views of Barcelona with a stop at Gaudi's Parc Guell. Climb to the large cross at the park's high point and enjoy the panoramic views. Hike around the grounds in search of the colorful mosaic tile pieces in the shapes of reptiles and many other creatures. Just don't be late for your time slot – they are very strict!
One lesser-known Gaudi sight is the Palau Guell. It is a mansion designed for a past prominent citizen in Barcelona. We really enjoyed our visit as it was very different from other Gaudi sights and his first major building in Barcelona. Stunning architectural design with twenty decorated ceramic chimneys on the rooftop and a horse stable on the lower floor.
Tapas, Cava, and More: What to Eat in Barcelona
It's not Barcelona if you're not eating and drinking as the Barcelonans do. 
We loved the El Born neighborhood for sampling many small pintxos, small snacks. Don't worry about keeping track of what you ate –  the bill is based on the number of toothpicks stacked up on your plate when you're done. 
There may be no better way to explore Barcelona than creating your own tapas (small bites) tour. Find a few restaurants on your list and map out each stop using Google My Maps. Grab a few tapas and a drink at each restaurant.
Create your own tapas tour. Find a few restaurants on your list and map out each of the stops. Have some tapas(small bites) at each restaurant with your drink.
Thrifty Tip #2: Some places will give you a free tapa with your drink, which is a great way to try even more food!
Cava is to Spain what champagne is to France and prosecco is to Italy. Cava tastes somewhat similar to champagne, but it's far less expensive. And almost all Cava is produced near Barcelona in the Penedès wine region – a great spot for a chill day trip. Make sure Cava is on your list while in Barcelona!
My favorite spot for both fabulous tapas and cava is El Xampanyet. They have their own homemade cava and the ambiance full of energy Make sure you get there early, as the place gets very busy.
For breakfast, the locals feast on Pa amb Tomaquet, a crusty bread that is loaded with fresh tomato, drizzled in olive oil and sprinkled with salt and pepper.
If you eat meat, Jamon Iberico de bellota is your local delicacy. It's so widespread throughout Barcelona, you won't have trouble finding a place to sample this free-range, quality ham.
Want to crank your food journey up a notch? I highly recommend a food tour while visiting Barcelona. It is a great way to have a local take you to some of the best spots while meeting fun people along the way. Tours by Food Wine Tours are a good option when in Barcelona.
See Barcelona at Night
Barcelona is famed for its nightlife. And it's not just clubs and bars.
Flamenco dancing originated in the southern regions of Spain, influenced cultures across the world. The singing, dancing, stomping, clapping and snapping to the tune of a guitar was one of the highlights of our trip. Go check out the flamenco show at Tablao Cordobes.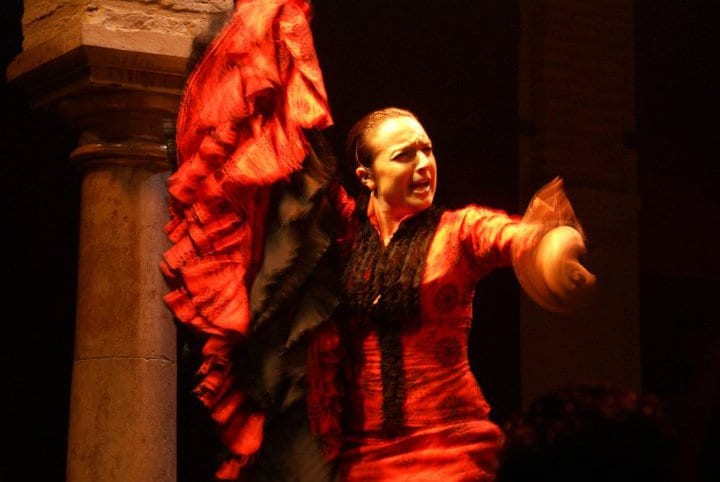 Thrifty Tip #3: Skip the dinner upgrade with your flamenco ticket. Instead, grab a cheaper (and more authentic) meal prior to seeing the show.
The Magic Fountain is in the Montjuic neighborhood of Barcelona right by Palau Nacional. Come prepared to see a dazzling display of illuminated fountains set to music. The fountain shows take place daily in half an hour increments in the evening. The time of year the shows take place may vary.
Barcelona's late-night scene with many bars and hot spots to pick from to grab a late night cocktail. Our favorite was Boca Chica. It's a trendy gem of a place with many rooms to explore. There are endless cocktails to choose from on the menu and the décor is quite glam. Order a drink and settle in for the people watching. 
Go off the Beaten Path 
You're in Spain. It's time to shake things up.
The best thing we did during our time in Barcelona was a sidecar tour with Brightside Tours. That's right: We saw the city by driving through the streets in a motorcycle sidecar. And we timed our tour perfectly – it was on our first day in Barcelona, a great way to get acclimated to the city.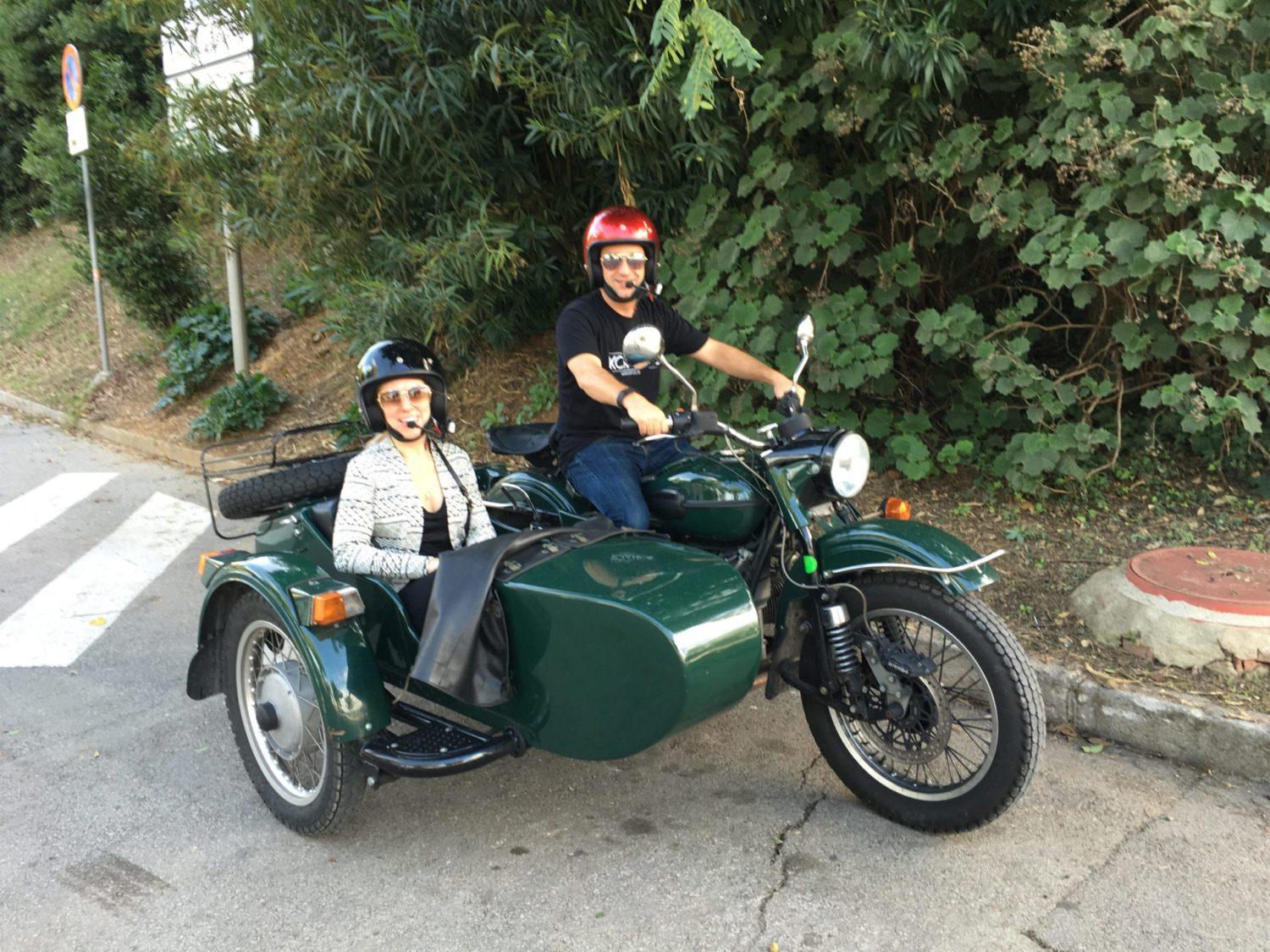 We did the half day Barcelona Highlights tour and spent the second part of the day zipping around the sights of Barcelona in a fun sidecar. Some of the sights covered on this tour were Plaza Espana, Montjuic hill and views, Arc de Triomf, Barceloneta Beach and Casa Mila.
Brightside Tours also has other options for tours such as Montserrat, a foodie tour, winery tasting tours and a night tour options to pick from. Our guide was fantastic and had tons of great advice on places to see, eat, and drink.
Bottom Line
Now you know why Barcelona is one of my favorite cities in the world. There's no way to see it all in one trip and you will want an excuse to return time and time again. Add Barcelona to your travel bucket list and I guarantee you will be a repeat visitor.