You've seen Greece in photos and in your dreams. The white-washed buildings with sky-blue roofs, ancient ruins, and a day admiring the piercing turquoise water punctuated by Mediterranean food and lively nightlife.
With over 6,000 islands scattered across the Aegean and Ionian Seas, Greece is the ultimate vacation destination for travelers craving variety and beauty.
Here's how to make the most of your island-hopping adventures in the Greek Isles with stops in Mykonos, Santorini, Crete, and Hydra.
When to Head to Greece
We traveled to Greece in September, and it was perfect. The weather was ideal and the large crowds from summer were largely gone. May is another optimal time to go to Greece.
Just beware: Once you get into the June/July timeframe, the crowds and costs start to soar. I wouldn't even attempt to go in August with all of Greece and parts of Europe on holiday.
Getting Around in Greece
Ferries and planes are going to be your main transportation options. Evaluate both the cost and travel time for each option to ultimately decide what fits best into your travel plans. Use a great site like Rome2Rio.com to weigh your options.
And there are pros and cons to each as you hop from island to island. You'll save money with a ferry, but it could easily take more time to get to your island. For example, a 40-minute plane ride could take four hours by ferry.
If you do take a ferry, buy your tickets in advance. You'll avoid long lines at the ticket stand and the need to arrive extra early.
Once you've made it to your island, ATVs, scooters, and buses are a good source of transportation. You won't find many cabs on islands throughout Greece. So place yourself as close to the action as possible to walk when you can.
Mykonos
The first stop on our island-hopping adventure was Mykonos. We took a quick, 40-minute plane ride forty min plane ride from Athens (ATH) to the tiny Mykonos (JMK) – one of the smallest I've ever seen.
And once you make it into the heart of Mykonos, I would highly recommend staying in Mykonos Town if you want to be close to the action. We loved being able to walk down from our hotel each evening into the heart of Mykonos for dinner and nightlife. And again, cabs aren't plentiful – it helps to stay close.
We stayed at the Portobello Boutique Hotel. The rooms were small, but they offered location, an attentive and kind staff, and a delicious breakfast each morning. The breakfast was free, as was the view over Mykonos.
Rent an ATV and spend a day exploring Mykonos however you see fit. It's like a choose your own adventure for Mykonos. Just be sure to head to Agios Sostis beach.
Afterwards, stop at Kikis Tavern for a late lunch. The wait may be long, but it's not so bad with glasses of free rose. Kikis doesn't use electricity – everything is cooked over woodfire grill. And that's the best part of seeing Mykonos by ATV – the impromptu stops you make!
Secure a boat captain and set sail among the islands of Delos and Rhenia that surround Mykonos. Spend the day cruising the seas, swimming in the gorgeous blue water, hanging on the beach, and having a traditional Greek meal made on the boat. Check out Mykonos On Board day cruises and yacht tours to plan your day at sea.
Delos is a UNESCO heritage site, and the perfect place to see some of the best ruins in Greece. Catch a ferry in the Mykonos Harbor for a quick ride to the island. Greek mythology holds that Delos is the birthplace of Apollo. It's truly a fascinating place – spend a half day wandering the streets of an ancient civilization.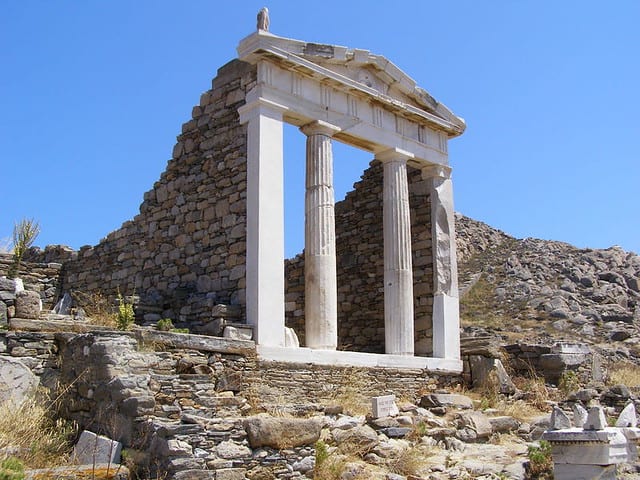 Make sure the iconic Mykonos windmills are on your list of stops while in Little Venice. They are well maintained and a great photo op. Head there at sunset for a beautiful view of Little Venice and the rest of Mykonos Town. Mykonos Town also has beautiful art galleries with unique pieces that are worth a stop.
Daytime parties at the famous beaches of Mykonos are the perfect way to spend a day while you are on the island. Take either cab or bus to Paradise Beach for a visit to Club Tropicana. Known for their drinks and ambiance, Paradise Beach is fun during the day but turns up even more in the evening.
After spending a day at the beach, head next door to Cavo Paradiso. Cavo is known for world-renowned DJs and all-night dance parties … like no other.
In Mykonos Town, Skandinavian Bar was our go-to spot. It offered an outside place to sit and chill with many rooms that had different music and DJ options.
Santorini
Hop on a ferry from Mykonos and head south to Santorini.
Once you land in Santorini, there are two major spots to choose from: Oia and Fira. And while we stayed in Fira, with cheaper accommodations and happening restaurants, you might want to pick Oia. That's where you get the quintessential Santorini experience: Blue-domed, white-washed buildings with sunset views.
Thrifty Tip: Take the bus back and forth between Fira and Oia for only a few Euros. You can pick it up at the city center in Oia and it drops you off at the centrally located bus station in Fira. Cabs are sparse and expensive.
Avoid staying in Imeroviglion – it's smack-dab between Fira and Oia, tough to walk to or from, and doesn't have many restaurants and bars.
It's not Santorini without sunsets, and there are a few ways to soak them in. You could gather on the sides of hills and walking paths throughout town, but you'll be surrounded by other tourists. Instead, find a restaurant with sunset views and settle in for drinks or dinner.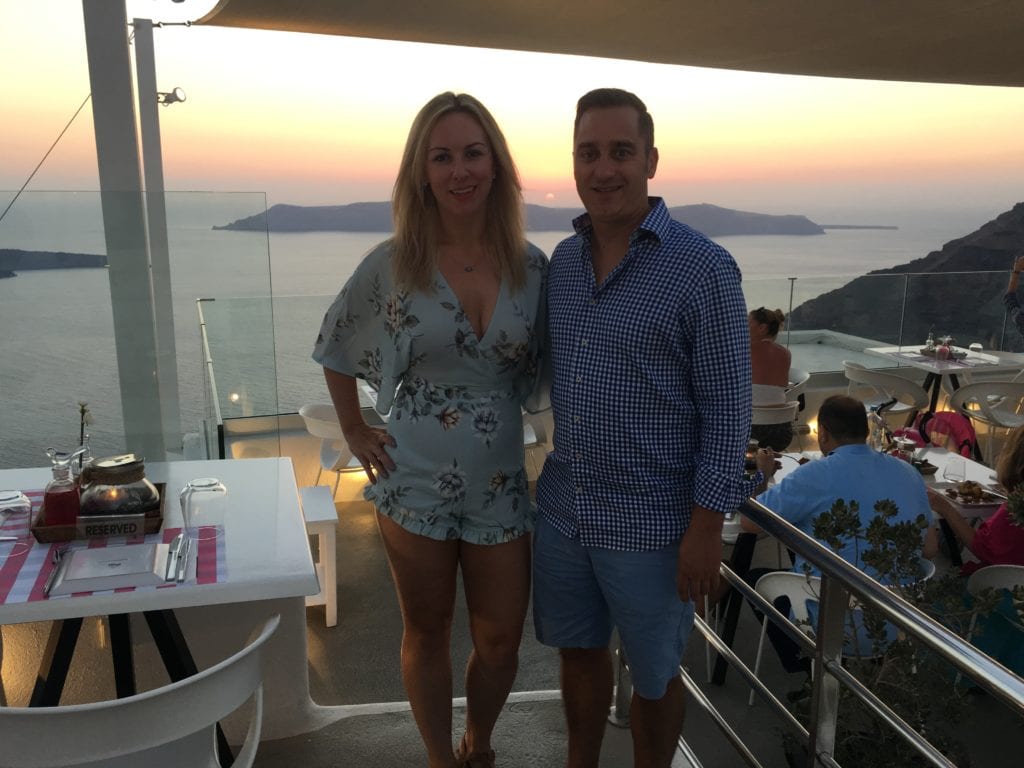 But you'll probably need a reservation, and it needs to be at the right time. The sun set in Santorini around 8:05 p.m. in September. Do your research and make a reservation well ahead of time – many book up at least a month out. Give Onar Restaurant Bar in Fira or Katharos Lounge Vegan Meze Bar in Oia a try!
Or hop on a boat cruise from Fira to Oia during the sunset. We took a cruise by Sunset Oia Sailing Cruise. Wind down the day with a Greek BBQ meal while chasing the fleeting sun. There was plenty of room to spread out and enjoy yourself and the wine and beer flowed all day.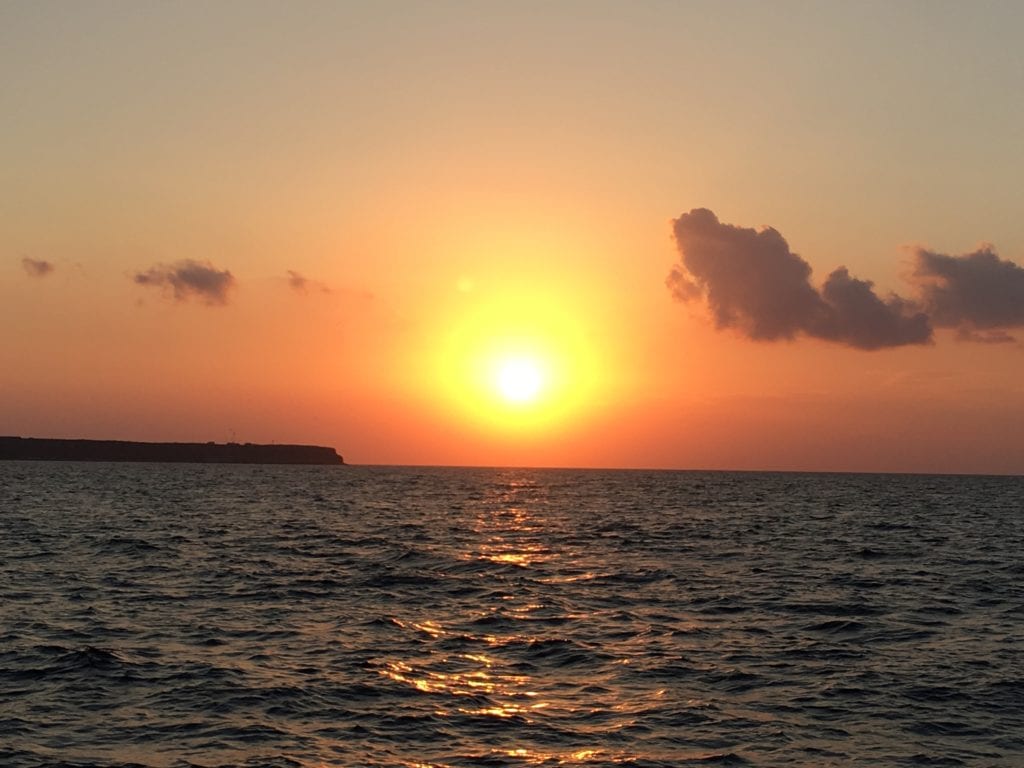 For the history buffs out there, Akrotiri is a prehistoric settlement nearby. It's a Minoan settlement that was buried and destroyed by a volcano in the 16th century B.C. You can wander among the ruins and see how the city used to be while inhabited – after being excavated, it is relatively well preserved.
Take a boat trip to the Santorini Volcano for some exploration and hiking. It's a fabulous spot for more gorgeous Santorini views.
While you might have the beach in mind, Santorini isn't the best for beaches. Both the Red Beach and White Beach are beautiful, they're rocky, windy, and challenging to get to. I would recommend spending your time elsewhere in Santorini.
It's all about the infamous Blue domes, and getting that perfect shot for your Insta. The blue domes are in Oia, but trickier to find than you would think. This handy guide will help you find them – otherwise, you might be looking for a long time.
Hike off your wine, feta, and gyros with a 10-mile hike from Fira to Oia – one of my all time favorite hikes! Ask a local to direct you to the starting point or follow the tourists dressed in athletic gear. There are a few steep hills, but otherwise, the hills are more gradual. The caldera views will take your breath away.
Treat yourself to a taste of the dry white wines Santorini is known for with a tour on Santorini Wine Adventures. Our tour included a visit to Boutari Vineyards, Gavalas Winery and Artemis Karamolegos where we toured the vineyards, winery and had wine and cheese tastings at each stop. What a day!
Crete
For a taste of authentic Greece, hop on a plane or ferry and head to its largest island: Crete.
We took a ferry from Santorini and after arriving at the port of Heraklion, headed by bus to the city of Chania. Chania is known for its pretty Venetian harbor, lighthouse and waterfront from the 14th century. We loved our stay at the Palazzo Duca, which was in the center of Chania Town and had huge, spacious rooms.
Just don't hope to cover all of Crete in one stay. It's an expansive island with plenty to explore. But be sure to rent a car and take a day trip to one of the many beautiful beaches in Crete.
We picked Elafonisi Beach, known for its pink sand. Yes, pink sand.
The water at Elafonisi is shallow and warm surrounded by soft white and pink sands. We spent the day exploring the various inlets at the beach and walking out to the islands, as the water is only waist high. It was pure paradise and one of the top beaches in the world.
Put your hiking shoes back on to tackle the longest gorge in all of Europe. The Samaria Gorge and National Park offers miles of trails and exploration. There are animals to see and high peaks to conquer. You will need some time as the average trail takes about four to seven hours to complete. There are also tours offered if you want the ease of a local guide.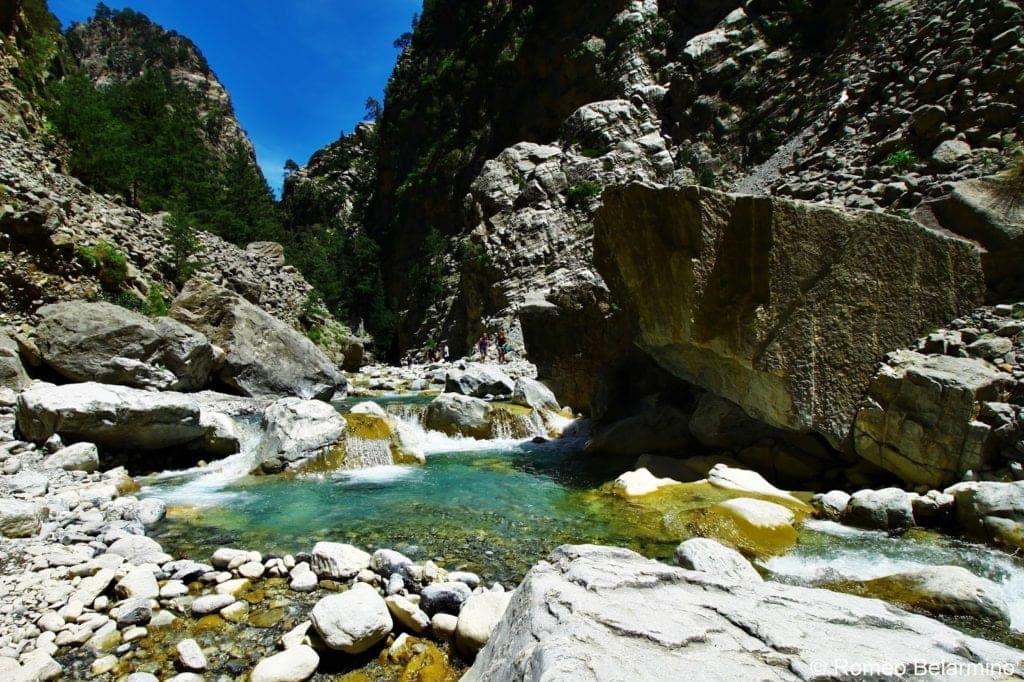 Hydra
Our next and final stop was the beautiful, historic and car-free island of Hydra.
We took a plane from Chania, Crete to Athens (ATH). From there, it's a bus ride down to the Piraeus port. At just two hours by ferry, Hydra can be just a quick day trip if you are staying in Athens. Or plan to stay a few days!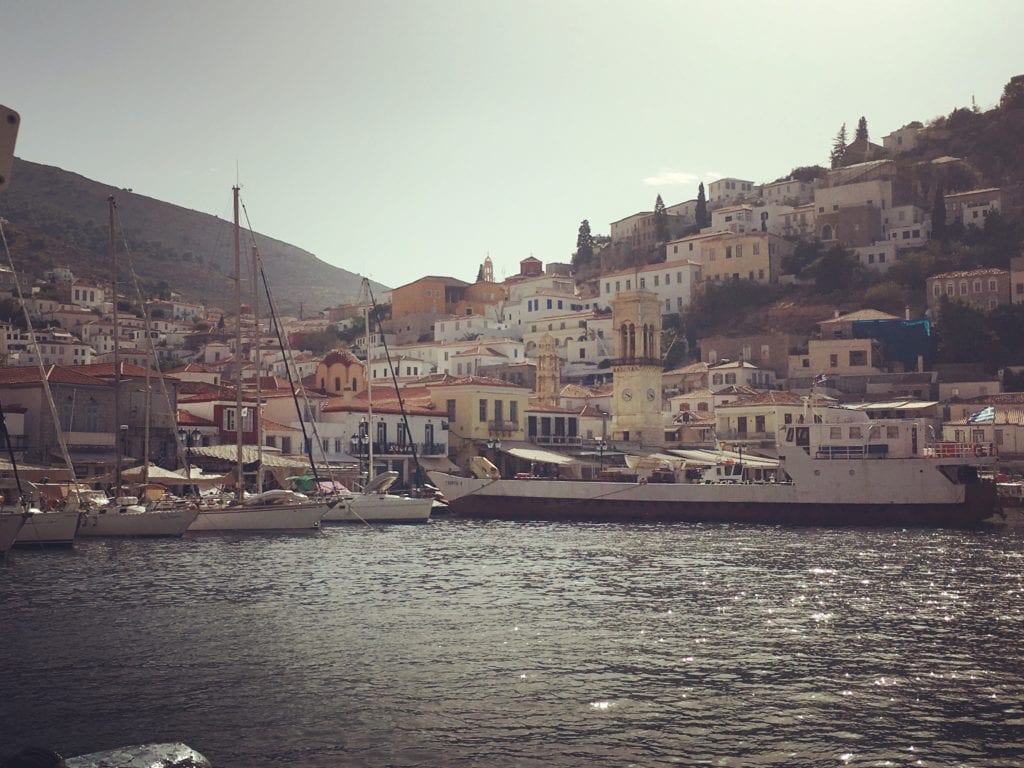 Hydra was once home to many ship captains from the Greek Navy, and our stay at Cotommatae 1810 fit that history. It was an old ship captain's summer house that has been restored into a boutique hotel.
Dive into Hydra's Greek history with a stop at Greek Maritime Museum in the harbor and Lazaros Kountouriotis Museum, a family house and the center of operations during the Greek War of Independence in the 1820s and 1830s. Both places share stories that make Hydra such a special island.
Check out the sunset with a visit to Hydronetta Cocktail Bar, the place to see and be seen on the island. Grab a refreshing drink and watch the sun set on another day in Greece.
Thrifty Tip: Go early for some swimming as the front row seats to view the sunset fill up quickly.
The island is basically one big loop, so continue your evening up the hill to Teche Resturant and Social. Enjoy your dinner and drinks under moon and candlelight with their outdoor seating. I just hope you like cats, as Hydra has many island cats that are taken care of by the residents and restaurant owners.
Greece has a long history of using horses and donkeys to carry tourists or haul suitcases etc around. Unfortunately, many of these animals are mistreated with no rest, care and sit in the sun without water all day.
Harriet of Harriet's Hydra Horses rescues horses from this lifestyle and she treats the horses as her children. A longtime resident of Hydra by way of England, Harriet offers an amazing day of horse riding. We rode through the back city into the woods to the beach for our ride, but you can choose your own adventure.
Bottom Line
Of all the places I've been in the world, nothing compares to a trip through the islands of Greece. Once you get a taste, nothing will compare. Greece will pull you in to explore more of the many islands it has to offer.