Travelers just don't give Canada enough credit. For everything to see and do just north of the border, how easy it is to get there, and (especially) how cheap flights to Canada have gotten recently, it's time to set your sights to the north for a trip this year or next.
While flights to Europe and Asia seem as expensive as ever, flight prices to Canada keep dropping to levels as cheap as we've seen. We're talking about late summer and fall fares to Banff National Park, Vancouver Island, or the Canadian Rockies for $200 roundtrip or less; Delta SkyMiles fares across the country from 12,000 SkyMiles roundtrip; nonstop flights to Montréal (YUL) from $158 roundtrip; and much more.
Why is Canada so cheap lately? Airlines have ramped up flights between the U.S. and Canada (especially Western Canada), including WestJet's recent massive expansion into many markets all across the U.S. Ongoing competition from other carriers like Air Canada, American, Delta, United, and a ton of low-cost carriers like Sun Country, Swoop, and others drives down prices for you and me.
But most importantly, data shows that travel demand to Canada has stagnated, leaving airlines with some empty seats to fill this summer and beyond. And the easiest way to do that is to cut prices even more.
That's just what airlines have been doing. So if somewhere in Canada is on your list and you're traveling on a budget, 2023 or 2024 are the years to move a trip to the Great North to the top of your list. Take a look at just how little it could cost you.

Cheap Flights to British Columbia: Vancouver, Whistler & More
The landscape of British Columbia is jaw-dropping. Its largest city, Vancouver (YVR), is possibly the most beautiful city on the continent. Nestled between the mossy, coastal mountains and the sea, the Sea-to-Sky region of British Columbia needs to be seen.
Our Thrifty Traveler Premium members have had plenty of opportunities to see it for less…

Sign up to get cheap flight alerts for free – or upgrade to get 10x as many flight deals from your home airport with Thrifty Traveler Premium!
Vancouver is a perfect starting point to plan a Canadian vacation. For one, the city of Vancouver is a week's worth of fun all by itself. Spend the day in the city's Gastown neighborhood to find the best contemporary cuisine in a historic neighborhood. Or rent a bicycle and take a lap around the city's famed Stanley Park, which is, for my money, the best urban park in the world.
Want to get out of the city? Consider a day trip up to Whistler, just a 90-minute drive from downtown Vancouver. It's a world-class ski destination if you want to hit the slopes, but don't sleep on Whistler as a summertime destination, either. The town's mountain biking and hiking scene makes it a vibrant place all year round.

As you can see, getting yourself up to Vancouver doesn't have to be expensive, either.

The coastal mountains of British Columbia are beautiful and are chock-full of activities all year-round. And one hidden gem region on the Pacific Coast has also been inexpensive lately: Vancouver Island, British Columbia.

Vancouver Island doesn't pop into the minds of most U.S. travelers, but I suspect that could change soon. For one, flight prices to the island's major city Victoria (YYJ) are as cheap as they've ever been lately. Fares that are typically $600 or more have dropped to less than half the cost.

But beyond the flight prices, Vancouver Island is an adventurer's dream come true. It features mossy landscapes, dense, Pacific Northwest forests, and maritime vibes that make for a dream hiking trip. Plus, it's chock full of coastal Airbnbs, adorable seaside towns, and its remote location makes it crowd-averse as well.
If you've ever wondered what lies between Banff to the east and Vancouver to the west in British Columbia, the answer is the Okanagan Valley. And while the Okanagan isn't typically top of mind, it probably should be with these views … and at these prices.

This flight deal to Kamloops (YKA) or Kelowna (YLW) in British Columbia would put your right in the Okanagan Valley in peak summer with just one stop from all of the following cities. Yet again, these are fares that were twice the price or more just a few years ago.

Booking a hiking, mountain biking, ATV, or ranching trip to this quiet expanse of lush mountains in the interior of British Columbia is a dream trip for someone looking to truly escape.
Cheap Flights to the Canadian Rockies & Banff
Calgary might not move the needle for many travelers, but Calgary's airport (YYC) is a gateway to some of the most beautiful places in North America.
The single most popular reason to head for Calgary is to get to the Canadian Rockies. Banff is a special place, with some of the most serene, beautiful mountains around. Spring for a night or two at the idyllic Fairmont Banff Springs – or at least visit the classic property.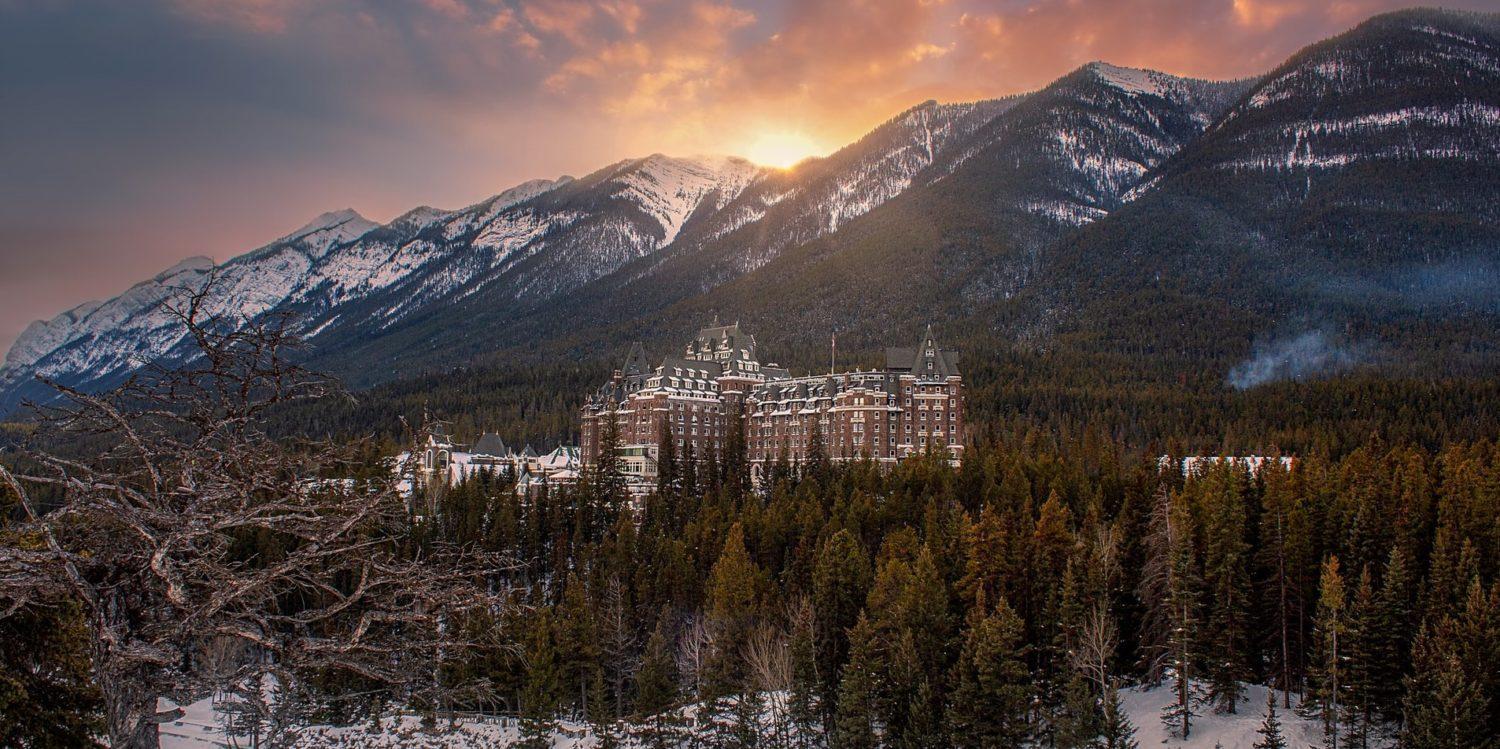 Banff doesn't have to be as expensive as the Banff Springs, though. Families can navigate the Banff area on a budget. Head down the highway to discover Lake Louise, another a one-of-a-kind destination. And for our Thrifty Traveler Premium+ members, all you might need is a few thousand Delta SkyMiles and $66 in taxes and fees to pull it off!

Only Thrifty Traveler Premium+ members get alerts to use their points and miles, too!
This deal isn't just about the low, low price of 12,000 SkyMiles from Denver (DEN). It's more about how many U.S. cities were included in the deal. You can fly all the way from Albany, New York (ALB) or Augusta, Georgia (AGS) to Calgary (YYC) for just 25,000 SkyMiles roundtrip or less!

Delta SkyMiles deals are making a comeback! Get the next one with Thrifty Traveler Premium+
If you're low on SkyMiles, don't fret – the cash rates on many of these same flights have also been absurdly low, including peak summer availability from most cities in August.

Deals like these to Calgary used to feature a dozen or maybe 20 total cities. Now, airlines are slashing fares to Calgary from all over. We're seeing more cities get in on these amazing sub-$399 fares.
Edmonton (YEG) doesn't pop up on many travelers' lists either, but as a side door into the pristine Jasper National Park, Edmonton might be one of the best ways to grab a cheap fare for less.

This flight deal to Edmonton featured a handful of nonstop routes from that travelers could use to get closer to the mountains while avoiding throngs of people and dense crowds.

Here's the way to do this trip: Book one of these flights to Edmonton, rent a car, and make the drive across the plains over to Jasper National Park. Soak in all that Jasper has to offer, and then turn south on the famed Icefields Parkway to take in the glaciers and vistas along the slow drive down to Banff. Then you fly out of Calgary (YYC) to finish your trip.
And how much more is that flight going to cost you than just the regular roundtrip?

I bet you didn't think it would be cheaper! Multi-city flights (a.k.a. open-jaw itineraries) give you two cities in one. And if you fly WestJet in and out of the Canadian Rockies, you can take advantage of fares just like this one.
Cheap Flights to Toronto and Ontario
Toronto is one of our great North American cities for a reason. It's a massive, diverse, and eclectic metropolitan area and could entertain any traveler.
If you want to really dive into Canadian culture, go take in a Toronto Maple Leafs hockey game. Toronto is crazy about their Leafs – consider them the Yankees or Cowboys of Canadian sports – and they play between late September and April (or later when they make the playoffs) every year. Plus, Toronto-Pearson (YYZ) is a major gateway airport for flights around the world, bringing lots of competition from airlines. And that raises the possibility for cheap flights.
Thrifty Traveler Premium members were sent some fantastic fares to the cultural hub a few months ago, in fact.

Pick a city in the U.S. and you could get to Toronto for cheap: Los Angeles (LAX), Phoenix (PHX), Raleigh (RDU), Orlando (MCO), and Chicago-O'Hare (ORD) were all featured on this deal, along with many other departure cities. Believe it or not, the cheapest fares were from all the way down in Fort Lauderdale (FLL).

You won't find a cheaper, nonstop option to get north of the border in just a few quick hours.
Cheap Flights to Montréal and Québec
Montréal is a little slice of Europe right here in North America. The French-speaking city is proud of its heritage and looks more like a city you'd find in France than Canada.
Old Montréal is a must-see with the Rue Saint Paul and the Basilica being two of the highlights. Sports fans are in luck: The Montréal Canadiens are the winningest franchise in NHL history and feature an in-stadium atmosphere that remains unbeaten. The Formula 1 Canadian Grand Prix earlier this month officially put Montréal on the map for race fans.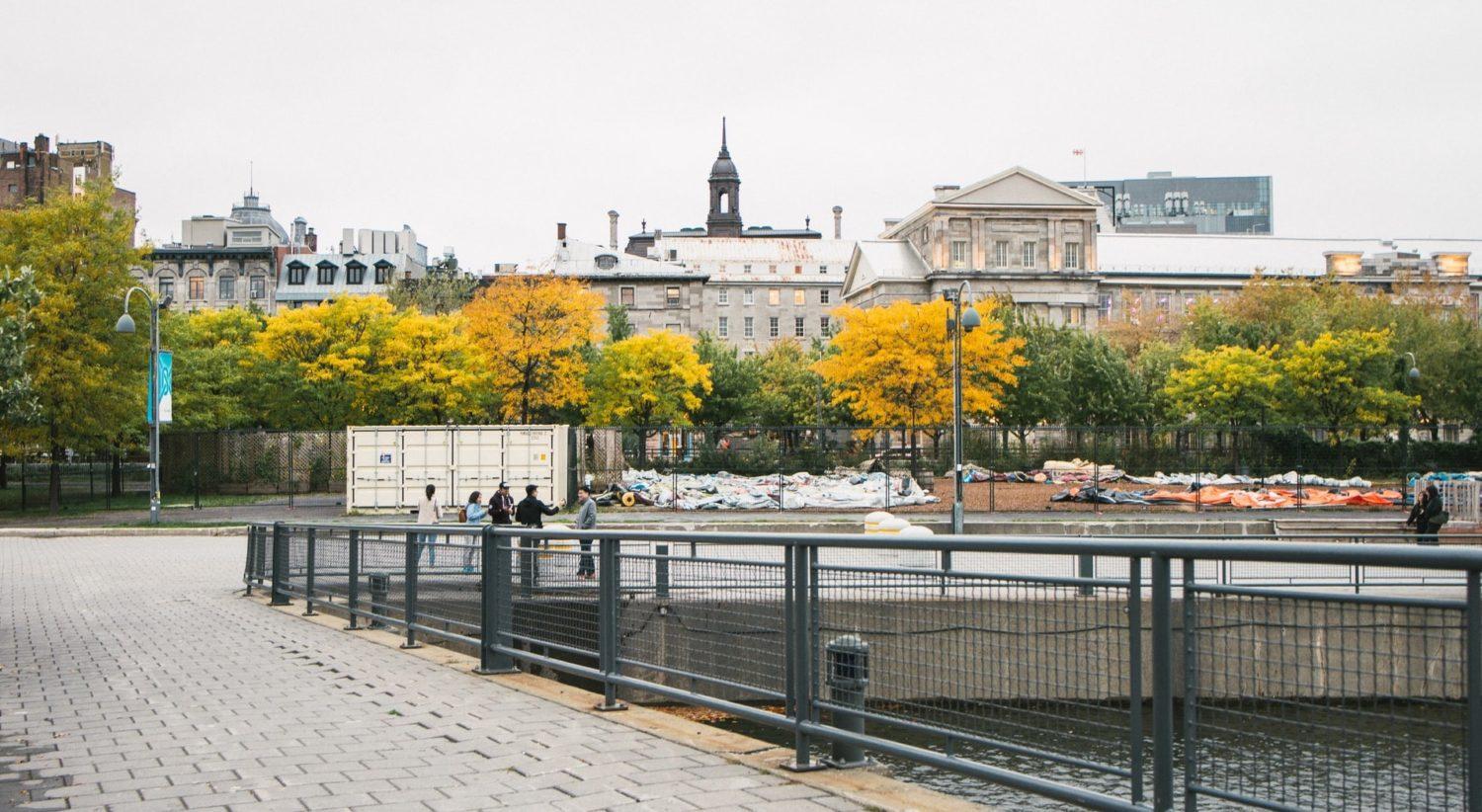 But what am I missing? Oh yeah … cheap flights!

Montréal is an underrated international gateway itself. It has a big network of nonstop flights in and out of the United States, too.

While you're looking at trips to French Canada, you might as well get the full Québecois experience with a trip to Québec City (YQB). It's an ultra-charming, smaller Canadian city dripping with culture. It's highlighted by this stunning Fairmont Le Chateau Frontenac (pictured below), a UNESCO World Heritage Site in the center of the city overlooking the St. Lawrence River.

And while a night at the Fairmont might cost a pretty penny, you can at least take solace in the fact that the flights to Québec City won't.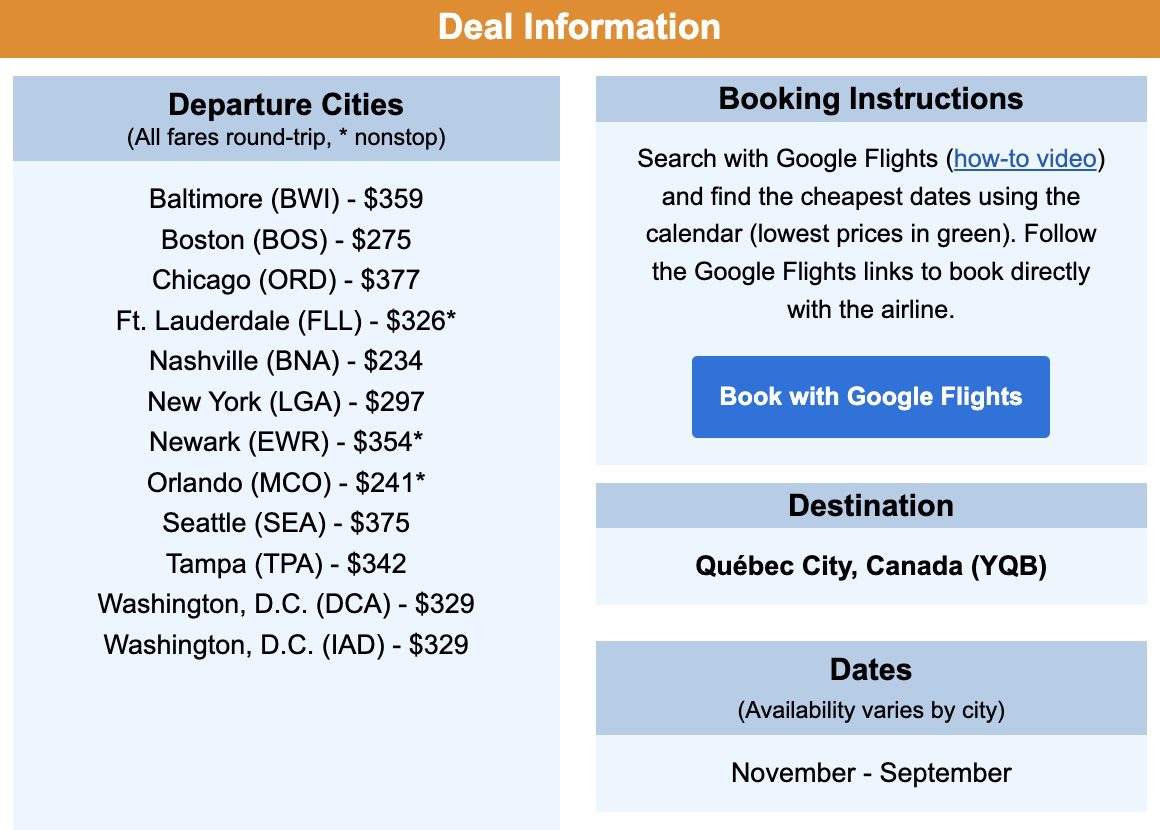 All of these cities featured sub-$375 roundtrip airfare to YQB this year, giving travelers from coast to coast the chance to book their French adventure for less.
Cheap Flights to the Northern Lights
If you want to see the Northern Lights, one of the best options on earth is in the Northwest Territories of Canada. Yellowknife (YZF) experiences an average of 240 nights of Aurora Borealis (or the Northern Lights) per year…
Let that sink in for a second! If you visit during Northern Lights season (from October to April) in Yellowknife, you're almost guaranteed to see the Aurora if you stay for three days or more. So, how do we get you there?

You'll have to connect in Calgary, Toronto, or Vancouver if you want to visit Yellowknife, meaning this deal requires flights on Air Canada or WestJet. But those Canadian carriers will take you there all winter long so Northern Lights viewers can watch the phenomena dance across the night sky.
You might be thinking: "Hey, Gunnar. There aren't actually cheap flights to the Arctic Circle, right?"

Wrong! From Las Vegas (LAS) to Thunder Bay (YQT) and all the way down to Atlanta (ATL), Yellowknife was less than $434 roundtrip from more than 20 North American cities.
Bottom Line
If Canada is on your list, we're here to tell you it's time to book your flights north. And if it isn't on your list, it should be now.
Thanks to an uptick in flights to Canada – and especially Western Canada – and many Americans looking overseas instead, airfare to Canada is as cheap as we've ever seen it. From the natural wonders of Banff, Lake Louise, and Jasper National Park to the Northern Lights of Yellowknife, travelers with Canadian dreams should get booking.