Crete is Greek's largest island, dwarfing the likes of Santorini and Mykonos way out in the Mediterranean Sea. And that just means it has plenty to offer any traveler.
There's the food, beaches, mountains, and hiking that have put Crete on the map. Greek mythology buffs can visit the caves where Zeus was born, learn about the sirens, and visit the labyrinths of the Minotaur.
But its size can make Crete daunting. You need a game plan, as it takes time to get around the island – you might even need to stay in more than one place to hit everything on your checklist.
How to Get To Crete
You'll want to fly into Athens (ATH) first. And let's say you've already booked your flight, maybe by snagging a great deal through Thrifty Traveler Premium.
From there, you've got two choices: Fly to Chania (CHQ) in western Crete or Heraklion (HER) farther east. A handful of local carriers and budget airlines can get you there, like Aegean, Sky Express, or Volotea. Prices will vary depending on the time of year, but expect to pay about $100 for the round-trip flight – or more to pick a seat and get a bag.
Otherwise, you could take a ferry from Athens or other Greek Islands. It's about half the price to sail from Athens to either Chania or Heraklion, but it could take you up to 16 hours.
Thrifty Tip: Before you book your flight or ferry, decide what you want to do in Crete. That way you'll know which city, Chania or Heraklion, would be the best place to start.
The Top Things to Do in Crete
You won't run out of things to do in Crete, from city shopping to hiking and laying on a beach. Here are just a few of the highlights.

Thrifty Tip: To truly see Crete, you will need to rent a car. There are public transport options and tours you can book but you will be limited in what you can see and when.
1. Chania 
One of the main cities on the island, Chania (pronounced 'han-yah') is a lively harbor. And if you've spent any time in Venice, you might recognize it.
Crete was under Venetian rule from the 1200s to the late 1600s and much of the architecture remains. You'll see it in the fortress and marble fountains.
Check out the Archeological Museum of Chania, the Firka Fortress and Maritime Museum, or just wander around checking out the shops and restaurants.
2. Heraklion
On the opposite side of the island, you'll find the capital of Crete, Heraklion. This city has a much different feel than lovely Chania – it's more of an industrial city. The Koules Fortress, built by the Venetians in the 16th century, is just a short walk from the city center and definitely worth exploring.
Heraklion is typically used as a home base for travelers looking to explore the Palace of Knossos, which is just a quick 20-minute drive away. This is known as one of Europe's oldest sites (built in 1380BC) and it's definitely worth a visit! Just don't plan on spending more than two days here. 
Thrifty Tip: Head to Tullio for amazing service, incredible food, and a beautiful layout.
3. Knossos
Knossos is a great half-day trip to take from Heraklion. It's a large archeological site featuring a palace and has been called Europe's oldest city.
These ruins are said to have been home to the Minotaur, a half-man, half-bull creature that devoured young virgins – until Athenian hero Theseus killed him. Make sure to check out some of the artifacts from this site at the Heraklion Museum.
4. Rethymno
Smaller than Chania or Heraklion, Rethymno is a great spot on Crete. It's less crowded than either big city, with less of a touristy vibe, too.
But there are plenty of restaurants and shops. We enjoyed the laid back feel of Rethymno. Head there for a great dinner or a cocktail at the many local bars.
5. Samaria Gorge
Pictures cannot do this gorge justice. It's tough to capture the 980-foot rock cliffs and the clear, bright blue water rushing by.
Samaria Gorge is open for hiking from May to October. From the start in the Samaria National Forest to the finish at the Lybian Sea, it's about 10 miles long. And there are two ways to hike: the long way, and the "lazy" way, according to the Cretans. Both ways take a full day.
Plan for four to six hours of hiking if you want to start at the beginning, Xyloskalo, at the town called Omalos. You can sign up for a tour starting in Chania or other main cities on the Island. You can also use public transport from Chania, taking a one-hour bus ride to Omalos. Otherwise, just park your rental car at Omalos, but beware that you will have to find your own way back – probably by taxi from a port city.
Check the weather and plan to hike on a mild weather day. Wear comfortable clothing and sturdy shoes, and make sure to bring a few water bottles and some snacks to tide you over. There are bathrooms and a spout with drinkable water about a mile in.
6. Agia Roumeli and the Samaria Gorge
If you want to do it the "lazy" way and combine a shorter Samaria Gorge hike with a charming town, head to Agia Roumeli. 
This village is only accessible by hiking the entire gorge, or by ferry from Sougia (7) or Hora Sfakion (8). The ferry times change by season, so be sure to check the time tables before you go. And beware that there's just one ferry back (for both cities) at 5:30 p.m.
When you arrive at Agia Roumeli, follow the signs to the Gorge about 15 to 20 minutes and pay the 5 euro fee to get in. Just be sure to keep your ticket, as the park tracks how many people have entered and exited, and you're not allowed to stay overnight.
The hike is mild to moderate difficulty but certainly gets harder after the bathrooms (Christos) where you have to step across rocks in the water and alongside cliffs to keep going. Those that aren't interested in a strenuous hike should turn around at Christos.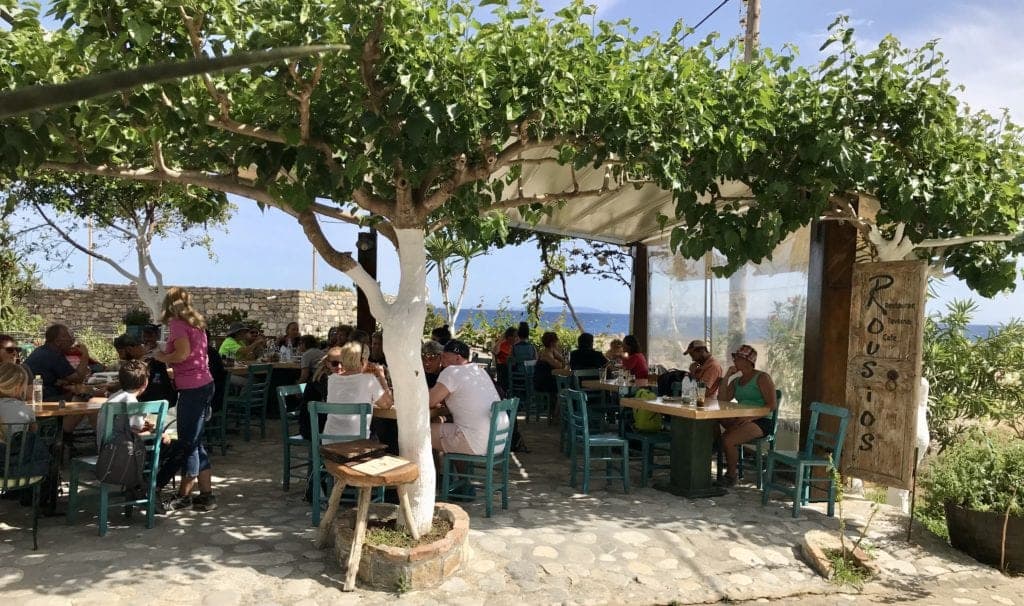 When you're done hiking, head back to Agia Roumeli stop at Rousios for a cold beer, a grilled meat plate, some feta, or a salad. Then hop on the ferry back to Hora Sfakion.
Thrifty Tip: Head to the bottom of the ferry right before it docks to get off before the crowds. You want to make sure to get on the road before all of the tour buses or you will be stuck behind them on the small mountain roads.
9. Elafonisi
Elafonisi is known for pink sand beaches. Yes, pink sand. It's one of the highlights of island hopping around Greece.
10. Balos Beach
Balos Beach might be the most gorgeous beach in Europe, if not the world.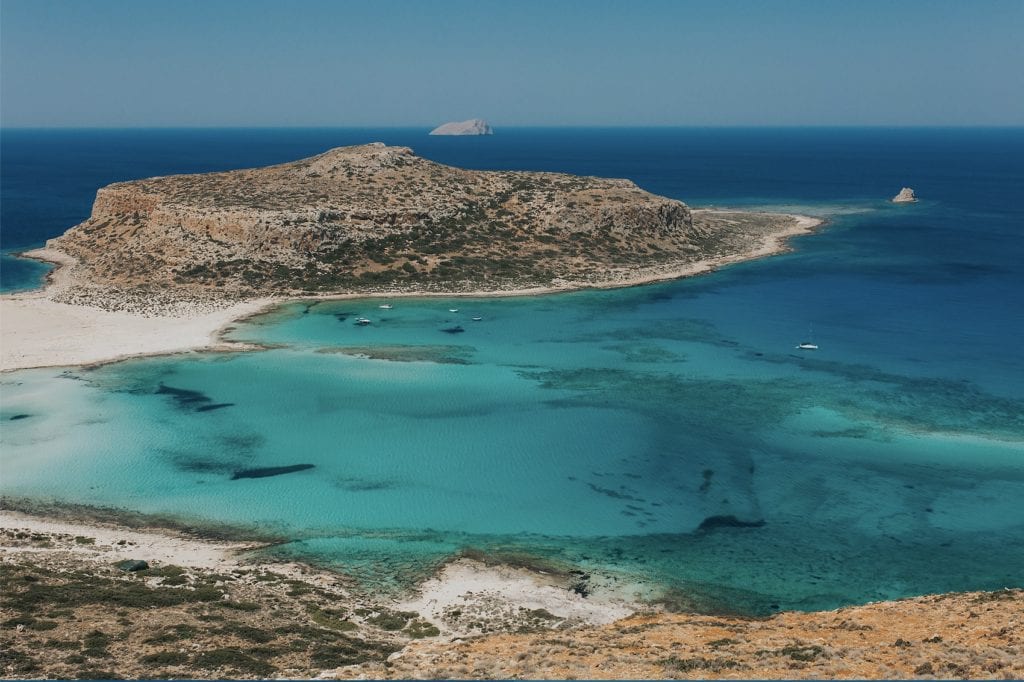 Hop in your car first thing in the morning and make the two-hour drive west of Chania. Ferries will arrive in the afternoons and the beach tends to get crowded in a hurry. 
After avoiding the dozens of fearless mountain goats in the parking lot, take the short walk down to the water.  Wear a good pair of shoes to navigate the unpaved and challenging path to the beach. There is one restaurant on the beach with limited food and drink options, but it is definitely a welcoming oasis. Take plenty of photos and enjoy this surreal place, it may be hard to top.
11. Lake Kournas 
Lake Kournas is Crete's only freshwater lake, so head here for a relaxing day at a small lake town. There are a handful of restaurants and shops, plus paddle boats to rent for 12 euro or less an hour.
After enjoying the lake head to the beach nearby. Peristeras Beach is low key with small beach bars that have free seating. Order a beer and some snacks and enjoy the view of the sea and mountains.

Where to Stay in Crete
There are a lot of small hotels and resorts scattered across Crete, but there are Airbnbs everywhere. There is a wide array of options, even for large groups. Book an Airbnb with a pool for a perfect way to spend a hot Cretan afternoon.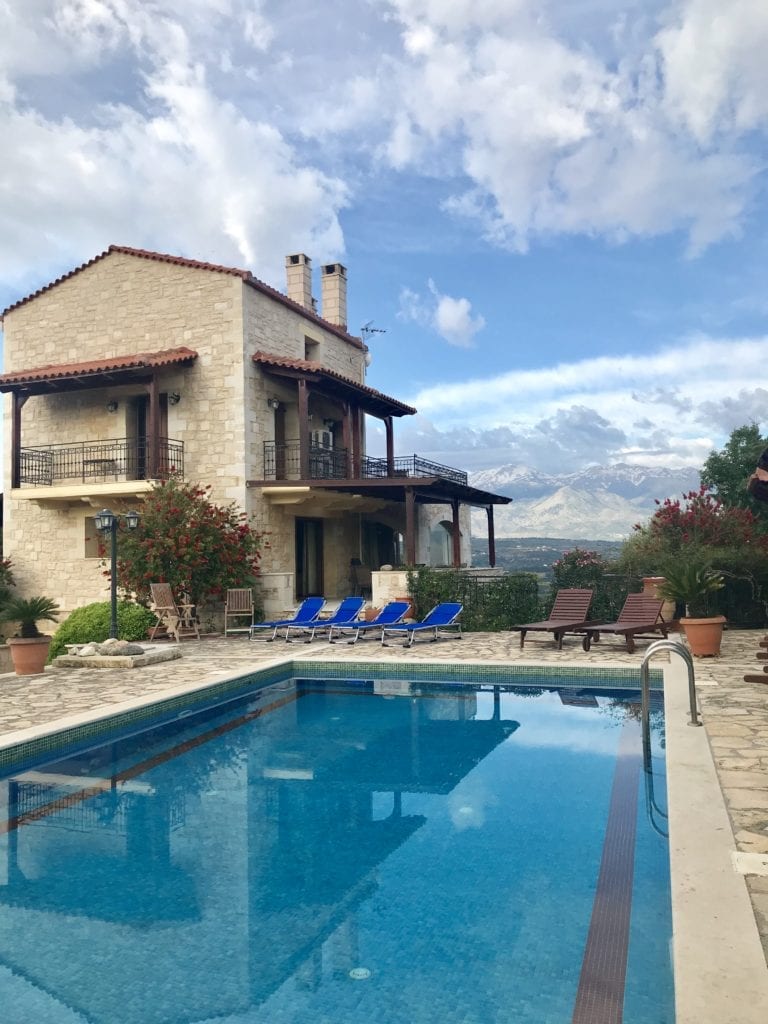 Thrifty Tip: Read up on how to pick the best Airbnb no matter where you're going.
What to Eat & Drink in Crete
Every city and little town in Crete has plenty of local restaurants, with menus full of classic dishes. Stick to those pages and stay away from the pizza and Schnitzel meant for tourists. Crete is bountiful with local produce, cheese, meat, and wine.

Get the tzatziki, a cucumber and yogurt dip served with bread. Don't skip feta – whether this cheese is baked, grilled, or fresh, you can't go wrong. Every salad on Crete is enormous, full of fresh veggies and sometimes fruit.
Ask your server for their favorite lamb dish on the menu. Cretans do lamb right, no matter if you order a shank, stew, or a lamb chop.
But you're in the Mediterranean. You need to order seafood. Ask what fish is fresh that day, and expect it to come served whole with the head on. Or go for some shrimp, mussels, or octopus.
Expect your dinner to last a few hours. Restaurants in Crete aren't looking to turn over a table; they want you to enjoy your meal at a leisurely pace. When you're done, ask for the check – it's considered rude to present it for fear of rushing or offending guests.
Drink all the Wine
Crete has over a dozen wineries scattered around the island. The whites are crisp and dry, roses can vary from dry to a little sweet, and the reds are mostly light bodied and fresh.
House Wine: Most restaurants will offer a house white, red, and rose by the glass, 500mL, or 1L pitcher.  The wines are simple but good. They are also very cheap. A one-liter pitcher of wine will cost you around 8 euros.
Bottled Wine: Find a bottle on the list that comes from Crete. If you're eating local you might as well drink local.
If you're not open to just ordering one blindly, ask your server for a recommendation. Make sure to say "dry" or "not sweet" if that's what you're looking for. Most bottles run from 10 euro to 25 euro. Just don't let price dictate your choice: 10 euro bottles can be just as good as the most expensive one on the list.
Thrifty Tip: Some restaurants will double your initial drink order on the house. So if you order a couple of beers and a liter of wine you might just get more. You can also expect a complimentary dessert and an after-dinner drink of Ouzo or Raki. Raki is a grape-based spirit local to Crete. It's a sign of hospitality and a big part of Cretan culture. Your server may even do a shot with you. "Yamas!" (Cheers!)
Bottom Line
Crete is a beautiful island with beaches, mountains, gorges, olive trees, goats, and more! Make sure you have enough time to see everything on your list.  Oh, and eat everything!
Subscribe to The Daily Beat, like us on Facebook, and follow us on Twitter & Instagram

Editorial Note: Any opinions, analyses, reviews, or recommendations expressed in this article are those of the author's alone, and have not been reviewed, approved, or otherwise endorsed by any card issuer.