Ancient cities nestled into the rocky Adriatic Coast are probably what most travelers picture when they think of Croatia, but a little further inland is an impossibly beautiful chain of lakes that I think is quite possibly the prettiest national park on the planet.
The color of the water, the endless flowing waterfalls, and the tree-lined trails of Plitvice Lakes National Park make for a hilariously photogenic scene. It's full of Instagram bait, but if you get there early enough in the morning before the afternoon crowds, it doesn't feel like a tourist trap – just a walk through an enchanted piece of land.
A few hours from almost any Croatian city, you'll have to make an effort to see Plitvice Lakes National Park, but I promise it's worth it. I endured a 3:30 a.m. wake-up call and seven hours of driving to pack in a day trip to Plitvice Lakes National Park. I cannot remember how tired I felt that day, but I definitely remember every corner of the park's magical trails.
Plitvice Lakes National Park is absolutely worth a visit if you're in Croatia. In fact, I'd declare it a can't-miss attraction.
Is it the prettiest park in the world, though? From the parks I've seen with my own eyes, it's just as beautiful as my other frontrunners: Banff and Glacier. Those spots may have a little more in the way of magnitude, but there is nothing I've ever seen like Plitvice Lakes.
You have to make a Plitvice Lakes National Park trip work. Here's how.
What is Plitvice Lakes National Park?
Plitvice Lakes is the largest and oldest national park in Croatia. The park is comprised of 16 named and multiple smaller, unnamed lakes flowing into one another through a multitude of spectacular waterfalls. There are many routes to tour the chain of lakes and hike the park trails.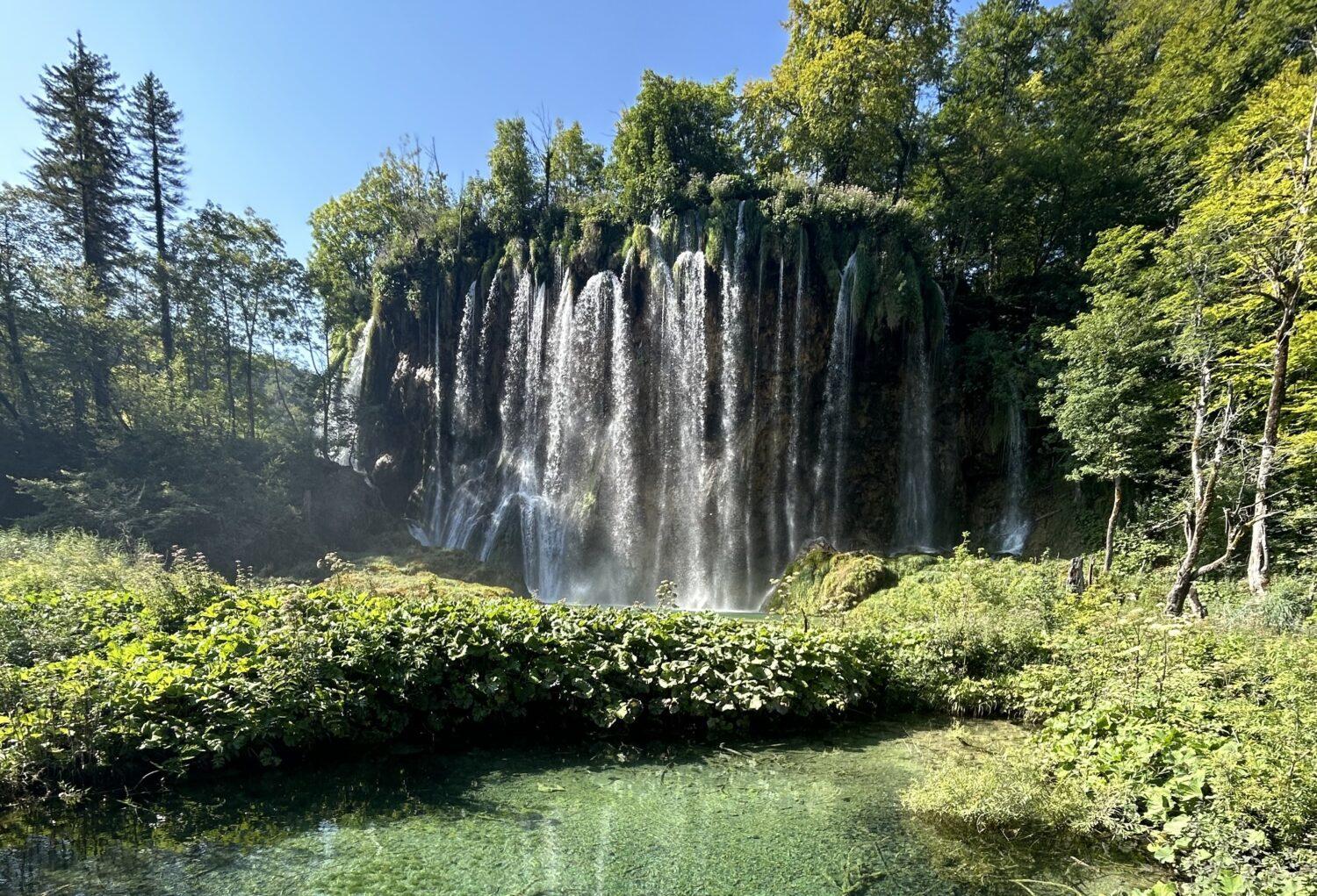 You have to purchase a ticket to enter the park for between 10 euro and 40 euro per day depending on the time of year. Once inside, you have your run of the place, so long as you adhere to one of many possible "routes" through the park.
So much of Plitvice Lakes National Park is…well, lakes, that you need to follow specific pathways throughout.
Visitors should expect to do some walking and navigate some stairs, but most of the main routes are fairly accessible. There are many boardwalks and dirt trails, but we saw both small children and more experienced travelers navigating the park, no problem.
In many cases, the routes all feature "train" segments (just a series of buses coupled together like train cars) and a boat segment on one of the park's many electric boat options.
So while the route we chose spanned more than 11 miles from where we parked back to the car at the end of the day, there was only about 3-4 miles of actual walking. You can see the AllTrails profile of our day's journey here.
How to Get to Plitvice National Park
Plitvice Lakes National Park is located in central Croatia, south of the capital Zagreb, but north of coastal cities Zadar and Split. To allow yourself enough time in this beautiful park and beat the tourist bus rush, I highly recommend renting a car from a city you'll be visiting in Croatia and making the drive to Plitvice.
You can stay at one of the several houses and hotels near Plitvice Lakes, but with our short trip timeline, we decided it would be better to drive in and make it a day trip.
Zagreb is the capital and the most common city to fly into when visiting Croatia. Plitvice Lakes is a two-hour drive from Zagreb. Zadar, a coastal city known for its Roman and Venetian ruins, is an hour and a half drive from Plitvice. Split is another famous coastal town in Croatia and is known for its beaches and fortress in the heart of town. Split is a two-and-a-half-hour drive to Plitvice Lakes.
Dubrovnik is a southern coastal city, known for its Old Town and ancient city walls. Driving from Dubrovnik to Plitvice would take five hours.
For my trip, we made the drive from the Istrian city of Pula, Croatia – about a 3.5-hour drive each way. It was definitely a lot for a day trip, but we only had one day to make it work, so we forced it…and it was 100% worth it.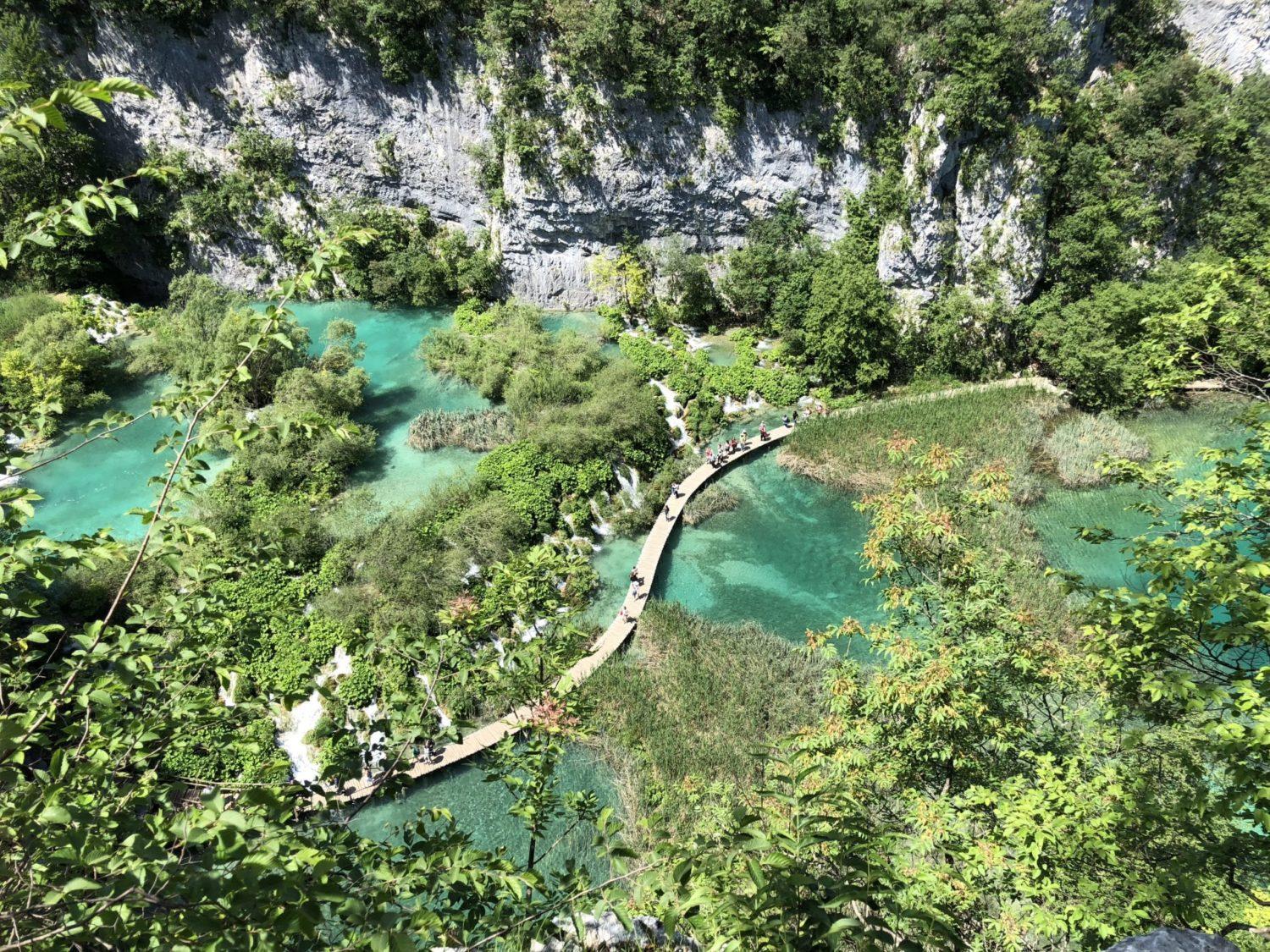 The great thing about Plitvice Lakes is that it is drivable from most major Croatian cities, and the highway you take to get there is straight and easy. The highways in Croatia are well-maintained and have plenty of gas stations and convenience store stops along the way. We paid about ~$10 in tolls total for our long, roundtrip journey. The tolls all take credit cards and are easy to understand and use as well.
I had phone data during our trip so I used Google Maps to navigate to Plitvice Lakes. If you're traveling without data, the easiest way to get directions is to plug in your destination while still on WiFi, and then screenshot the step-by-step directions for in the car. You can also follow along on Apple Maps, as your phone GPS will still update your location on the map even when not on WiFi or data.
What to Bring with You to Plitvice
I would recommend that one person in your group pack a small backpack for your day in Plitvice Lakes. Here are some of the essentials I recommend bringing to the national park:
Good shoes, but not necessarily hiking boots. The terrain at Plitvice Lakes is a little hilly, but there's nothing you can't conquer in a pair of tennis shoes. I'd have been uncomfortable in anything less than a tennis shoe, but you definitely don't need a full hiking boot on the main trails.
A full, refillable water bottle. Bring a water bottle that can be refilled throughout the day and keeps your water cold. Purchase a large water bottle at a local grocery store before driving to Plitvice; water bottles are small and overpriced inside the national park.
Lunch and/or snacks. Stop at a local grocery store before driving to Plitvice and pick up some food for the day. The restaurants in the park are overpriced compared to the rest of Croatia, which offers much more affordable food and drink prices. We did a few coffee/drink stops on our walk through the park, which kept our costs down. But we settled for a very late lunch outside of the park. Had we planned better, I would have brought in stuff for sandwiches and a light meal instead.
Sunscreen and a hat. Don't forget to protect yourself during the day. While much of the park is shaded by trees, it can be very hot and sunny in the summer season.
Some patience. Especially in the summer, Plitvice Lakes is hugely popular. Plus, with only a few walkways through the park, people tend to build up at the most popular spots – especially in the afternoon. Be ready to wait in some lines.
One more note on crowds at Plitvice Lake. Beating crowds entirely is going to be next to impossible during the peak season because, around mid-day, all the tour buses and day trip private tours from Zagreb and the other major cities arrive. Between the hours of 11 a.m. and 4 p.m., it's probably going to look like this at the most popular spots.
The morning at Plitvice Lakes National Park was magical. We arrived in the parking lot in the 7 a.m. hour and faced only a 20-minute wait for our first train. People who arrived 30 minutes later were staring at least an hour of wait times. Plus, once we got onto the trail, everyone was moving in the same direction and it was quiet and beautiful.
Go early! As early as you possibly can! You won't regret it.
What it Costs to Enter Plitvice National Park
The price of an entrance ticket to Plitvice Lakes depends on the time of year you visit. As you can probably guess, July and August are the most popular months during which to visit the park, and therefore the most expensive. For this reason, I recommend visiting between May – June or September – October. The leaves do turn in fall, making Plitvice an absolute spectacle during autumn months.
If you are a student and have an ISIC card, you can get a discounted ticket. Read more about ISIC cards for travel here.
Important note: If you're going in peak season, you should reserve your ticket ahead of time! Buying a ticket the morning of is a risky gamble for a multi-hour drive to the park gates.
For our peak August visit, we paid 40 euro, or about $42 each. Well worth it.
If one day isn't enough and you'd like to spend more time here, purchase the two-day ticket. You can find more info on the park on the park's website.
After you purchase your ticket, the park sends you an order notification along with some preliminary information, including the fact that you are supposed to arrive at the park within one hour of your reservation time. In our case, we cut this a little close. We arrived at 7:55 a.m. for our 7 a.m. reservation. Nobody said a thing.
Your ticket looks like this. I'd recommend downloading and screenshotting your ticket ahead of time so you don't have to battle some tough cell phone service in the area.
Keep in mind: There are two "entrances" to the park where you start your journey. It says which entrance you reserved for next to your reservation time on the ticket.
It will also cost you a few euro to park at Plitvice Lakes National Park.
There are two parking lots: Entrance 1 and Entrance 2. Your ticket will be for one of the two entrances, so make sure you drive to the correct parking area.
Exploring Plitvice Lakes
There is a lot of ground to cover at this national park, so take a look at the map before your trip or upon your arrival to plan your day.
The park is massive, but it's very easy to navigate, as there aren't too many ways to get lost. Everything is connected by trails that mostly look like this.
I was blown away at how meticulously this park was maintained. Everything felt brand new and the trails were in terrific shape despite the swelling summer crowds.
While most of your time will be spent walking, most of the routes feature a ride on a "train", which is just a bunch of bus cars coupled together like a train to navigate tight, windy mountainous roads. Those trains take you to the top of the waterfalls where your route begins or back up from the bottom to where you parked.
There's also a fleet of electric boats crisscrossing the largest lake in Plitvice Lakes that made up part of our adventure. They run like clockwork every 15 minutes in the peak season to keep people moving.
The Best Route in Plitvice Lakes National Park
Not to brag, but I really think I nailed this one. For our visit to Plitvice Lakes National Park, we picked the all-encompassing, multi-modal, and mostly downhill H Route.
The H Route starts at Entrance 2 and begins with a long train ride to near the top of the lakes (the left side of this map).
From there, you hike for about three miles downhill (nothing too steep without stairs), winding through the incredibly cascading waterfalls and neon green pools before landing at the boat dock. The boat takes you straight across the lake to the other side, where you can see the Veliki Slap or Big Waterfall.
Every sign in the park looks like this one, showing exactly what routes go in what direction. The H route was not on this sign because it was facing the other way on our journey. Some of the routes are the same, just in opposite directions.
The H Route was nice because the quiet, winding, mostly hiking section was right at the beginning of the morning. It showed off some serene scenes like this one.
The H Route gives you a tour of the upper and lower lakes areas in what the park says is a six-hour journey. We did it in about four hours total.
There was more that we didn't see, but the H Route hits all the highlights. If you're on a more adventurous or hiking-focused trip, make two days of Plitvice Lakes to get off the beaten path a little bit.
If you just have one day to spend at Plitvice Lakes, get yourself to Entrance 2 and do the H Route.
Bottom Line
Plitvice Lakes National Park is a must-see if you're visiting Croatia. The chain of impossibly blue-green lakes is interconnected by stunning waterfall after stunning waterfall, not to mention the scenic rock formations and foliage that wind in between the waterways.
The park, while slightly difficult to get to, is absolutely worth a visit. Remember to pack a few snacks or a full lunch to avoid higher food prices in the park, and to get there early to avoid crowds.