When visiting my brother in Croatia earlier this summer, he insisted that we spend a day in Plitvice Lakes National Park. I love incorporating national parks into a trip, especially after several days of city time. When he told me to Google search Plitvice Lakes to see the photos of this natural wonder, I could barely believe my eyes.
Visiting Plitvice Lakes was like walking through a Jurassic Park world, full of magical crystal clear waterfalls and dreamy, vibrant blue lakes. The pictures barely do this place justice; you've got to see it for yourself to believe it.
Plitvice Lakes
Plitvice Lakes is the largest and oldest national park in Croatia. The park is comprised of 16 named and multiple smaller, unnamed lakes flowing into one another through a multitude of spectacular waterfalls. There are many routes to tour the chain of lakes and hike the park trails.
How to Get to Plitvice National Park
Plitvice Lakes National Park is located in central Croatia, south of the capital Zagreb, but north of coastal cities Zadar and Split. To allow yourself enough time in this beautiful park and beat the tourist bus rush, I highly recommend renting a car from a city you'll be visiting in Croatia and making the drive to Plitvice. Of course, you can stay at one of the several houses and hotels near Plitvice Lakes, but with our short trip timeline, we decided it would be better to drive in.
Zagreb is the capital and the most common city to fly into when visiting Croatia. Plitvice Lakes is a two-hour drive from Zagreb. Zadar, a coastal city known for its Roman and Venetian ruins, is an hour and a half drive from Plitvice. Split is another famous coastal town in Croatia and is known for its beaches and fortress in the heart of town. Split is a two and a half hour drive to Plitvice Lakes.
Dubrovnik is a southern coastal city, known for its Old Town and ancient city walls. Read more about what to do in Dubrovnik here. Driving from Dubrovnik to Plitvice would take five hours.
On our trip, we decided to drive from Dubrovnik to Split (about 3 hours) and spend a day exploring Split. We stayed overnight in Split, then woke up early the next morning (55:00 am to drive two and a half hours to Plitvice Lakes and arrive around the 7:00am park opening time. We then drove back to Dubrovnik in the late afternoon to enjoy a few more days in our favorite Croatian city.
The great thing about Plitvice Lakes is that it's a reasonably short drive from most major Croatian cities, and the highway you take to get there is straight and easy. We had phone data during our trip so we used Google Maps to drive to Plitvice Lakes. If you're traveling without data, the easiest way to get directions is to plug in your destination while still on WiFi, and then screenshot the step-by-step directions for in the car. You can also follow along on Apple Maps, as your phone GPS will still update your location on the map even when not on WiFi or data.
What to Bring with You to Plitvice
Plan to pack a small day backpack for your trip to Plitvice Lakes. Here are some of the essentials I recommend bringing to the national park:
A full, refillable water bottle. Bring a water bottle that can be refilled throughout the day and keeps your water cold. Purchase a large water bottle at a local grocery store before driving to Plitvice; water bottles are small and overpriced inside the national park.
Granola bars and fruit. Stop at a local grocery store before driving to Plitvice and pick up some fruit for the day. We packed some of our favorite breakfast, granola, and protein bars from home to eat on the trip: it saves money to buy in bulk at home and pack rather than try to find similar types of bars abroad, with labels and ingredients in different languages. Bars from home and local fruit make for a cheap and easy on-the-go breakfast abroad.
Sandwiches for lunch. While picking up fruit and water at a local grocery store, grab some meat, cheese, and bread to make sandwiches for your day at Plitvice Lakes. They have restaurants in the national park, but options are pretty limited and prices are high. I recommend packing sandwiches and snack items like chips, veggies, or other favorites for the day. This allows you to save money, and also eat when you want to eat at the most beautiful spot in the park, rather than waiting to find the tourist lunch restaurant.
Sunscreen and a hat. Don't forget to protect yourself during the day. While much of the park is shaded by trees, it can be very hot and sunny in the summer season.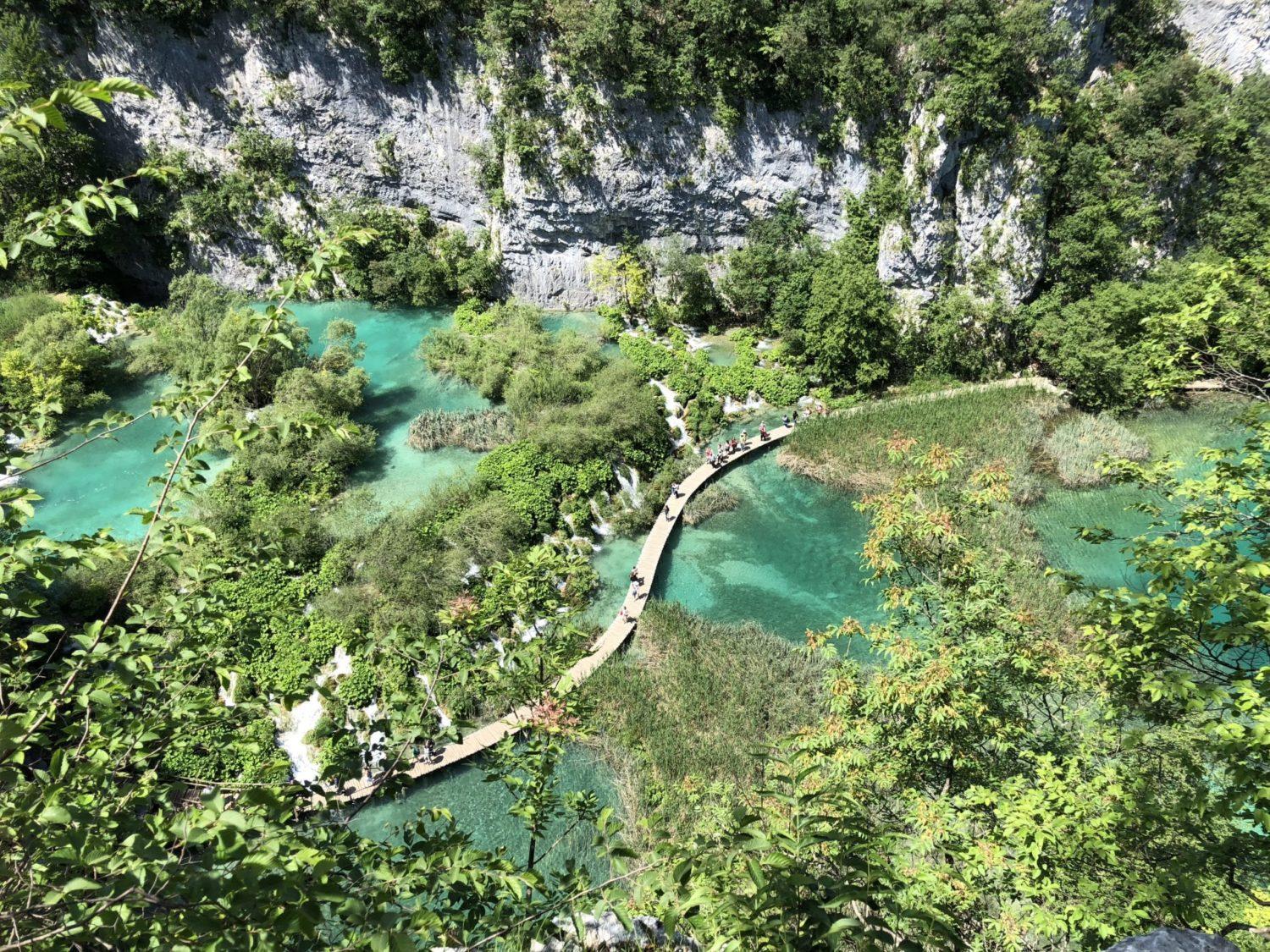 What it Costs to Enter Plitvice National Park
The price of an entrance ticket to Plitvice Lakes depends on the time of year you visit. As you can probably guess, July and August are the most popular months during which to visit the park, and therefore the most expensive. For this reason, I recommend visiting between May – June or September – October. The leaves do turn in fall, making Plitvice an absolute spectacle during autumn months.
If you are a student and have an ISIC card, you can get a discounted ticket. Read more about ISIC cards for travel here.
If one day isn't enough and you'd like to spend more time here, purchase the two day ticket. Find more info on the park on the park's website.
Exploring Plitvice Lakes
There is a lot of ground to cover at this national park, so take a look at the map before your trip or upon your arrival to plan your day.
On the map below, you can see the chain of lakes and waterfalls. There are two entrances to the park: both have tickets and parking available. The solid yellow line on this map indicates the highway that you enter the park on. The dark maroon dotted line indicates the walking paths around the lakes. The lighter red line that goes through the largest lake is the ferry system.
The ferry stops in two different spots: it begins near Entrance 2 and goes a short distance to the first stop. This stop drops you off at the base of the Upper Lakes (11 on map), where you can walk on a path around the multiple waterfalls and lakes. Then, the ferry continues across the large lake (12 on map) to the right side of the park, where you can get off and walk the trails to the Lower Lakes. You can check out the Upper and Lower Lakes in whichever order you choose. Boat rides depart every 30 minutes.
The panorama train's route typically stops at Entrance 1 and Entrance 2, and then takes visitors to the top of the Upper Lakes (17 and 3 on the map above). However, the train was not operating when we visited this summer.
Our Route in Plitvice Lakes
It is beneficial to arrive right when the park opens, to avoid large crowds that come in the early afternoon and have spots to yourself. We arrived at 7:00am, parked and purchased our tickets, grabbed a map of the park, and headed towards the first boat station. We rode to the second stop, across the large central lake, and began with the Lower Lakes. There is a spectacular waterfall here, and the opportunity to get an amazing bird's eye view of the lakes below from this area.
After exploring this area and enjoying our lunch near a lake here, we took the boat back to the first stop and explored the Upper Lakes. The waterfalls in the Upper Lakes are equally spectacular, and the route is a little more condensed: with little waterfalls and lakes flowing into each other. Look how crystal clear that water is!
We explored most of both the Lower and Upper Lakes areas in about 8 hours here, but if you want to make sure you see every part of this park, and are looking to do more hiking, spending two days here may be a good option for you.
Bottom Line
When it comes to Plitvice Lakes, the pictures really speak for themselves. This national park is definitely one of the most amazing places I've ever been. The endless chain of bright blue lakes that turn into cascading crystal clear waterfalls is a spectacle you absolutely must see for yourself. Book a trip to Croatia and cross Plitvice Lakes National Park off your bucket list.