Dubrovnik, Croatia is a city I cannot believe exists. Centered around its historic Old Town, the immaculately preserved walled city and UNESCO Heritage Site is an amazing place to visit for North American travelers no matter the season.
Known as the "Pearl of the Adriatic", Dubrovnik surprised me in many ways. Despite being built largely in the 13th century, it's extremely easy to get around by foot or by Uber, English is spoken everywhere, and it's full of modern conveniences, making it an easy place to be a traveler, without being insanely touristy.
The Old Town of Dubrovnik is a huge tourist attraction – no doubt – but the old-world charm of this city shines through the Game of Thrones apparel stores and the swelling summertime crowds. And if a quiet cove is what you seek, you can leave all the masses behind with a quick ferry ride to a nearby island.
If a trip to Croatia is on your mind (and it should be), a few nights in Dubrovnik is required. You simply can't pass up seeing this city for yourself.
Where to Stay in Dubrovnik
I visited Dubrovnik for four nights in mid-August as part of a two-week jaunt with friends up the Croatian coast. During our time in the city, we stayed at both a hotel and an Airbnb, both of which were easy to find and book.
As we were traveling with a big group, we didn't all arrive at the same time, so some of us opted to spend one night in a hotel before checking into our Airbnb. We chose the Rixos Premium Dubrovnik, my highest recommendation if you are planning on staying in the city. The downside: It's pricey, with our mid-August stay clocking in at around $500 per night, but the $300 travel credit from my *venture x* knocked the price down significantly.
If you can visit this fantastic resort in the shoulder season, or use similar credits to take the sting off the nightly rate, it's an amazing spot from which to explore Dubrovnik. For our purposes, its pool deck and "beach" (the beaches in Croatia are typically not sandy, but rocky) made for the perfect jet lag antidote. I dare you to stay tired after a 20-foot cliff jump from the sun deck into the Adriatic below!
The enormous hotel has multiple restaurants, including a seafood menu you can enjoy from tables overlooking the sea. The pool deck converts into a restaurant at night.
The distinctive hotel made for a wonderful night's stay. It also features a spa, a fitness center, a free (and enormous) breakfast spread for all hotel guests, a cafe, a game room, and much more. We didn't even have time to see it all.
For the remainder of our time in Dubrovnik, we stayed at an Airbnb. For our big group, we stayed at a comfy, unpretentious spot within walking distance of the Old Town. It had a fantastic view of the Old Town and Lokrum Island, plus an outdoor shower and deck.
On a different trip to Dubrovnik a few years earlier, a member of the Thrifty Traveler team loved their stay at Apartment Previsic, which also overlooks Old Town and Lokrum Island.
Ultimately, we felt our decision to stay outside of the Old Town was a good one. Old Town's extremely narrow walkways and alleys are all part of what makes it so special and unique, but watching people wheel their suitcases in and out of the cramped area didn't look too appealing. You cannot drive into Old Town, so carrying your bags up and down steps and through the rocky streets is the only way. Plus, you stand to save a pretty penny by staying just a block or two off Old Town as we did.
Getting Around Dubrovnik
The good news is Dubrovnik is an extremely walkable city. Old Town requires walking, as no vehicles are allowed, but everything is pretty compact.
The bad news: Dubrovnik is built on a steep incline, meaning you're going to tackle hundreds if not thousands of stairs during your stay. Don't skip leg day if you have a Dubrovnik trip coming up.
But here's the kicker, and one of the biggest surprises we found when we got to Croatia: Uber is everywhere in Dubrovnik and all up and down the Croatian coast, and it's also extremely cheap. 
Ubers to and from the airport will run you about $25-35, but everything within Dubrovnik was right around $7-12. We never waited more than 10 minutes for a ride, and all the Ubers are also taxis, making for a safe and secure experience, too.
For all these reasons, I would not recommend renting a car in Dubrovnik. Buses are the only form of public transportation in the city, but they aren't very accessible to tourists. Use your legs and Uber for the best experience.
Things to Do in Dubrovnik
Explore Old Town
Old Town may look familiar if you've watched the HBO series Game of Thrones. Many scenes were filmed in Dubrovnik and if you visit, you will be reminded of this constantly. Seemingly every other shop is hawking Game of Thrones merch. The city has fully leaned into its spot in television history. If you're a superfan, several spots around Old Town offer Game of Thrones tours with a local guide that takes you to each filming spot.
But Old Town is so much more than a GOT filming location. Walking the streets of Old Town and admiring the quaint alleys, local shops, and historic buildings left me in awe. Despite being a little crowded, Dubrovnik is a city unlike anything I've ever seen. Just get up early to avoid the brunt of the crowds and heat if you visit during the summer like I did.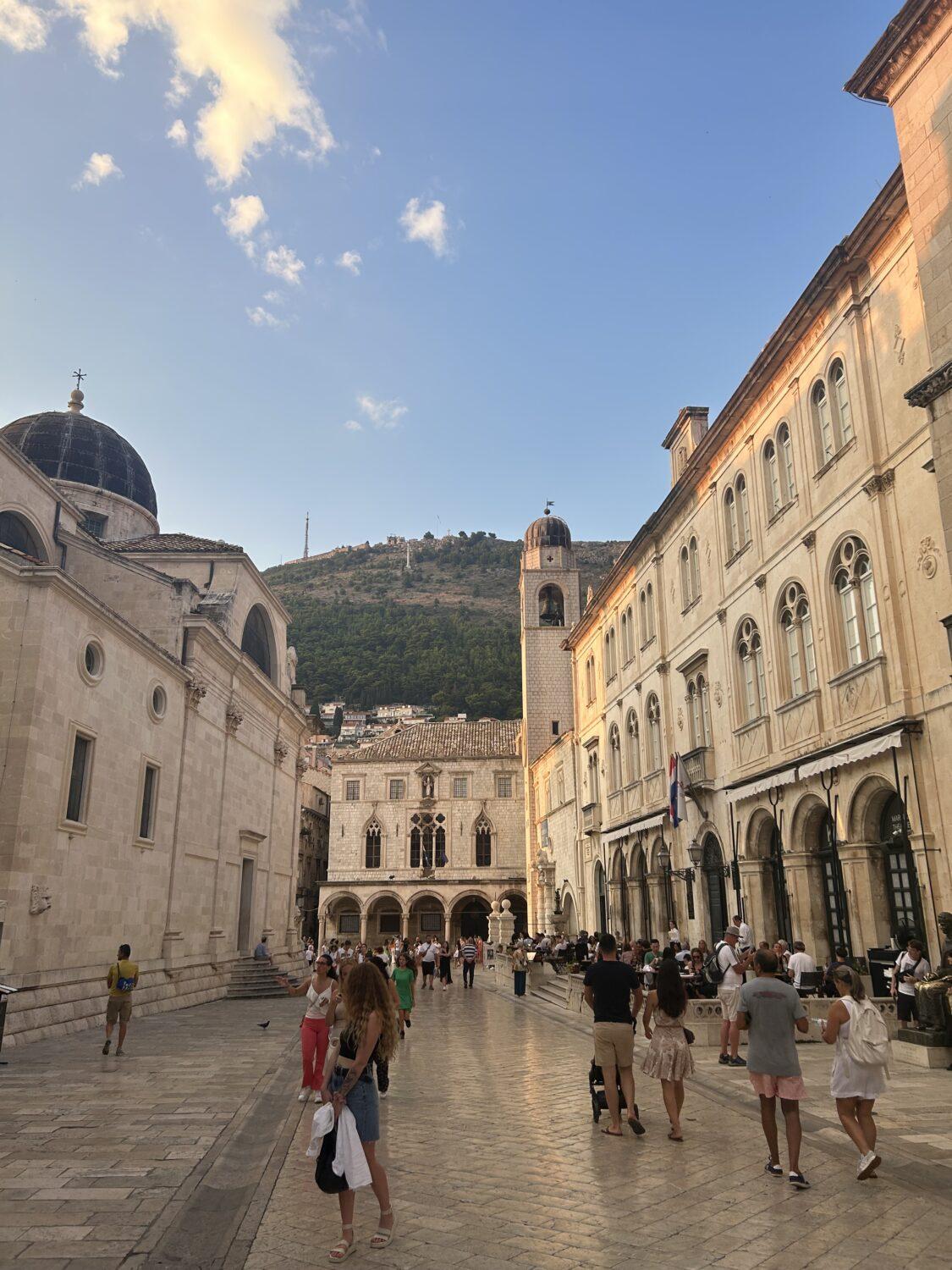 The city is immaculately preserved and spotlessly clean. I was blown away by how well-maintained everything was in Croatia. It's a country that knows what it has and is working to preserve it.
As you walk around, pause for a drink on one of the seemingly endless outdoor patios (our group of nine never had a problem getting a table together without reservations), grab some gelato on the main strip, and peruse the cobblestone streets.
Thrifty Tip: You don't need to purchase water bottles while in Dubrovnik. The Old Town has multiple fresh drinking water fountains, that are both beautiful and refreshing. In fact, the tap water in almost all of Croatia is extremely clean and safe to drink so be sure to pack a refillable water bottle and you'll be good to go.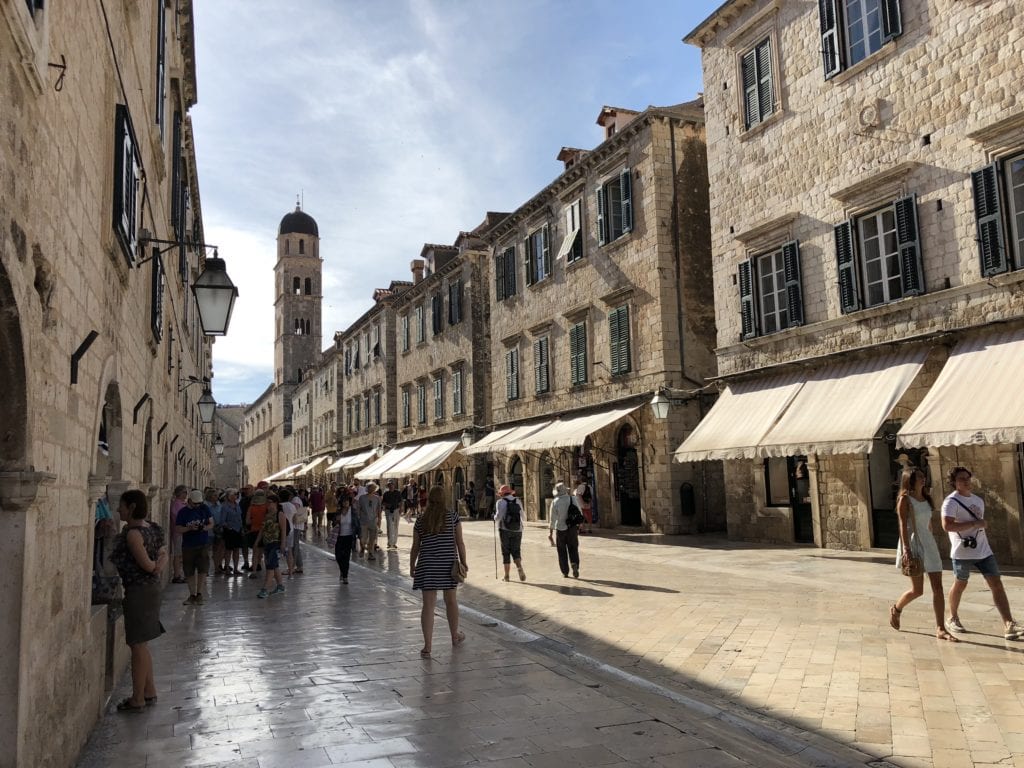 Kayak or Hit the Beach
An active and exciting way to see Dubrovnik's beautiful Old Town walls is to rent a kayak. You can rent kayaks from several locations without reservations, but we rented from Adventure Dubrovnik, located in the cove at the Dubrovnik West Harbor near the west side of Old Town.
Most kayak rentals in the area cost around $15 per hour. We recommend renting a kayak on your own instead of booking a tour to save some money and choose where you explore.
Not feeling up for paddling, or looking for a budget-friendly option? Head to one of Dubrovnik's many beaches. Swimming in the Adriatic Sea is a lovely experience. You can float effortlessly in the salty sea at a number of spots.
Thrifty Tip: Bring water shoes or strapped sandals to Croatia. Very few of Croatia's beaches are sandy. Most of them are rocky and require some foot protection.
Banje Beach which is just a short walk from Old Town, is one of the most popular beaches in the city. Buy a beach chair for the afternoon, or bring your own towel to enjoy sunbathing and swimming in the refreshing salt water. Banje also turns into a lively nightclub after sunset, if that's your scene. Banje Beach was very crowded on the hot August day we went there, however.
Plaza Sveti Jakov, a beach a little off the beaten path from downtown Dubrovnik, was another sandy spot that came highly recommended to us, even though we didn't have the chance to check it out ourselves.
Visit Lokrum Island
Take the quick 15-minute ferry to Lokrum Island to escape the hustle and bustle of the city, see some wildlife, visit some quieter beaches, or take a quick hike. The roundtrip ferry ride cost us around $20 each during the peak summer season. Off-peak rates are as low as $6.
Scenes from Game of Thrones were also filmed on this island, but there's much more to see here. This island is home to a surprising number of bunnies and peacocks. It's a strange combination, but they live together harmoniously.
Head up to Fort Royal (a bit of a steep walk) to get panoramic views of Dubrovnik Old Town town and the rest of the island from its highest point. Walking the entire length of the island only takes about 20 or 30 minutes and the view from Fort Royal is worth it. Plus, the north side of the island as seen in the photo below is even quieter than the south side and features some fun beaches and coves for swimming, too.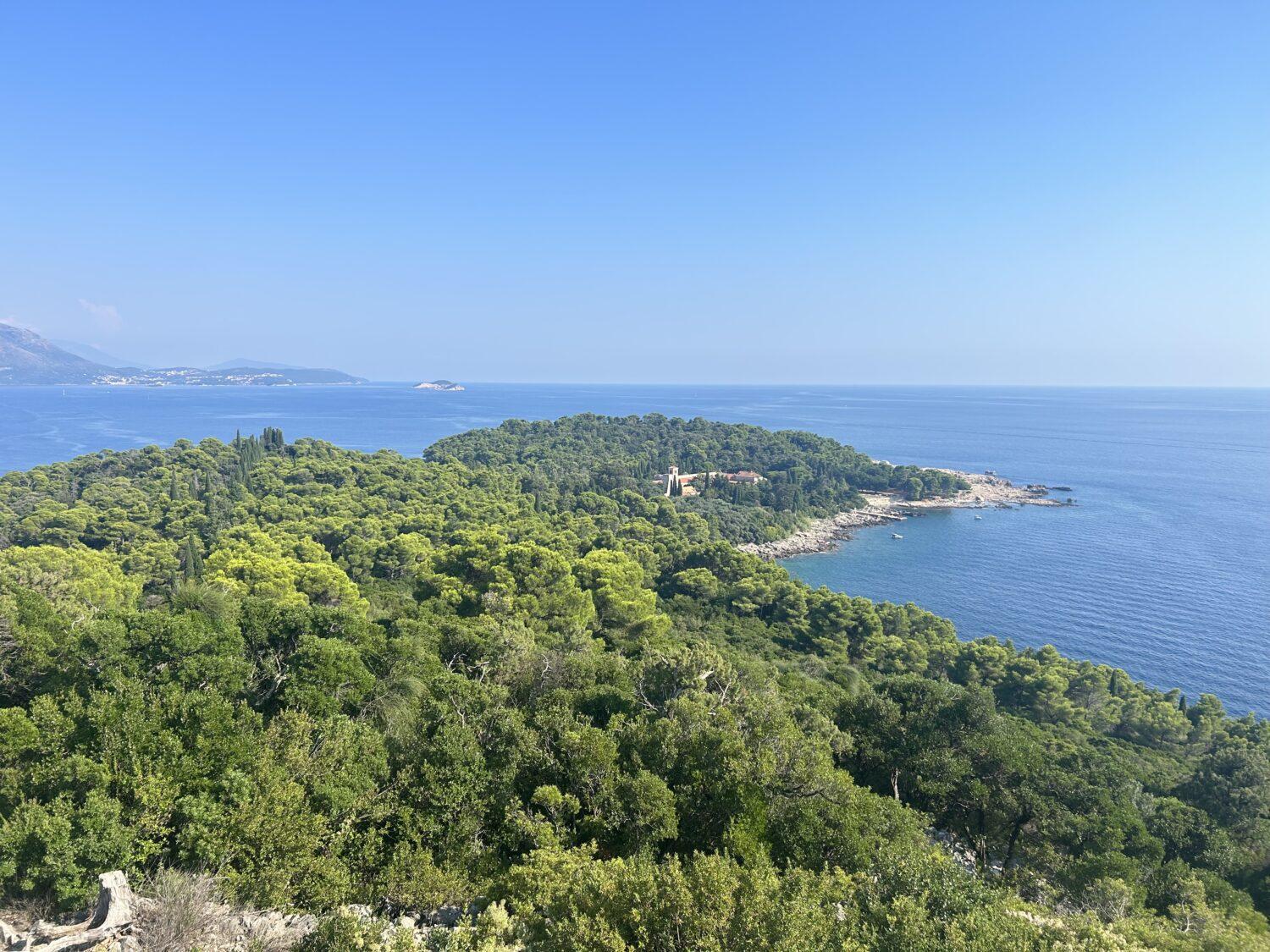 On the south end of the island, you can find the botanical gardens, a small salt lake dubbed the Dead Sea, the famous flat Lokrum rocks (perfect for sunbathing and jumping in the water), and other amazing rock formations to explore.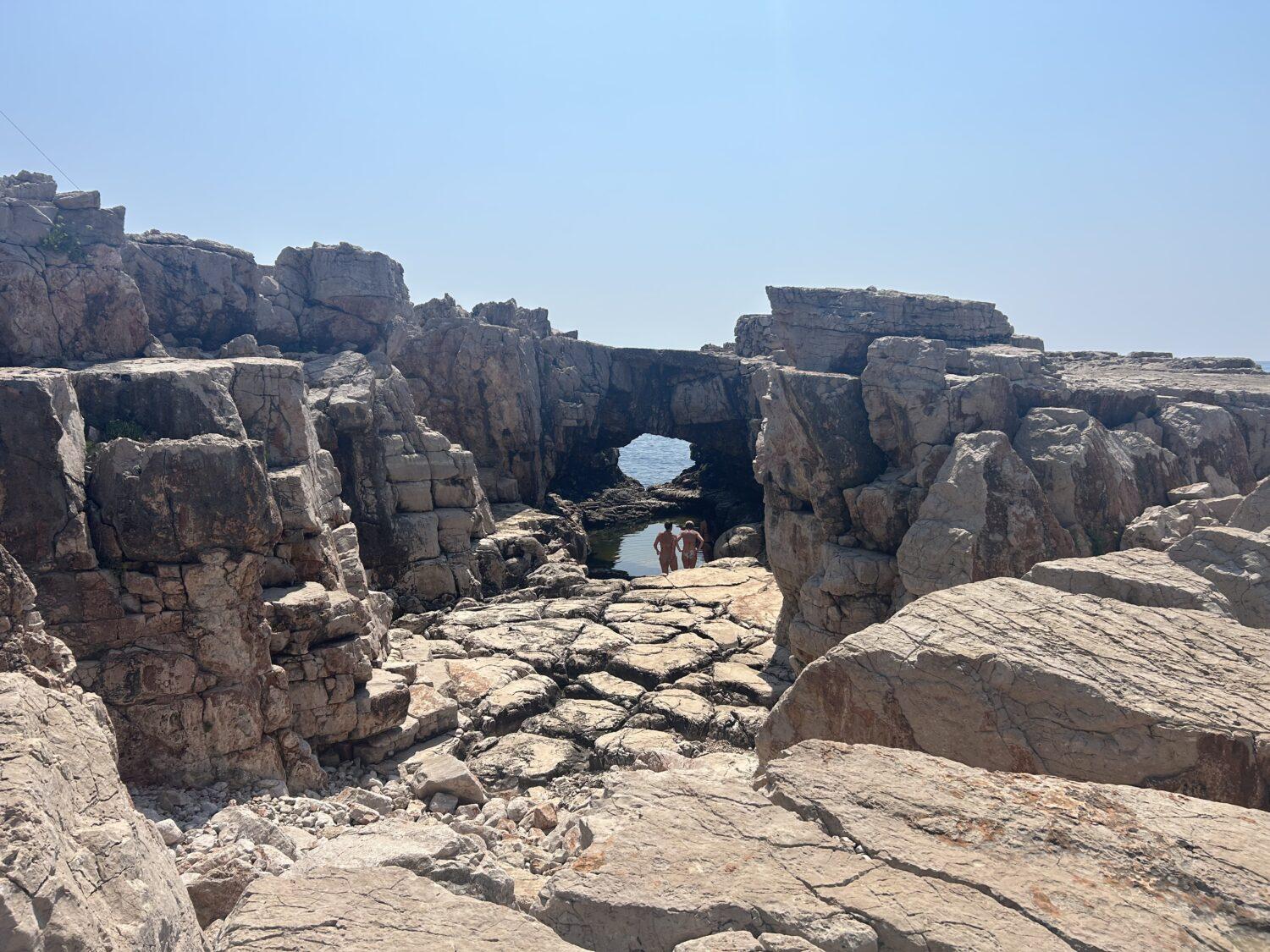 There are only a few restaurants on the island, and they aren't the cheapest. Lokrum Island is the perfect spot for a picnic so hit a supermarket before you head to the island. Supermarket food and drinks are very cheap in Croatia and a great way to save.
Make sure to pack your swimsuit for Lokrum for the aforementioned sea swimming opportunities, and this awesome inland swimming hole, too.
Walk the City Walls
Get up early to walk the city walls of Dubrovnik: You won't regret it.
You can purchase tickets in advance starting at around $25. Access to the walls is available beginning at 8 a.m., and I'd suggest getting there right around then. This will help you beat the heat of walking on the ancient brick walls in the middle of the day, and avoid the other tourists up there as well. The wall is sometimes a little narrow and could be a little claustrophobic in bumper-to-bumper traffic.
From the wall, you get a perspective of Dubrovnik that you cannot miss. This is a travel experience unlike anything I've experienced.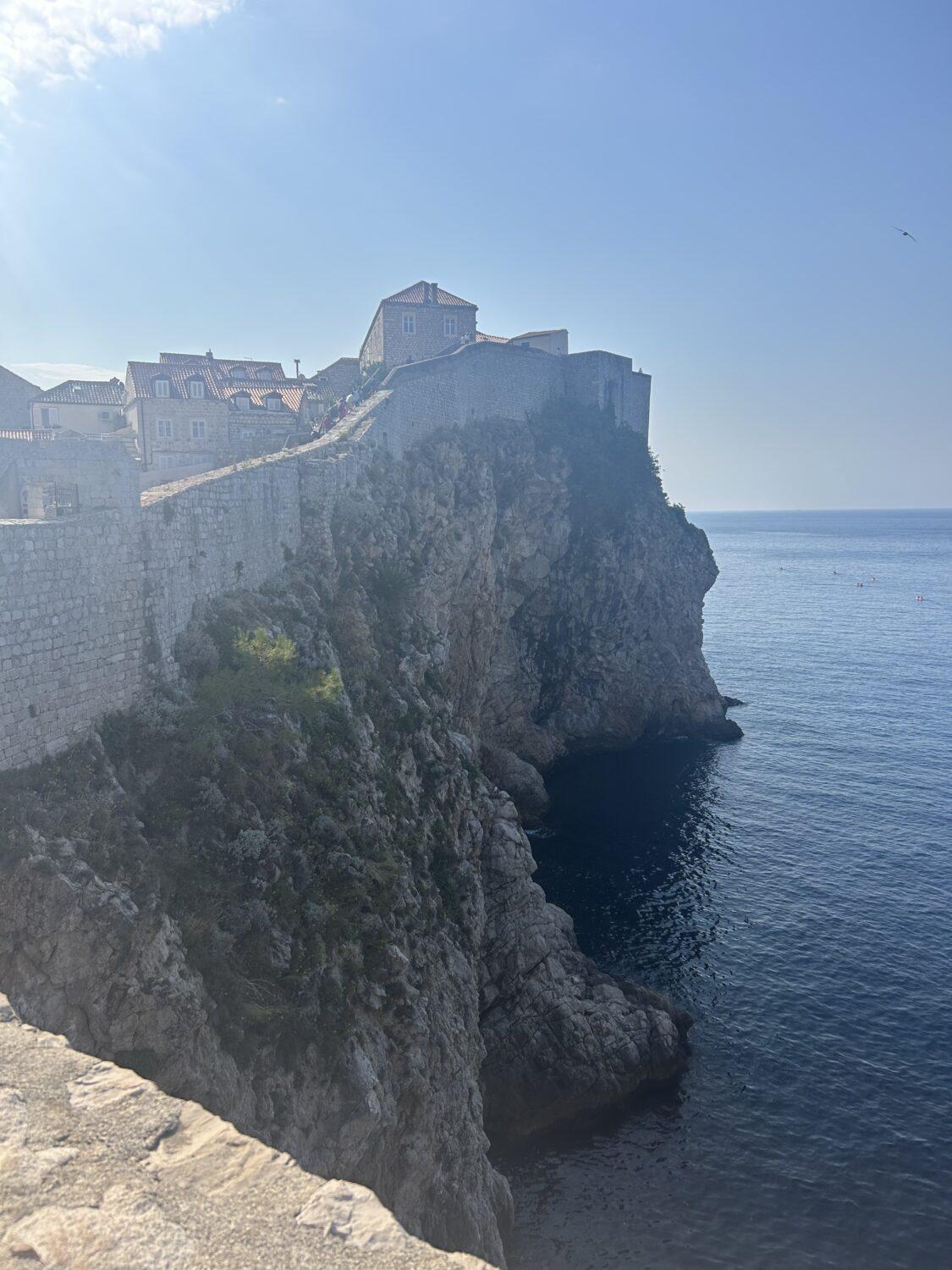 The whole walk can take over a few hours, but there are several opportunities to go down the stairs and into the Old Town. Take advantage of the many photo ops and enjoy the spectacular view of Dubrovnik from the wall.
About halfway around the walls, there is a coffee shop high above the sea called Caffe on the Wall with some spectacular views. We stopped in for an iced coffee (be prepared for a fun-loving eye-roll from the waiter if you put in such an American order!) and to take a breather.
We visited in mid-August and even in the morning, the walk was pretty hot. Not to mention there are hundreds and hundreds of stairs on the route. Start early and take your time.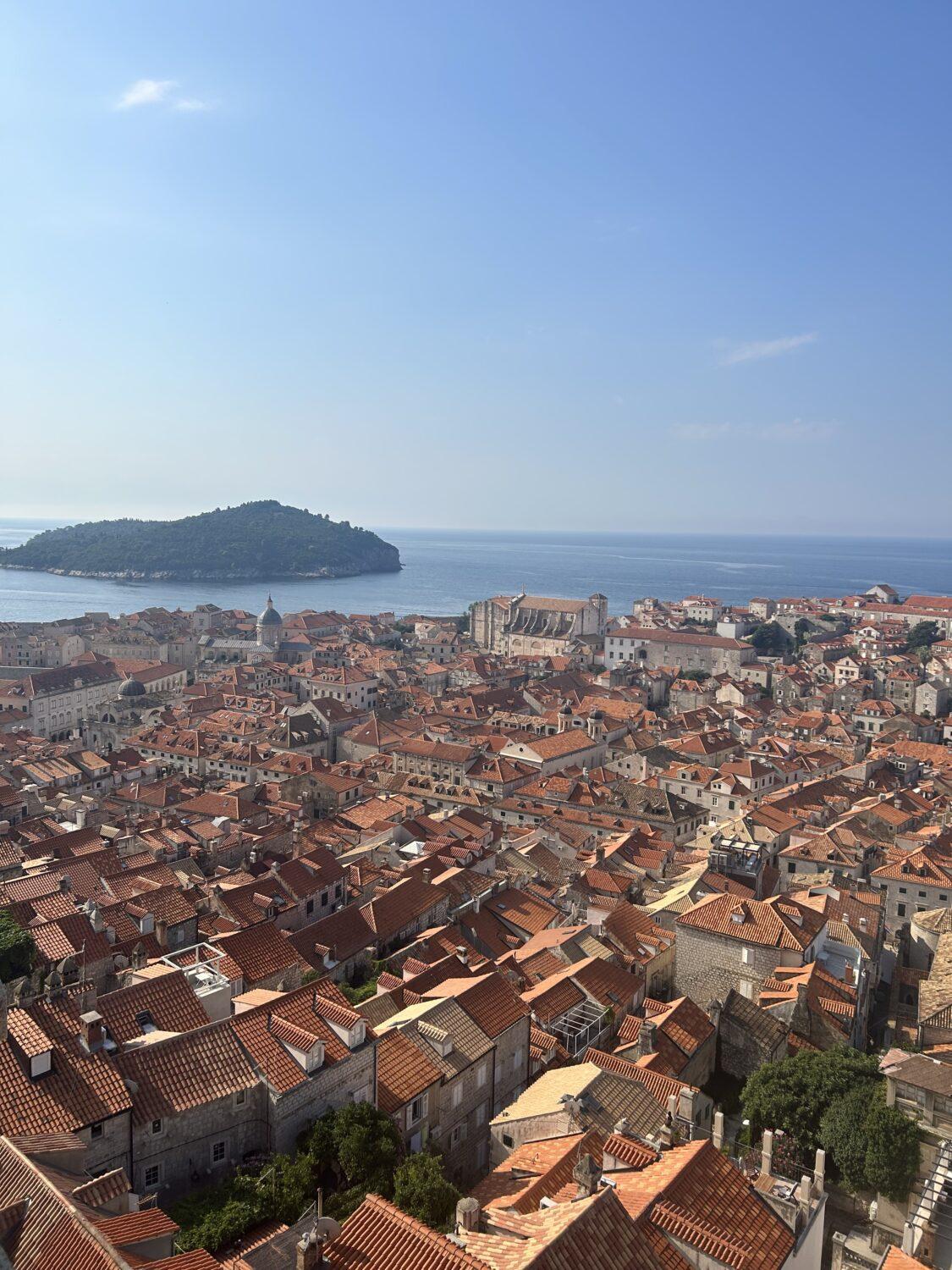 Hike (or Take the Cable Car!) to the top of Mt. Srd
From town, an adult round-trip ticket on the cable car that takes you high above the city to the summit of Mt. Srd is about $25. But if you're up for it, the best way to do this is to hike 1.5 miles to the top and take the cable car down, which costs just $15 one-way.
The trailhead for the Mt. Srd hiking trail is a little ways away from Old Town and the heart of Dubrovnik.
From our Airbnb to the top of Mt. Srd was only 2.2 miles one way, according to my log from AllTrails. I would NOT, however, recommend walking along the road to get to the trailhead like we did. There was not much of a shoulder and traffic was pretty fast. I'd recommend Ubering to the trailhead and taking the 1.5-mile hike to the top from there.
You gain about 900 vertical feet during those 1.5 miles, so it's not a stroll, but the hike isn't too strenuous either. I'd also recommend doing this early in the morning to avoid the heat of the day because the top half of the trail is pretty exposed to the sun. But the views from the trail are sublime.
At the top, you can dine at the Panorama restaurant and enjoy a breathtaking view of the city. Be warned that the Panorama was a little overpriced compared to the rest of the city. Maybe just have an espresso, a beer, or an appetizer and head back into the city for your full meal.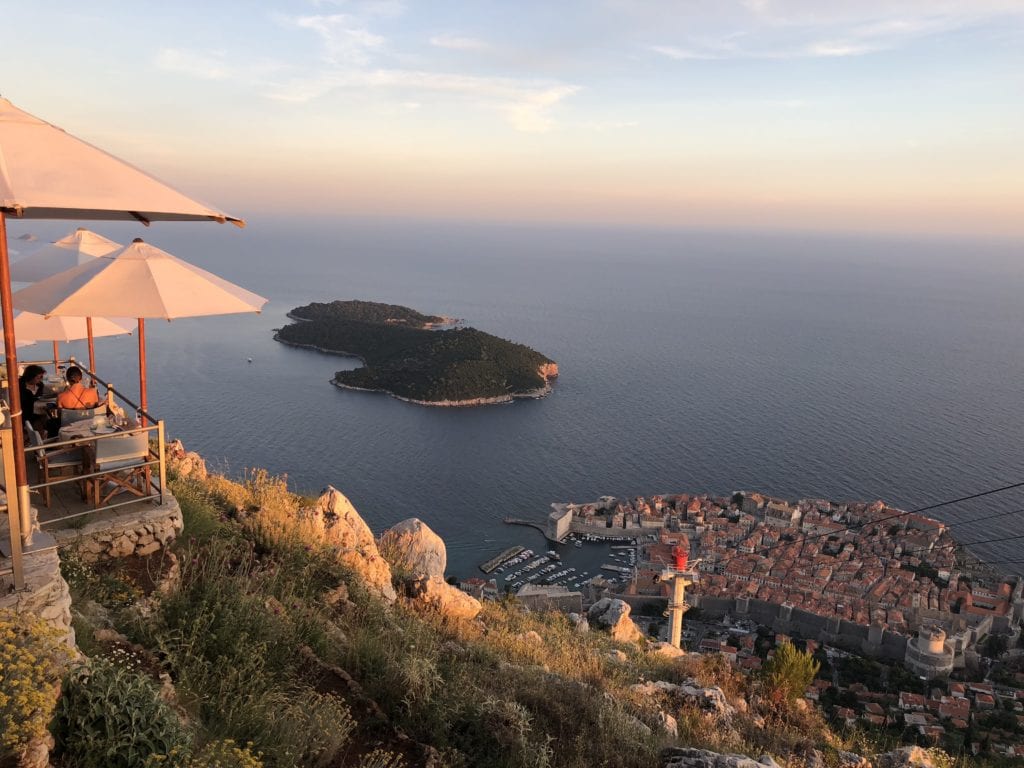 Where to Eat and Drink in Dubrovnik
Here are two things I love about the food and drink scene in Dubrovnik: One, there are so many dining options that you'll never have trouble finding a table. And two, dining in Croatia is surprisingly affordable, especially compared to dining here in the U.S.!
While food prices aren't as cheap in Croatia as they are in some of our other favorite places like Portugal or Spain, when compared to the rest of Europe, Croatian dining is cheap. And when compared to eating out in the U.S. right now, we felt like kings in Croatia.
D'Vino Wine Bar was a lovely spot to taste some Croatian wines on our first night in Croatia. Alamaka Tapas Bar was a good spot for a group dinner, too.
Perhaps my favorite meal in Dubrovnik was brunch at Gradska Kavana Arsenal Restaurant, close to the Ploce Gate in Old Town Dubrovnik. We stopped here for a meal after walking the city walls and enjoyed some mimosas, bloody marys and a lovely meal in an unforgettable setting. This was the view from our table.
Stop in at Buza Bar for a cocktail overlooking the water. The Buza Bar is built into the side of the city walls looking out to the Adriatic Sea. Because of its unique cliffside wall location, the Buza Bar also often has cliff jumpers enjoying the rocks below their bar. This is a spectacular place to grab a drink and watch the sunset with some free entertainment.
Similarly, we went to a spot called Bard Mala Buza which is also carved into the side of the city walls for some inexpensive cocktails and beers. We loved it so much that we circled back a day later for happy hour.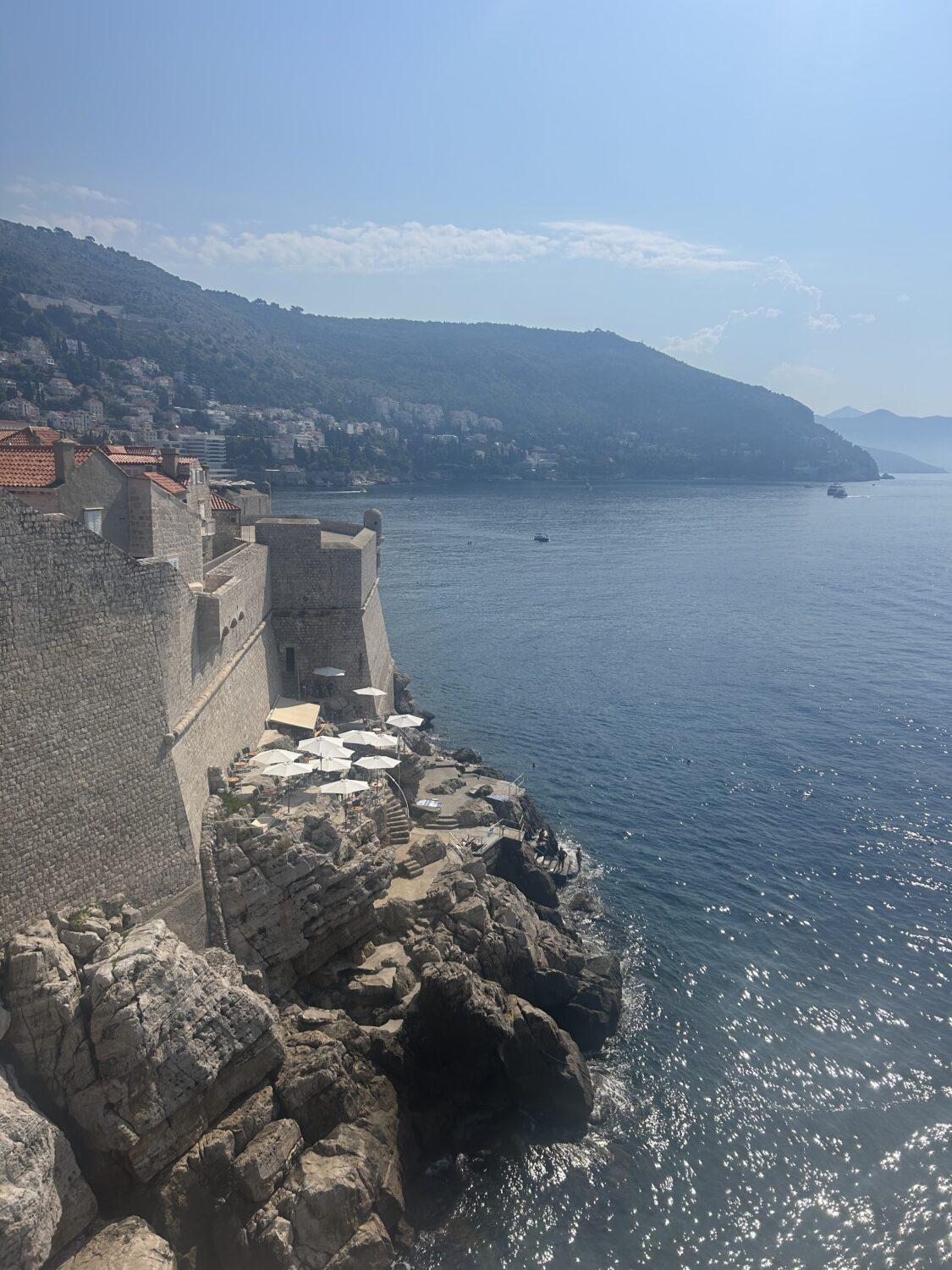 Right off the main thoroughfare of Old Town is Bistro Tavulin, which was another great setting and a fantastic dinner for our big group during our time in Old Town.
Bottom Line
Dubrovnik is unlike anywhere I've been in the world. Carved out of the side of a mountain, this UNESCO World Heritage Site of Old Town is dripping in history.
Get lost in the streets and alleys of Old Town, hike (or ride) to the top of Mt. Srd, take the ferry over to Lokrum Island, or simply relax by the pool or beach in this Adriatic wonderland on your next trip to Croatia.