The ancient city of Athens is the gateway and a hub to the Mediterranean. And despite its prominence, it's easy to look past.
Once you're here, it's just a short flight to any number of beautiful islands with white sand beaches and crystal clear waters. It's tempting to immediately make your way out to the islands – or maybe pop out briefly to see some sights before leaving Athens behind. 
But this edgy, vibrant city is so much more than the Acropolis. Here's are the top things to do in Athens, how to get there, where to stay, and more to help you build at least a few days here into your itinerary.
Greece is open! Read our guide to Greece travel restrictions – and how to find cheap flights to get there.
Where is Athens & How to Get There
Athens is the capital of Greece, perched along the Mediterranean Sea sandwiched between Italy and Turkey. It's one of the world's oldest cities, with a history going back 3,400 years.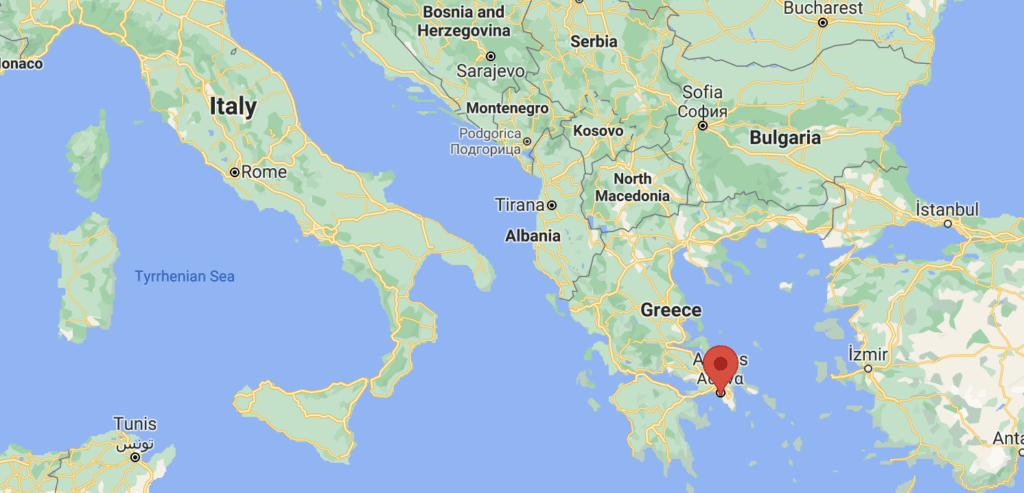 Greece reopened to international travelers in April 2021 – and that includes Americans. At the time of publication, you'll need either proof of vaccination (like a CDC vaccination card) or a negative COVID-19 test taken no more than 72 hours before arrival to get into Greece.
After months of lockdowns and strict curefews, much of Greece has started to open back up.
And there are plenty of ways to get there, too. You can fly nonstop to Athens (ATH) from Atlanta (ATL), Chicago (ORD), New York City (JFK), Newark (EWR), Philadelphia (PHL), and soon Washington, D.C. (IAD). If you're flying from another city, you'll have to make at least one stop on your way to Athens – either in the U.S. or in Europe.

A flight to Athens can easily cost $1,000 round trip or more … but it doesn't have to cost that much. We regularly find deals in the $500s and sometimes $400s roundtrip!
Want a cheap flight to Athens? Get the best flight deals right to your inbox with Thrifty Traveler Premium
Once you arrive in Athens, the heart of the city is quite a ways from the airport itself. There are a couple of options to get into the city –  but the easiest by far is a taxi. A taxi will take about 45 minutes and cost 35-45 euros ($38-50 USD). Uber is also available, but taxi drivers are Uber drivers in Athens, so you'll generally pay the same rate. 
If you're looking to keep things cheaper, the Metro runs to the Syntagma and Monastiraki stops in the city center. One-way fares are 10 euro per person and take about 40 minutes. Just beware that if you have a very early or very late flight, the Metro may not be an option. It does not start operating until 6:30 a.m. and stops at 11:30 p.m. You can check timetables and see a route map here.
Where to Stay in Athens
The city center offers a number of neighborhoods, each with different personalities. They're all walkable to most of the main attractions, so picking where to stay is up to your tastes. 
Monastiraki
Centrally located Monastiraki is known for its rich food culture and buzzing nightlife. Airbnb seemed to be the best option and this superb apartment situated on a pedestrian street with killer views of the Acropolis ran us only $70 a night.
Plaka
Plaka directly borders the Acropolis with beautiful cobblestone streets. But Plaka is known for being extremely touristy – and that means it tends to be significantly more expensive than neighboring areas.
Psiri
If you're looking for something a bit edgier, Psiri is a great option with endless bars, restaurants, and nightlife.
Thrifty Tip: Positioning yourself centrally will save you loads on transportation costs since everything will be within a 20-minute walk. Plaka, Monastiraki, and Psiri are the most centrally located neighborhoods.
Koukaki
Manicured with more of a neighborhood feel,  Koukaki lies on the far side of the Acropolis. It's the perfect option for those looking to get off the beaten path and away from the crowds a bit.
Kolonaki
Trendy Kolonaki is a shopper's paradise, with high-end stores lining the streets.
Exarcheia and Omonoia
You'll find extra cheap lodging in Exarcheia and Omonoia, but most locals will recommend avoiding these areas at night.
Tour the Acropolis in Athens
There's more to Athens than the Acropolis. That doesn't mean you should skip it. 
With close to 15 million people visiting this historic site annually – at least pre-pandemic – be prepared to brave (or avoid!) the crowds. But the Acropolis is definitely a must-see attraction, so don't let the crowds deter you from experiencing it.
Best Time To Visit The Acropolis
The best time to visit the Acropolis is right in the morning. The entrance to the Acropolis opens at 8 a.m. Show up around 7:30 a.m. to join the small line that will start to form to purchase tickets. Being among the first people in the morning means you can enjoy yourself and grab some amazing crowd-free photos.
Tour buses usually start to pull in around 8:30 a.m, at which point the Acropolis starts to get very crowded.
Thrifty Tip: Worried about jetlag? Plan a trip to the Acropolis your first full morning in Greece to make the most of it.
An added bonus: you'll also avoid the heat of the day because the hilltop gets hot – and we mean really hot. 
Tickets for the Acropolis
Admission to the Acropolis is 20 euros ($22 USD) per person from April 1-Oct. 31, and just 10 euros ($11 USD) per person from Nov. 1-March 31. This gets you admission to the Acropolis only – it does not include the Acropolis Museum.
Thrifty Tip: Admission to the Acropolis is free on March 6, April 18, May 18, the last weekend of September, Oct. 28, and the first Sunday of each Month from Nov. 1 to March 31.
Skip-the-Line Tour
You could also book tickets through "skip-the-line" to … you guessed it, skip the lines. They start as low as roughly 16 Euros during the low season. You can purchase different Skip-the-Line tickets that include entrance to the Acropolis museum, or a guided tour. A guided tour is a great way to go if you want to learn more about the history and all of the ruins around you.
For 30 euros ($33) no matter the time of year, you can get a multi-site ticket good for five days that includes many other archaeological sites throughout Athens. Learn more here.
There are 21 archeological sites on the Acropolis including statues, sanctuaries, a theater, and the more famous temples including the Parthenon, Erechtheion, and the Temple Athena Nike.
The Parthenon
Your Acropolis ticket includes a visit to the Parthenon, the iconic temple and symbol of Athens.
The temple was completed in 438 A.D., dedicated to Athena, the goddess of war. The Parthenon has had many iterations including becoming a Christian church and a mosque. It has also been damaged or destroyed quite a few times since it was originally built. It was restored to its present-day condition in 1983. 
Erechtheion
Erechtheion is a temple located on the north side of the Acropolis. The temple, finished around 406 B.C., was named for King Erechtheion who in Greek mythology, is said to have been raised by Athena to become an early ruler of Athens. The most famous part of the temple is the group of six statues on the side of the temple that is called "the porch maidens."
Temple of Athena Nike
The Temple of Athena Nike was finished in 420 B.C. and was dedicated to Athena, the goddess of war, and Nike, the goddess of victory. 
Acropolis Museum
The Acropolis Museum located on the southeastern slope of the Acropolis opened to the public in 2009. It houses all of the artifacts uncovered from the surrounding hill. During the off-season from Nov. 1 through March 31, tickets cost 5 euros. The rest of the year, admission costs 10 euros.
Explore Other Ancient Ruins of Athens
Sure, there's the Acropolis. But it's hard to walk around Athens without stumbling upon other ancient ruins.
Here are a few others worth a visit.
Temple of Olympian Zeus
This temple is just southeast of the center of Athens. Construction for this temple began in the 6th century B.C. but it was not finished until 600-plus years later. It was dedicated to the "Olympian" Zeus.
While there is a 12 euro entry fee to get in, it's included in the Athens Pass. Otherwise, you can scope out most of the ruins for free by strolling outside the fence.
Temple of Hephaestus at the Ancient Agora
The Temple of Hephaestus, named for the god of metalworking and fire, is largely intact today. In fact, it's one of the best-preserved temples in all of Greece.
The temple is located on the northwest side of the city within the Ancient Agora, a meeting place and market. It costs 10 euros to enter the Ancient Agora where you can see the temple and other ancient ruins. 
The Panathenaic Stadium 
The Panathenaic Stadium is the site of the first modern Olympic Games. Today, it serves as the finish line for the annual Athens marathon.
It is also the only stadium in the world built entirely of marble. And it's definitely worth a stop, as admission is just 5 euros. 
The National Archaeology Museum & Other Athens Museums
Athens is home to dozens of museums – you could spend weeks visiting all of them.
There are museums dedicated to archaeology, history, art, religions, natural history, and even a pinball museum. The following are just a few of the more popular museums. For up-to-date visiting information including hours, head to each of the museums' websites. 
The National Archaeology Museum
This museum is the largest archaeological museum in Greece, and it's considered one of the most important museums in the world. Tickets start from 6 euros from Nov. 1 through March 31 and 12 euros the rest of the year. 
Museum of Cycladic Art
This is a museum of artifacts and statues made from the local Cycladic marble. General admission for the permanent collection is 8 euros, but there are special exhibitions for an additional cost.
Benaki Museum
This museum, founded in 1930, is located in the Benaki family mansion and houses Greek and Asian works of art. 
Byzantine and Christian Museum
This museum houses 25,000 exhibits with rare pictures, scriptures, manuscripts and more. 
Filopappou Hill and Lycabettus Hill
The Acropolis may steal the show, but don't let anyone tell you that there is nothing else to see.
Filopappou Hill has some of the best hiking paths and views of the Acropolis in town. It's located in a quiet area bordering the Koukaki neighborhood. The best part? It's free. 
Lycabettus Hill is also a favorite with tourists and is a great place to watch the sunset. Lycabettus Hill has a cable car for 7 euro round trip if you don't feel up to a hike.
The National Garden of Athens
The National Garden is a beautiful park area. And it's completely free.
The park is 38 acres with ancient ruins, mosaics, corinthian columns, busts of ancient Greek poets, and more. Plan to spend a few hours wandering this beautiful park right in the center of Athens. 
Monastiraki Flea Market
The Monastiraki Flea Market, near the Monastiraki square, isn't really a traditional flea market. It's more of a shopping area with lots of shops filled with a mix of cheap souvenirs, t-shirts, and some authentic items. 
Piraeus Port of Athens
If you've got time for a day trip, head out to Piraeus, the port of Athens.
The Metro runs to Pireaus, and it's just a 30-minute ride each way. You'll get a taste of island life and soak up some sun by the port. There is also a number of unique neighborhoods to explore. Piraeus is also your best bet for finding fresh seafood if you won't be visiting any of the Greek islands.
Day Trip from Athens to the Greek Island Hydra
Hydra is a charming island known for its stone mansions, shops, and beaches set just a two-hour ferry ride from Athens. That makes Hydra a great day trip! There are no cars on the island and it's easy to get around on foot. You'll find plenty of beautiful beaches, restaurants, and shops.

Ferries to the island depart about five times a day from Piraeus port just 20 minutes from the center of Athens. A roundtrip ferry costs about 30 euros per person.
Where to Eat and Drink in Athens
This is where Athens puts the islands to shame. There are seemingly endless options for affordable yet high-quality food and drink. You can, of course, find really great Greek food. But you can also find tons of international food.
The neighborhood favorite Karamanlidika is a fantastic spot. Situated away from the hustle and bustle of the touristy areas, the restaurant doubles as a traditional Greek deli. Dishes were simple, delicious, and traditional. At less than 15 euros per person for drinks, appetizers, main courses, and dessert, how can you go wrong?
Street food is also plentiful throughout all of Athens, making it easy to lunch and snack throughout the day. Gyros are often less than 3 euros and every vendor prepares them differently. That variety makes ordering gyros an adventure every time!
A for Athens rooftop boasts an incredible wine list that is presented in a beautiful booklet with information about each wine, but it's their inventive craft cocktails that really shine. Sip on some drinks while looking out at an amazing view of the Acropolis.
Gin enthusiasts will love The Gin Joint, which features a collection of over 160 unique and rare gins.
Looking for something a little different? Step out of your comfort zone and into someone's home with EatWith, an immersive local dining experience. Read our guide on the "Airbnb of dining."
FAQs on Athens
How many days should I spend in Athens?
It depends on what you're interested in seeing and doing and if you enjoy spending time in major cities. If your only goal is to see the Acropolis, two full days in Athens is plenty. If your must-see list is long, if you like digging into a place, or if you want to add in a day trip to Hydra, you'll want to stay in Athens for at least four to five days. 
Should I take a ferry or fly from Athens to the Greek Islands?
You;ve got options to get out to the islands from Athens. But some options are better than others.
Ferries tend to be cheaper than flying, but it can be a much longer ride depending on where you're heading. While a ferry to Hydra takes just 20 minutes or so, getting to Mykonos takes five hours by boat. 
If you don't mind a few extra hours in transit, the views from a ferry can be worth it. But if you want to get there quicker, flying on a regional airline is the way to go. There are fairly cheap fares on airlines like Aegean, Olympic Air, Ryanair, and others.
Bottom Line
Athens gets lost in the hype for the Greek Islands. But this is a vibrant and affordable city, full of life, food, drink, and history. It's worth at least a few days or more on any trip through Greece.
Many travelers try to limit their time in the capital city. With unique neighborhoods, amazing food and drinks, and a healthy dose of history, the biggest mistake you can make is not spending some time here.