Whether you're honeymooning or backpacking through Europe, Paris has earned its popularity. With sights like the Eiffel Tower, the Louvre, the Arc de Triomphe, and dozens more, it can feel like a chore to see everything you want to in the French capital.
But what if you've only got a few days? Last October, my mom and I took a three-day trip to Paris. Luckily we had already seen some of the major sights, but condensing this massive city into a few days was still a task. We did the work for you, tagging the must-see places in each district (called arrondissements in Paris) using Google My Maps. 
Follow along on our trip, arrondissement by arrondissement. And be sure to check out our Google My Maps itinerary of the city.
Day 1: The 7th and 8th Arrondissements
We arrived in Paris mid-afternoon and hit the ground running to make the most of our short stay here. We checked in to our cozy little Airbnb studio not far from the Eiffel Tower. This ended up being a great spot for us, as there were several restaurants on our street and the Eiffel Tower was within walking distance for our first day.
I recommend Le Malabar and Le Recrutement Cafe, both quaint little restaurants with patio seating. Both were on the same street as our Airbnb, Rue Saint Dominique. Take this street a few blocks the opposite way from the Eiffel Tower and you'll run into the Esplanade des Invalides park. That's the nearest metro stop (Invalides) as well.
If you're looking for a unique shot of the Eiffel Tower, stop on Rue Saint Dominique on your way to the Eiffel Tower. It's such a gorgeous view of the monument, with French bistros in the forefront. If you're looking for more ideas of places to take photos of the Eiffel Tower, check out our guide to the best photo spots around Paris.
After a delicious happy hour at Le Malabar on that first day, we casually strolled the Park Champ de Mars and admired the Eiffel Tower from all angles. We then crossed the bridge to view the tower from the Place du Trocadero. You can find all my favorite photo angles of the Eiffel Tower marked on my Paris Google My Maps. We waited for to see the first light show display at 8 p.m., then took a walk along the river. Next up was a glass of wine at Le George V, then took in a burlesque show (when in Paris, right?!) at Crazy Horse. Fun fact: Crazy Horse is where Jay Z proposed to Beyonce!
Thrifty Tip: I'm generally a huge proponent of public transport, but Paris's metro system can be dense and difficult to understand. Hop in an Uber with your companion and split the bill to cut down costs nearly as low as a metro ticket.
On our way home, our Uber driver kindly drove us down Avenue Montaigne, the famous luxury shop street. We didn't plan on shopping at any of these luxury stores, but the holiday lights that already lit up the street made for a spectacular drive-by!
Day Two: The Heart of Paris 
Our second day in Paris was spent exploring the 1st, 2nd, and 6th arrondissements. We took a quick Uber from our Airbnb to Angelina, one of the most famous brunch spots in Paris. Multiple people in our private Thrifty Traveler Premium members group recommended this spot. It wasn't cheap, but "cheap" and "Paris" don't really go together anyway. And our experience at Angelina was worth it.
Order the hot chocolate for a stunning and decadent treat. We also got the truffle omelet and smoked salmon eggs benedict – both were fabulous. Plus, the interior of Angelina is simply gorgeous.
Thrifty Tip: To save on dining in Paris, we brought snack bars from home and bought fruit at a local market for breakfast and snacks. Try limiting dining out to twice a day: once for brunch/lunch, and once for dinner/late night plates.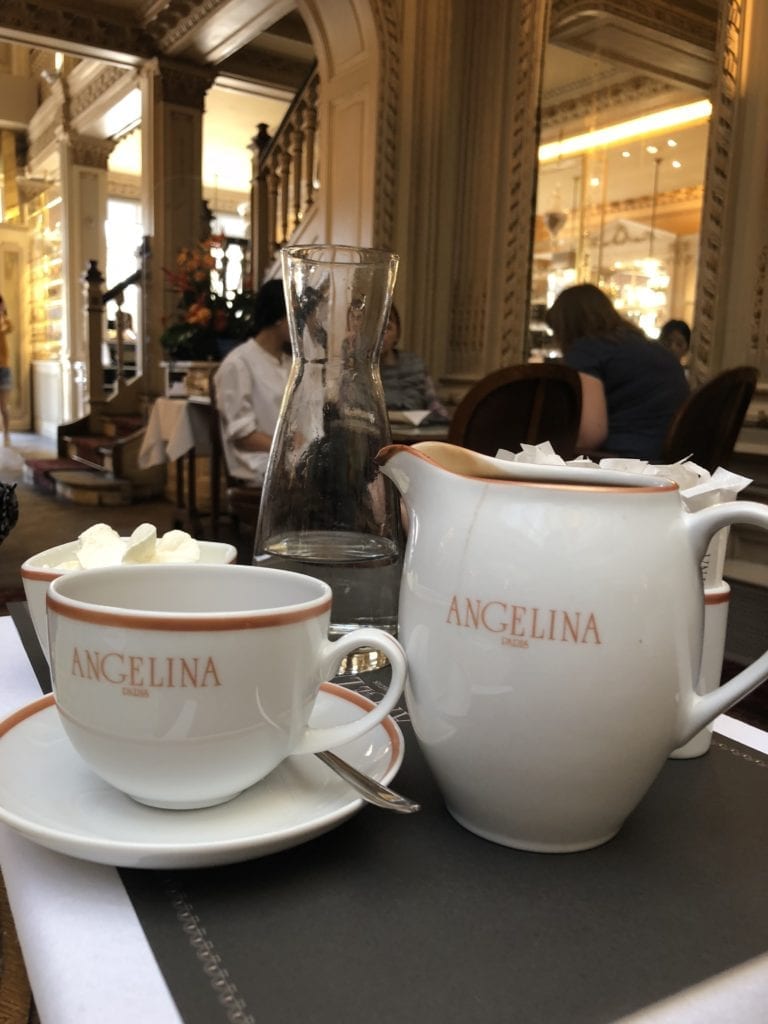 Angelina put us in a great location: right next to the Louvre. We walked around the area, taking in the beautiful Parisian buildings and monuments. I had wanted to see some of the famous glass ceiling-ed buildings that make Paris legend, so we stopped by Galerie Vivienne. We stopped for a cup of coffee at the cafe inside, and enjoyed the light streaming in from above.
In the 2nd arrondissement, near Jardin Nelson Mandela, is an absolute hotspot for adorable boutiques and delicious restaurants and cafes. Take a stroll along Rue Tiquetonne and Rue Montorgueil, and you'll find plenty of window shopping (or real shopping!) opportunities. We made a stop at nose, where you can smell-test multiple fragrances based on your scent preferences and create your own perfume profile.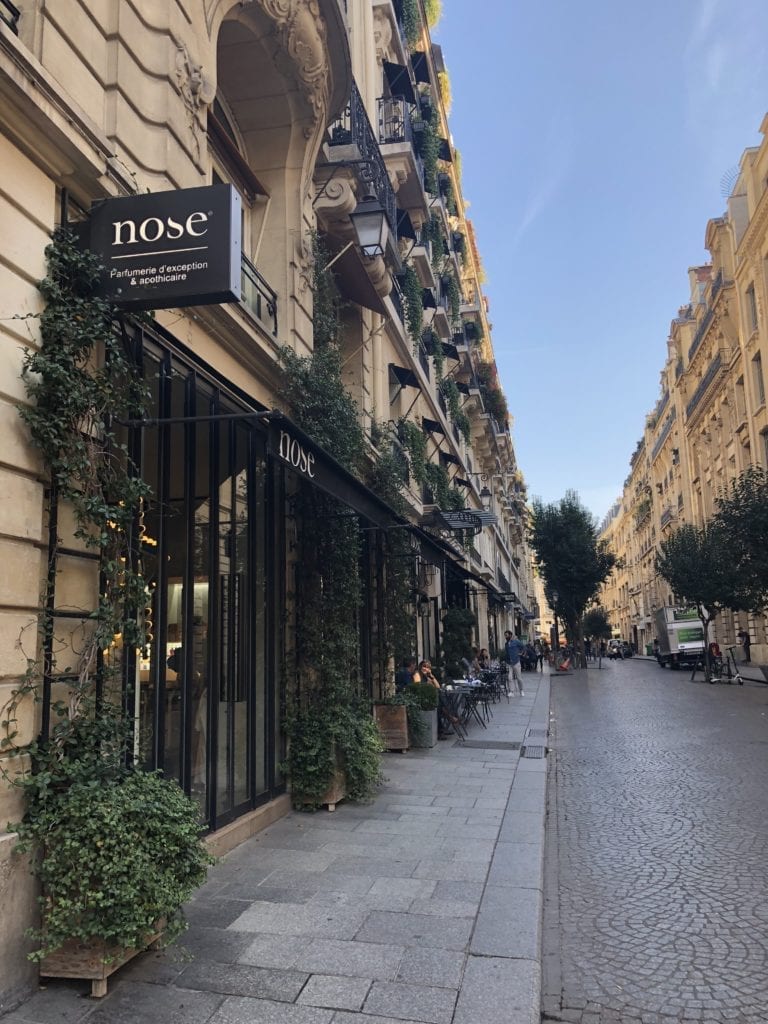 On our way down Rue Etienne Marcel towards the Louis XIV statue, we came across this quirky taxidermy boutique called Design et Nature. Take an afternoon to stroll the streets of Paris; you never know what you may come across!
We circled back to relax in the gardens of Palais Royal during the golden hour. It felt like everyone in Paris was here this evening taking in the sunset and views.
After a walk in the park, we stopped back at the Louvre. Not to go inside (we checked that off our bucket list a few years back) but to take in the view and snap some photos during golden hour.
After taking in all the sights on our list for the day, we walked along the Siene River. One of my favorite spots to stop for a photo is on the Pont de Arts in front of the Institut de France. Continue along the river to see the Ile de la Cite, the small island that is home to Saint Chapelle and Cathedrale Notre-Dame. 
For our evening, we took to Rue de Lombards. This street is well-known for their killer bars and awesome jazz clubs! We settled on restaurant Le Pave for dinner with a spectacular view. Get the aligot cheese for a classic yet little-known Parisian.
After making a few stops for dessert and drinks along Rue de Lombards, we walked a few blocks over to Centre Pompidou, a strange architectural marvel. It houses art exhibits inside, but the galleries were closed for the day so we simply took in its spectacular form and listened to local musicians playing outside.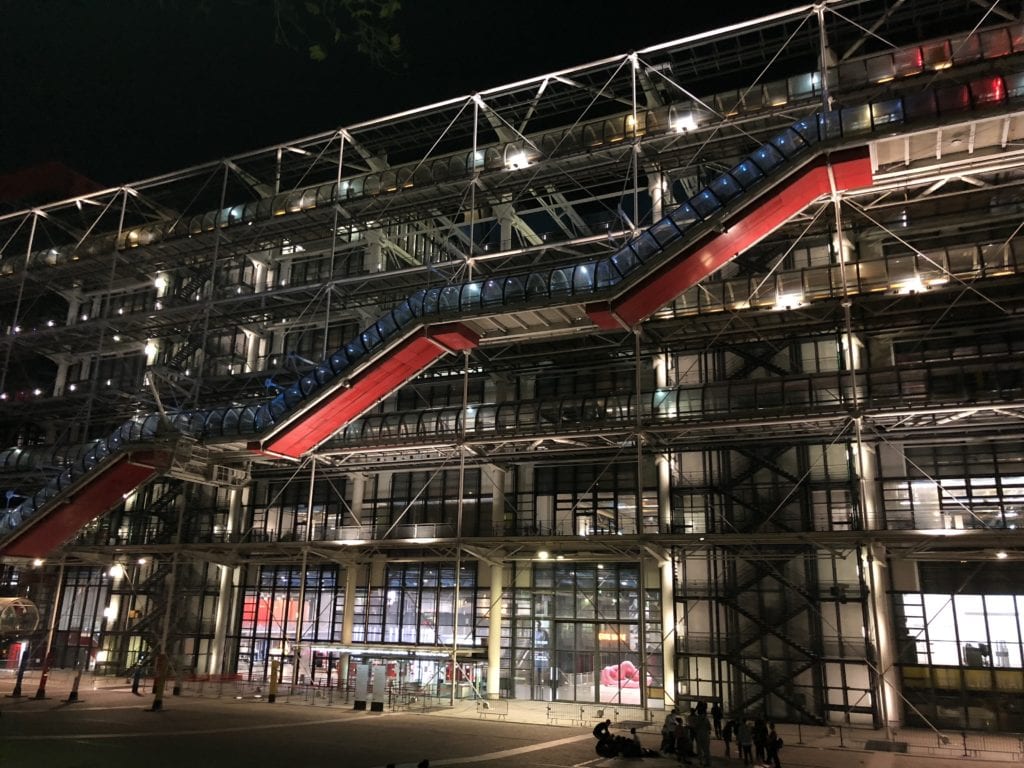 Day 3: Montmartre & Sacre Coeur
The recommendations for Sacre Coeur, located in Montmartre, piled in. So even though it was a ways out of the city, we made the trek on our last day – and we're glad we did. Inside and out, it is gorgeous.
Make sure to go around back and take photos at the back side of the Sacre Coeur. There's nobody around back to photobomb, and you just might find a fancy car to pose next to.
While in Paris, you absolutely MUST visit the Atelier des Lumieres. Several people in our Thrifty Traveler Premium members group recommended this as well, and I do the same now. This spectacular space brings art to life in an unbelievable way. Read my article on the Atelier des Lumieres and put it on your Paris bucket list.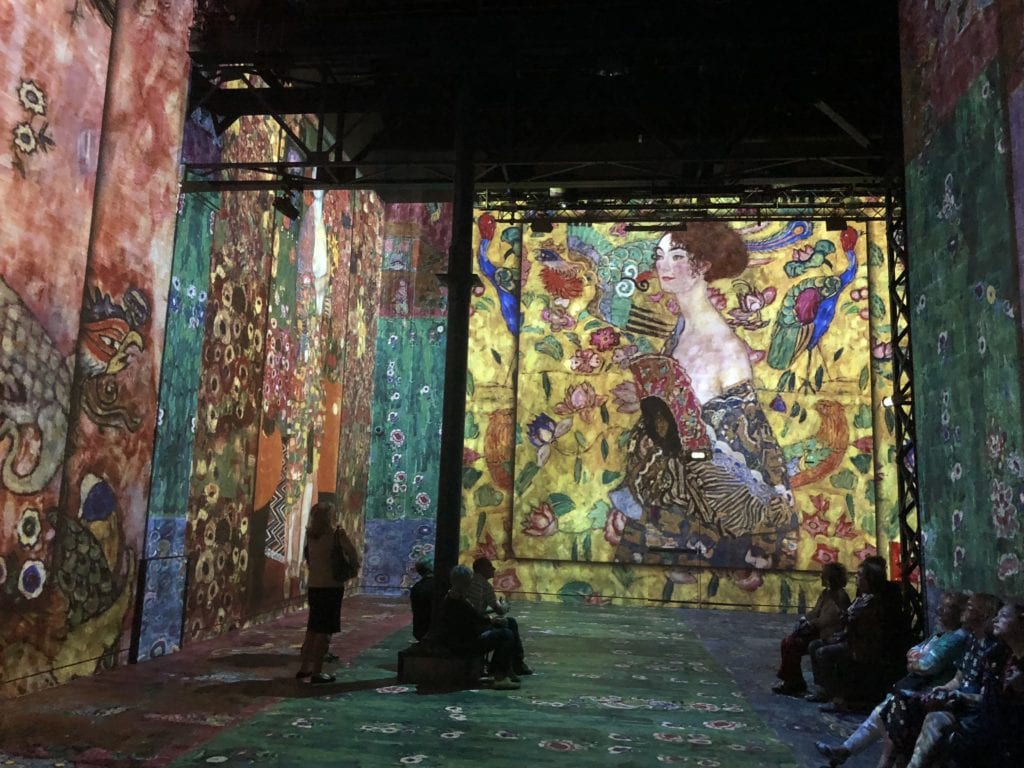 Bottom Line
Three days felt like an instant, but we were able to see nearly all of our must-see spots – and then some. Divvy up the city district-by-district to maximize your time and minimize transit.
All of our favorite spots (and more) are on my Paris Google My Maps. So check it out and plan your trip to the City of Lights.