Colombia is trying its hardest to move beyond its troubled past. And if my two-week trip throughout this South American country was any indication, it's working.
Most people's knowledge of Colombia starts and stops with infamous drug lord Pablo Escobar, or the 50-year civil war between guerrilla groups, drug cartels, and the government of Colombia. Foreigners still think of Colombia as a violent and unsafe place, tainted by the car bombs, assassinations, and kidnappings of the '80s and '90s. But in today's Colombia, that couldn't be further from the truth.
It hasn't happened overnight, but even the once-most dangerous neighborhoods of Medellin like Comuna 13 have transformed – Comuna 13 is now a hub for hip hop artists and beautiful street art. There's a sense of rejuvenation hovering throughout Colombia, and the travel community isn't ignoring it.
So, throw out what you thought you knew about Colombia and embrace this crazy beautiful truth: Colombia deserves your time. After two weeks traveling through Colombia, I knew I'd made a mistake: It wasn't enough time.
Getting There and Getting Around
It's becoming easier and cheaper to get to Colombia from most major cities in the U.S. With flights at $300 or less, Colombia can be the ultimate budget-friendly destination. Track these flights on Google Flights or subscribe to Thrifty Traveler Premium to catch these flight deals.
When in country, yellow cabs are safe and inexpensive, and Uber is available, too. Traveling to and from Bogotá, Medellin, and Cartagena takes time by road (12+ hours), but there are overnight and day buses available. If time is limited, one-way flights between each major Colombian city with Avianca and LATAM are $40 to $60, making them a great option.
Thrifty Tip: Have a layover in Bogotá (BOG)? Use your Priority Pass membership to get into the outstanding El Dorado Lounge.
Bogotá
Bogotá is Colombia's capital city nestled high in the mountains. With a population similar to New York City, this bustling city is home not only 8 million-plus people, but outstanding museums, historic squares and neighborhoods, and a vibrant coffee, restaurant, and a buzzing bar scene.
La Candelaria neighborhood is Bogotá's cultural and touristic hub that is the actual birthplace of the city. Here you'll find a mix of 300-year-old homes as well as hostels, bars, and restaurants. La Candelaria is the most popular area to stay due to its close proximity to Plaza de Bolivar: a picturesque square with government buildings, monuments, and countless pigeons. There's Museo Botero, home to collections of Latin American art such as Fernando Botero's larger than life figures. Or check out Museo del Oro, with the largest collection of gold in the world. The neighborhoods of Zona Rosa, Zona G, Macarena, and Chapinero continue to gain in popularity with newer hotels and lively nightlife.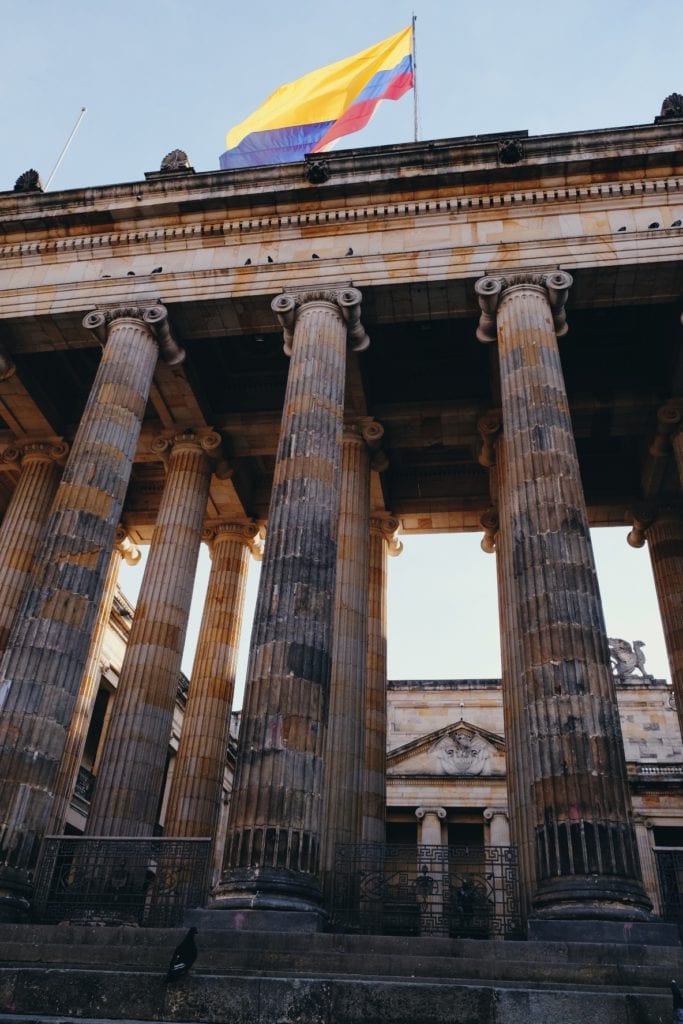 Bogotá is the first place that I ever willingly signed up for a free city walking tour. And I will now do this at every new city I go to. It is THE best introduction to the city, and although you feel like that silly tourist walking in a group and listening to your bilingual guide for four hours, it's incredibly informative. I signed up for a tour through my hostel called Bogotá Free Walking Tour.
We toured the La Candelaria district, tried chica (a local fermented drink), coffee at Azahar, arepas, and exotic fruits from street vendors – don't miss lulo juice and the fruits guanabana, mangosteen, maracuya, guava, and tomate de arbol. We also learned a bit about the history of the coca leaf and its use by indigenous groups. There are also graffiti tours and biking tours offered.
If you can't get enough of exotic fruits, head to Paloquemao Market to find some more of the most diverse fruits in the world. Hike the 1,500 stairs or take the cable car to Cerro de Monserrate for amazing mountainous and city views, then stop in at the widely admired La Puerto Falsa for a bowl of ajiaco (soup containing chicken and potatoes and served with avocado) or chocolate con queso (hot chocolate served with a cheese similar to mozzarella and sweet bread). Open since 1816, La Puerto Falsa brings in tourists and locals alike.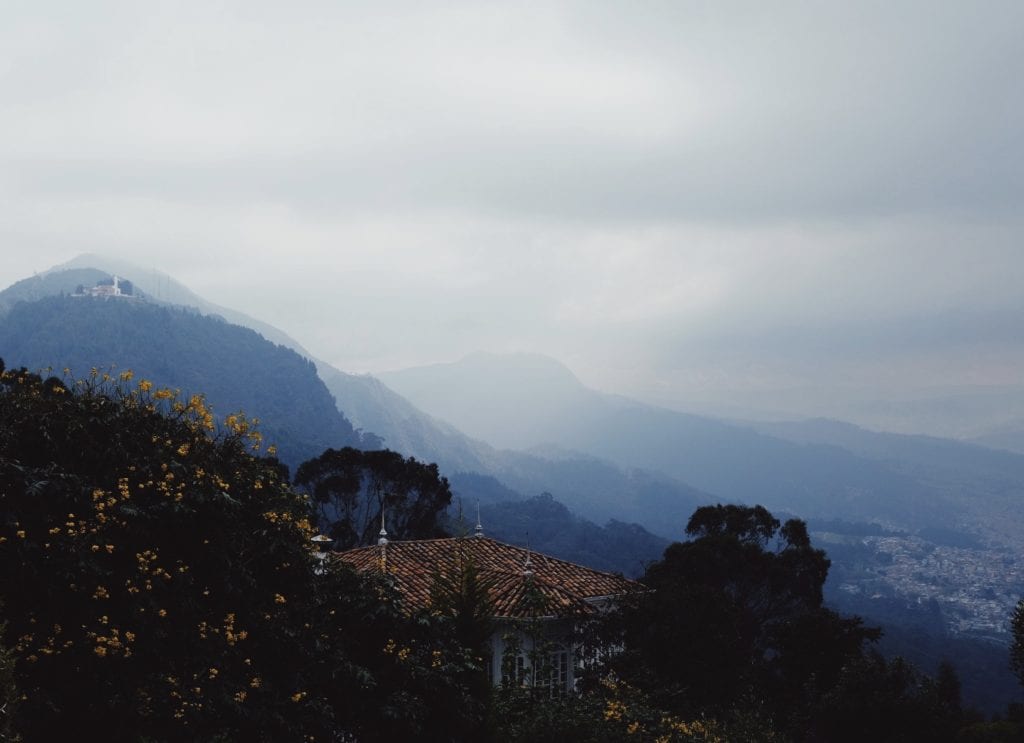 Medellín
The "City of Eternal Spring" is Colombia's second-largest city. It's youthful, entrepreneurial, and rich in culture. When you think of Medellín, think art, coffee, and fine dining.
Get comfortable in your hotel or hostel in the El Poblado neighborhood then hop on the metro. Paisas (people native to the Antioquia region of Colombia) are extremely proud of their sparkling clean and efficient public transportation system — it really is the cleanest metro I've ever been on. Sign up online for the Real City Walking Tour to see Medellín's City Center including Botero Square, the Square of Lights, and Palacio Nacional.
Interested in learning more about the recent history of Colombia? Instead of heading on a Pablo Escobar themed tour now termed "narcotourism" for fans of the Netflix show Narcos, spend time in the Museo Casa de la Memoria for an accurate and significant lesson in Colombia's dark past. The museum pays tribute to the many victims of the drug cartels and paramilitary groups. Do not miss a tour of La Comuna 13 and try the coffee lemonade while overlooking the neighborhood. Trust me.
A personal favorite of mine was the Museo de Arte Moderno, a modern art museum that's architecturally exquisite and holds countless installations, photographs, paintings, and sculptures by both local and international artists. The works of art depict current and ongoing social and political issues throughout Colombia and Latin America. Don't miss the museum's balcony level, either.
Head high into the mountains by cable car to Parque Arvi. Spend some time in nature and hike around. Bring a jacket! For more nature, but in the city check out the Joaquín Antonio Uribe Botanical Garden.
Two popular destinations just outside of Medellín are Guatape and Salento. For around $60 for a guided tour with transportation included, Guatape is excellent for a day-trip: visit the colorful small town and take in the views after climbing 700-plus stairs of Piedra del Penol. Salento is further – take a bus and stay for a couple of days to hike the Valle de Cocora, a "cloud forest" home to the world's largest palm trees (up to 60 meters tall). This area is also popular for its coffee tours.
Cartagena
End your trip with some heat and sunshine on the Caribbean coast in Colombia's magical port city.
Get lost in Cartagena's Old Town: a photographer's paradise with cobblestone streets, colorful terraced buildings, and colonial architecture. Run into the beautiful plazas and buildings of Covento de Santo Domingo, Santa Catalina de Alejandria Cathedral, and Torre del Reloj when walking around. Take your pick of one of the dozen popsicle-like paletas at La Palettería to cool off. Believe me, this won't be your last time wandering the streets of Cartagena with a paleta melting down your arm.
For coffee and pastries, head to the beautiful Epoca Espresso Bar and get welcomed by their smiley staff.
Grab lunch or dinner at my favorites La Cevicheria (made popular by Anthony Bourdain), La Boliche, or La Mulata. For pizza, sushi, or Colombian food, Cartagena really is a foodie city. I don't know if I ever stopped eating.
Grab drinks on the rooftop of Alquimico and don't miss sunset at Café del Mar. Go early! Cafe del Mar opens at 5 p.m. and gets packed every night of the week.
Spend time during the day checking out the graffiti and also when the sun goes down in Cartagena's hipster neighborhood of Getsamani. Plaza de la Trinidad is a lively gathering place, and perfect for sipping on ice cold Club Colombia's while people watching. Time in Cartagena wouldn't be complete without dancing the night away. For a little champeta, head to Bazuto Social Club or the popular spot for locals, Media Luna.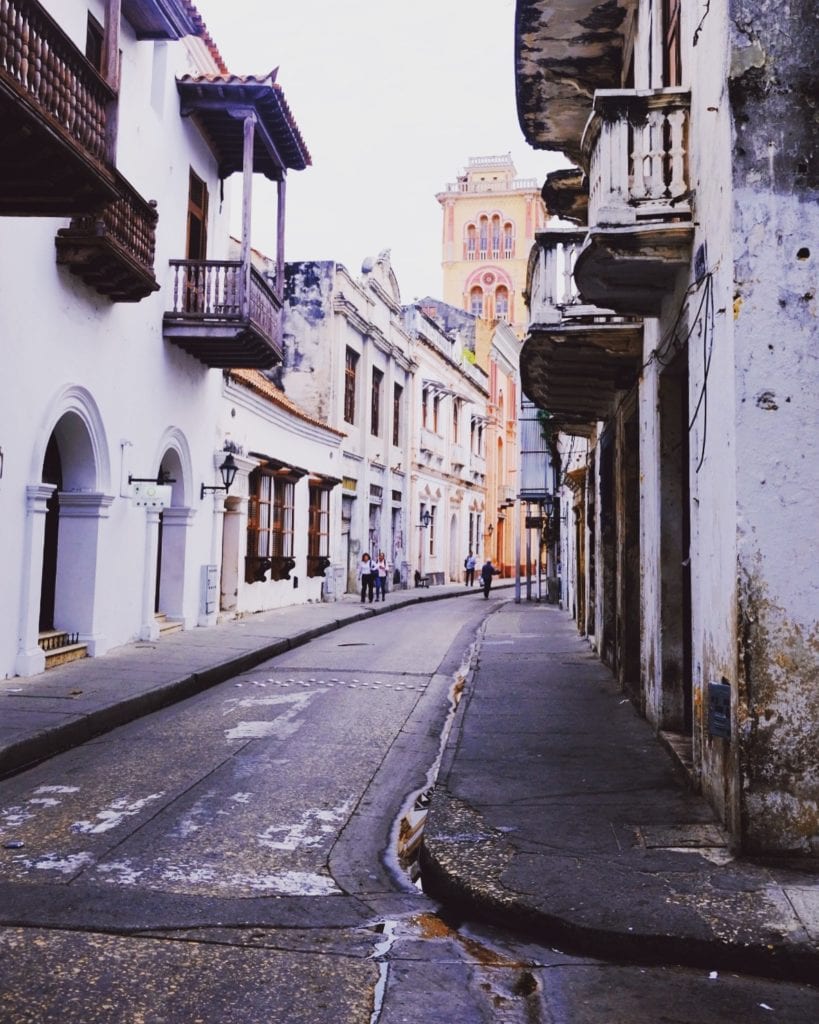 Take a day-trip to one of the Islas del Rosario and be a beach bum for a day. Many travelers head to Santa Marta to visit Tayrona National Park for its beautiful hikes and white-sand beaches. Tayrona was unfortunately closed for the month when I was there, so I didn't make the trek up the coast.
Bottom Line
Brush up on your Spanish and head to Colombia for ocean, mountains, culture, and adventure. This once dangerous and feared destination is now a traveler's paradise, and the cities of Bogotá, Medellín, and Cartagena are just the beginning. You'll be surrounded by vibrant and colorful places, and happy and welcoming people.