We've got good news, bad news, and even better news.
Here's the good news: International travel is back … and it's bigger than ever. The demand to travel abroad in 2023 has risen to record heights as countries across the globe opened their borders and the U.S. dropped its own restrictions, too. Now the bad news: Flight prices are rising, too … but not everywhere.
Even as average flight prices rise, you can still find cheap international flights for a trip later this year or next. No matter whether you're making plans for a Caribbean escape or a long-haul journey across the Atlantic, getting better prices and discount airfare on international travel can be easier than you think.
All it takes is fine-tuning your search methods, using the right tools, and a little flexibility. Do all that and you'll see that the price tag doesn't have to be a barrier to international travel.
Start with Google Flights
It all starts with a search. While there are plenty of search platforms to choose from, one is better than all the rest: Google Flights.
If you ask us, Google Flights is the most powerful, accurate, reliable, and in most cases, the simplest tool to find cheap international airfare. It has a user-friendly interface with countless features that make it better than the rest. 
You can search for flights for your next trip up to 11 months in advance, with an instant way to find the cheapest days to fly as you scroll through the calendar month by month. Picky about your airline? You can filter for as many – or as few – airlines as you want when using Google Flights searches. Only want nonstop flights? Easy. Want a checked bag included in your fare? Done.
Other search platforms have their strengths, but none are better at zeroing in on the cheapest flights and dialing down to the exact trip you're looking for than Google Flights. It should be your first stop … every time. 
Read our full guide to using Google Flights to find cheap flights!
Our Favorite Tool for Finding Cheap International Flights
Not sure where you want to go? Use the amazing Google Flights Explore tool and let the map be your guide. Spin your way across the globe, and Google Flights Explore will show you the cheapest places to fly to from your home airport. 
Follow The Flight First Rule for Cheap International Flights
It's time to take a step back and think about planning travel in reverse. 
Too many travelers start planning their big trips by locking in the exact dates first, maybe even booking their hotels or cruises, and only then going to search for flights. That all sounds great … until you find that flights are $800, $1,000, or much more. By deciding on your dates first, you've put yourself at the whim of the airlines and whatever they want to charge you.
That's the single biggest mistake travelers make. And it can be deadly for finding cheap international flights.
Instead, follow what we call The Flight First Rule. It's exactly what it sounds like: Start your travel planning by searching for flights first. It's a simple change, but it can save you hundreds of dollars per ticket on international airfare by letting the cheapest airfare prices help determine your schedule – even if it means shifting your dates by just a day or two.
Let's say you want to head to Reykjavik (KEF) for a week later this summer, and you're set on flying the nonstop Delta flight from Minneapolis-St. Paul (MSP). If you lock in a trip from Saturday, Aug. 19 to Saturday, Aug. 26, you'll pay for it … to the tune of more than $1,300 for a roundtrip flight. Ouch.
But by heading into the travel planning search with even an ounce of flexibility, you could shift those travel dates by just a few days and drop the fare to $561 – $800 in savings per ticket!
That's an extreme example but this pattern plays out again and again and again. This is the #1 way to save on travel, and it's absolutely critical for scoring a bargain on international flights.
One of the best reasons to use Google Flights for your searches is that they'll automatically let you know when a slight date change can result in some serious savings, like this:
Thrifty Tip: If your dates are not flexible, use Google Flights Price Alerts to stay on top of fare changes for flights and book when prices drop!
Choose Your Travel Dates Wisely When Booking Flights
That old saying you've heard about booking flights on a Tuesday to get the best flight deals? It's not true. There is no single best day to book flights.
But what day of the week you actually step on the plane plays a huge role in how much you pay whether you're traveling domestically or heading abroad. The cheapest days to fly internationally are typically Tuesdays, Wednesdays, and Saturdays. When it comes to finding cheap international flights, being open to traveling on these days can save you a ton.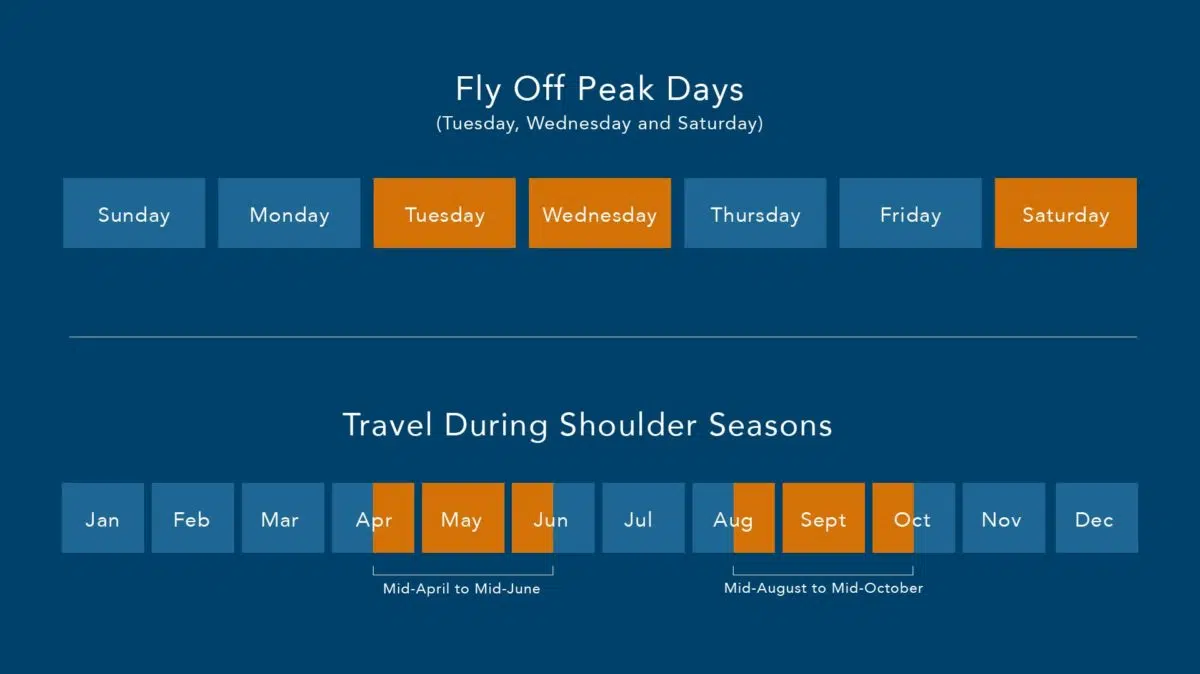 For International Flight Deals, Focus on the Shoulder Season
The time of year plays a big role in cheap international airfare. A trip to Europe in the peak summer will almost always cost a small fortune, as airlines know demand is high. If you're hoping to save more on flights, try to avoid a big international trip from mid-June through August.
So, focus on shoulder seasons: spring and late summer into the fall. You'll save on your flights, miss the crowds, and still luck out on some great weather, depending on your destination.
Read more: The Trick to Finding Cheaper Flights This Summer
The Cheapest International Flights Are Booked Further in Advance
While the pandemic has shaken up some travel trends, trying to score a bargain on cheap international flights by booking at the last minute is a bad plan.
The days of offloading cheap seats days or even weeks before departure are long gone. If you're looking to consistently book the cheapest international flights, you should give yourself at least 30 to 45 days in advance – if not 60 to 90 days or more – to get the best deal.
So while you should be flexible with your dates, you should also do your homework and plan at least a few months ahead to get the best deal – like this dirt-cheap fare to Dublin (DUB) we found a few days ago for our Thrifty Traveler Premium members.
Don't Waste Time Clearing Your Cookies
Let's quash this myth once and for all: Airlines are not tracking your searches. Clearing your cookies does not affect the prices you see. Nor does using an incognito browser.
Here at Thrifty Traveler, we're searching for flights all day, every day. If airlines were tracking our searches, we'd never find a great deal. And trust us: We find plenty of cheap international fares.
Instead, the simplest explanation for why the price of the flight you were looking at suddenly jumped in price comes down to two words: fare classes. While you may see only economy and first class on the plane or when you search for flights, airlines actually have an alphabet full of classifications called fare classes. And we mean alphabet: there are 26 different fare classes.
Each fare class has its own set of rules and, most importantly, its own price. When the cheapest fare class you're looking at sells out (or an airline decides to remove it), the price automatically jumps to the next, higher-priced fare class.
It's that simple. So don't spend your time deleting your cookies or searching incognito for flights believing it will lower your prices. It's not helping you.
Book Another Flight to Unlock Huge Savings
Sometimes, finding a cheap international flight from your home airport can feel next to impossible. Some airports are blessed with the cheapest flight deals, and others can be left out.
So how do you capitalize on cheap flights if you're from a smaller city or your airport isn't being blessed by the flight deal gods? Positioning flights, that's how.
It works like this: Let's say flights to London-Heathrow (LHR) or Tokyo-Haneda (HND) would cost you an arm and a leg by starting your search from your home airport. But what if you could score a huge deal by booking that cheap flight out of a major hub instead, and book a cheap flight from your home airport to get there?
You can easily save hundreds of dollars on international fares by employing positioning flights. Here's an example, flying from Minneapolis-St. Paul (MSP) to Dublin (DUB) for a trip to Ireland this September. Starting your search from Minneapolis, flights are looking pricey at more than $900 a ticket. 
But nonstop flights from Newark (EWR) to Dublin recently dropped below $400 roundtrip for that same time period.
Get deals like this one sent to your inbox with Thrifty Traveler Premium!
Time it right, and you can easily snag roundtrip flights from Minneapolis-St. Paul (MSP) to Newark for $200 or less, then hop on the long-haul flight over to Ireland.
Add it up from this one example and you could book a similar one-stop trip for $600 or less – substantially less than the first search starting from Minneapolis.
Positioning flights are one of our go-to way to save on international travel. That said, there are a few things to keep in mind:
Think about which major U.S. airports you can cheaply fly to from your home airport. Use this as your starting point when exploring positioning flights to save on international flights.
This strategy comes with some risk. If you miss that connection, you may be out of luck: Because you booked these flights on separate tickets, your airline is under no obligation to rebook you. That means it's good to give yourself plenty of layover time between connections, especially on your way back into the U.S.
That risk is higher than ever as airlines continue struggling with delays and cancellations, particularly on the East Coast. If you're going this route, be sure to give yourself many hours between connections – or consider even getting in a night early before a flight overseas.
Read our full guide on using positioning flights to save hundreds on international travel!
Book Now, Ask Questions Later
When you see a deal, book it. The cheapest flights never last long. And while it may seem risky, you've got an excuse to be impulsive.
It's called the 24-hour rule. U.S. law requires all airlines, to give customers the ability to request a full refund for almost any flight within 24 hours of booking. It doesn't matter if you're booking with a U.S.-based airline or a foreign carrier. If your flight touches U.S. soil, you're covered.
That means you can book a great flight when you see it, then check in with work, line up your schedule with your spouse or travel buddy. Not going to work? Cancel your flight and get your money back within 24 hours, no questions asked.
There are a few exceptions and caveats with the 24-hour rule to keep in mind:
Flights booked last-minute may not qualify. Every airline policy is different, but some won't honor the 24-hour rule if you book within seven days of departure. For others, you can book as soon as two days before departure and still cancel for a full refund.
Book direct with the airline. While some major online travel agencies like Expedia honor the 24-hour rule, others don't.
Fly with International Budget Airlines
We like to focus on finding cheap flights through deals on the major, full-service carriers – you know, the big ones like Delta, American, and United or foreign carriers like Lufthansa, SWISS, Japan Airlines, and Emirates.
But there's no question that budget airlines have their place for travelers looking to save. Just keep in mind that those savings may come at a cost: In many cases, you'll get charged extra fees for picking a seat, buying a meal, checking a bag, and … well, just about everything.
Do it right and you can still come out ahead by flying internationally with a low-cost carrier. Here are some of our favorites – many of which we've flown ourselves!
Spirit
Frontier
Sun Country
Volaris
Norse Atlantic
PLAY airlines
Vueling
Ryanair
EasyJet
AirAsia
ZIPAir
Get the Best Cheap International Flight Deals Sent Straight to You
It can be done, but scouring the internet for the best cheap international flight deals can be a lot of work. The cheapest fares can come and go in a matter of hours – if not minutes.
Let us do the work for you. With Thrifty Traveler Premium, we'll send all the cheapest domestic and international flight deals from your home airport straight to your inbox. That includes sub-$100 domestic flights, trips to Europe for less than $300 roundtrip, jaunts to Hawaii for under $200, bucket list trips to destinations like the Maldives for less than $700 total, and much more. We even send award alerts to our Thrifty Traveler Premium+ members to put their points and miles to use, too – plus deeply discounted first and business class fares.
Have we piqued your interest? Read more on how Thrifty Traveler Premium works!
With over 200 U.S. and Canadian cities we find deals from, you're sure to be the first to know about the next greatest deal. 
Get cheap international flights like this crazy deal to Europe sent straight to you with Thrifty Traveler Premium!
Bottom Line
How can I get cheap international airline tickets?
Finding cheaper international airfare isn't rocket science. Arming yourself with these tips, tricks, and tools can go a long way to saving you big money on your next trip abroad. And as a refresher, remember when trying to find cheap international airfare to:
Start with Google Flights
Follow The Flight First Rule
Choose your travel days wisely
Book dates further in advance
Don't waste time clearing your cookies
Use positioning flights to save
Book flights now, ask questions later
Get cheap international flight deals sent to your inbox
By putting these concepts to use, you will quickly realize that you can see much more of the world than you thought – for much less.