When it comes to redeeming points and miles, it helps to think outside the box.
Travelers instinctively turn to the major U.S. airlines and their frequent flyer programs like American AAdvantage miles, Delta SkyMiles, and United MileagePlus miles. And sure, there are some valuable ways to redeem them all – though it's getting much harder with SkyMiles and even United, too. So if you want to get the best deal, you may need to turn to a foreign airline's mileage program … even if you've never set foot on one of their planes.
Welcome to the world of airline partnerships and alliances, which opens up a dozen-plus ways to book the exact same flight using miles – often saving big in the process. Using the right airline miles can mean the difference between forking over 350,000 miles for a business class flight overseas or just 50,000 for the same seat.
Don't worry: It's easy to earn the miles in these far-flung airline programs thanks to transferrable credit card points. That means you can use points earned from top travel cards such as the Chase Sapphire Preferred® Card, American Express® Gold Card, or the Capital One Venture X Rewards Card.
We've rounded up four of the best airline programs you should be using that may never have crossed your mind. These programs all have low mileage rates for different regions of the world – unlocking some incredible sweet spots for a fraction of the miles you'd need using U.S. airlines.

Avianca LifeMiles
LifeMiles hits the two main parameters of a good mileage program to the T: Cheap rates and low fees.
And the Colombian-based airline's frequent flyer program can take you far, far beyond Latin America. In fact, you'll likely never fly on an Avianca aircraft if you're looking to get the most value out of your LifeMiles.
Instead, you can use LifeMiles to fly Star Alliance partner airlines, such as Swiss business class to Europe for 63,000 miles one-way. Or, due to the variable nature of LifeMiles' quirky award chart, you can fly TAP Air Portugal business class from New York City (JFK) to Lisbon (LIS) for just 35,000 miles one-way. These are just two of many sweet spots when redeeming Avianca LifeMiles.



Perhaps best of all, you won't pay any exorbitant fees when booking with LifeMiles. Booking those Swiss business class flights, for example, you'd pay just $25 or so one-way when booking with Lifemiles. Some other airline programs charge more miles but also much higher fees – sometimes north of $1,500 roundtrip.
Related reading:The Best Airline Mileage Programs to Avoid Hefty Cash Fees
It's not all fun and games with LifeMiles. The customer service can be lacking and the website can be frustrating to use. And a devaluation on most awards to Asia means many flights across the Pacific Ocean are more expensive now. But there are still plenty of valuable ways to use LifeMiles to fly just about anywhere in the world, including economy awards to Europe starting from 20,000 miles one-way.
LifeMiles definitely has its quirks but the ease of earning miles mixed with great award rates and low fees, means you should consider using LifeMiles for your next big trip – especially if you're looking to fly up front. My colleague Gunnar used LifeMiles to book a few big trips recently and considers it to be one of his favorite points and miles programs.

Read our full review of Swiss business class on the Boeing-777 from Chicago (ORD) to Zurich (ZRH)
How to Earn Avianca LifeMiles
Lifemiles are some of the easiest miles to earn. You can instantly transfer American Express Membership Rewards, Capital One Venture Miles, or Citi ThankYou points to your Avianca LifeMiles account on a 1:1 basis. That means a stash of 60,000 points in any program can get you 60,000 LifeMiles.
Better yet, all of these programs regularly offer transfer bonuses to LifeMiles, which means you may get an even better rate on the transfer depending on the month.
Avianca also frequently has promotions to buy miles at a discount. It's one of the few programs you might consider buying miles from during sales.
ANA Mileage Club
ANA has the cheapest award rates to fly to nearly any destination in the world – not just Japan.
Before we get ahead of ourselves here, there are two main caveats to keep in mind: You must book roundtrip – one-way redemptions are not allowed using ANA miles. And transferring Amex points can take a few days to hit your ANA Mileage Club account.
Still, the award rates alone mean you'll want to read up on the ins and outs of the Japanese carrier's ANA Mileage Club program. We're talking 88,000 miles roundtrip to fly business class to Europe, Business class to Japan and back starting from just 75,000 miles, or just 104,000 miles for roundtrip flights to South Africa in business class.
You'll need to be careful as to which airlines you choose to fly as ANA may pass along fuel surcharges when booking with its miles. But if you can make it work, the value you get when redeeming ANA miles is undeniable.
Case in point: Earlier this month, Thrifty Traveler Premium+ members received an alert for award space to fly United Polaris business class to London-Heathrow (LHR) later this year, including some availability this summer and over Christmas! One-way flights could be booked for 60,000 United miles, but the same flights could be booked roundtrip with just 88,000 ANA miles.

Read our complete guide on booking business class flights to Europe with ANA miles.
It may take some extra legwork to book the flights and it's not as quick as booking with United miles. But redeeming ANA miles can save a ton.
Another reason you should consider earning ANA miles: ANA Around the World tickets. If circumnavigating the earth is on your bucket list, using ANA miles to book that trip is the best way to do it. Typical itineraries cost just 125,000 to 170,000 miles in business class – an absolute steal considering some programs charge that much for just one roundtrip overseas.
How to Earn ANA Miles
There's no need to fly to Japan in order to earn these valuable miles. Many of you may already have a stash of points that can be converted to ANA miles and you don't even know it.
That's because ANA is a 1:1 transfer partner with American Express Membership Rewards, which means the points you're earning with The Platinum Card® from American Express or The American Express® Gold Card can become ANA miles by transferring to ANA.
However, you'll need to keep in mind that transfers from Amex to ANA can take 48 hours to process. This means the award space could disappear while you wait. But if you have flexible travel plans, you'll get incredible value from ANA miles any way you use them.
Thrifty Tip: If you have a ton of Amex points, it may be worth proactively transferring points to ANA in advance so you are ready to book if a hot deal pops up. Just keep in mind that once you transfer points to an airline, you can't get them back to your Amex account.
Cathay Pacific Asia Miles
After years of strict lockdowns, Hong Kong is back open for travel. Whether you're aiming to fly to Hong Kong (HKG) or elsewhere, using Asia Miles should still be on your radar. That's because Asia Miles can be powerful whether you want to fly to Asia, South America, or even London!
That's right. Using Cathay Pacific's Asia Miles is one of the best ways to get to England using points and miles. Why? Good award rates and lower taxes and fees than you'll pay using other go-to airline programs.
There's no question that British Airways has the best network between the U.S. and London (LHR) but the fees you'll pay when redeeming British Airways Avios or American AAdvantage miles to fly British Airways across the pond are through the roof … up to nearly $2,000 roundtrip in fees alone! British Airways now offers a "Reward Flight Saver" option that allows you to pay less in these fees in exchange for forking over more miles.
But you can still get a much better deal if you book the same flights using Cathay Pacific Asia Miles. A one-way flight from New York City (JFK) to London (LHR) flying British Airways business class is just 61,000 miles plus roughly $236 in fees one-way.

Flying roundtrip? Those fees jump up to about $800 total. While not cheap by any means, it's a heck of a lot cheaper than what you'll pay when redeeming miles from Alaska, American, or British Airways itself. It's also generally easy to find the availability to fly British Airways so you shouldn't have too much trouble booking this award. If a lie-flat seat to London (or beyond) flying British Airways is what you're looking for, Asia Miles is the way to go.
Of course, you'll also have the best chance of finding award availability to fly Cathay Pacific's amazing first and business class cabins to Hong Kong (and beyond) when redeeming Asia miles – starting from 70,000 one-way.
Where Asia Miles can really shine is when booking flights on multiple Oneworld carriers. This means you'd be flying at least two Oneworld partner airlines other than Cathay Pacific on your itinerary, like a combination of American and Japan Airlines. For these types of flights, Cathay Pacific has a special award chart that is based on the total distance flown.

Thrifty Tip: Use the Great Circle Mapper tool to calculate the distance of your flight.
You can use this as an opportunity to try a different airline in each direction of a roundtrip. Or, you can maximize it and build a trip around the world. The possibilities are nearly endless, but it will take some digging to find the availability and you'll need to chat with an agent either online or over the phone to get it booked.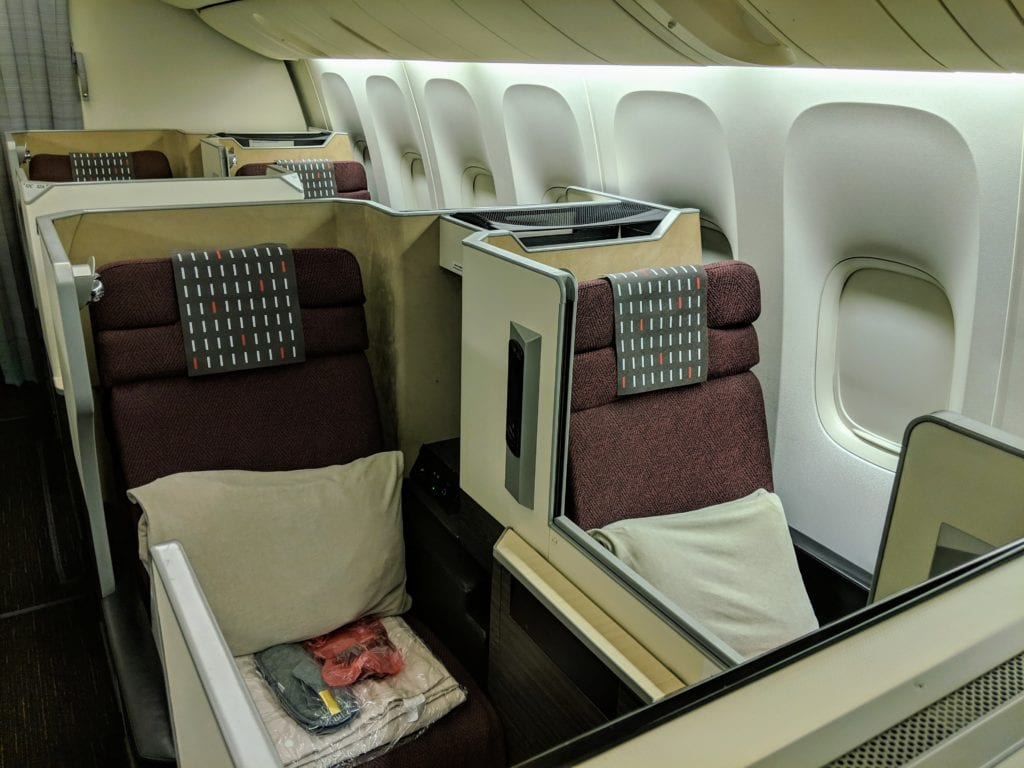 Read our full review of Japan Airlines business class!
How to Earn Asia Miles
Surprisingly, earning Cathay Pacific Asia Miles is pretty easy.
Cathay is a transfer partner with Amex, Bilt Rewards, Capital One, and Citi. This means there are several opportunities for you to earn the points you need through credit card rewards. The downside is that transfers are not instant with any of the programs, but Citi seems to have the quickest transfers of around 24 hours.
Read more: The Master List of Credit Card Transfer Partners

Turkish Airlines Miles & Smiles
Finally, you'll want to keep the Turkish Airlines Miles & Smiles program in mind … no matter where you're flying.
The airline flies to more destinations around the world than any other carrier and it's also a member of Star Alliance – the largest in the world. Best of all, the award rates are unbeatable. We're talking 15,000 miles to fly United to Hawaii and back, 45,000 miles for a one-way business class award to anywhere in Europe, and just a few more miles to get to the Middle East in business class at 47,000 miles each way.

Those are just the tip of the iceberg. The Turkish Airlines Miles & Smiles program is loaded with sweet spots.
Like ANA, you'll need to be careful about which airlines you choose due to fuel surcharges. Luckily, the fees are pretty reasonable when flying Turkish Airlines itself. And there are still several airlines you can fly without paying crazy fuel surcharges.
Here's an example. We recently sent Thrifty Traveler Premium+ members this deal to book United Polaris business class to Brussels (BRU), Frankfurt (FRA), Geneva (GVA), and Zurich (ZRH) for only 45,000 Turkish miles plus just $6 in taxes and fees one-way.

Get award alerts to use your points and miles like this one with Thrifty Traveler Premium+!
Booking with Turkish does require jumping through a few hoops and may require a call. But it's well worth the effort for these savings. And if you're looking to fly in Turkish Airlines business class, you'll have an easier time booking with Turkish miles as you'll generally find better availability than you can through other programs.

Read our full review of Turkish Airlines business class on the Boeing 787 Dreamliner!
How to Earn Turkish Miles
Turkish Airlines is one of the best transfer partners of both Capital One and Citi. The best part? These are instant transfers. And if you're earning points on rent, you can also transfer Bilt Rewards to your Turkish Airlines Miles & Smiles account.
Bottom Line
If you're looking for the best deals when redeeming points and miles, look beyond the frequent flyer programs of U.S. carriers.
These under-the-radar programs can give you some incredible value no matter where you're looking to fly. And with transferrable credit card points, it's not too difficult to earn the miles necessary for redemption, either.